I teamed up with Joe again and we headed for Puerto Ingeniero Ibáñez for the ferry to Chile Chico.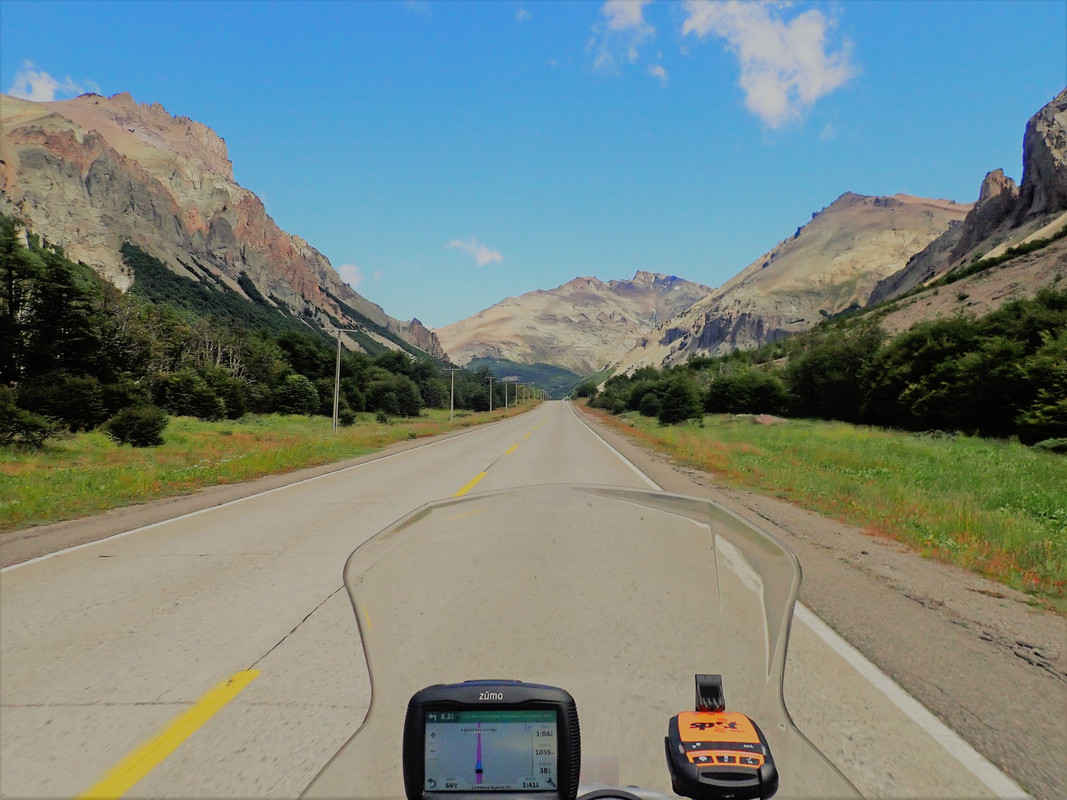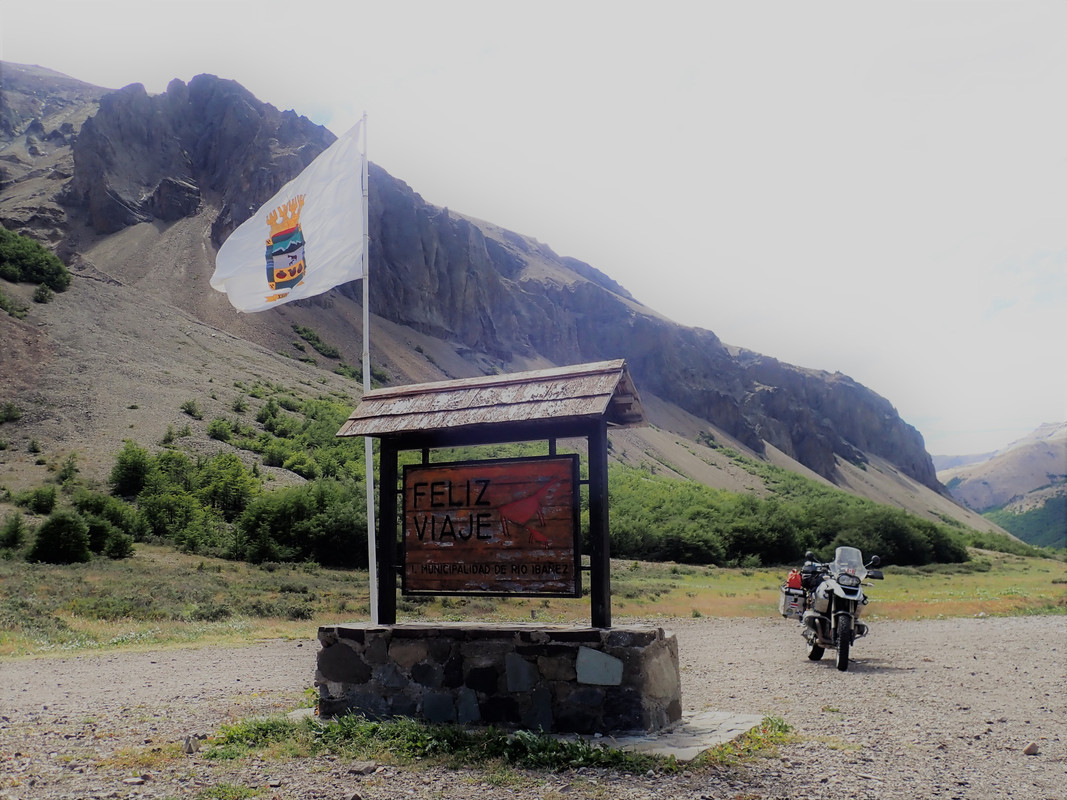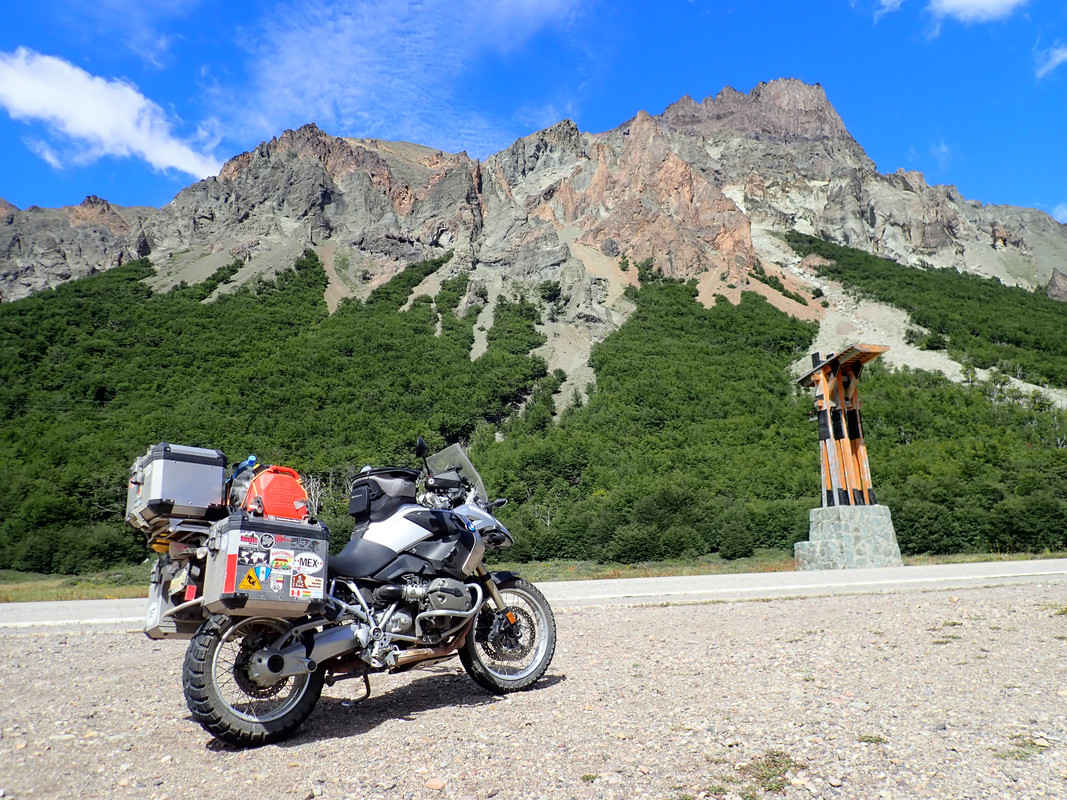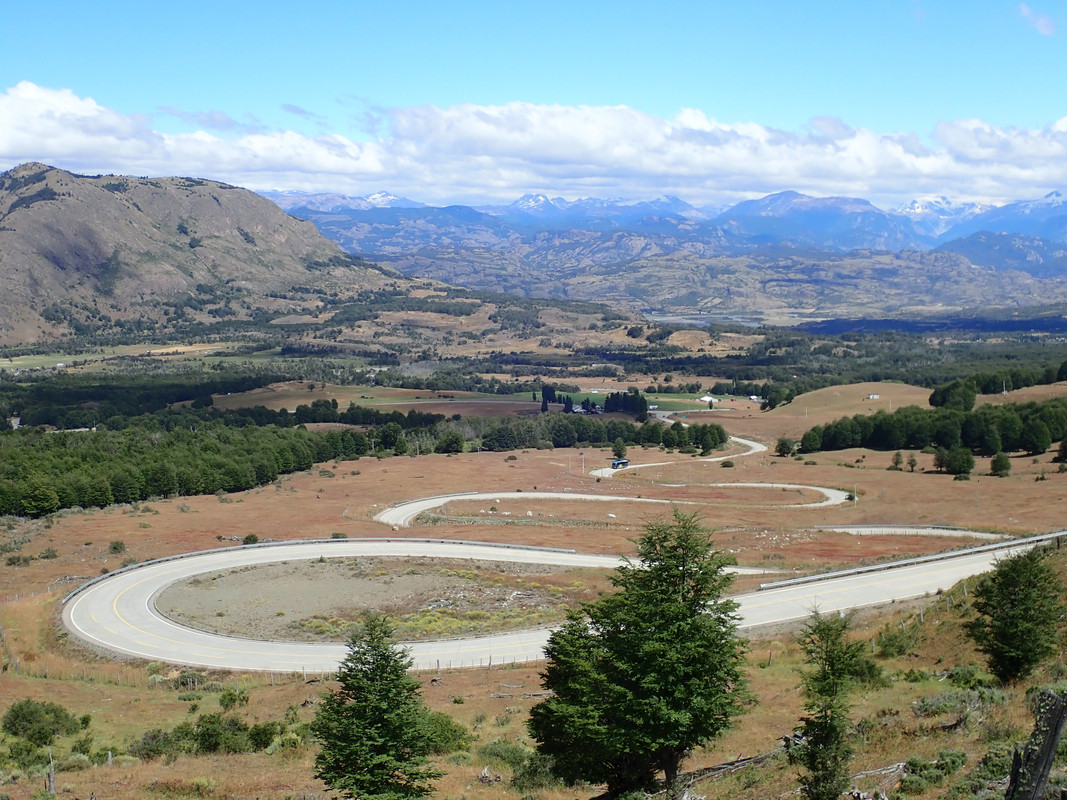 Cerro Castillo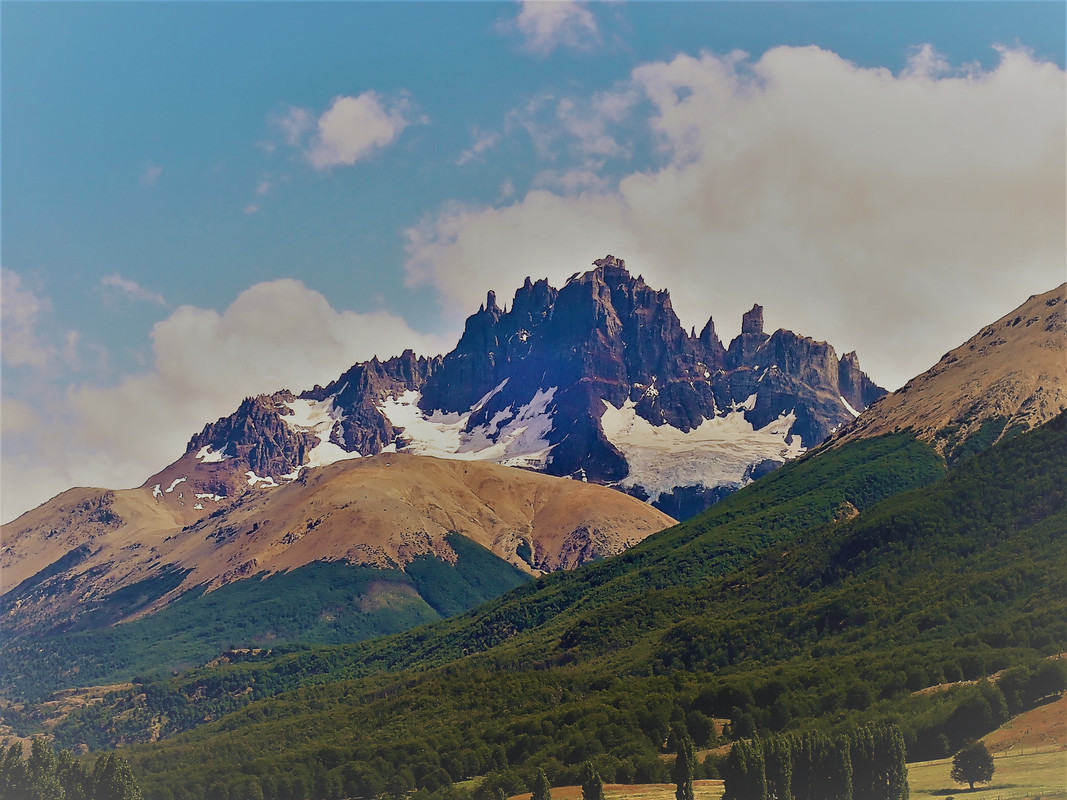 We were told the ferry was full when we arrived at the port so the staff put us on the waitlist. Departure was at 8PM so we had to sit around the ferry terminal for the whole afternoon. Wind was incredibly ferocious that it was disconcerting watching the bike move from side to side in the parking lot.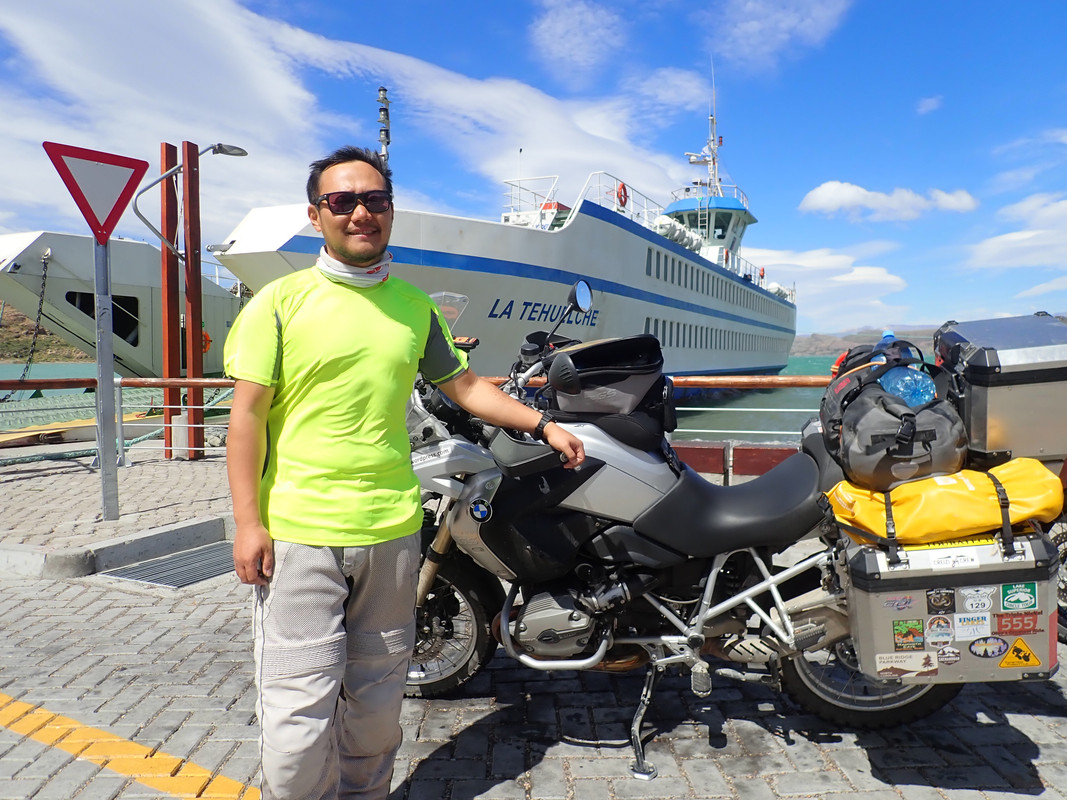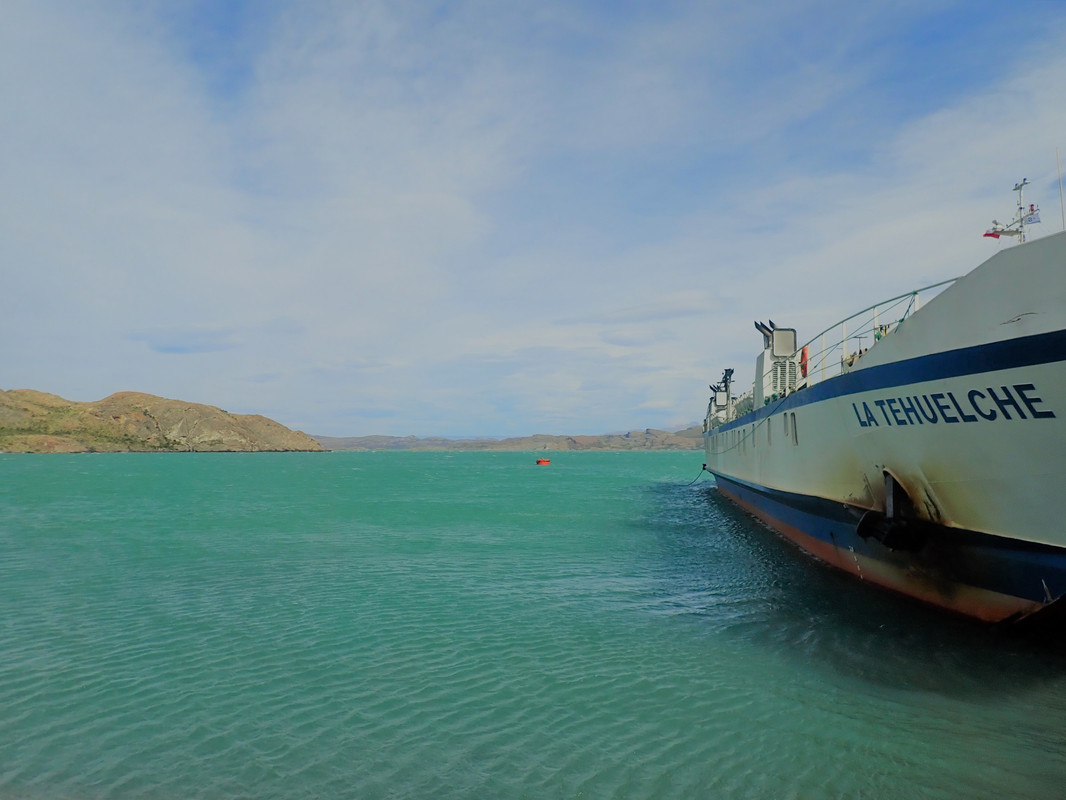 We were first in line in the ticket office at 7. Tickets in hand made for a sweet relief.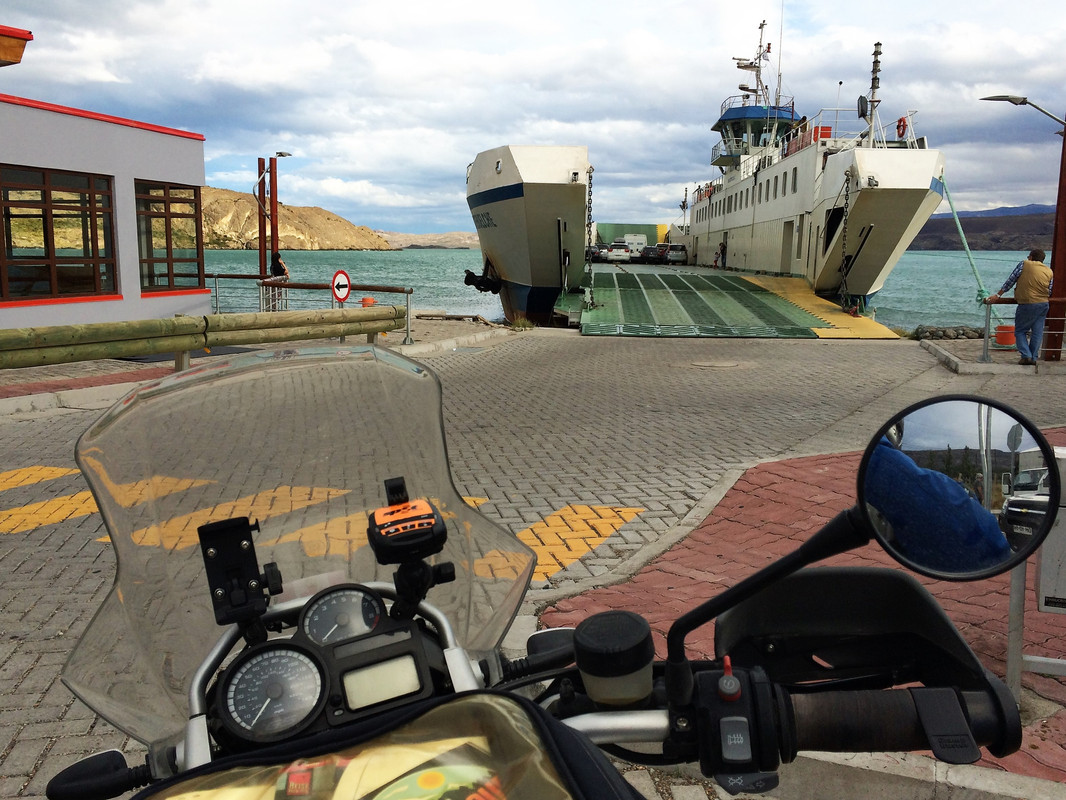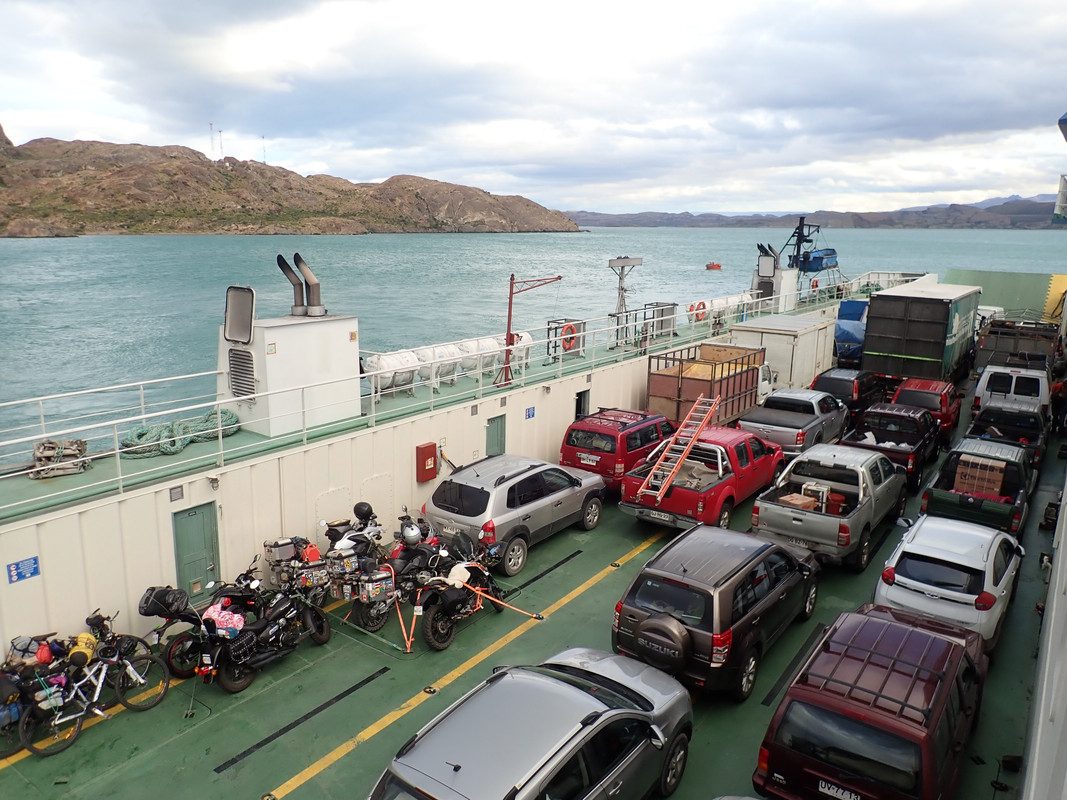 Tightly packed cargo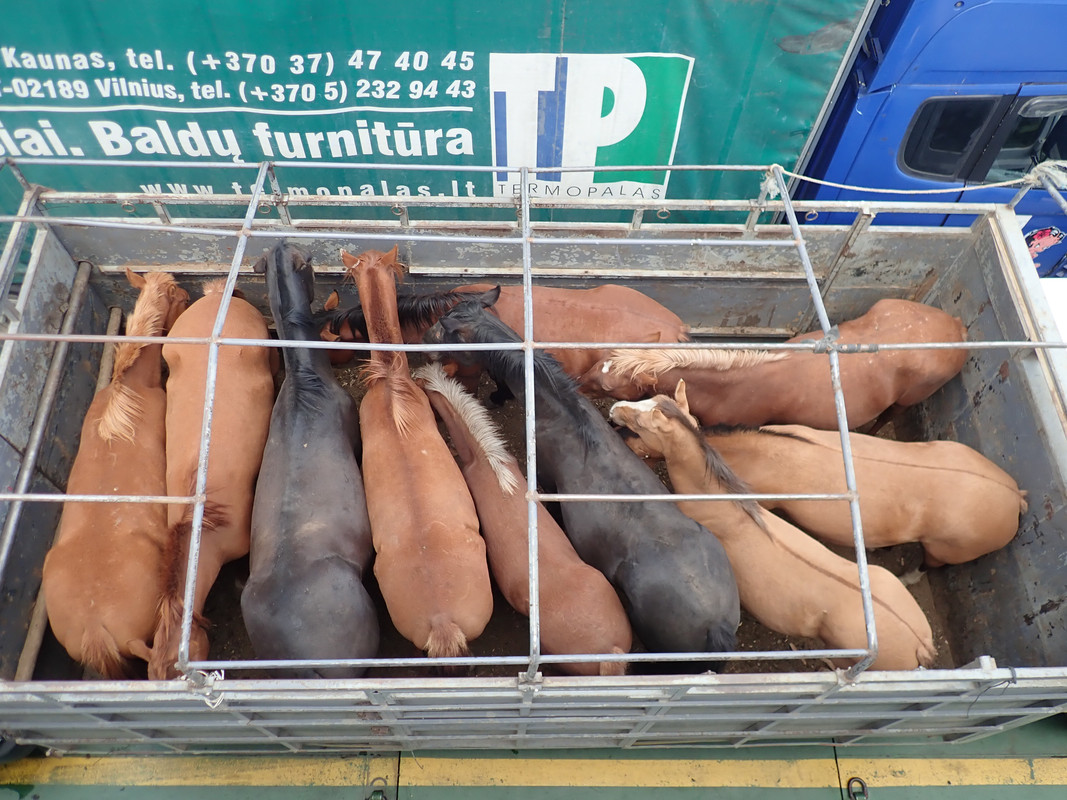 The 2-hour passage through General Carrera Lake was very pleasant with some beautiful sights to boot.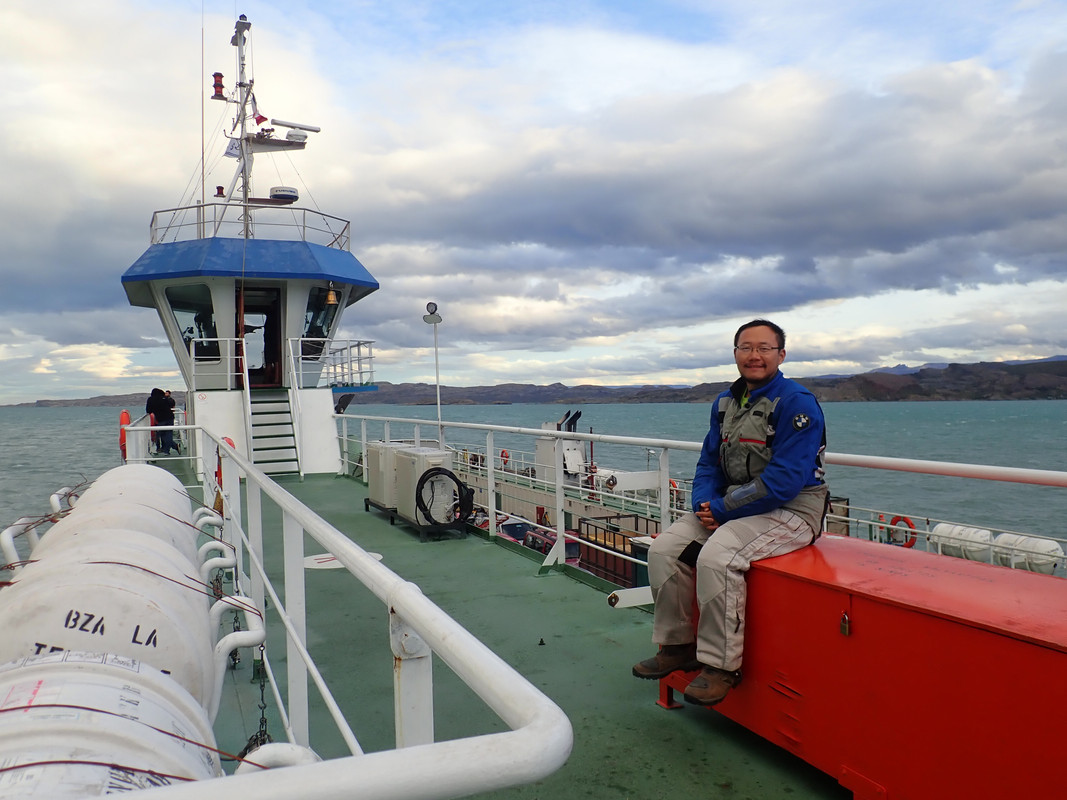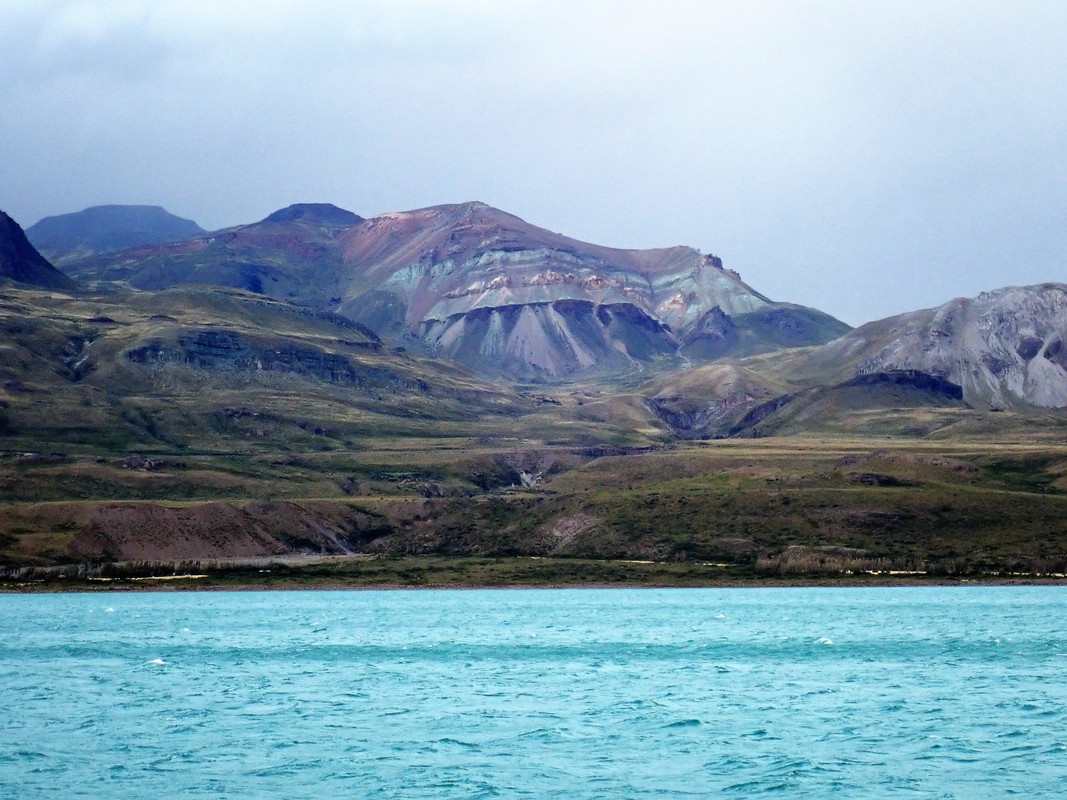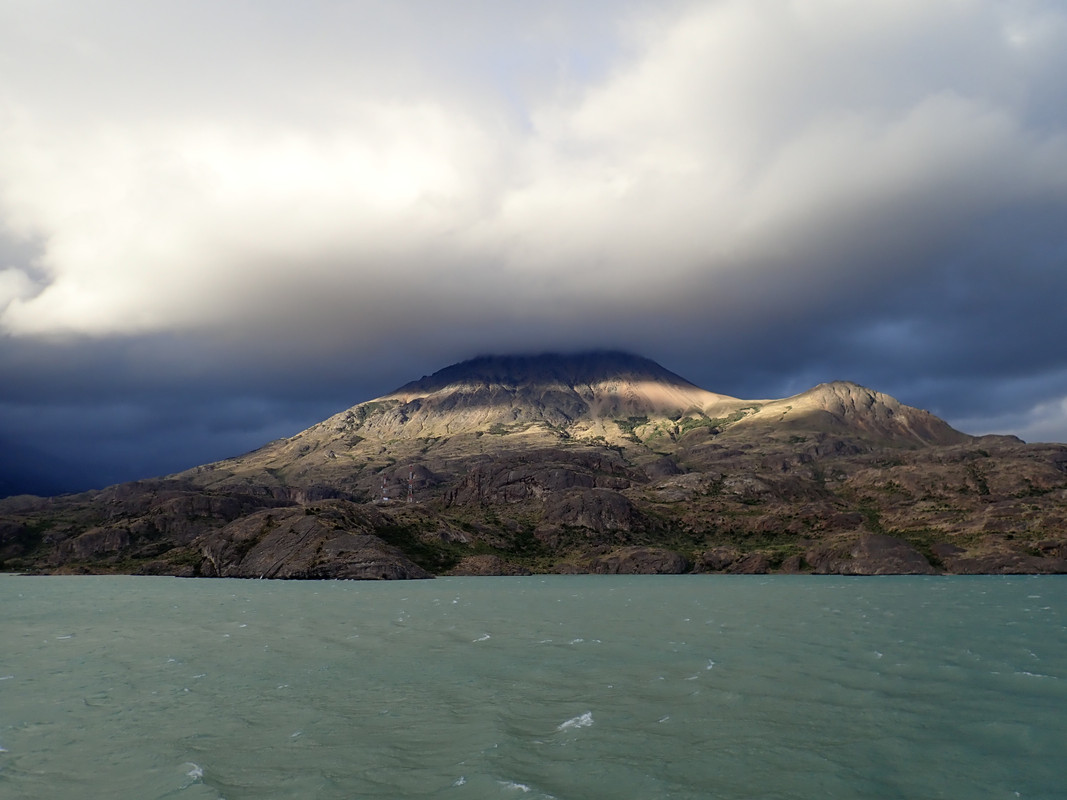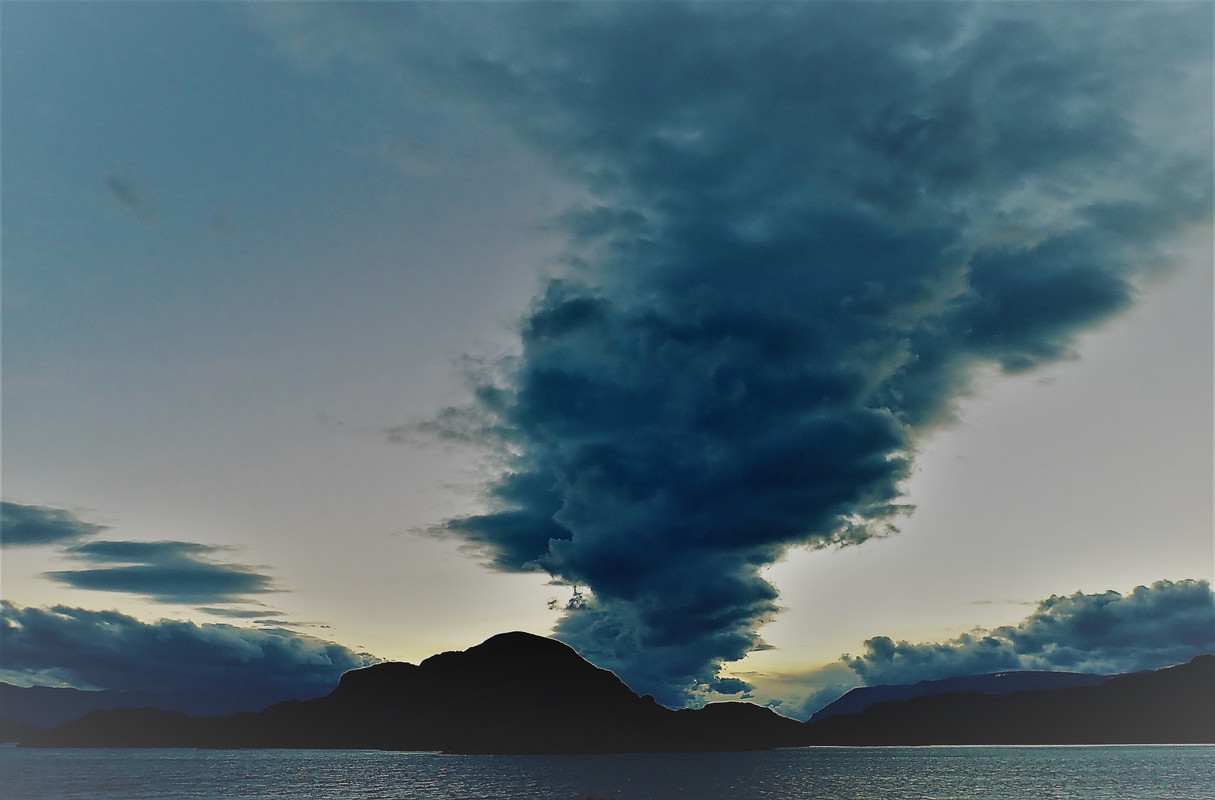 We were dropped off in Chile Chico after dark. Fortunately Kevin Chow whose blog I had been following had contacted me to meet up. We had a good time chatting into the AM.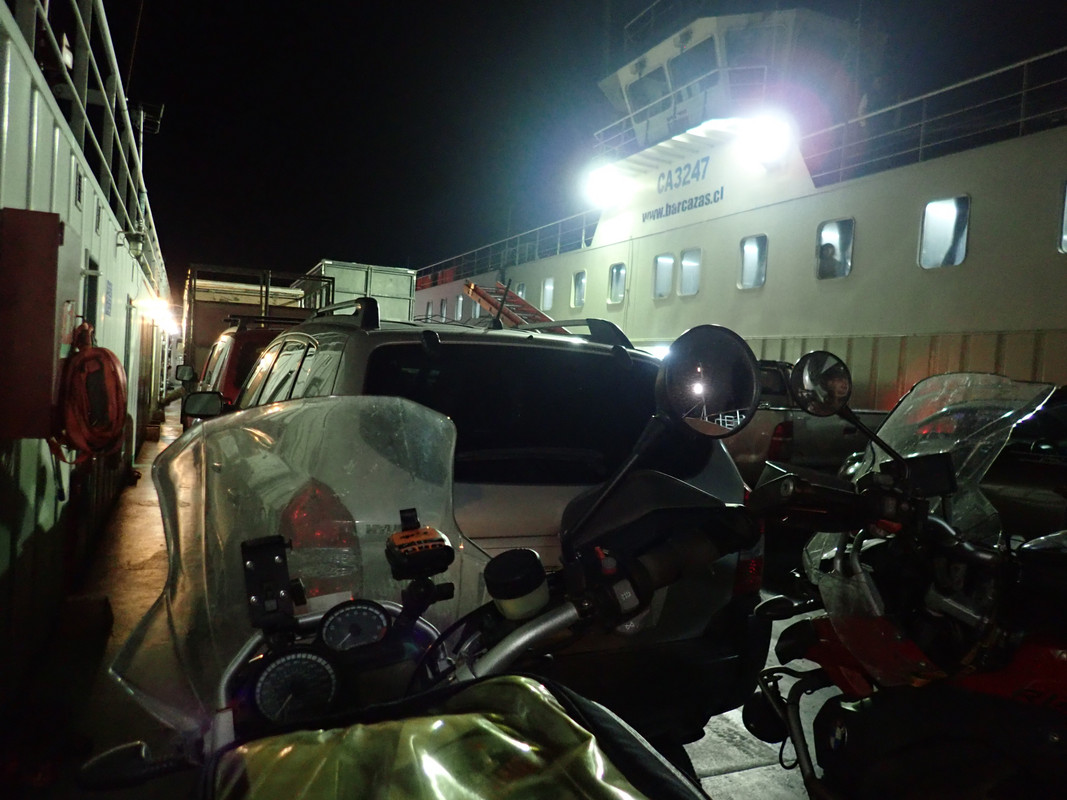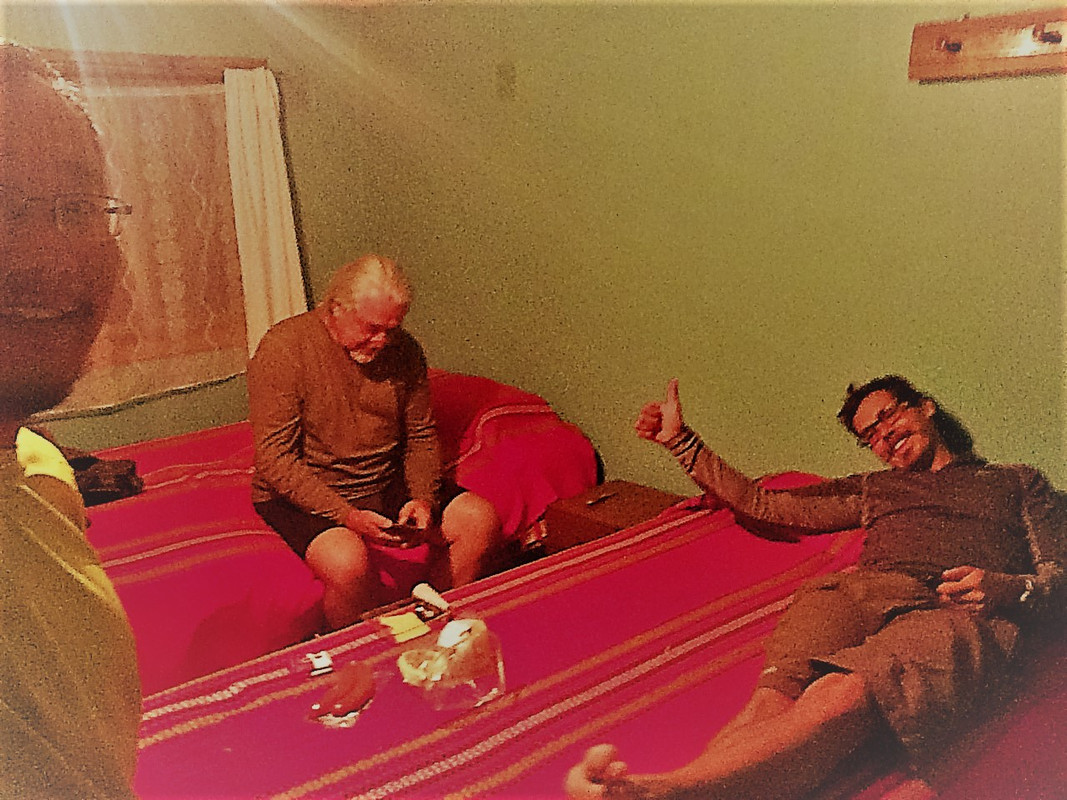 Meet Kevin from BC and check out his blog at worldoverland.ca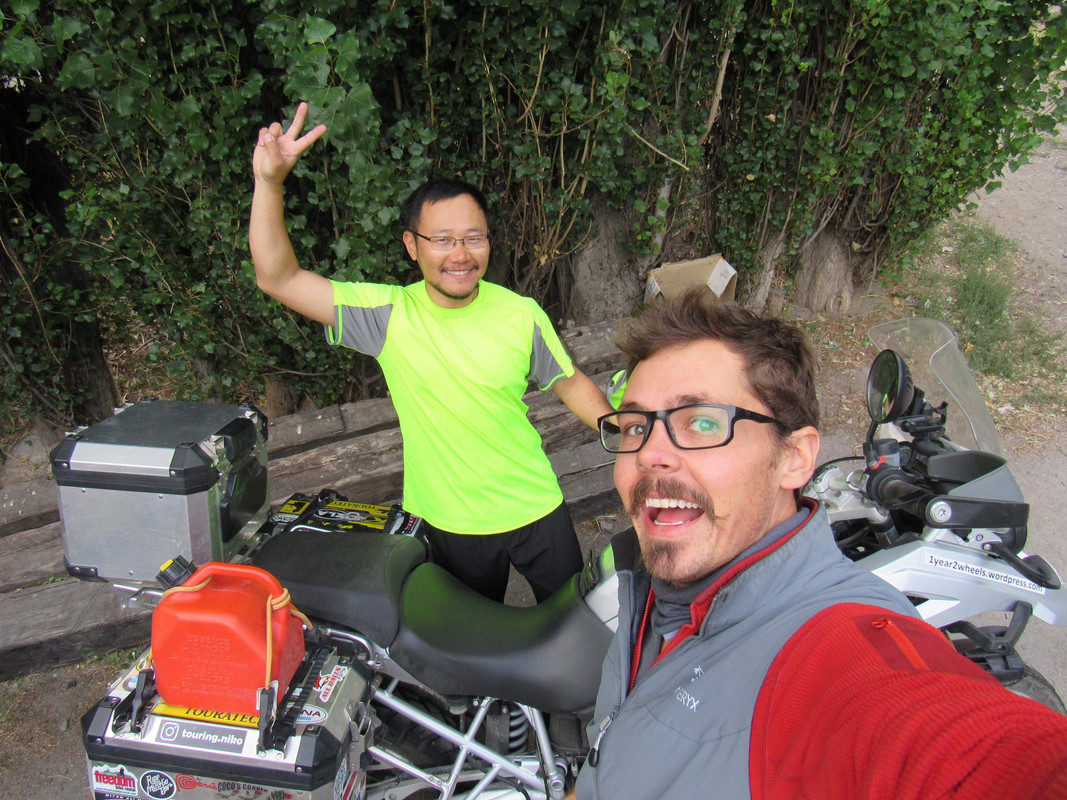 First thing today was crossing back into Argentina…Paso de Chile Chico was a fast one.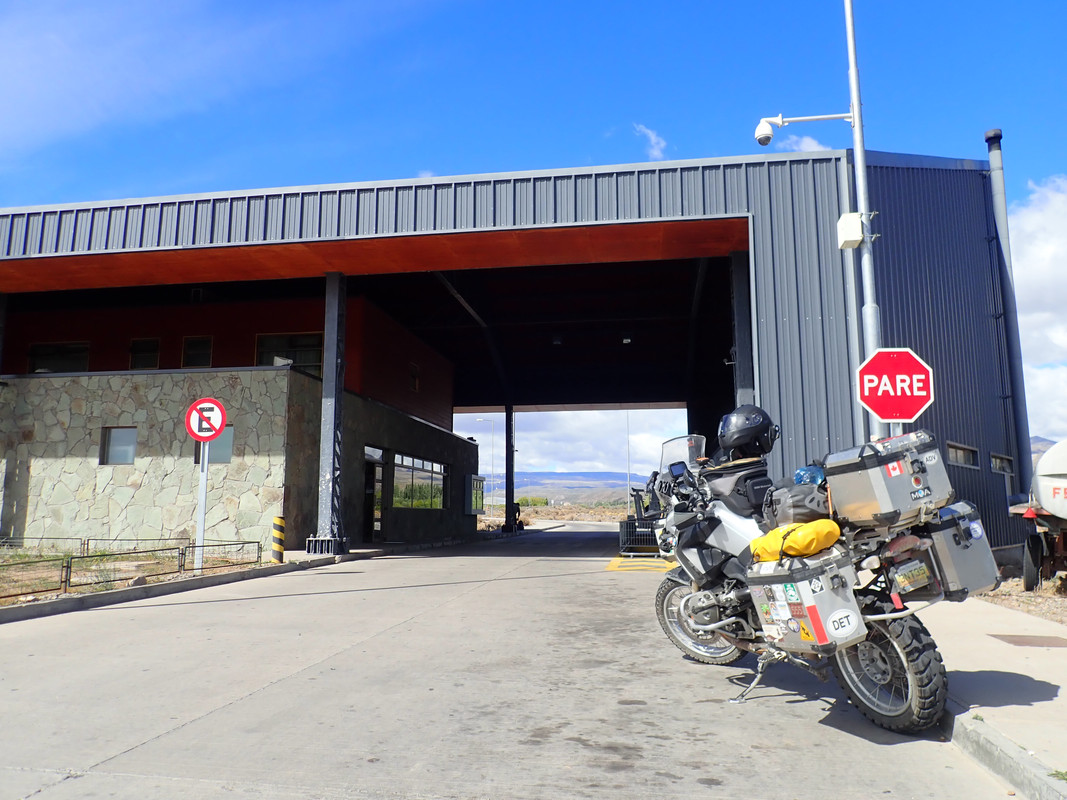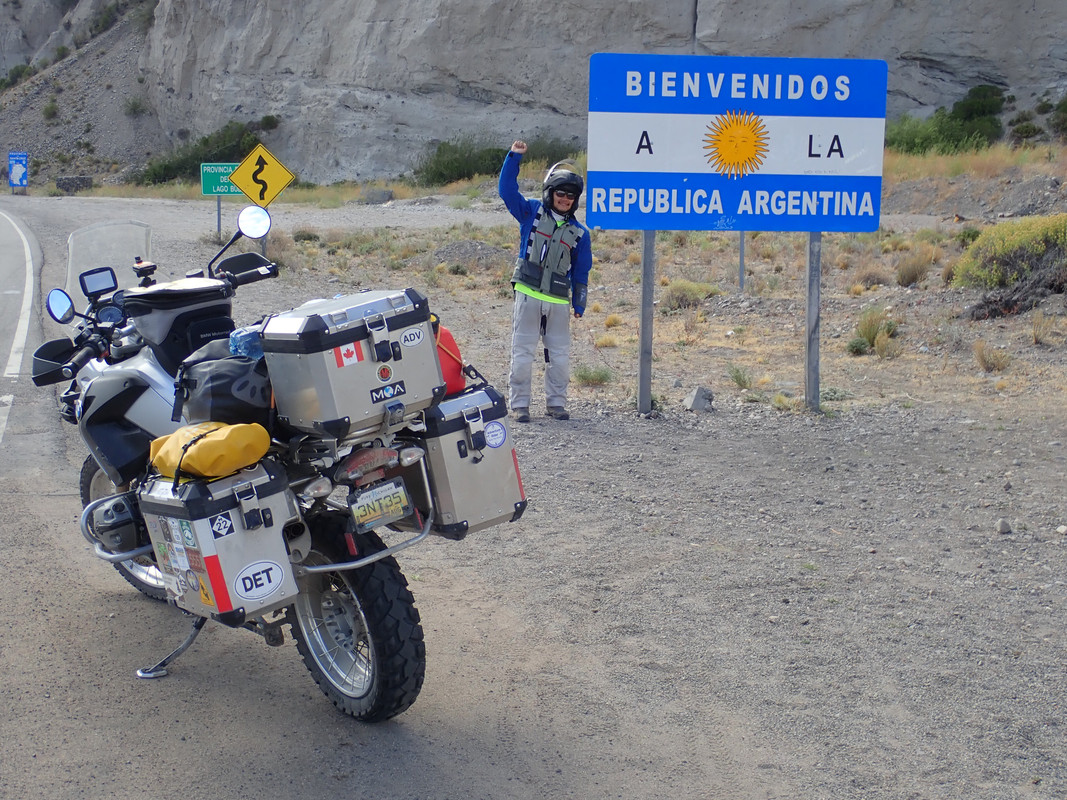 Not a whole lot to look at other than miles and miles of Pampas.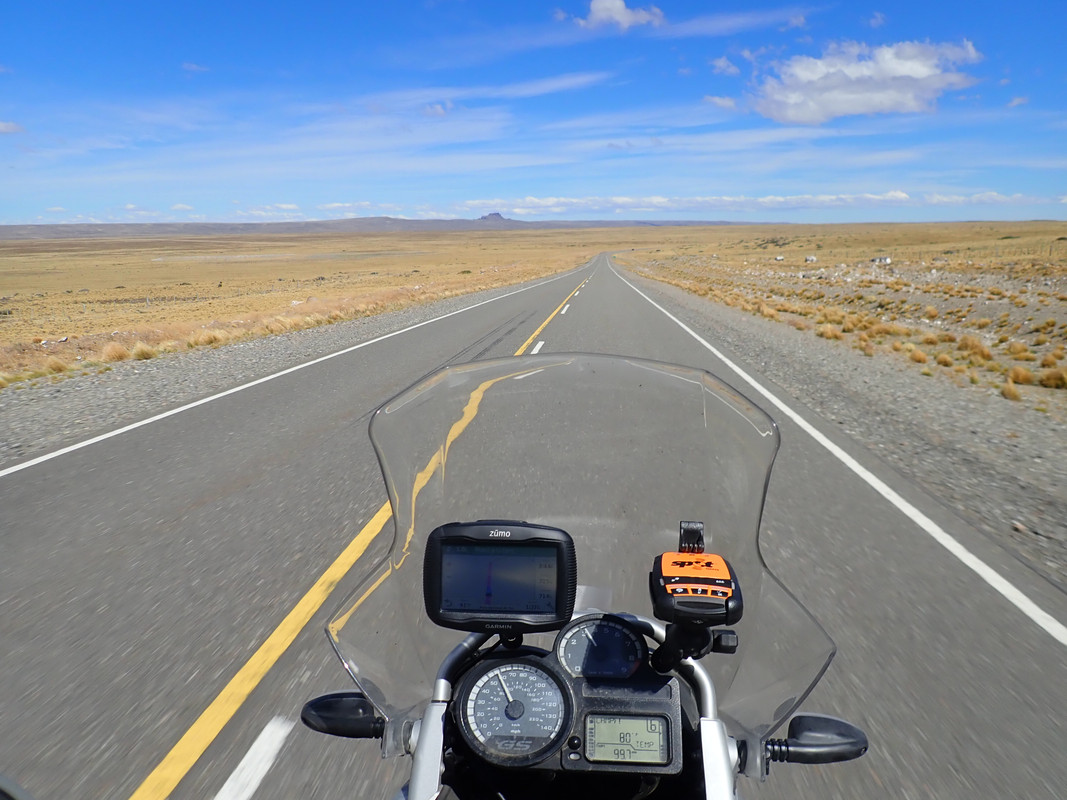 Fierce Patagonia wind seemed to be picking up a notch every day.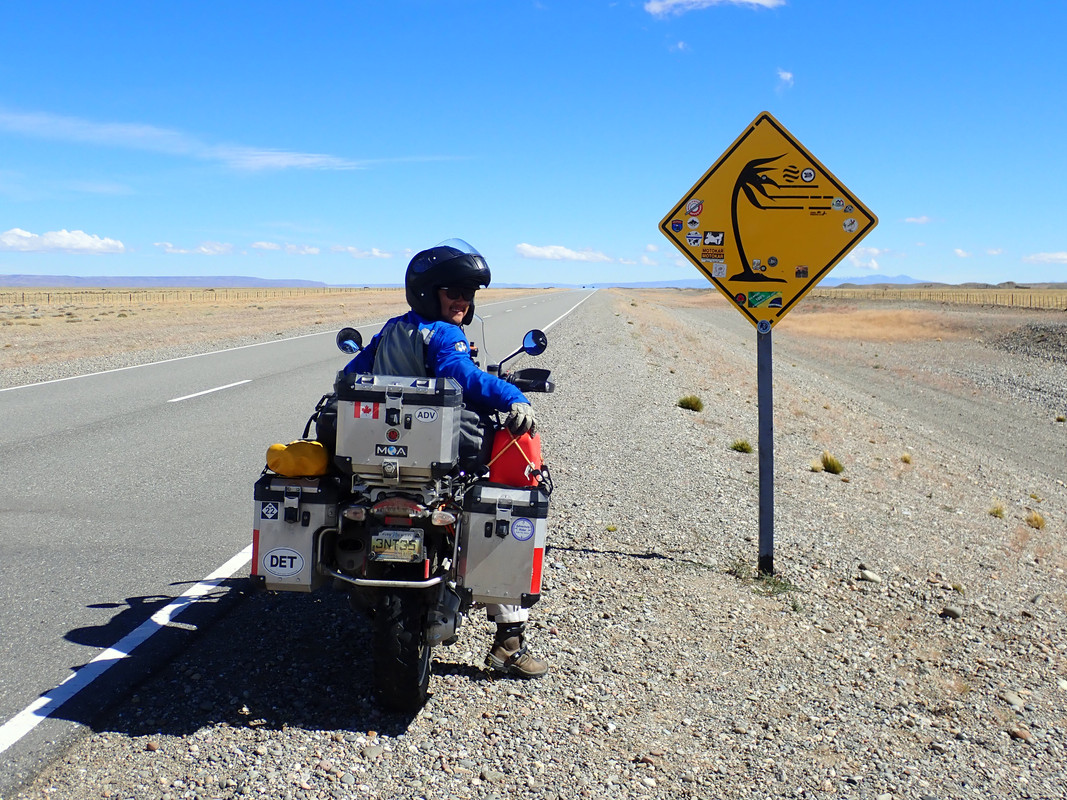 Fuel stations also seemed to get further and further apart.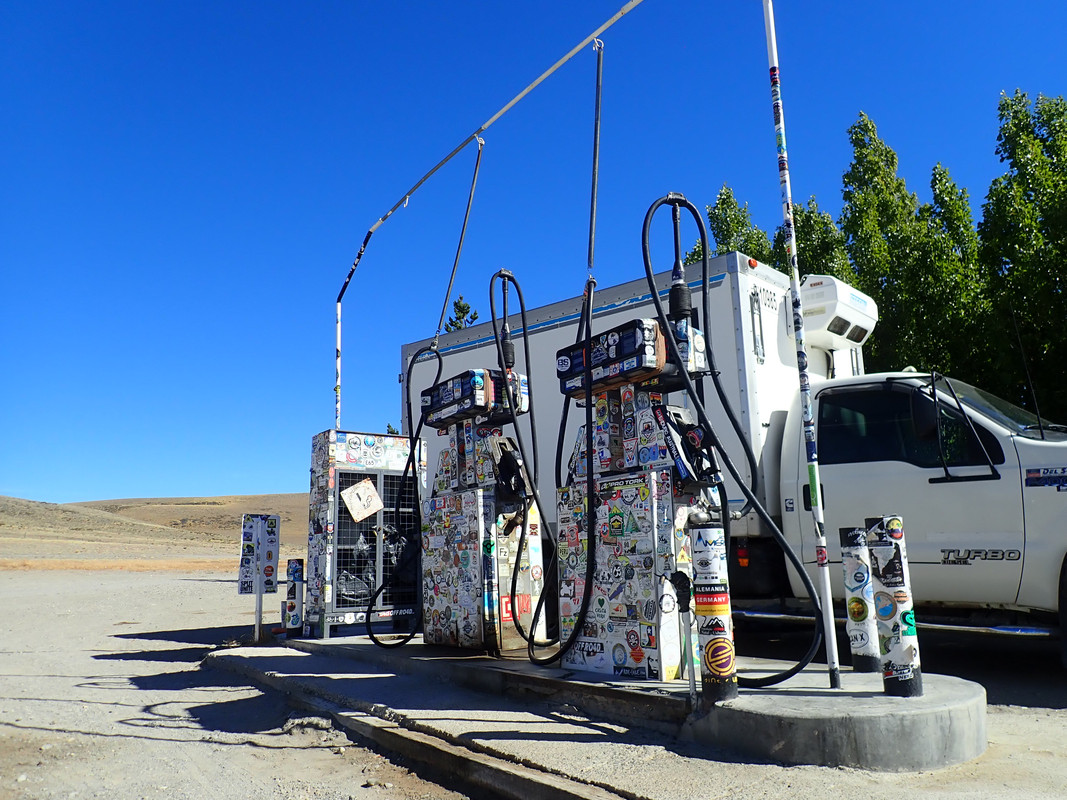 Southern Patagonia is guanaco territory.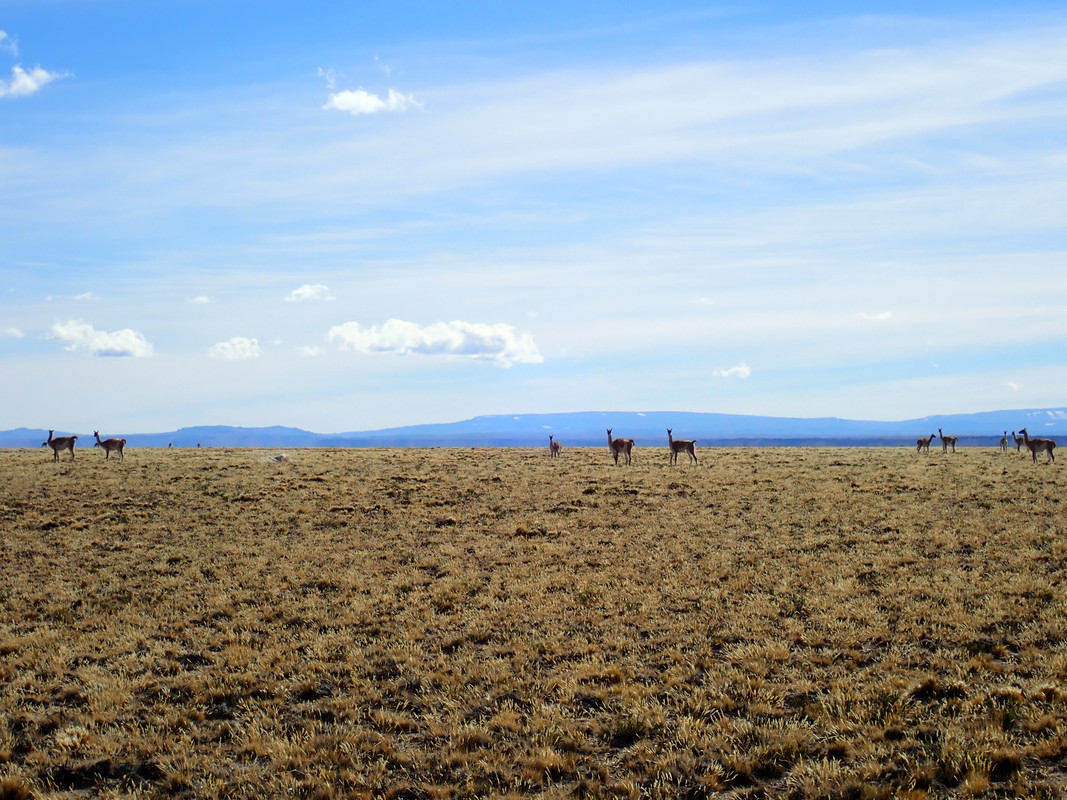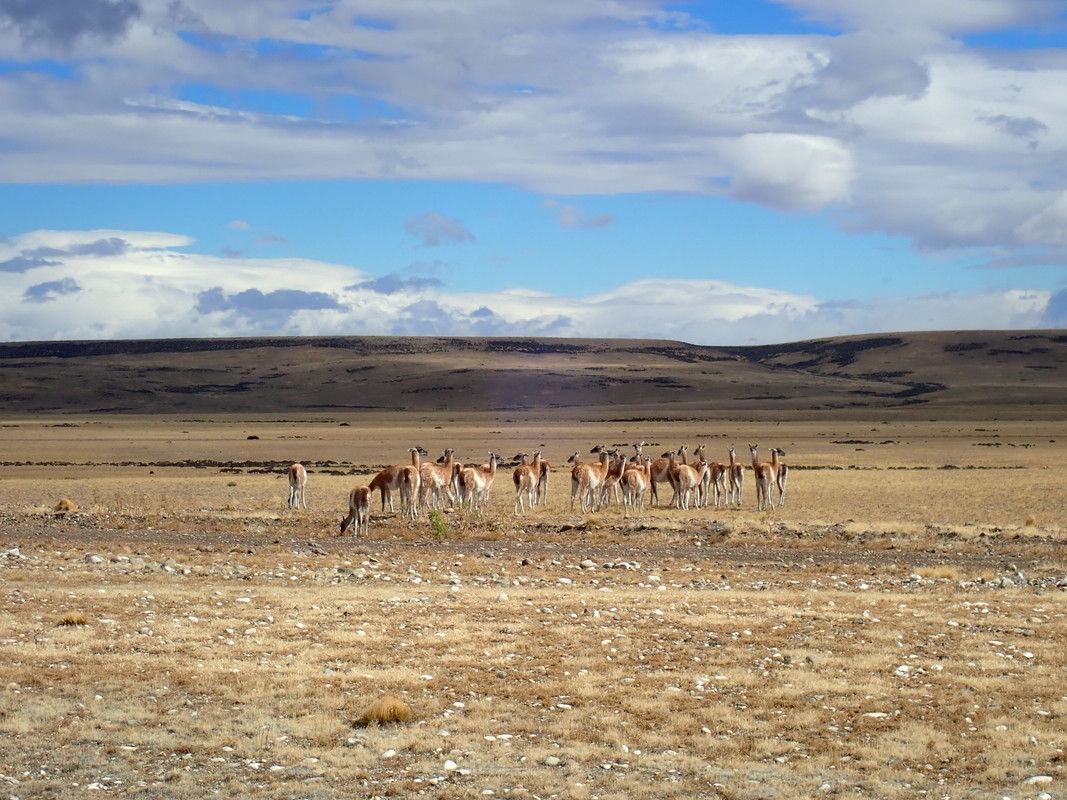 I was getting bored…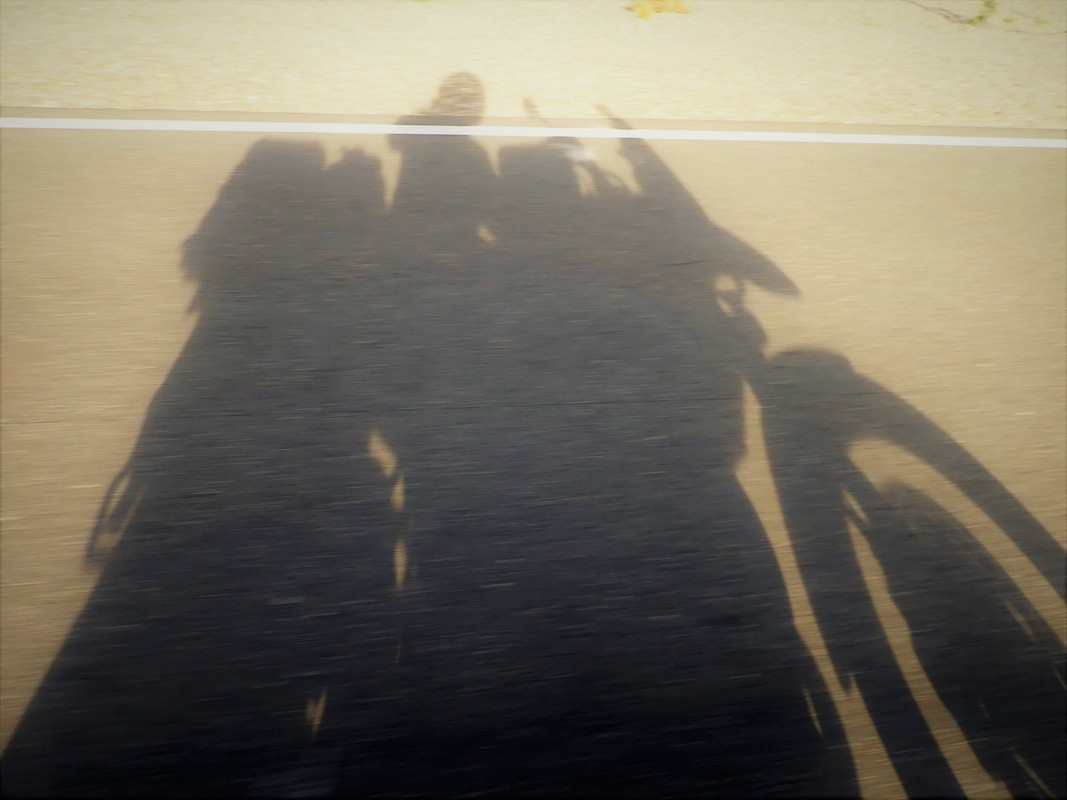 Joe's final drive started leaking oil so we ended up staying in Gobernador Gregores an extra day. He spent the whole afternoon taking it apart while I sipped on maté.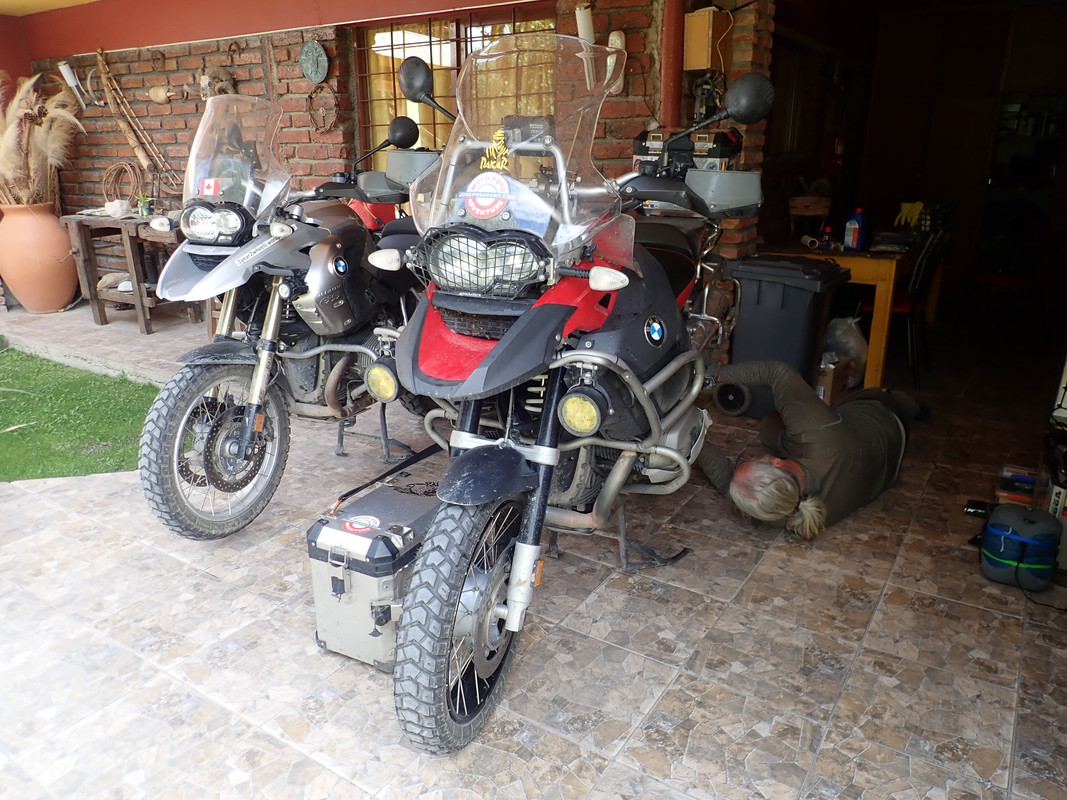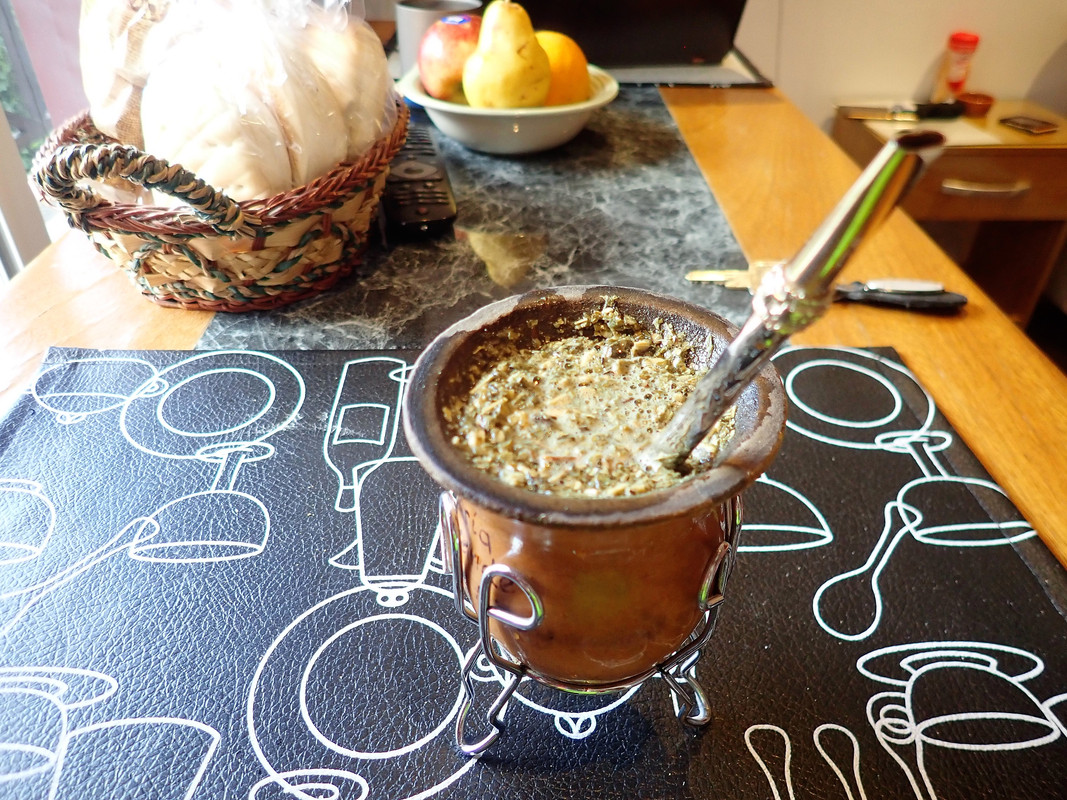 Falkland signs are everywhere in Argentina. (Translation: The Falkland Islands are and will be Argentine) It's an interesting way to display grudges after losing the 1982 Falklands War against Britain.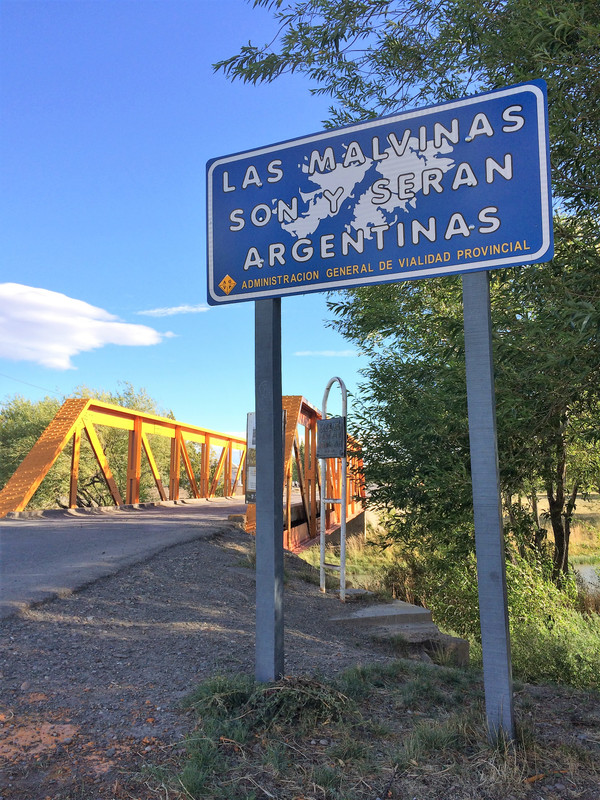 We met Tom from Calgary on an Africa Twin at the hotel and went out for dinner together.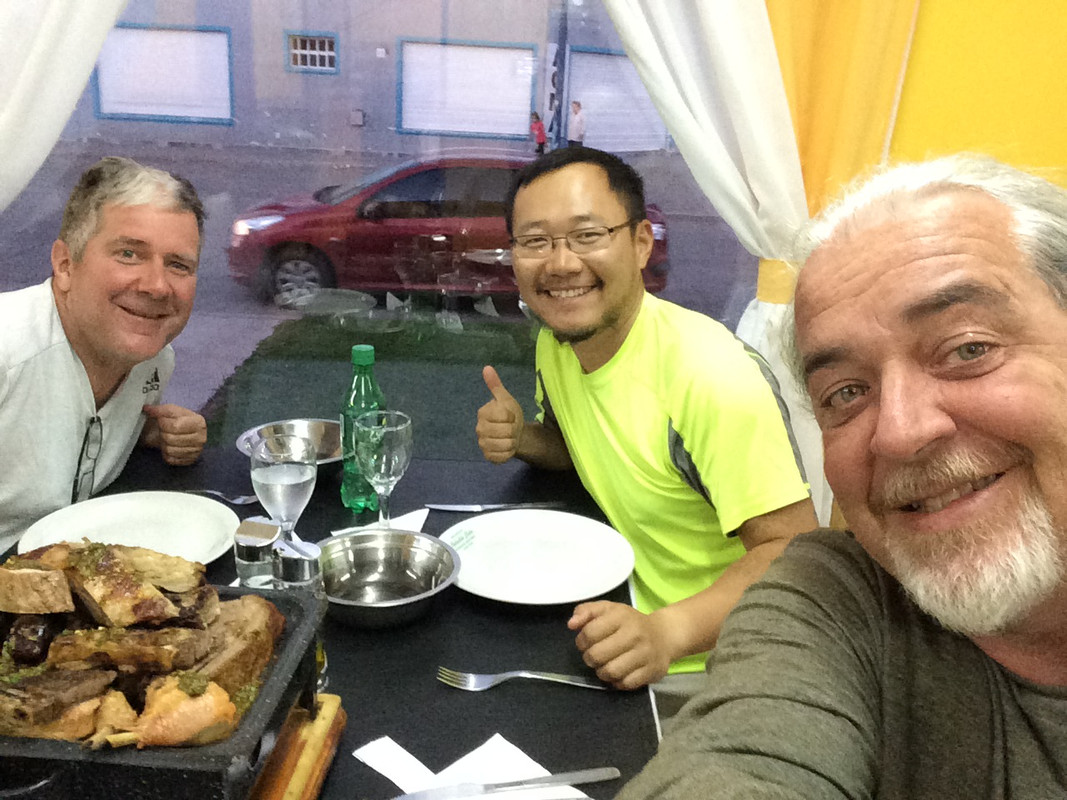 Back in Argentina so you know what that means…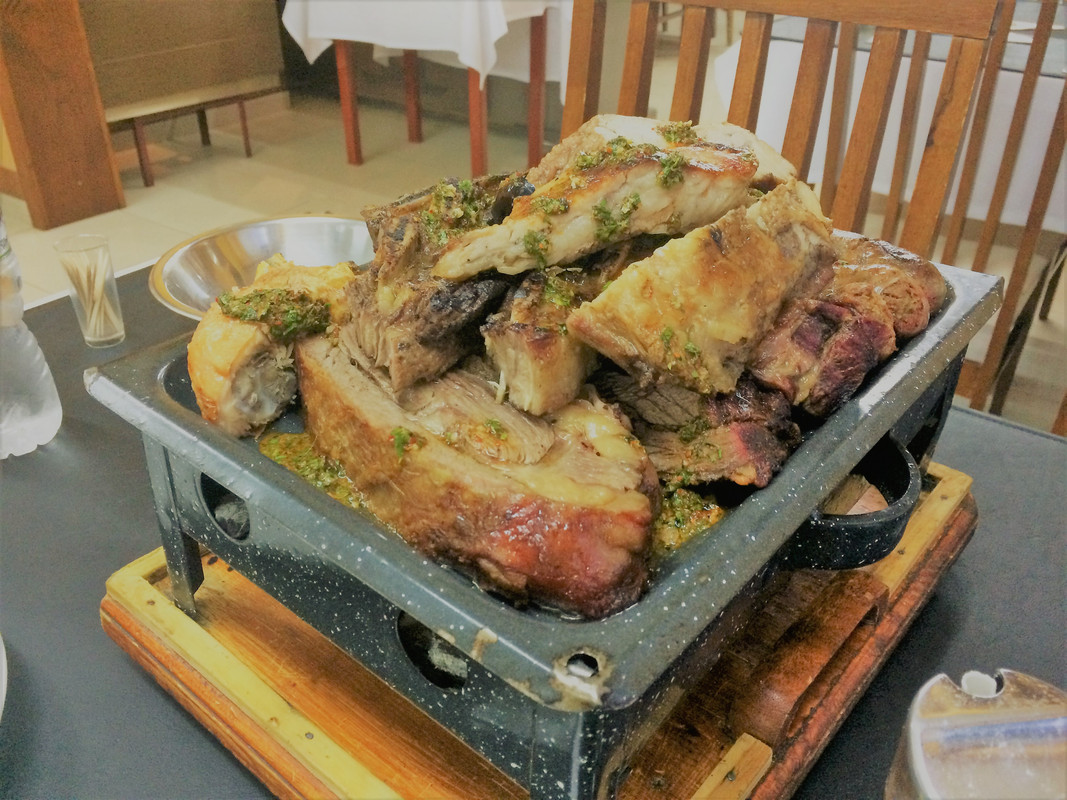 Next day I encountered the 'famous' 72 km of deep gravel section on Ruta 40 between Gobernador Gregores and Tres Lagos. I had been warned that some sections are so deep it can swallow your first born child. Crosswind is also strong here and made going in a straight line even more challenging.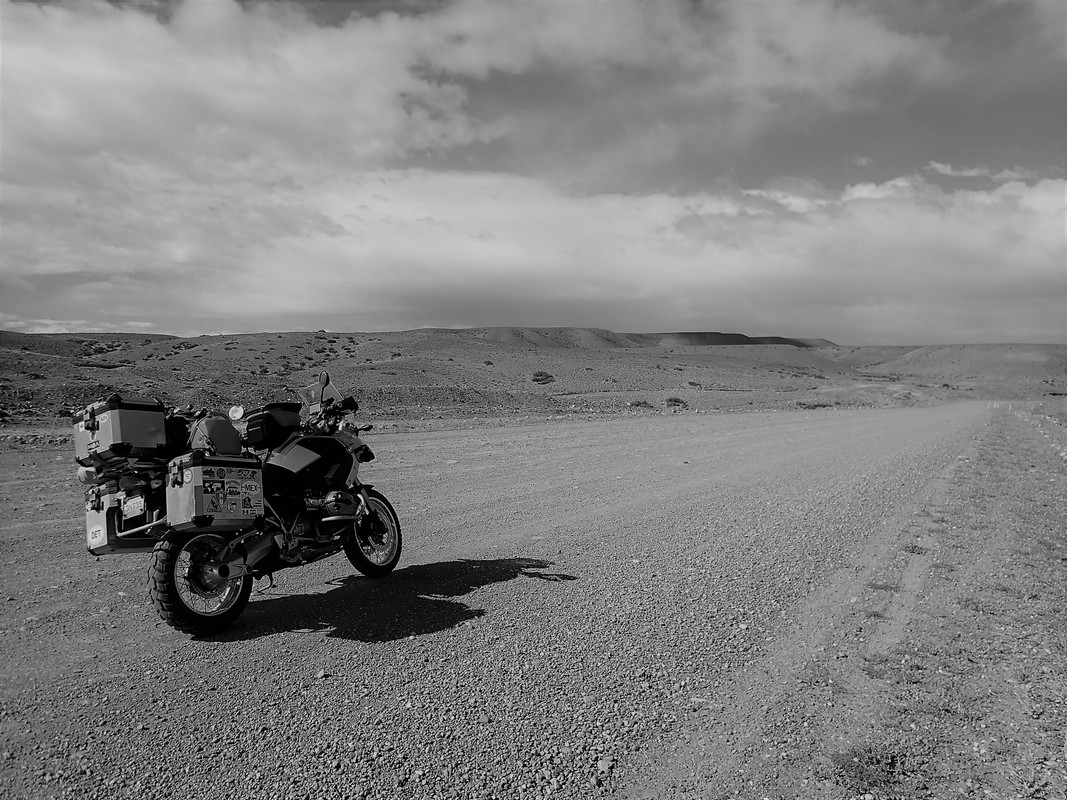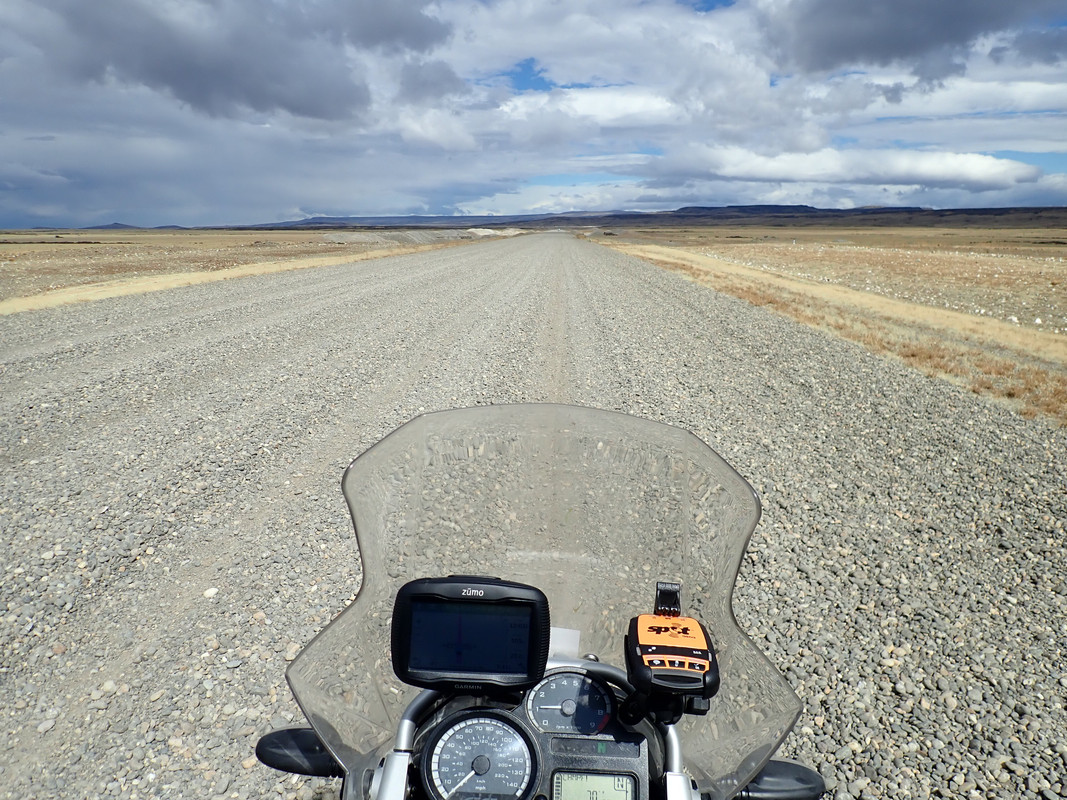 1:0 for the wind & gravel. A gust of wind had blown me off the track and I lost control. There was no one in either direction for miles so I had to pick up the bike myself which I barely managed by unloading the dry bag. Unfortunately I went down again within a minute trying to cross back over the mounds of gravel. I gave it all I had and lifted the bike up again but couldn't put the kickstand down this time. At this point my arms gave up and I had to let it go. A car came by eventually and helped me back up but it was a nerve-racking ride for rest of the way.
Argentinean gauchos in Tres Lagos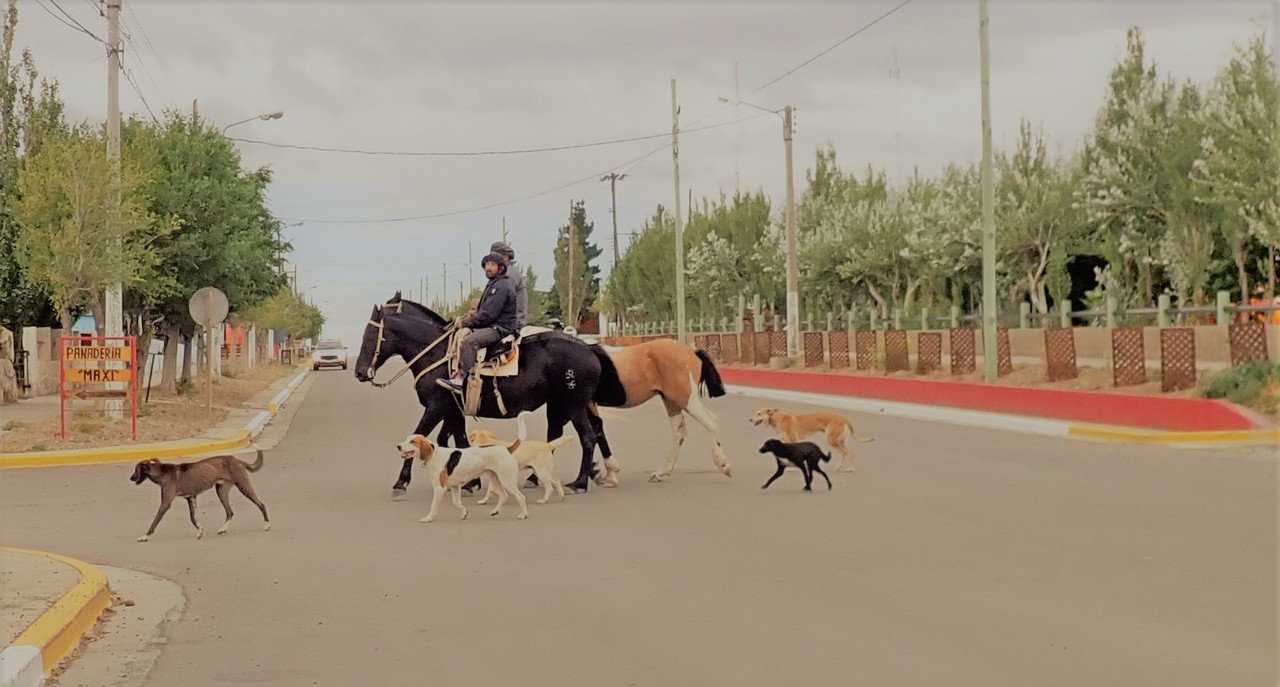 Overlanders love their stickers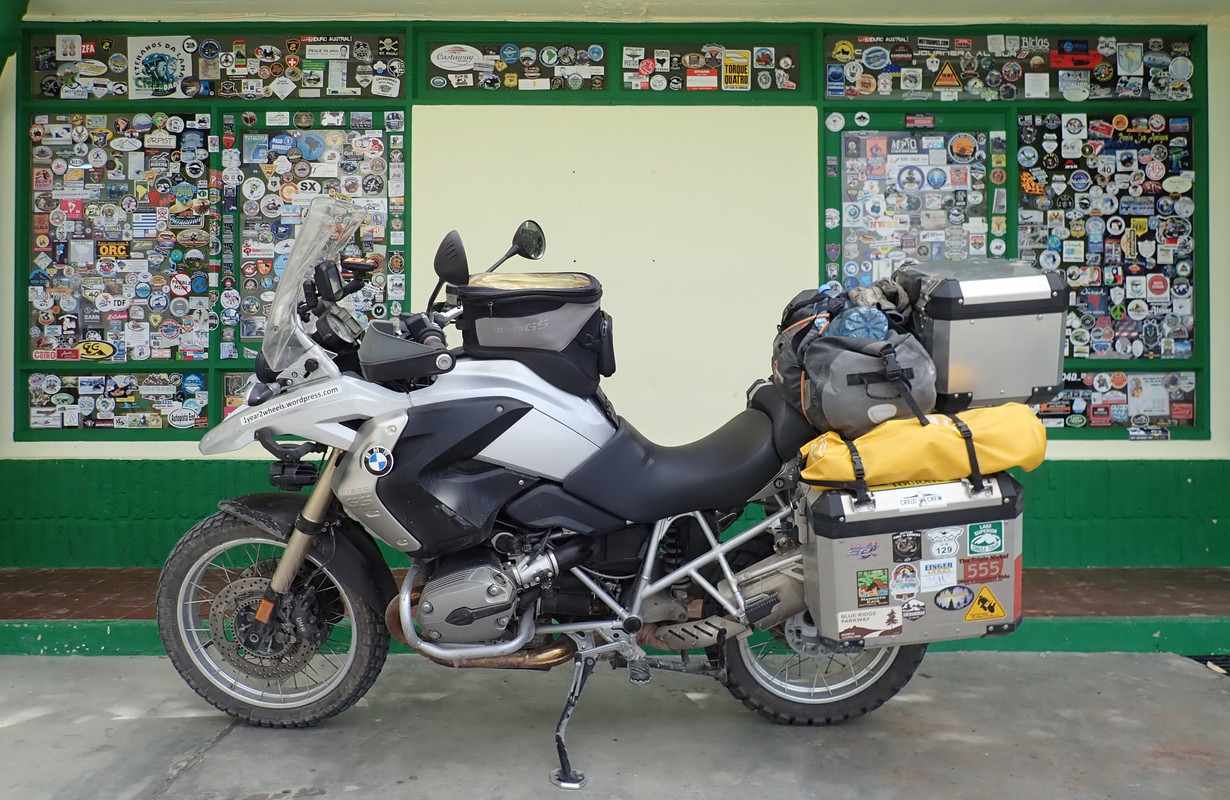 The essence of Patagonia on the way to El Chaltén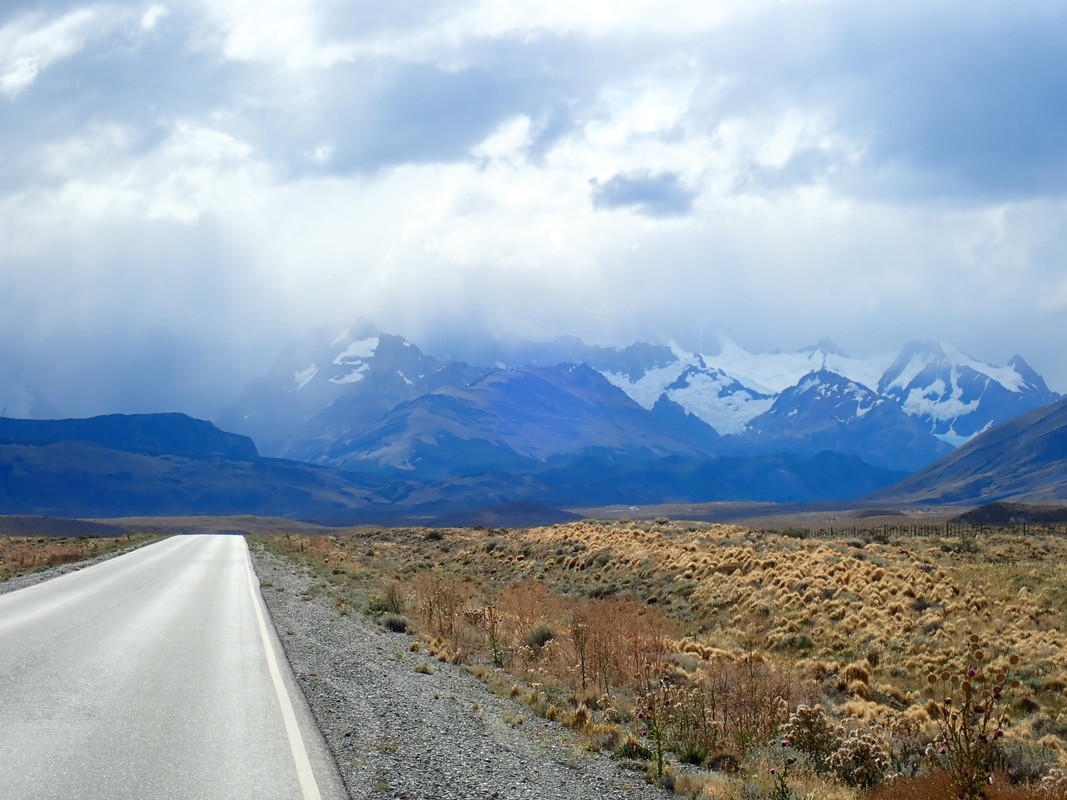 El Chaltén is in the foothills of Patagonia mountain ranges and within the Los Glaciares National Park.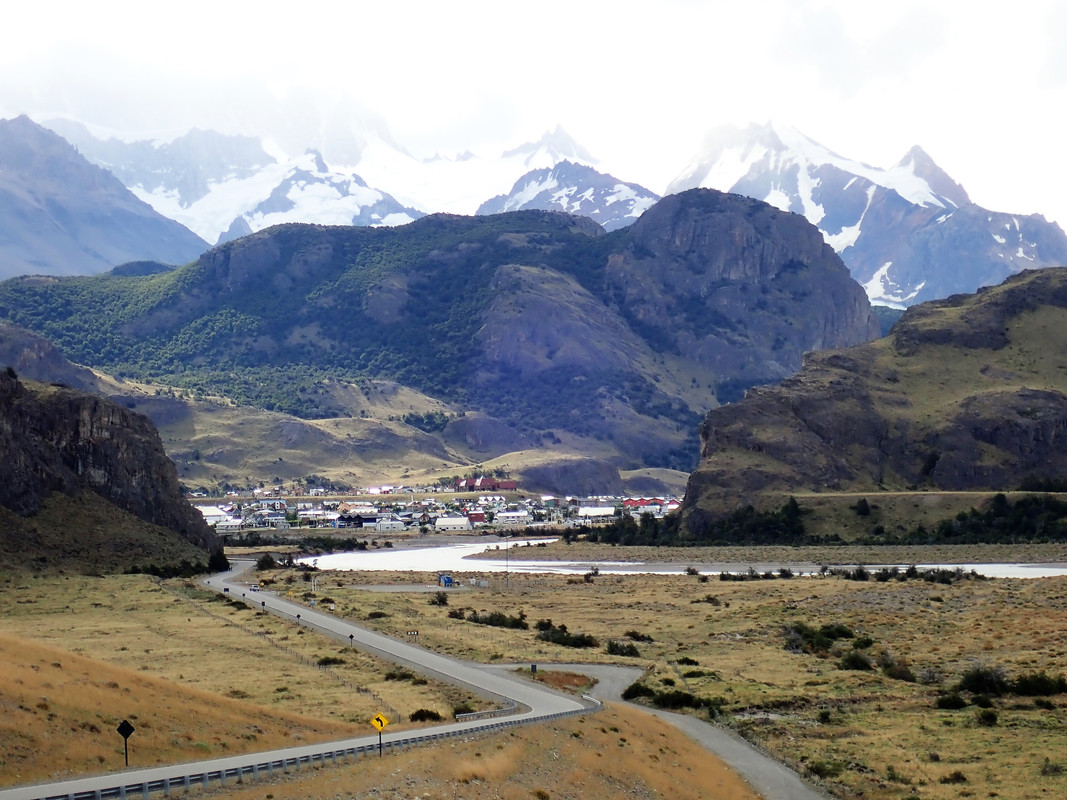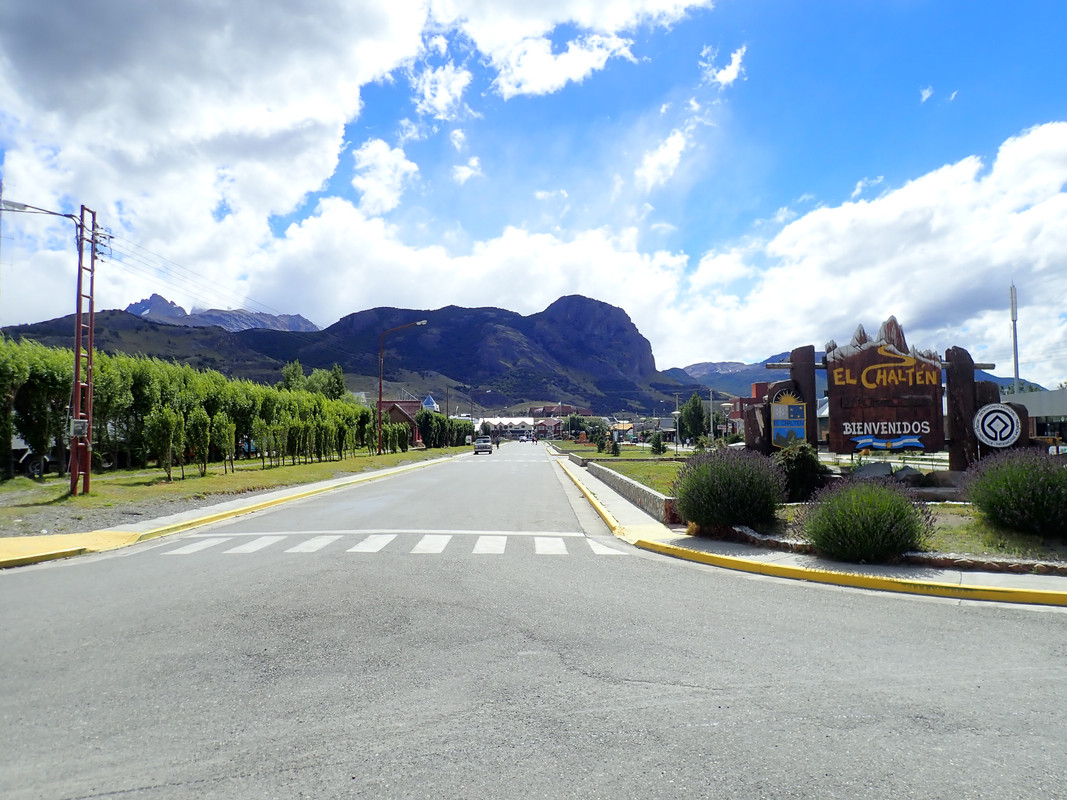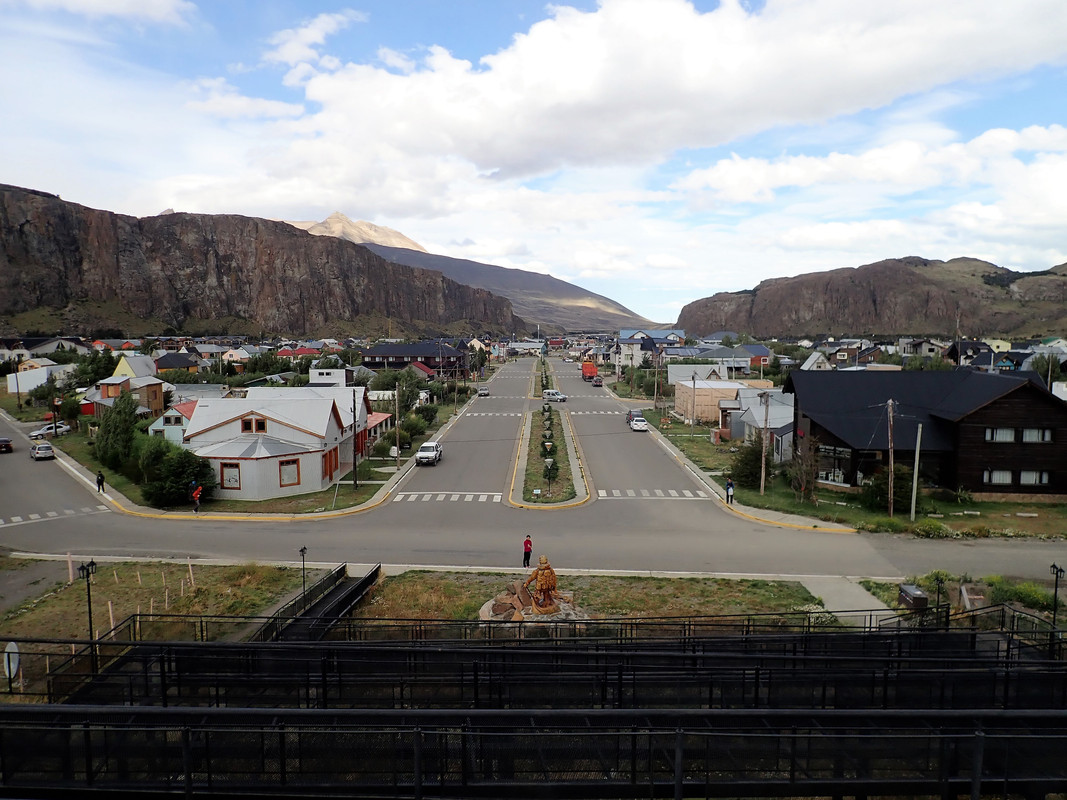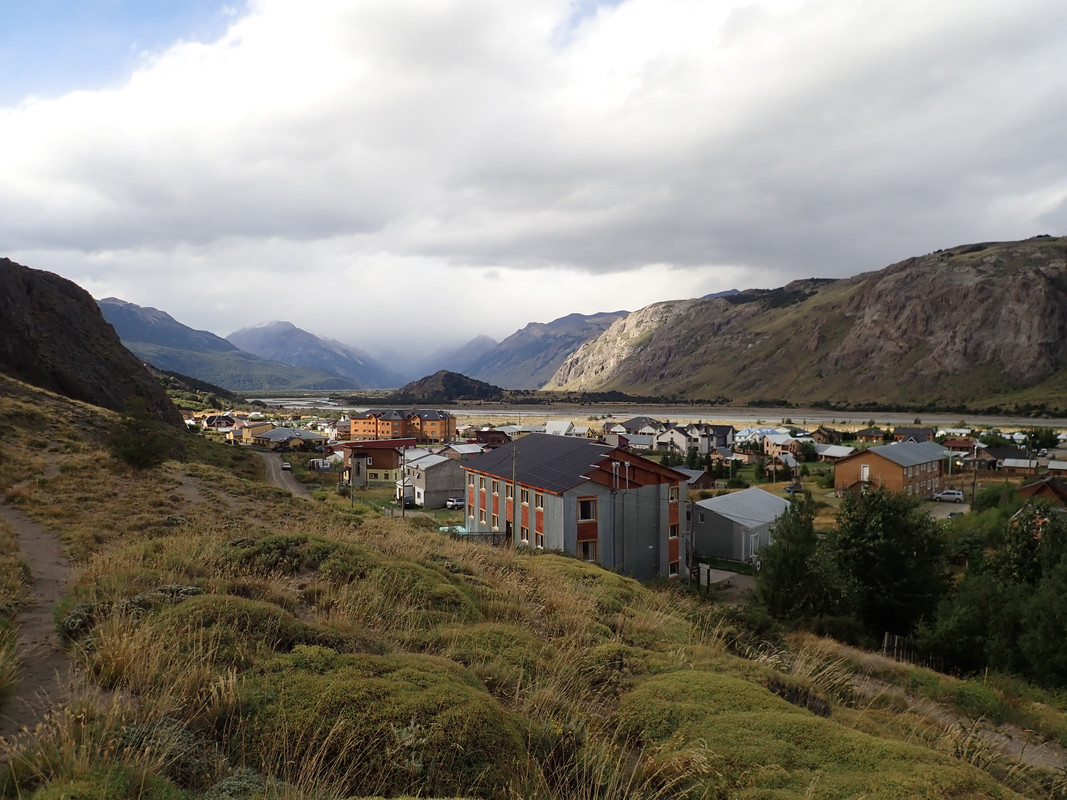 We booked a boat tour to the Viedma Glacier the next morning. It's a large glacier that's part of the Southern Patagonia Ice Field.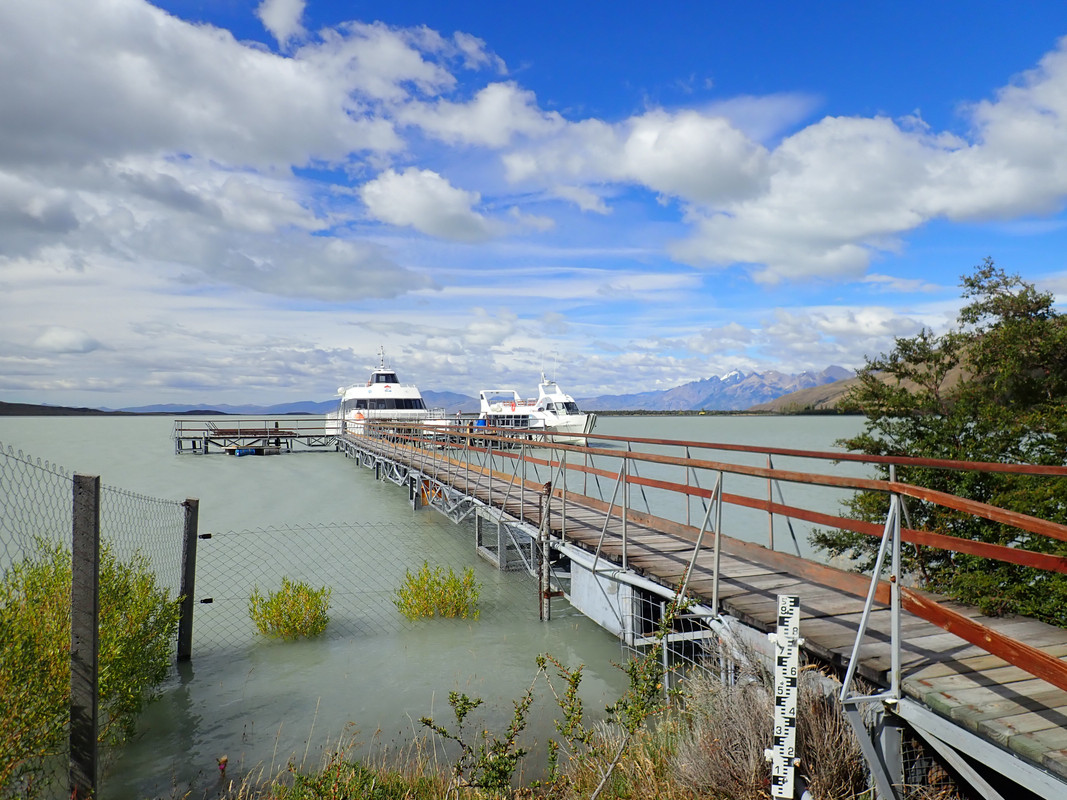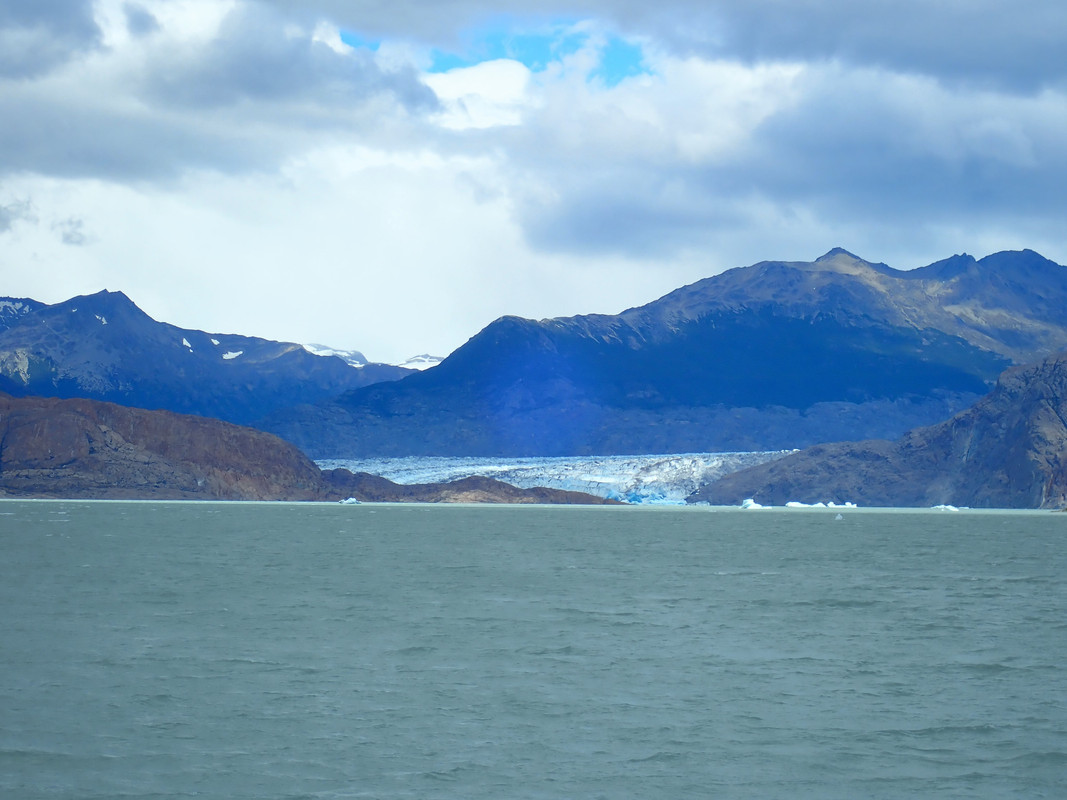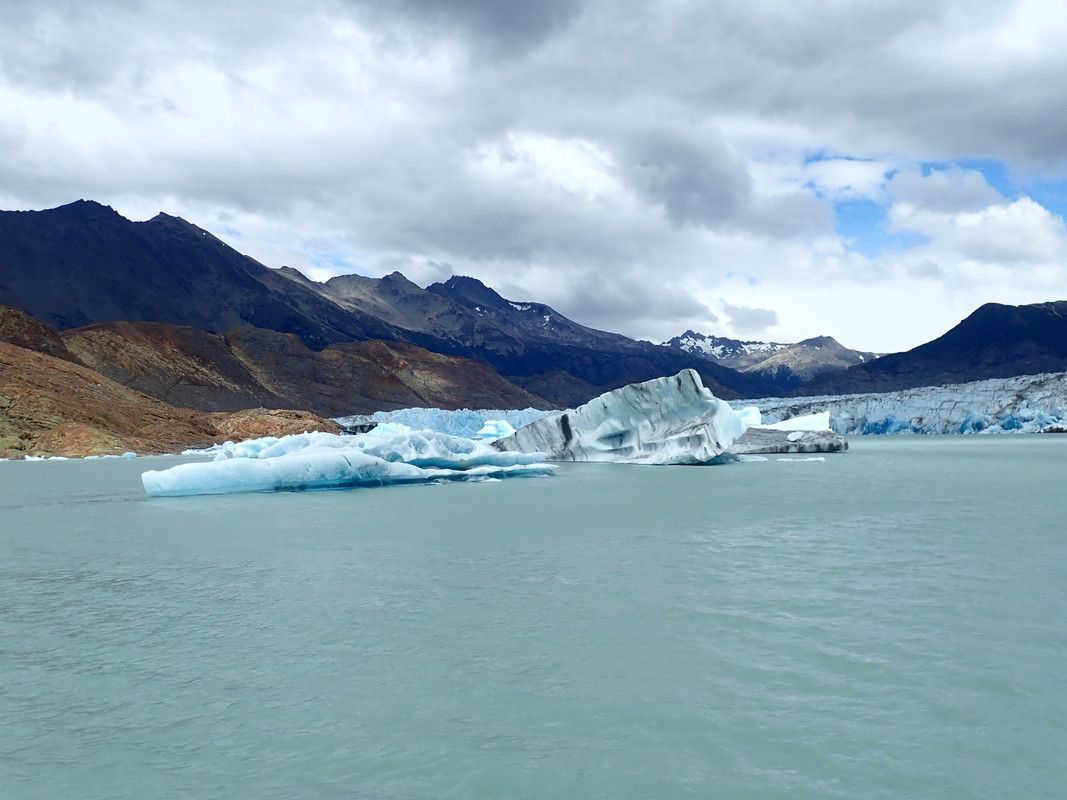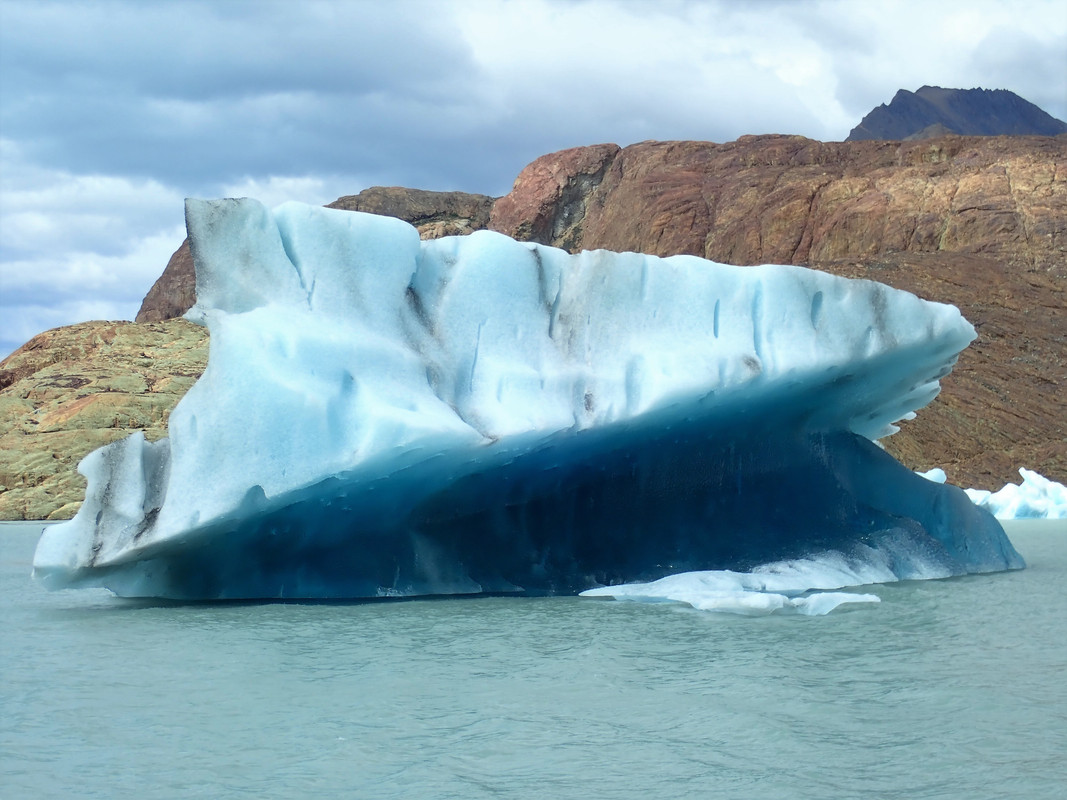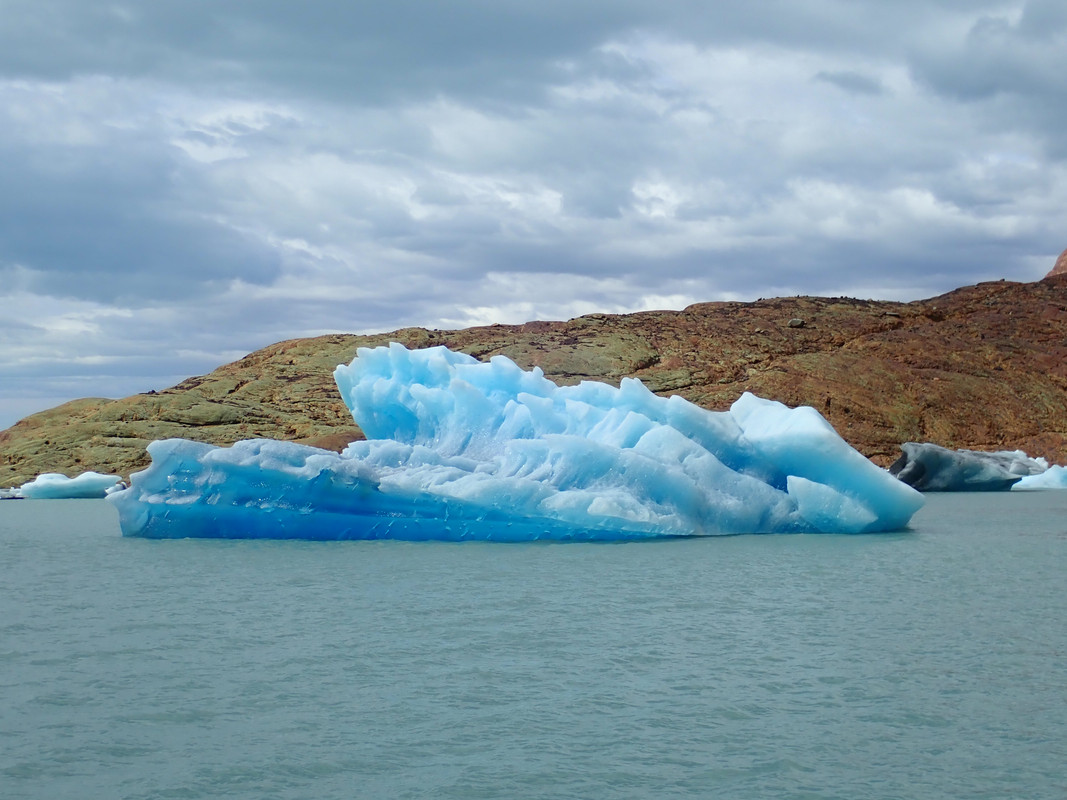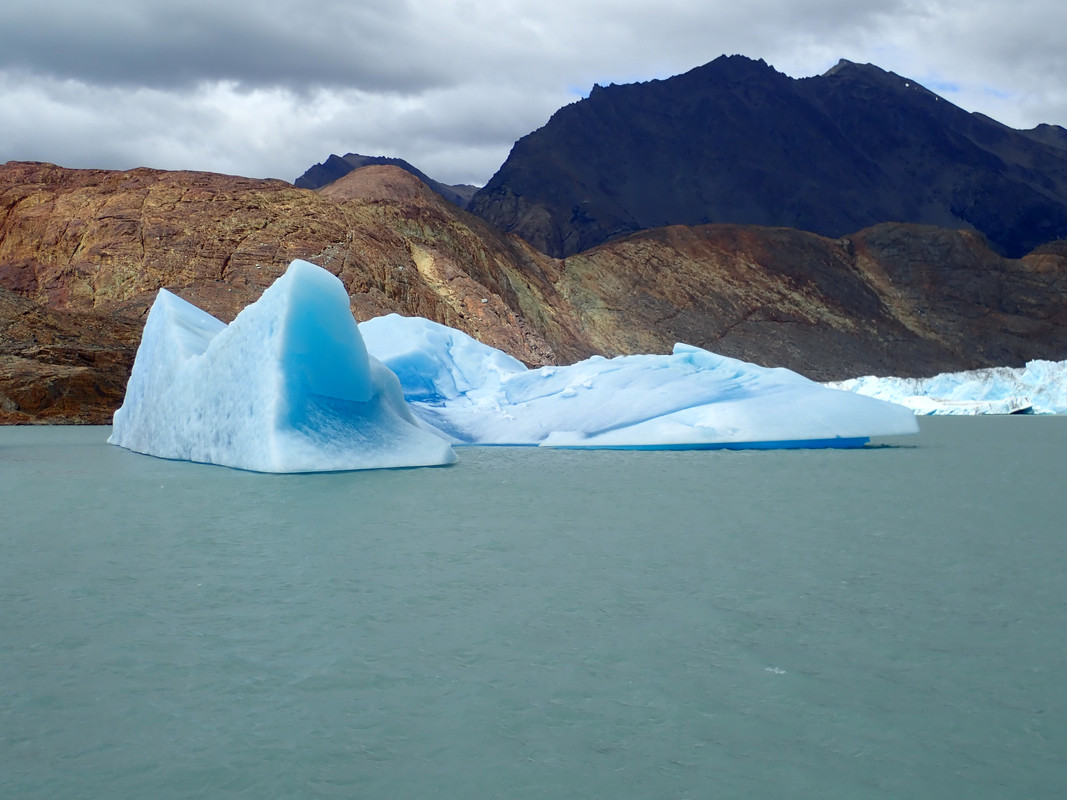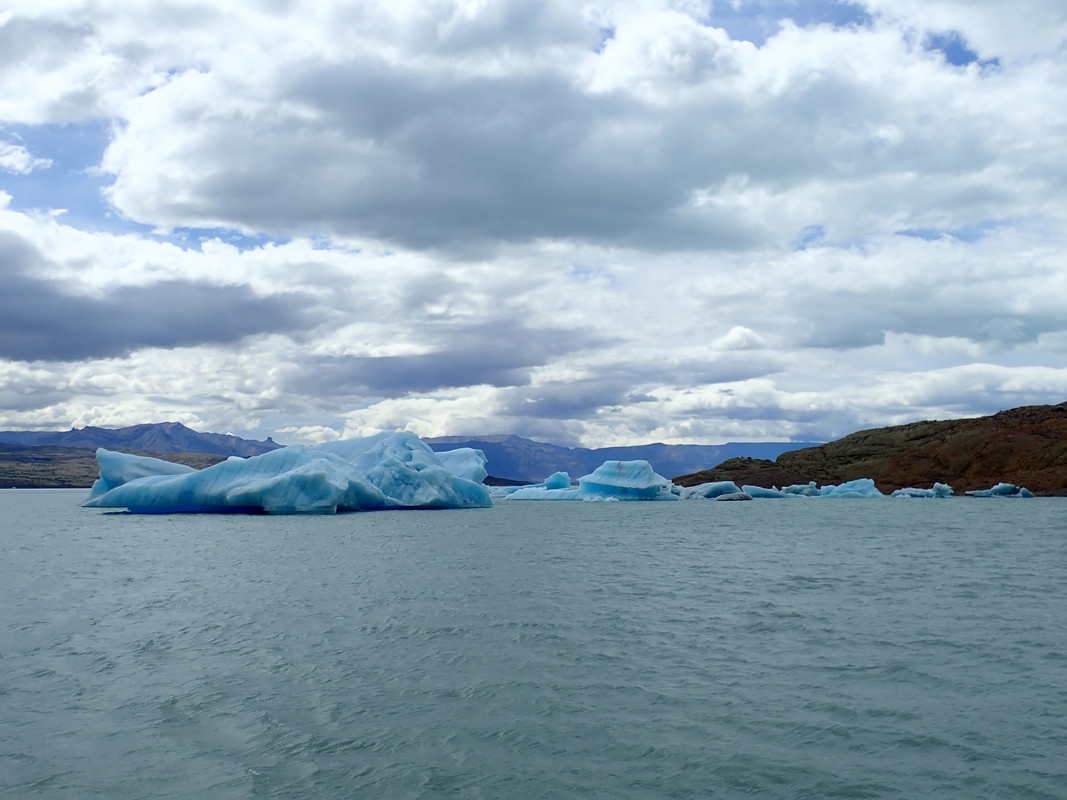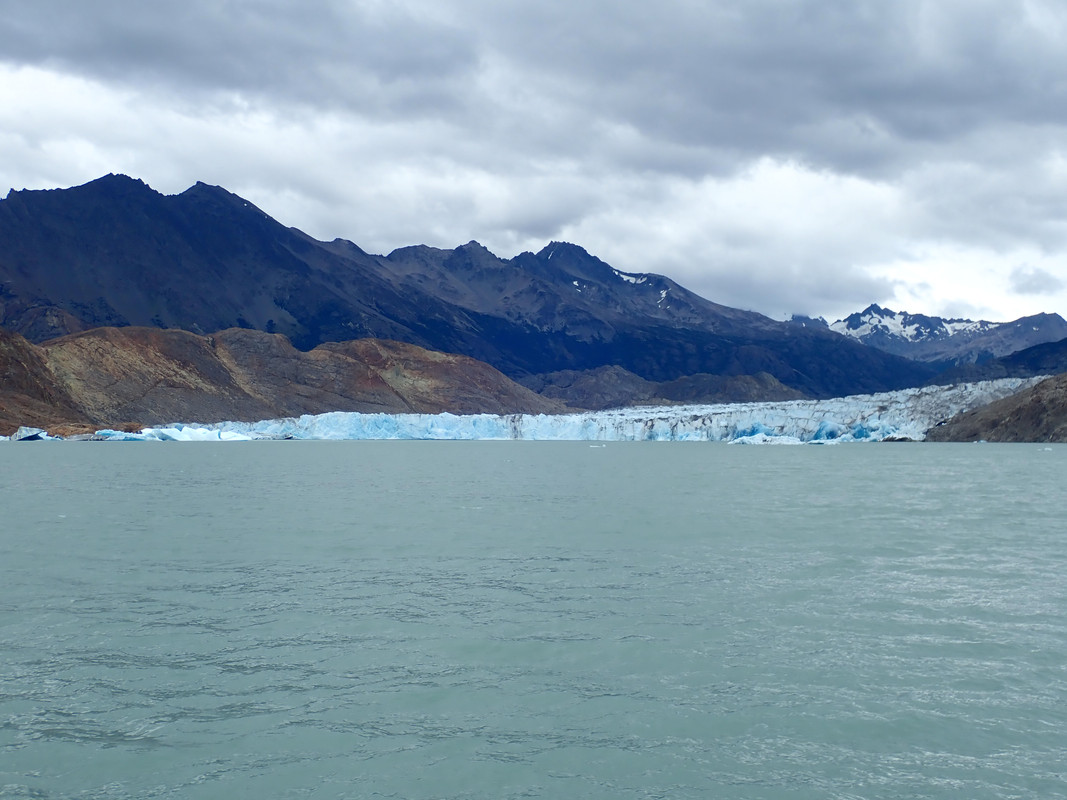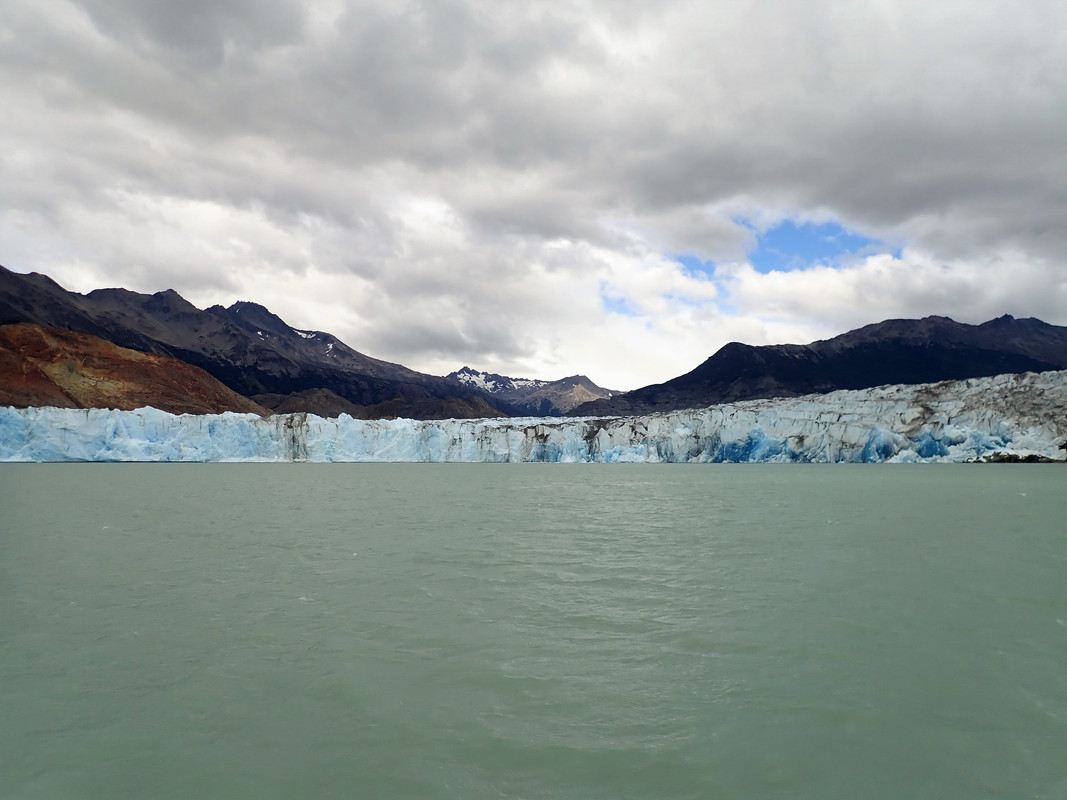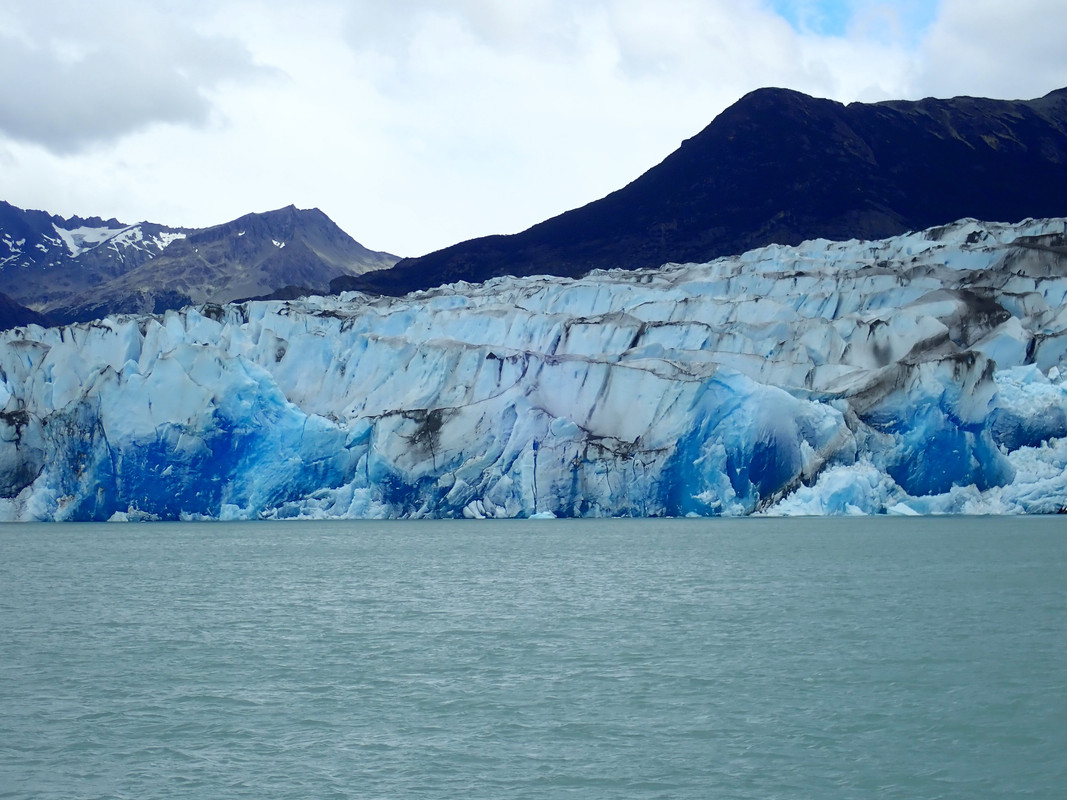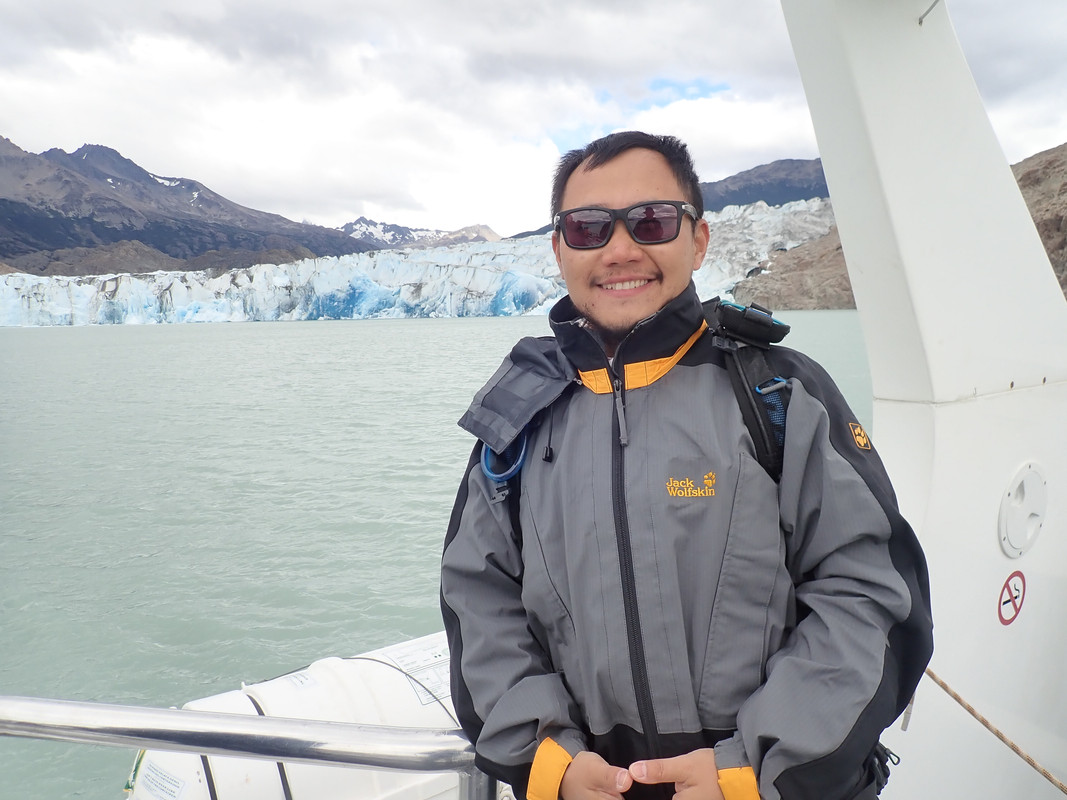 The afternoon was spent on a 8 km hike up Mirador Fitz Roy.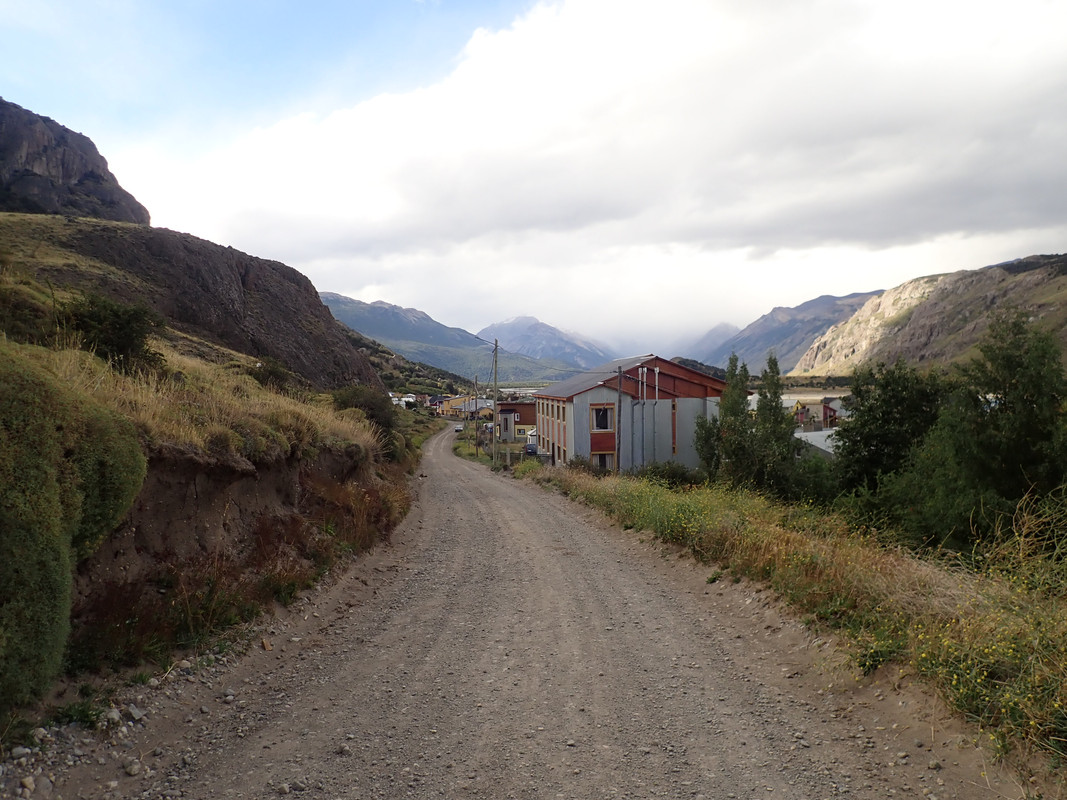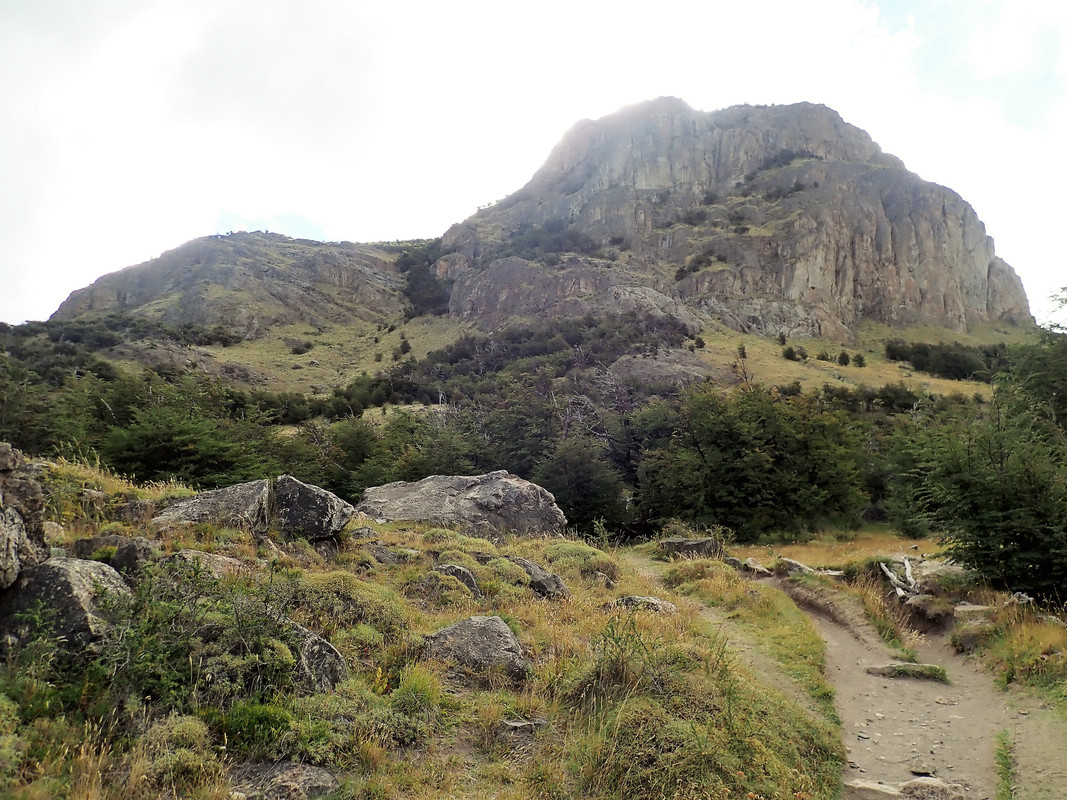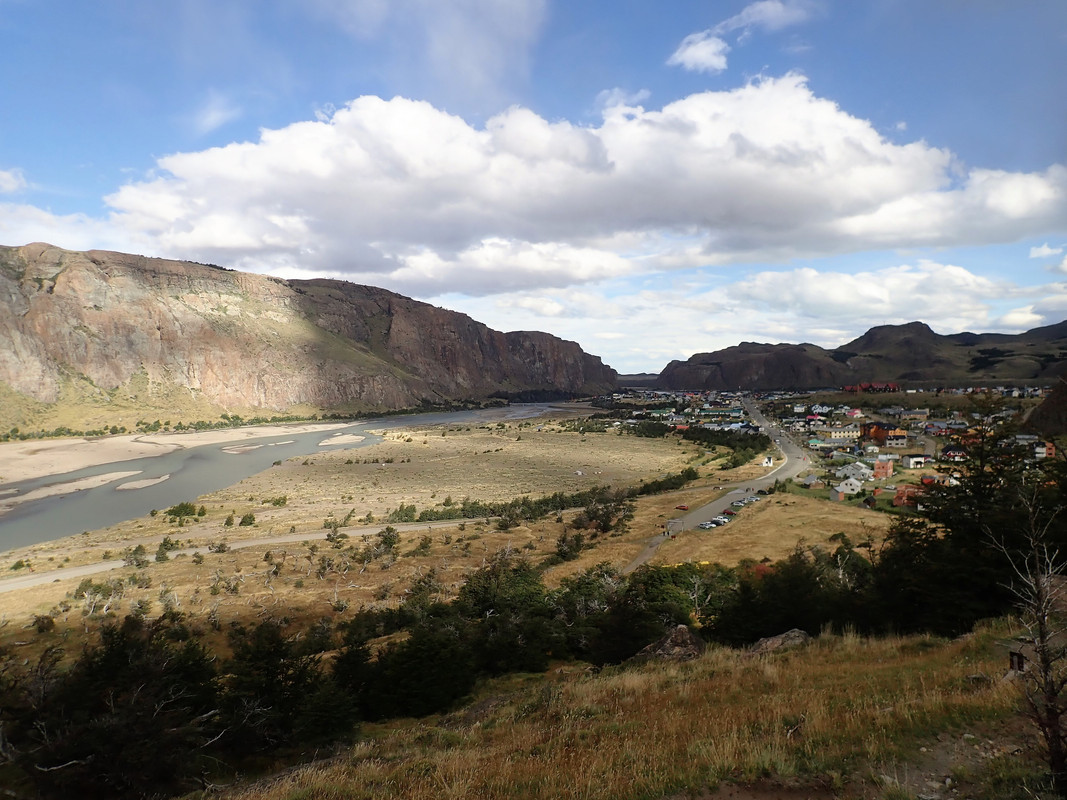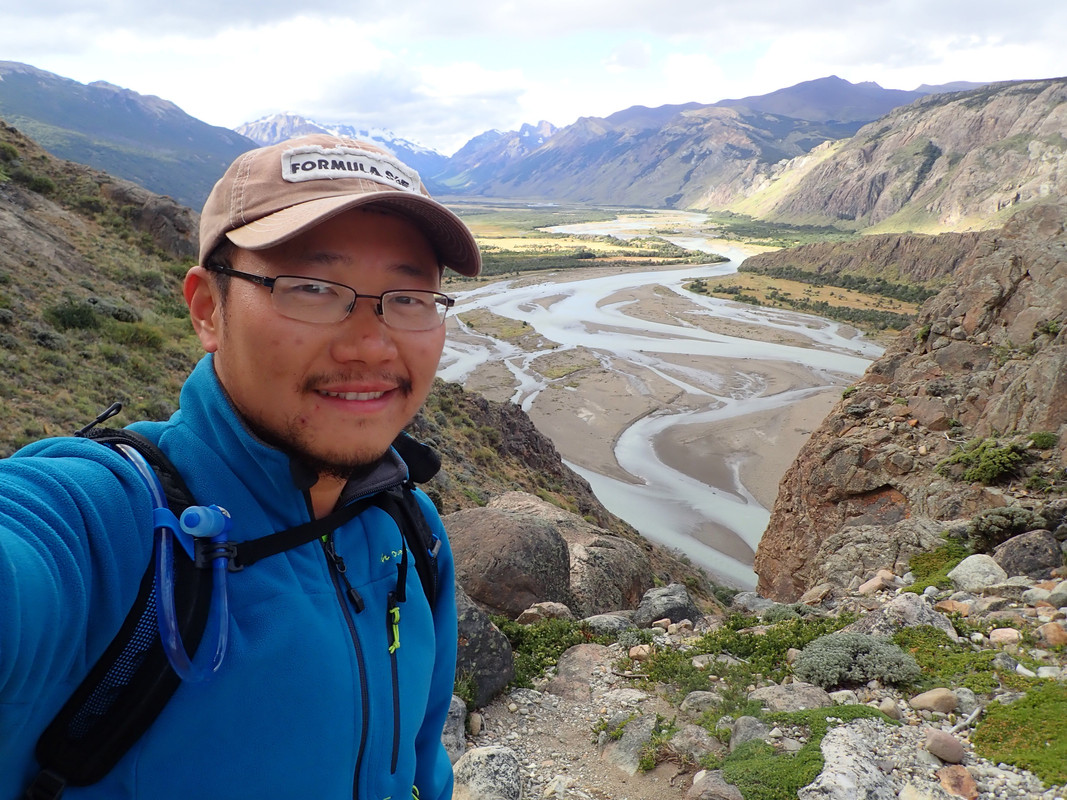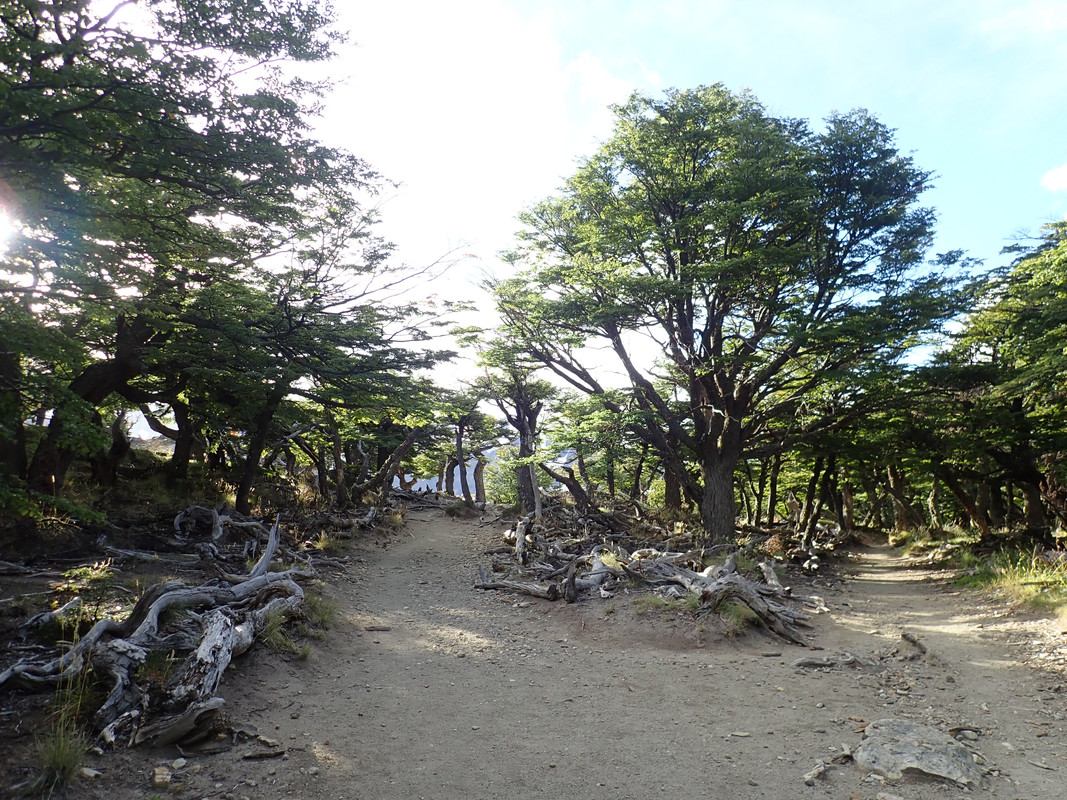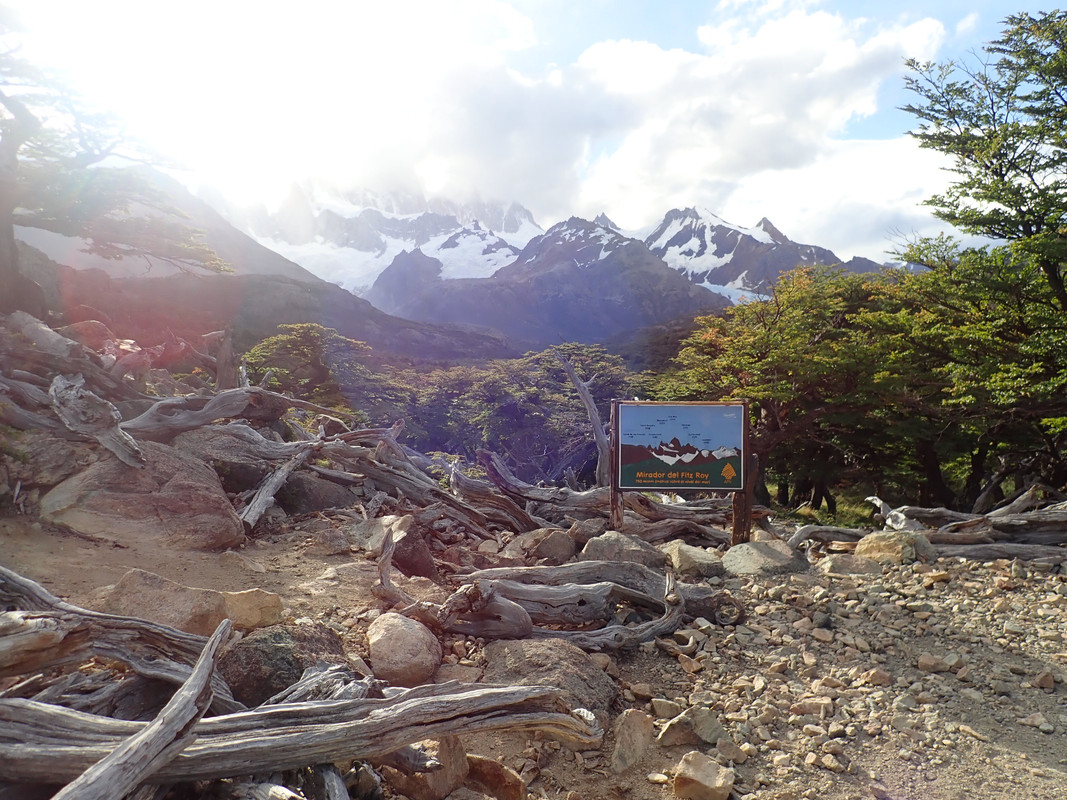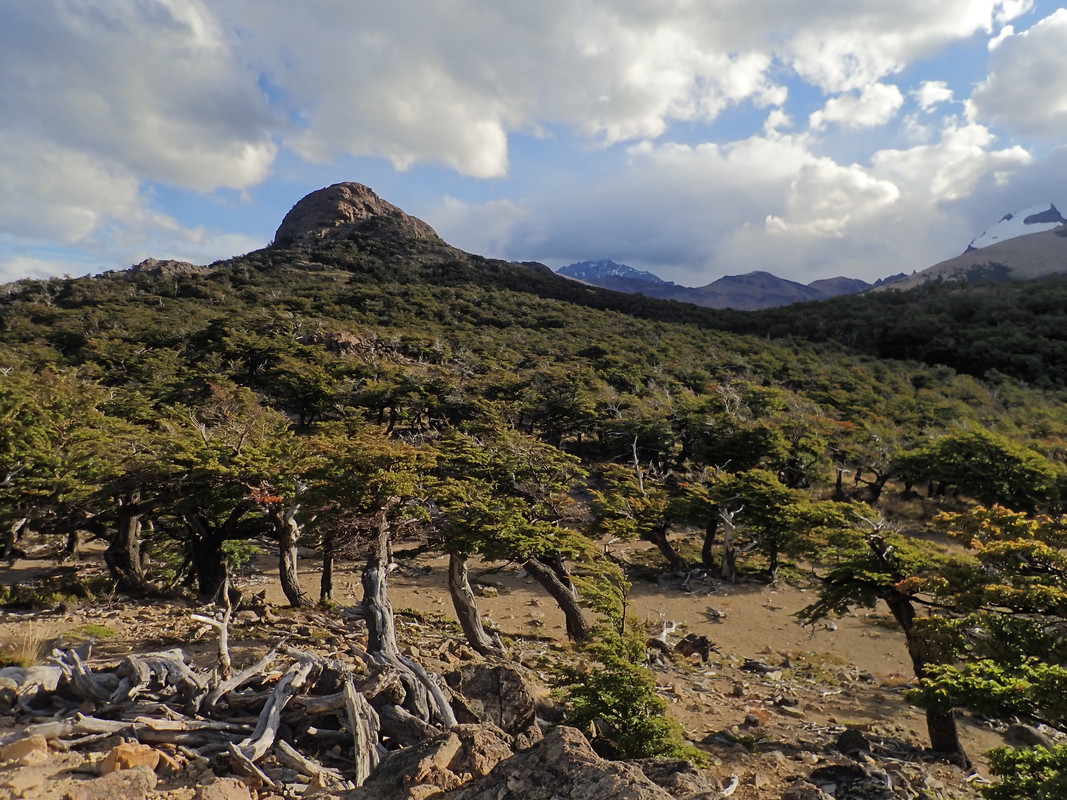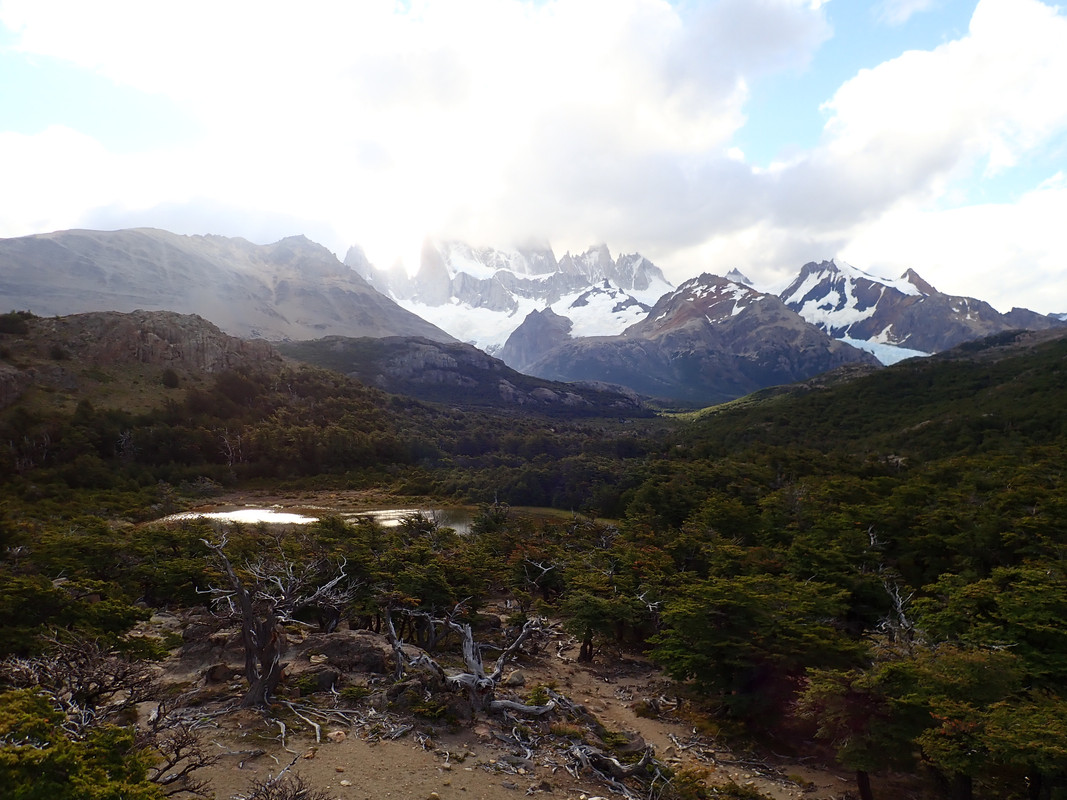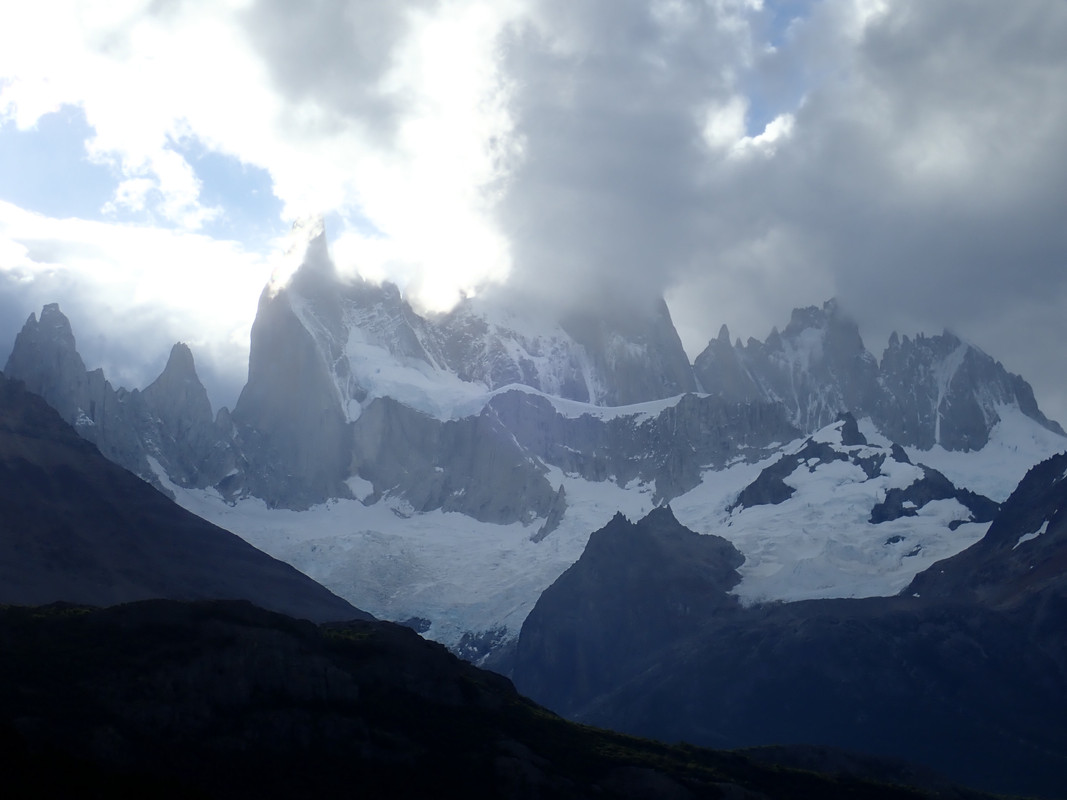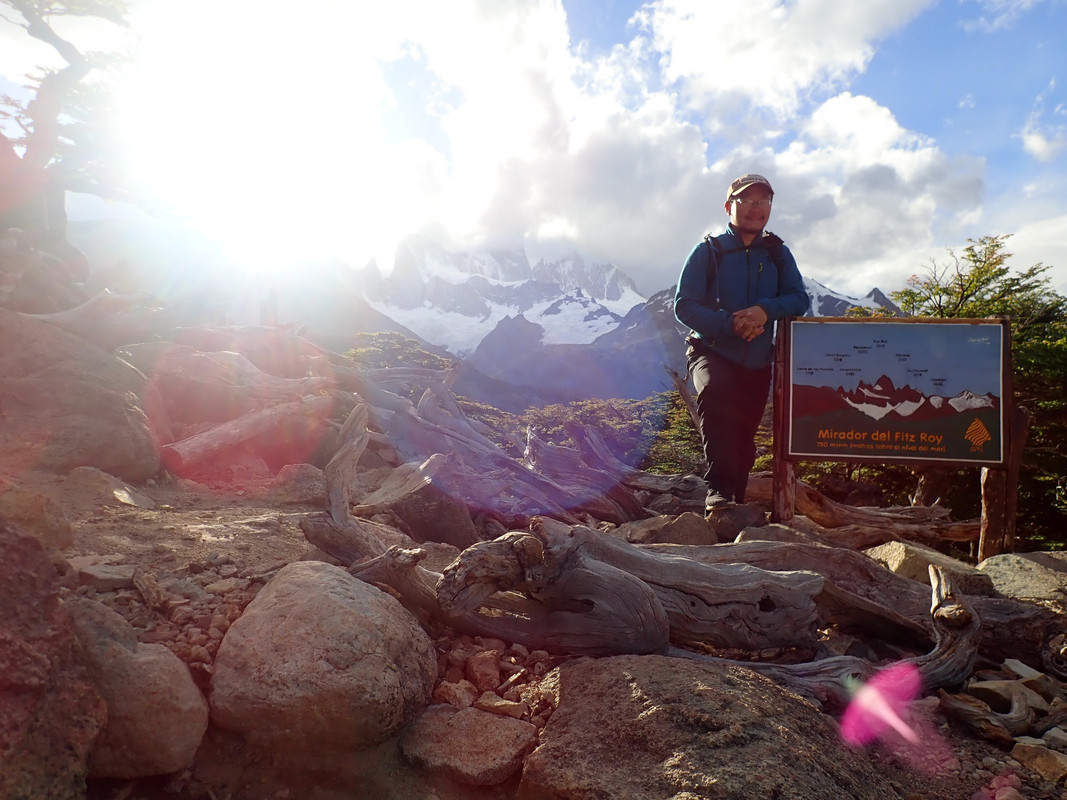 I ran into Johnston on the Moto Guzzi V7 Stornello the next morning who follows my blog…such a small world!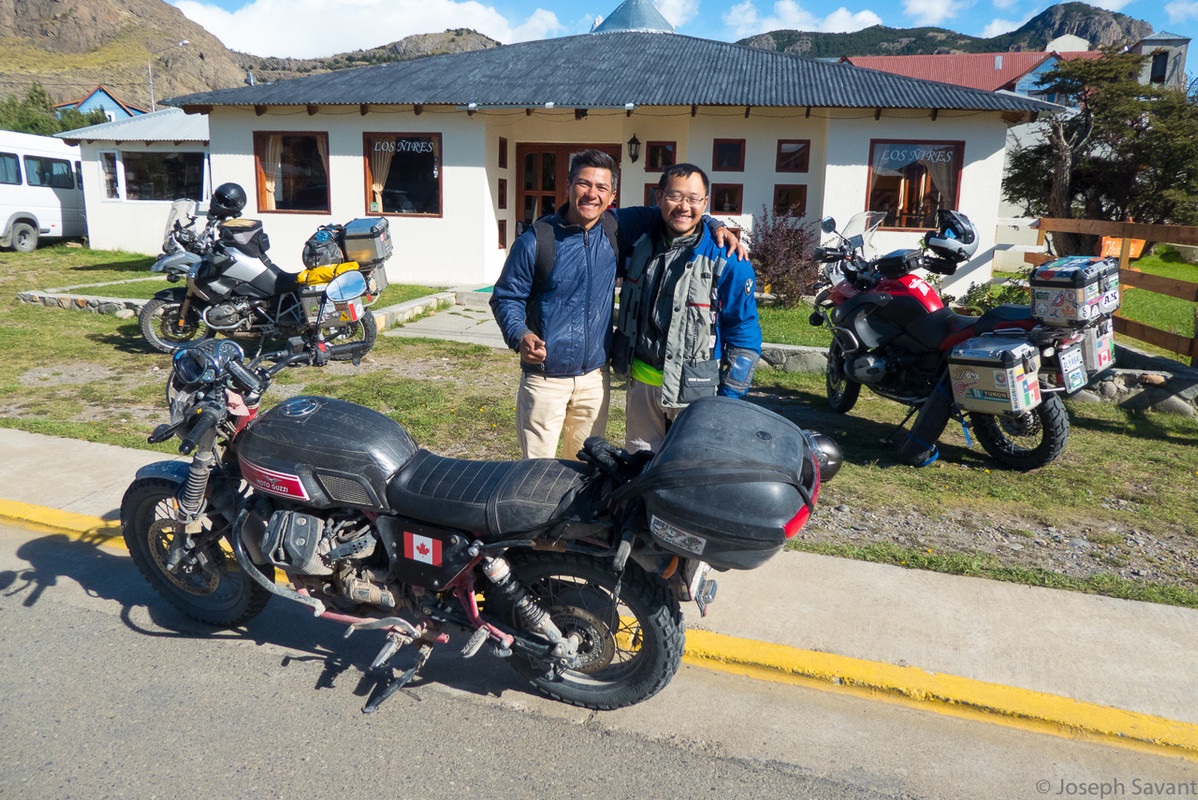 Visibility was great the next morning so we got some nice shots of Mount Fitz Roy on the way out of town.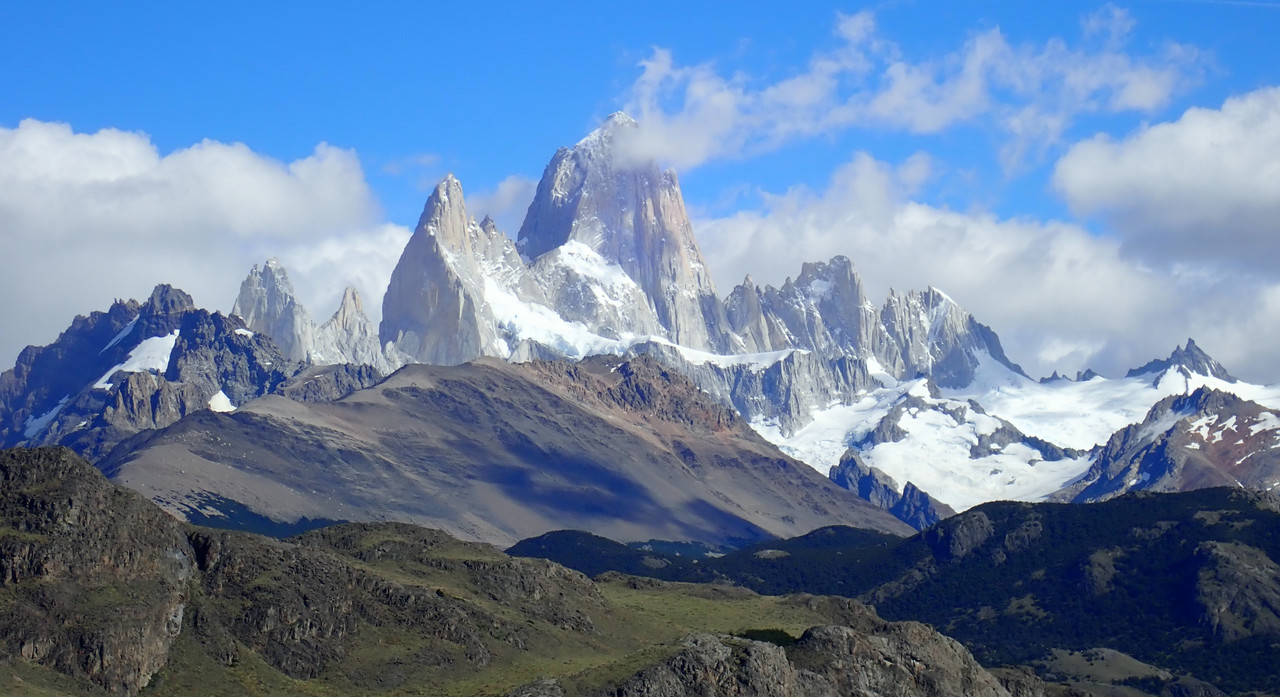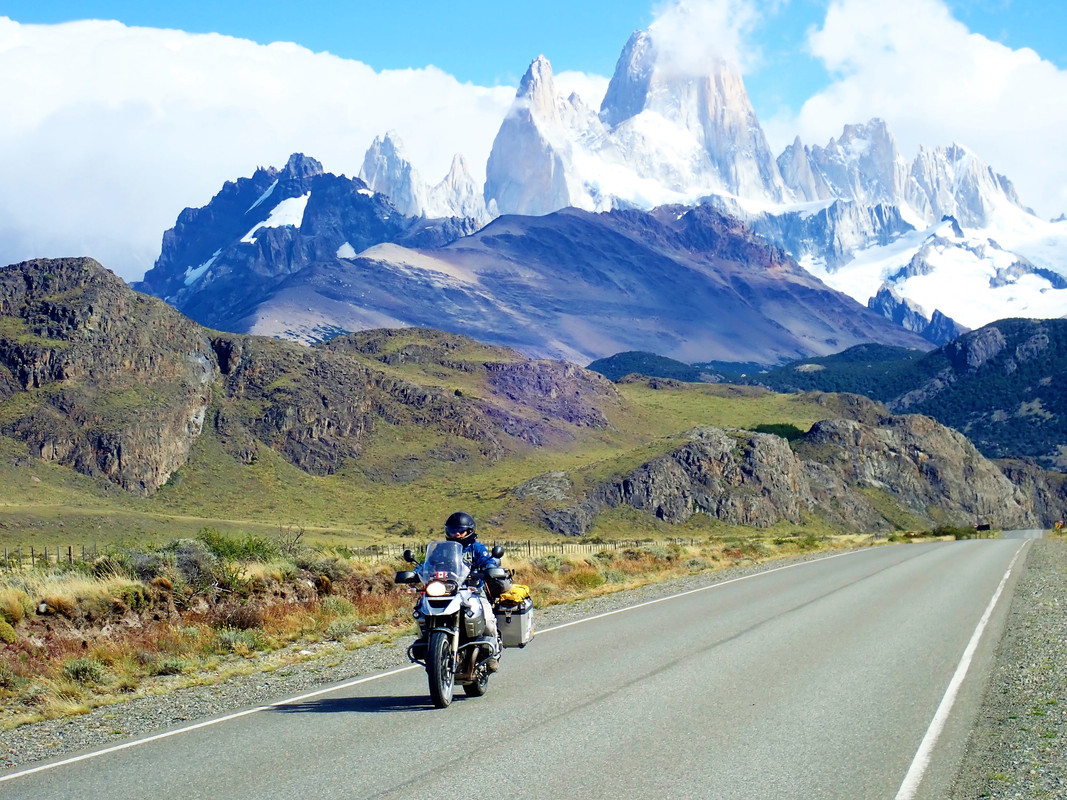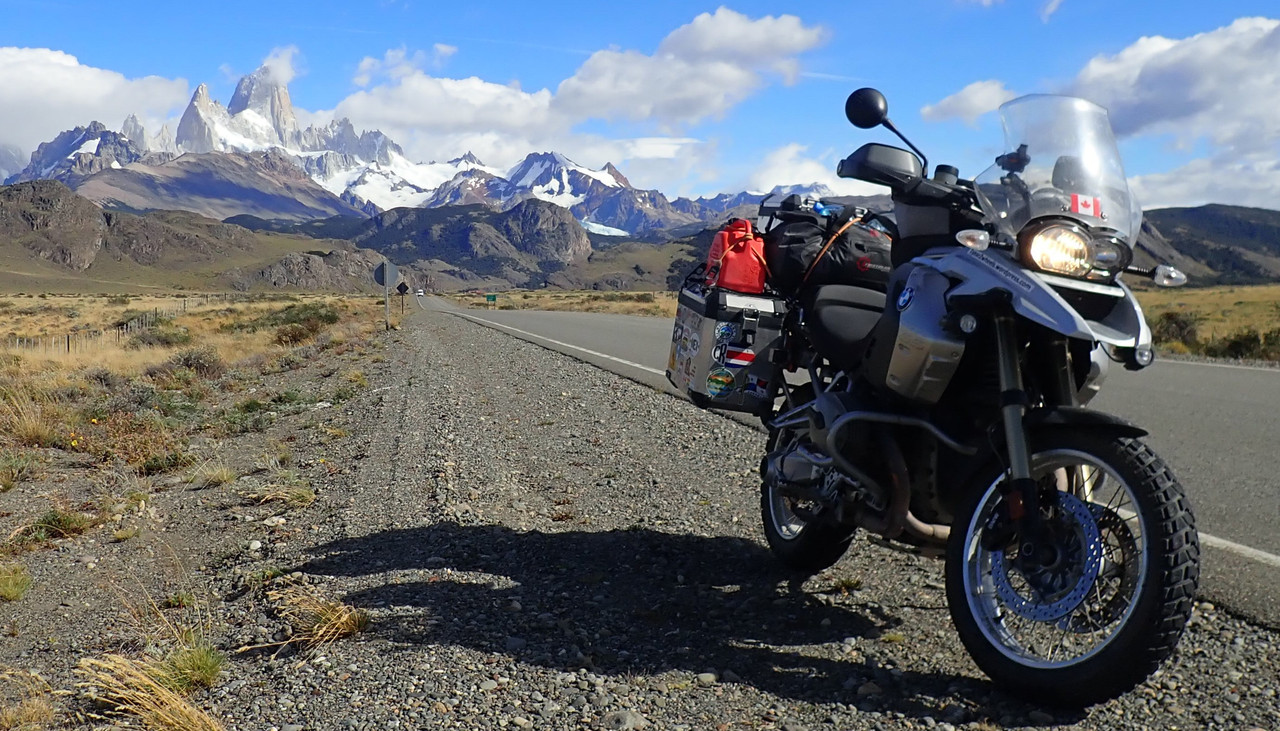 All of the glaciers fed lakes are teal colored and looked surreal.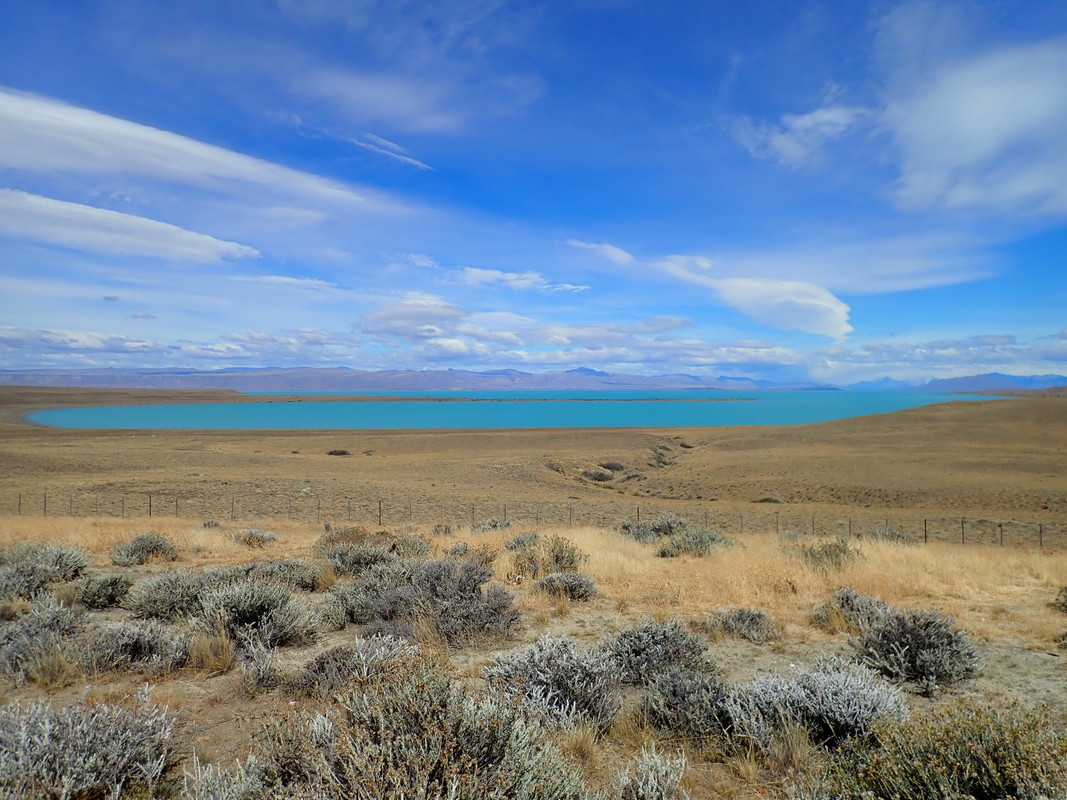 What happened here?
We made a day trip out to the Perito Moreno Glacier the next day…more pure glacial awesomeness!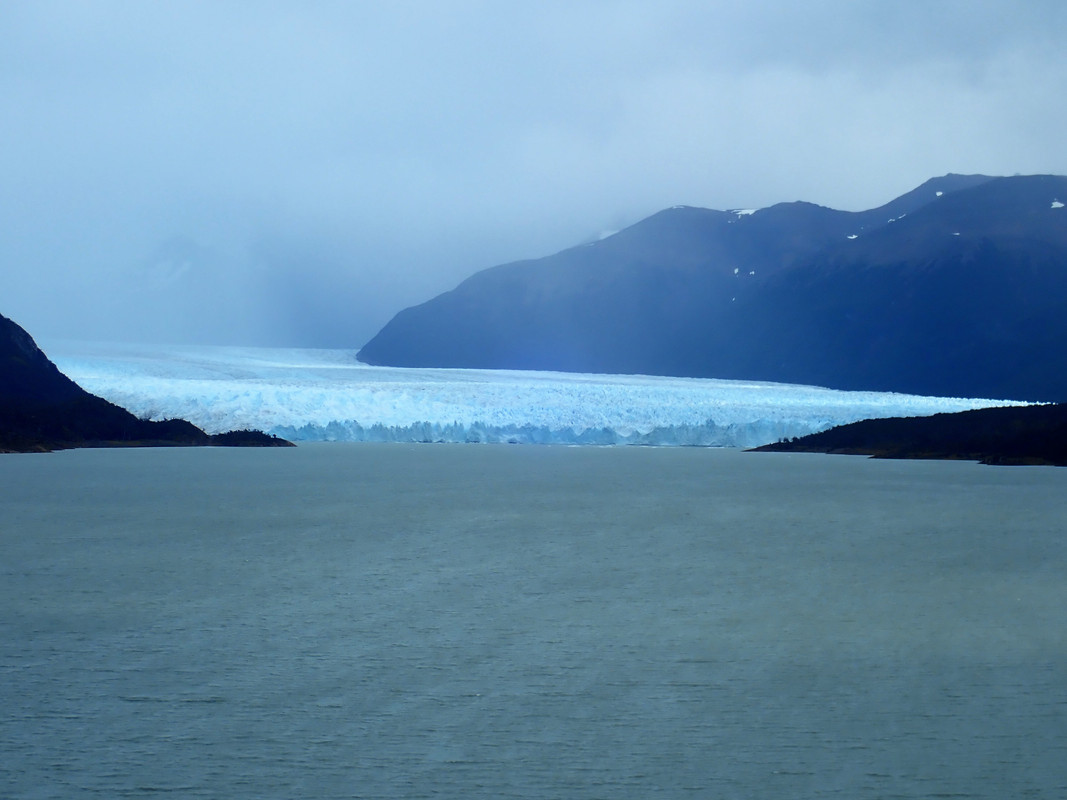 There were lots of caracaras in the Perito Moreno Glacier Park.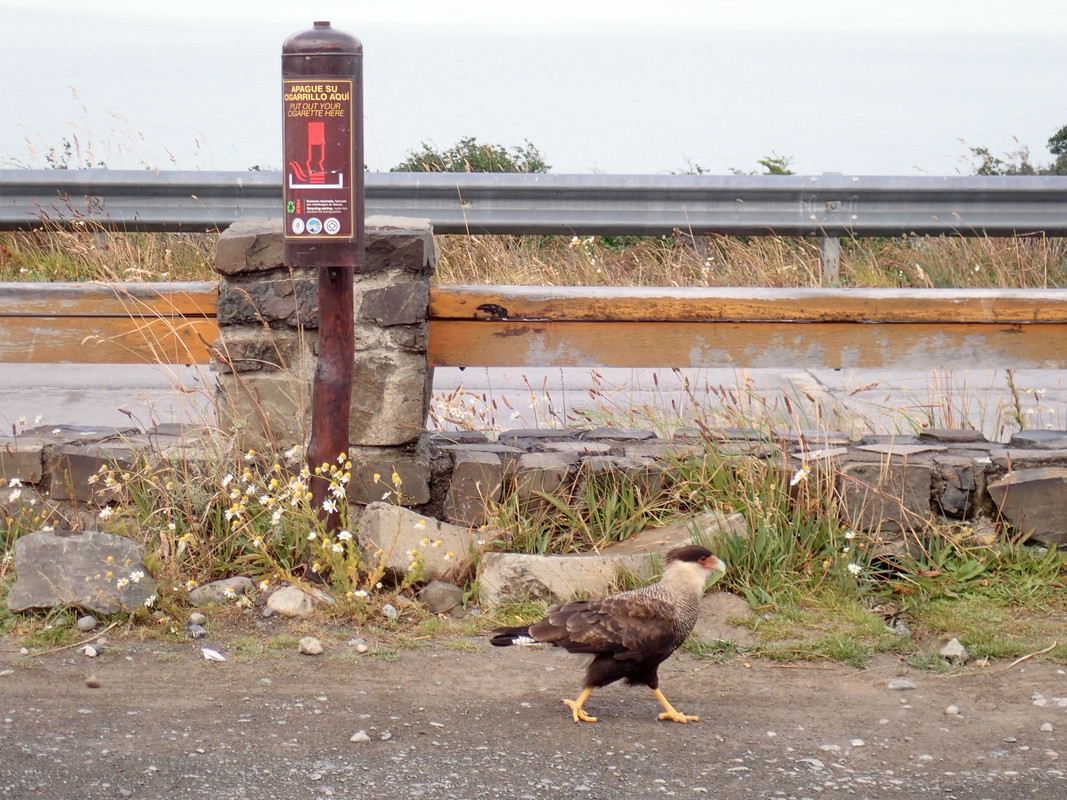 The front face is about 70 m in height.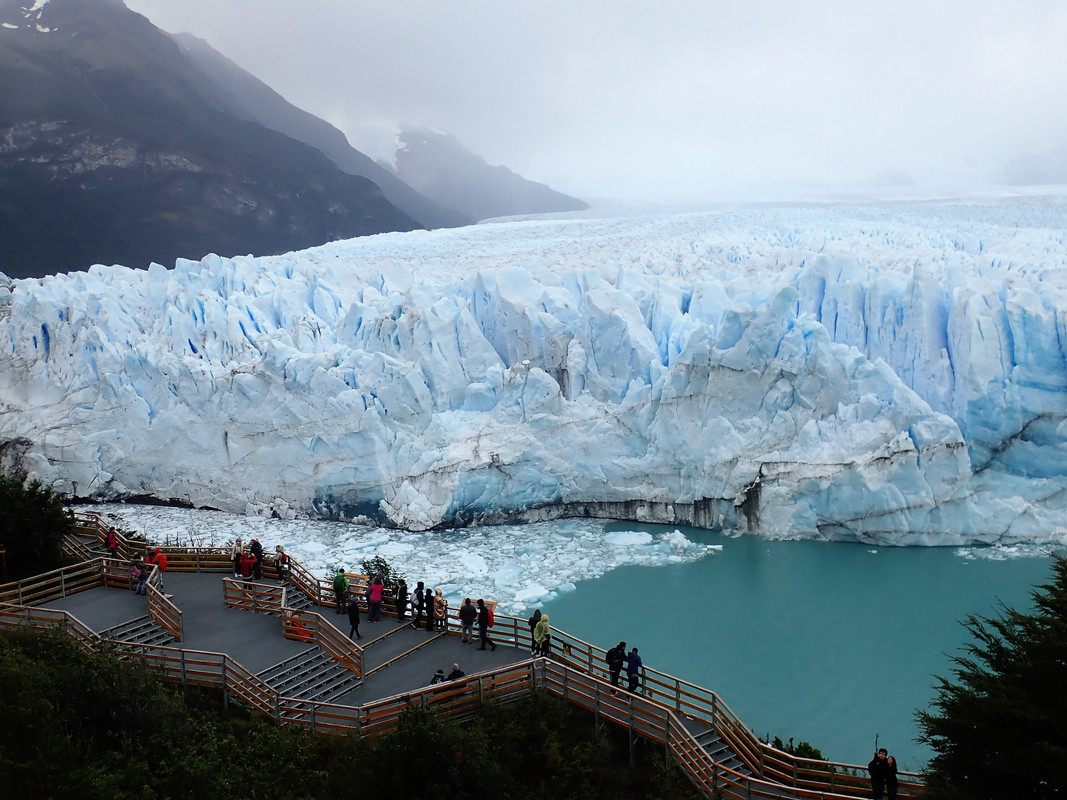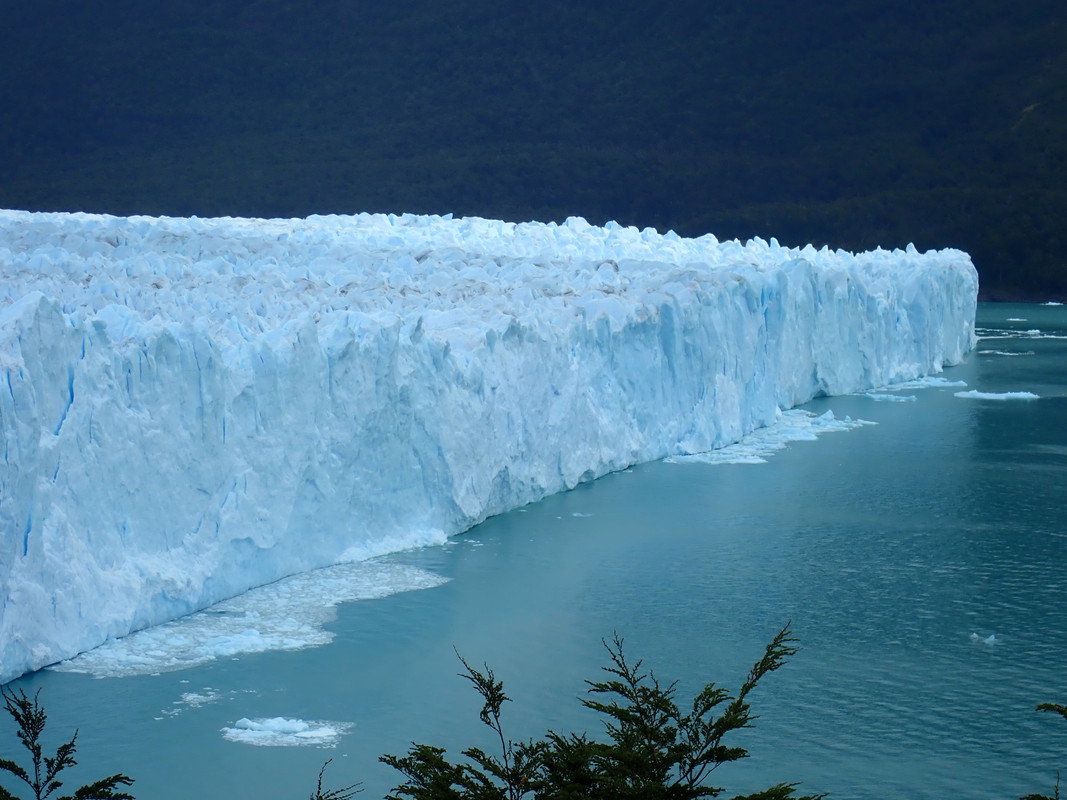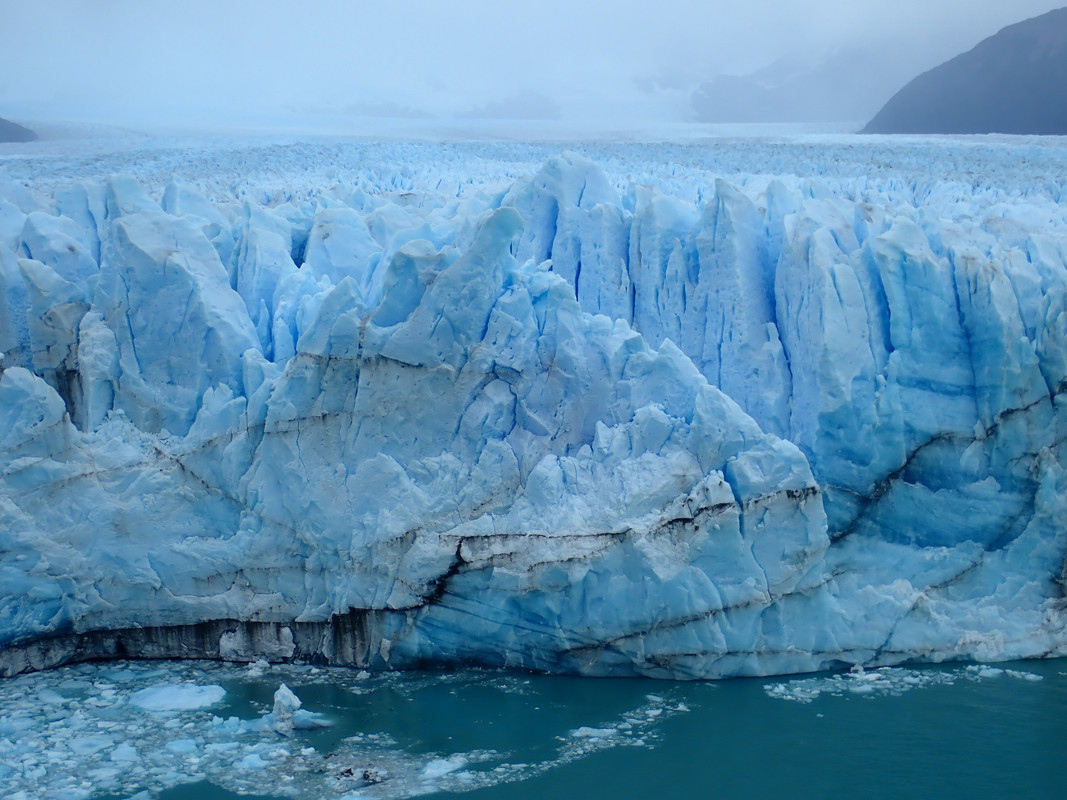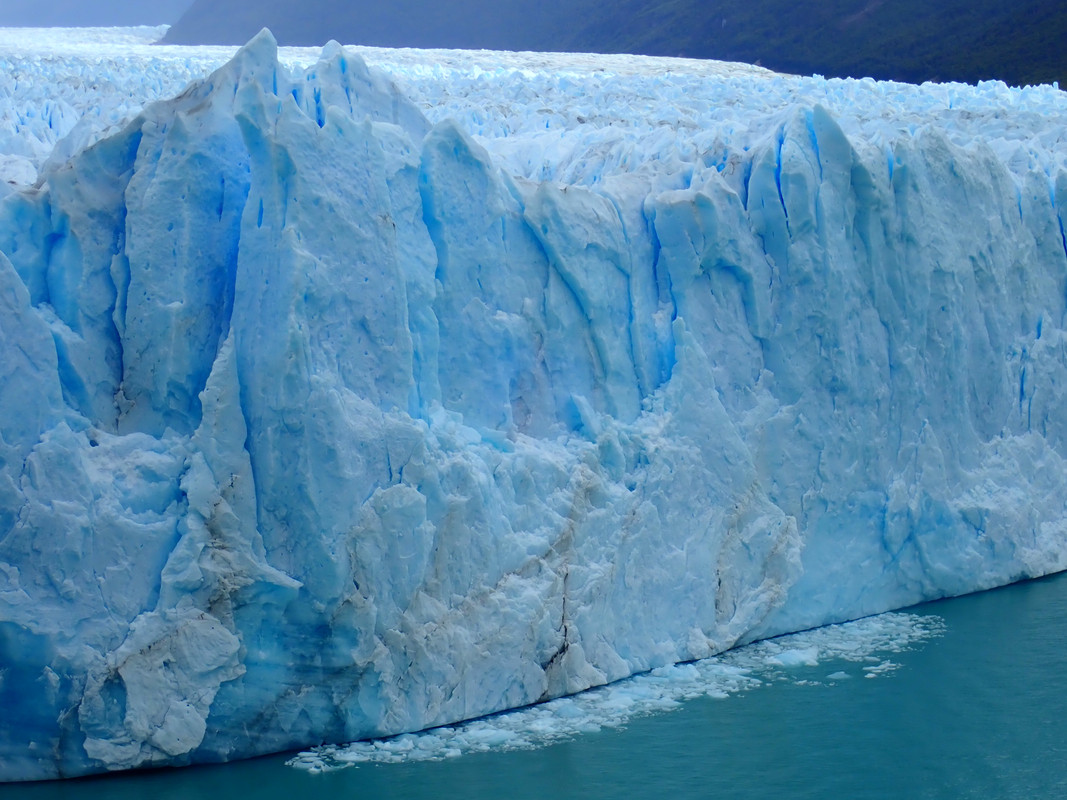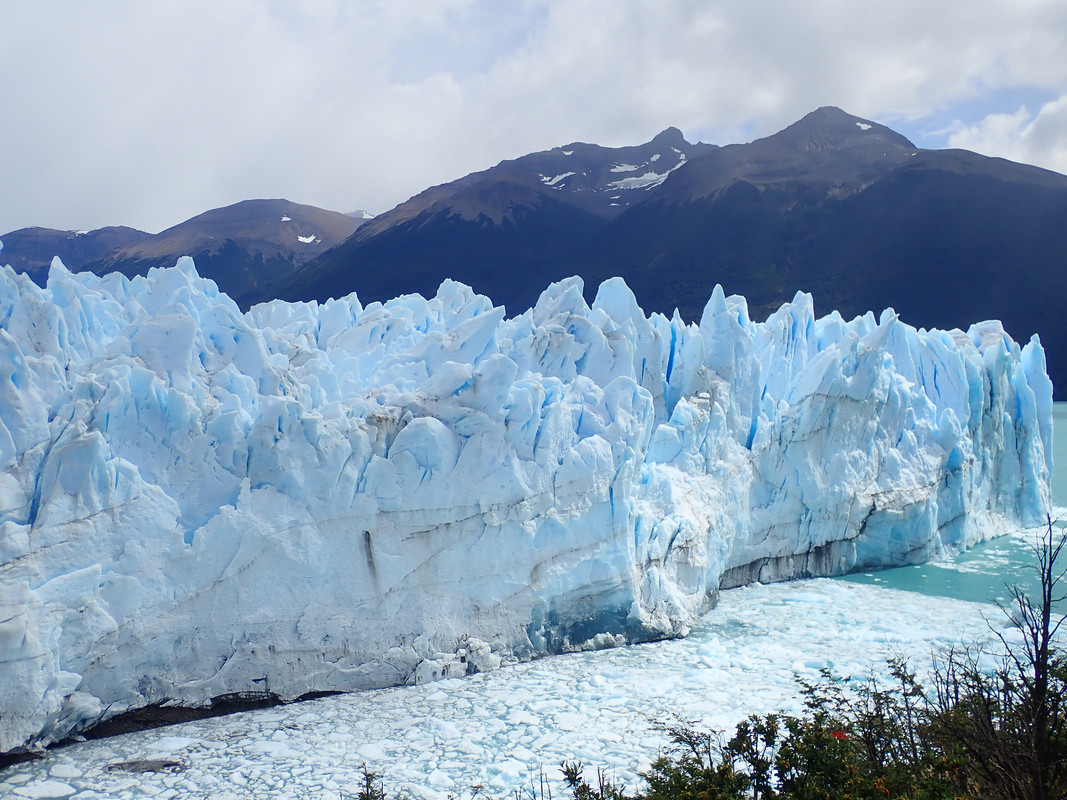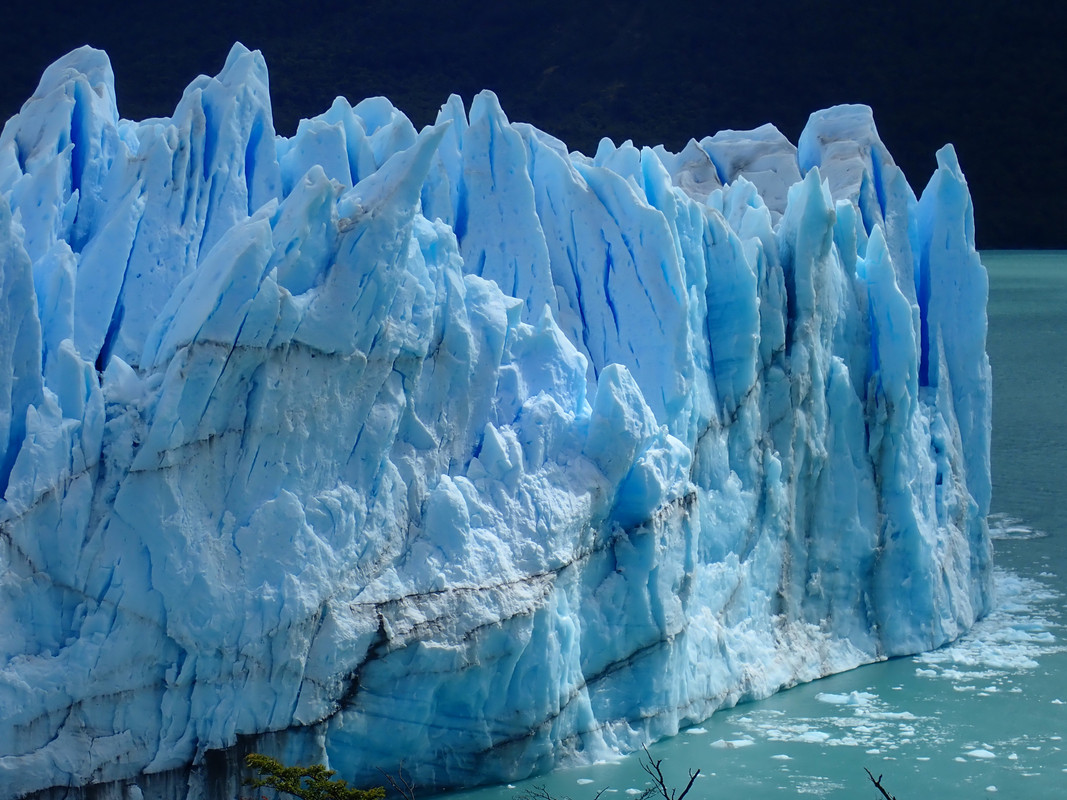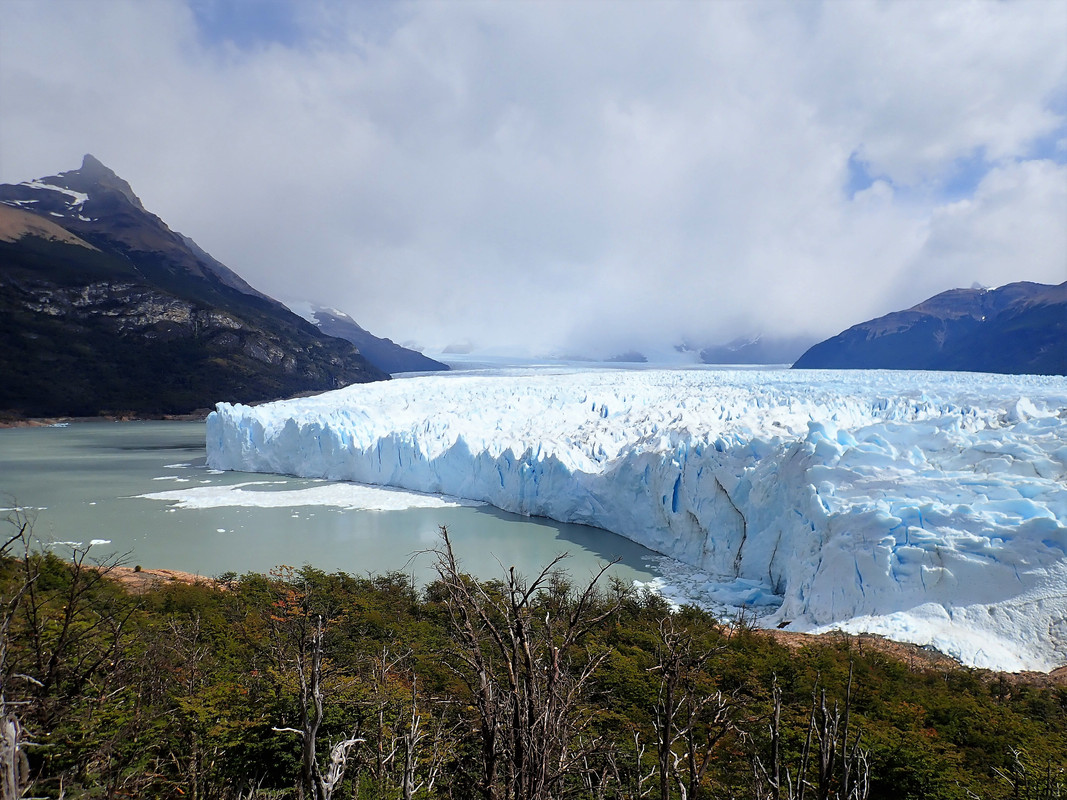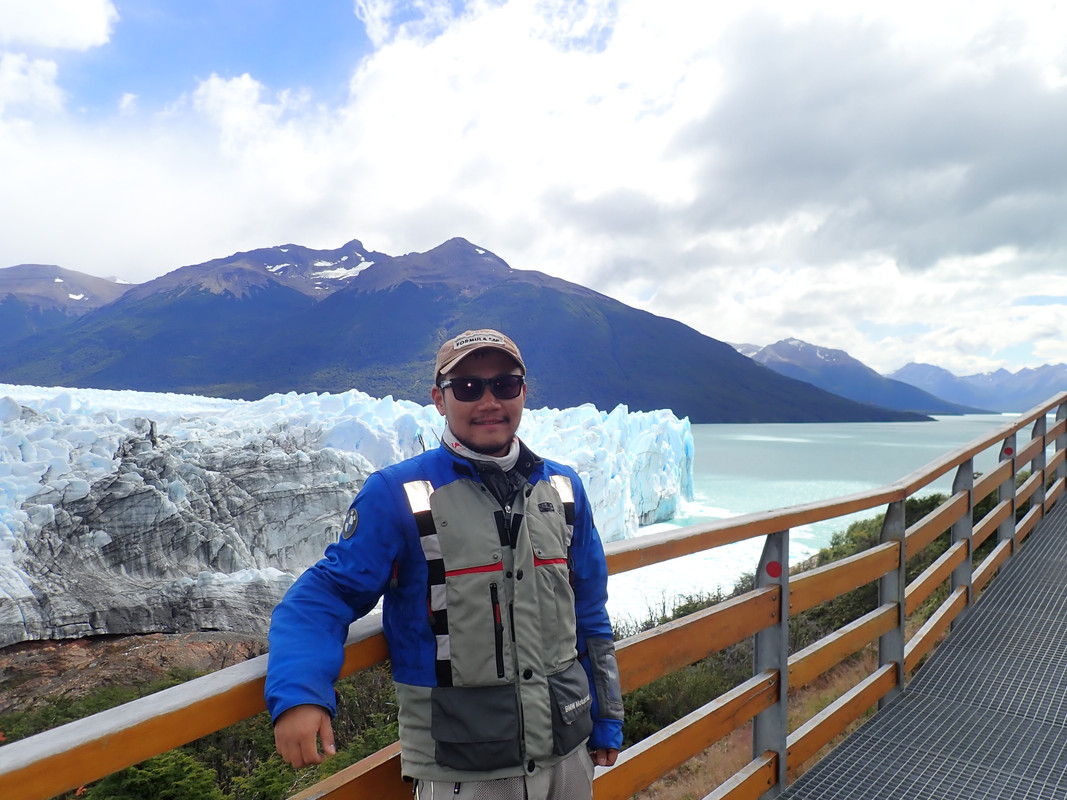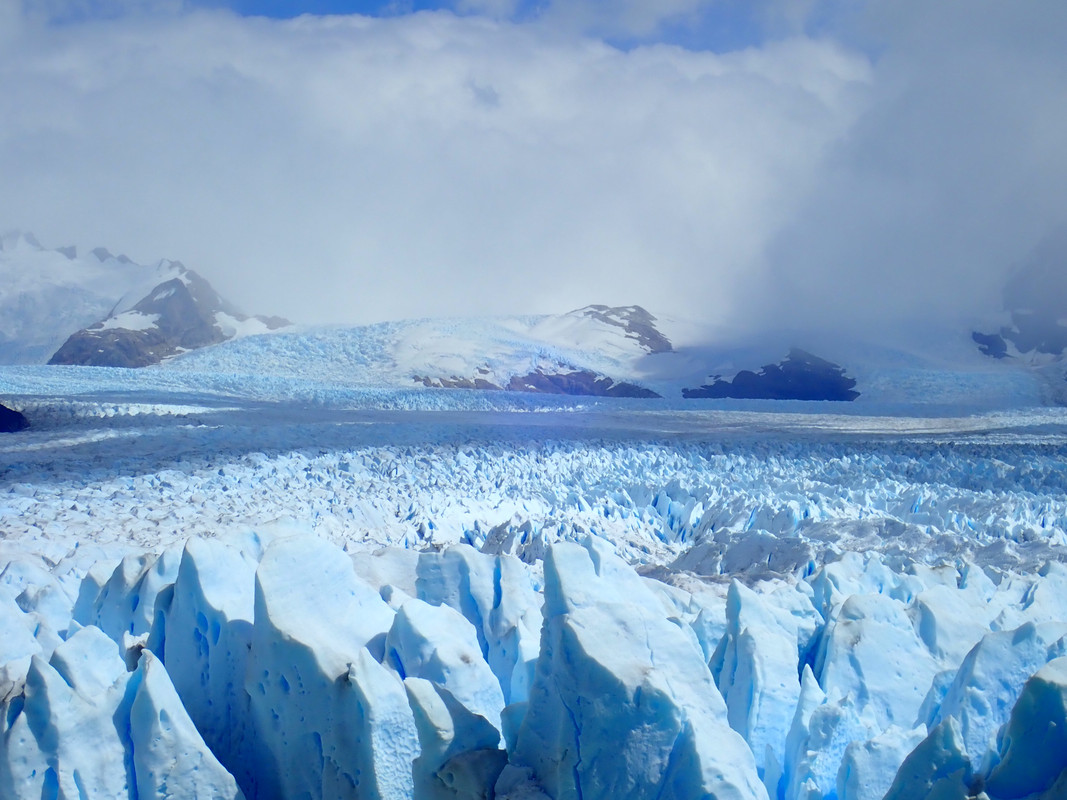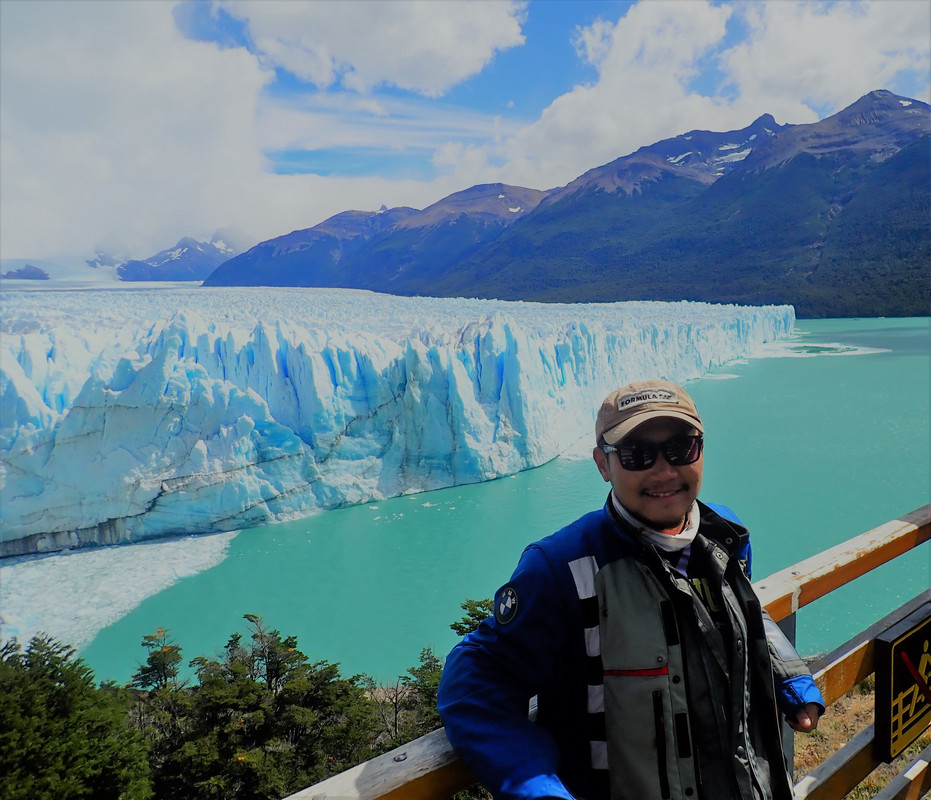 Growing rings of ice chunks form in the water around the ice calvings and I was lucky enough to catch one on video. It happened a few times while I was there and made thunder like boom.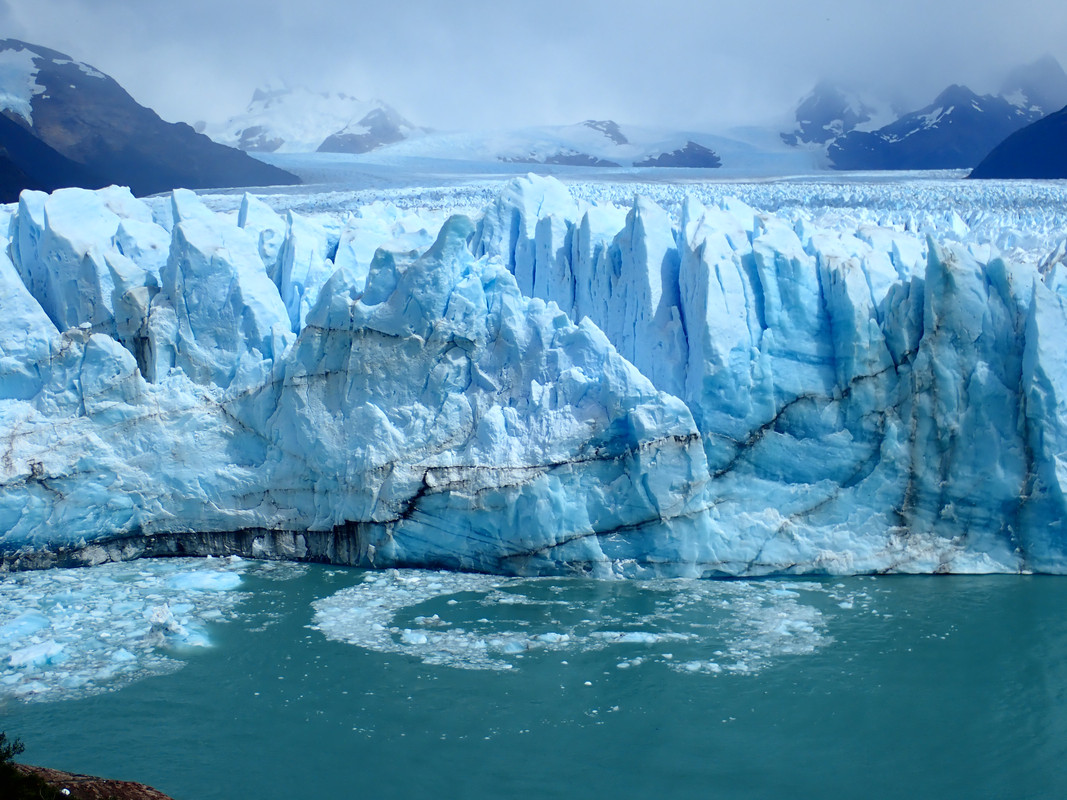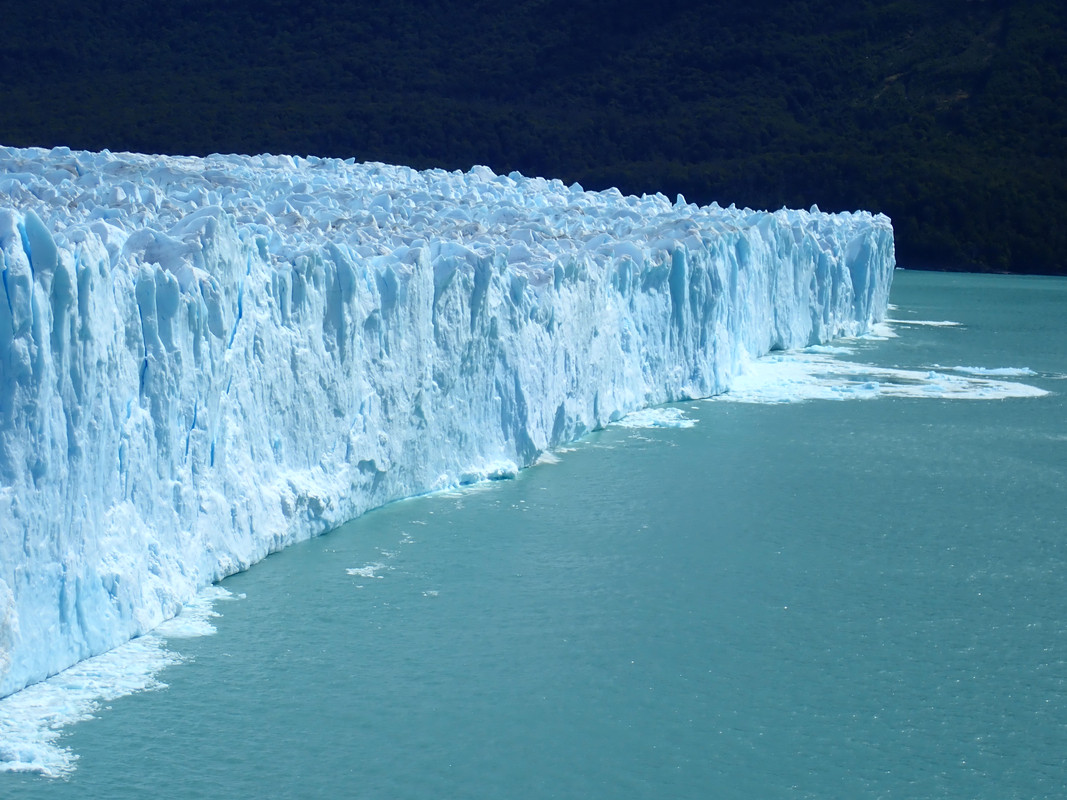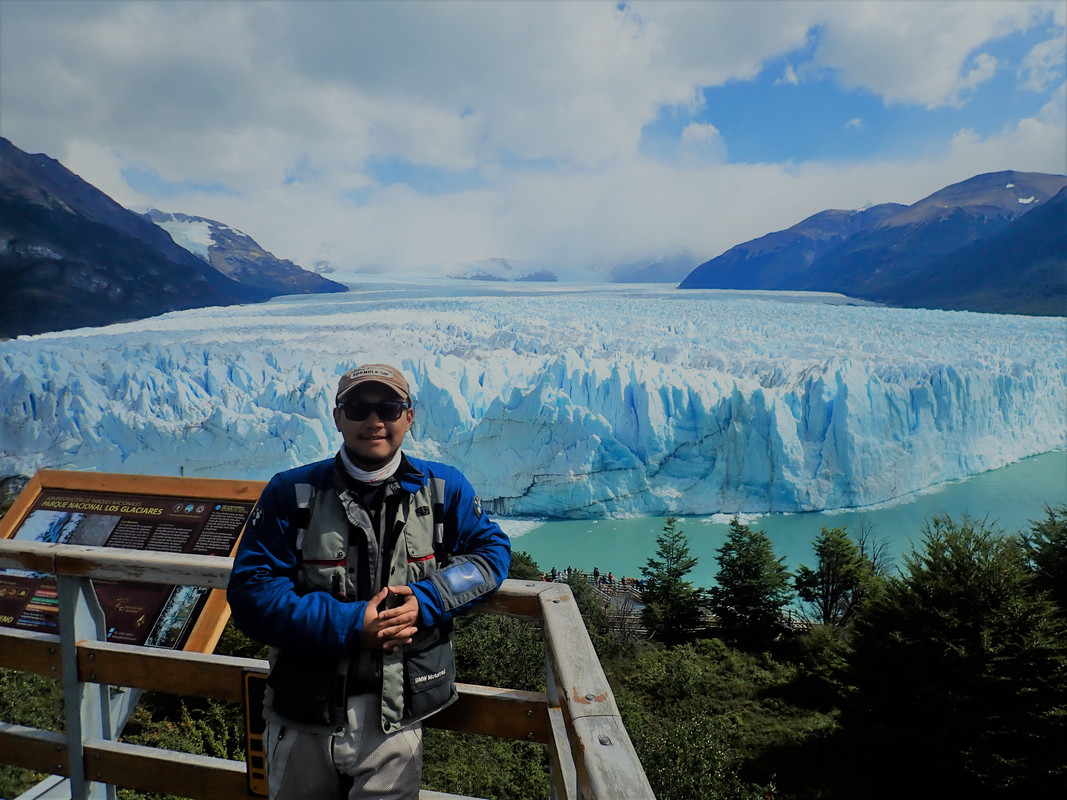 We met Dan from Denver on a KLR at the glacier park and had another parrilla feast in El Calafate that night. There is no shortage of meeting other riders on this trip!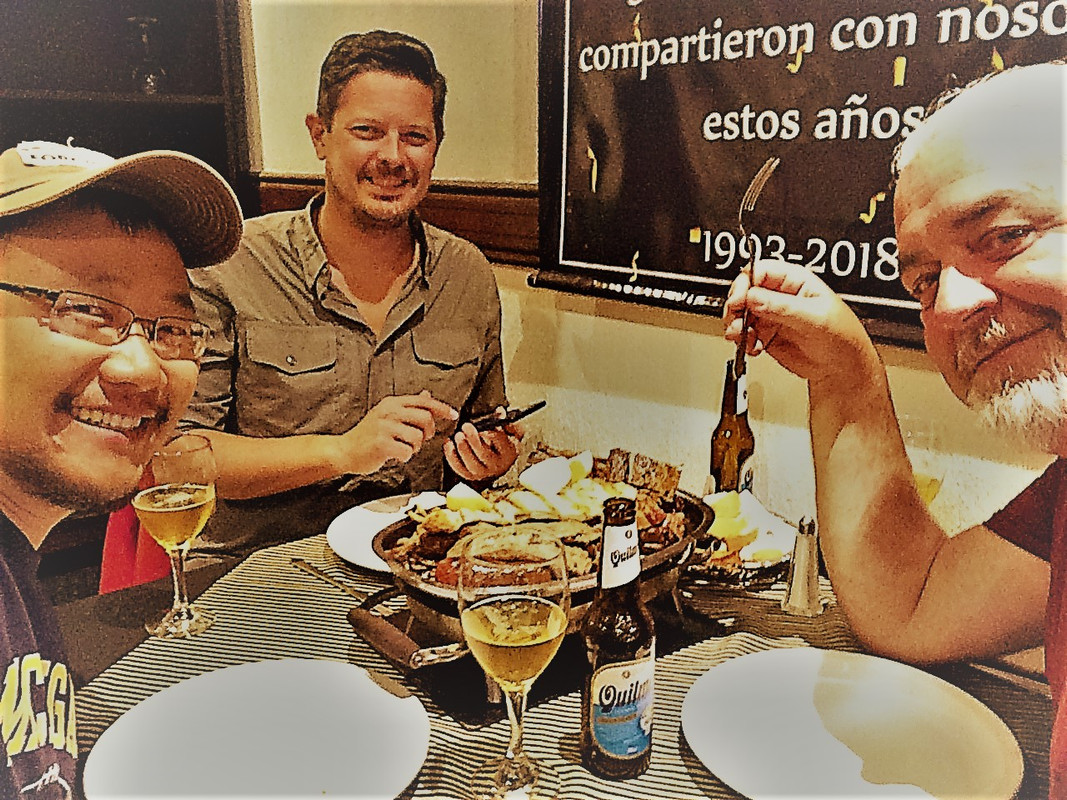 More of beautiful Patagonia landscape and strong wind heading south on Ruta 40.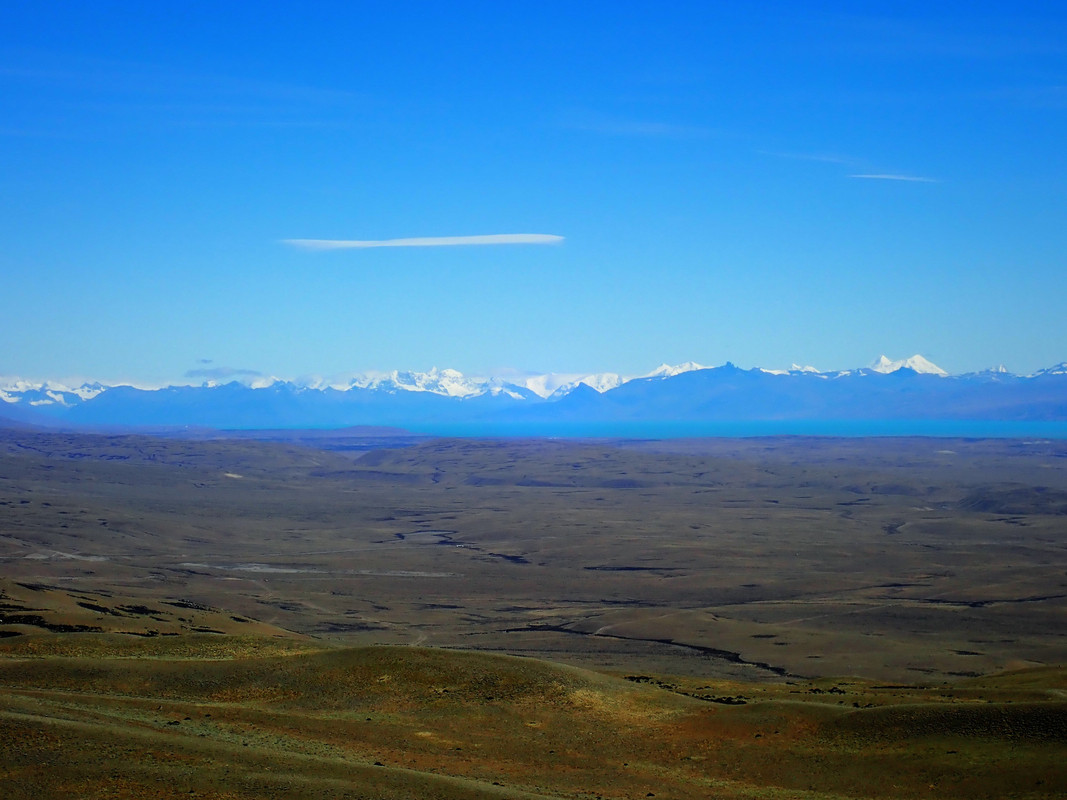 This creepy grim reaper was at the start of another 70 km gravel road towards Chile to greet me.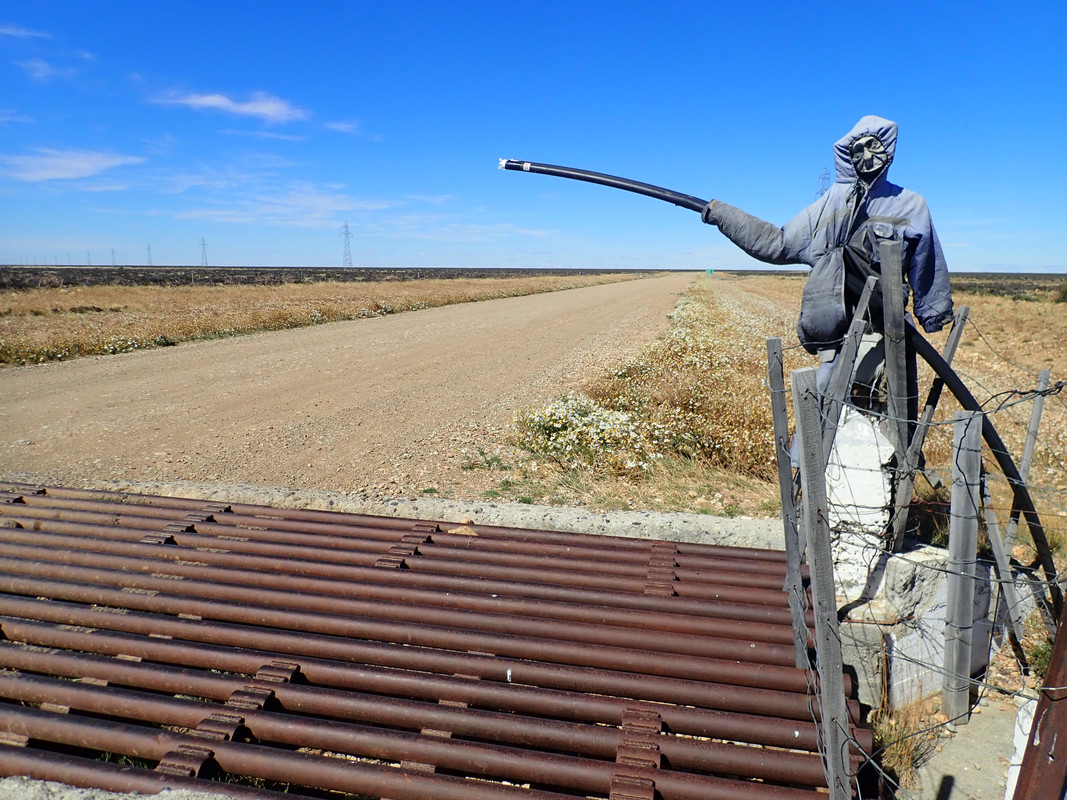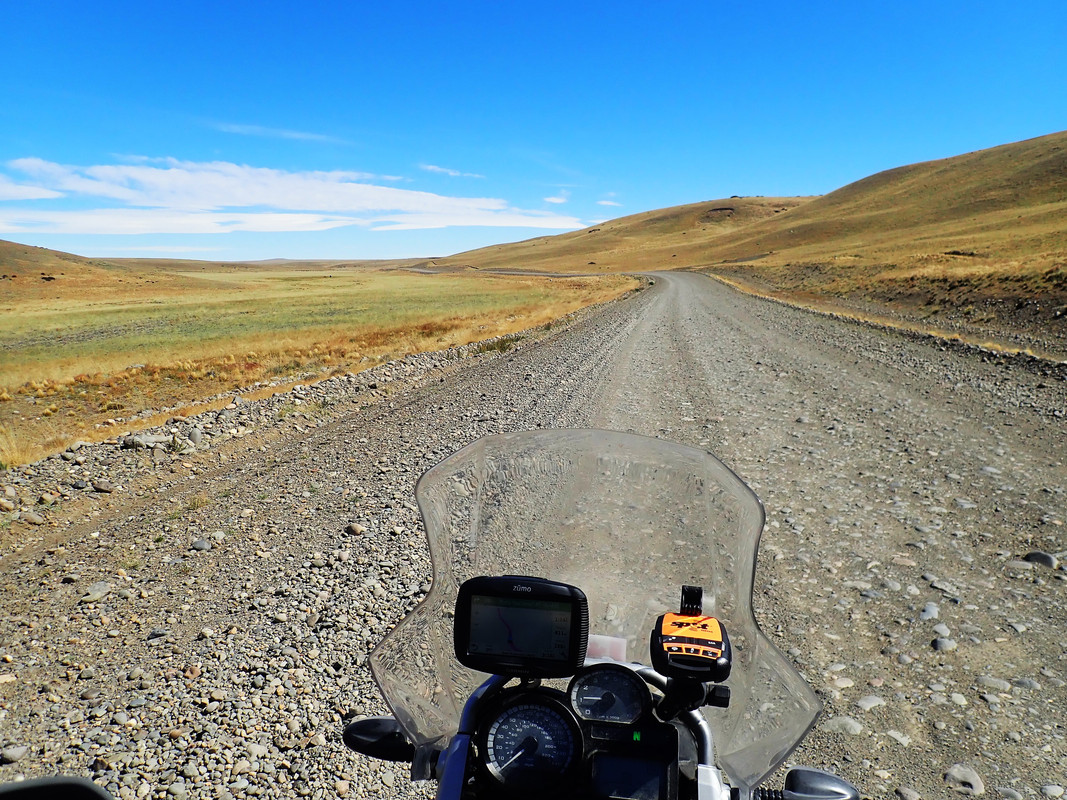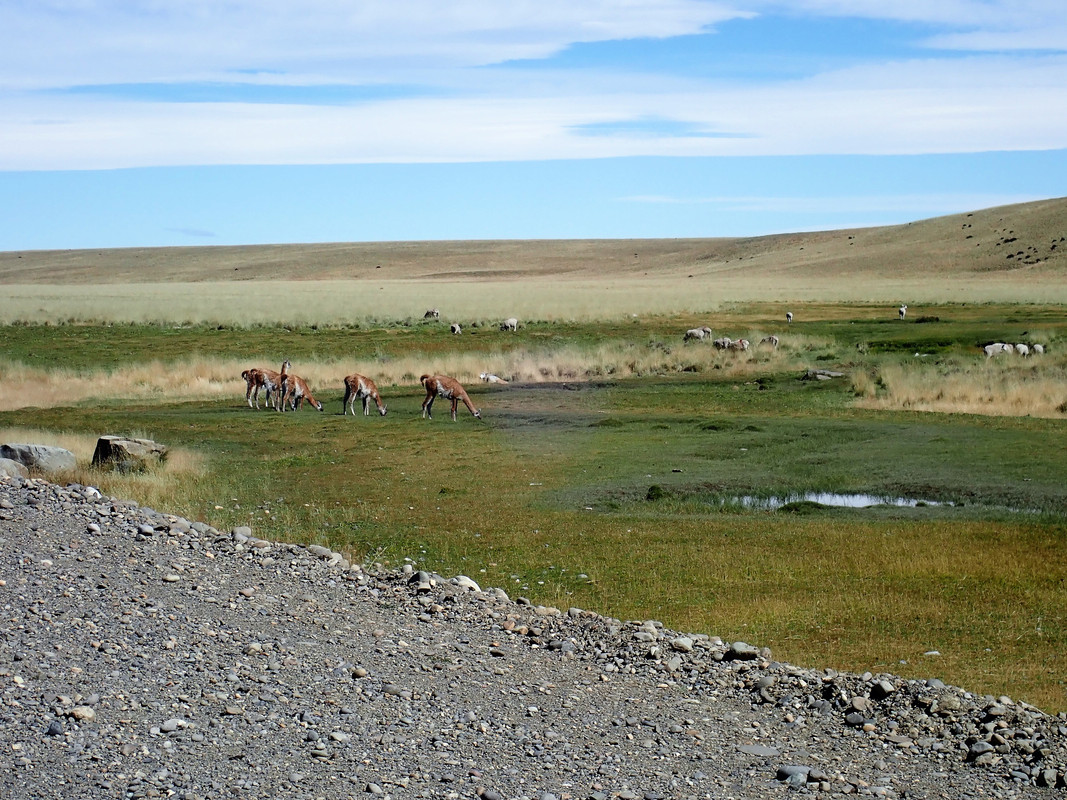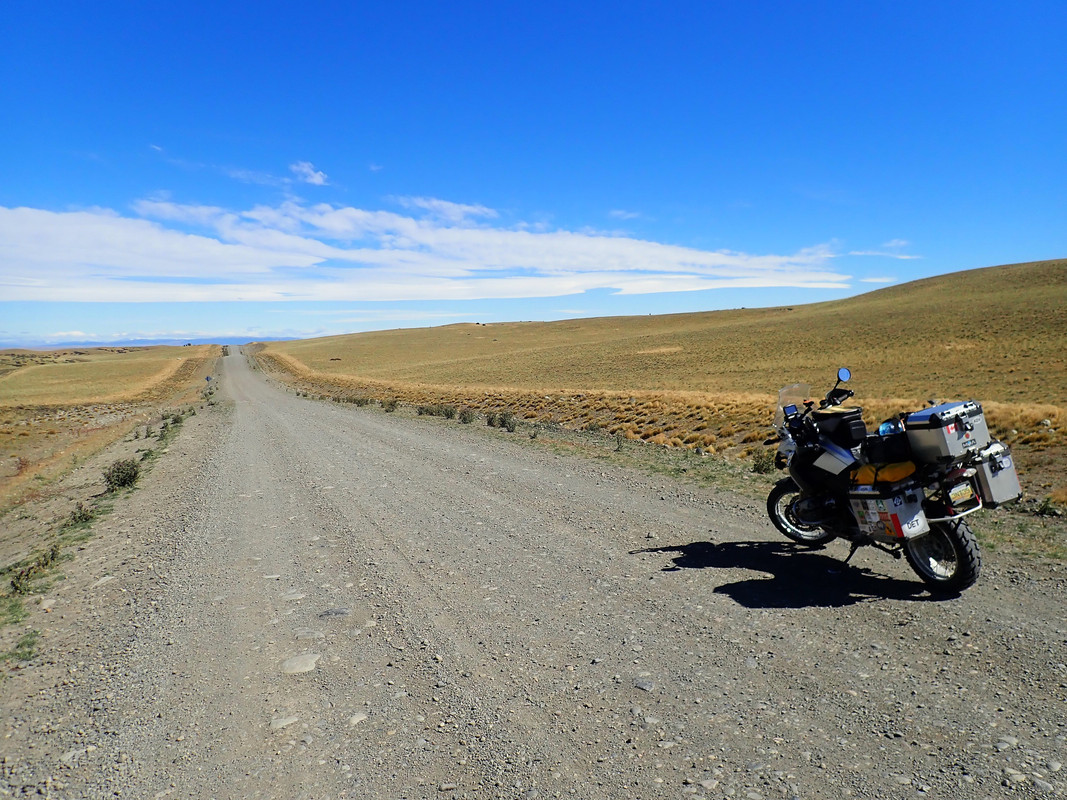 Fifth time crossing an Argentina-Chile border but these borders take no time at all.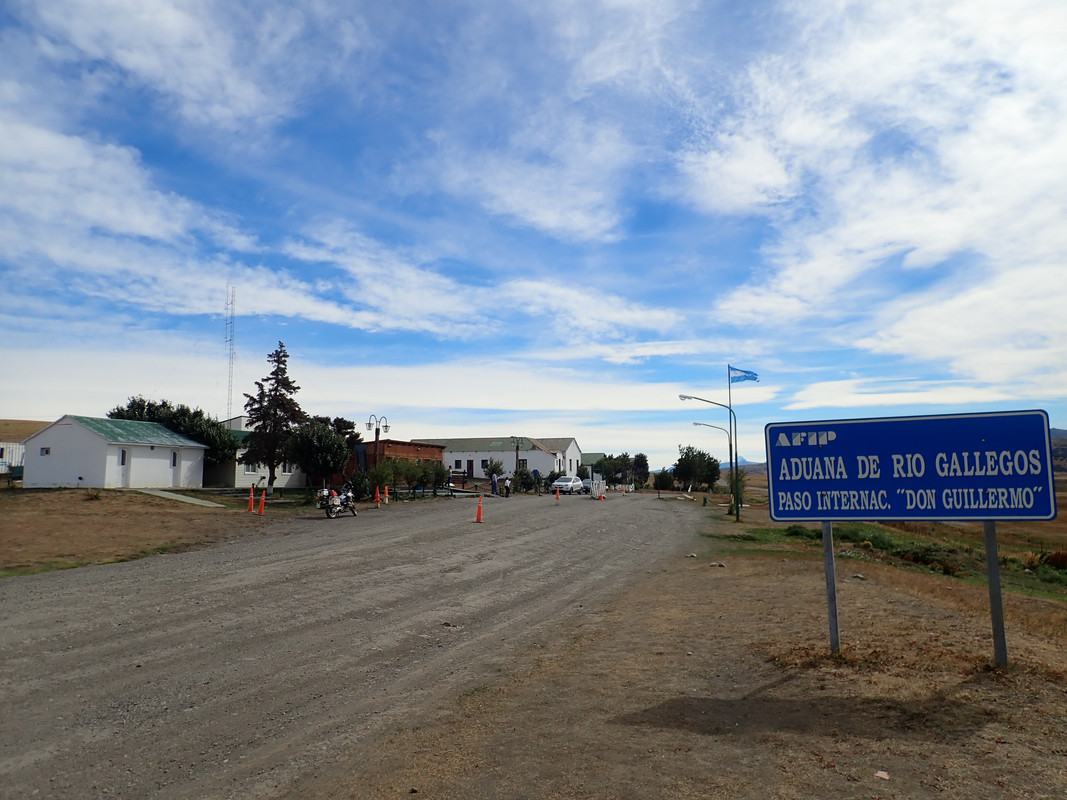 It's funny that road immediately changes to pavement every time I crossed into Chile from Argentina. I think that's just the Chileans gloating on the Argentines. 😛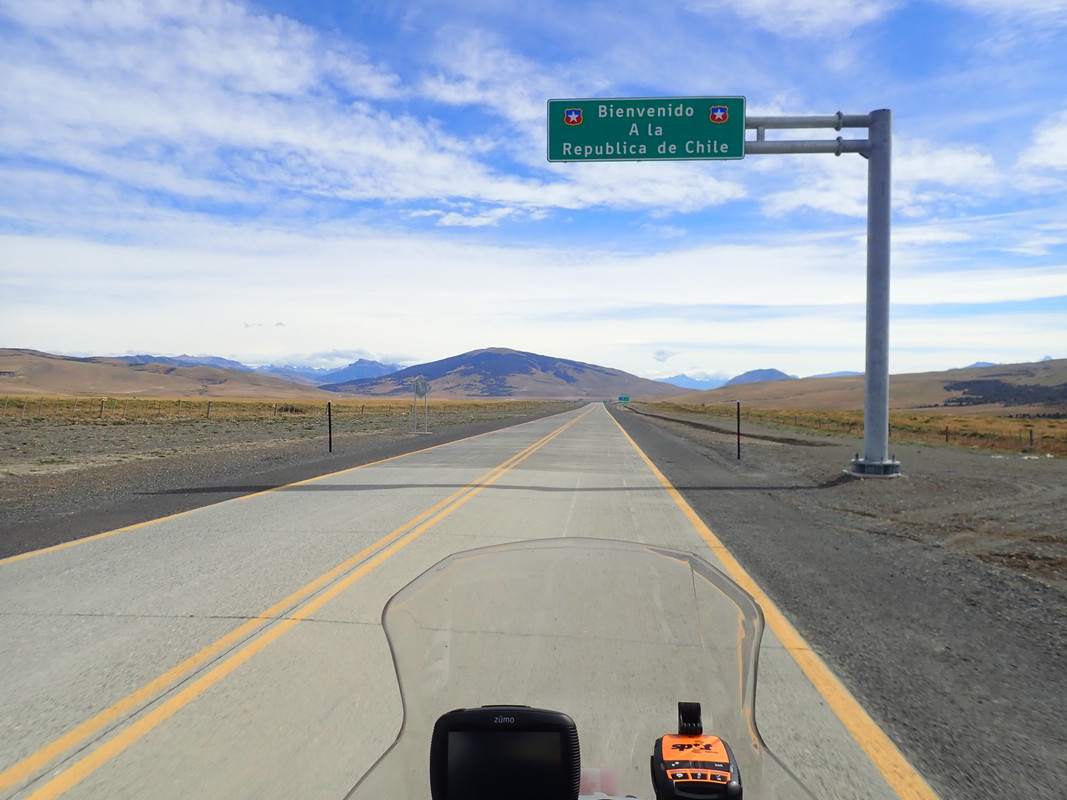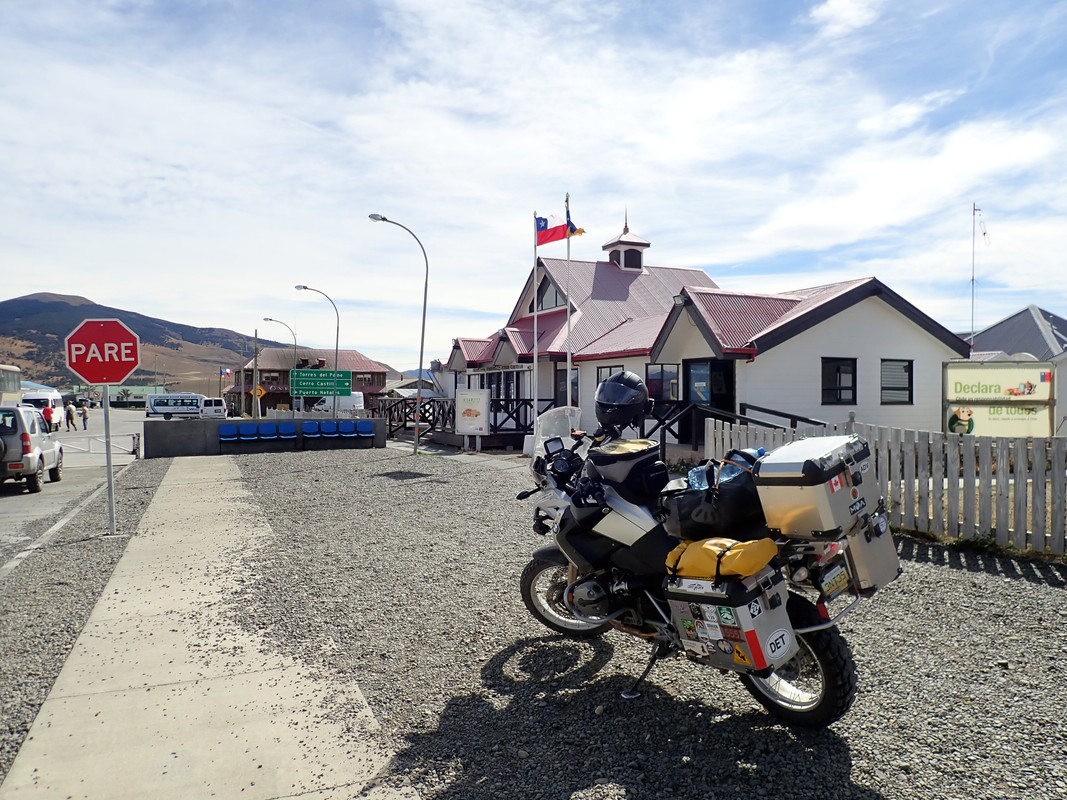 Torres del Paine National Park is just north of Rio Don Guillermo border crossing but I didn't have enough gas to make a round trip so I headed south for Puerto Natales.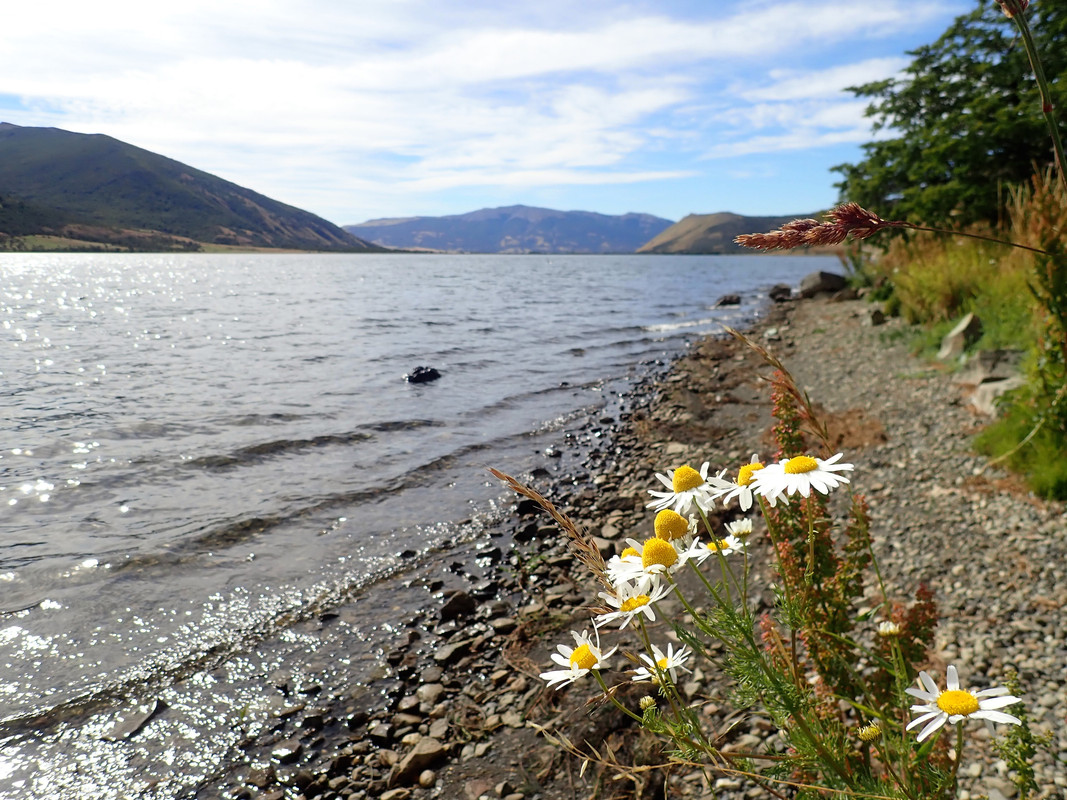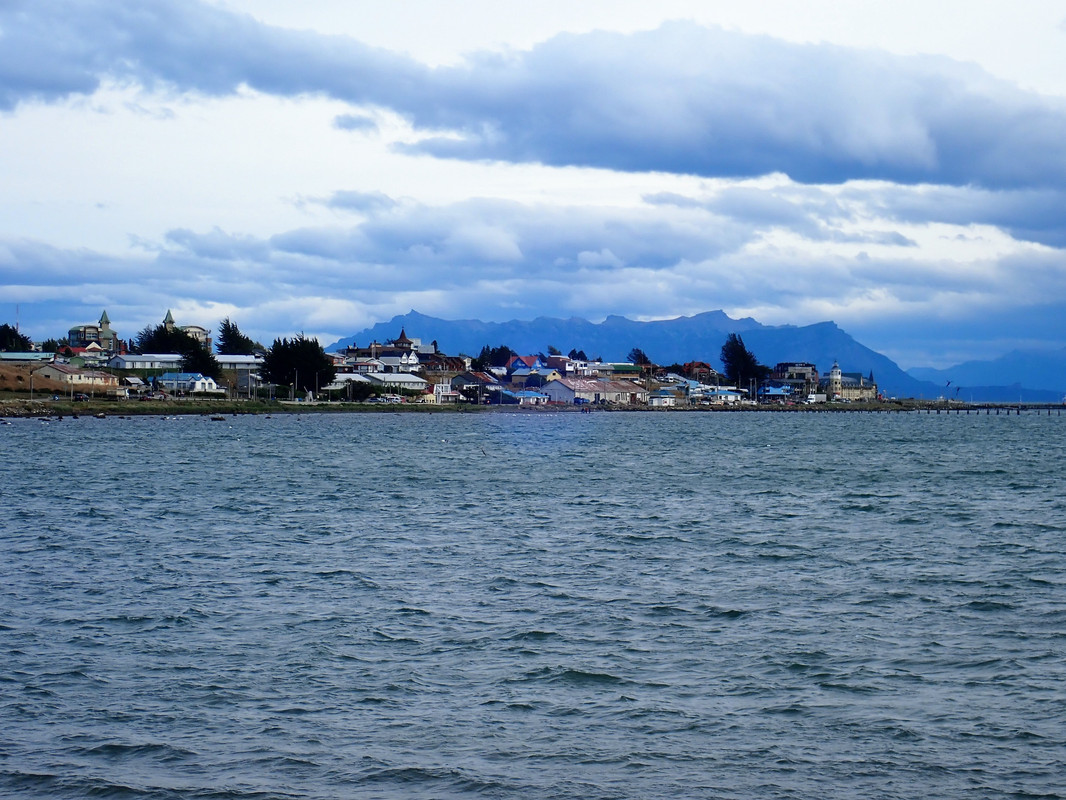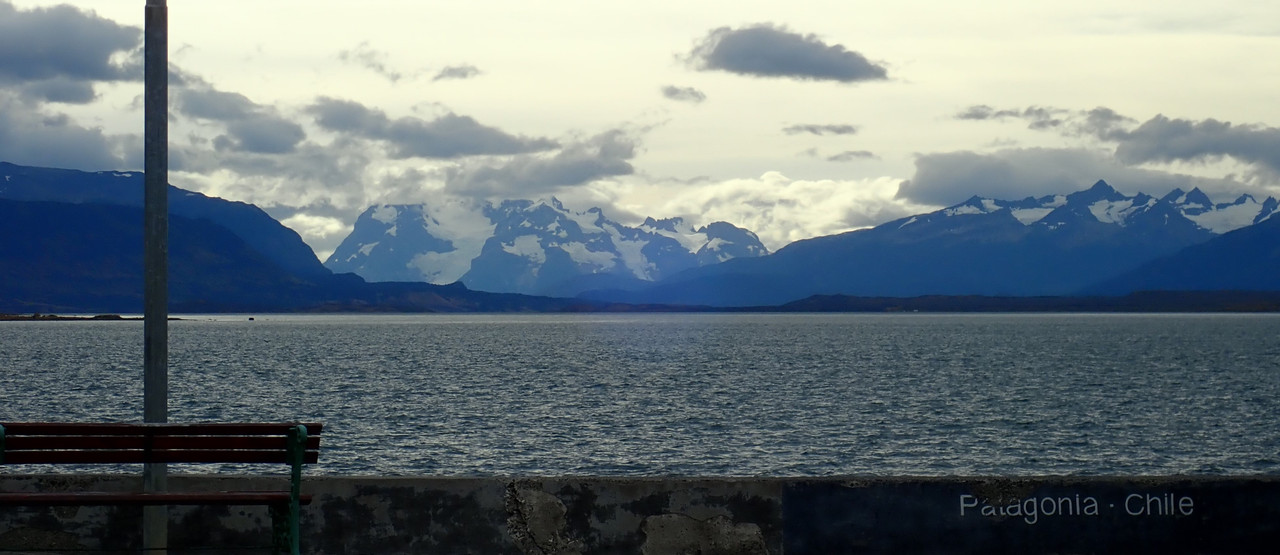 I'm pretty darn exhausted at this point and just want to head straight for Ushuaia. But consider how close I am to Torres del Paine it would be a shame to miss it. I will sleep on it and decide by morning…