I left Puno for the Bolivian border of Kasani. The ride along Lake Titicaca was very scenic with endless of curves.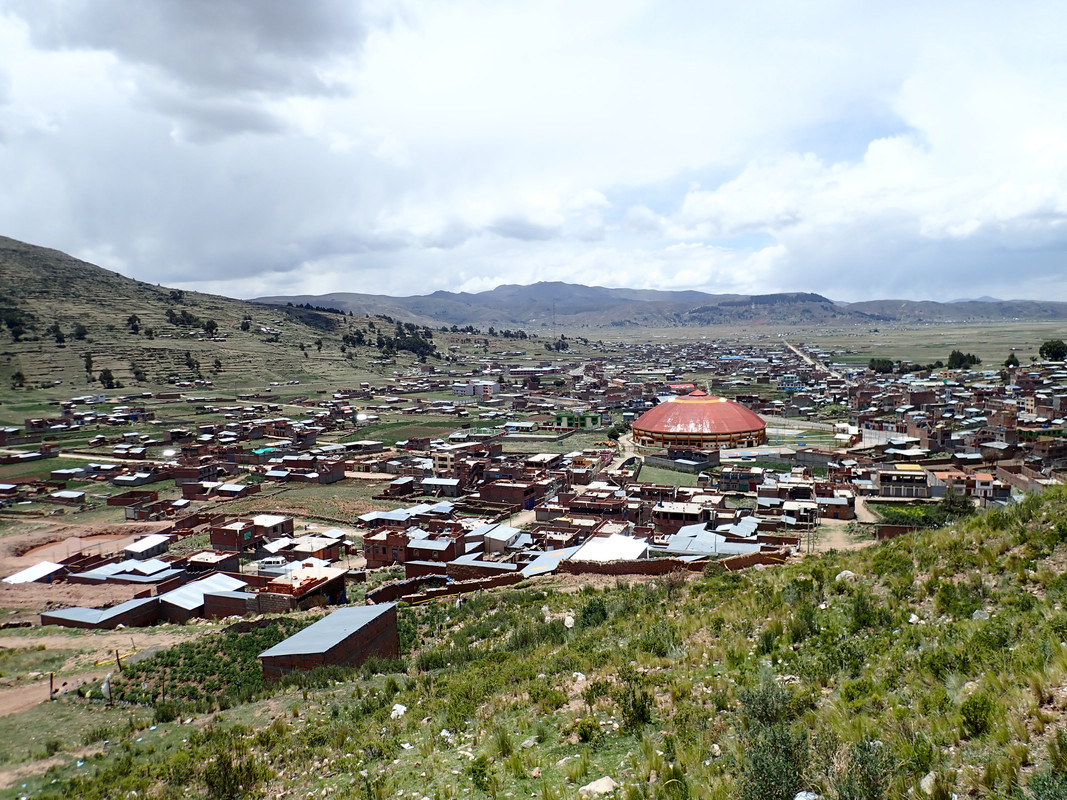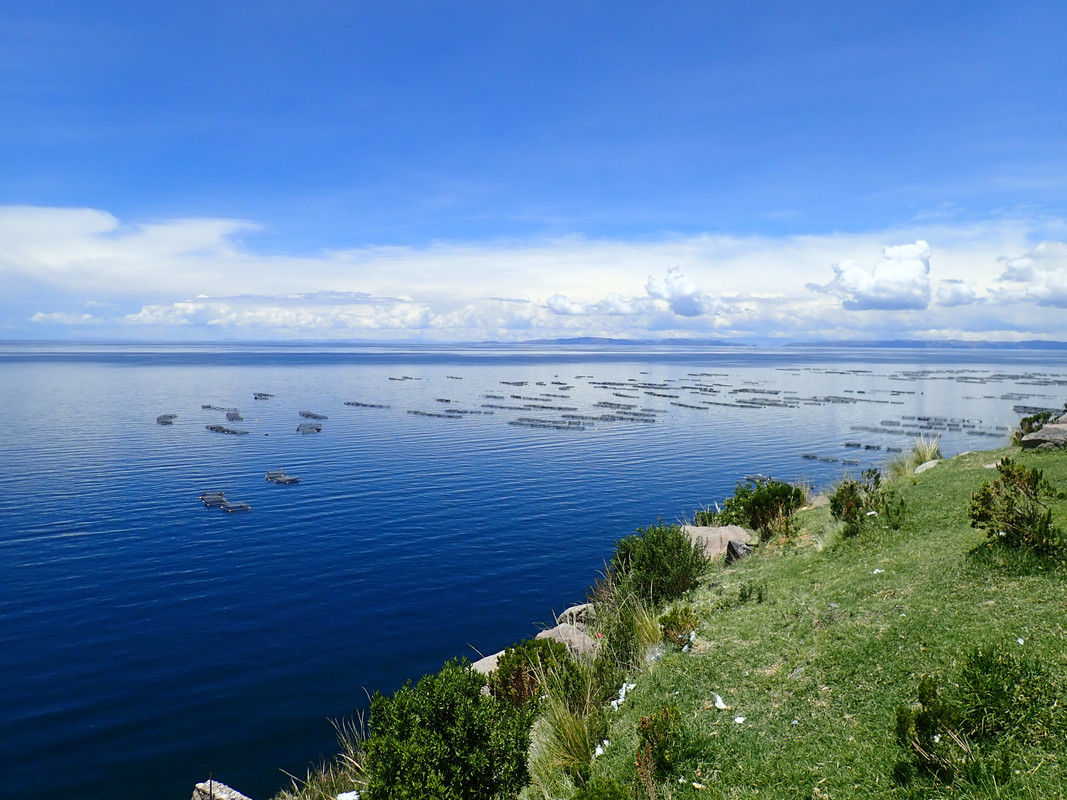 Crossing into Bolivia was quick and easy. General procedure still applies but everything functions at a much higher efficiency here. I could have been done in less than 15 minutes if it wasn't for the bus load of backpackers being dropped off right before I arrived. Fortunately visa is not required for Canadians whereas US citizens have to apply in advance for $160/person. I was a little upset that the Bolivian immigration did not check my yellow fever vaccination certificate that I had been looking forward to show off since Ecuador. Also note that Bolivia is one hour ahead of Peru and both borders close from 12 to 1 so time your crossing accordingly.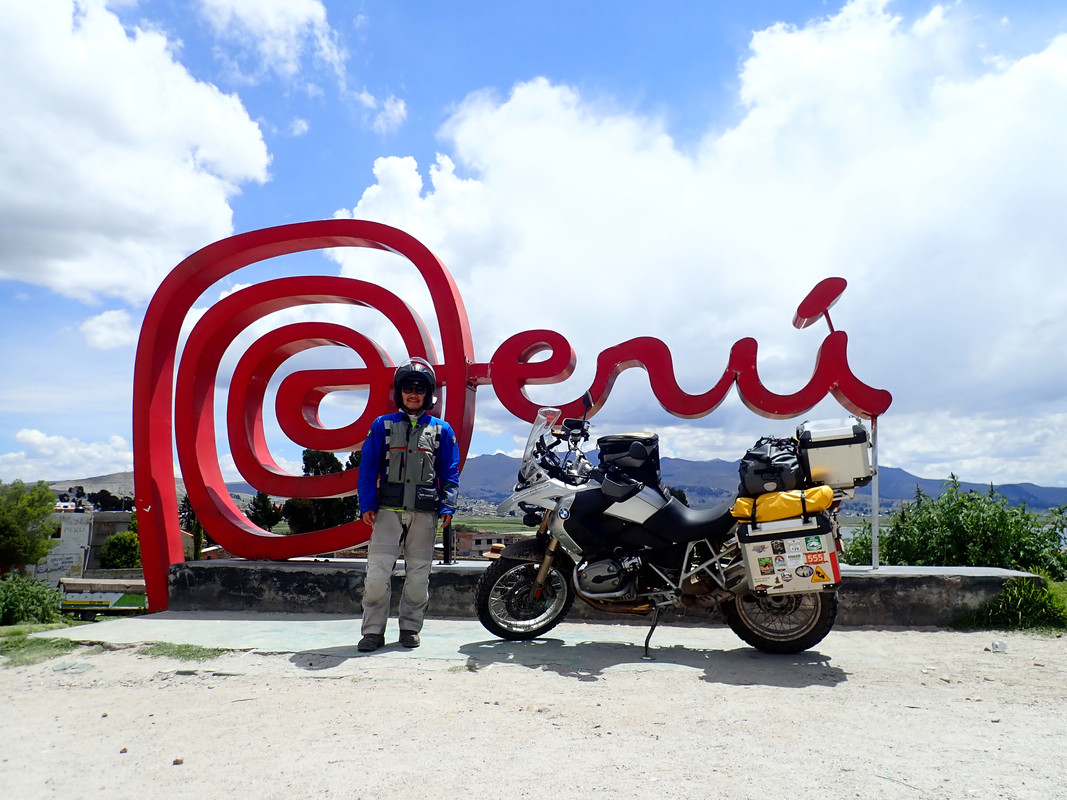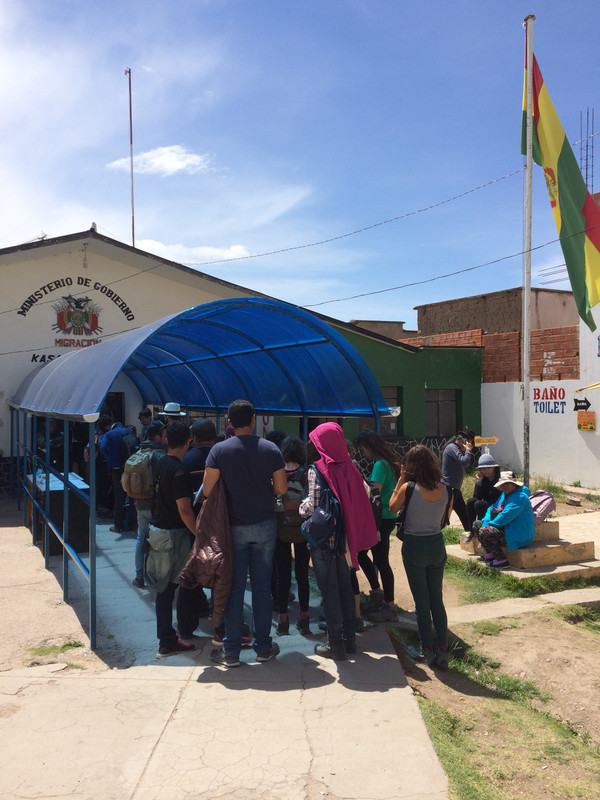 Exiting Peru
Park on the right in front of the gate
Go to Migraciones on the left side, hand in the departure card and get passport stamped out
Go to Puesto De Control (SUNAT) on the right side and turn in the TIP
Entering Bolivia
Cross over no man's land and park in front of the gate
Go to Migración (2nd building on the left w/canopy), fill out an entry form and get passport stamped in
Go to Aduana (1st building on the left) and apply for TIP; bring TIP to police station (3rd building on the left) and get police to stamp the TIP
Insurance is not required for foreign-plated vehicles staying less than 30 days
I planned to stay in the nearby town of Copacabana for the night but little did I know the beach town on Lake Titicaca is a popular weekend getaway for locals from La Paz. I checked at least 10 hostals and none had any vacancy.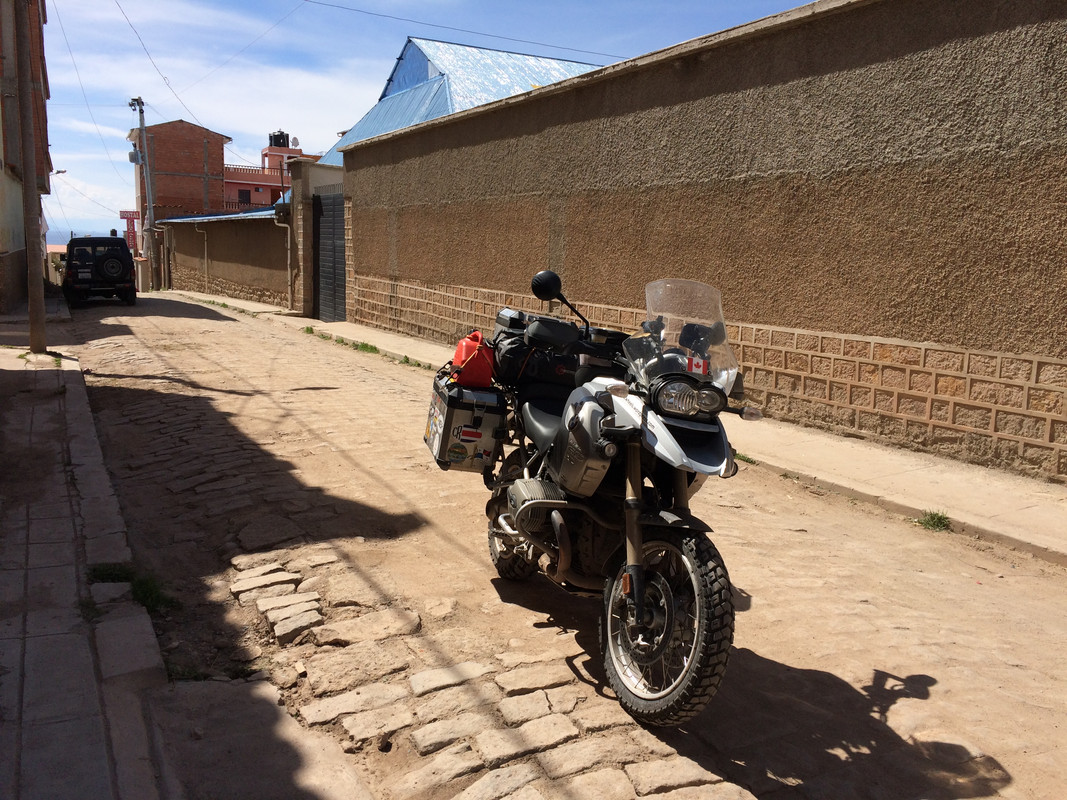 One receptionist redirected me to a campground on the beachfront that also had rooms available. Shortly after I unloaded, Niko from Solvenia rolled in on a KLR and we've been riding together since.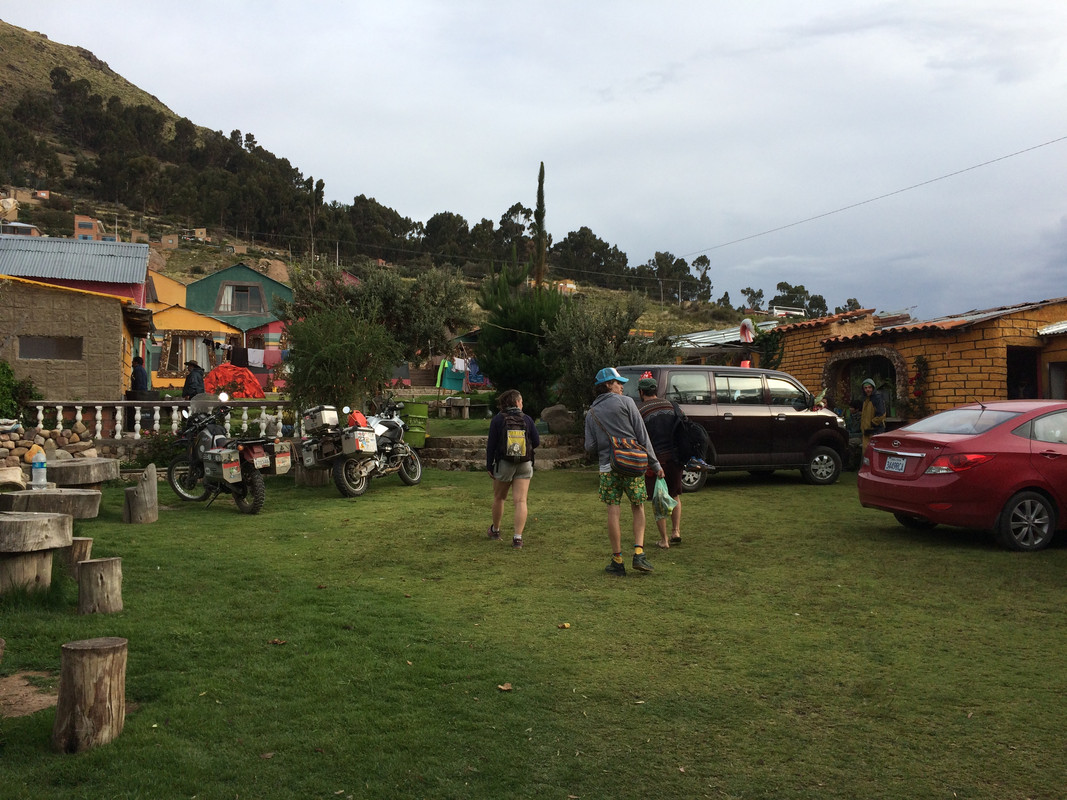 We strolled around town while searching for a place for dinner. Copacabana was very touristy town crowded with vendor of all sorts. A torrential downpour came after dark and went on all night. I was glad to be a in a room despite leaks from multiple locations, meanwhile Niko's tent was floating in the new campground lake.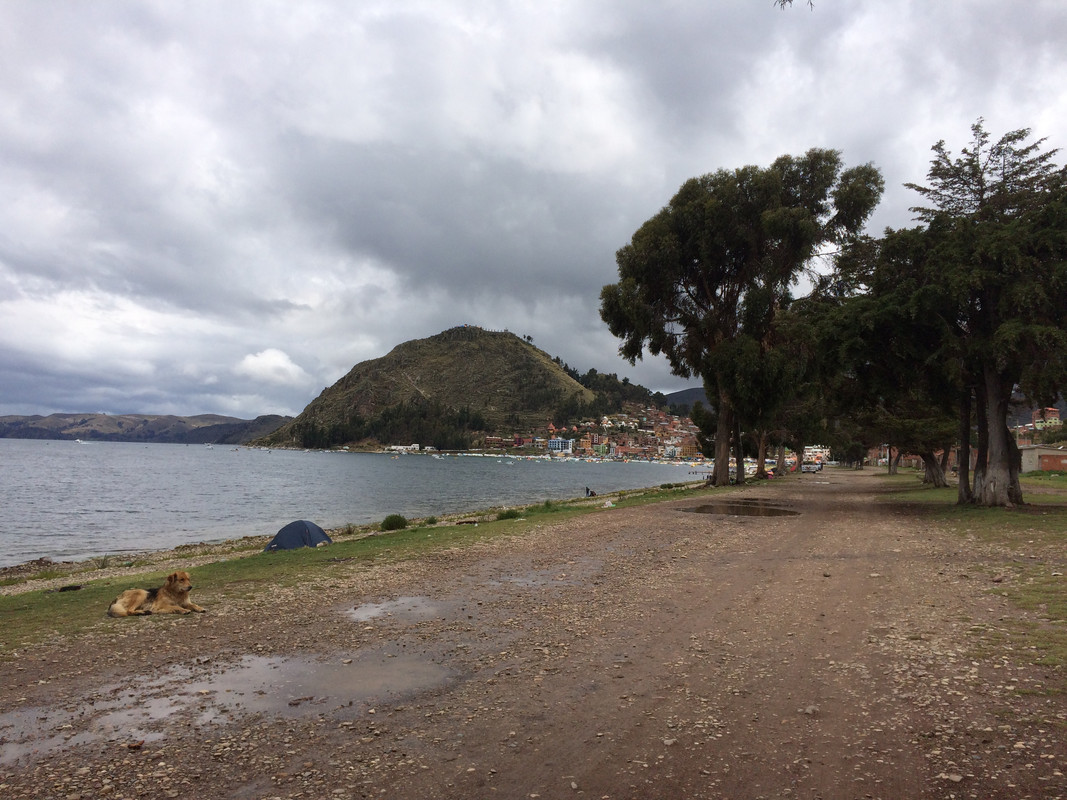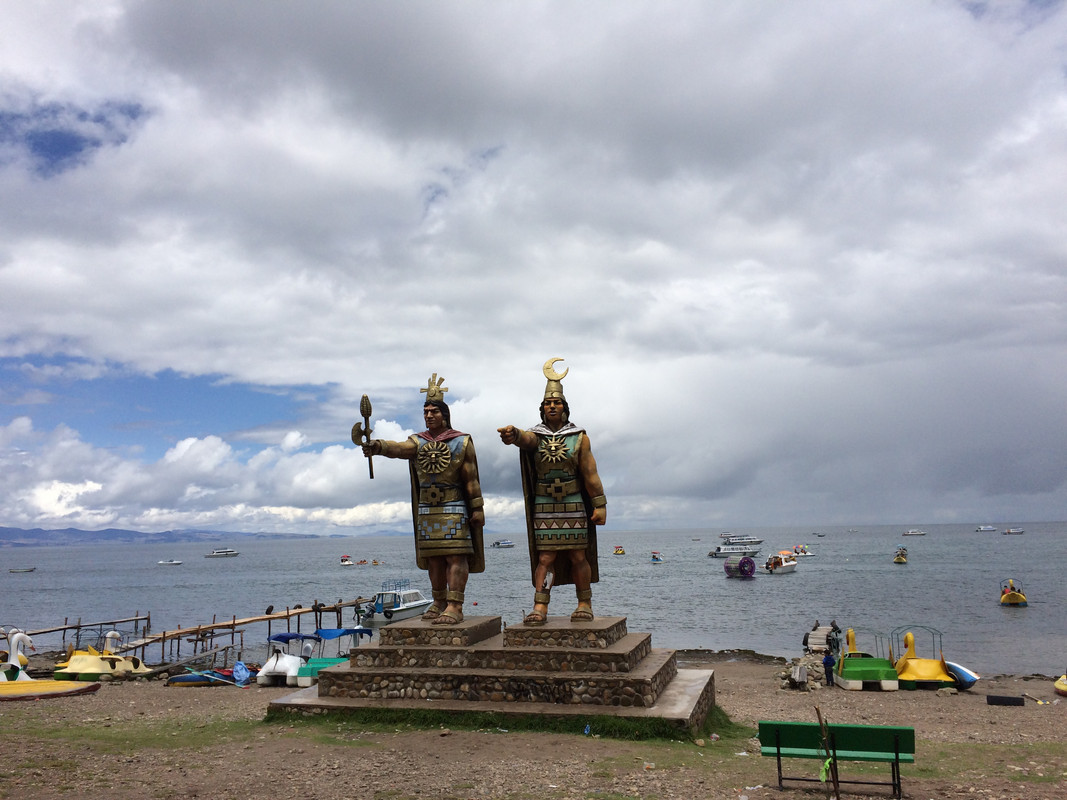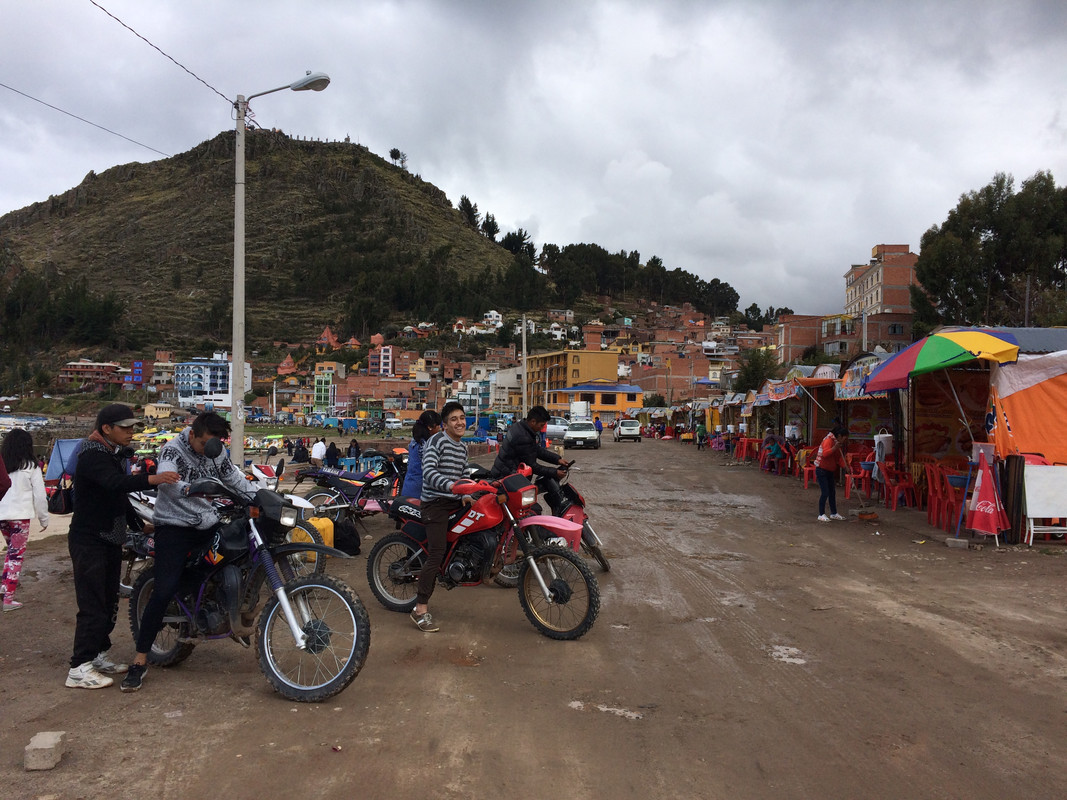 The famous Basilica of Our Lady of Copacabana (16th century shrine)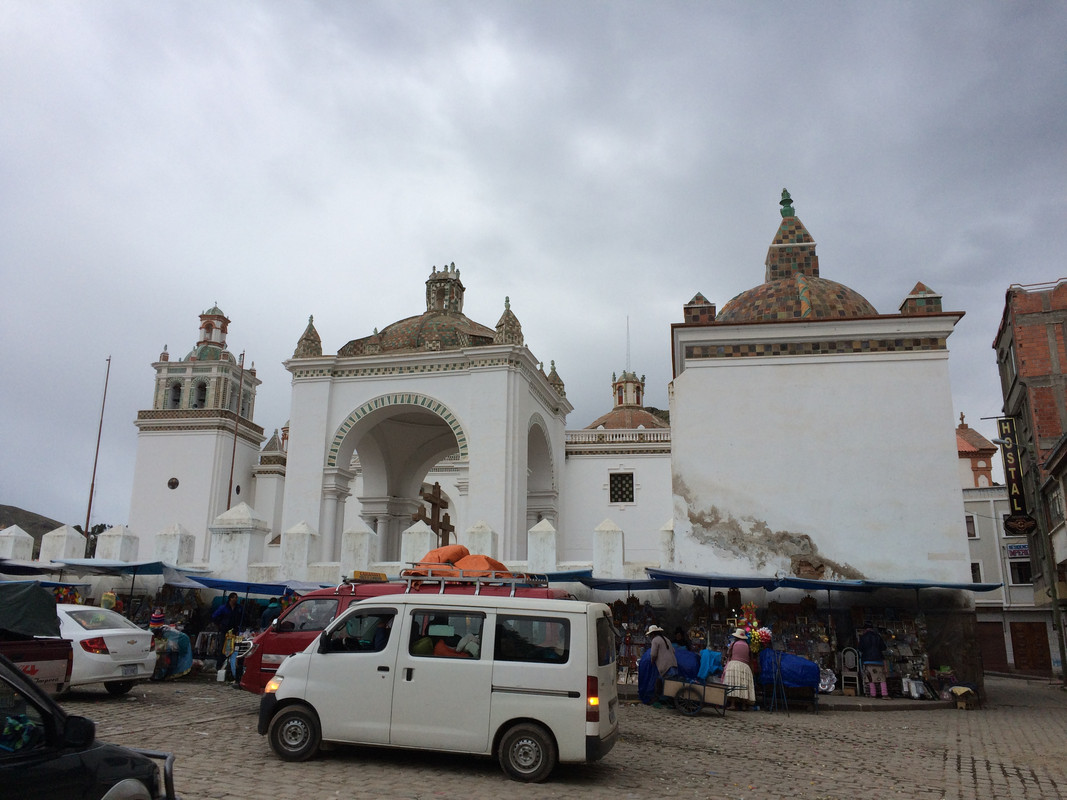 We planned to ride to La Paz the next day but first mission was to gas up. For whatever reason gasoline seemed to be a premium commodity in Bolivia. Stations are far and fewer in between and there's only one grade of mysterious octane rating available everywhere. Worst part was that they charge more than double for foreigners and some won't even sell to us due to lack of permit. We bartered at every station along the way stating 'sin factura' (no receipt) and 6 Bolivianos per liter seemed to be the best compromise. The gas station attendant gets to pocket the difference and we avoid paying foreigner prices but it's still close to double of what locals pay. I hate double standards!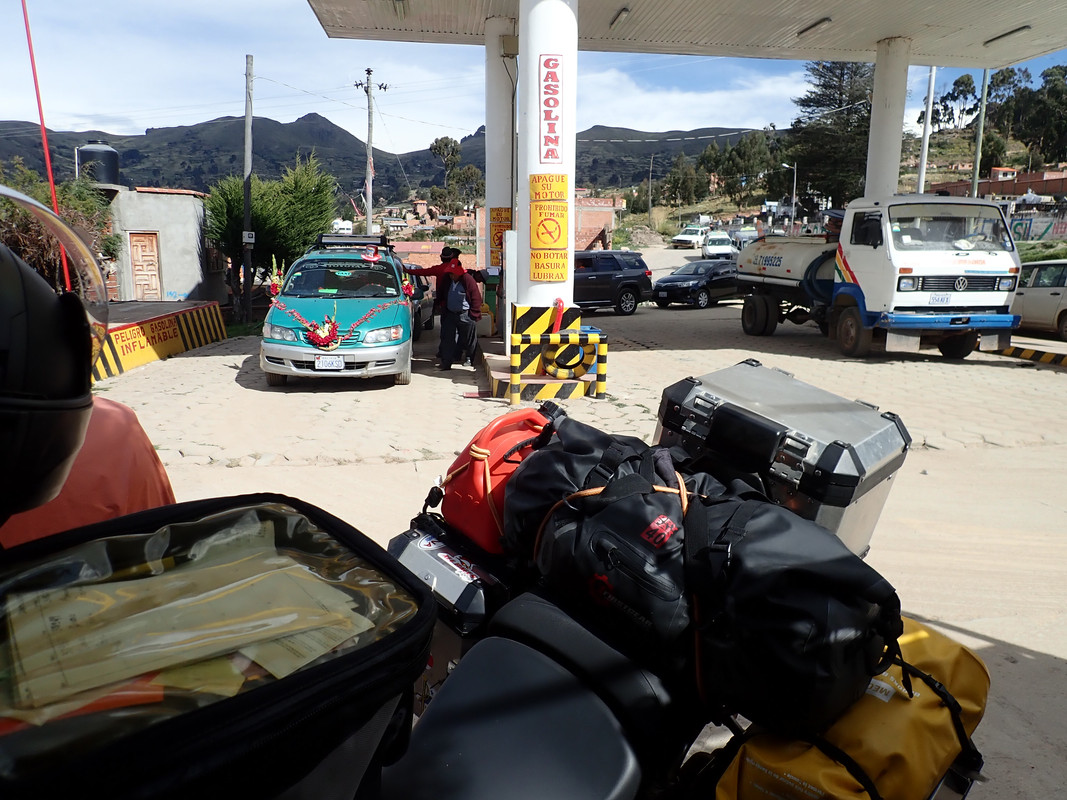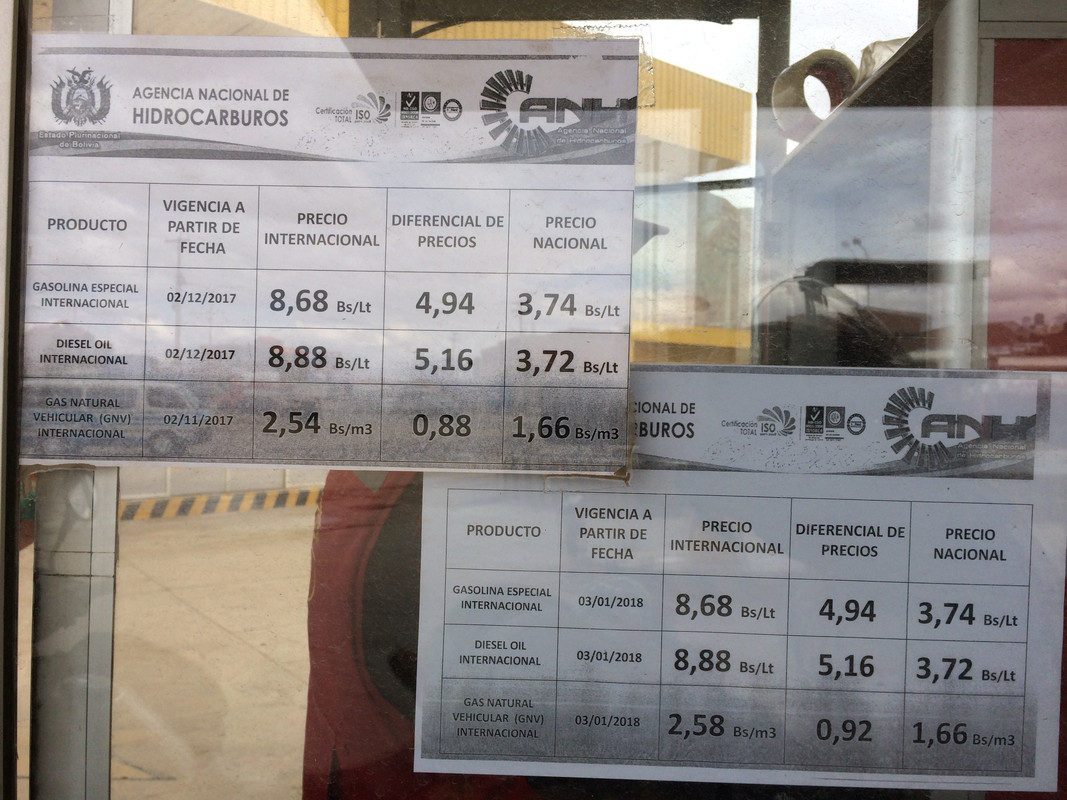 Some more beautiful winding road around Lake Titicaca later, we faced the crossing of the Strait of Tiquina. Calling these 'ferries' is an overstatement as they are basically wooden rafts that can merely hold their own. However they do transport buses and trucks so I should just deal with my doubts.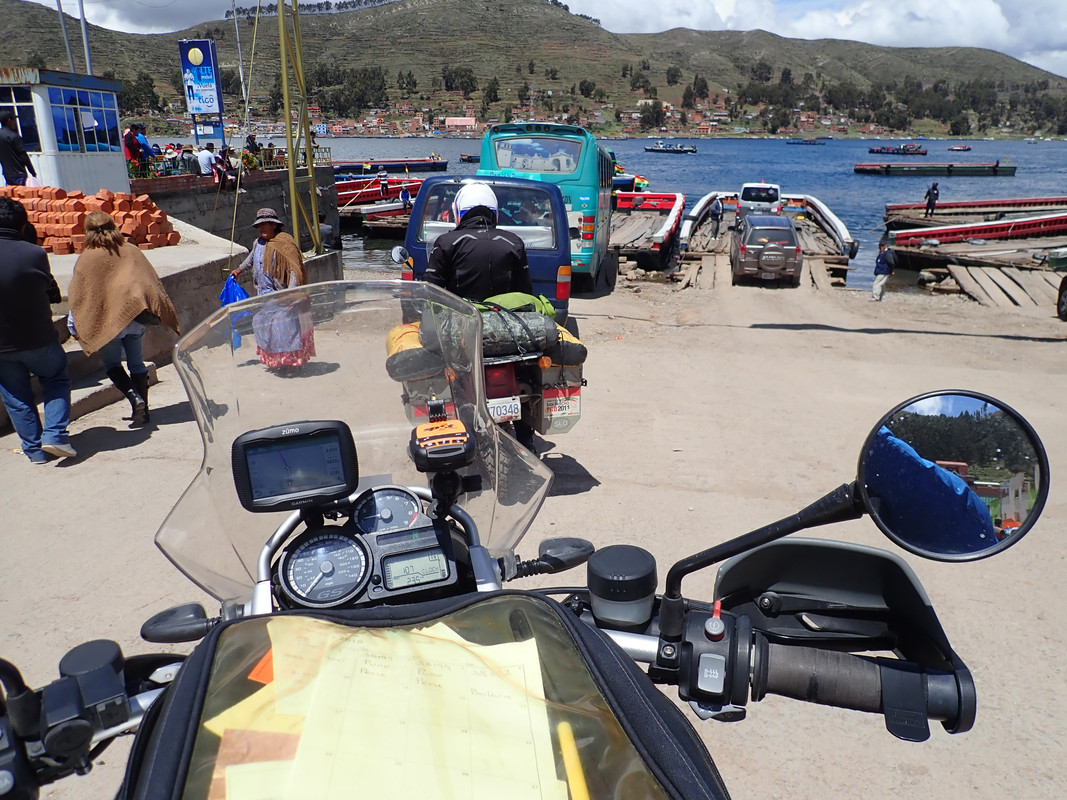 Real old school operation…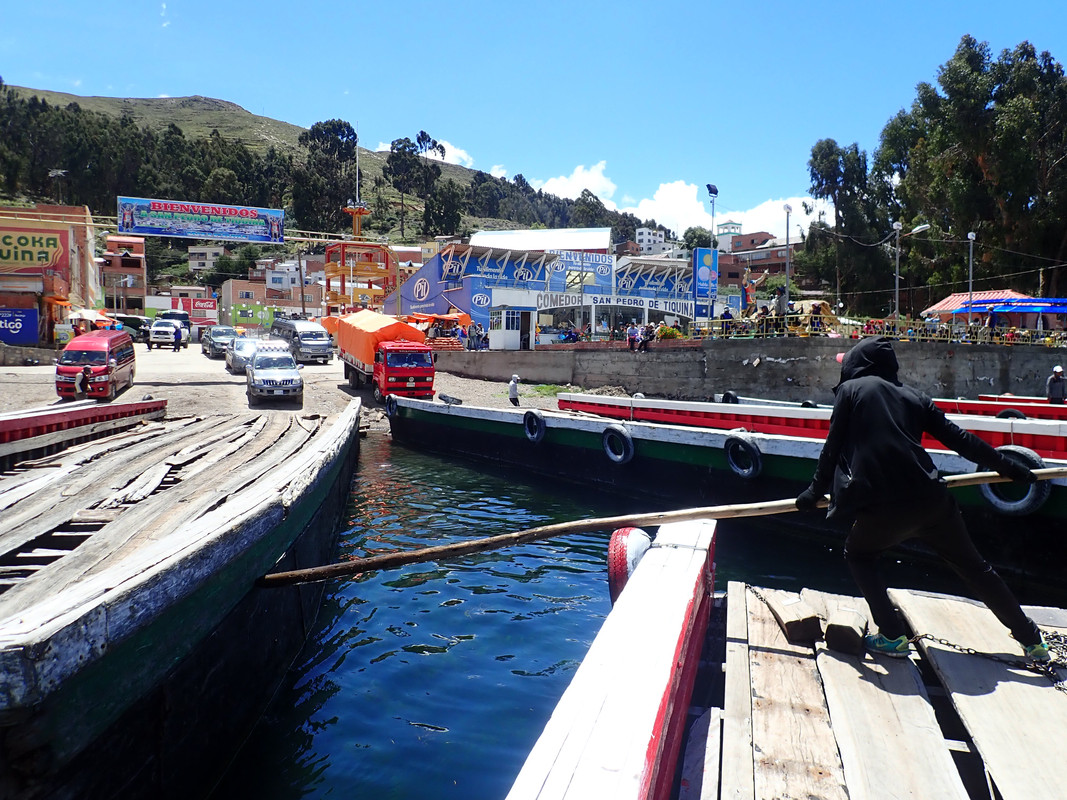 I had to hold the bike from tipping over during the wobbly passage.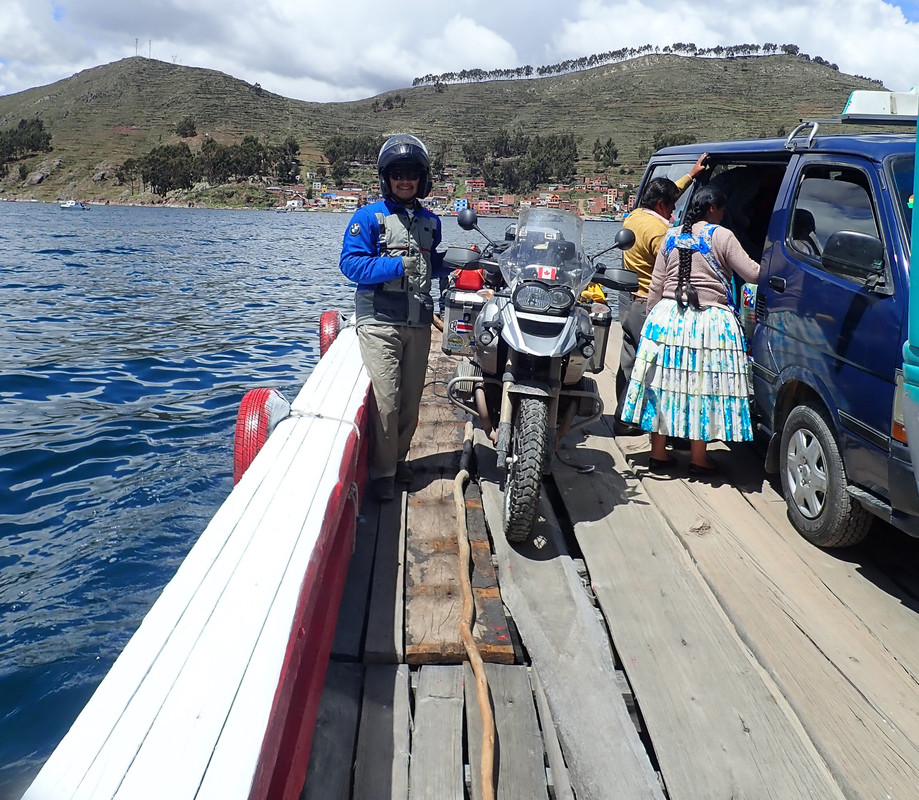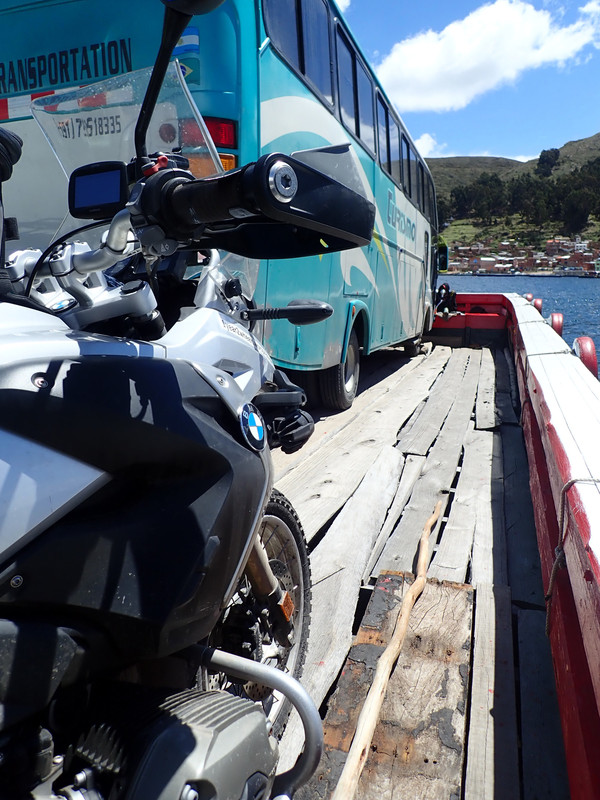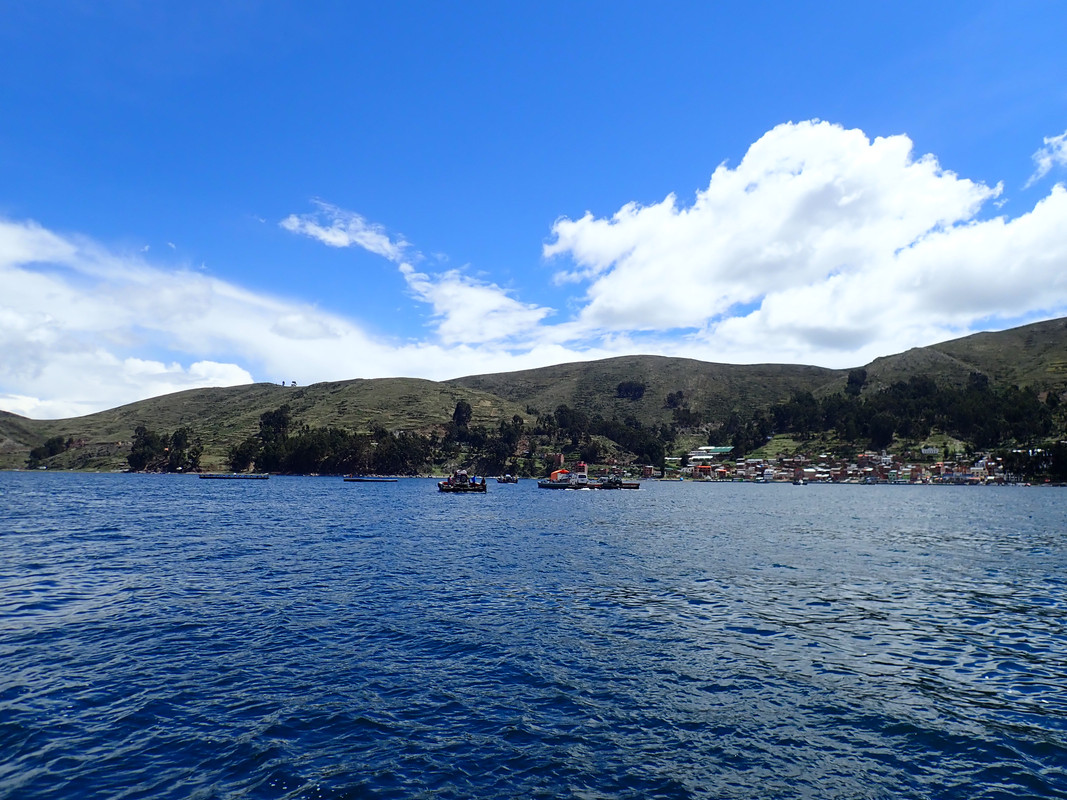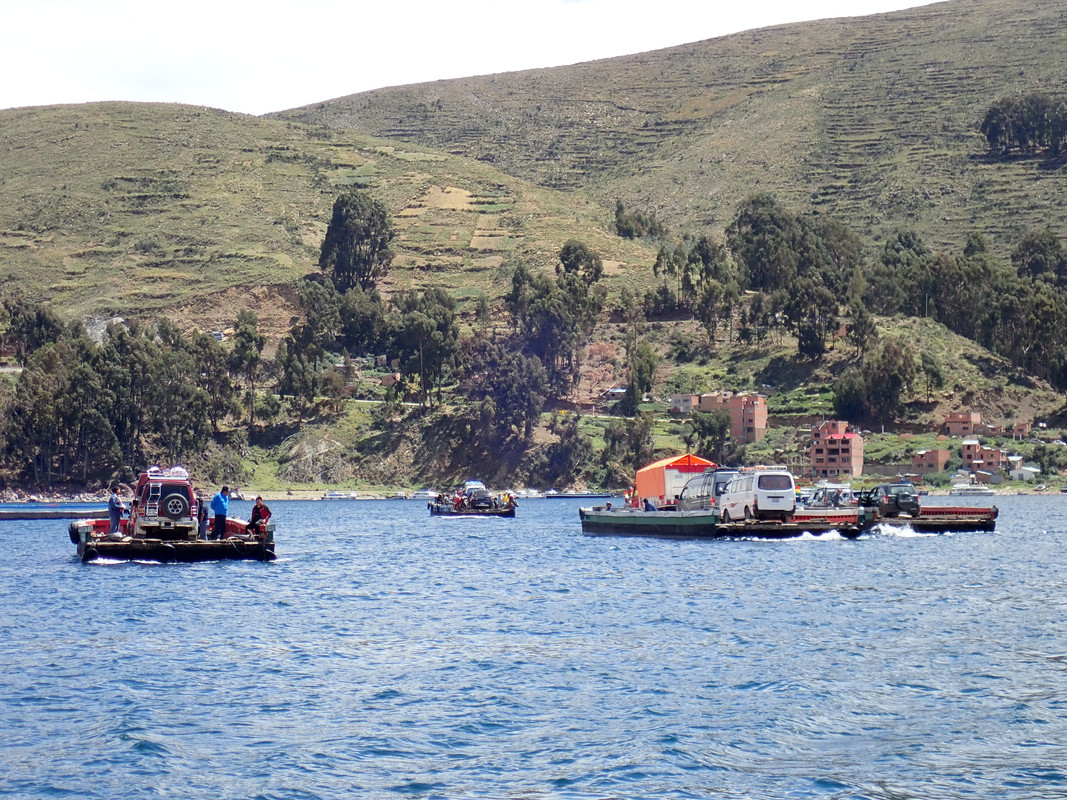 Getting the bike off the raft is an adventure on its own. Instead of backing uphill onto the bank, I tried to Austin Powers a three point turn over the uneven and missing planks and almost drop the bike twice.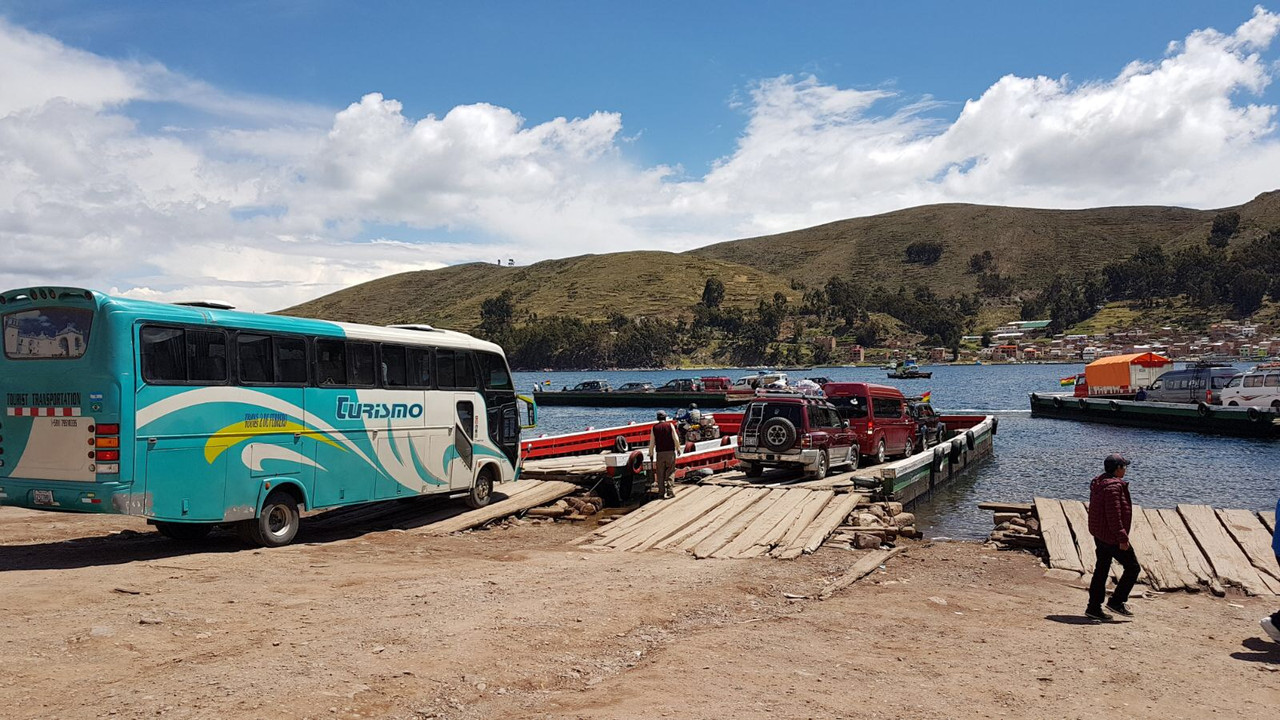 We had a quick lunch and continued toward La Paz. The snow peaked Andes along the horizon was breathtaking.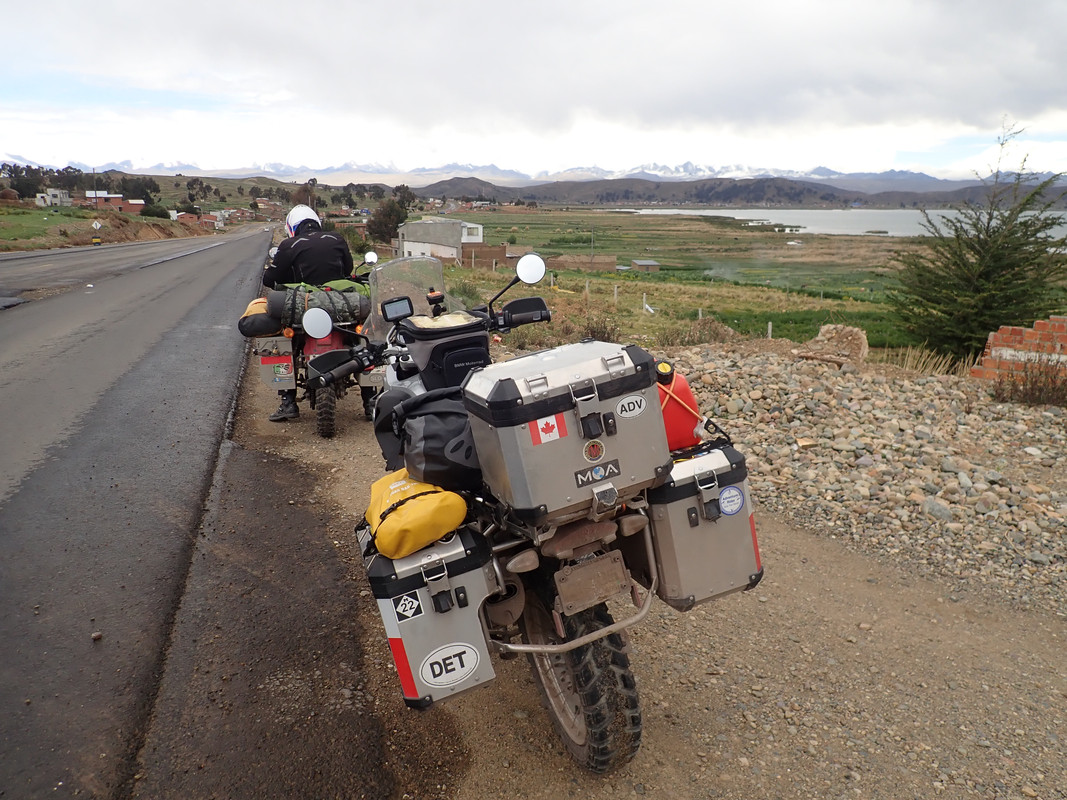 La Paz had terrible traffic mostly due to mini buses stopping in the middle of the road to pickup/drop-off passengers. However, Bolivian drivers are generally courteous which made for a sane ride to the alojamiento.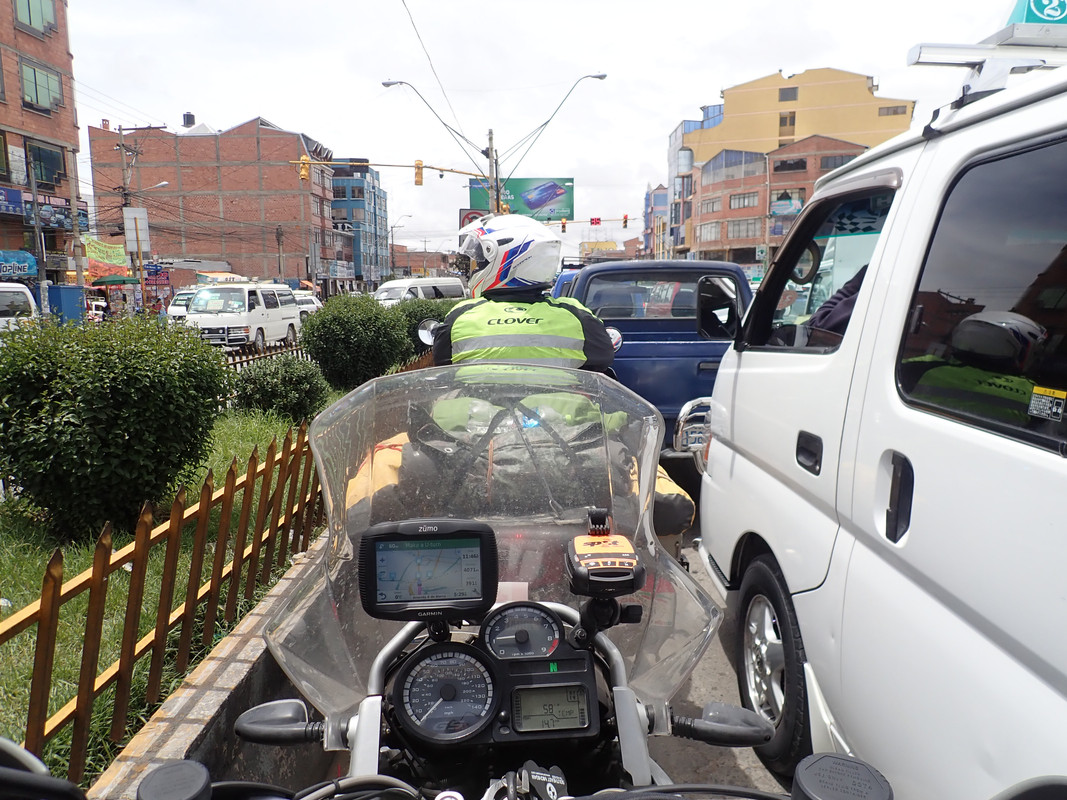 We went on a night ride on the Teleférico (La Paz cable car transit system) to catch a glimpse of the sprawling urban jungle.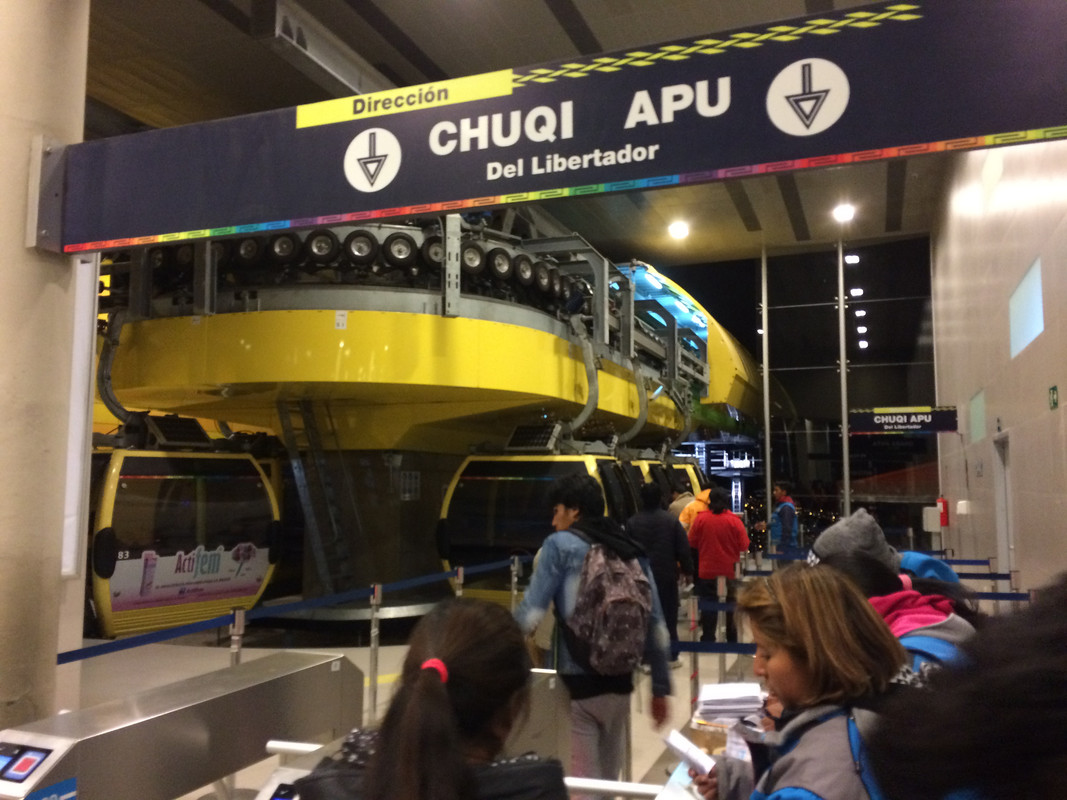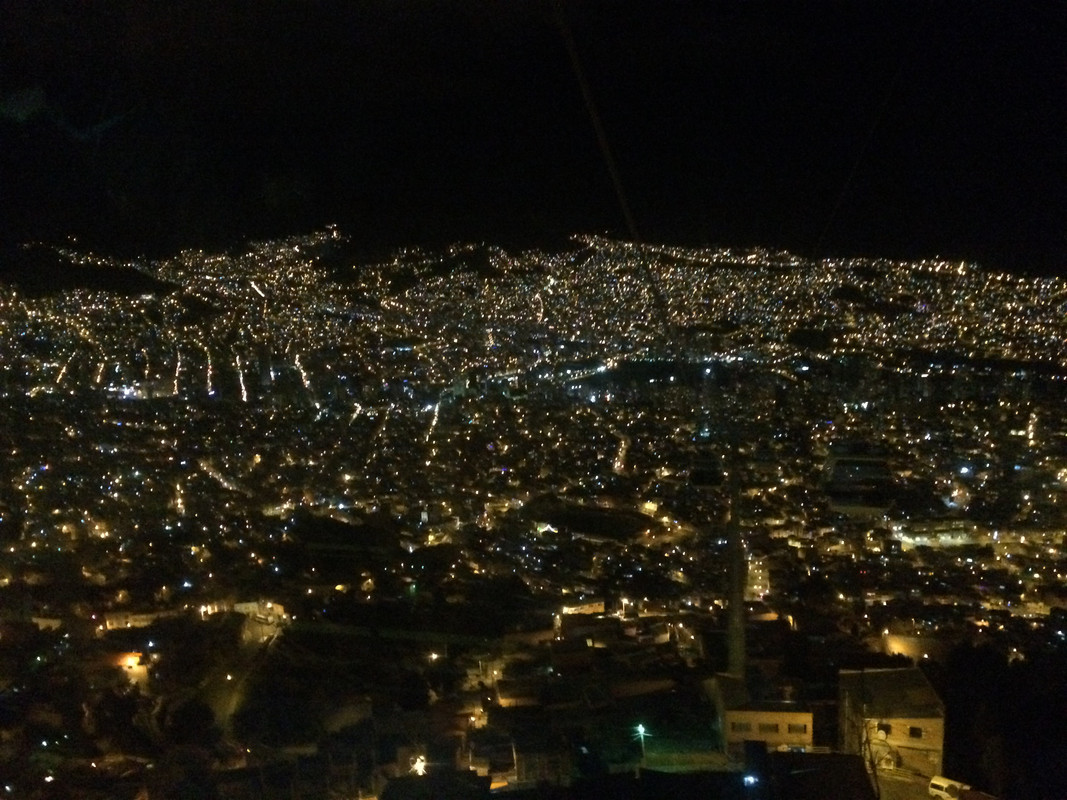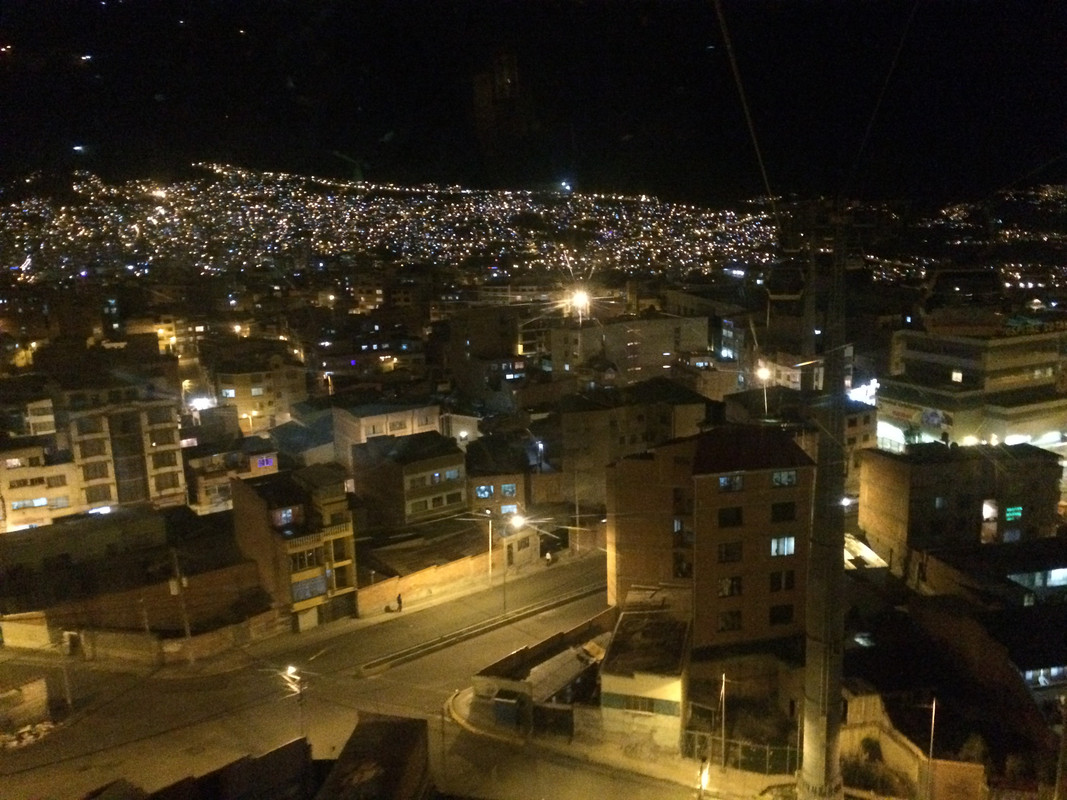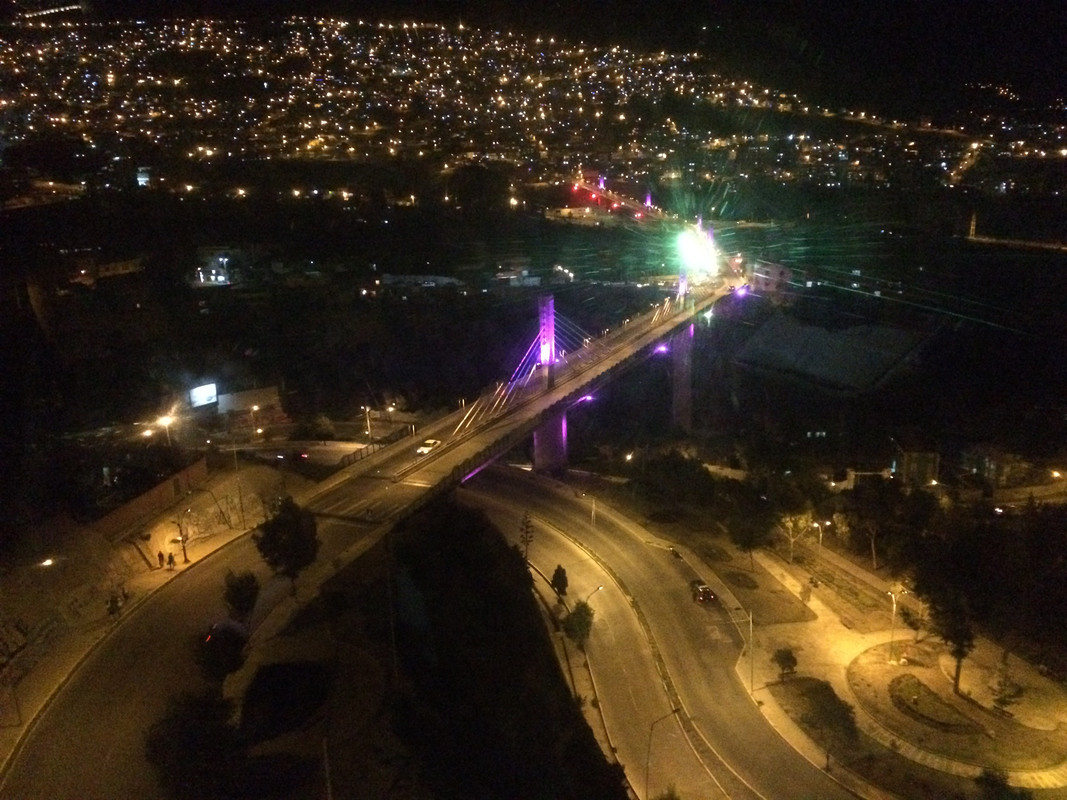 It seems indoor heating have not been introduced in Bolivia. The hotel room was frigid during the night at over 13000 ft. I often felt like suffocating and I'm unsure whether it's due to the elevation or the super thick and heavy blanket. Welcome to the highest capital city of the world…
We wandered the city the next day. I don't think I will ever get tired of the view from the Teleférico.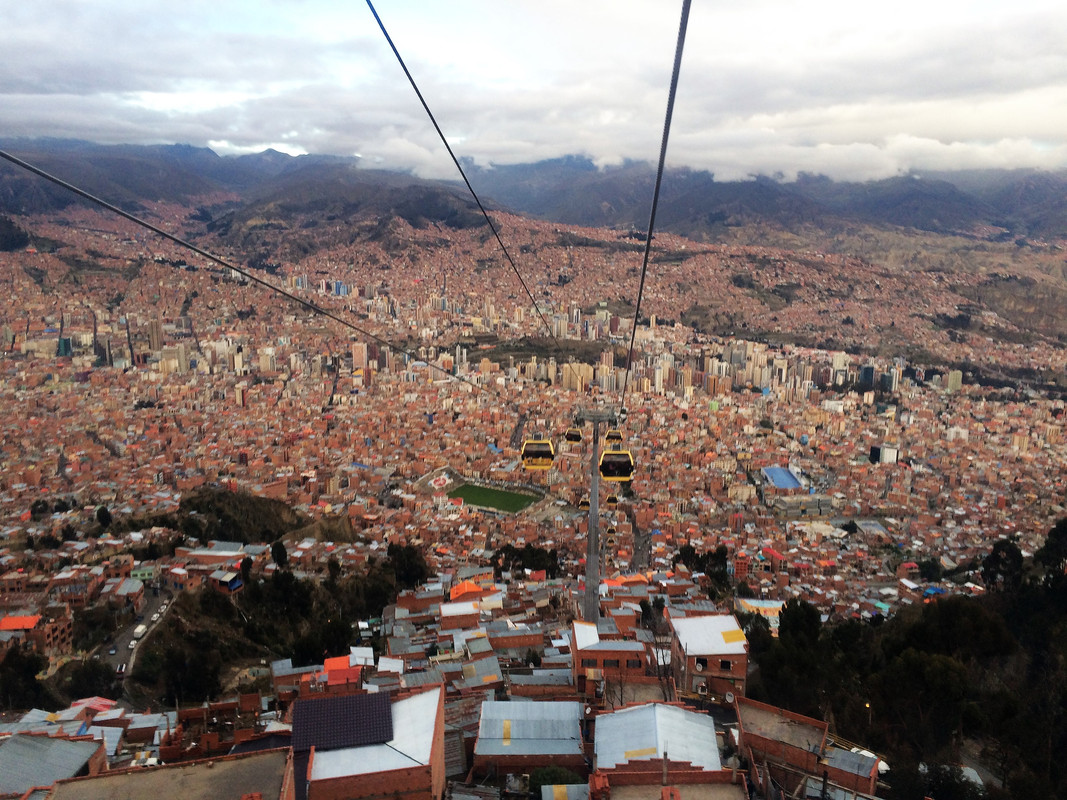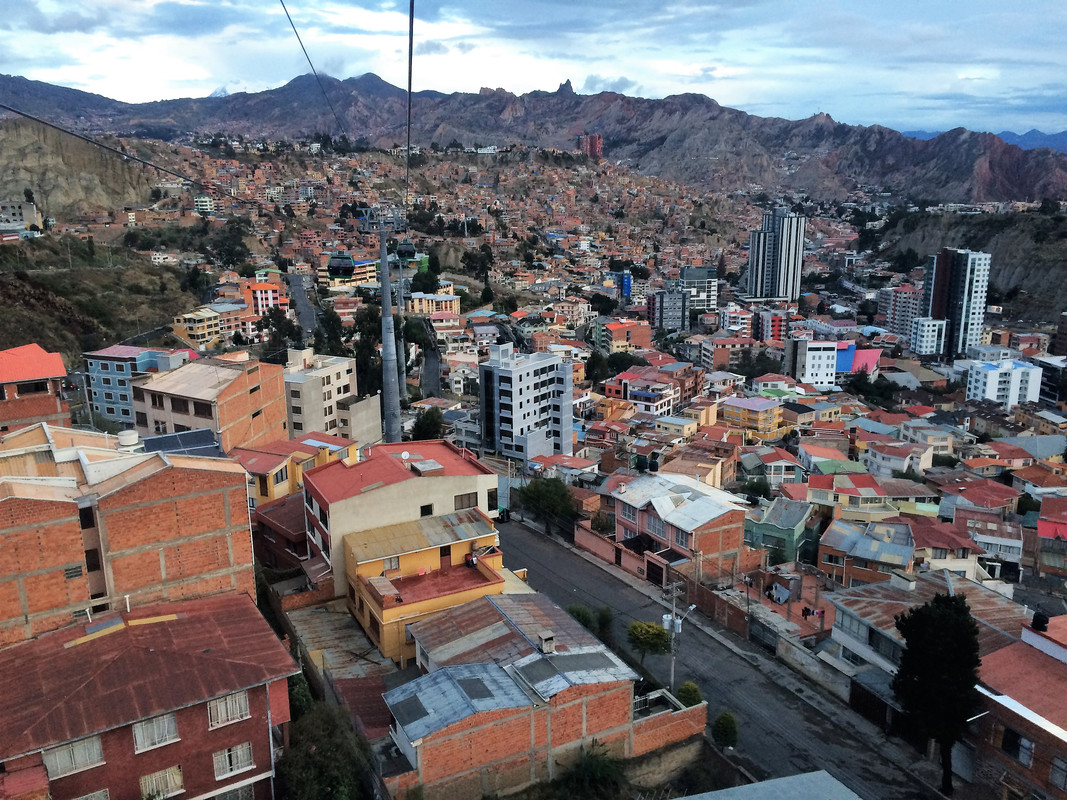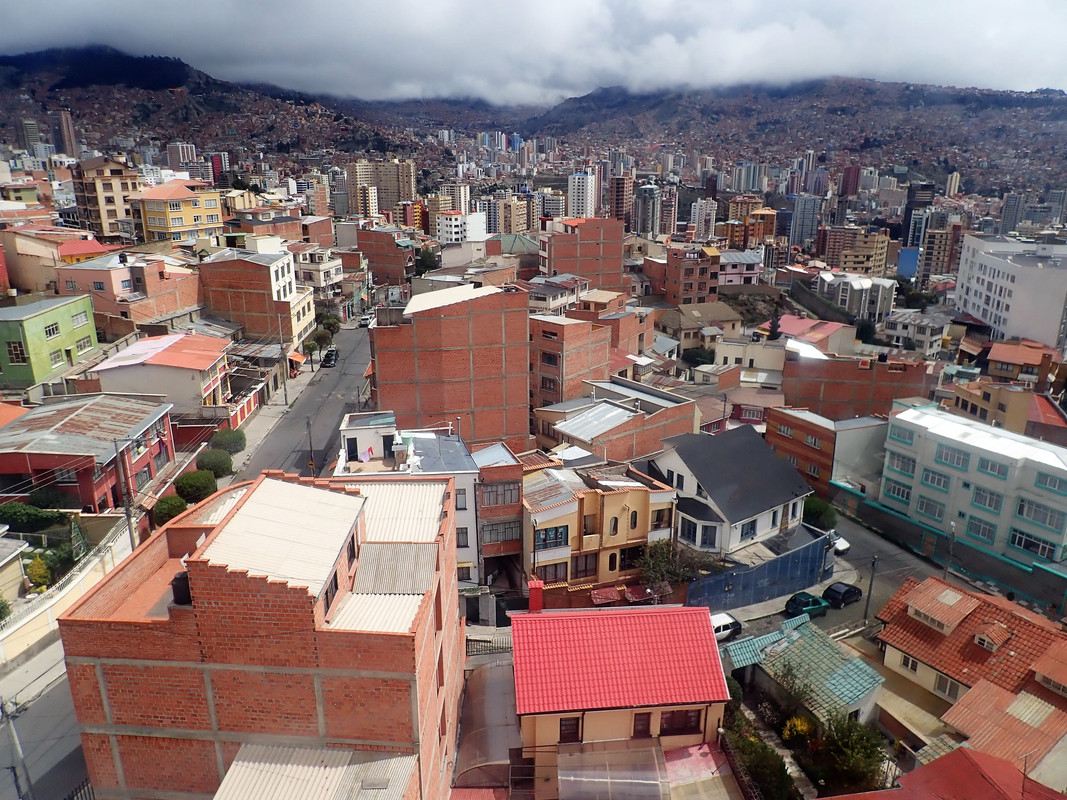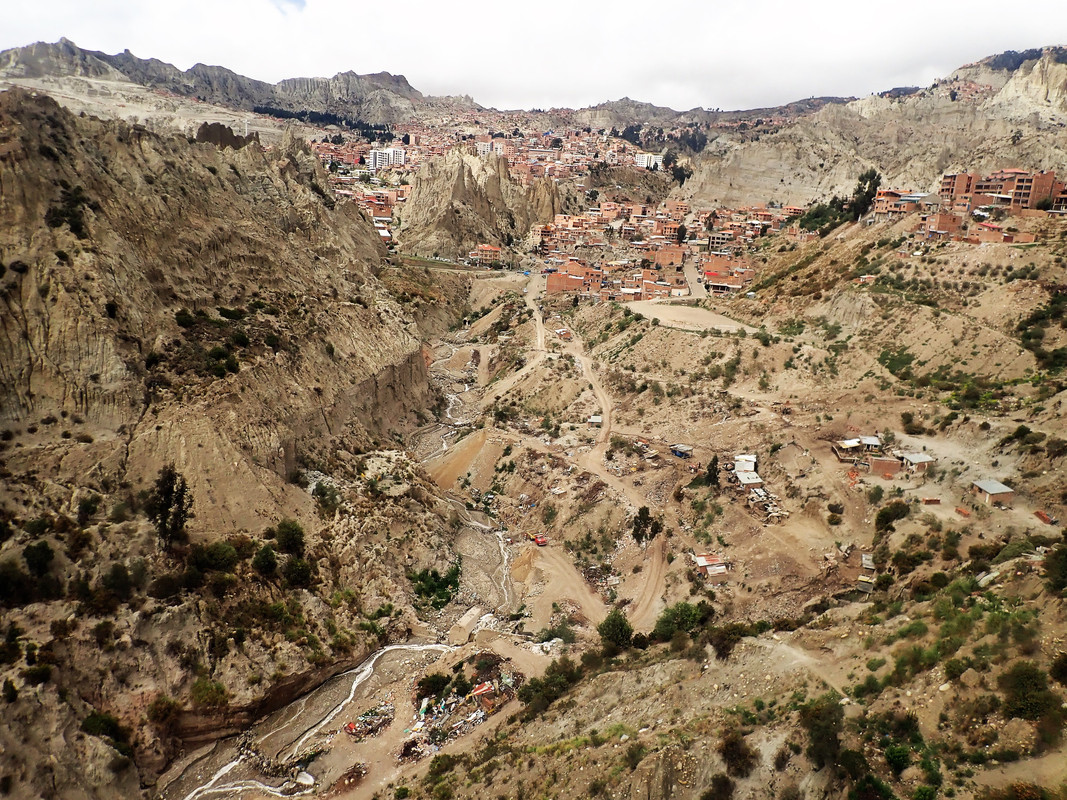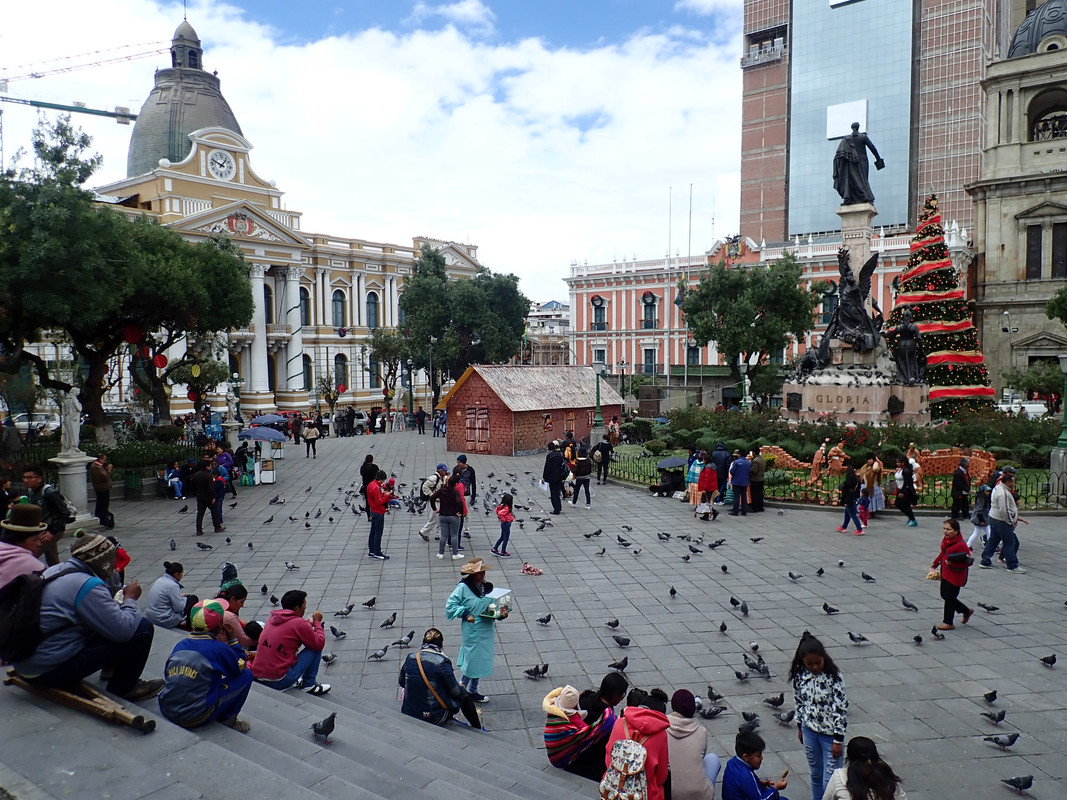 One thing I learned about Latin America is that they love to protest.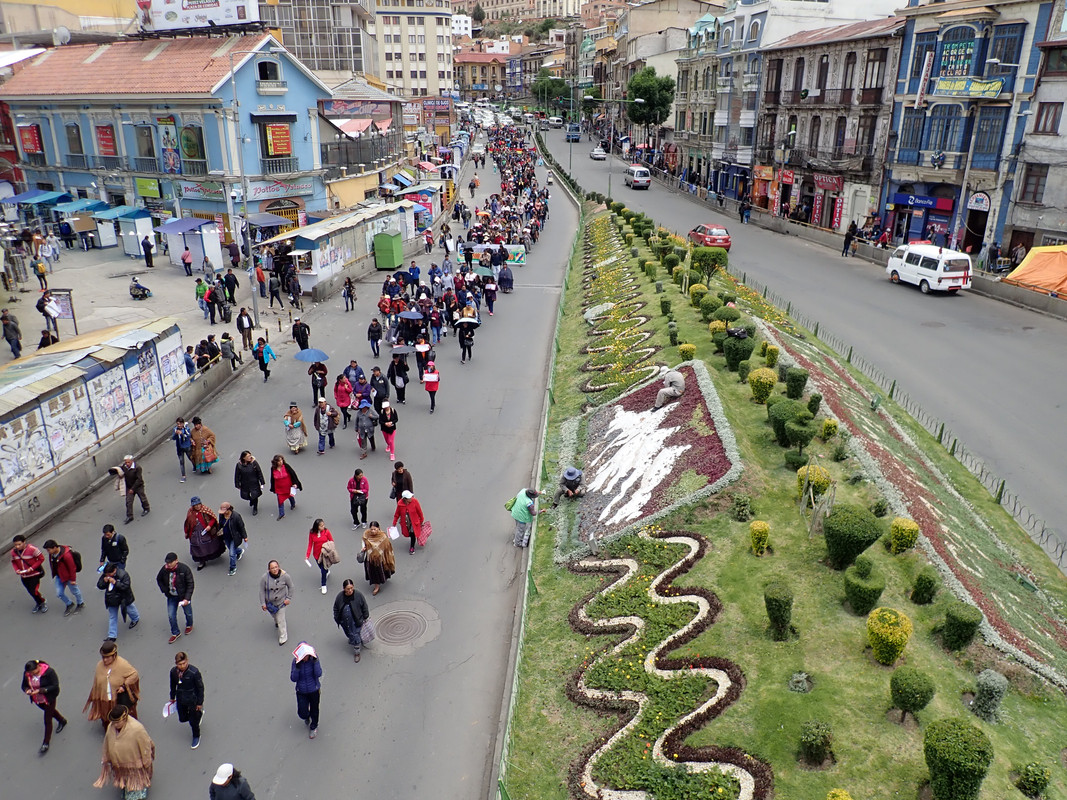 A particular point of interest in La Paz was The Witches' Market (El Mercado de las Brujas). It's really more catered towards tourists and the only items I found intriguing were the dried llama fetuses.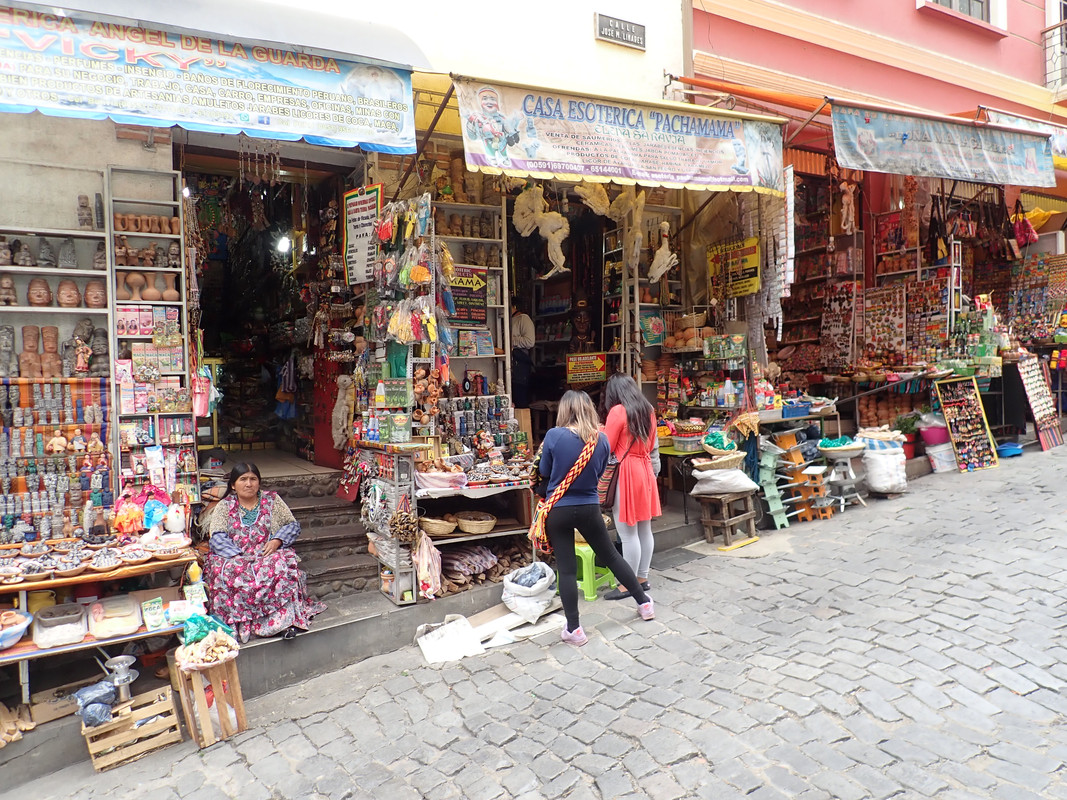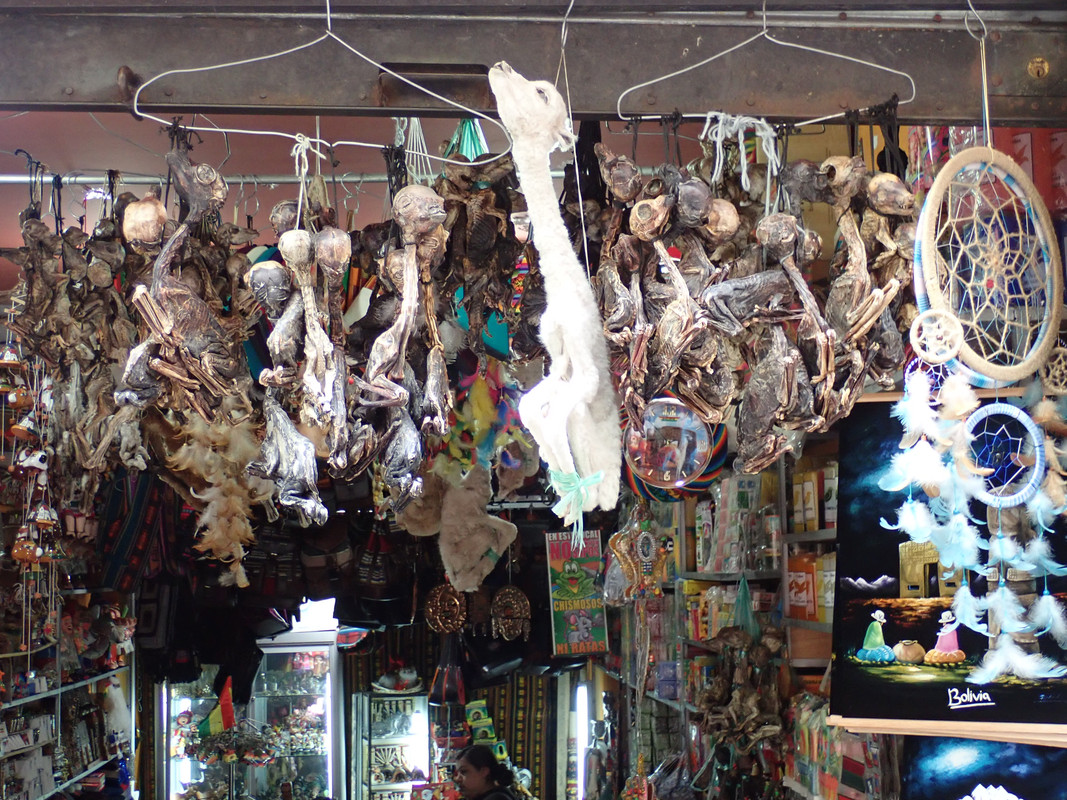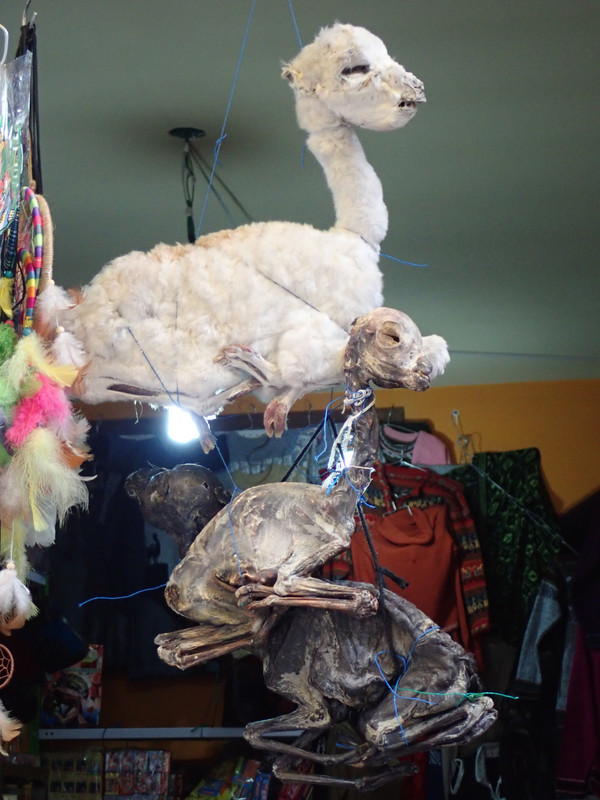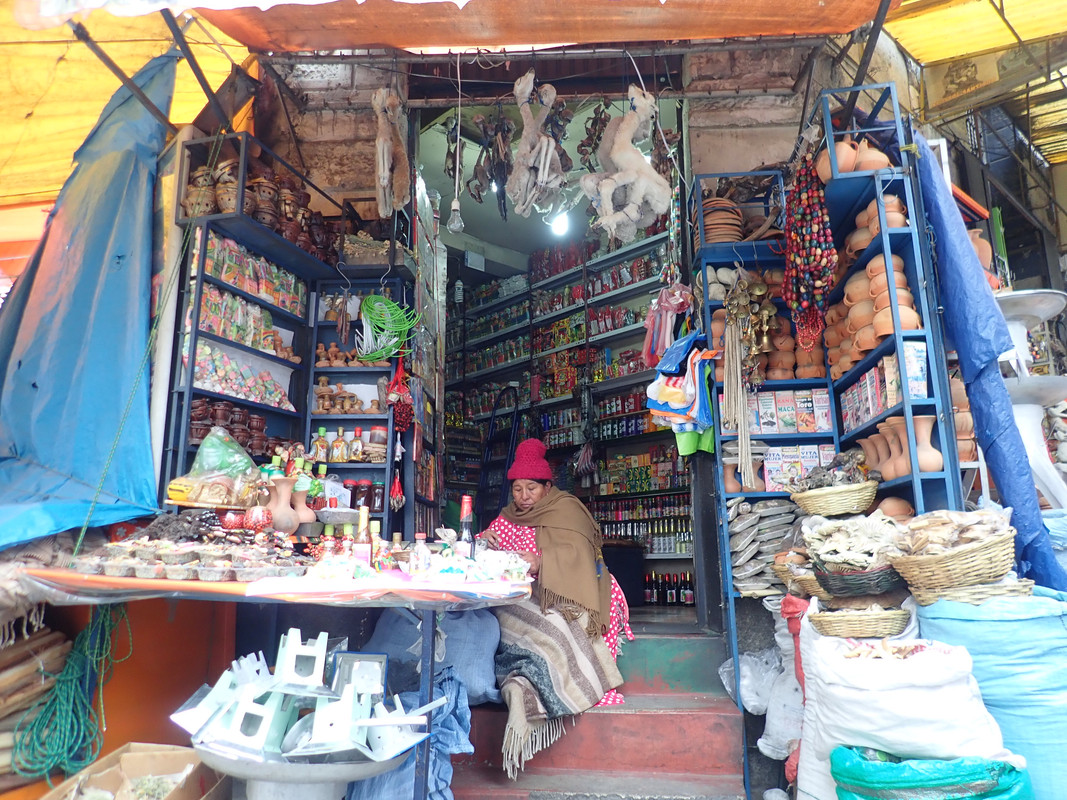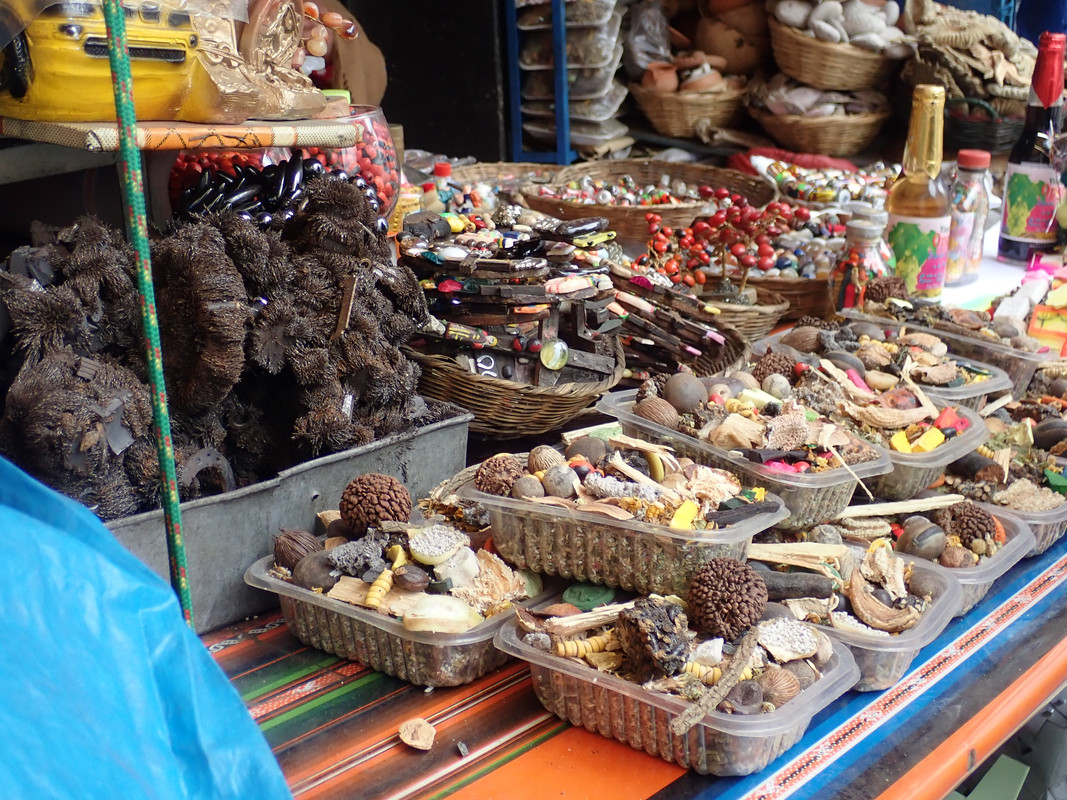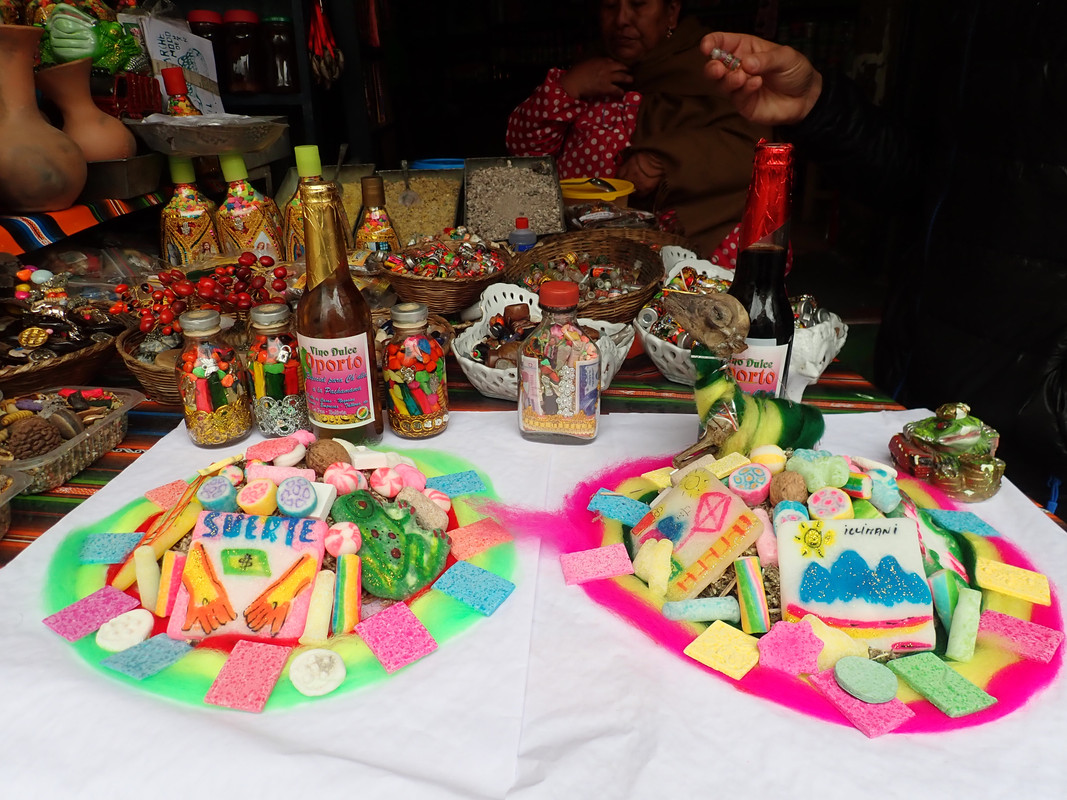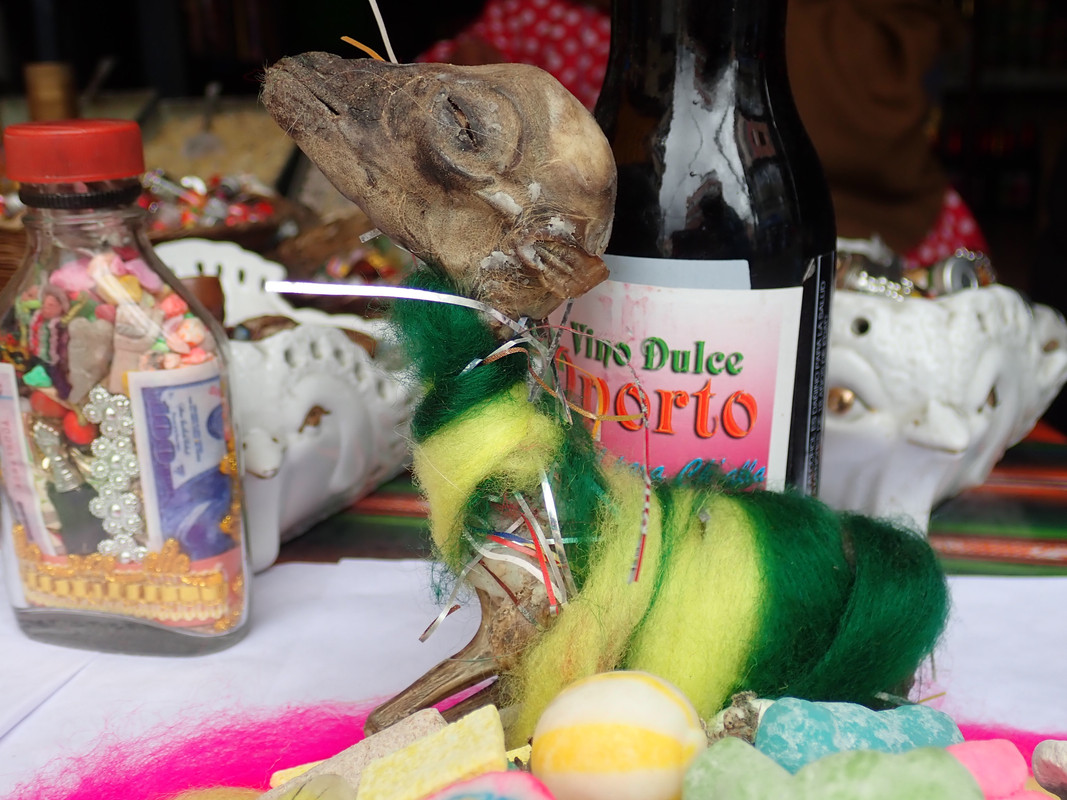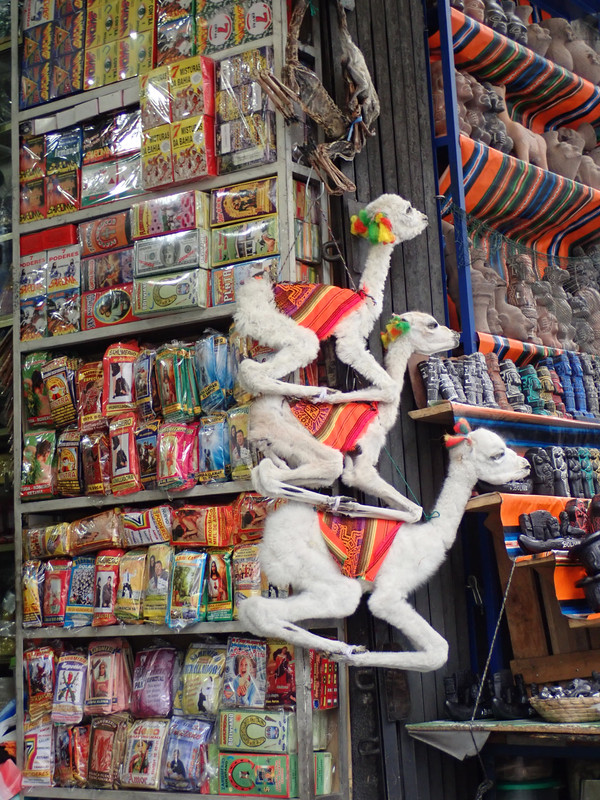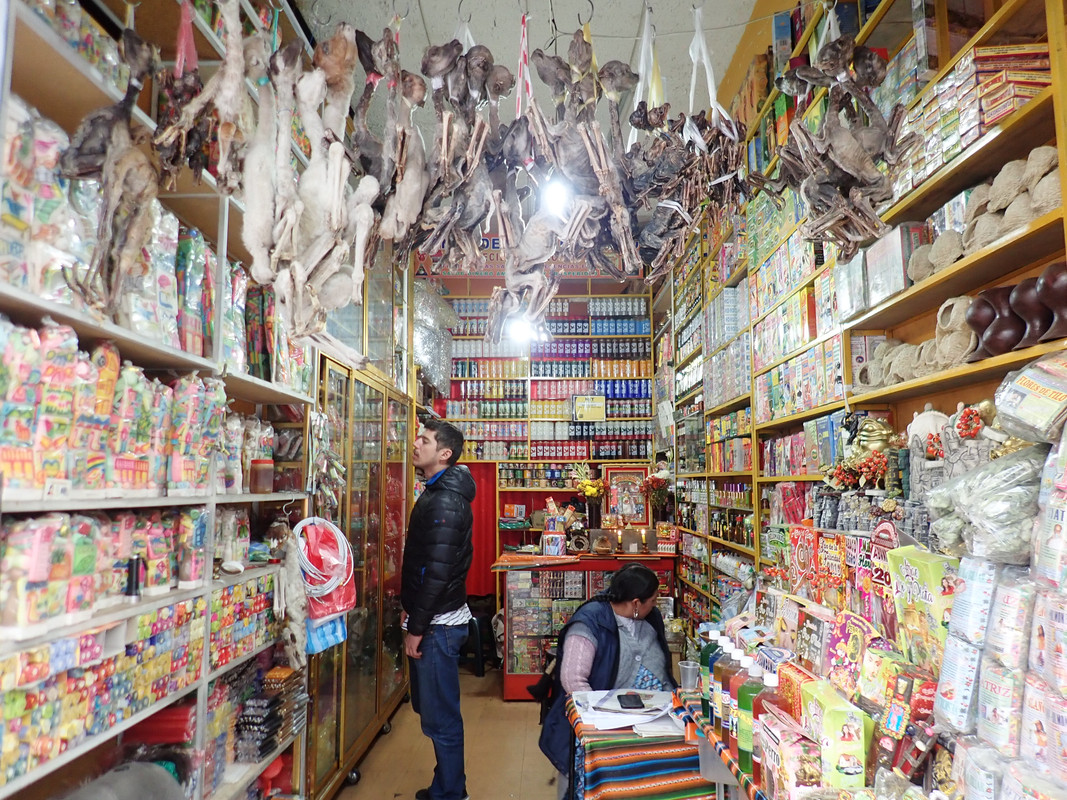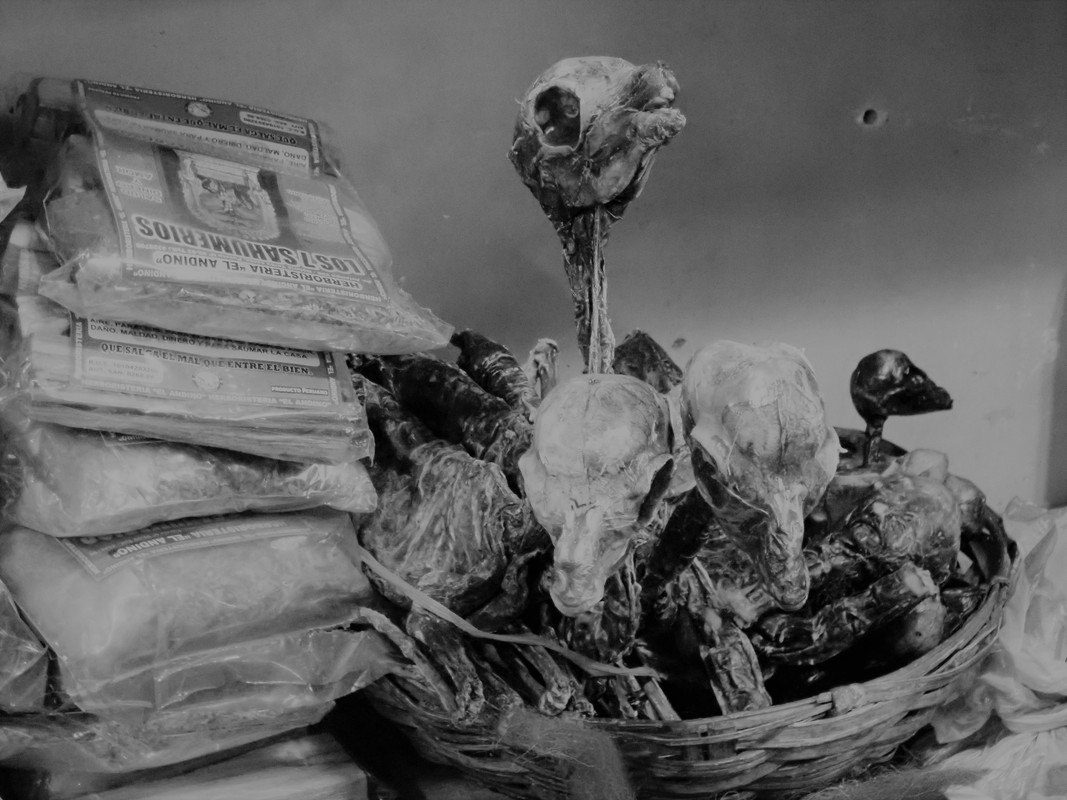 Next on the agenda is the infamous Bolivia death road (Yungas Road). It was considered the 'World's most dangerous road' because hundreds of people used to die every year until the new road was built. Today, it is toll road mostly taken by mountain bikers and adventurers. We made our way towards Coroico where the death road starts but weather was progressively getting worse as we climbed to 15000 ft (4600 m).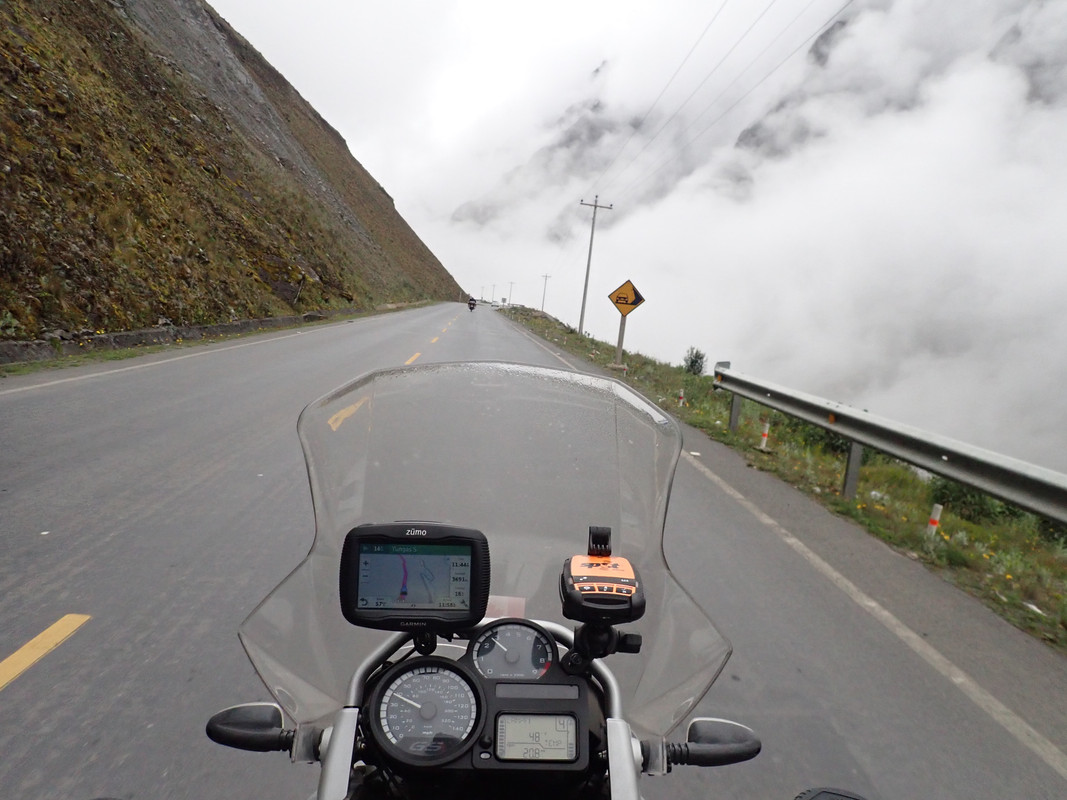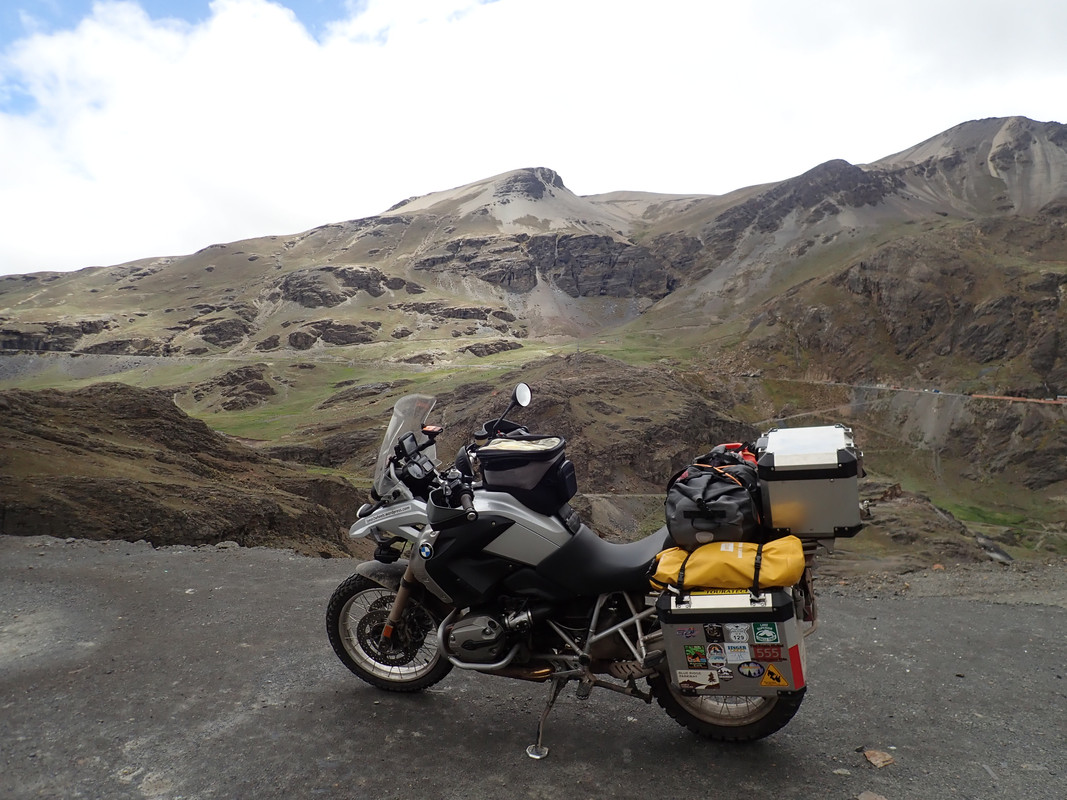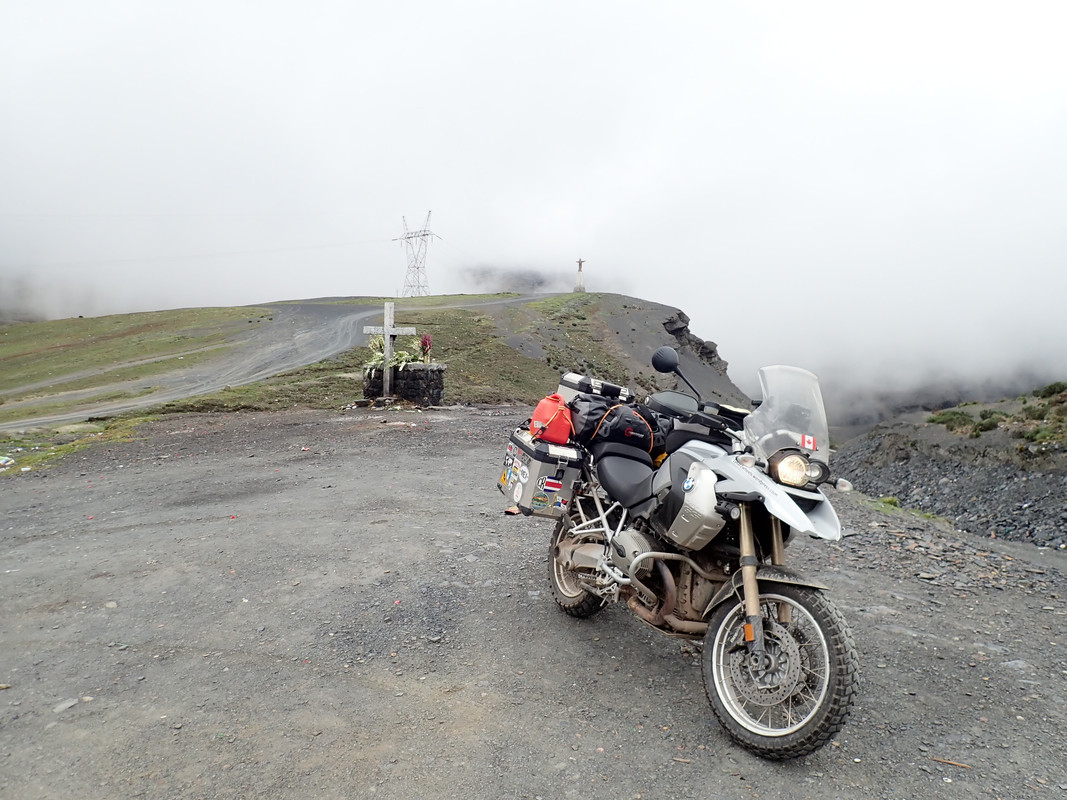 One last prayer before the death road…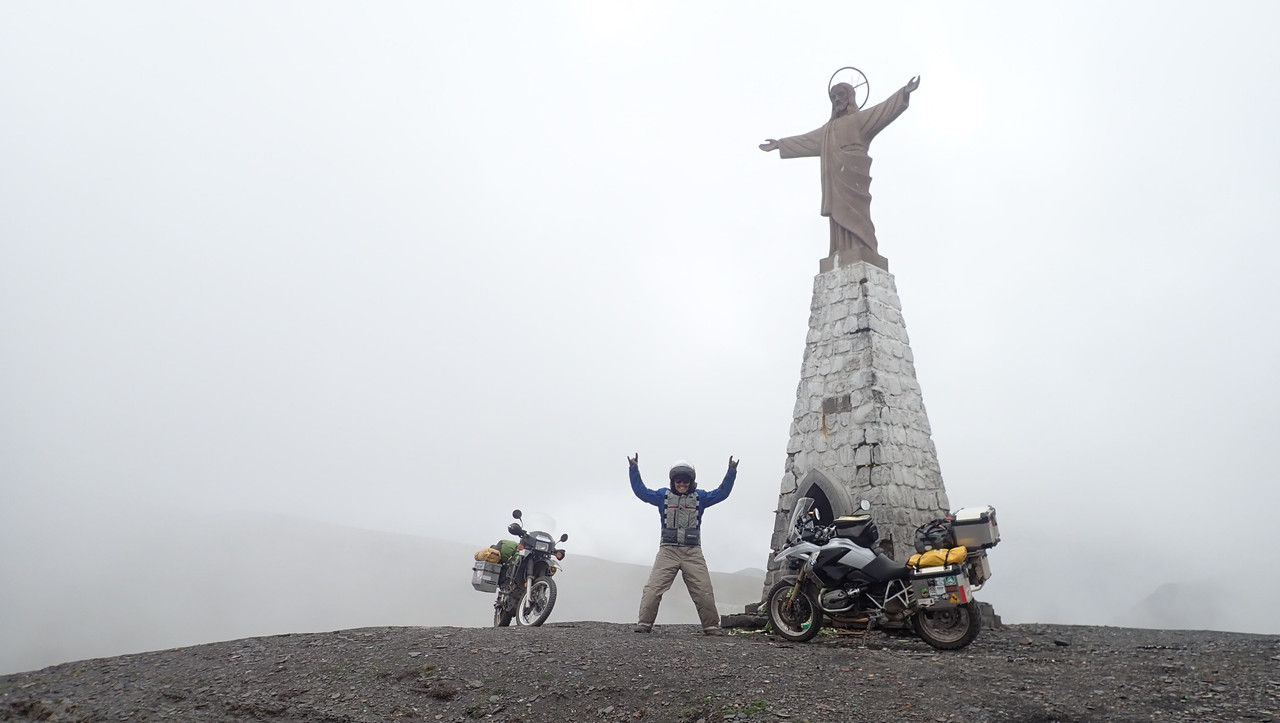 Rule on the death road is to drive on the left. The reason being that the driver on the cliff edge can look out the window to see how close his wheels are from edge of the road.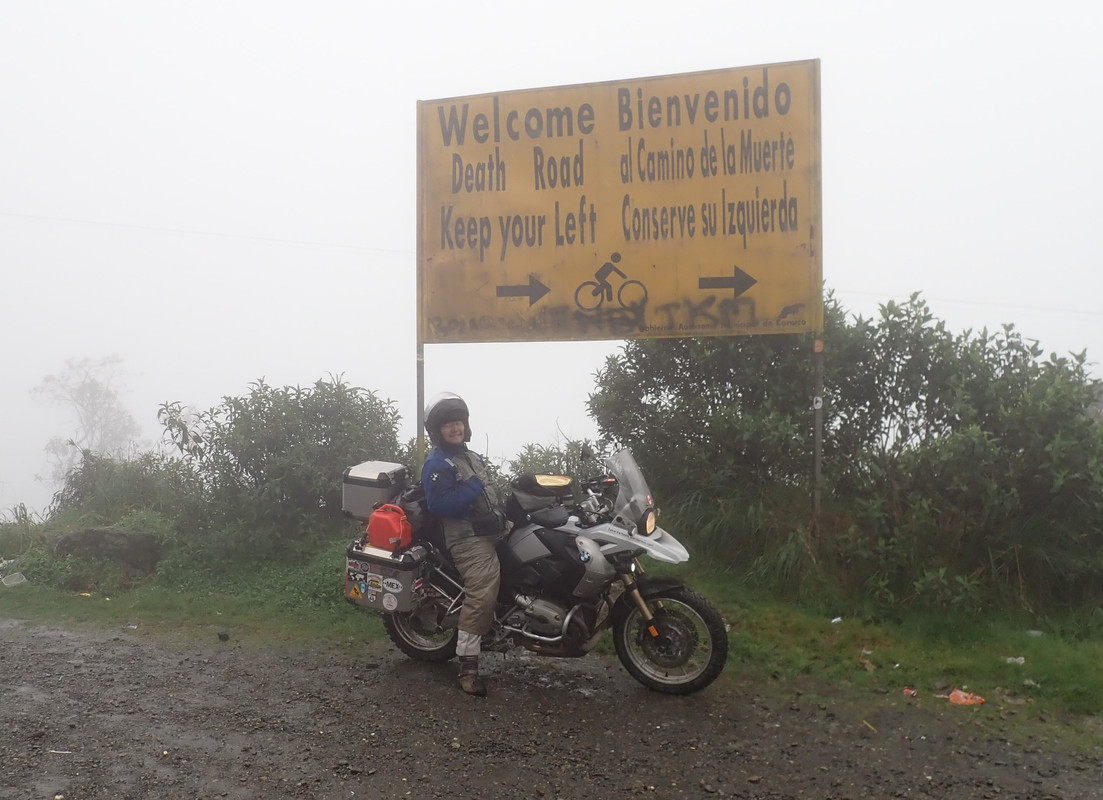 Rain was coming down hard and there was practically zero visibility amid the fog so we decided to spend the night in Coroico and ride the death road the next day. It's a tiny town in the mountains with only one cobblestone road leading up to it. The roads in town are equally deadly as I dump the bike leaving the hostal while trying to make a sharp turn down a steep cobblestone road…not very confidence inspiring right before tackling the death road.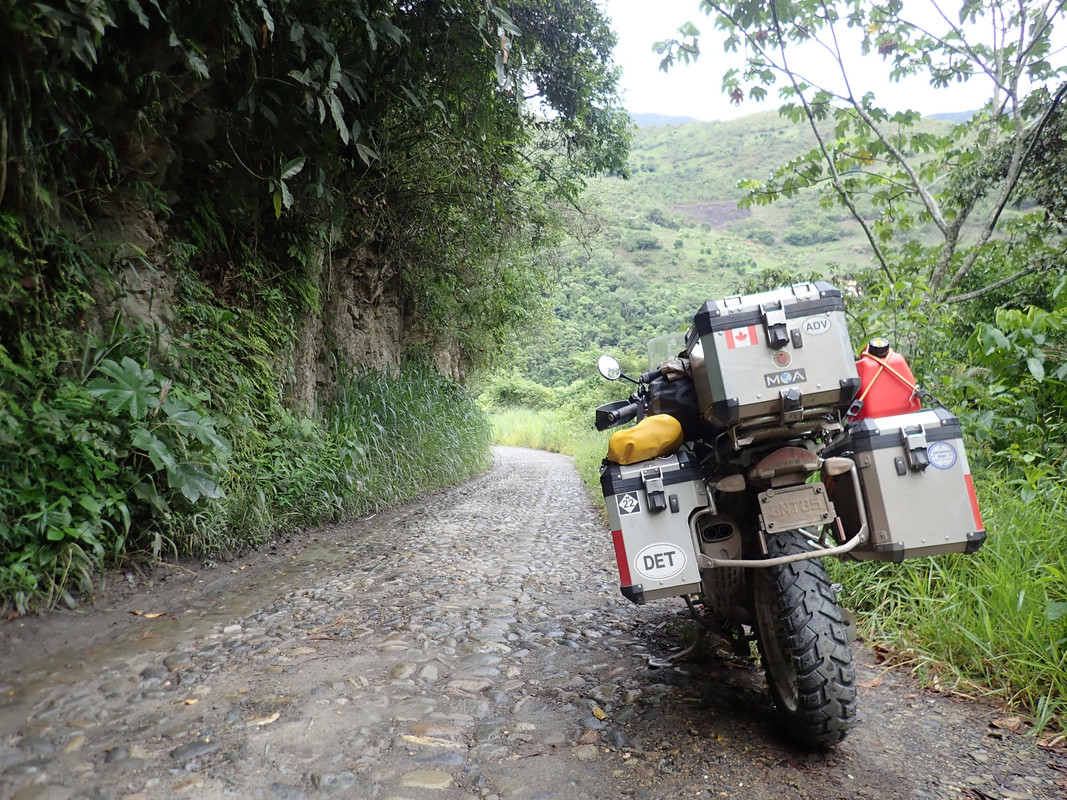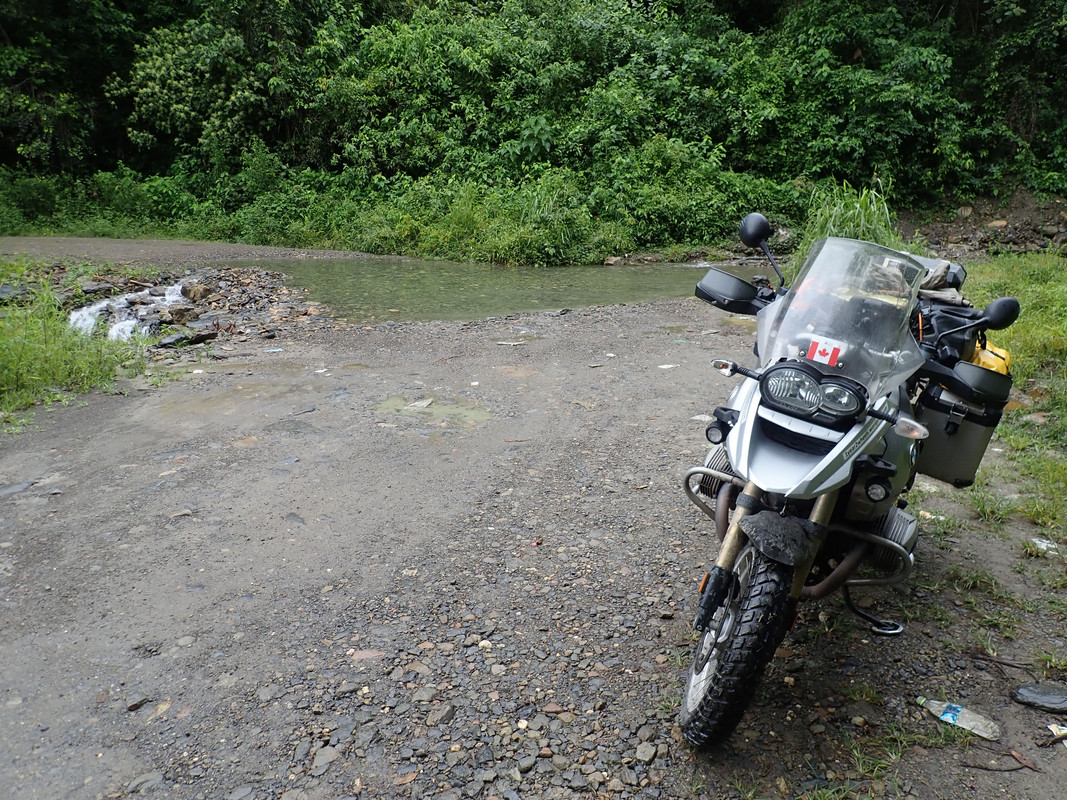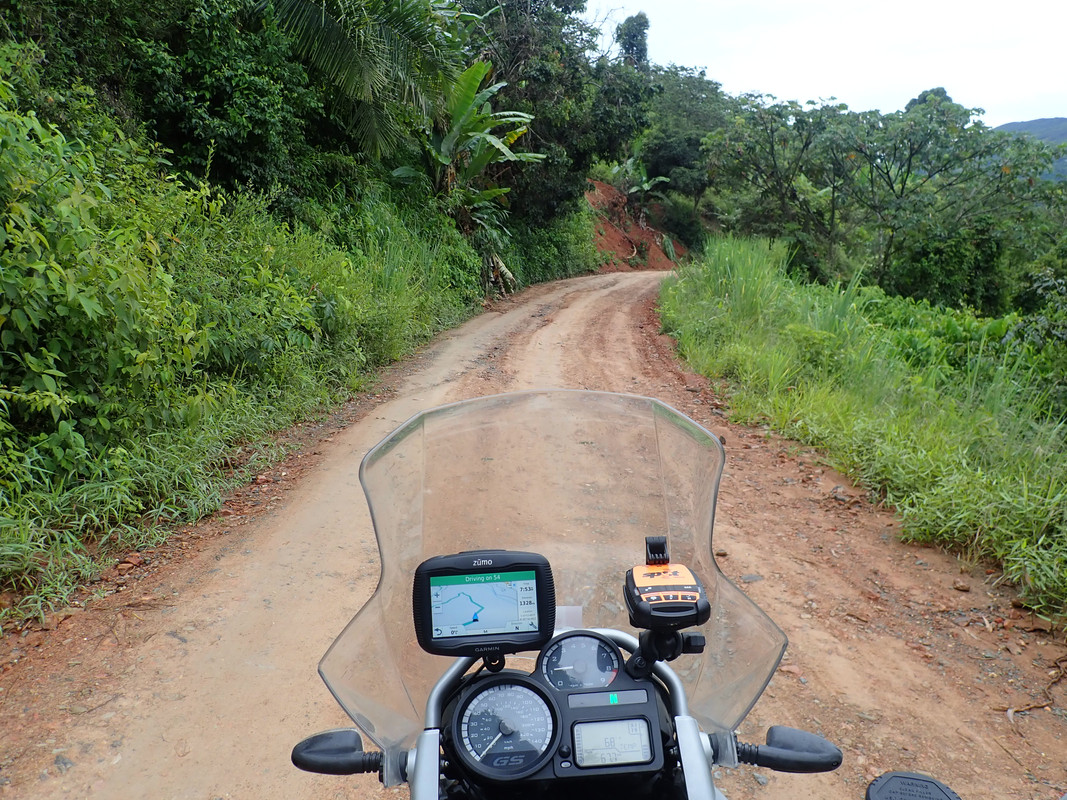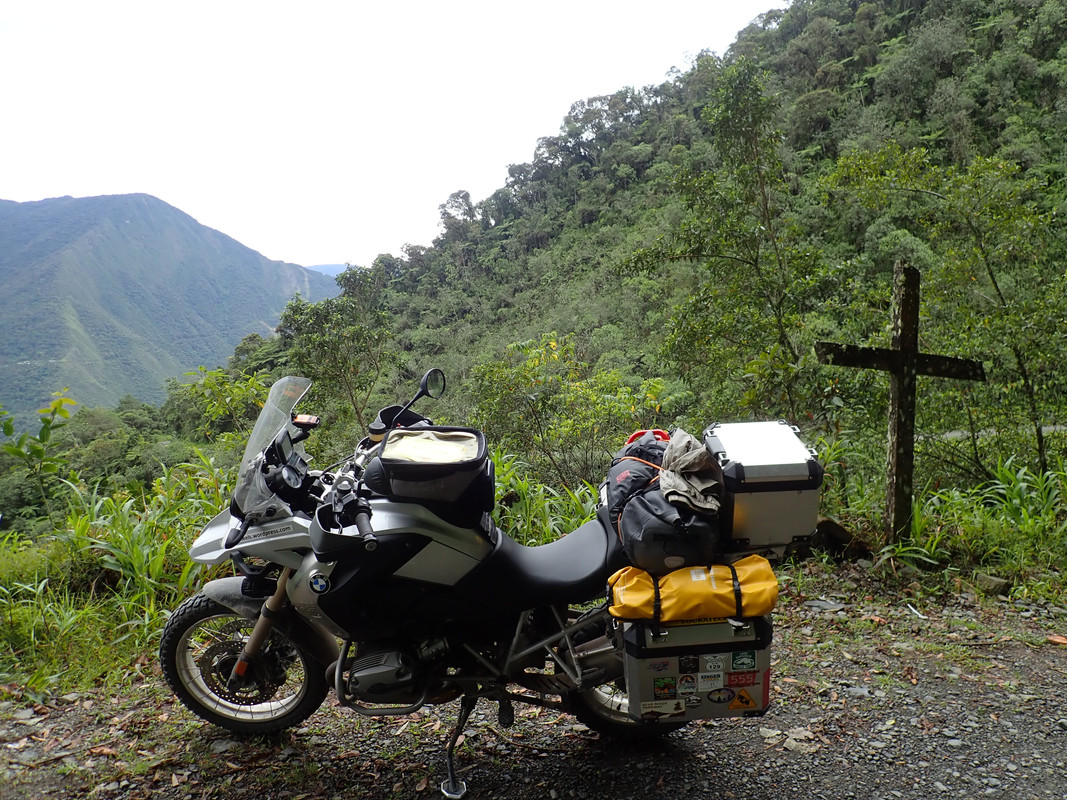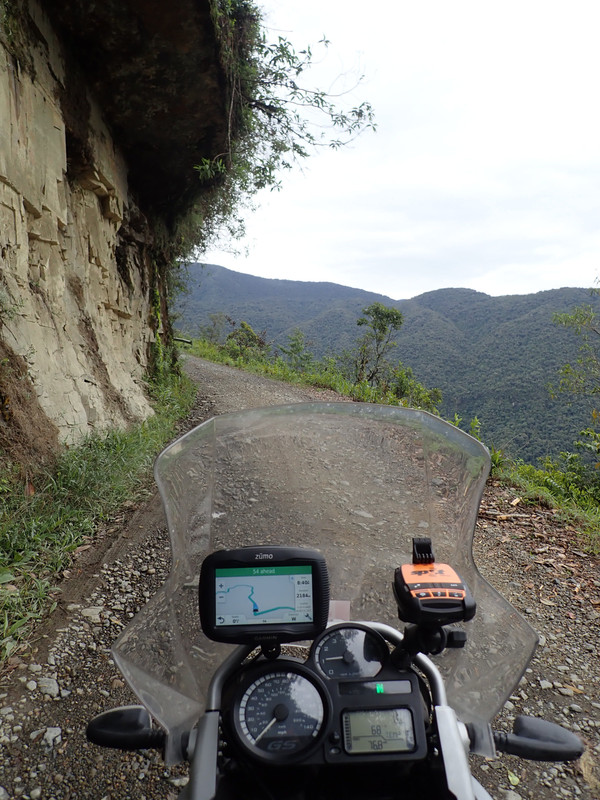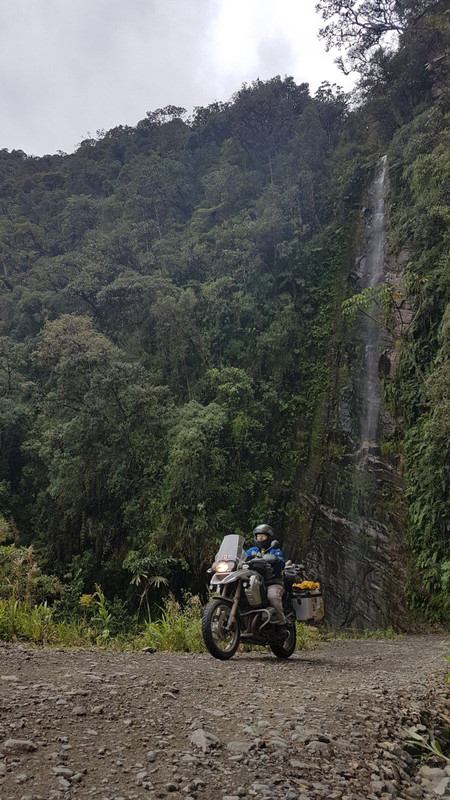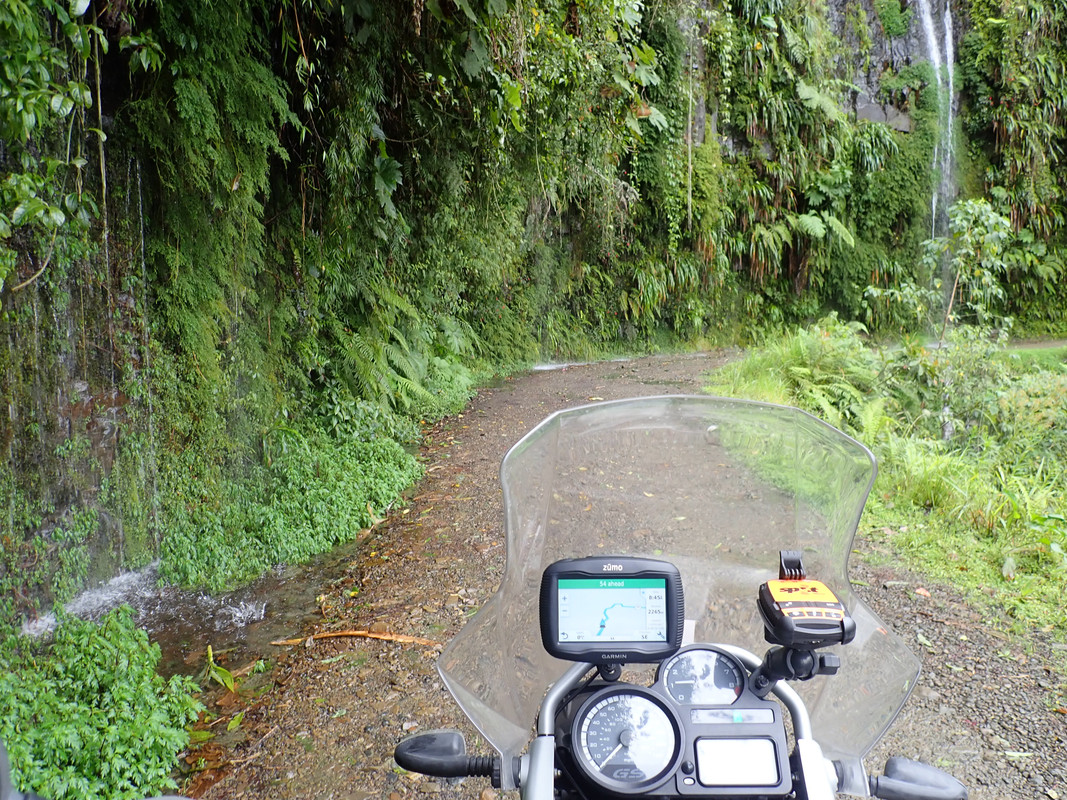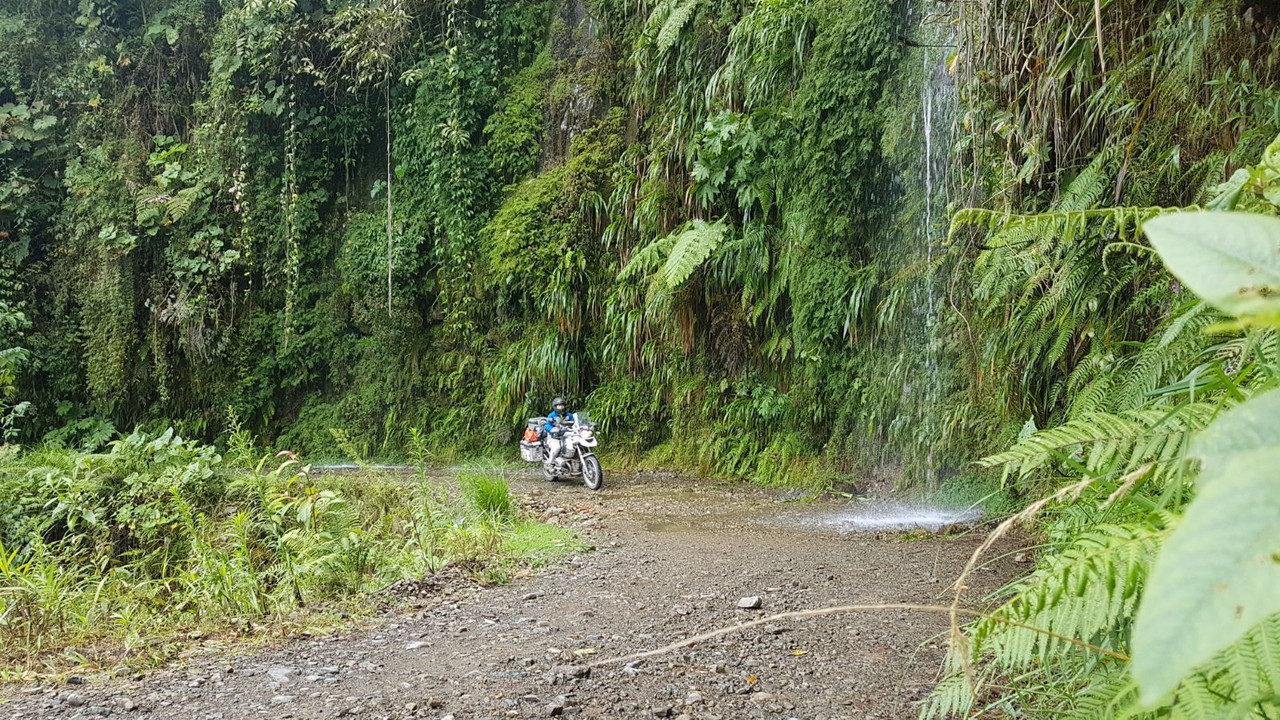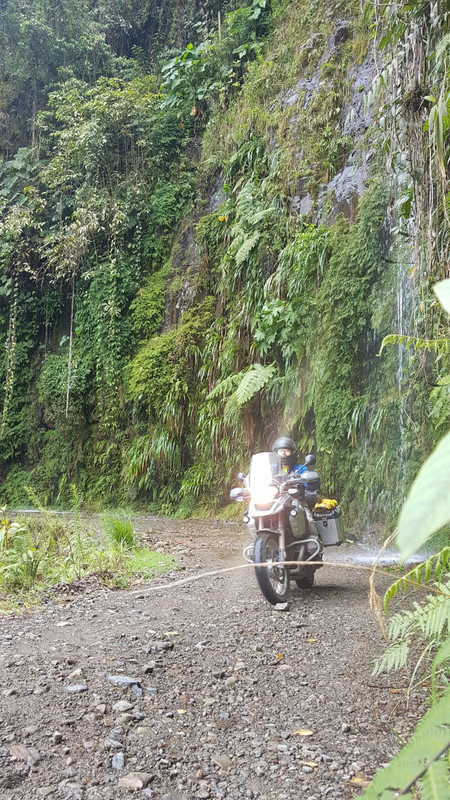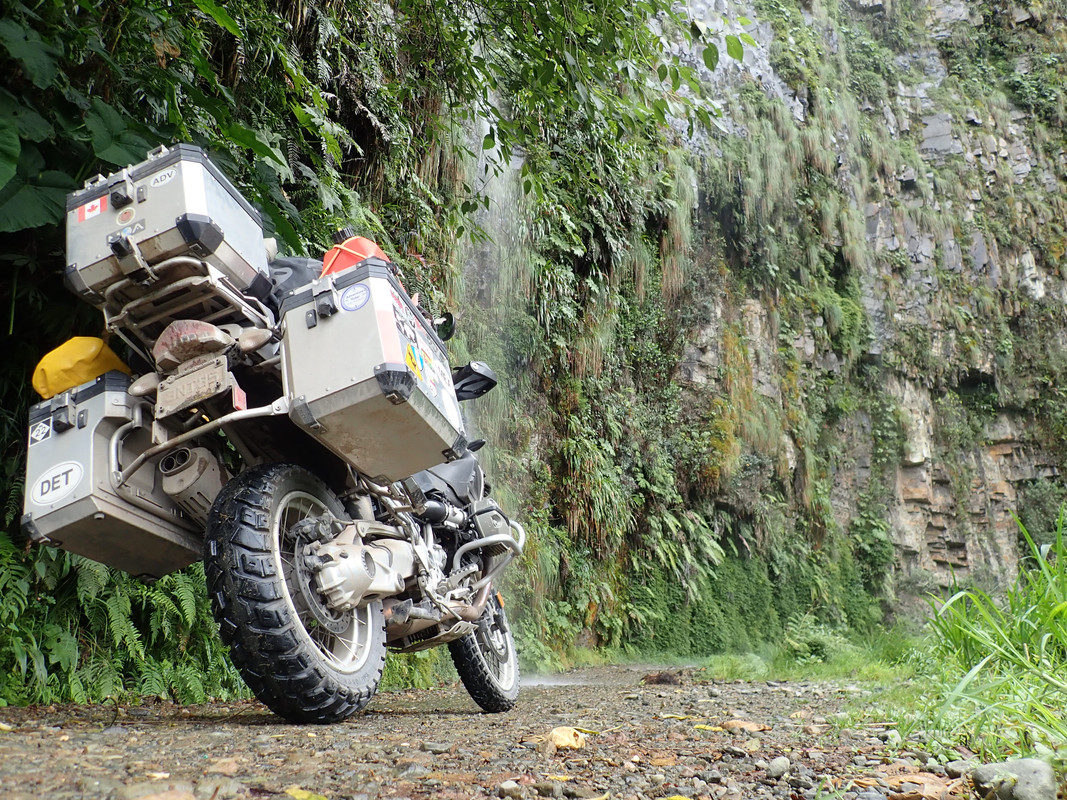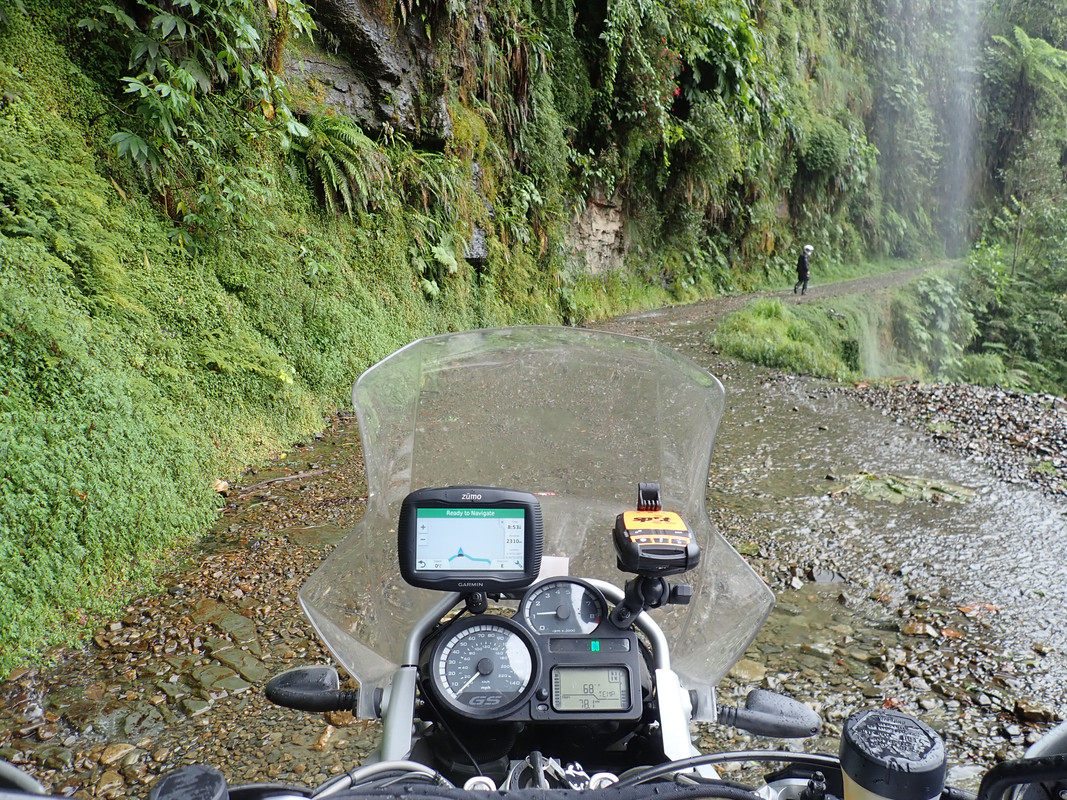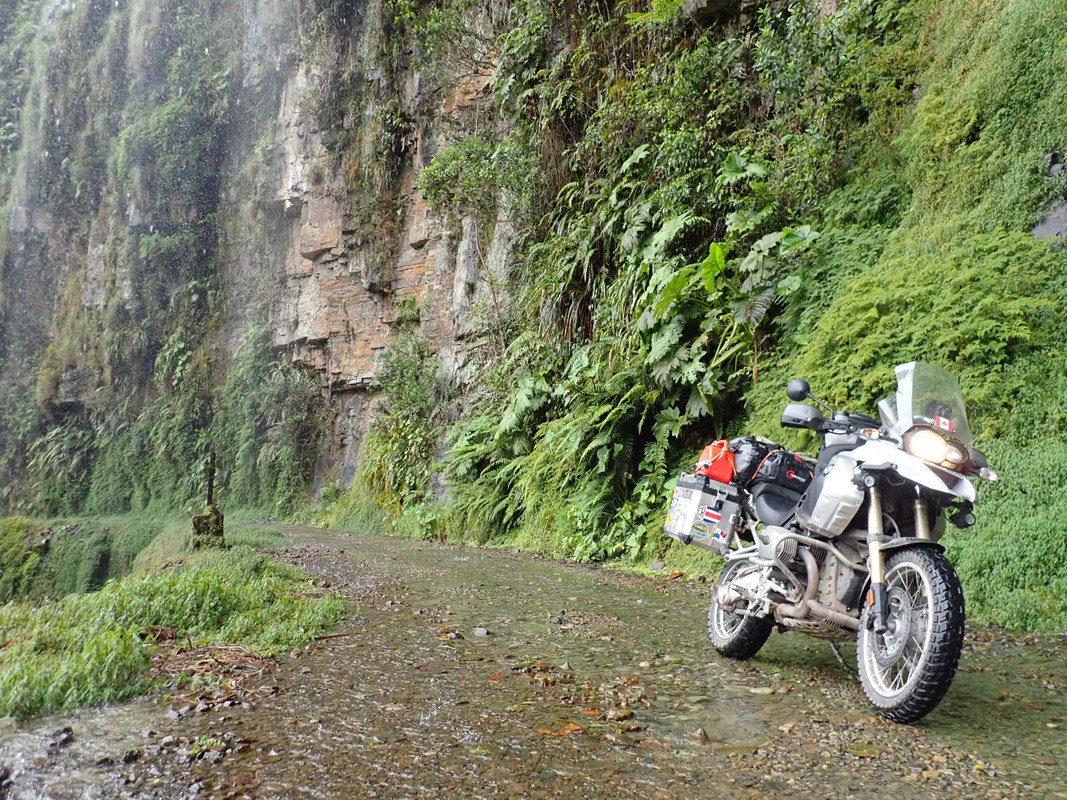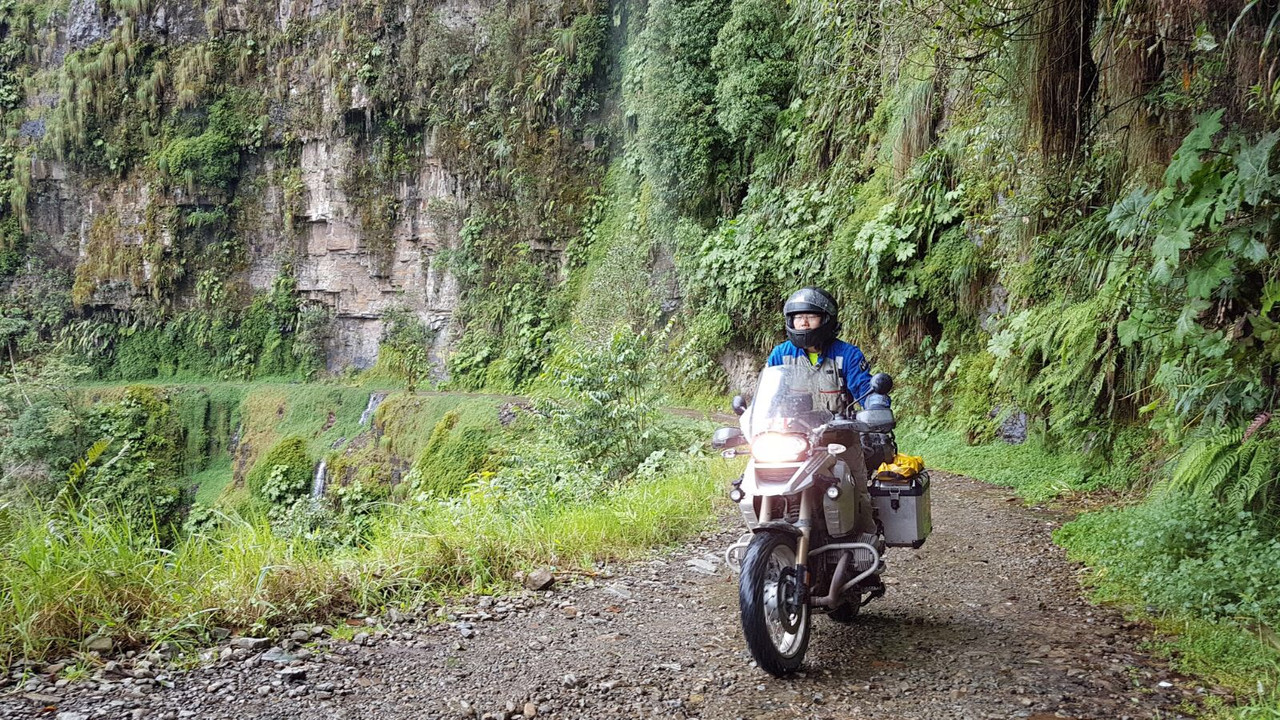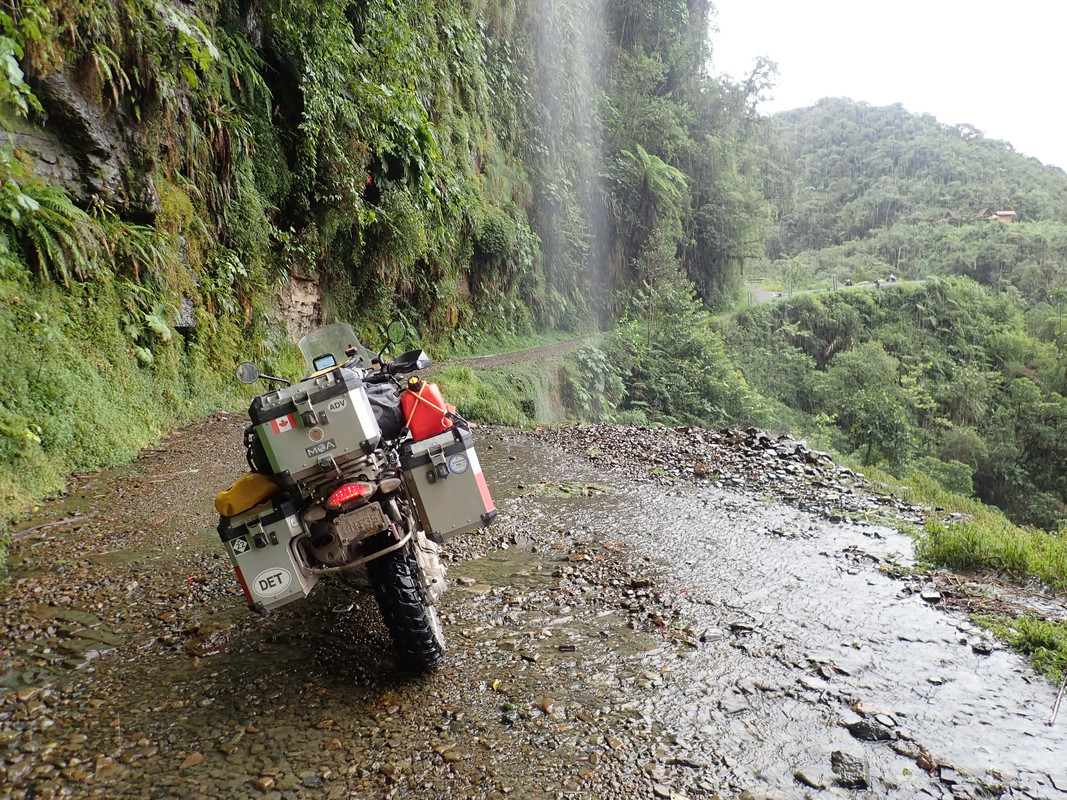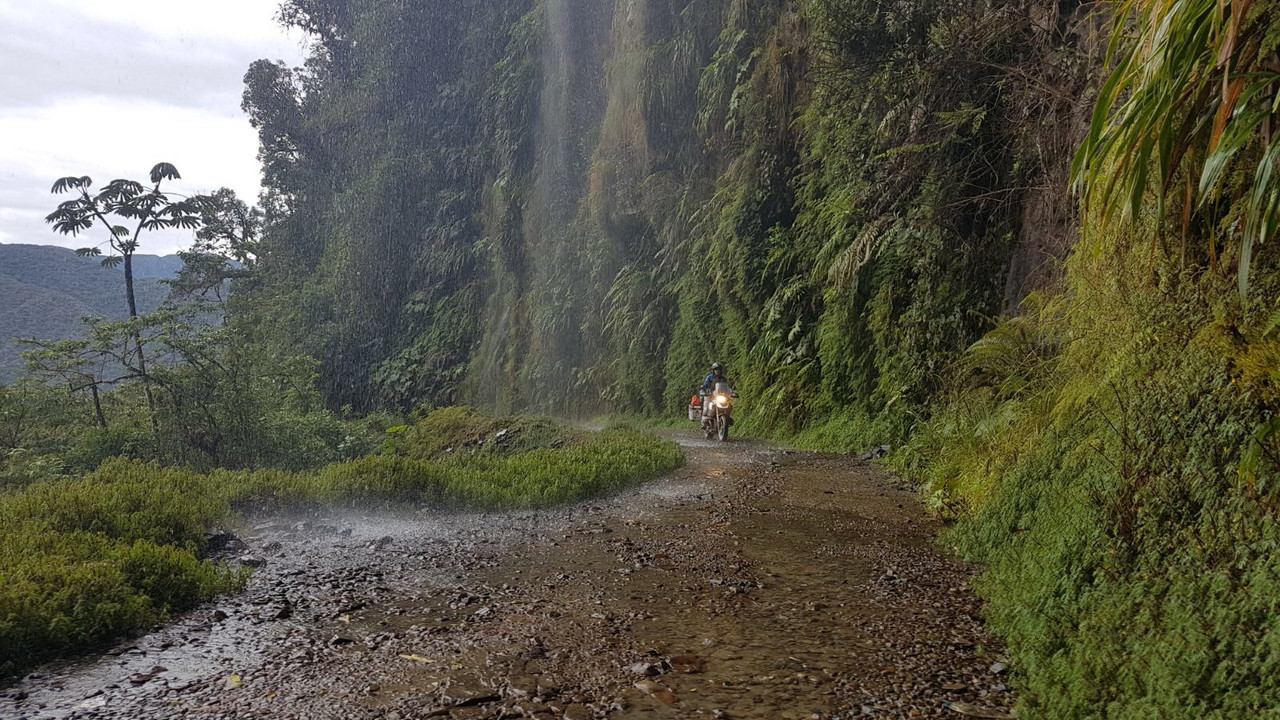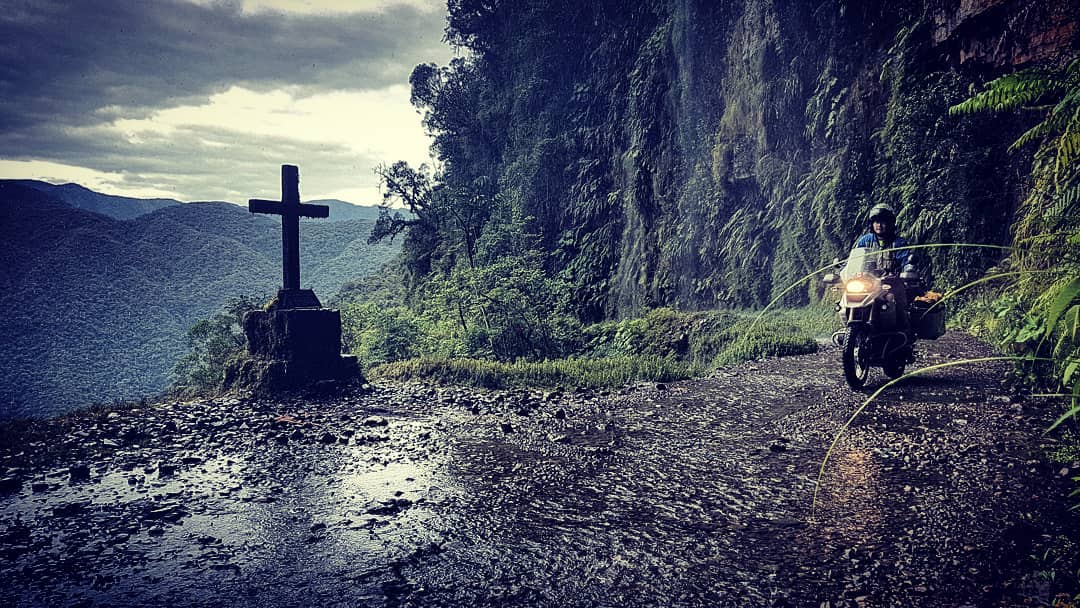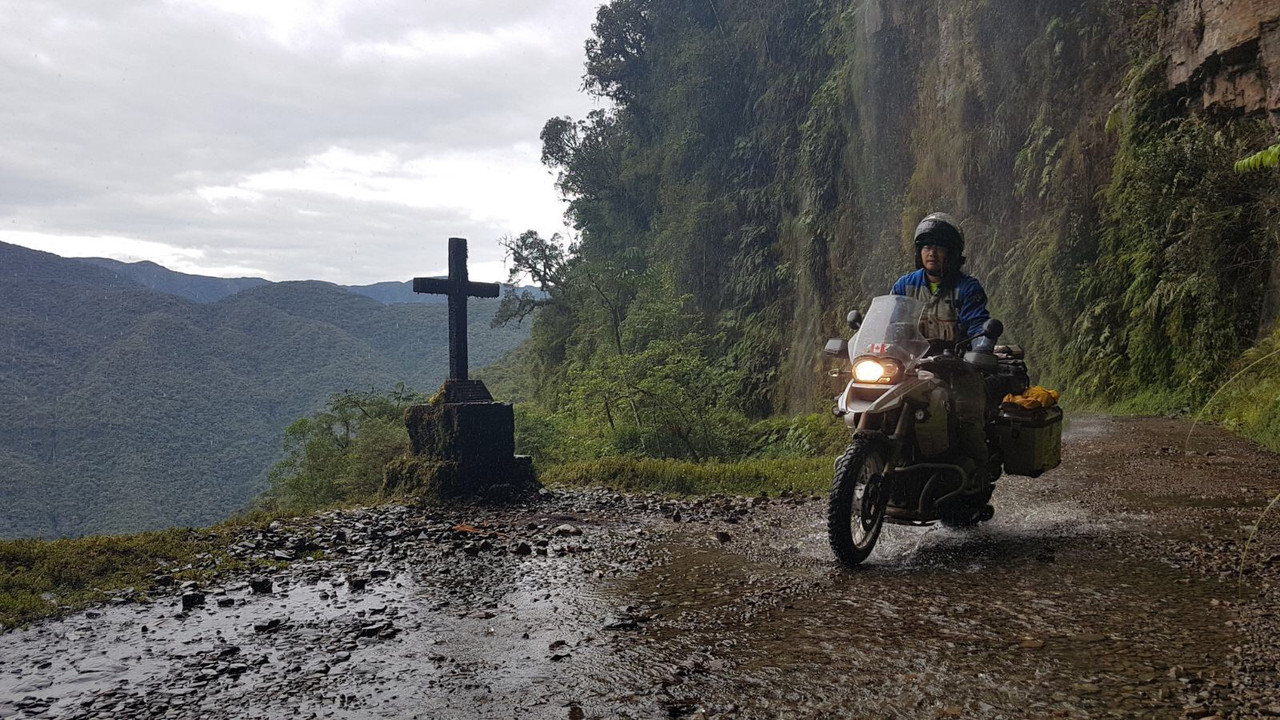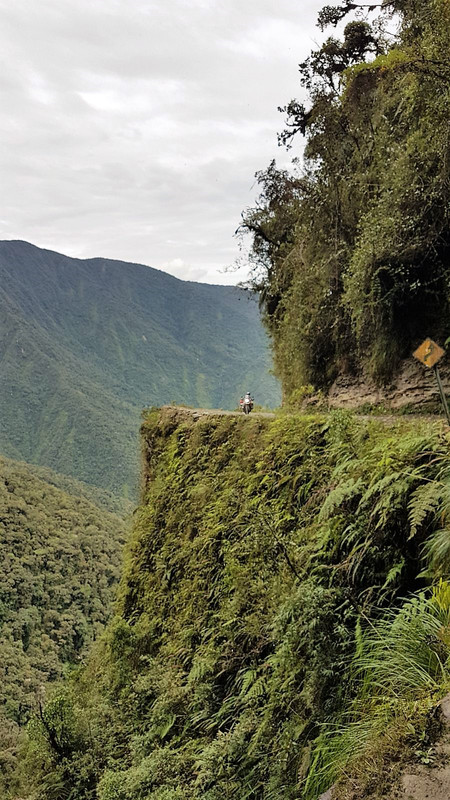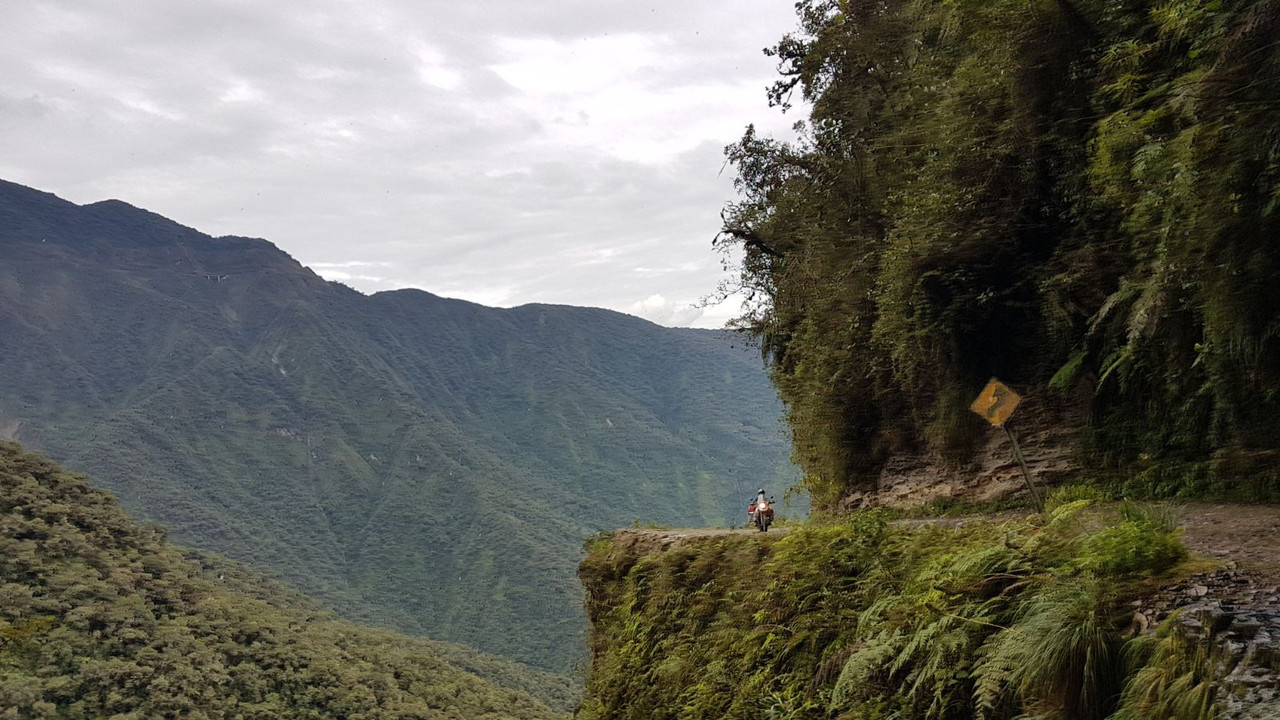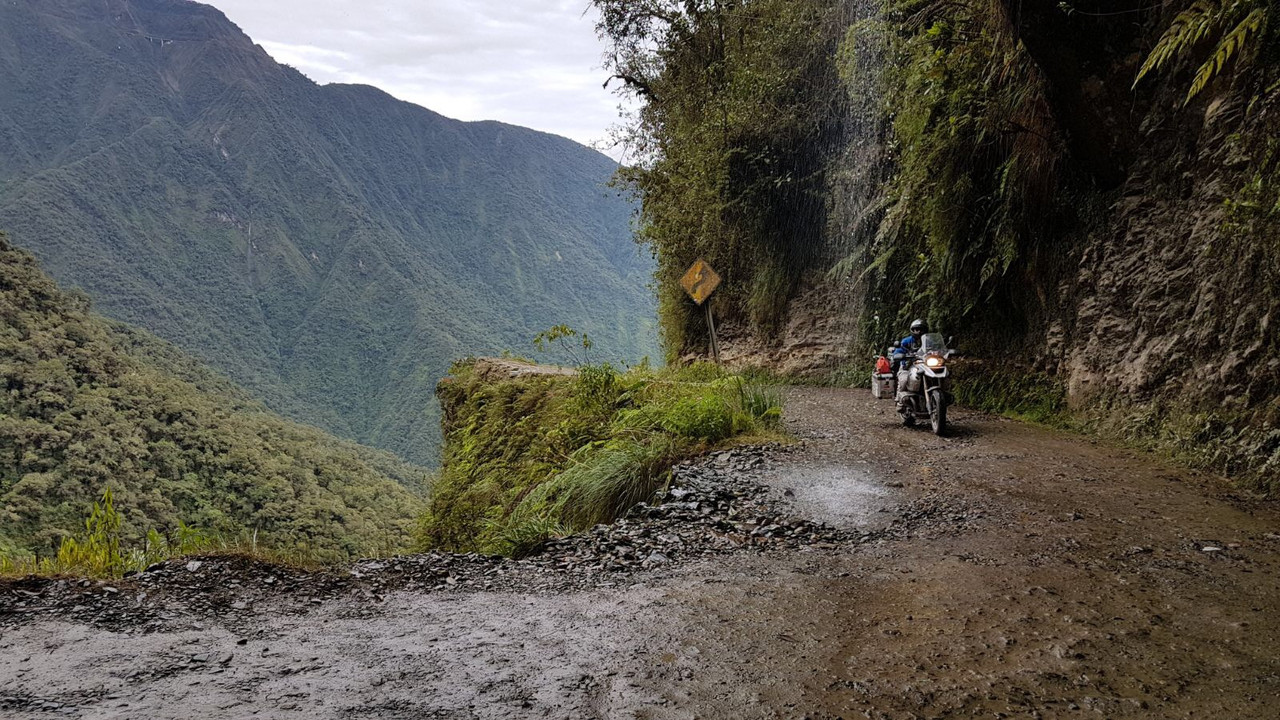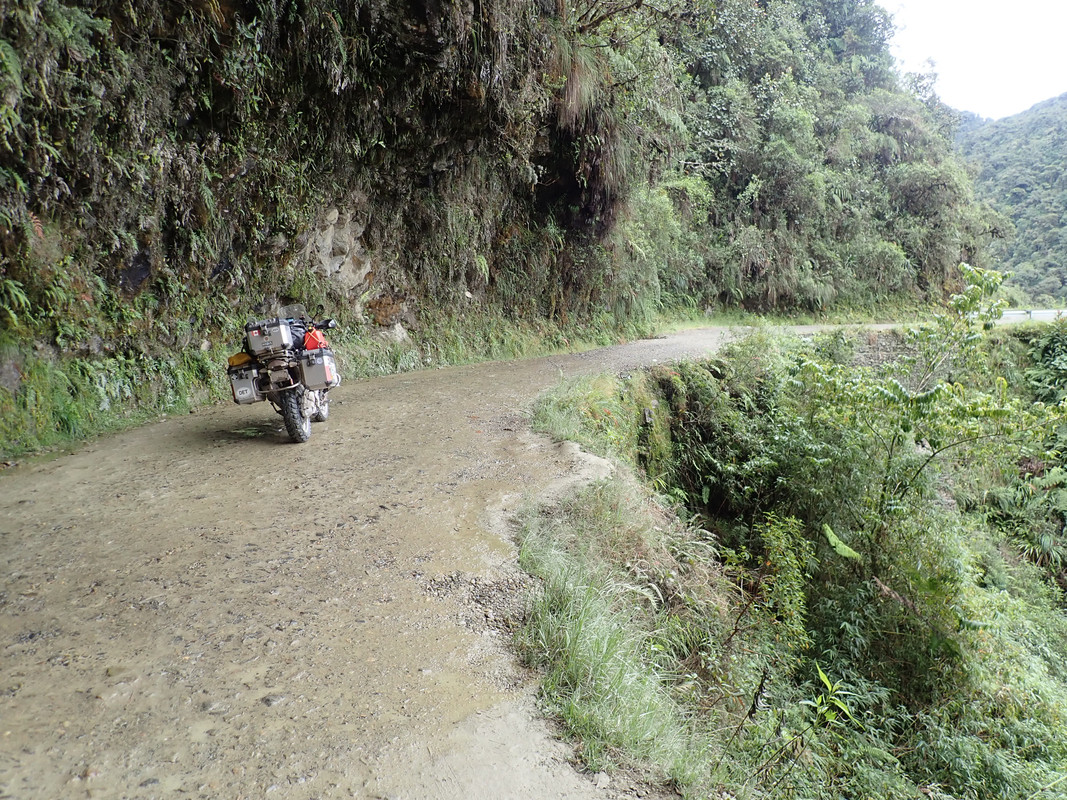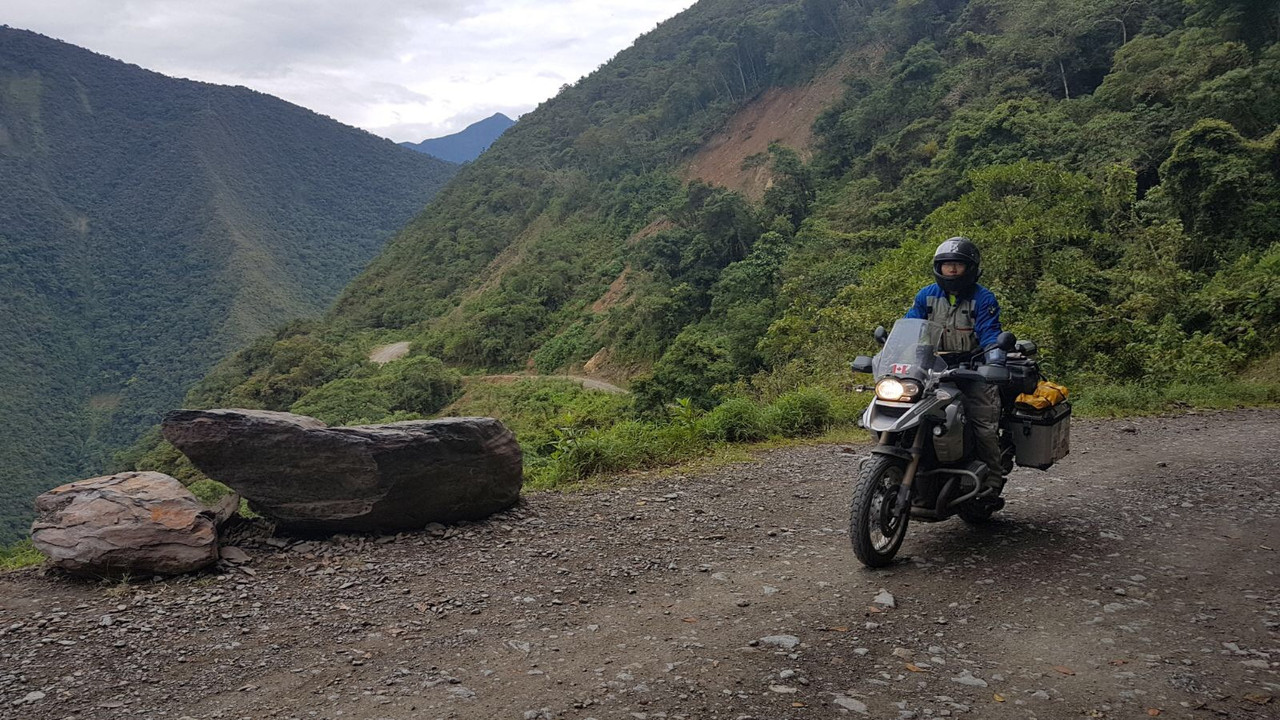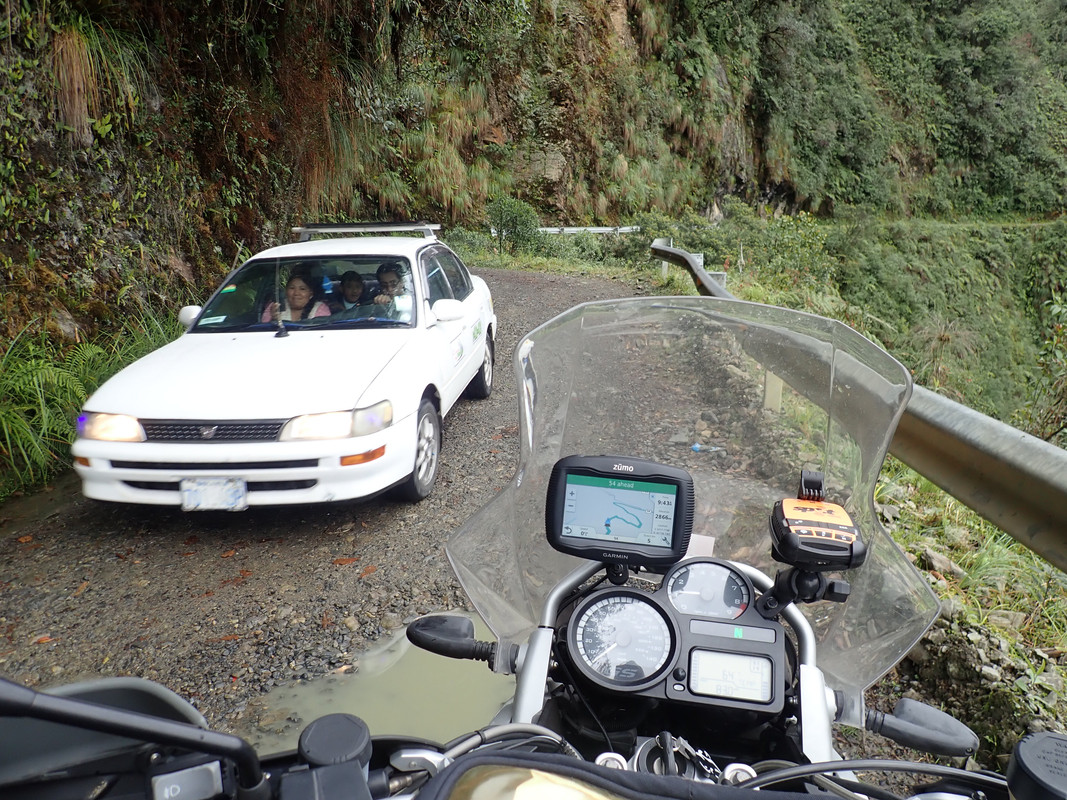 Two new death road survivors here…all in all it was good fun! The road is very scenic with many water crossings and free waterfalls. We were there early enough to beat the traffic and even the toll booth guy! 😀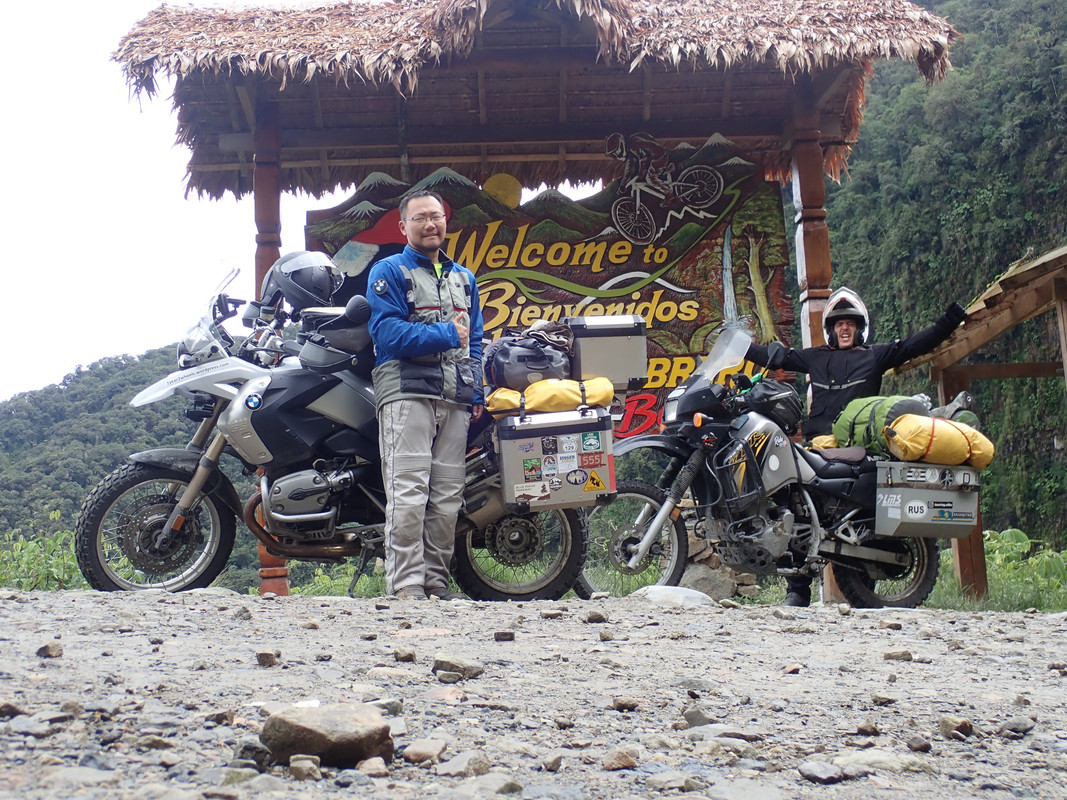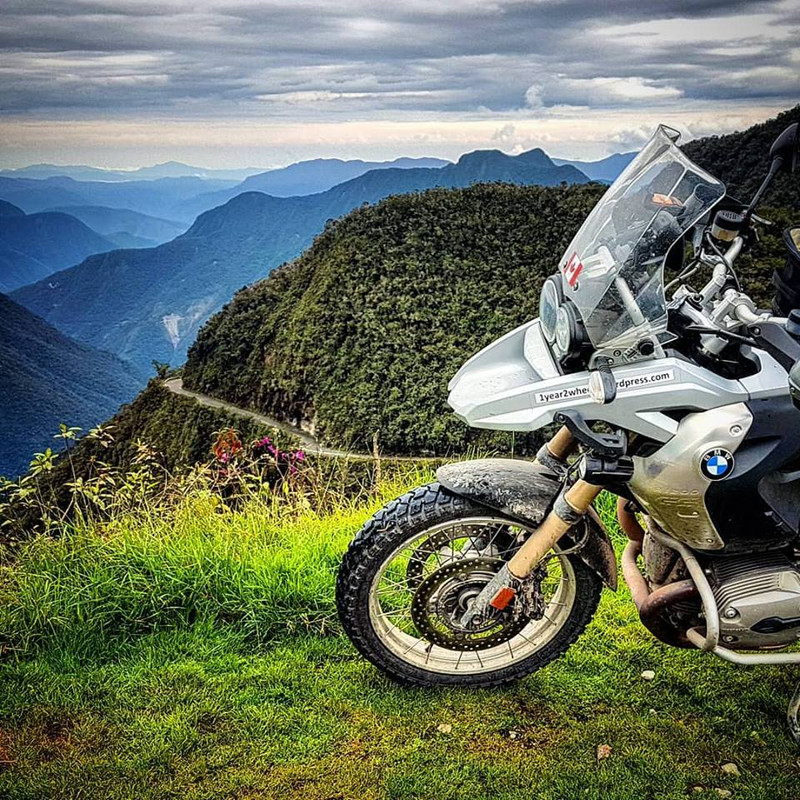 We heard about a nationwide protest starting the next day which may cause road closures and delays so we headed south fast.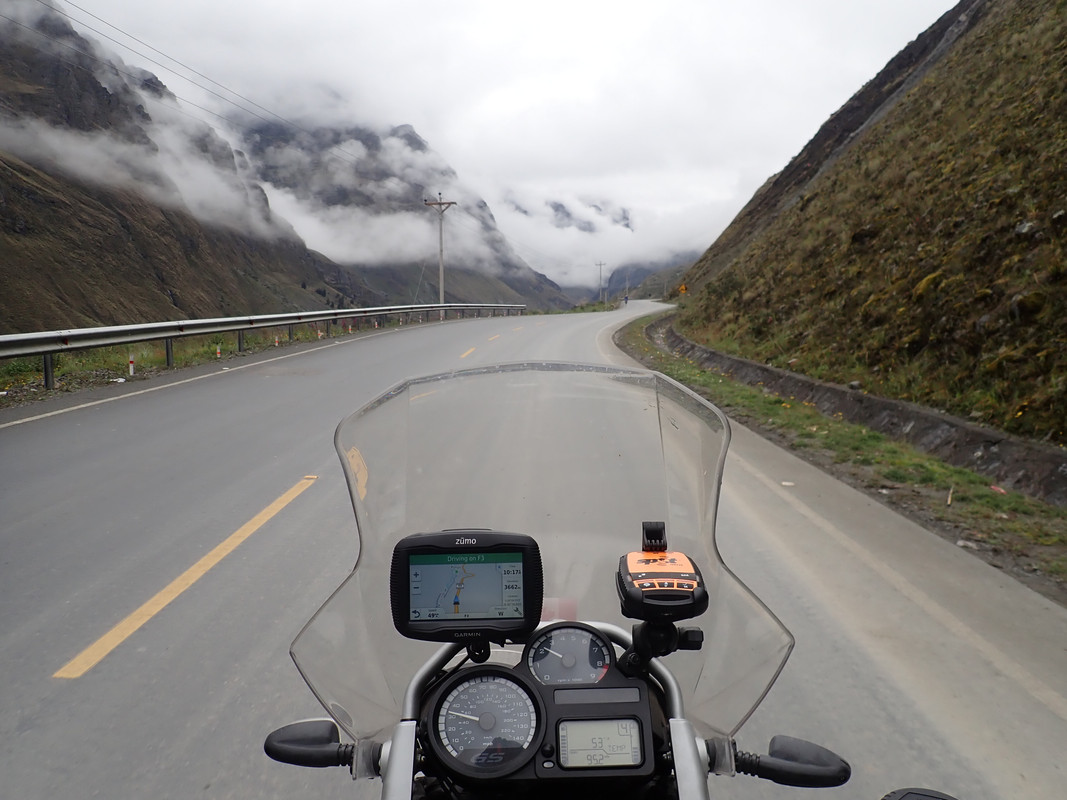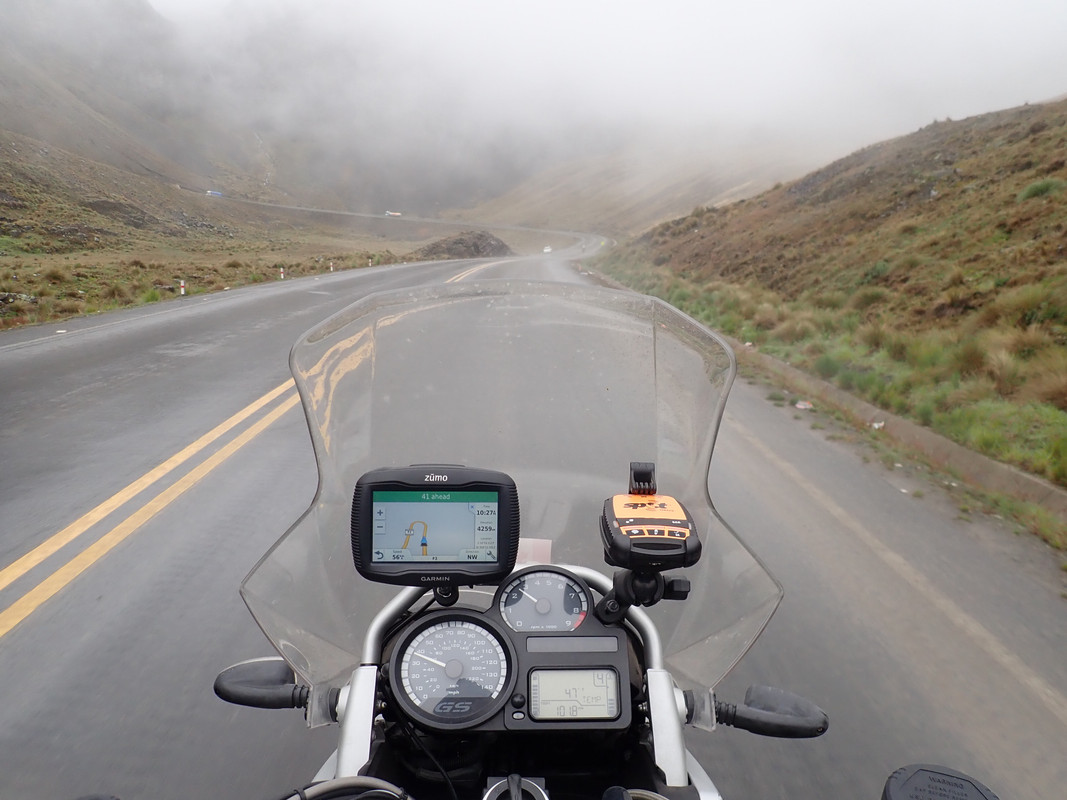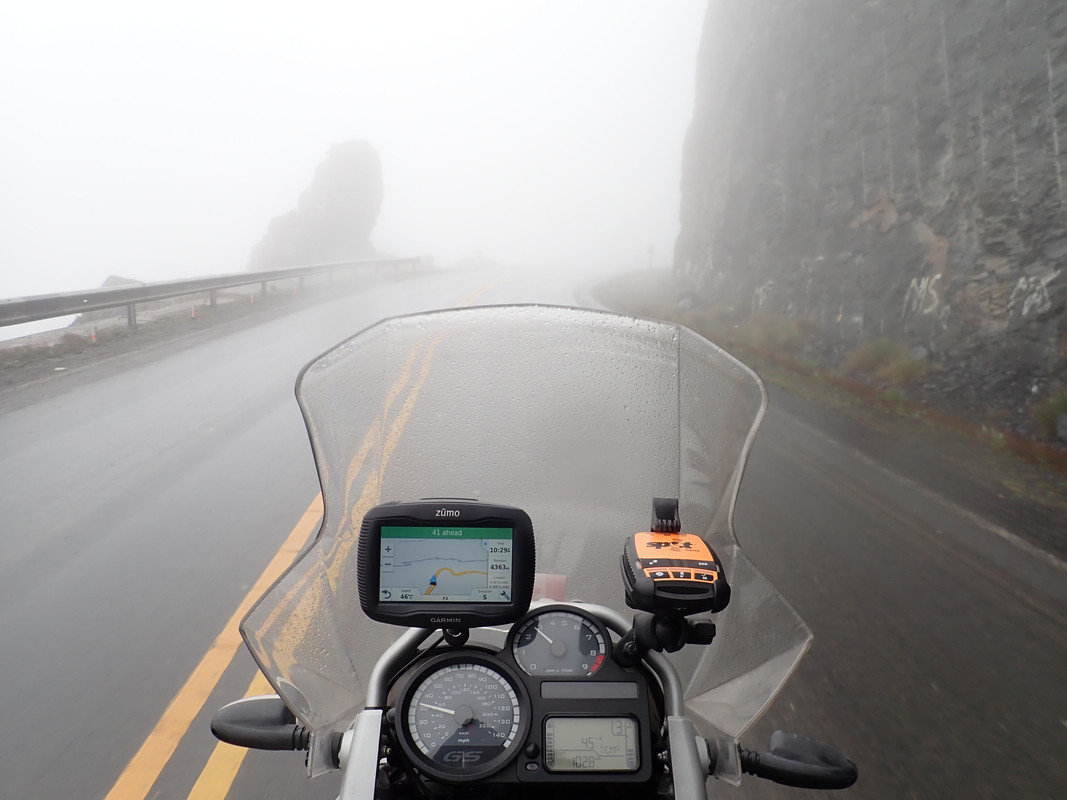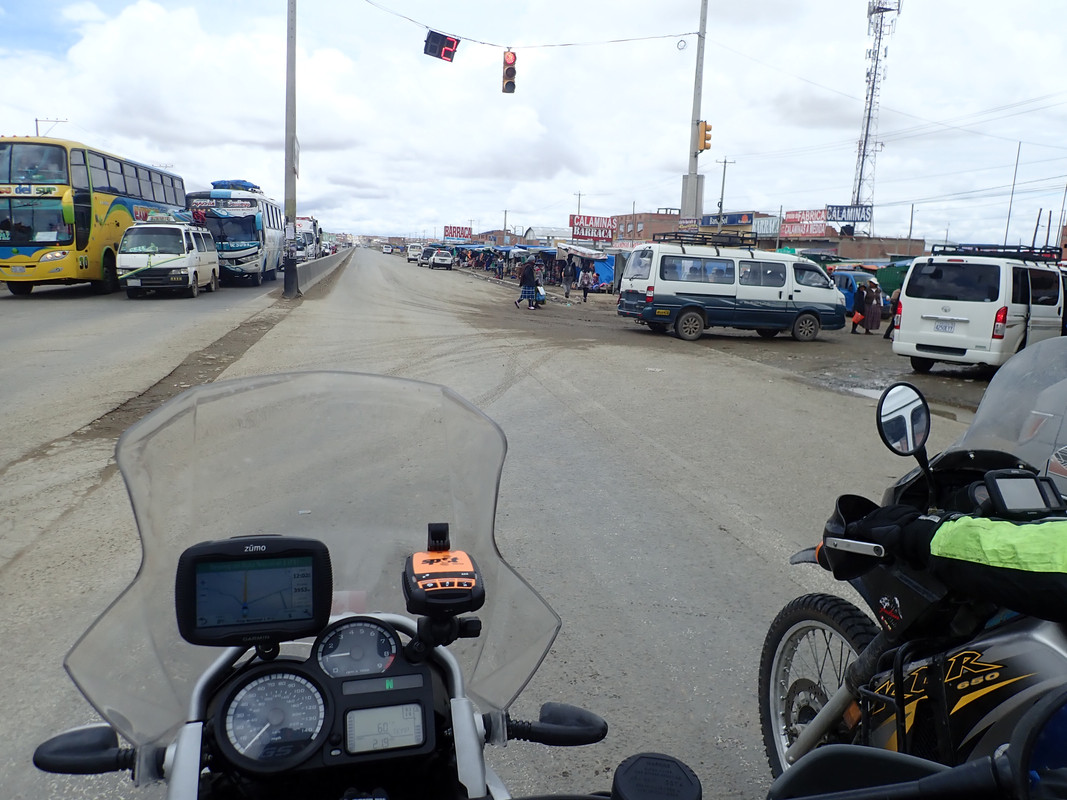 We stopped by the roadside for a quick lunch. Food has been pretty bland so far…chicken and rice for every meal.
Roads south of La Paz put me to sleep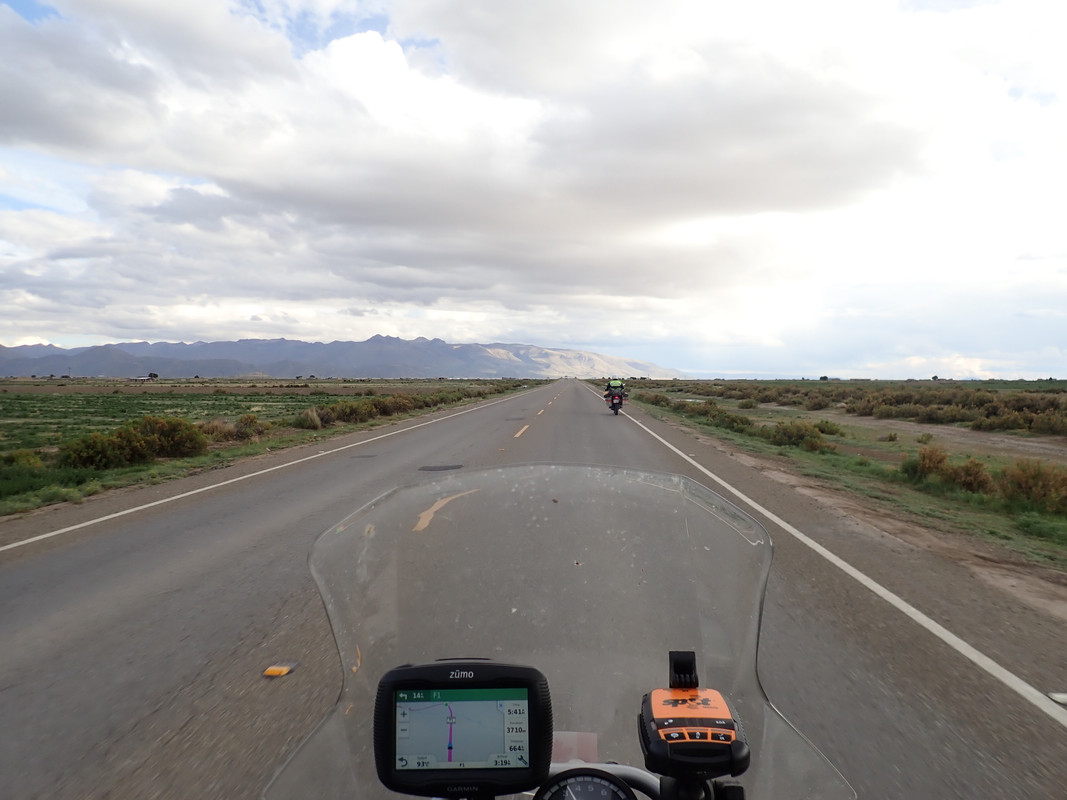 We settled in Challapata for the night. Who would have thought we'd run into a group of bikers from Czech Republic in a dusty town in the middle of nowhere? Of course it turned into another night of drinking…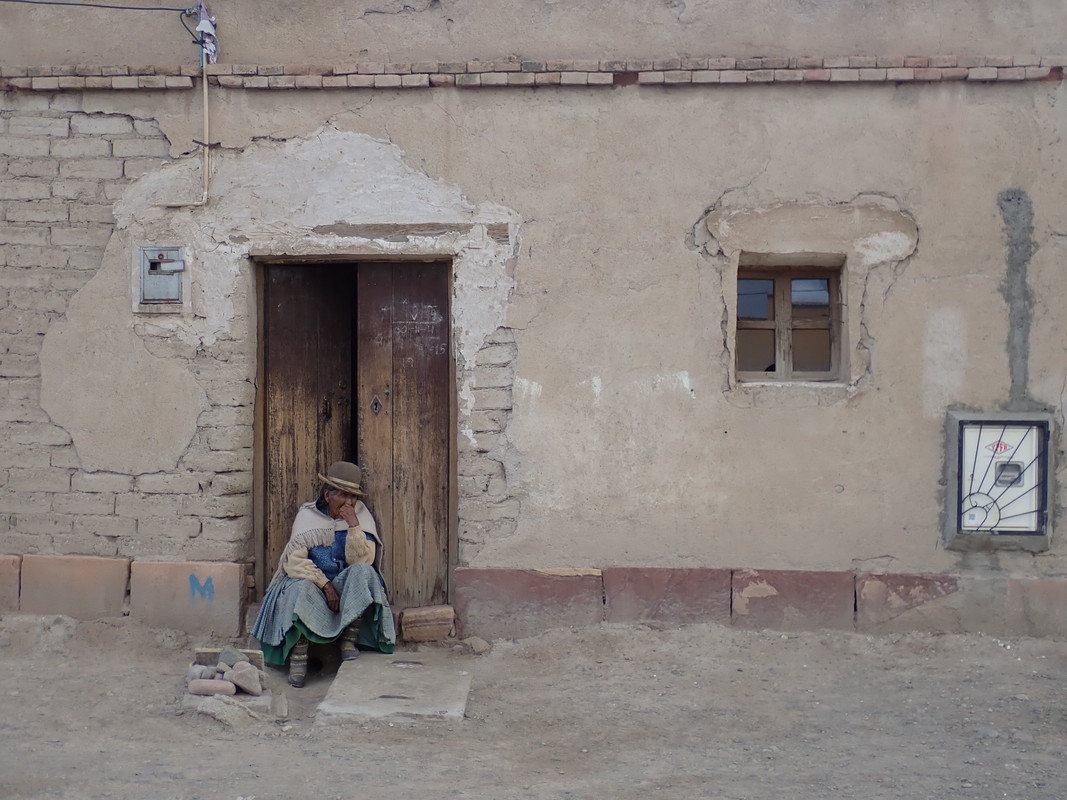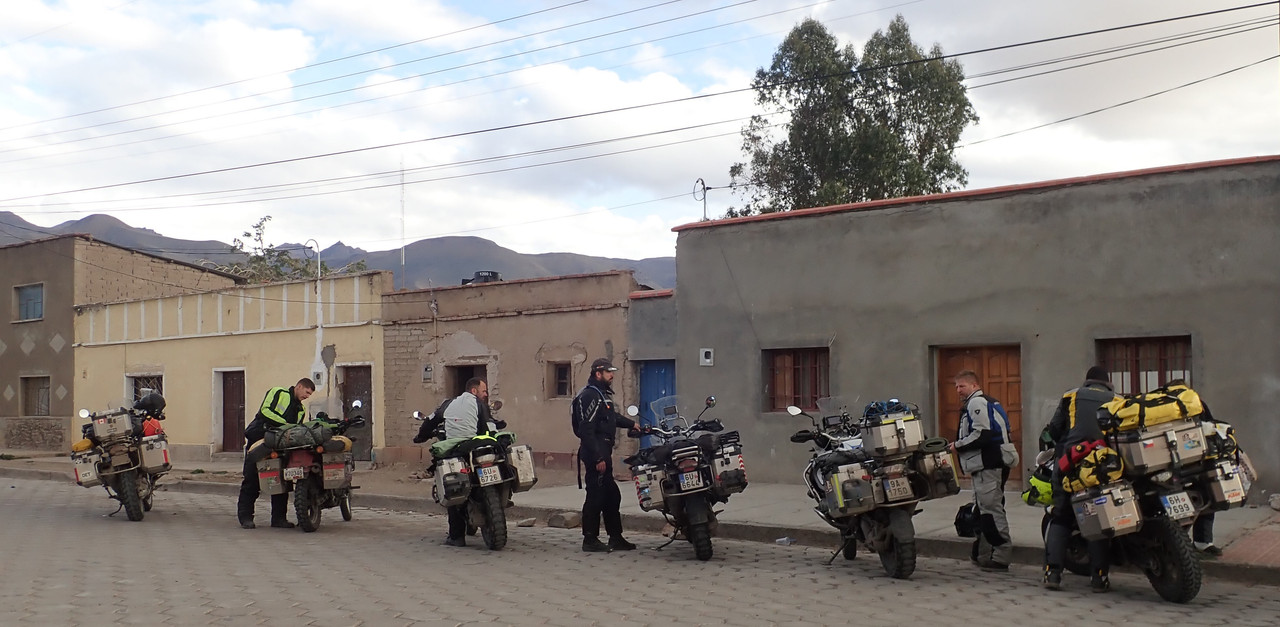 We took the long way south around Potosí to avoid straight roads. Llamas are everywhere!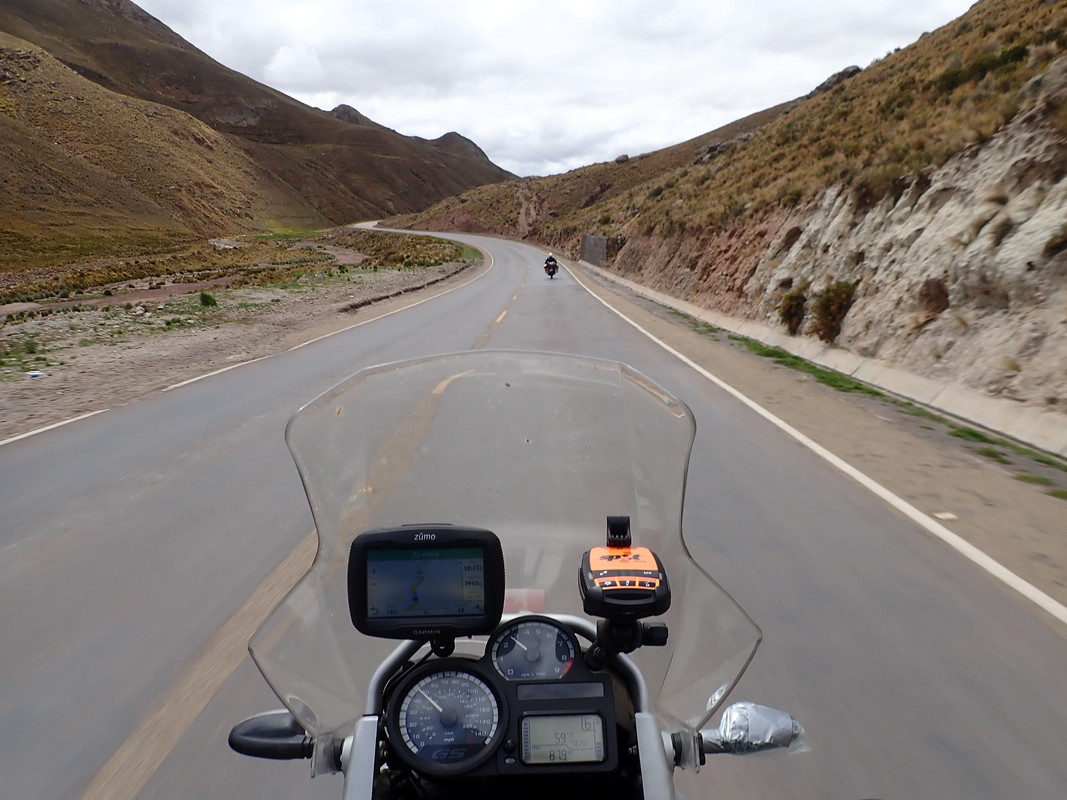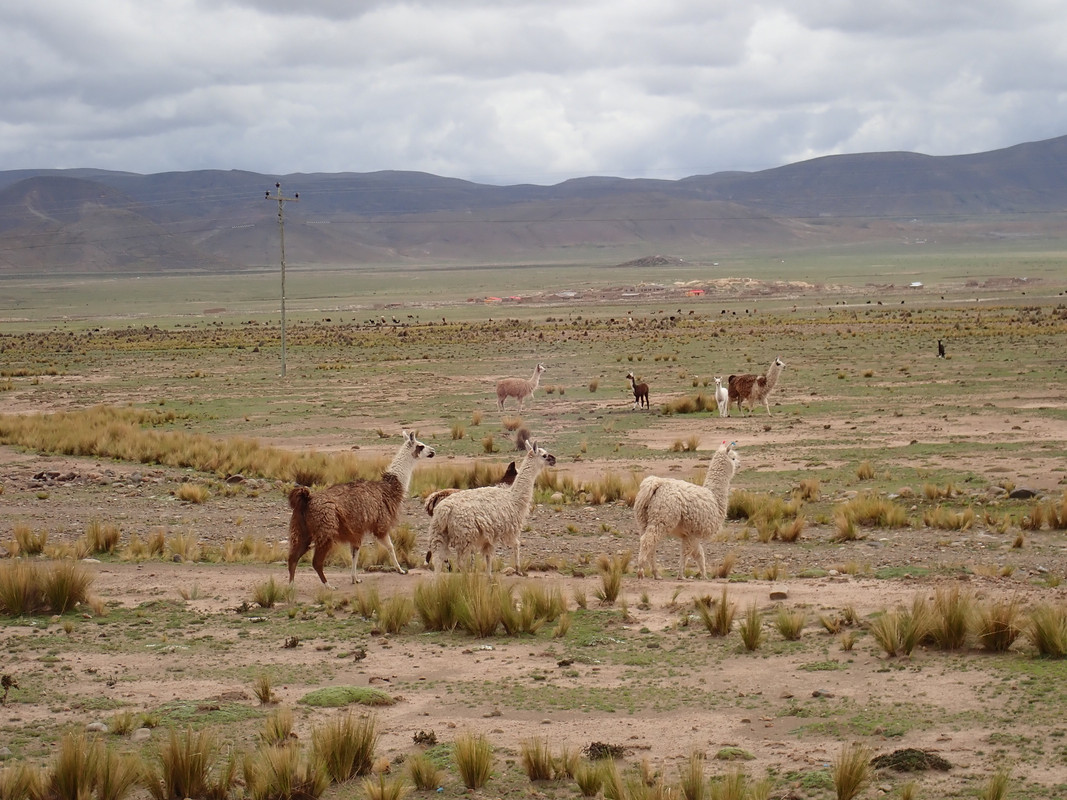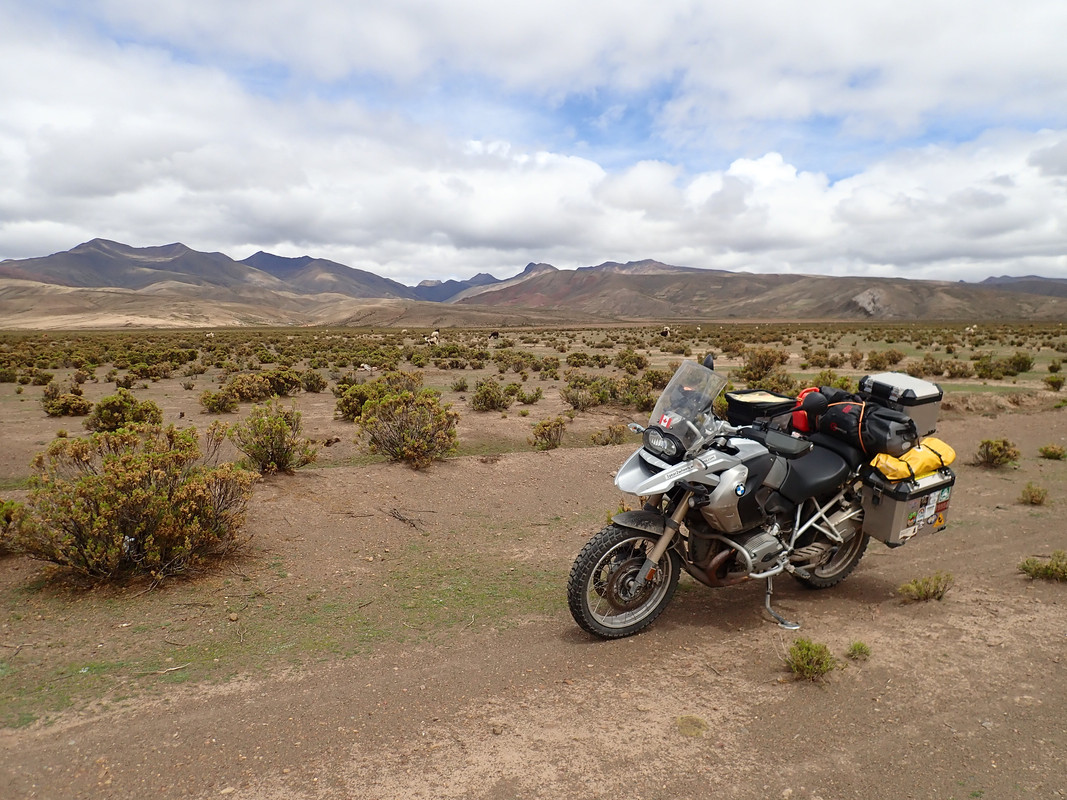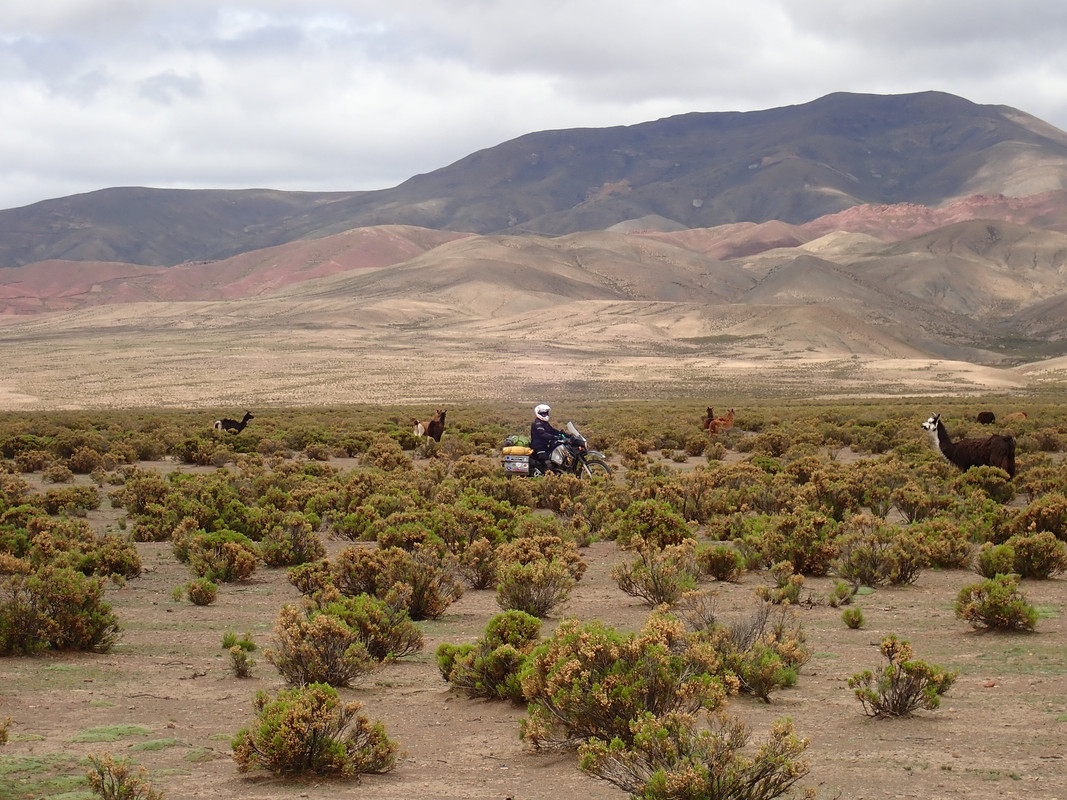 Some interesting landscape along the way as well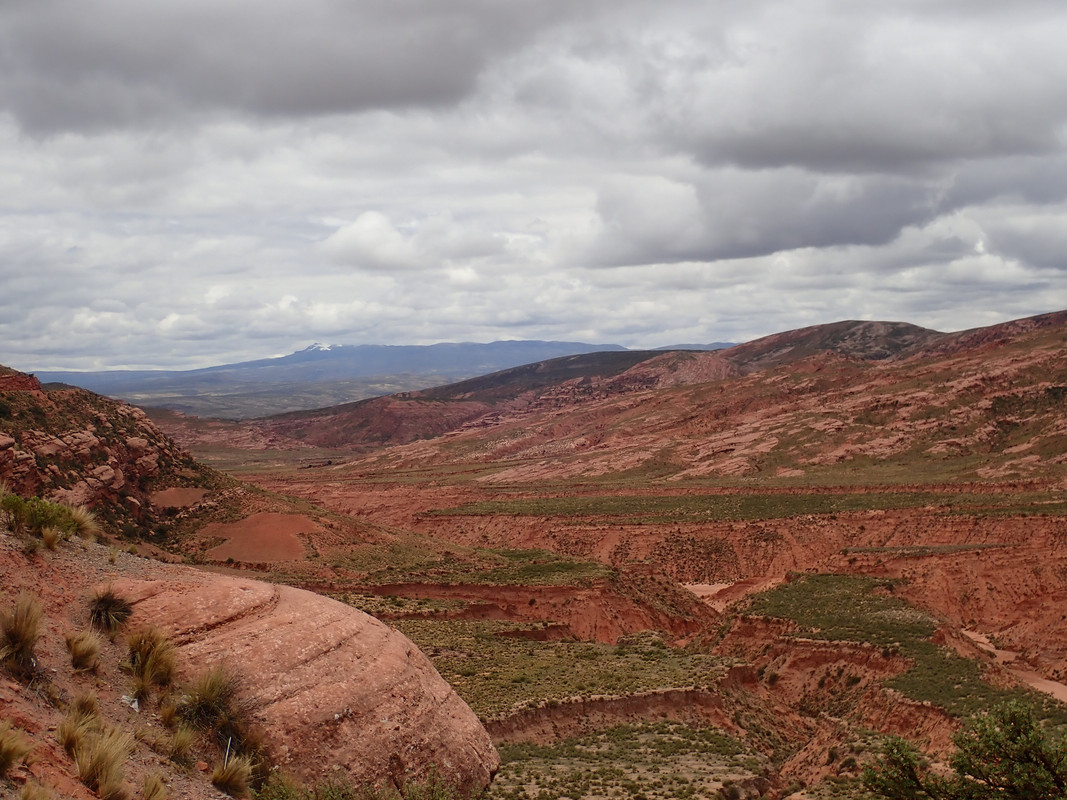 It was all going well until we got to Potosí. Protest had begun and trucks blocked the road into the city. We zigzagged around the gaps between the trucks into the city only to find they had blocked/roped off every intersection.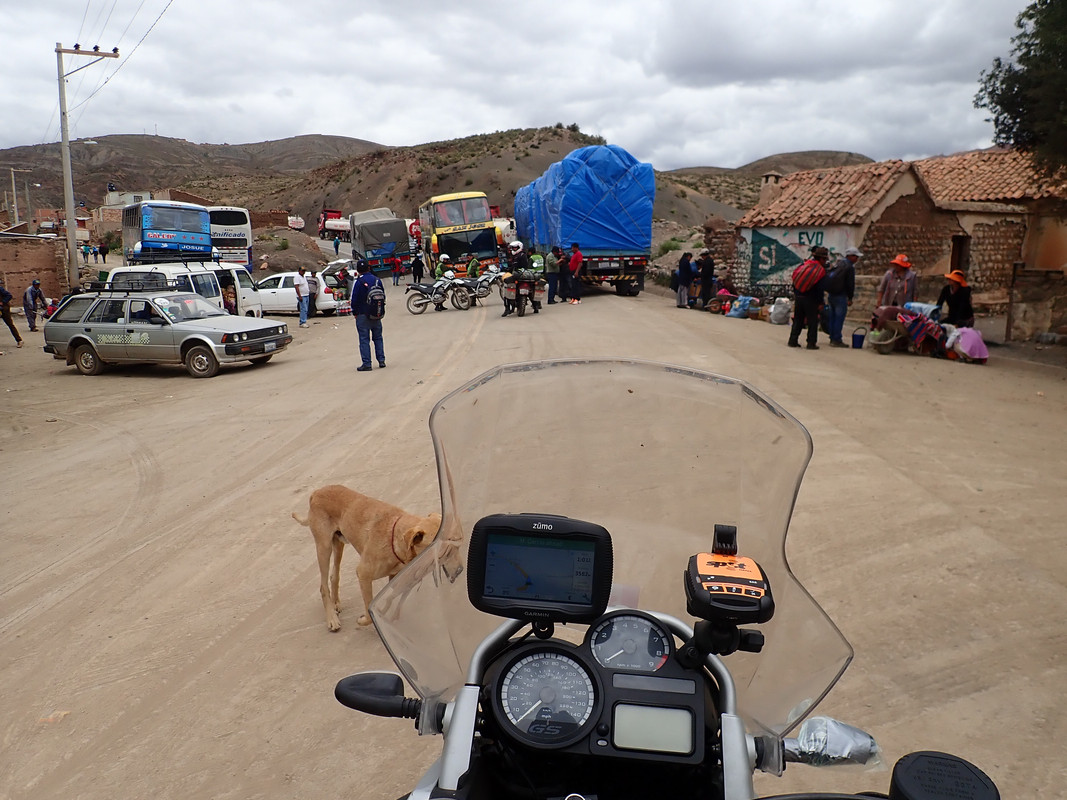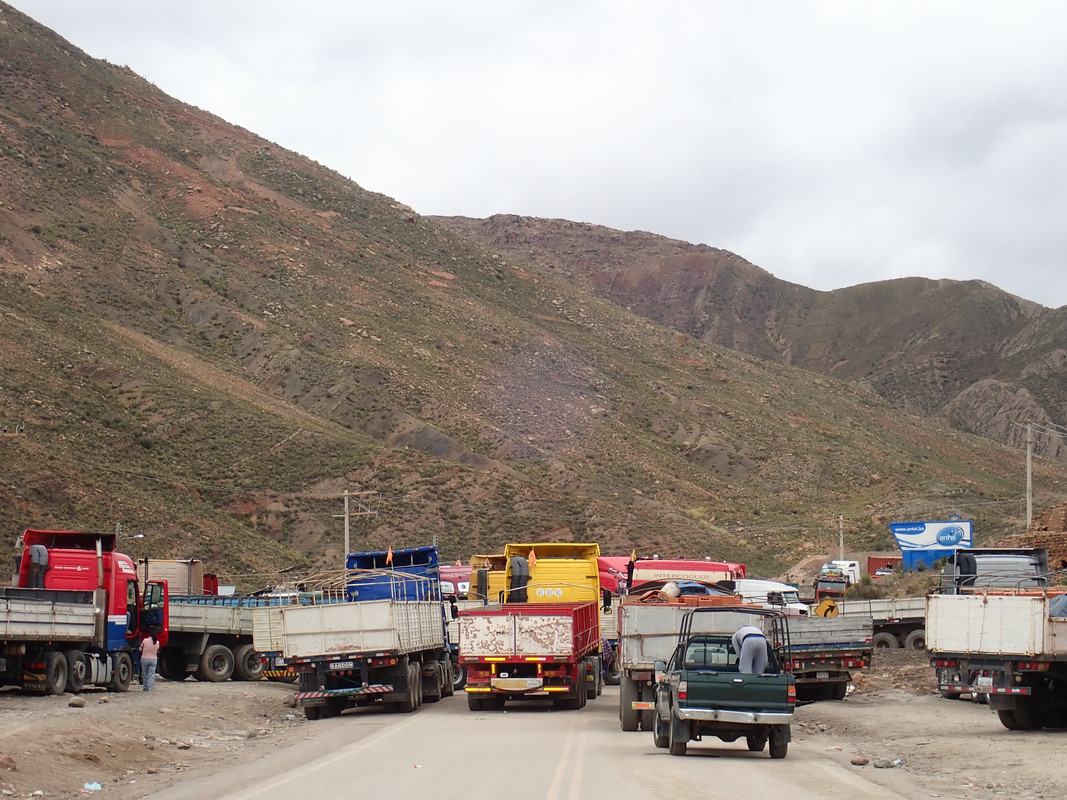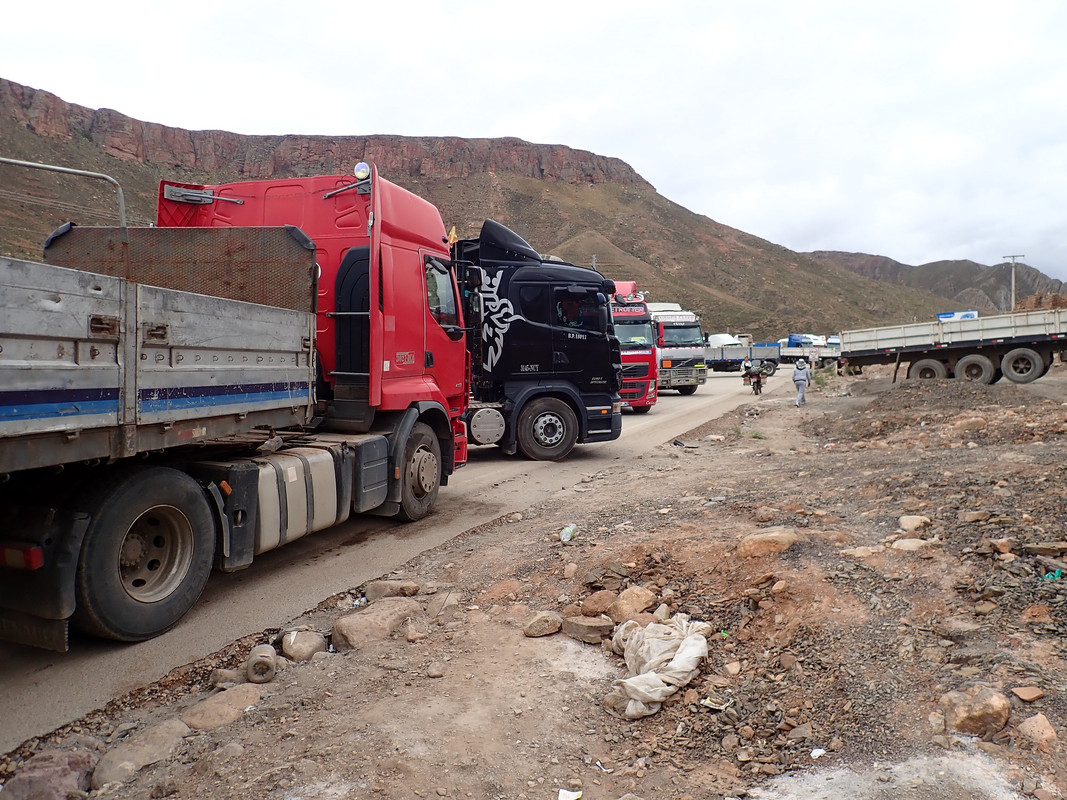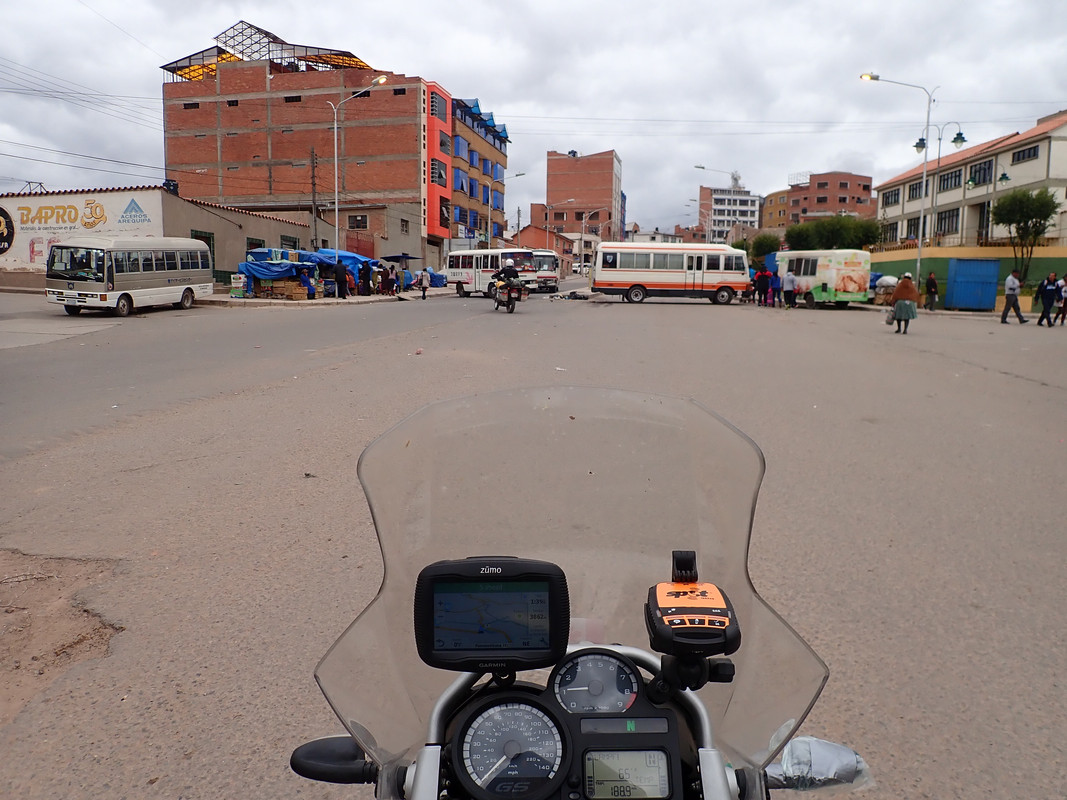 I had a hard time lifting the ropes while try to get my bike across. Most of the time some bystander either held the rope up for me or pushed it down to prevent me from passing. This lady was standing her ground even to the police. There's not much I can do other than sit and wait till someone from both sides to sort things out.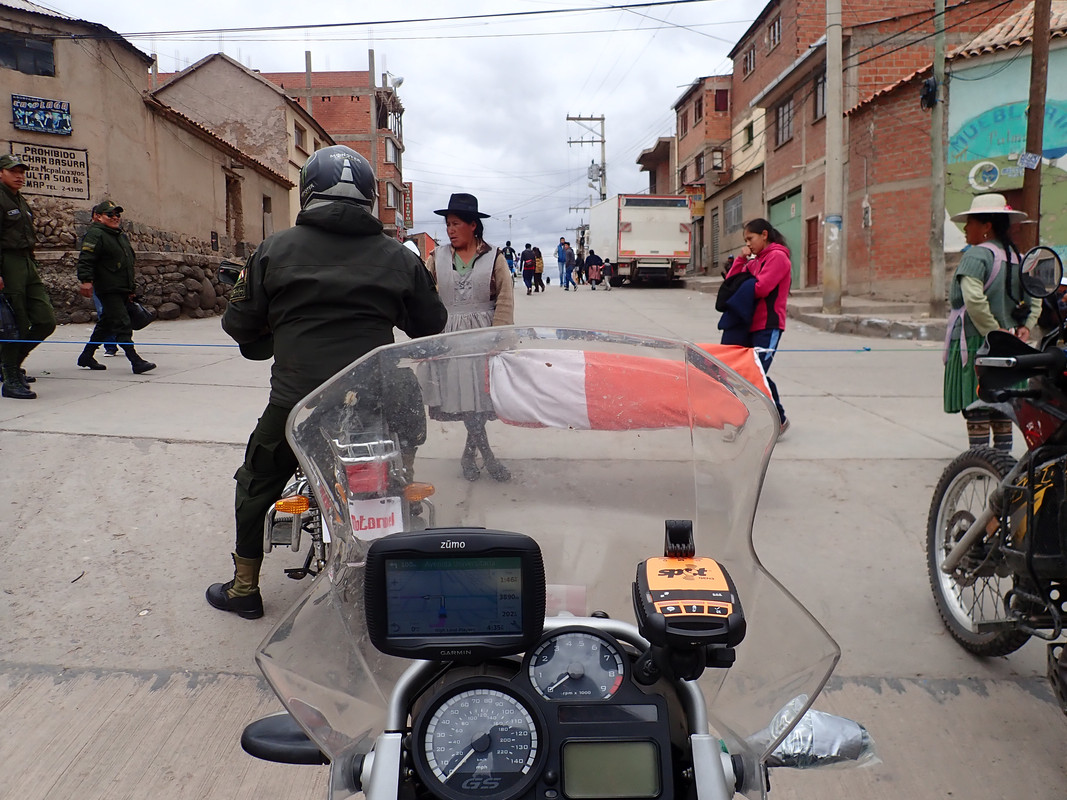 The whole city was shut down and didn't give me a good vibe so we decided to get out. Only problem was that every road out of town had blockade as well. After circling the city for over an hour, we gave up and backtracked our way through the mile-long of trucks.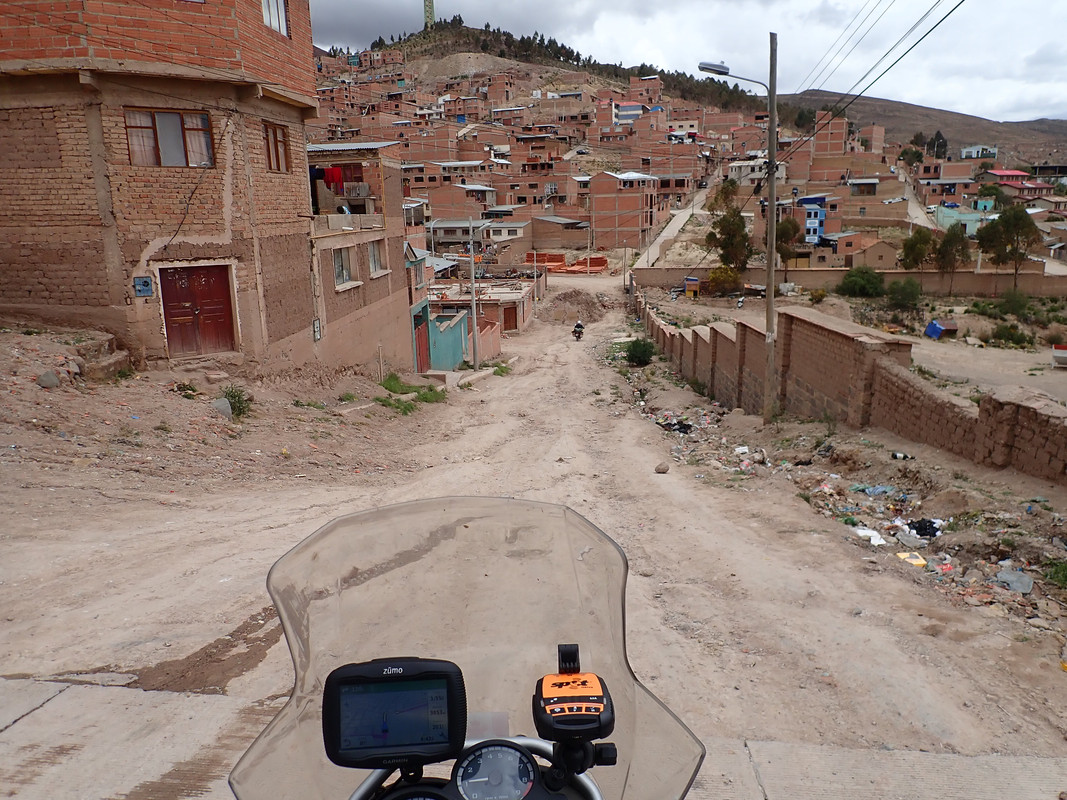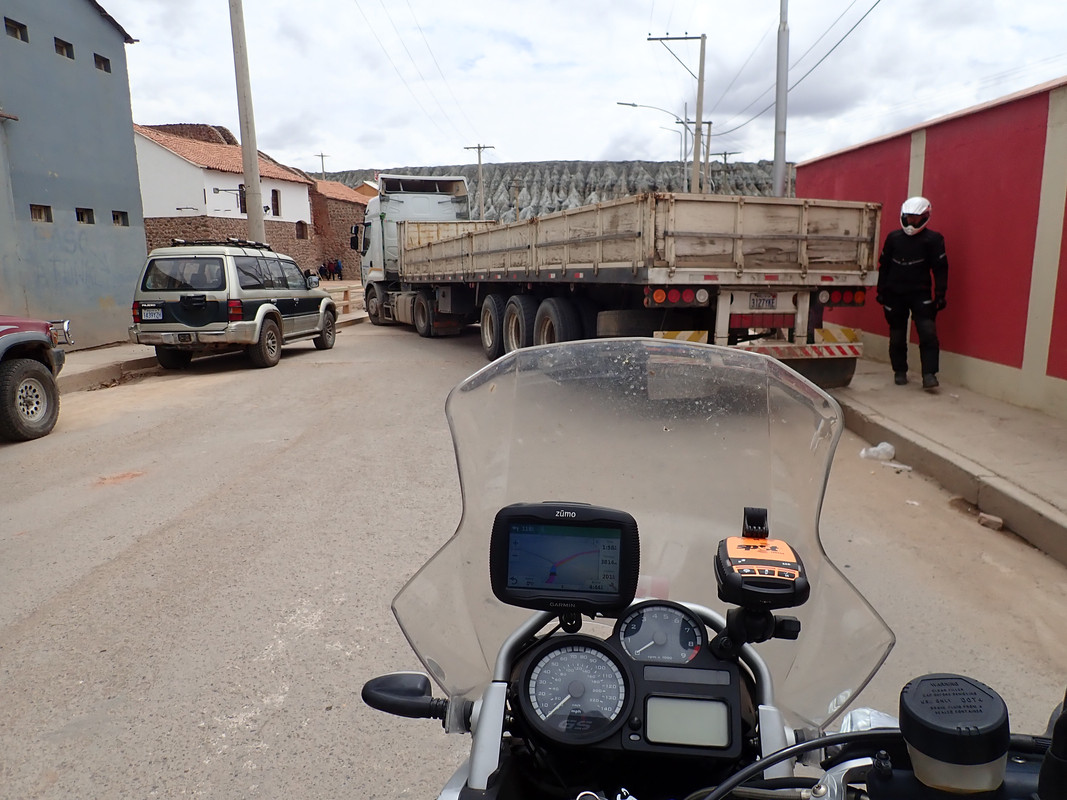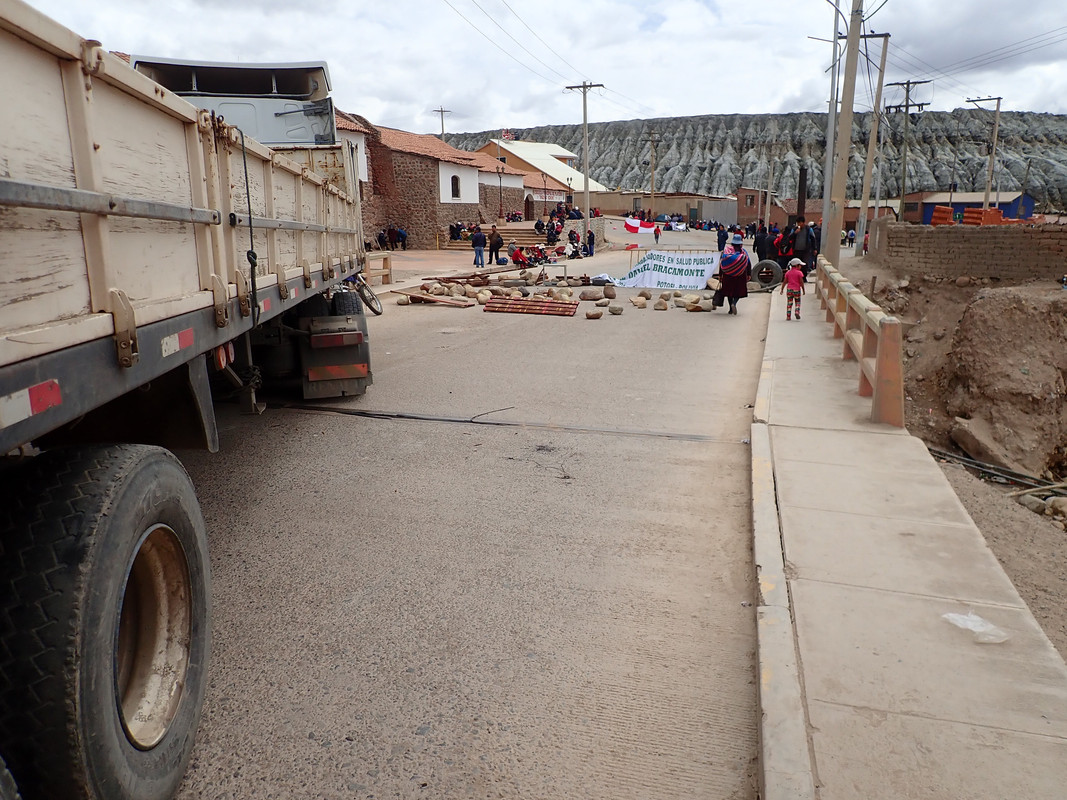 We got some directions from the local police to take a dirt road in order to bypass the city. It was such a relief to get out of the trap.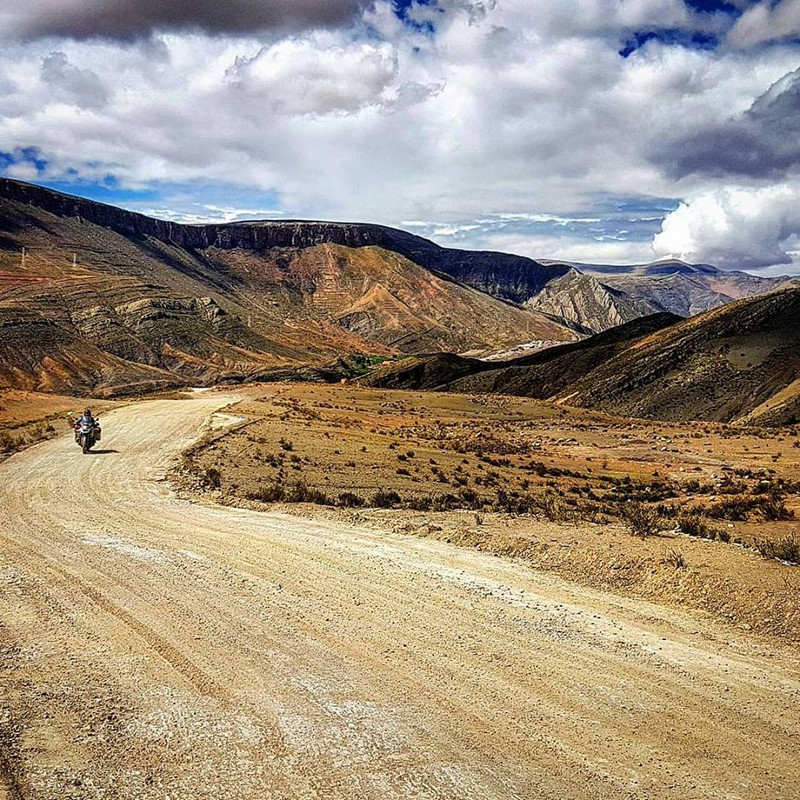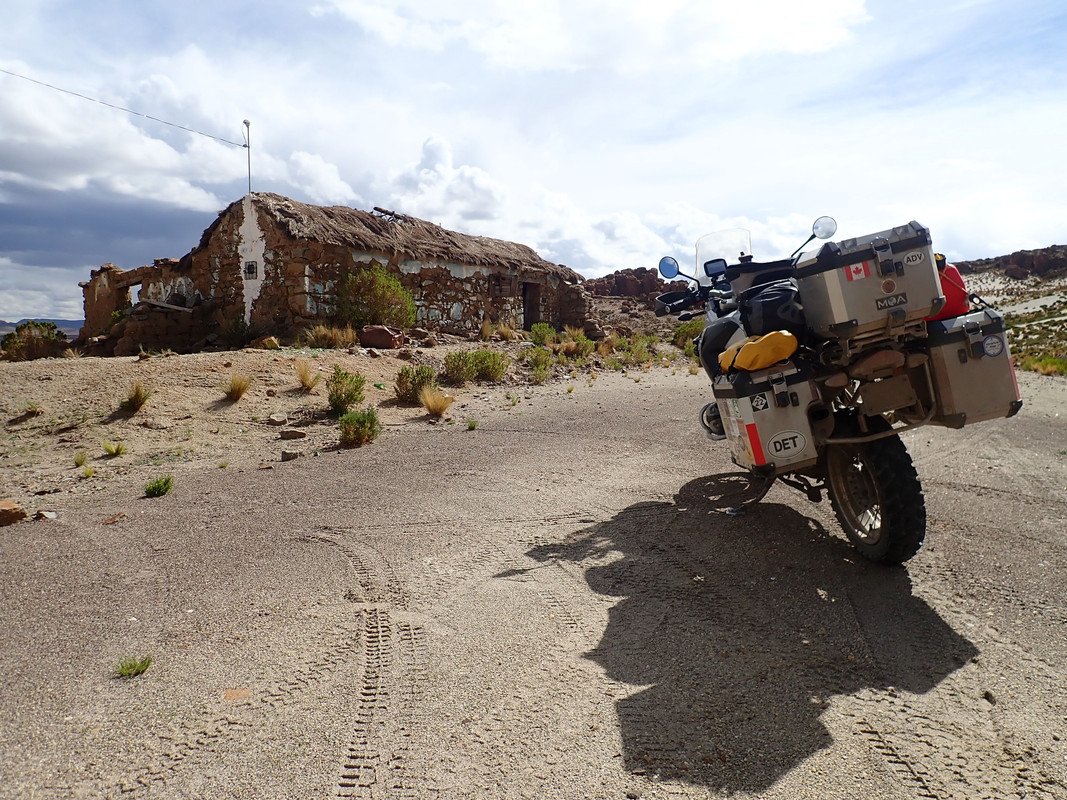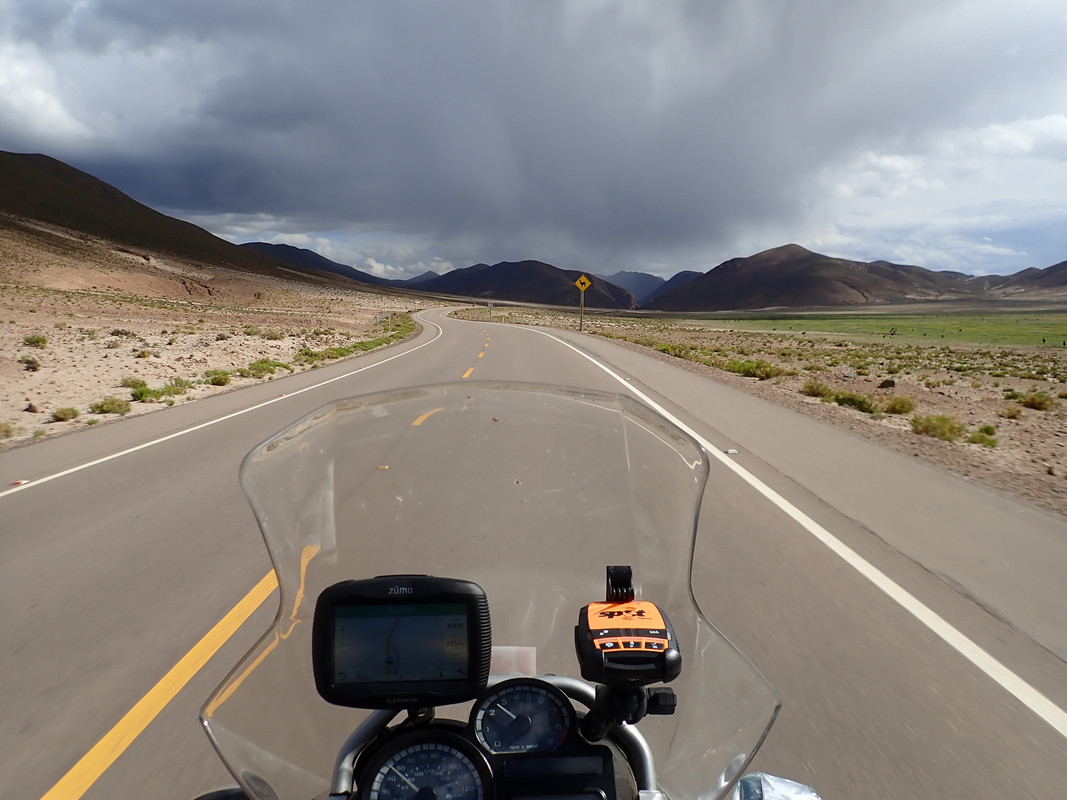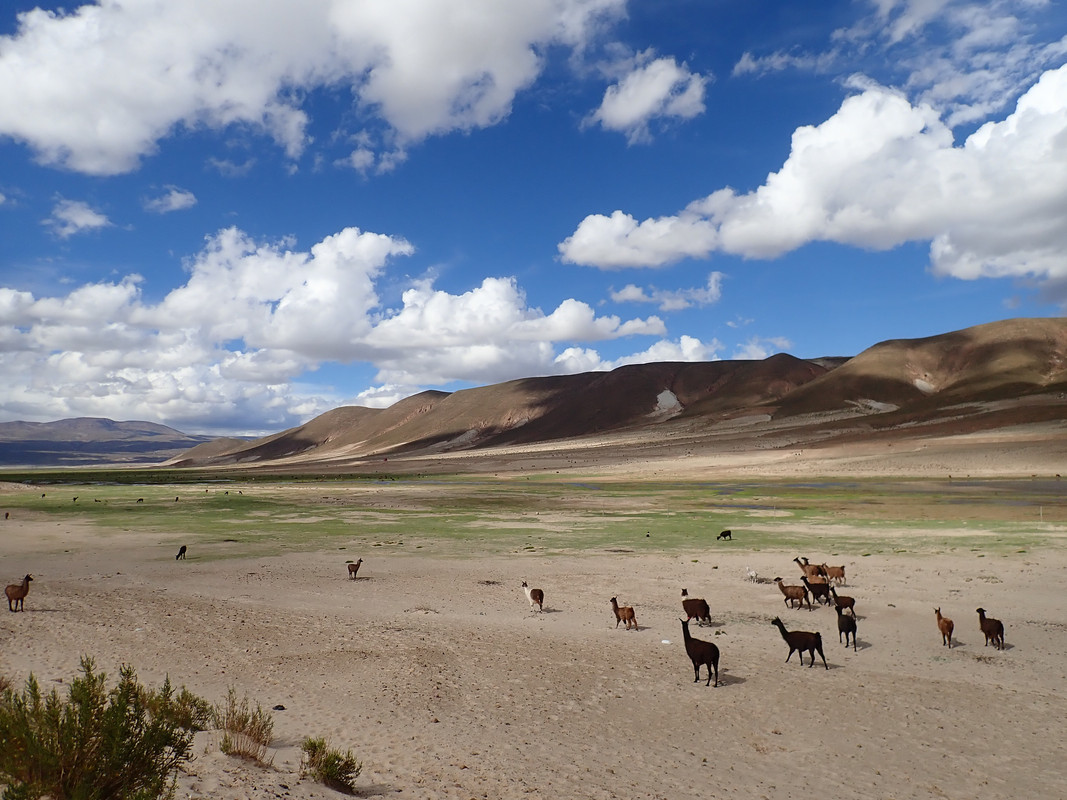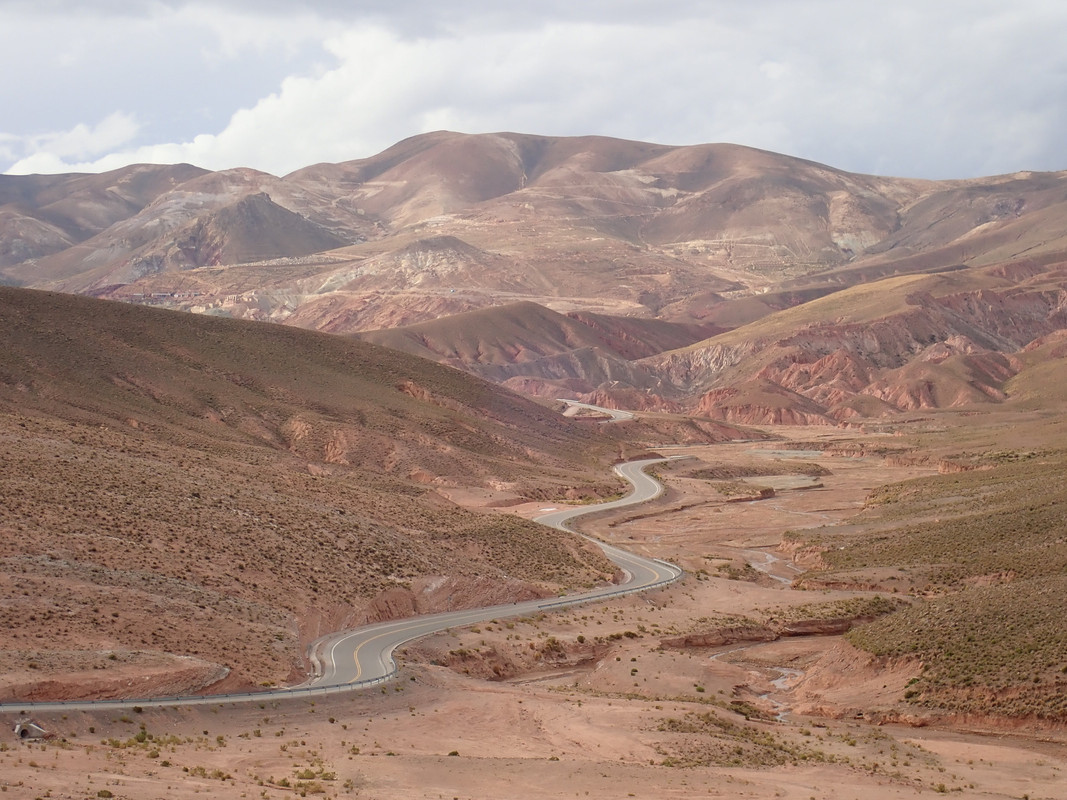 We pushed to Uyuni despite the stressful day. The hostal was packed with international bikers here for the Dakar.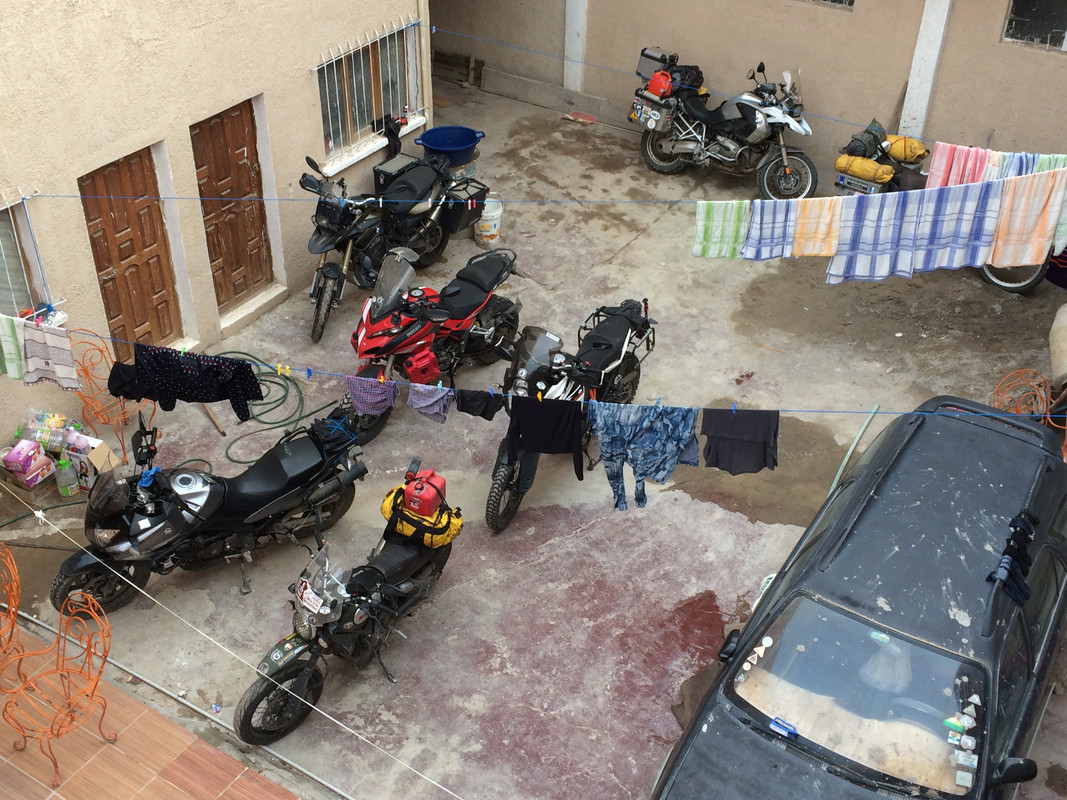 There are no better words to describe Uyuni other than a dusty dump. We followed the garbage covered train tracks to the train cemetery just outside of town. The rail system was built in the late 1800s for mining and abandoned in the 1940s.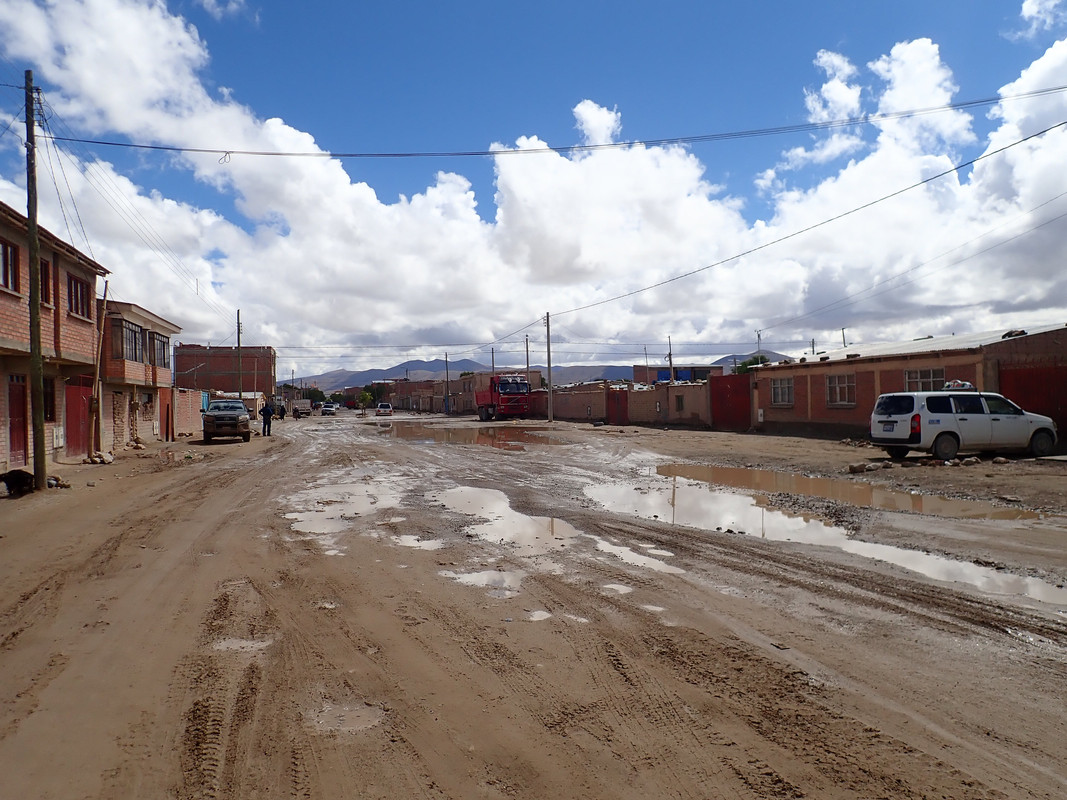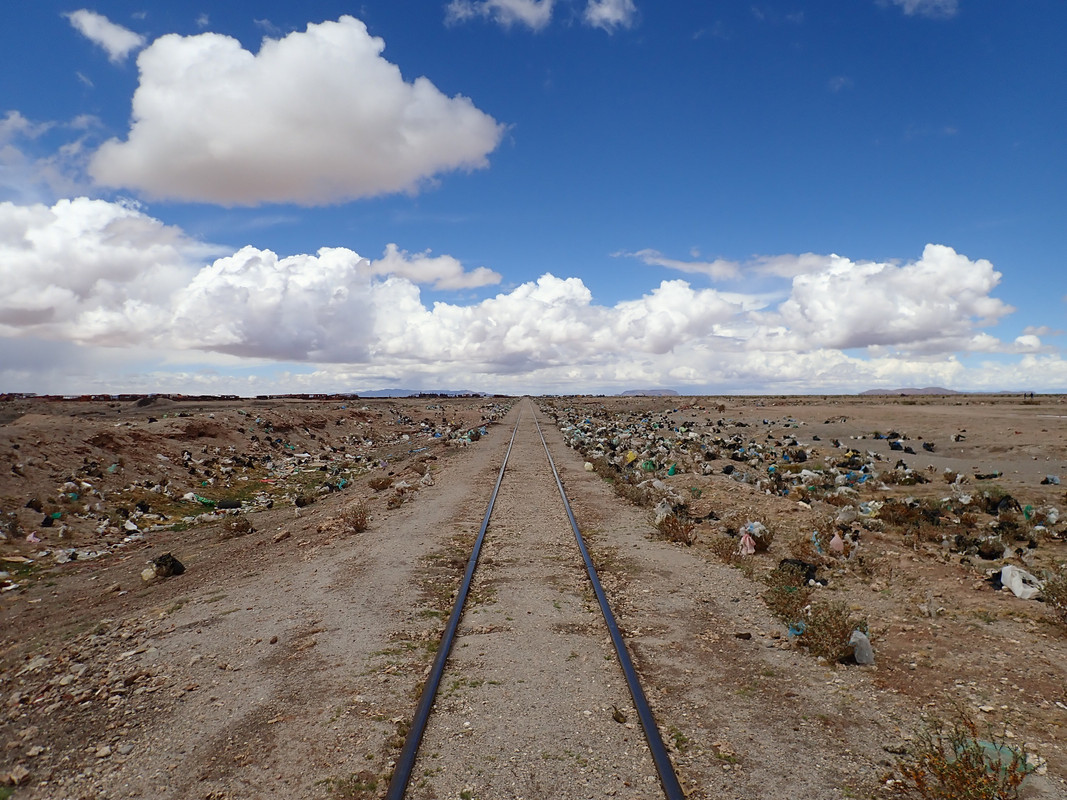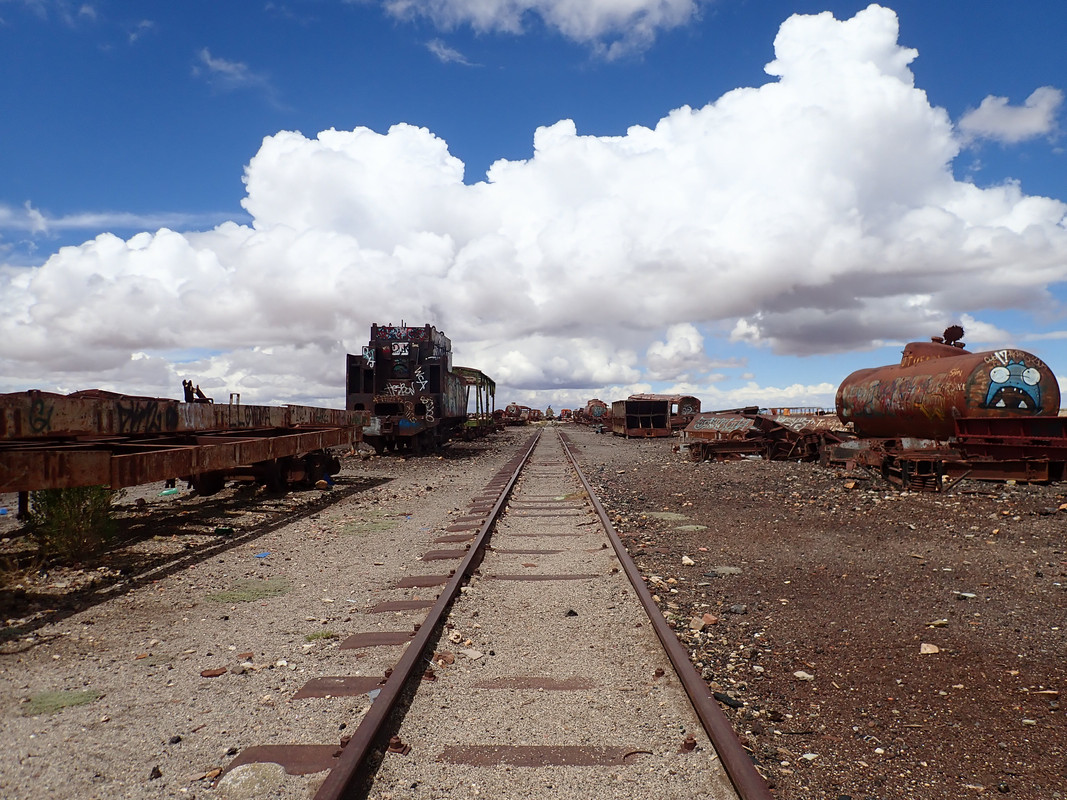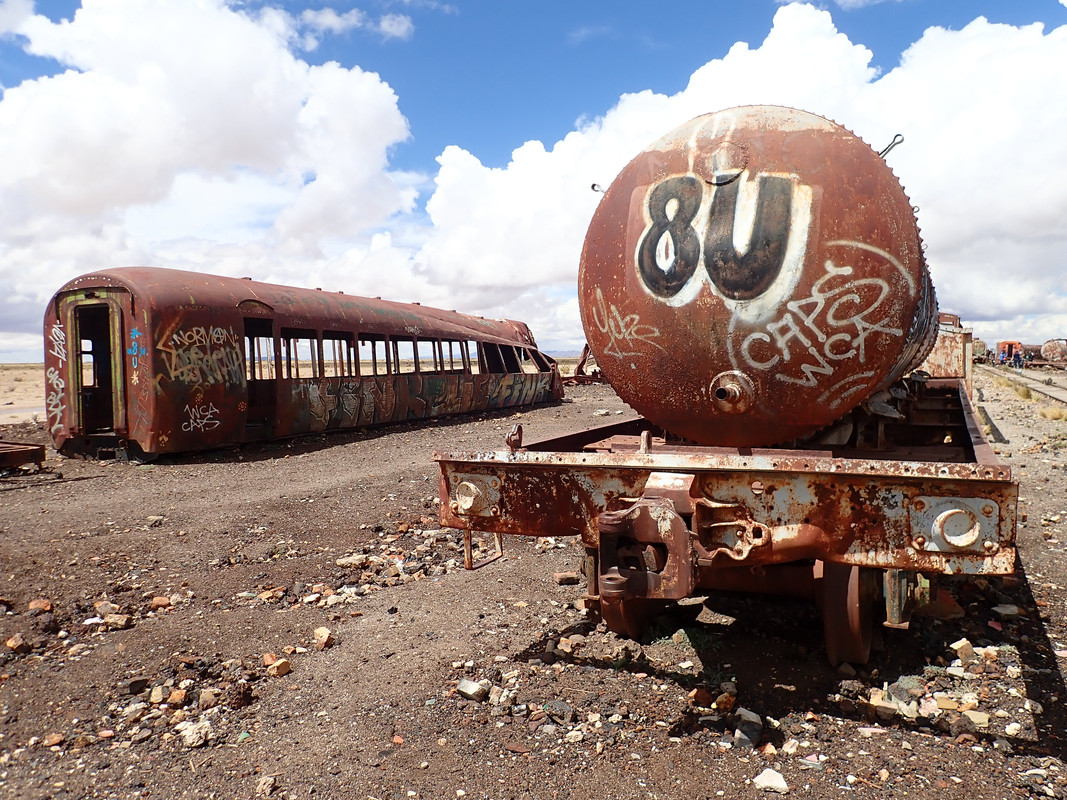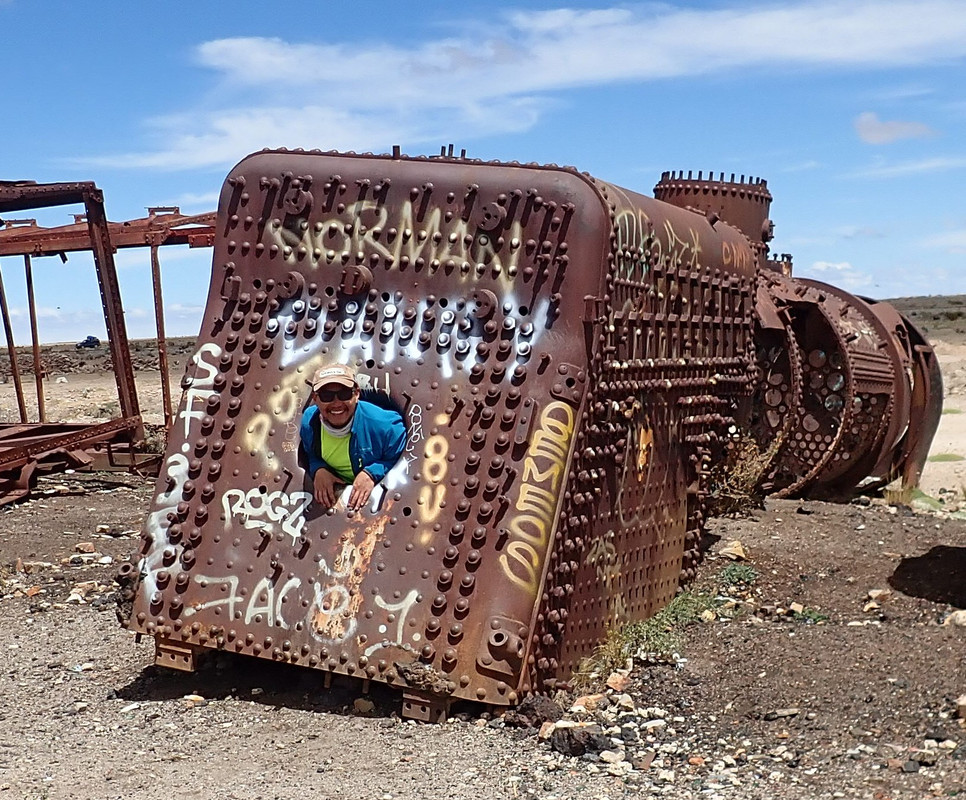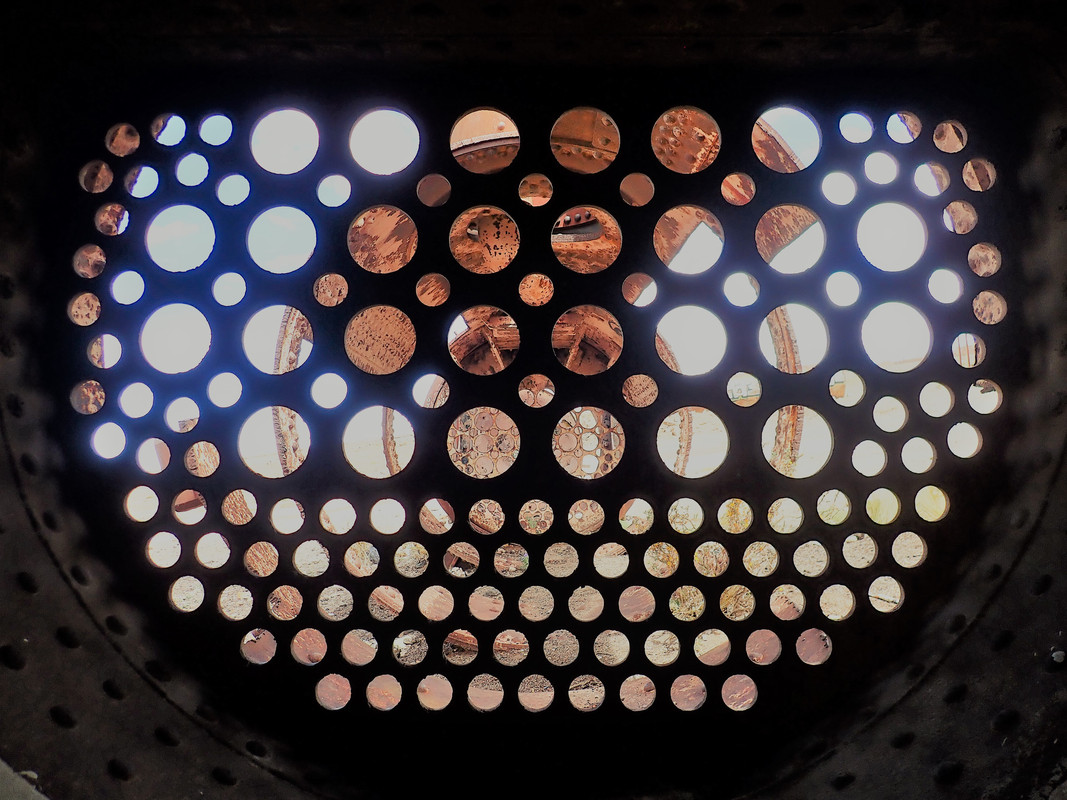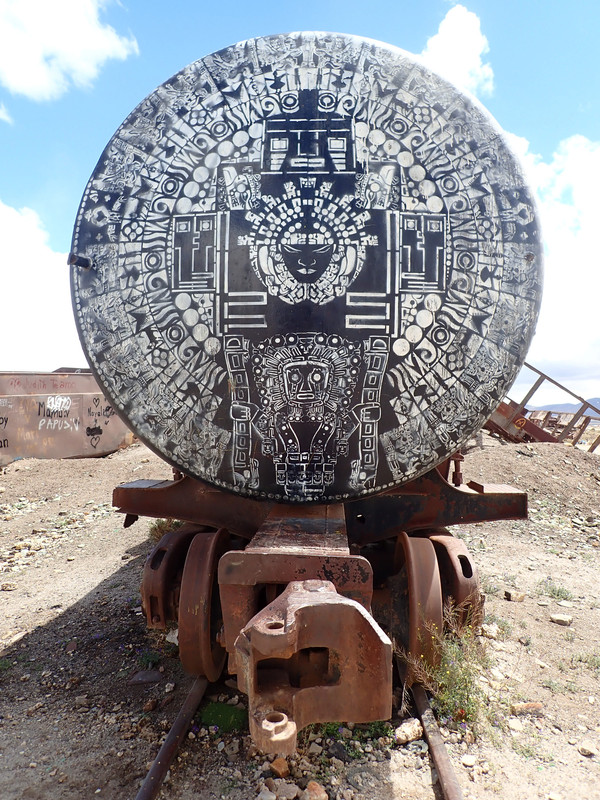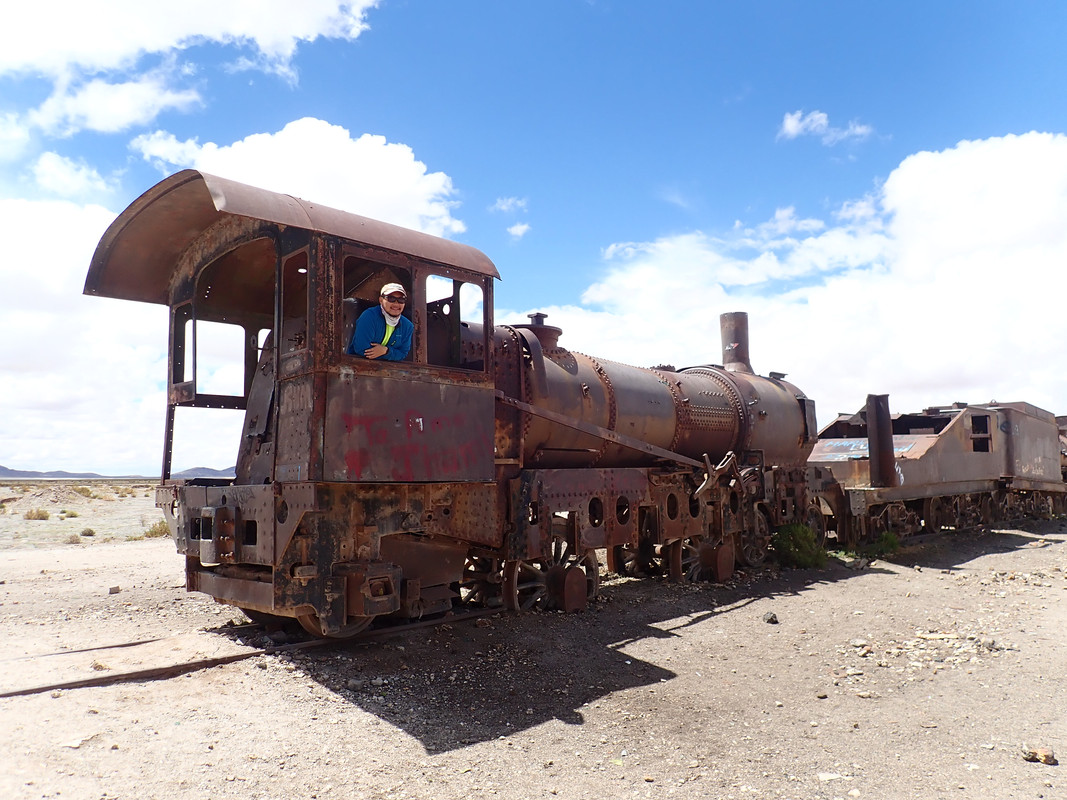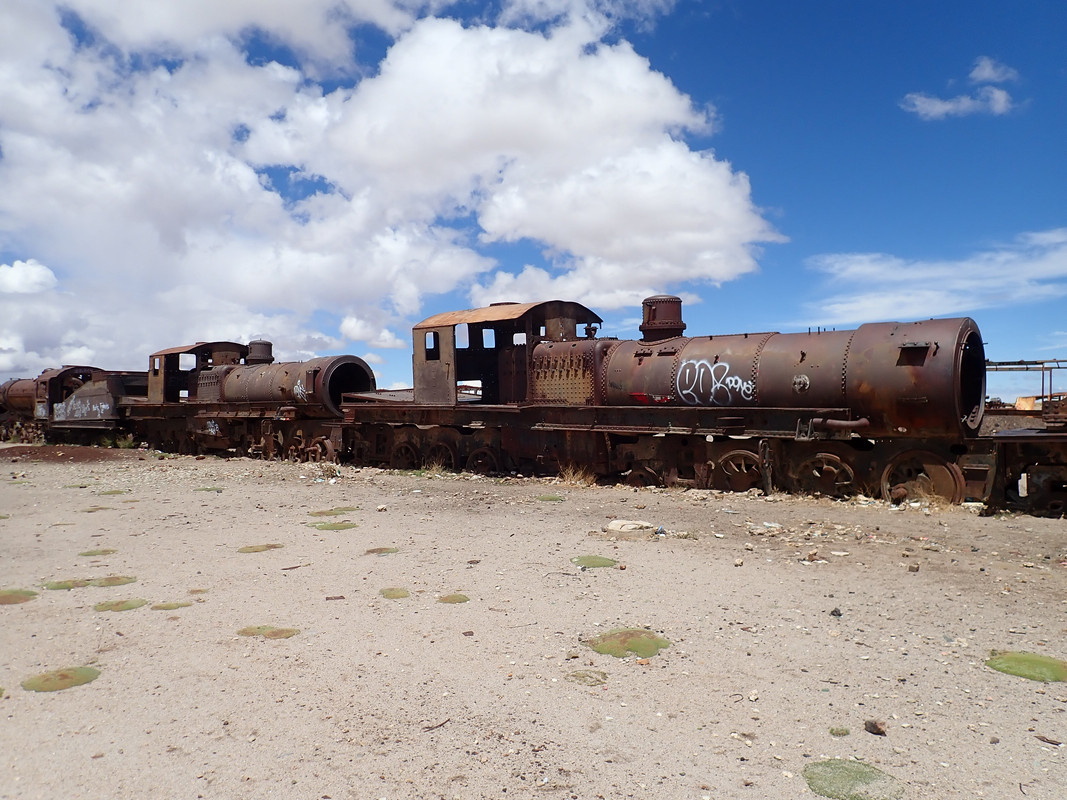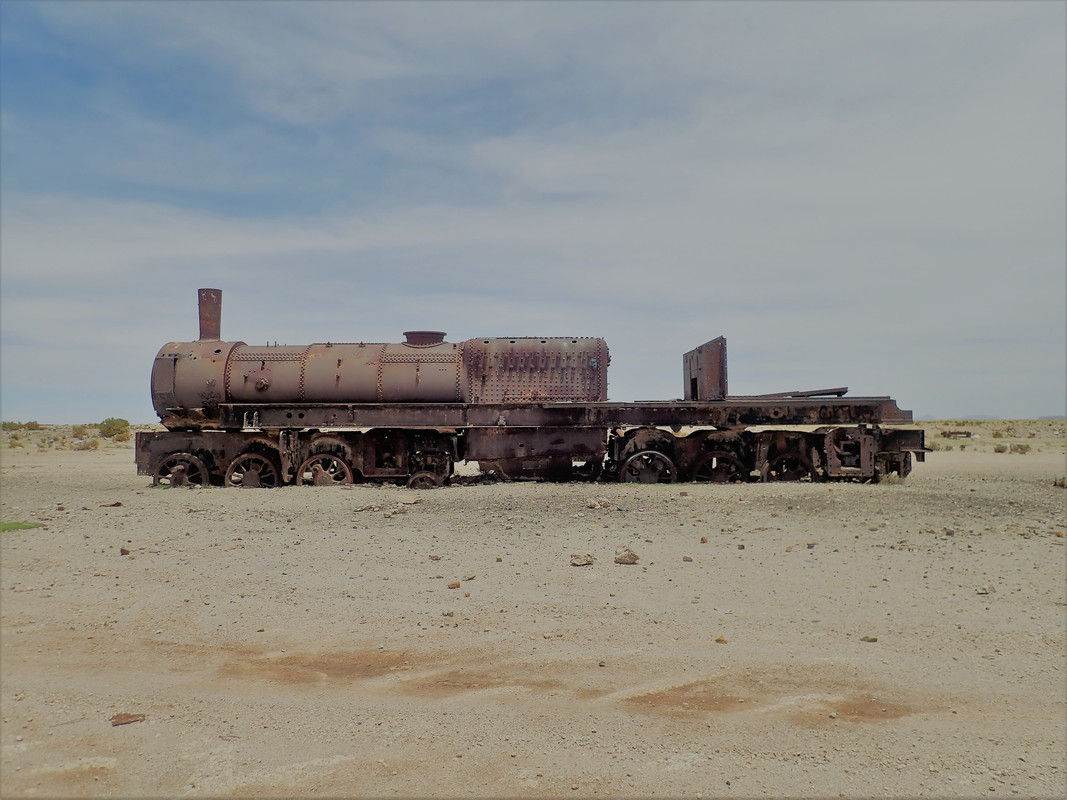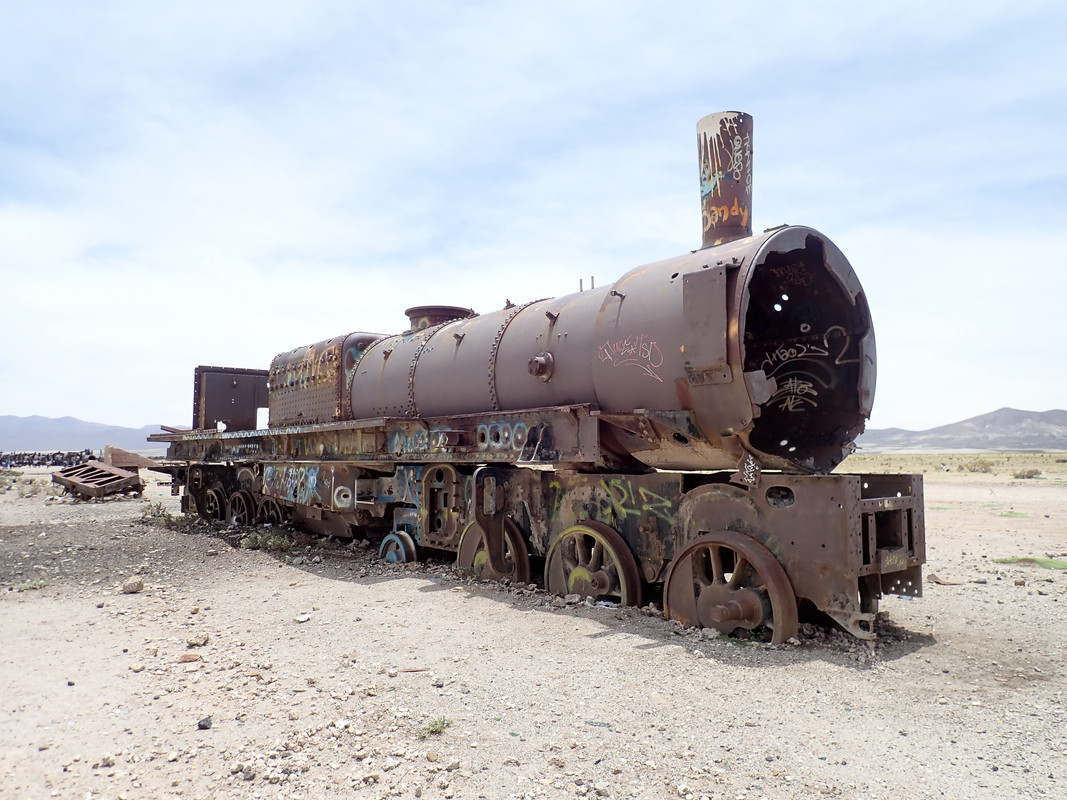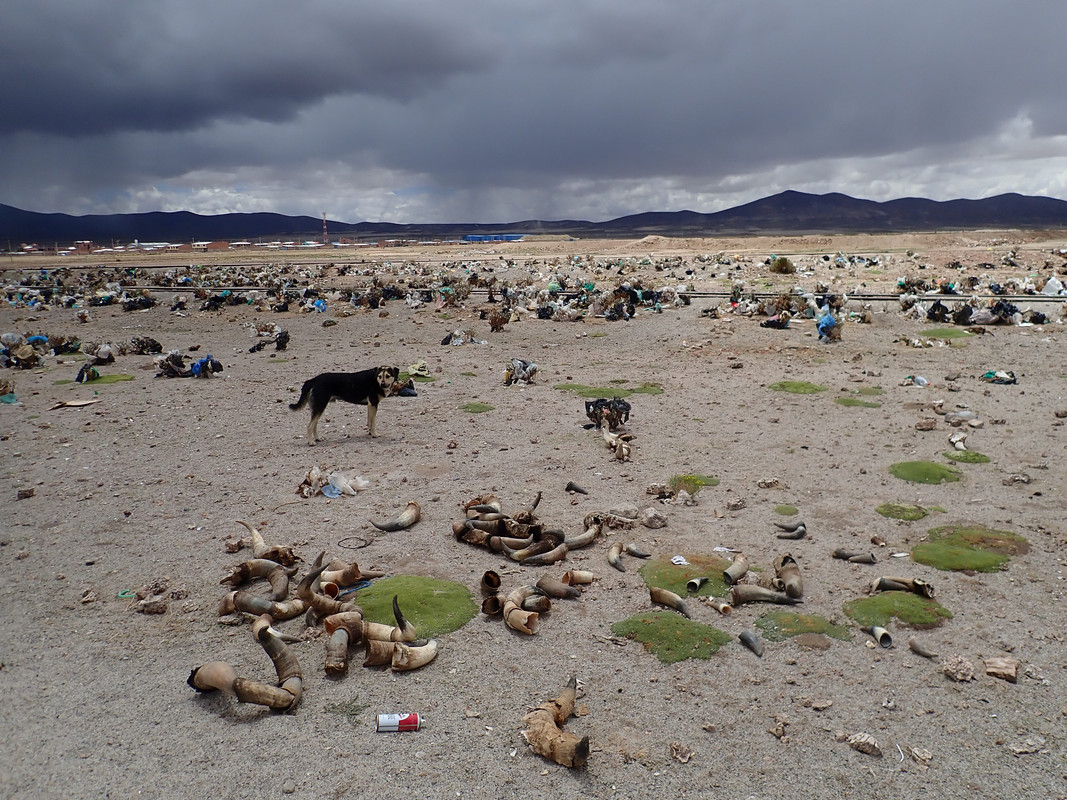 We rode out to Salar de Uyuni in the afternoon. It is the world's largest salt flat but unfortunate due to rainy season, it has become a salt lake. Some sections were wheel deep on a 4×4 so we didn't risk riding through it. So much for my dream of riding and camping on the Salar…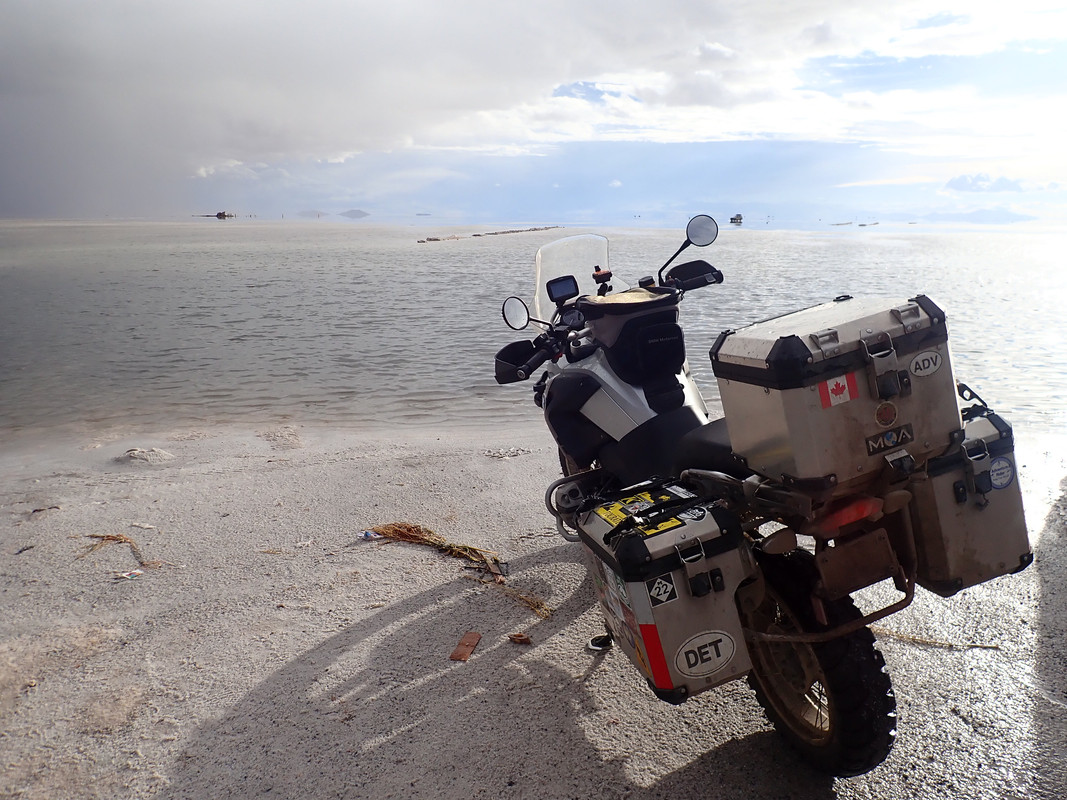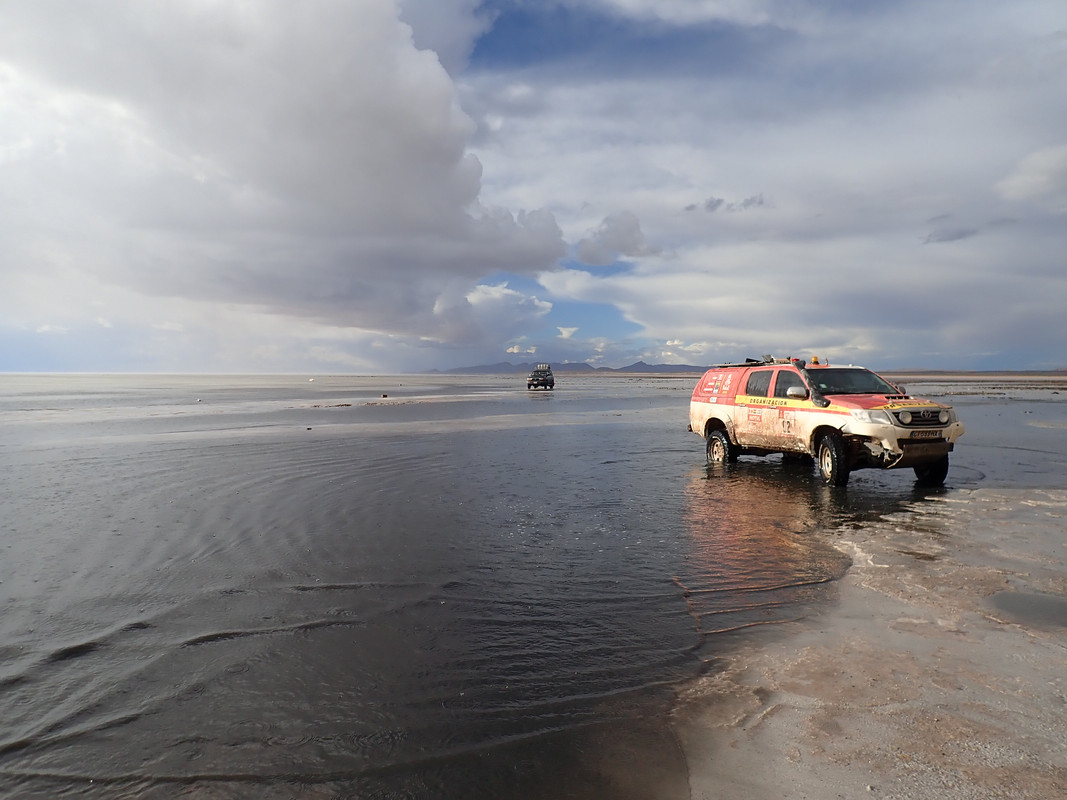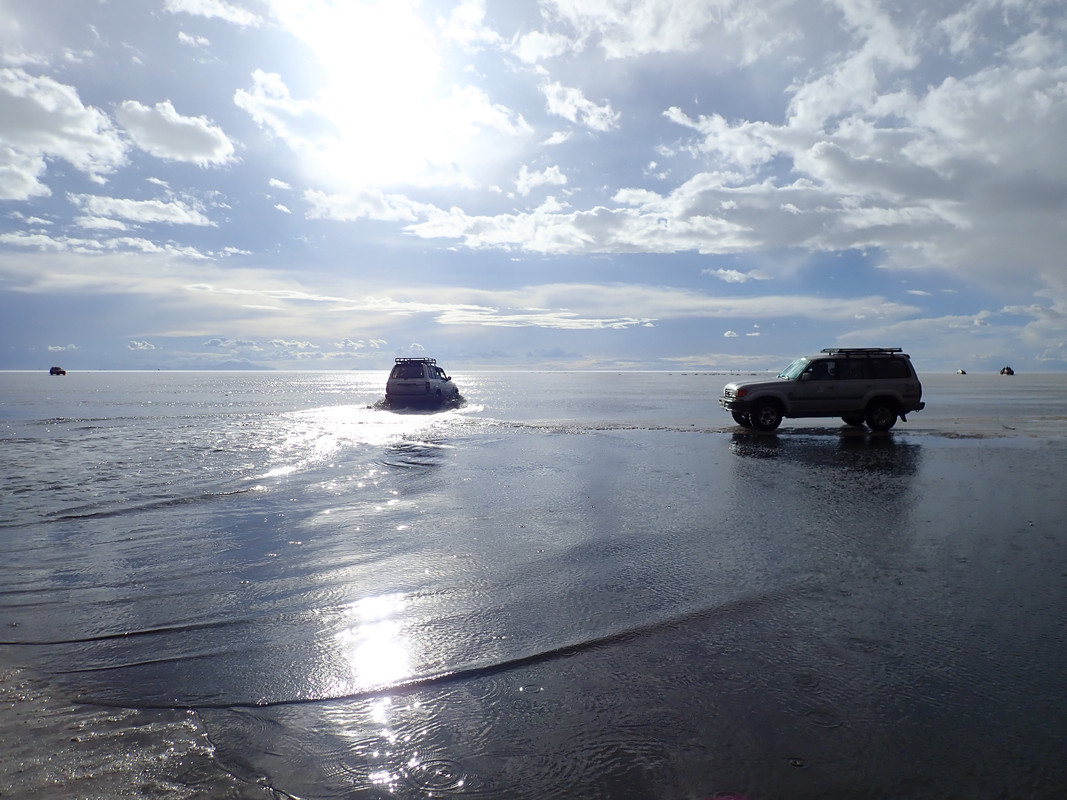 I left in disappointment 😦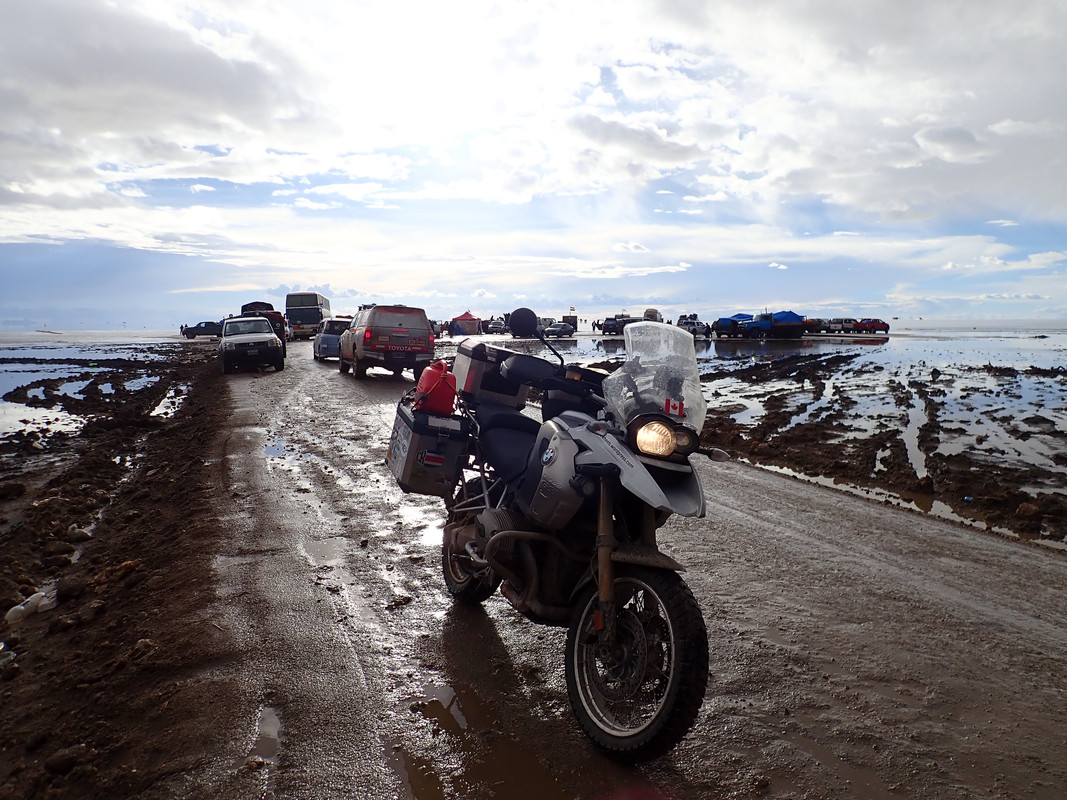 Jan 13th was the BIG day in Uyuni as Dakar Rally stage 7 finishes here. We joined the crowd after some street BBQ and cervezas.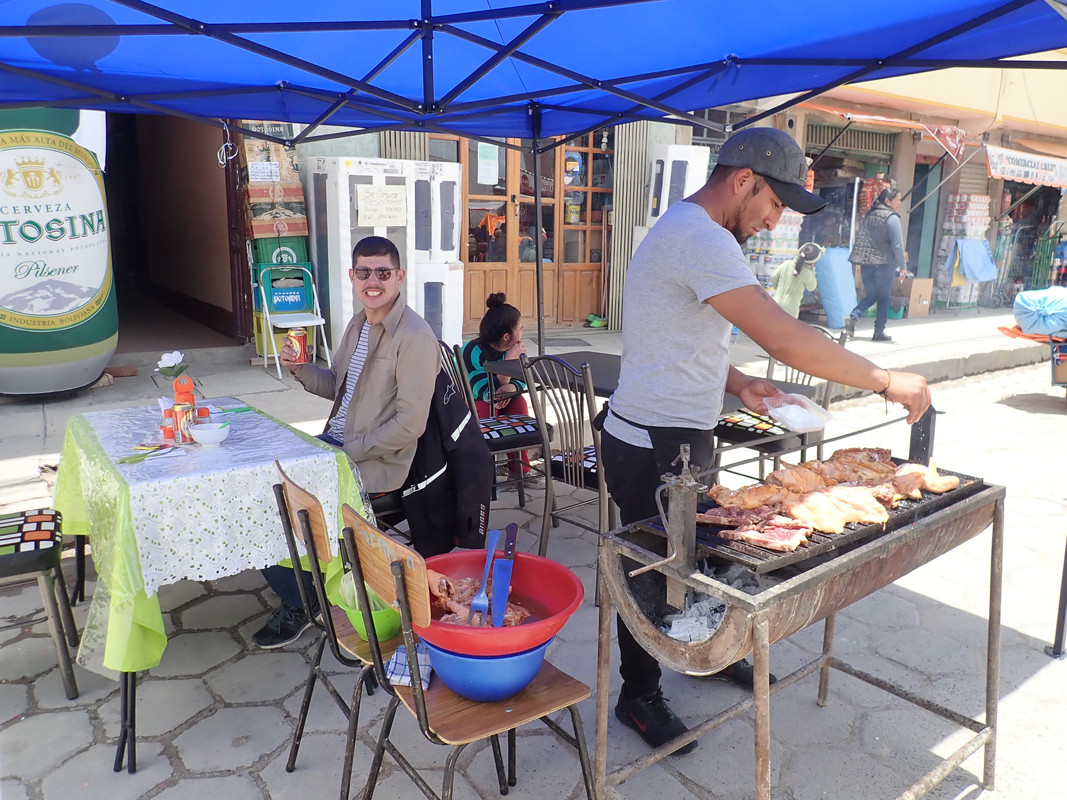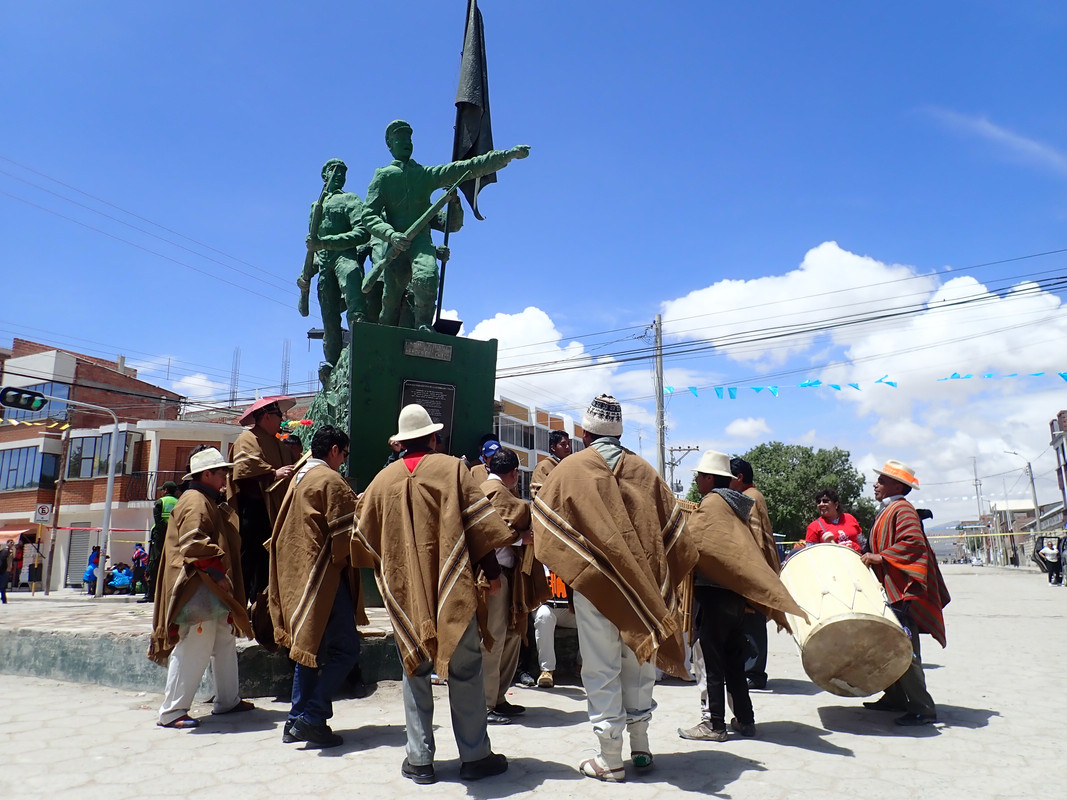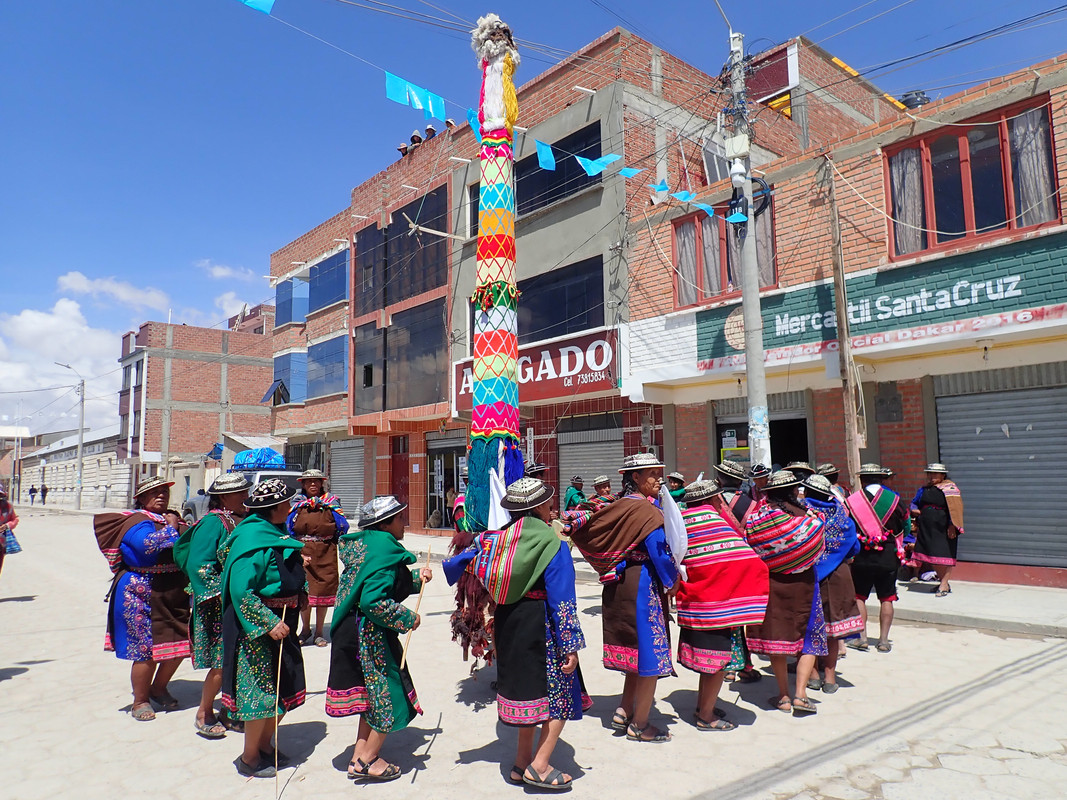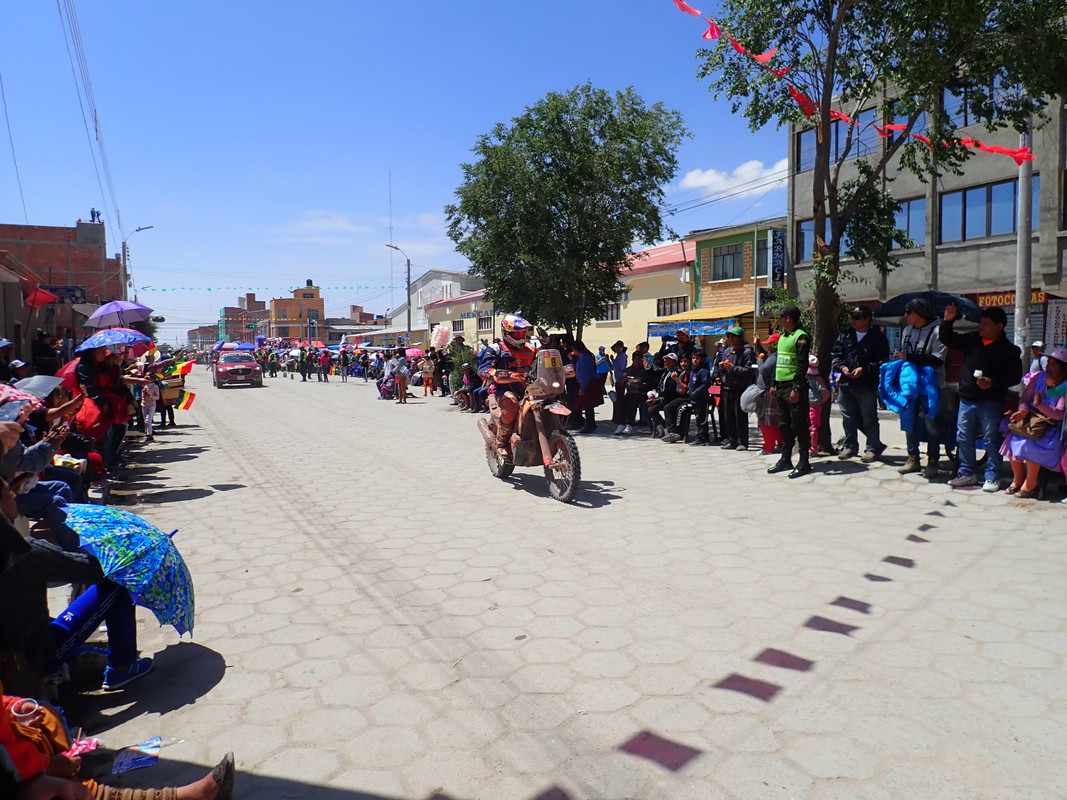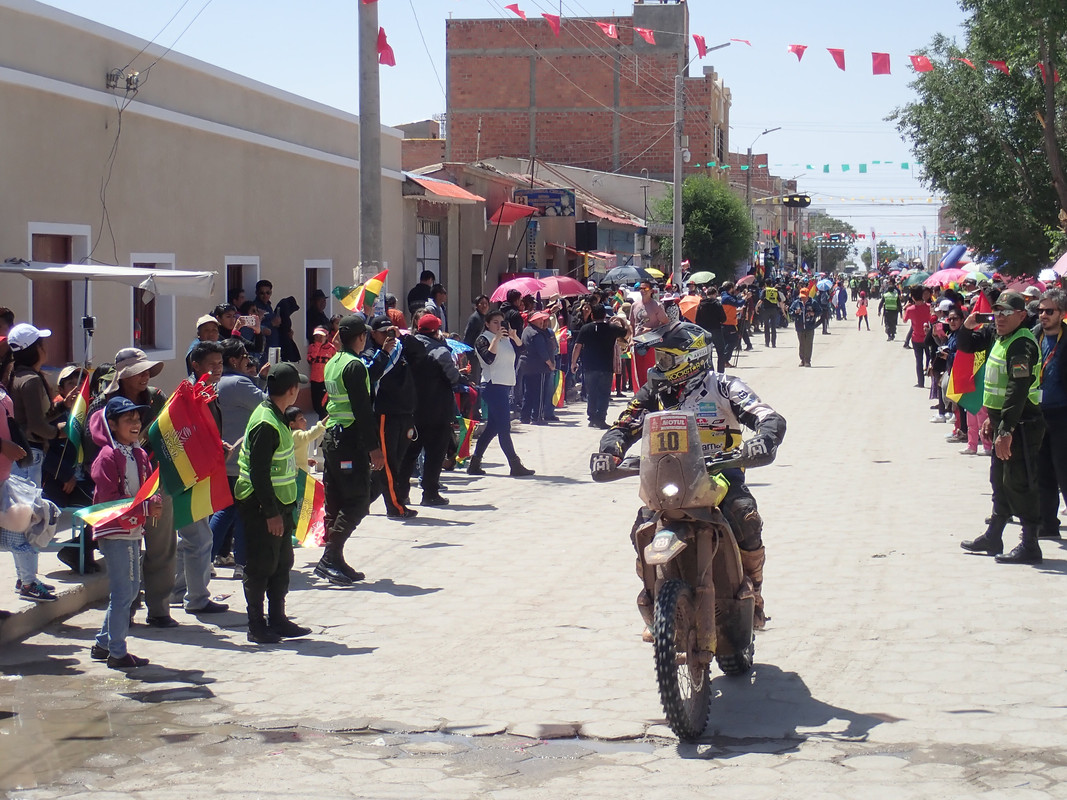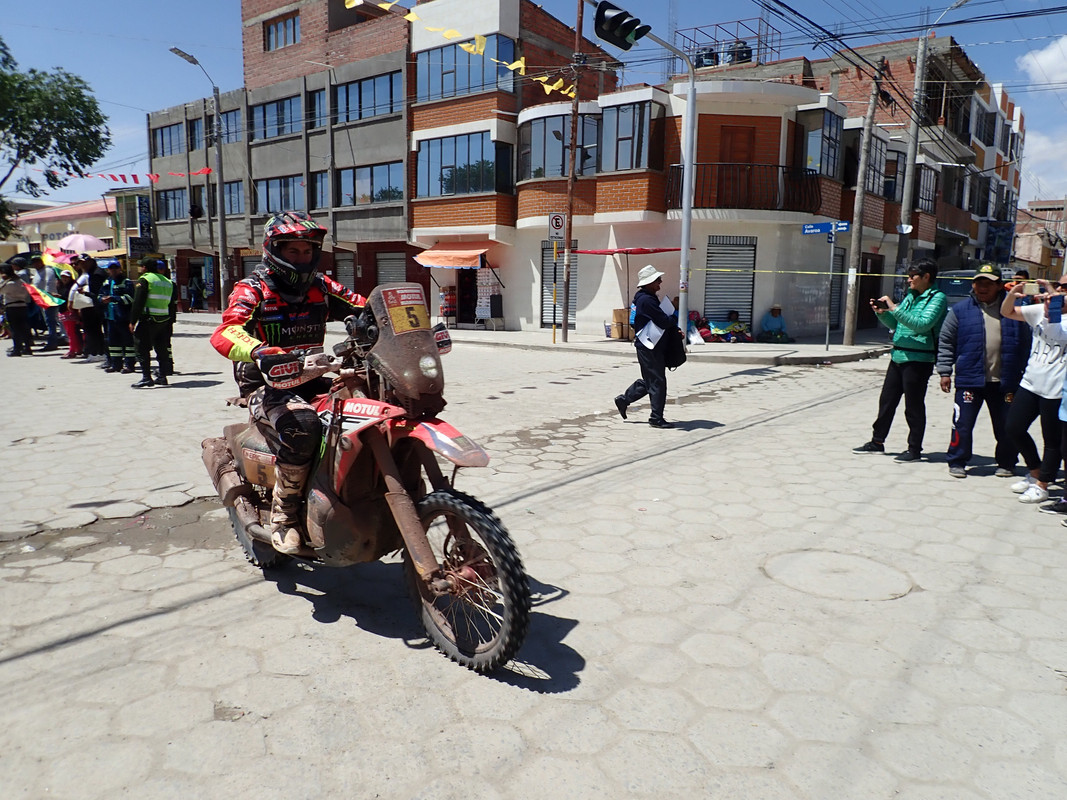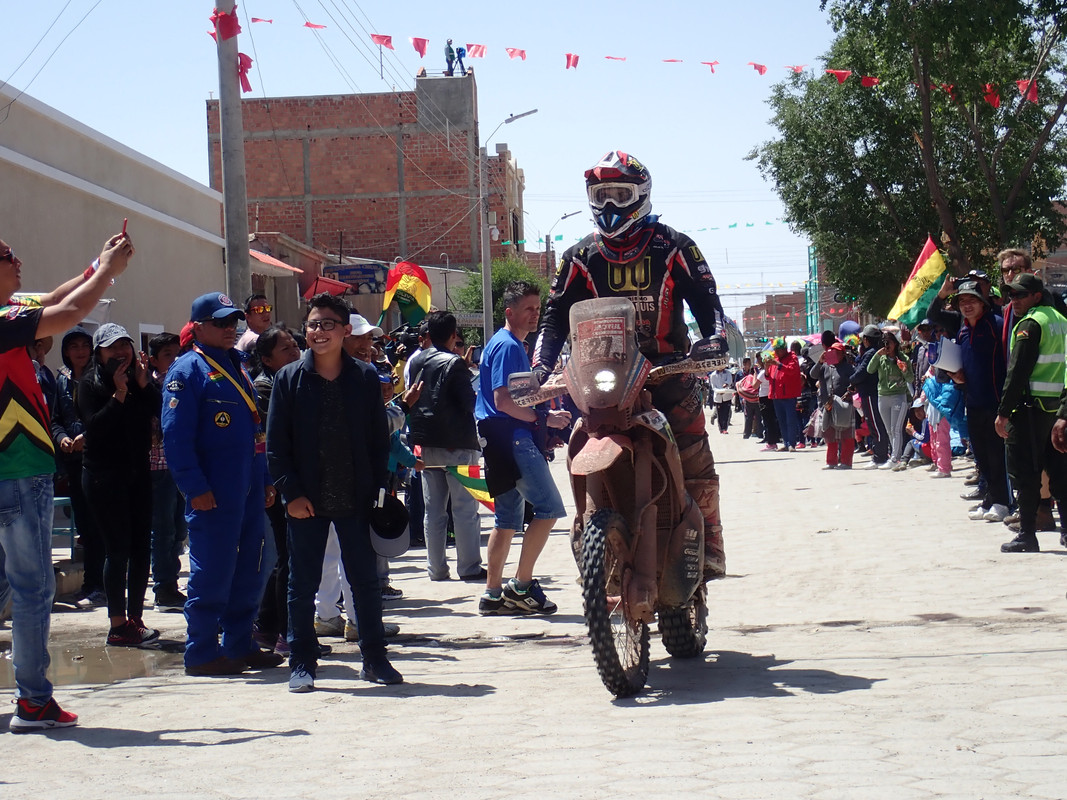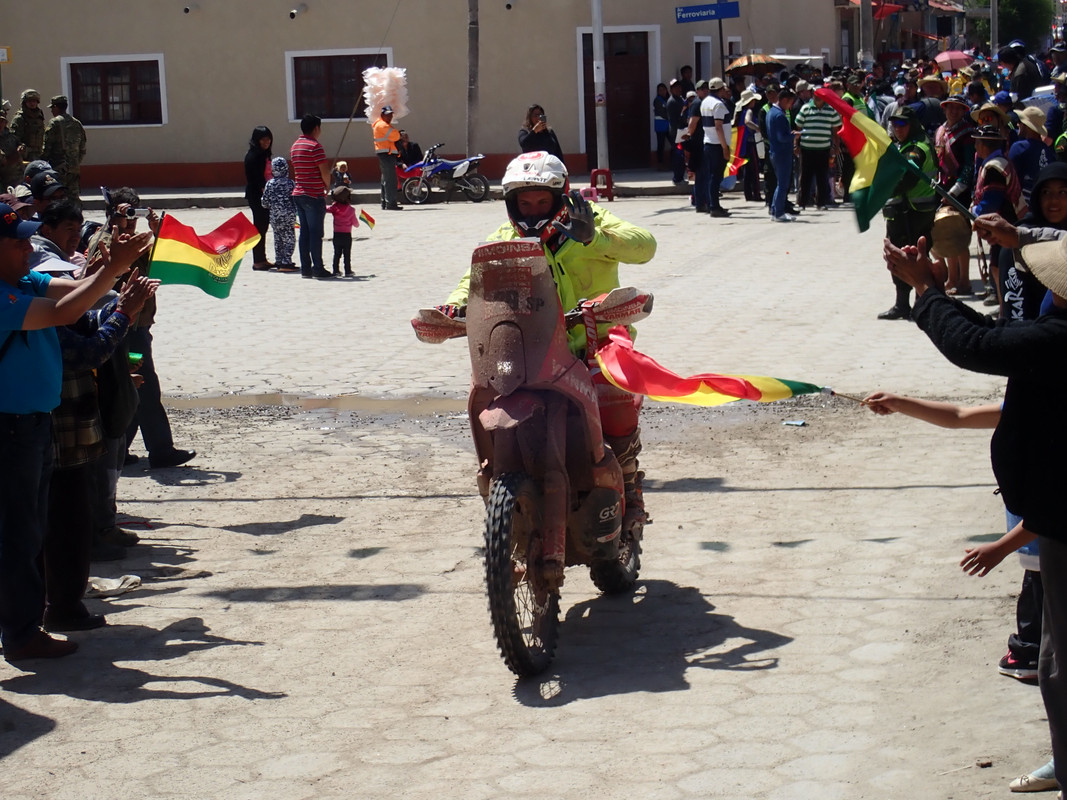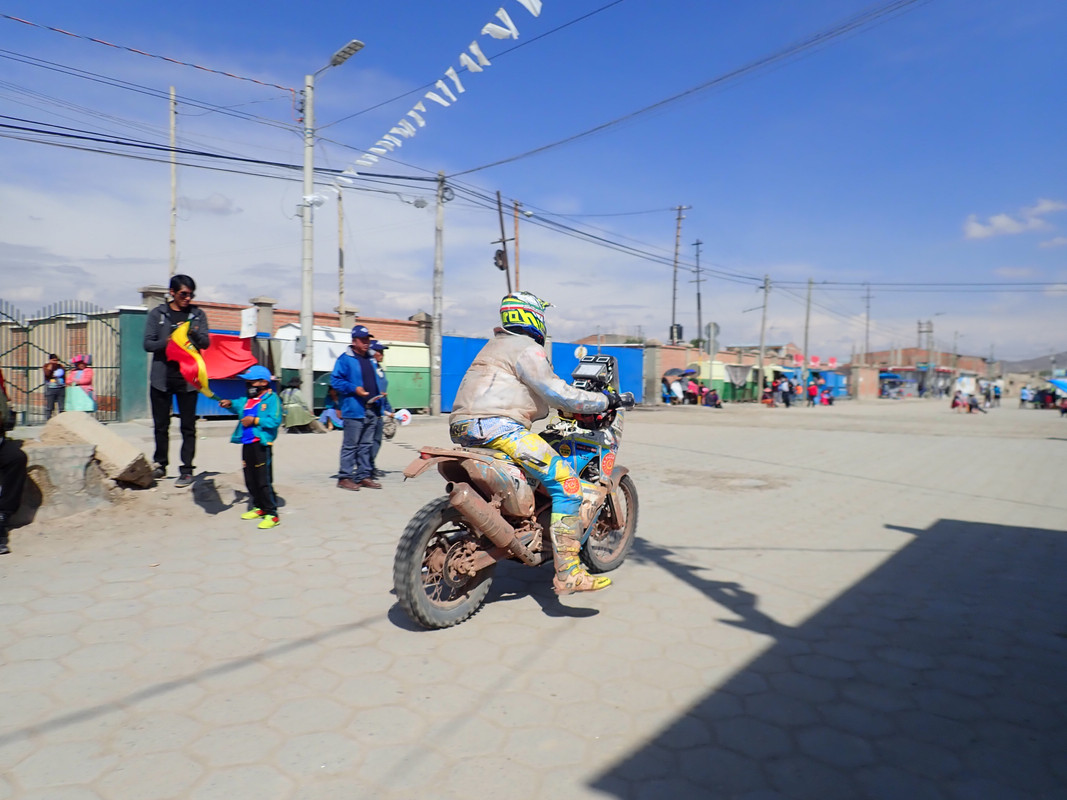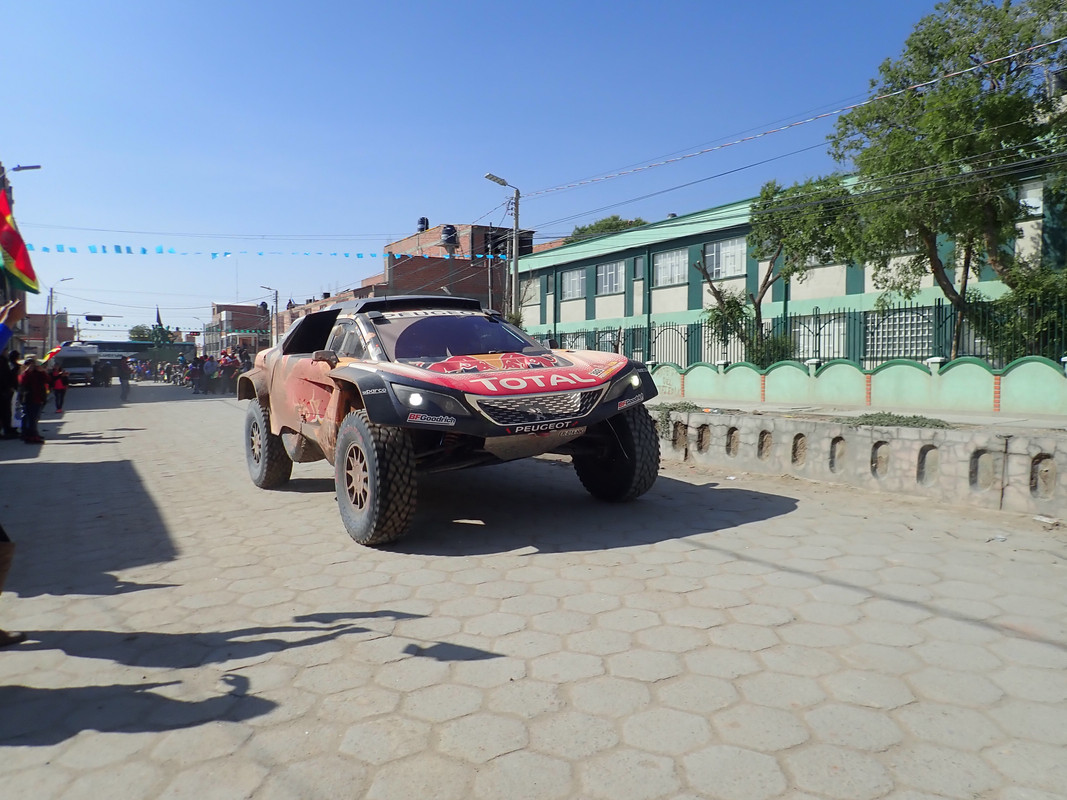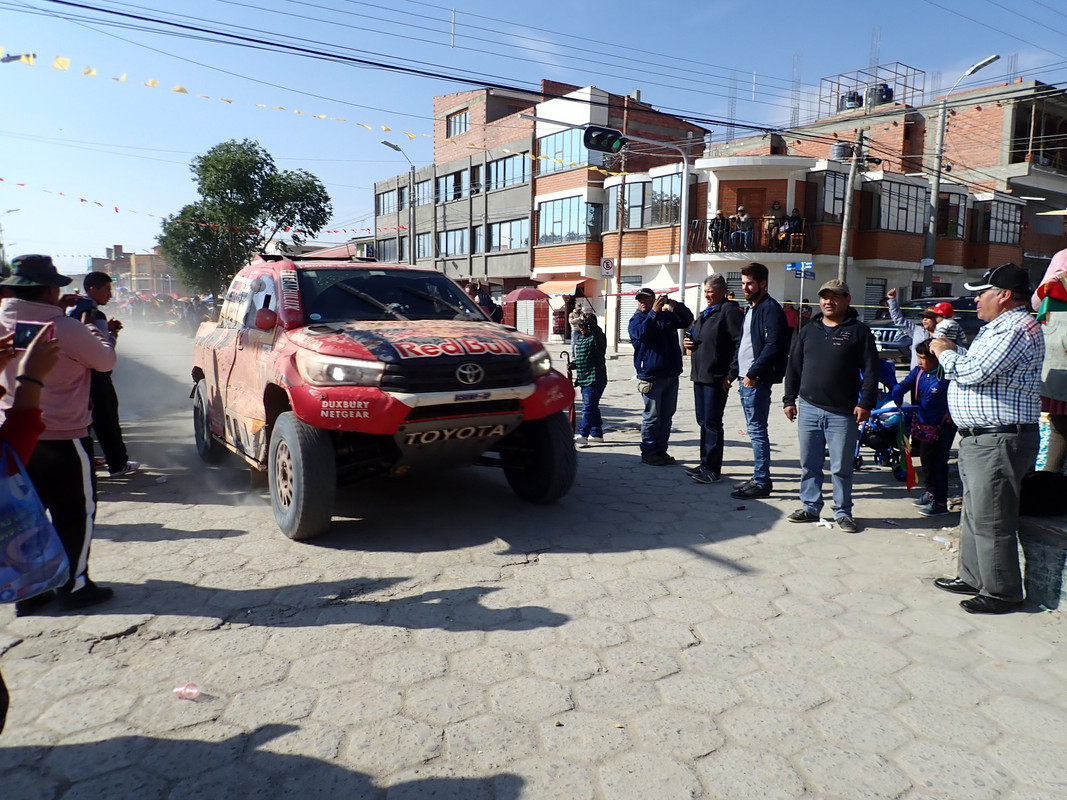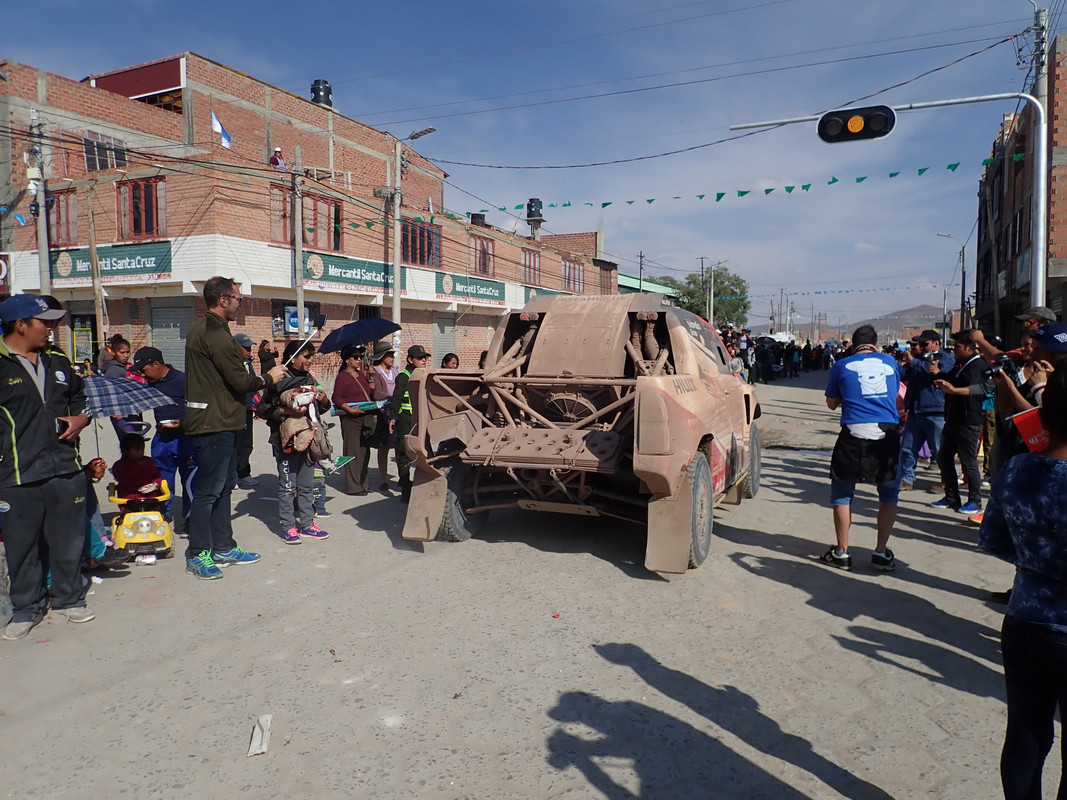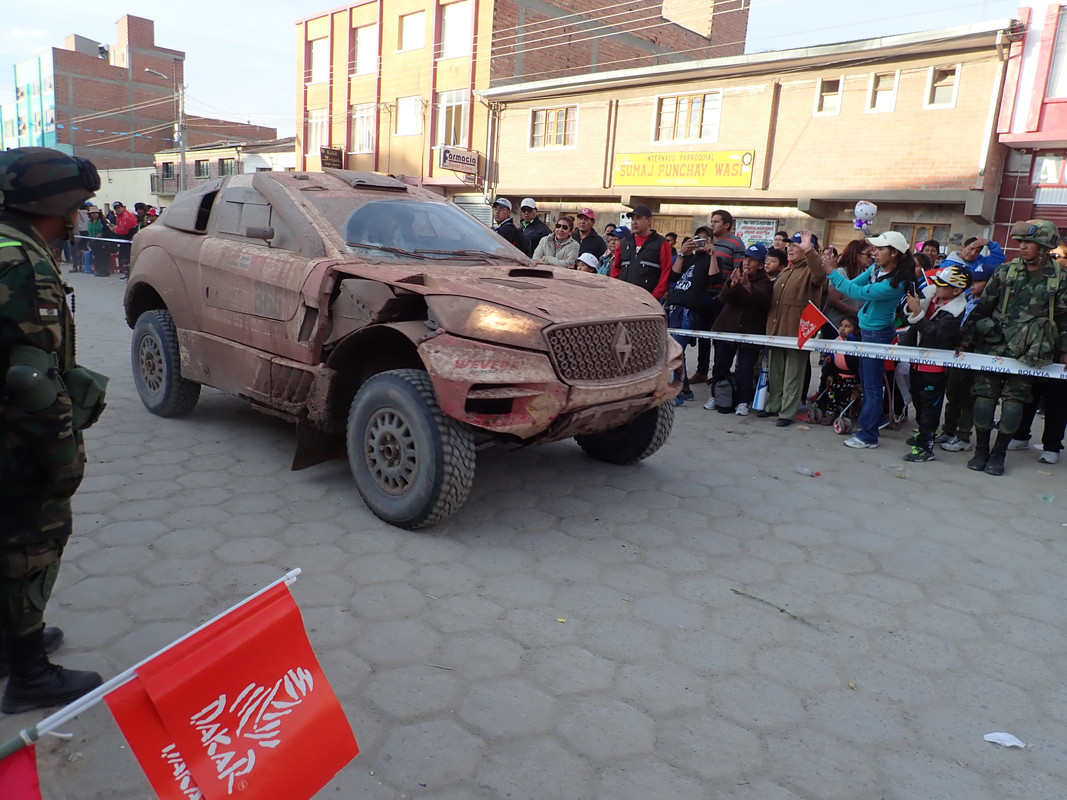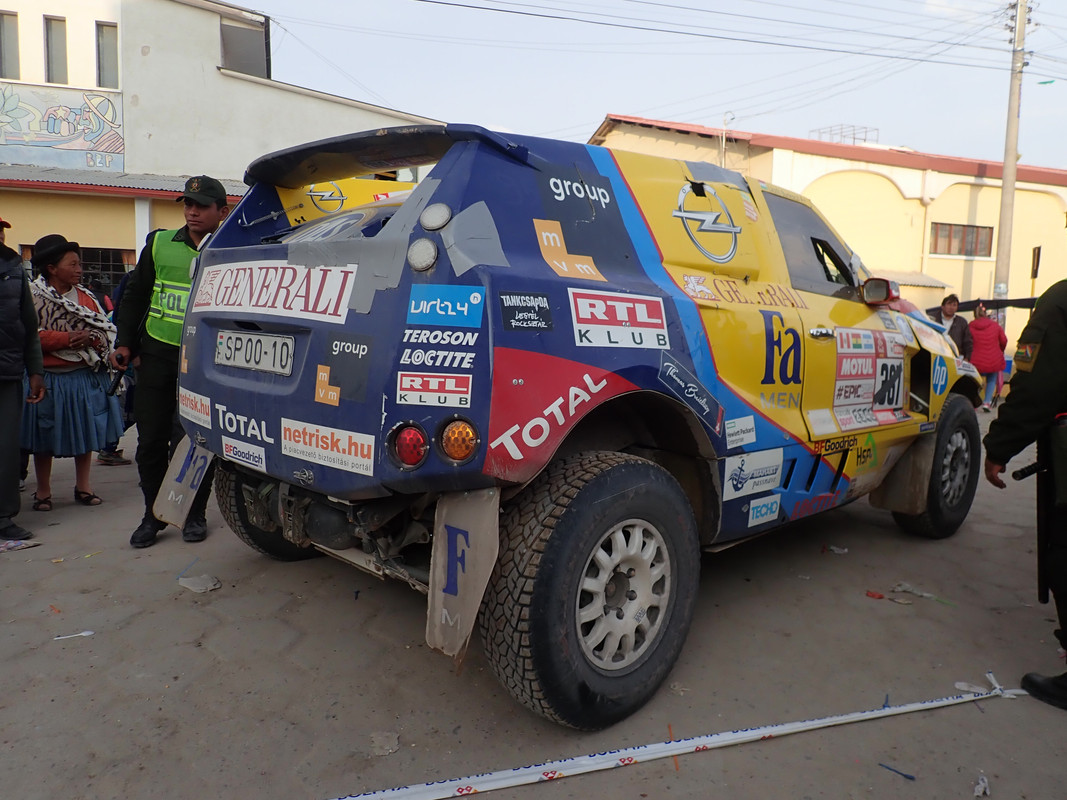 This KAMAZ truck blew a rear tire next to the crowd; someone's ears must still be ringing.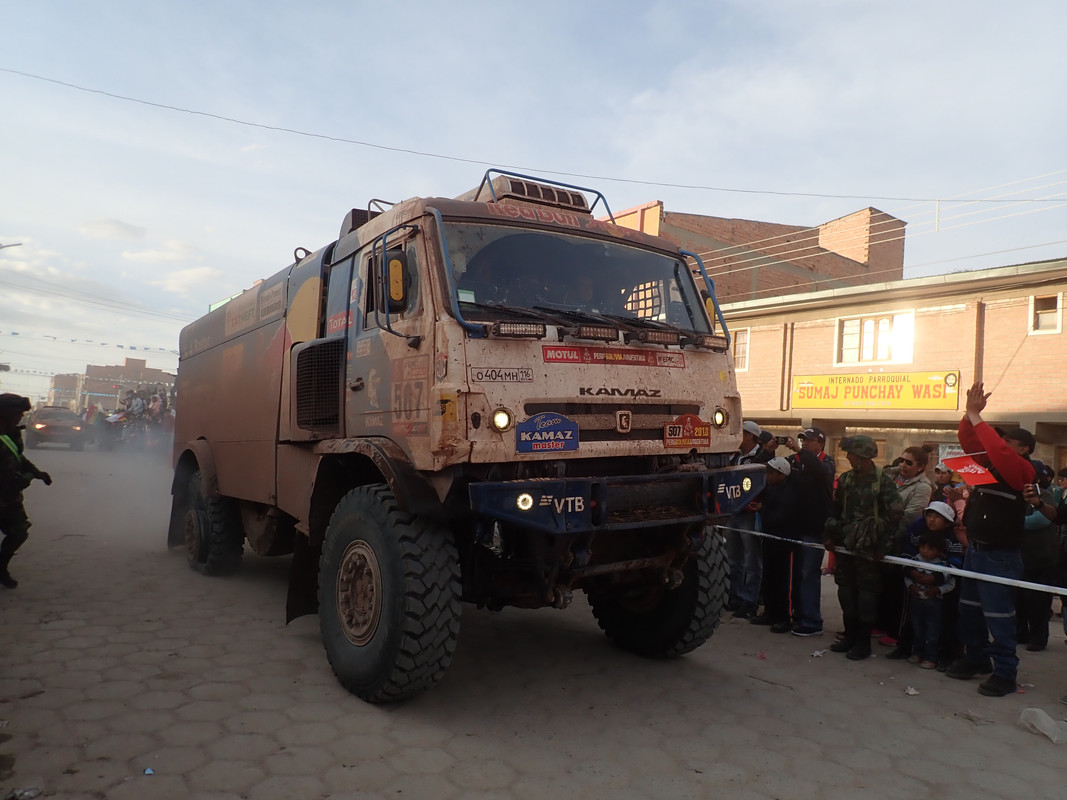 I was amazed the crew swapped out the tire in less than 5 minutes. Meanwhile the crowd was going crazy for photos.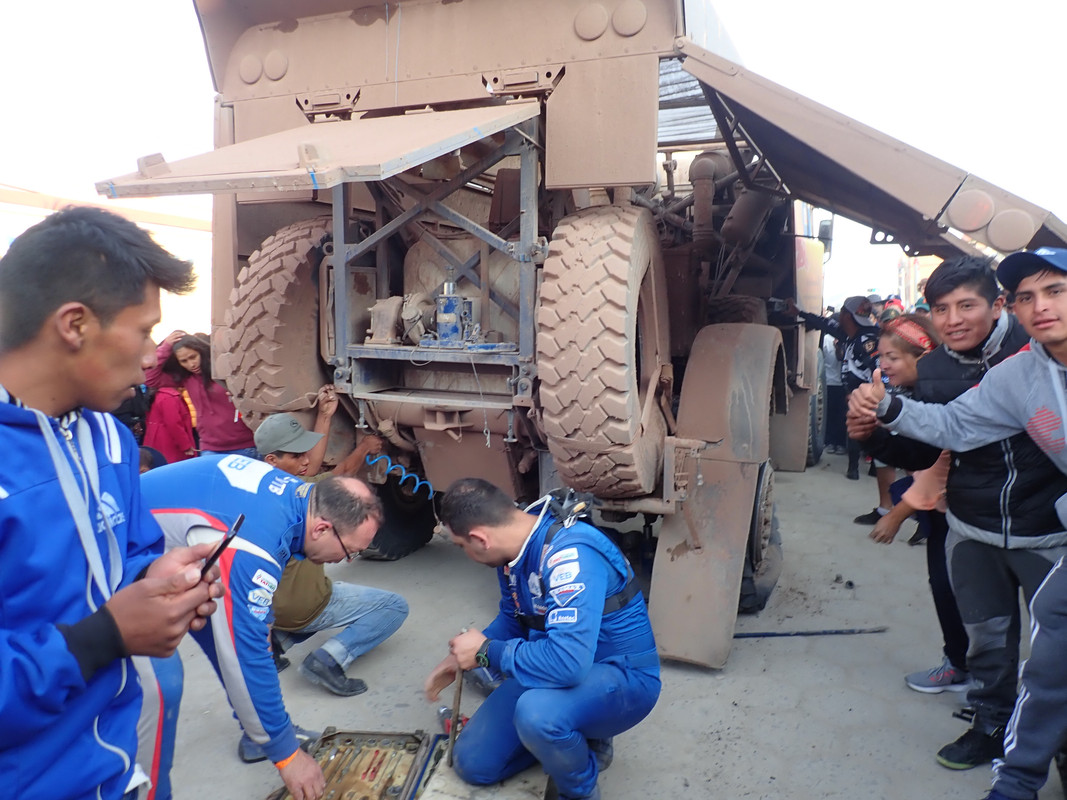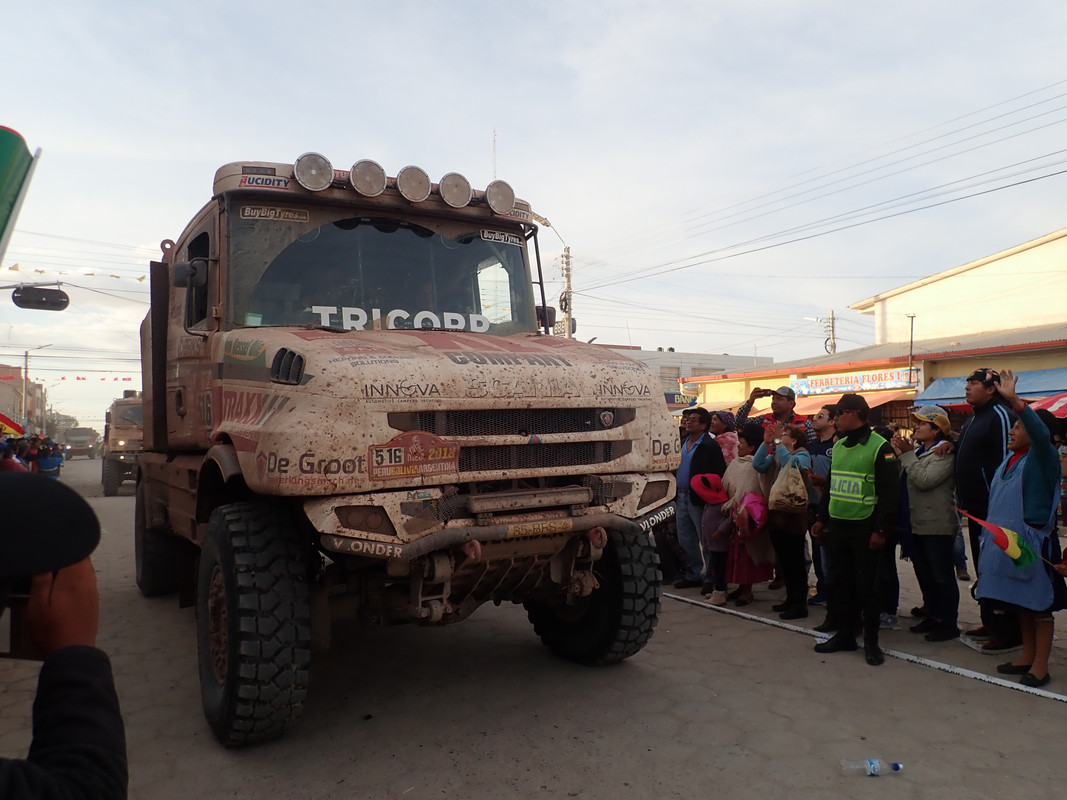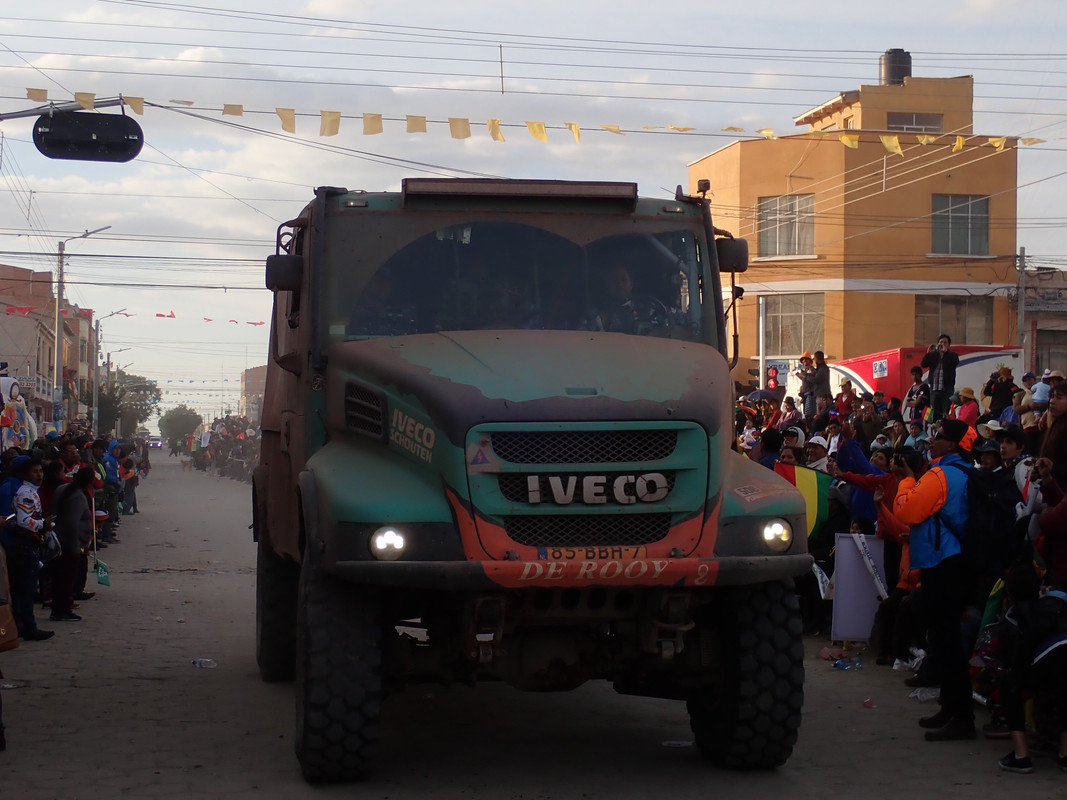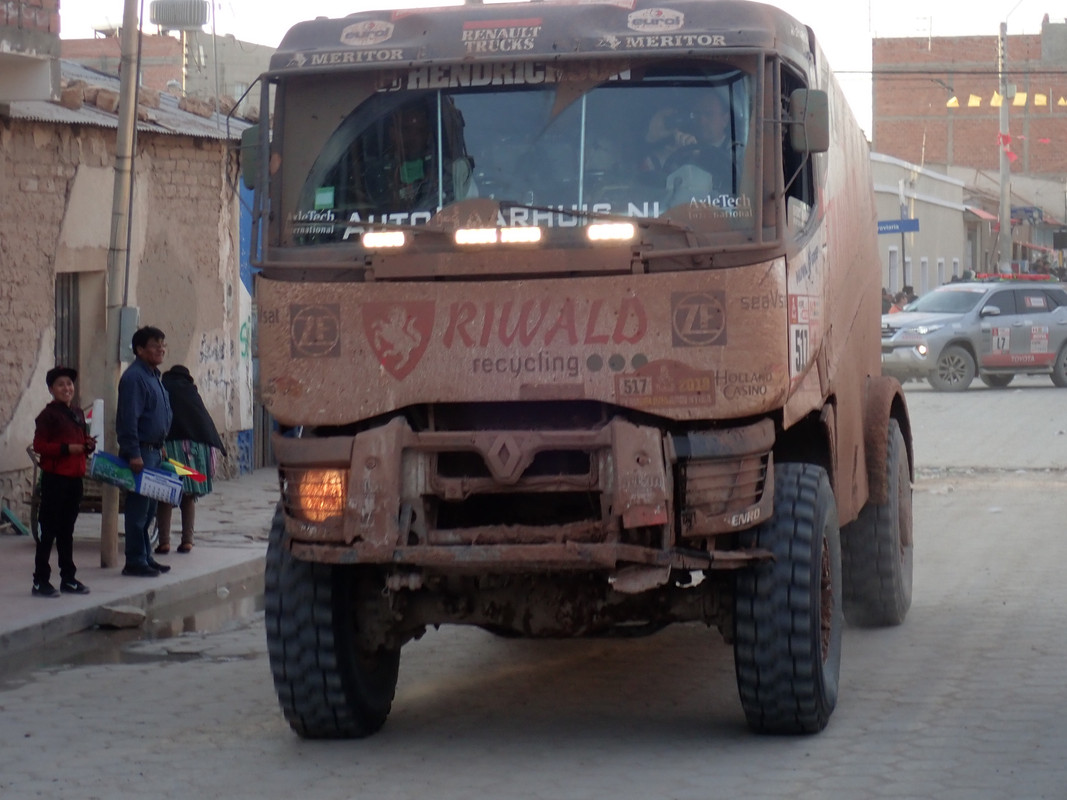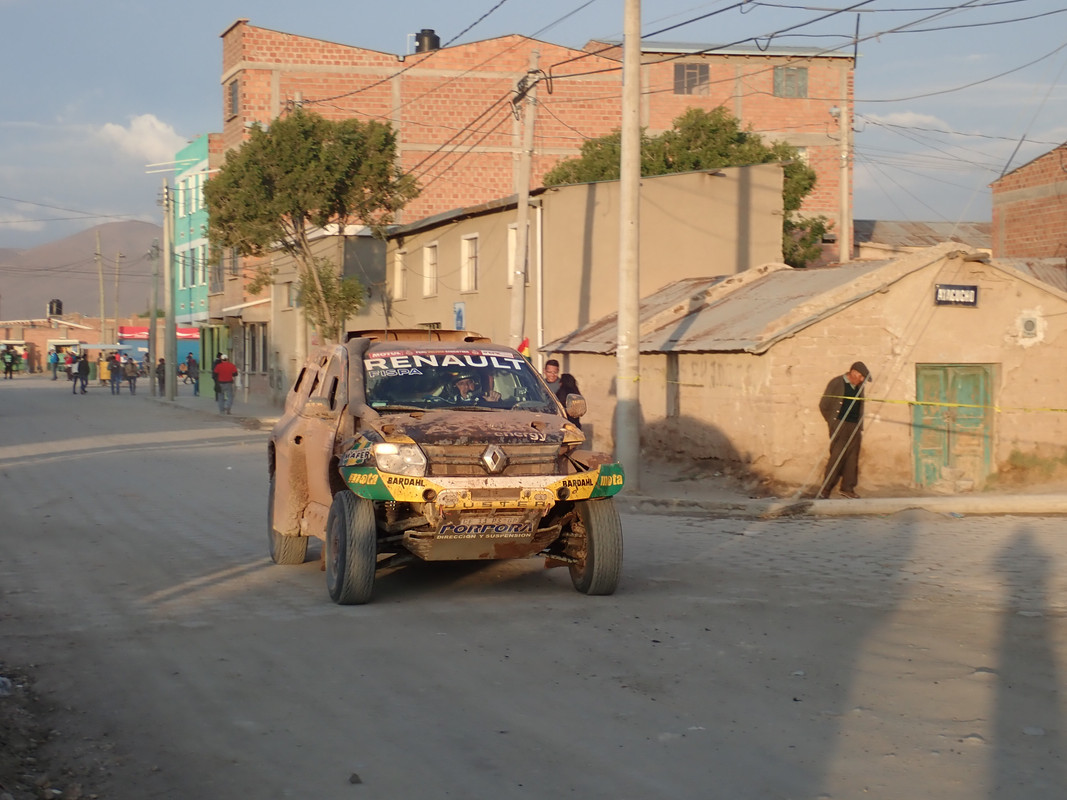 The pit area was off limits to the general public.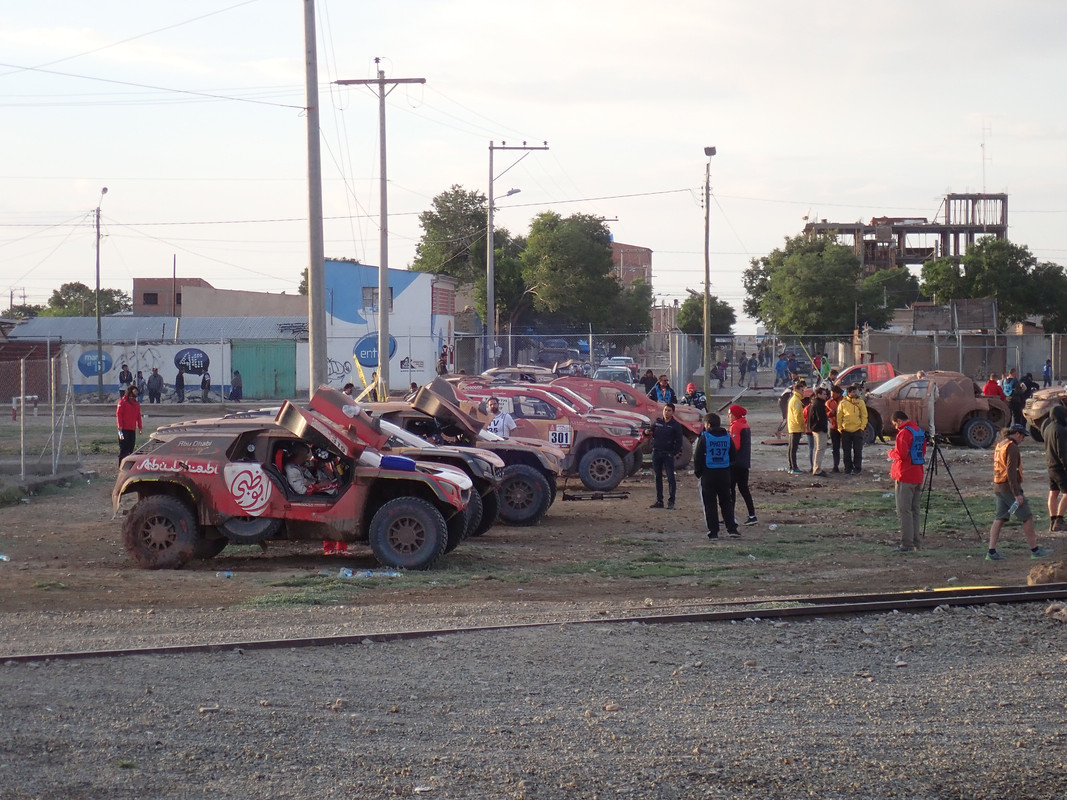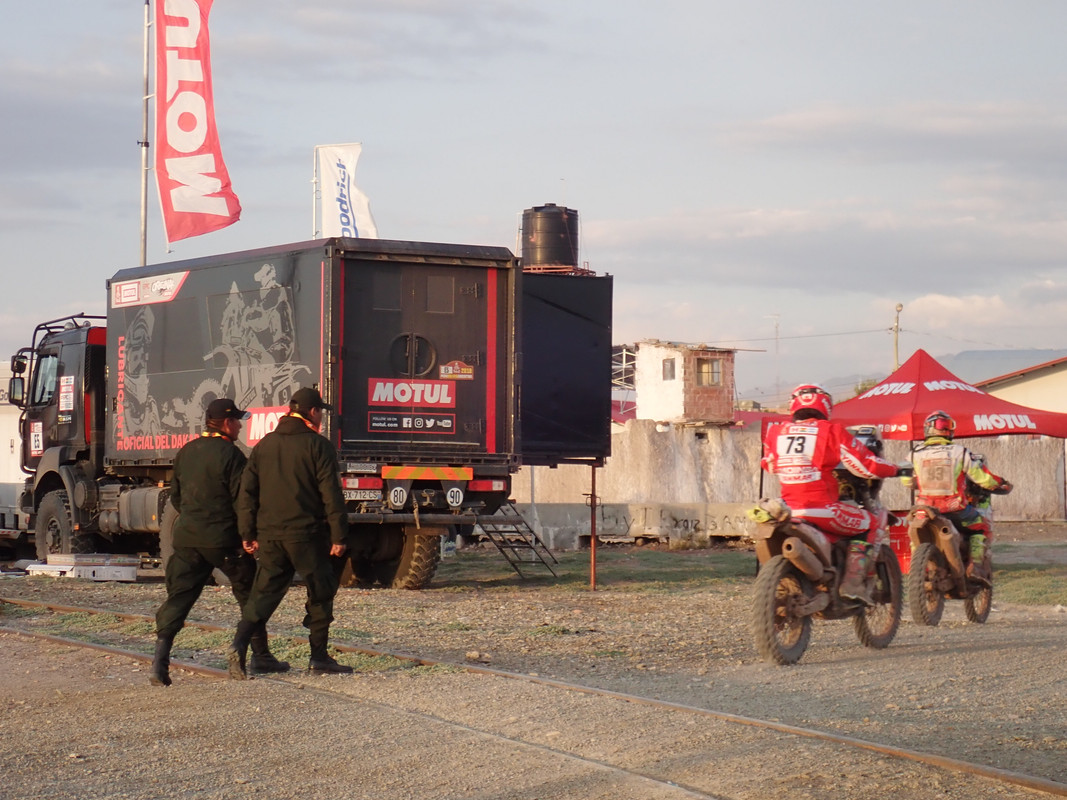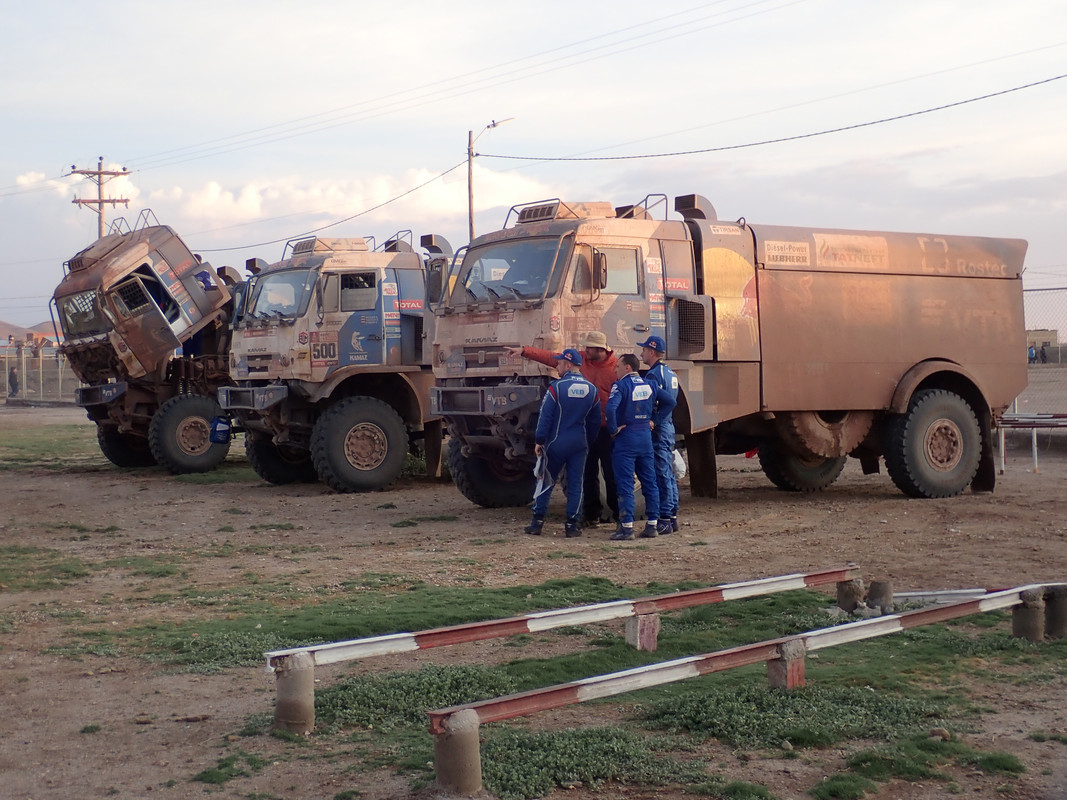 Tough life…race during the day; camp at night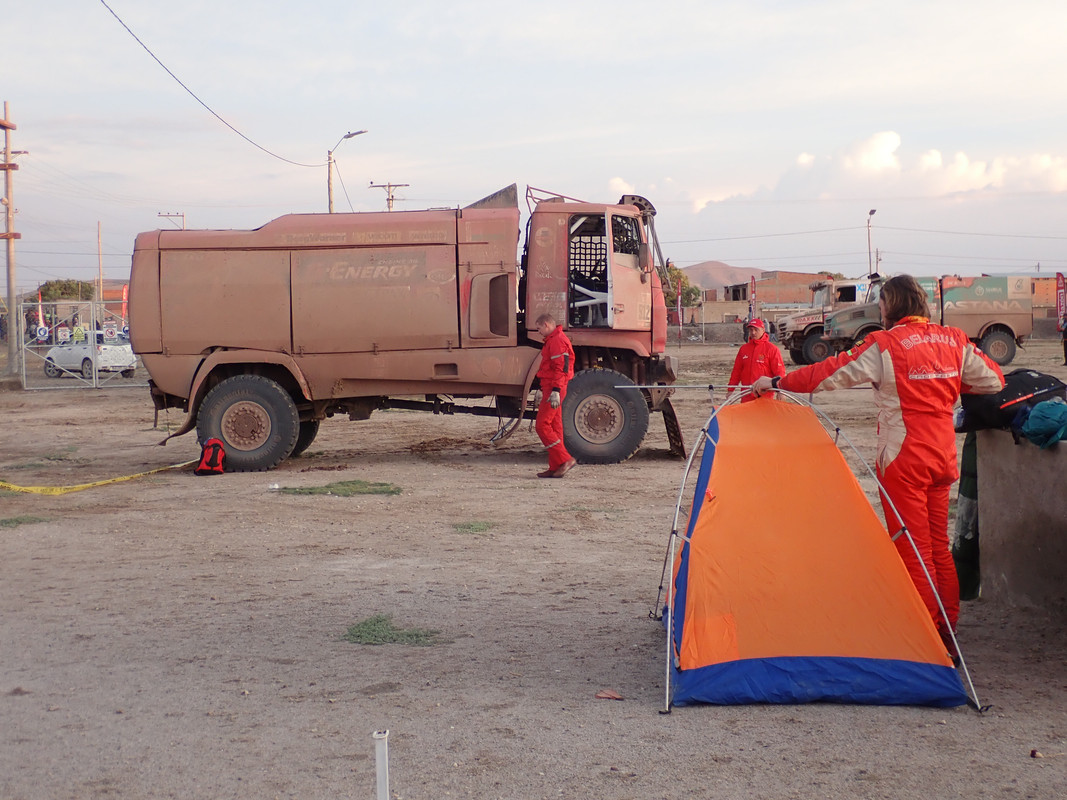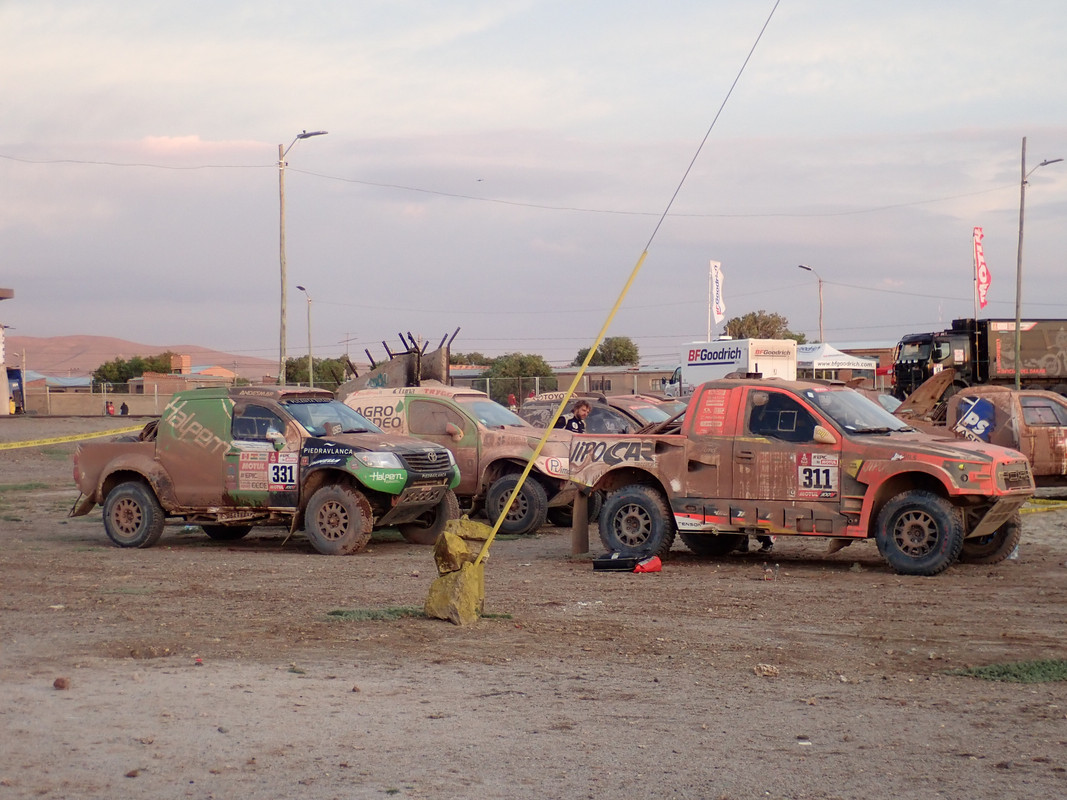 A big party was held in town that night.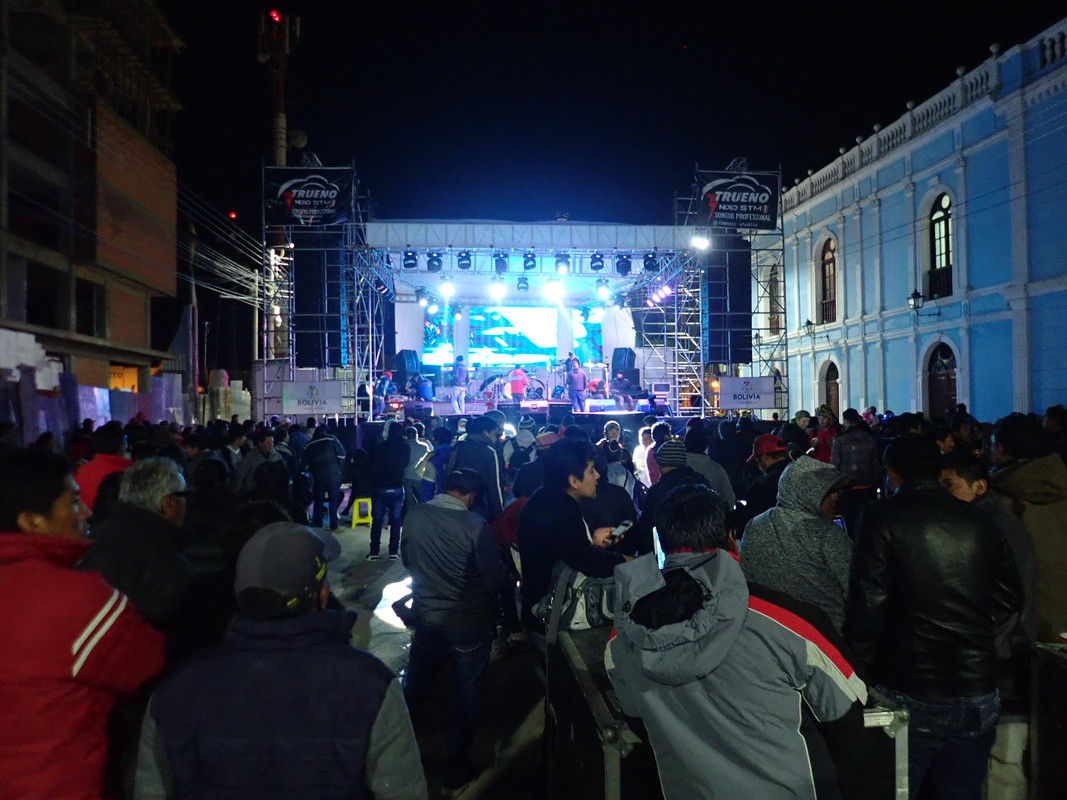 Racers and support vehicles were still rolling in late into the night.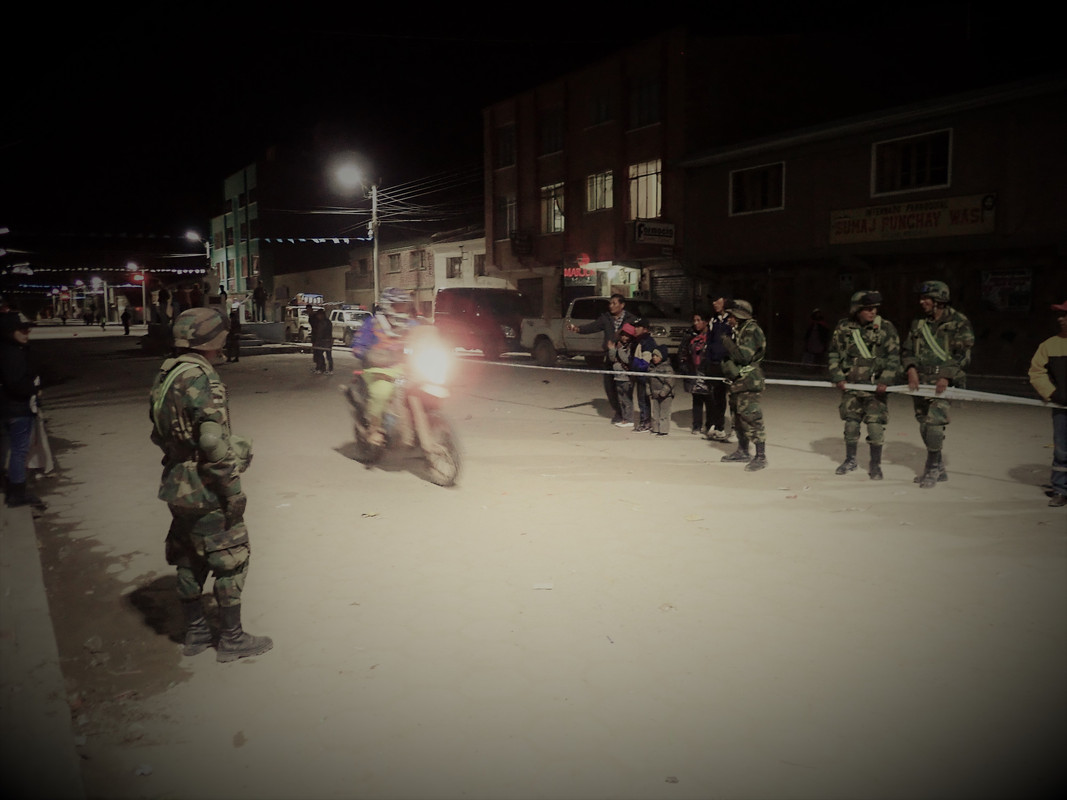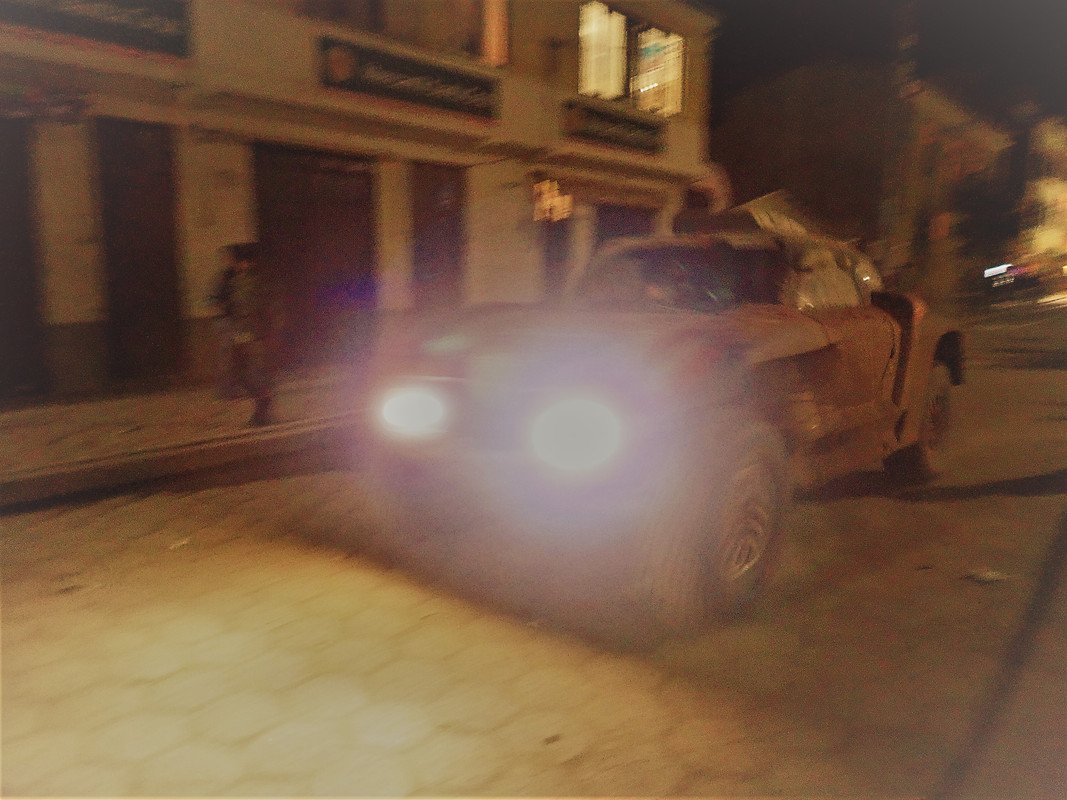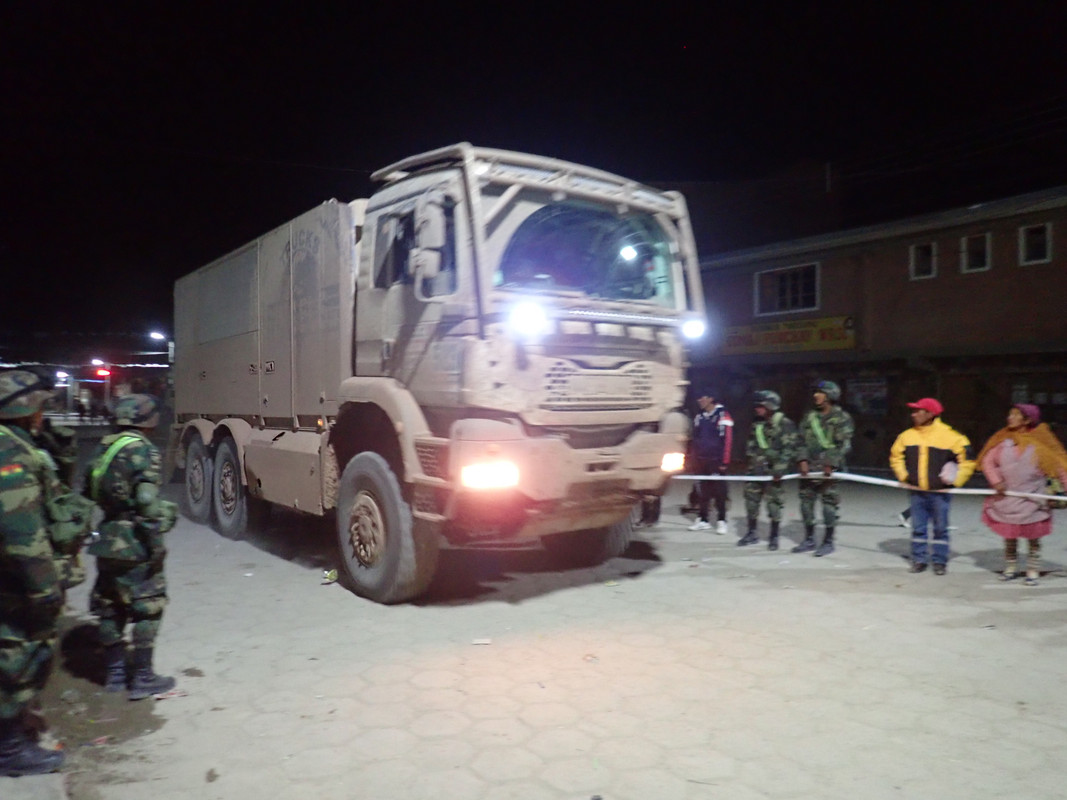 I just couldn't come all the way to Uyuni and not go on the Salar. So we stayed one more day and went on a 4×4 excursion.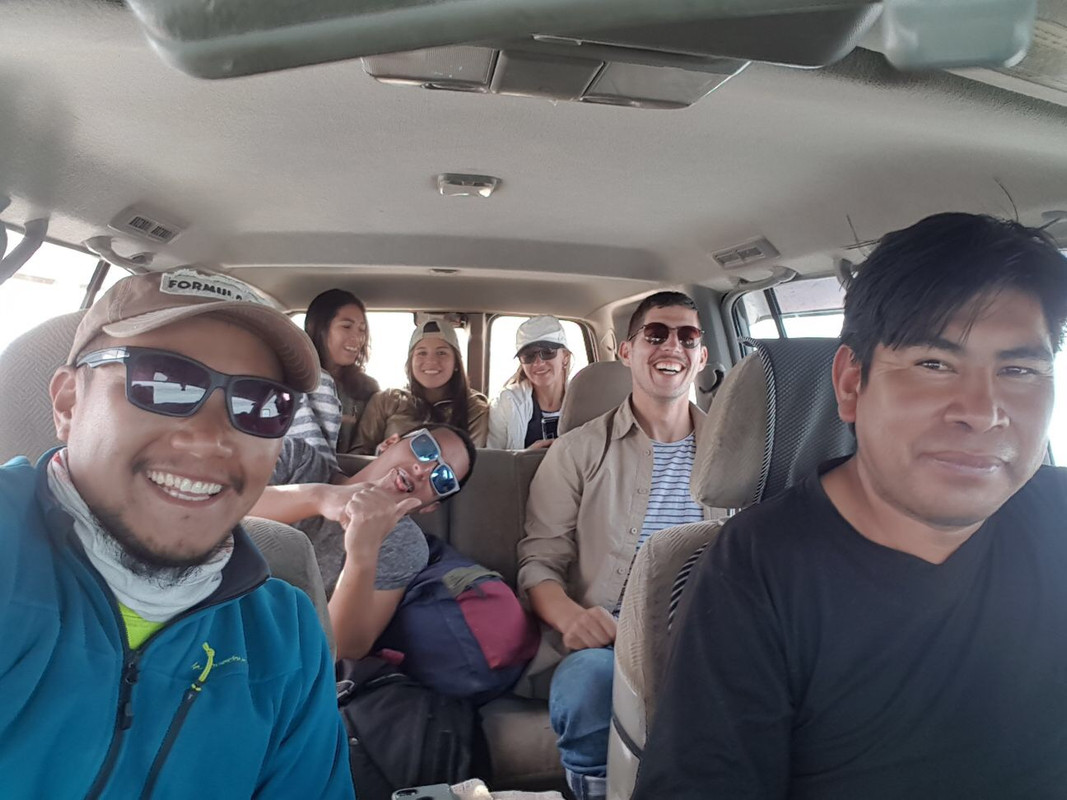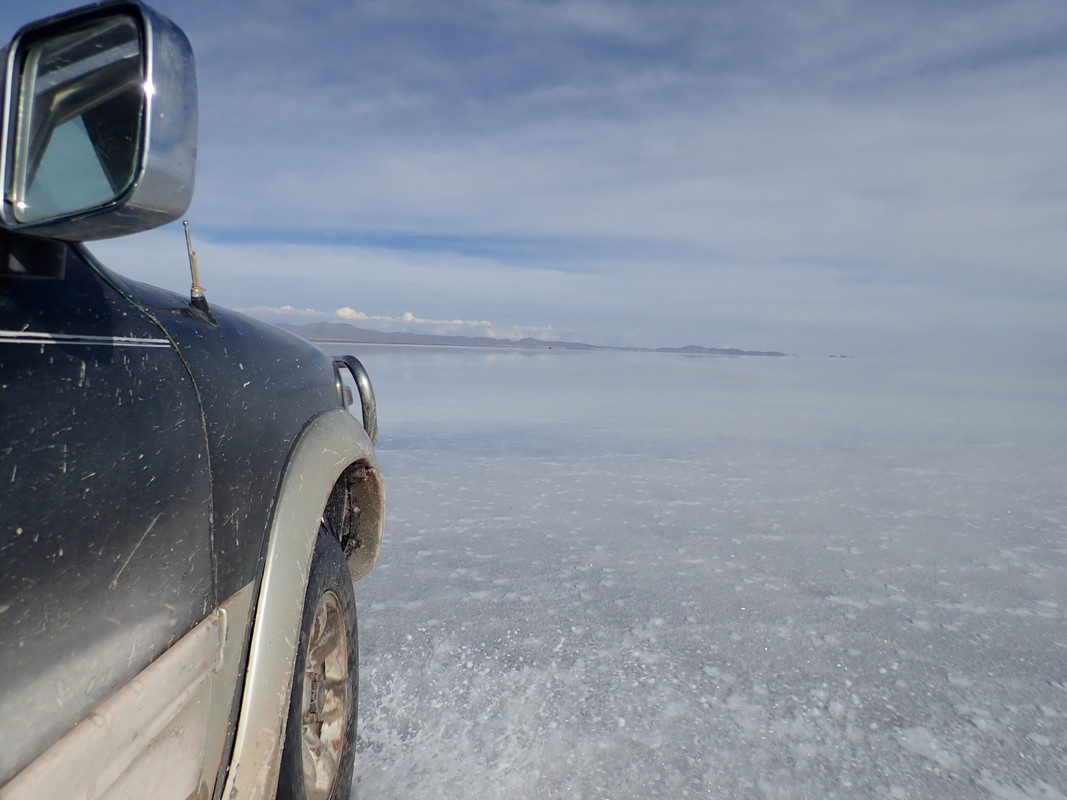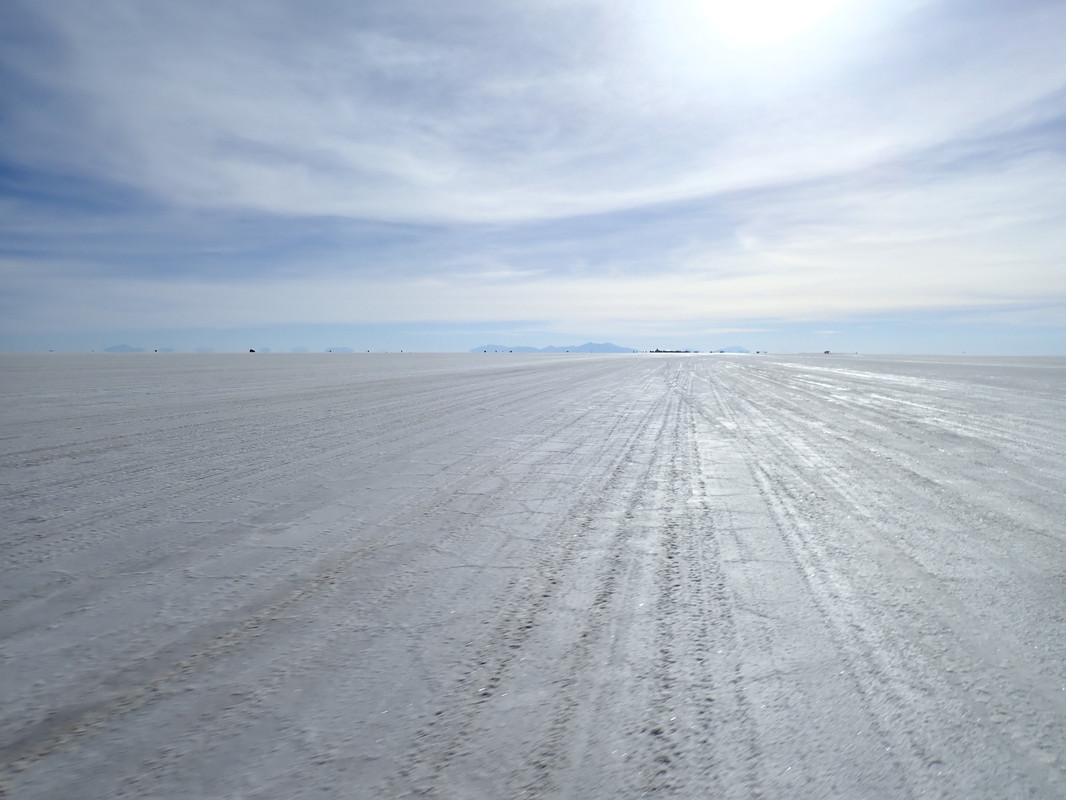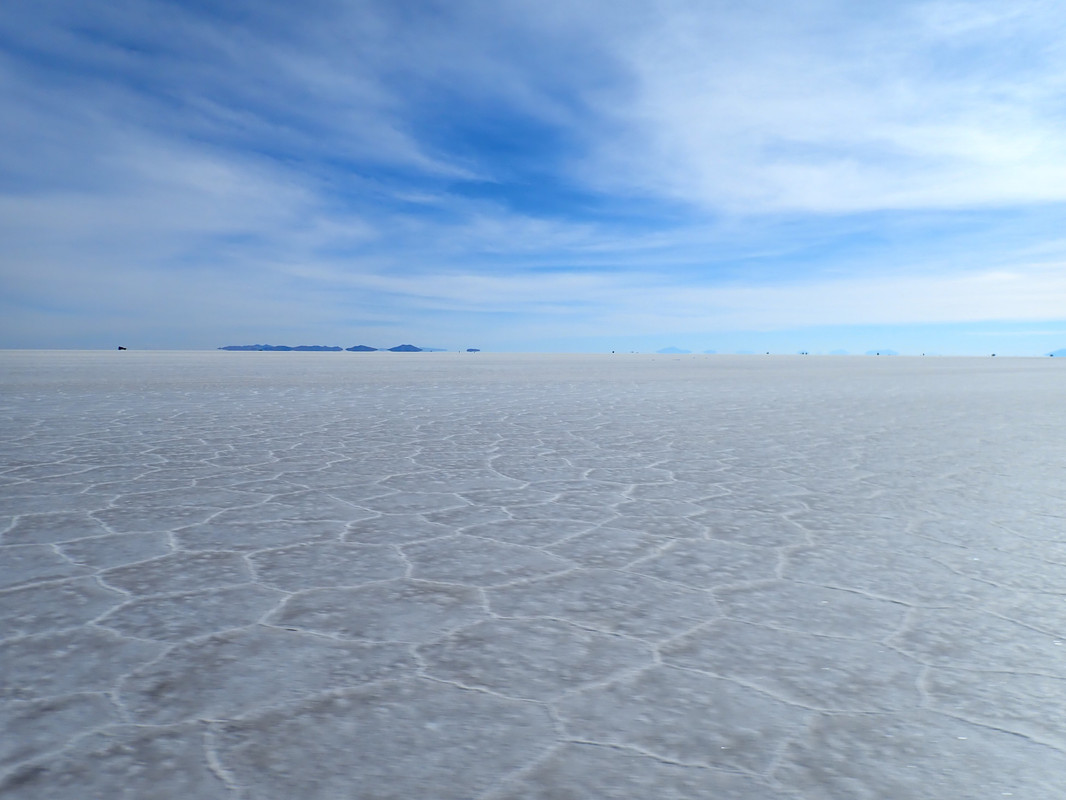 Dakar Monument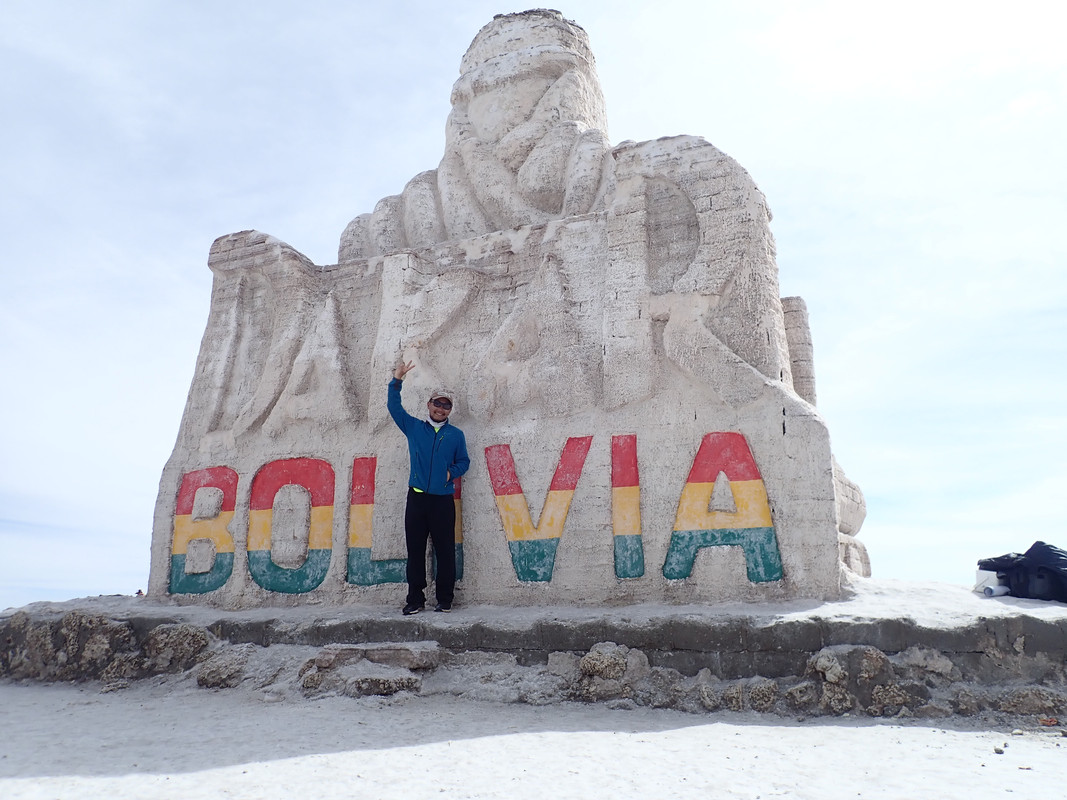 Flags of Many Nations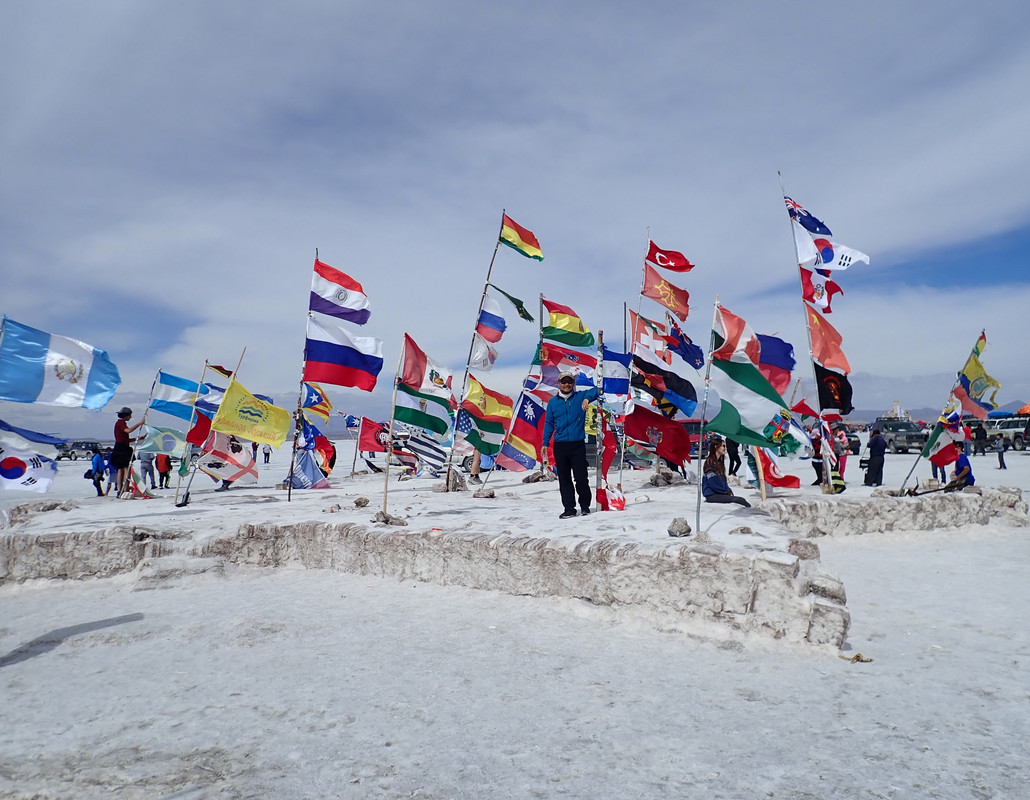 You have to take a few cheesy optical illusion photos on the salt flats…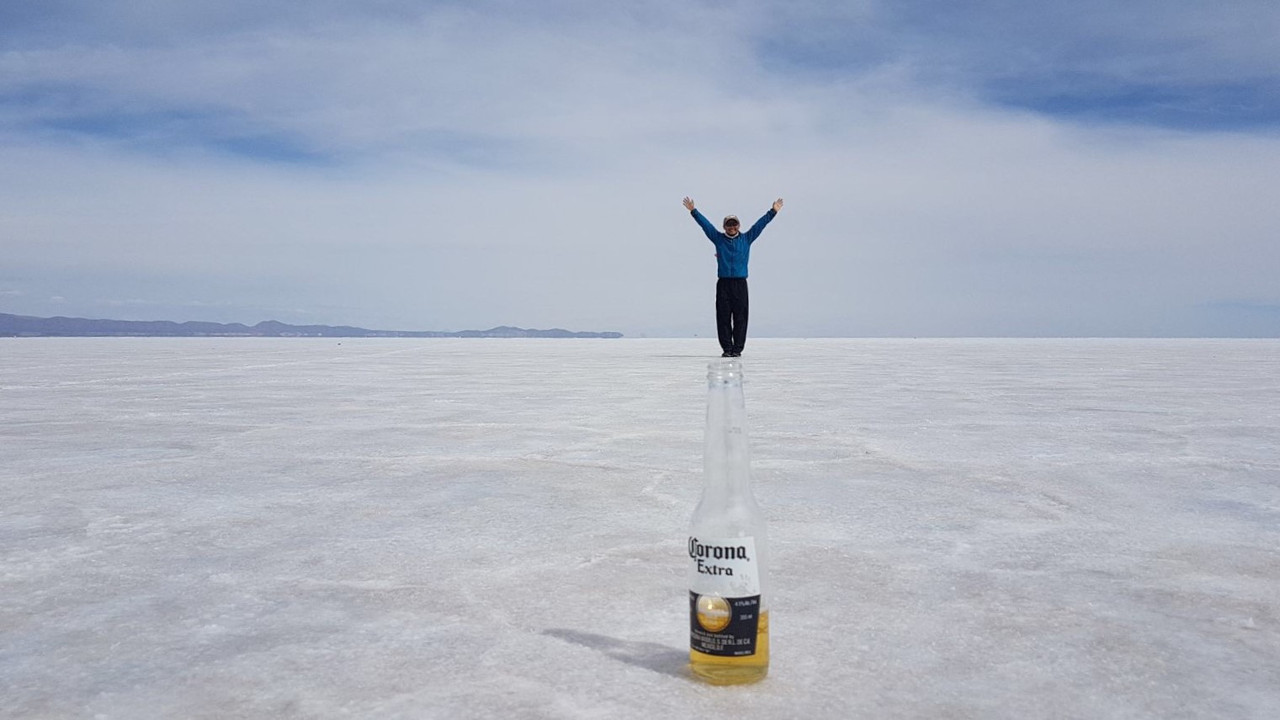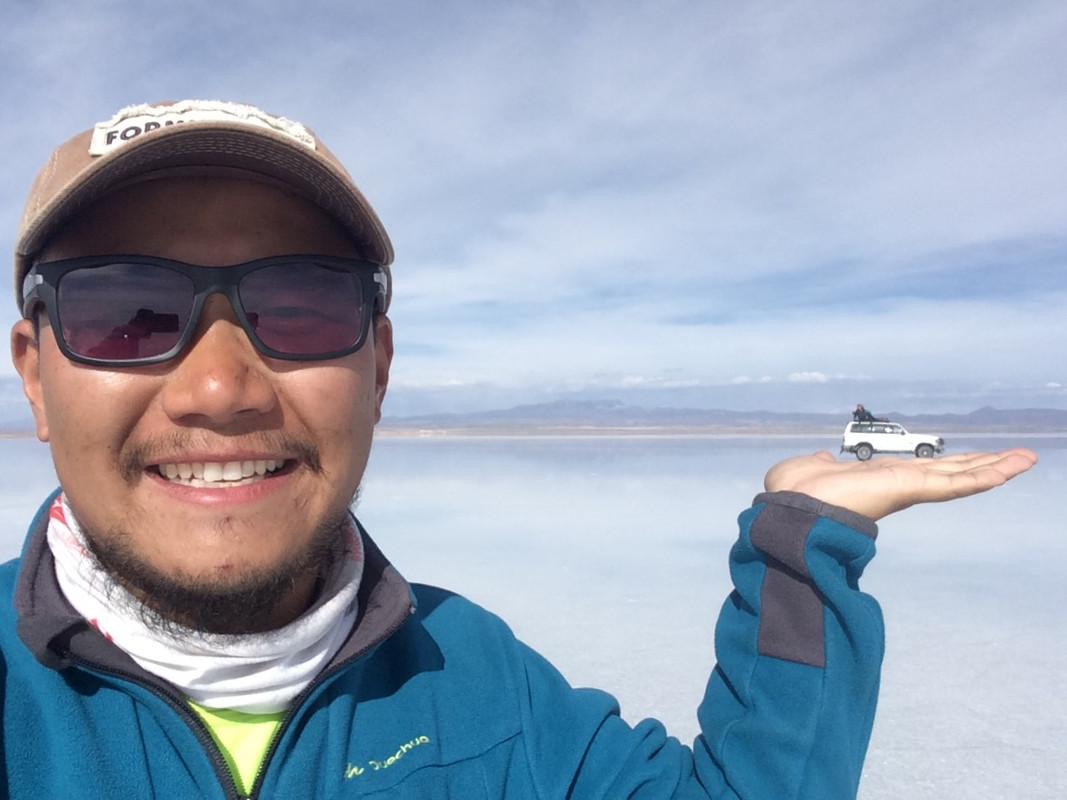 And this how cheesy optical illusion photos were made.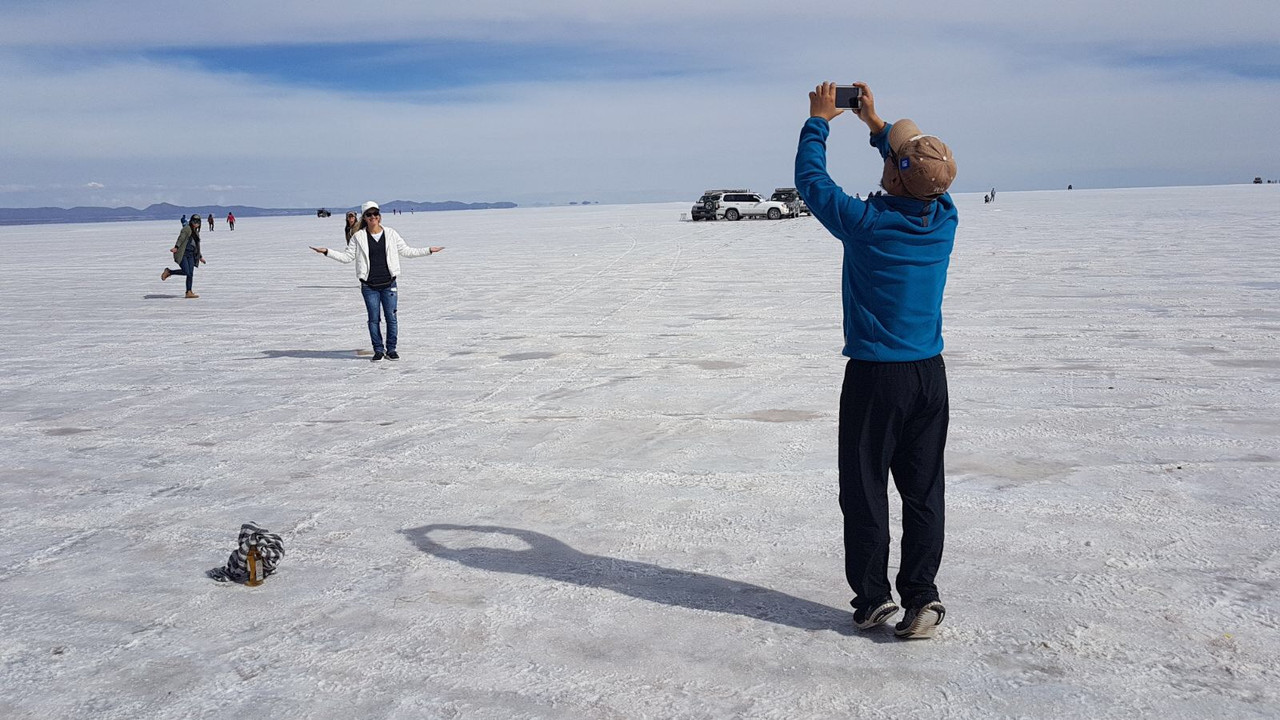 Then we went over to the wet area for the mirror effect.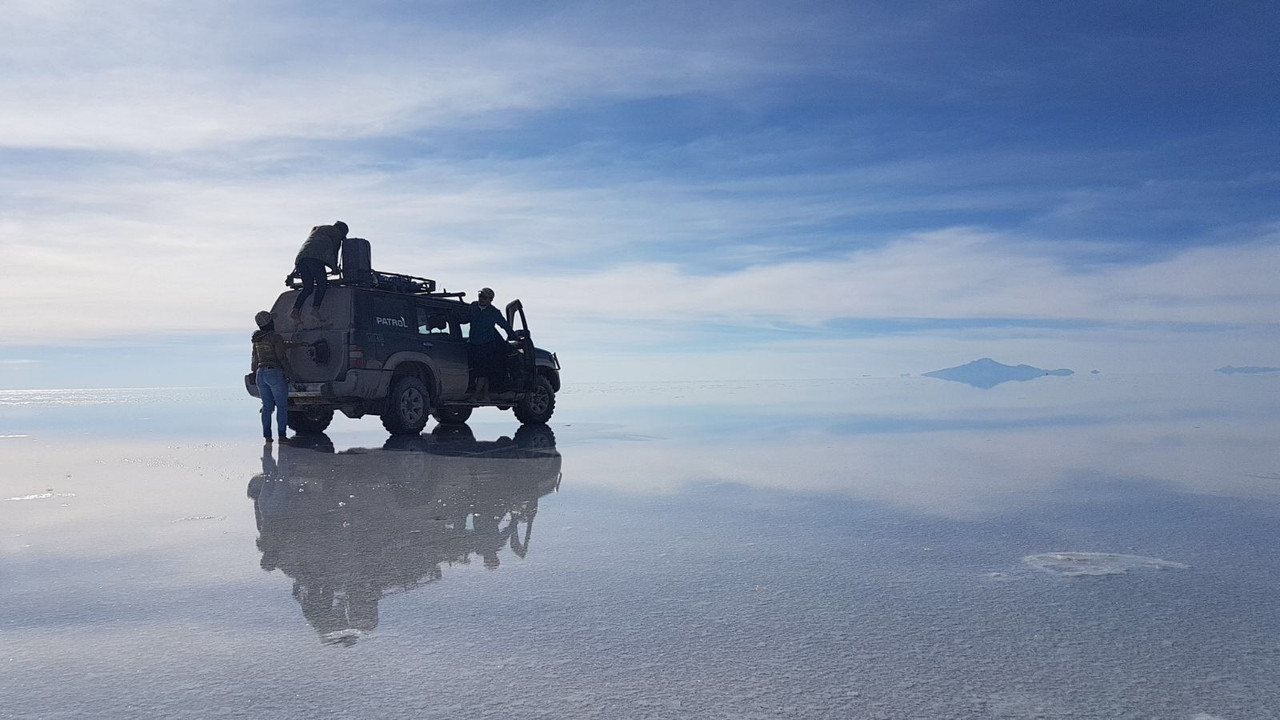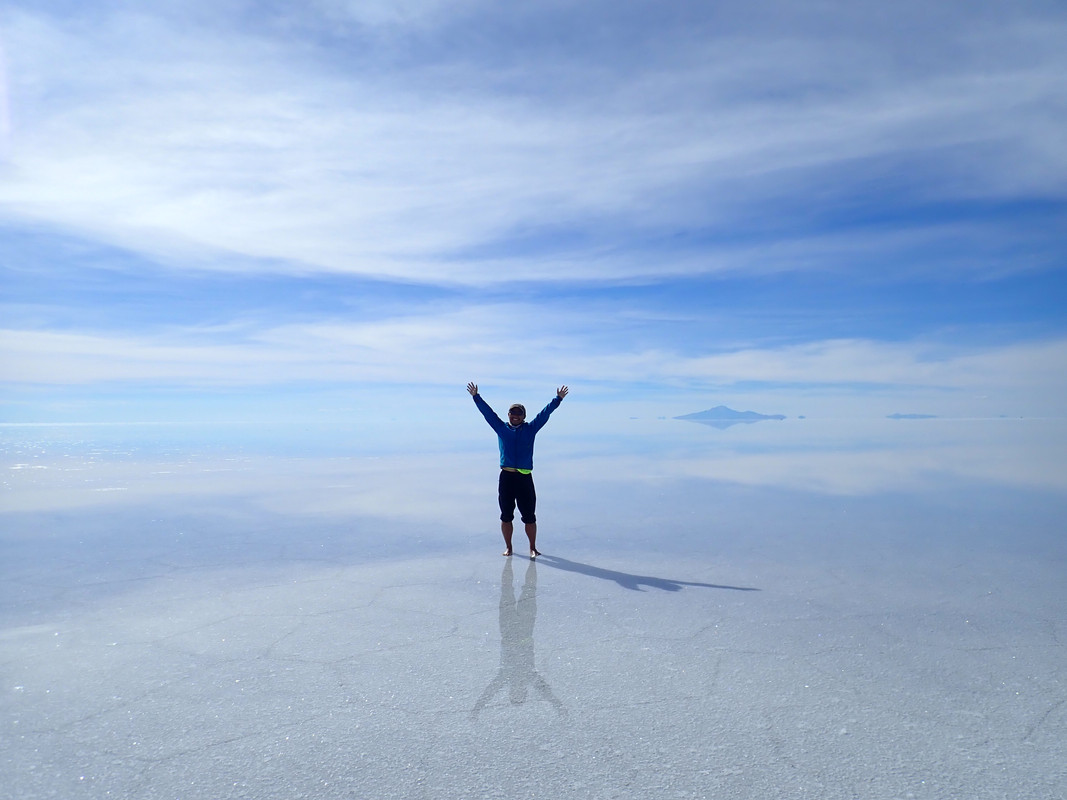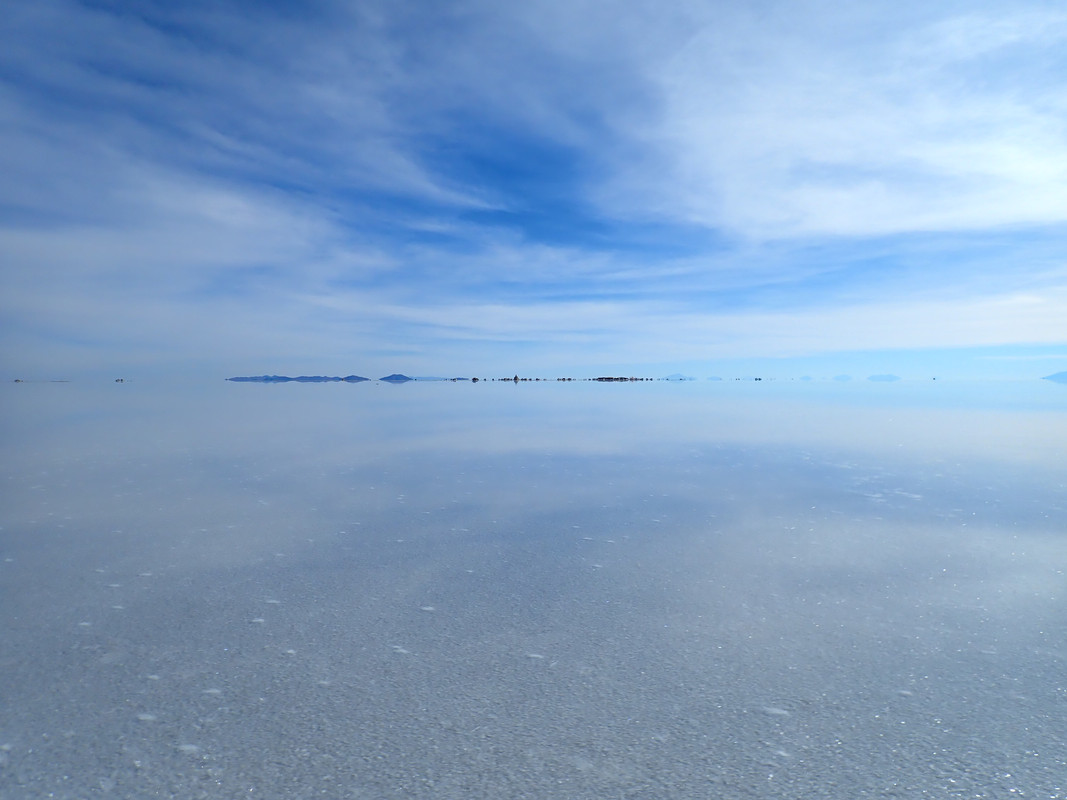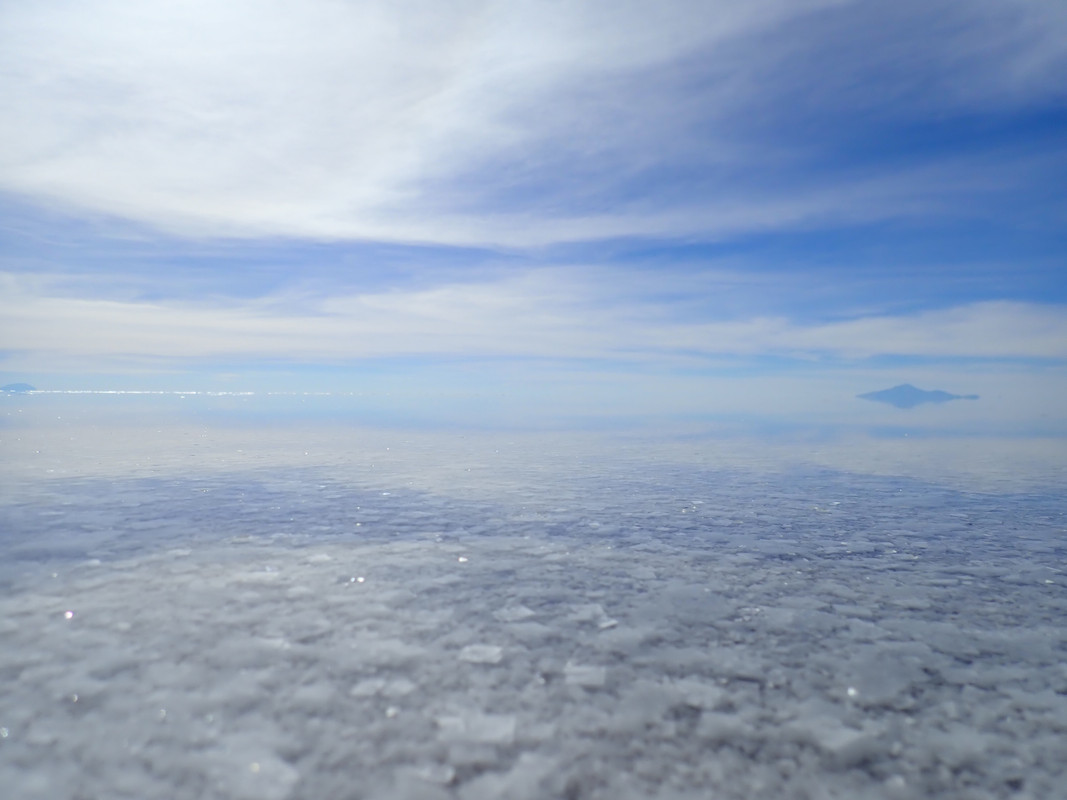 Salt crystals were painful to walk on bare feet. Laundry is also a must after a trip to the Salar.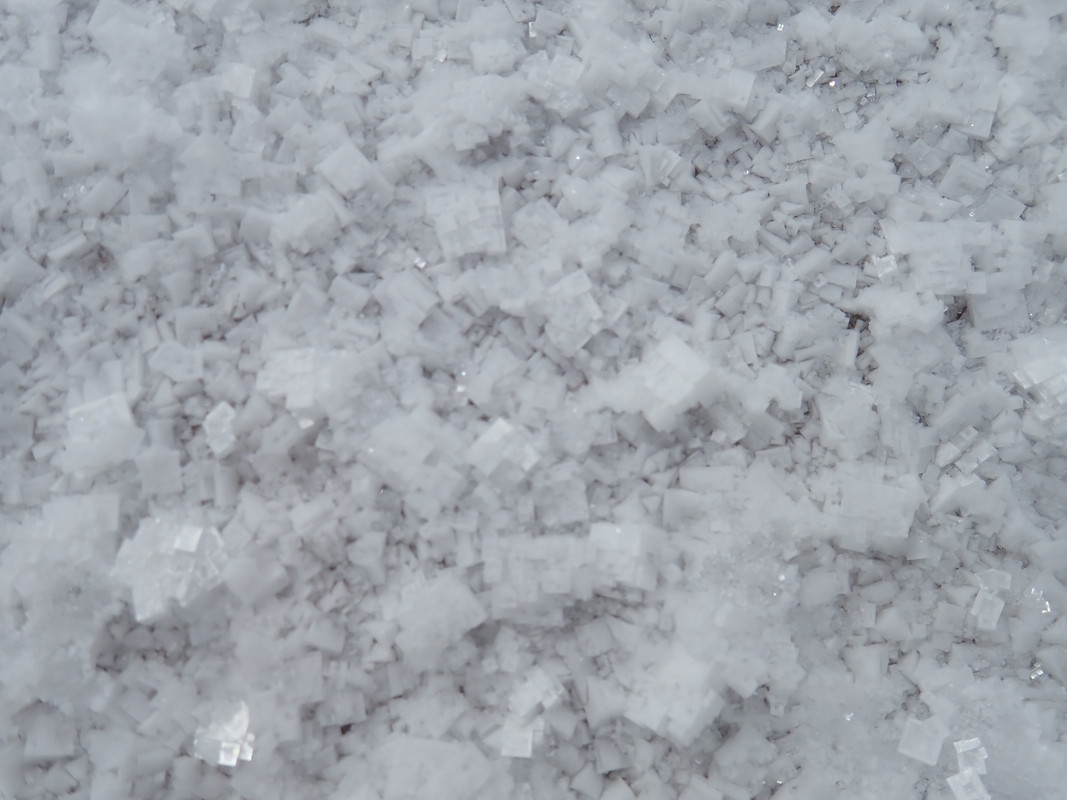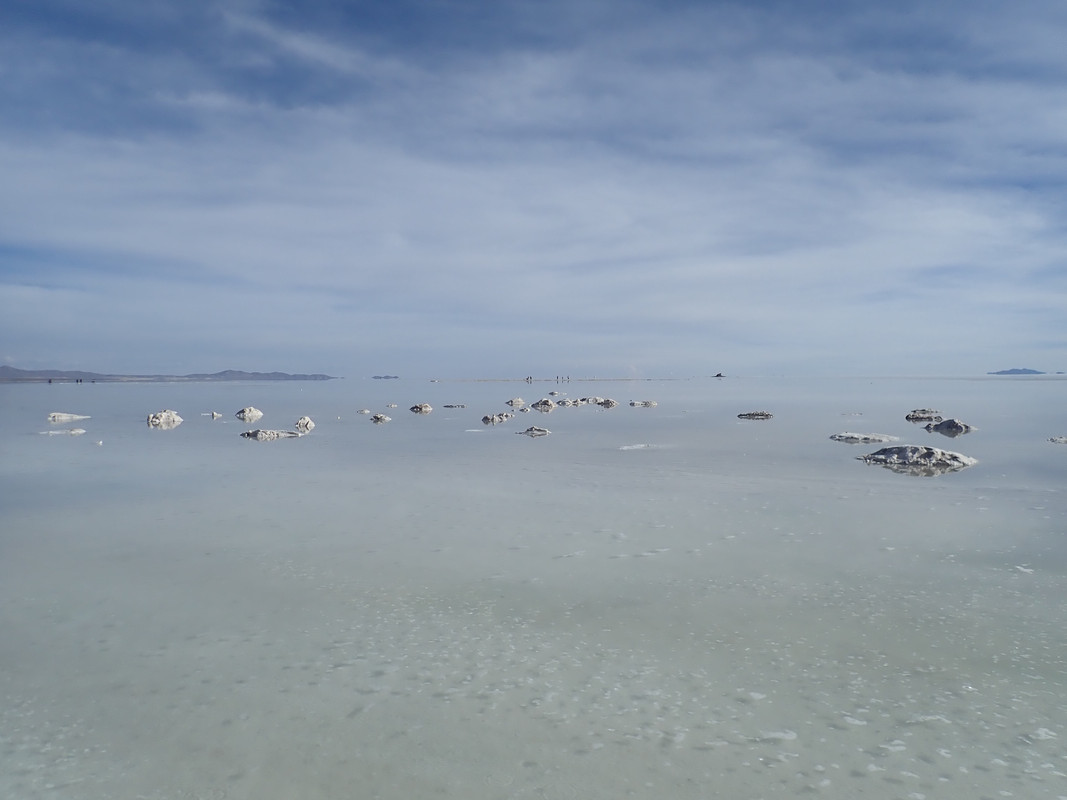 Salar de Uyuni is truly a natural wonder and I'm glad that I got to experience it. It's time to move further south toward the Argentinean border. I contemplated crossing into Chile but just had enough of the dusty desert. Southern Bolivia on the other hand had some fascinating landscapes.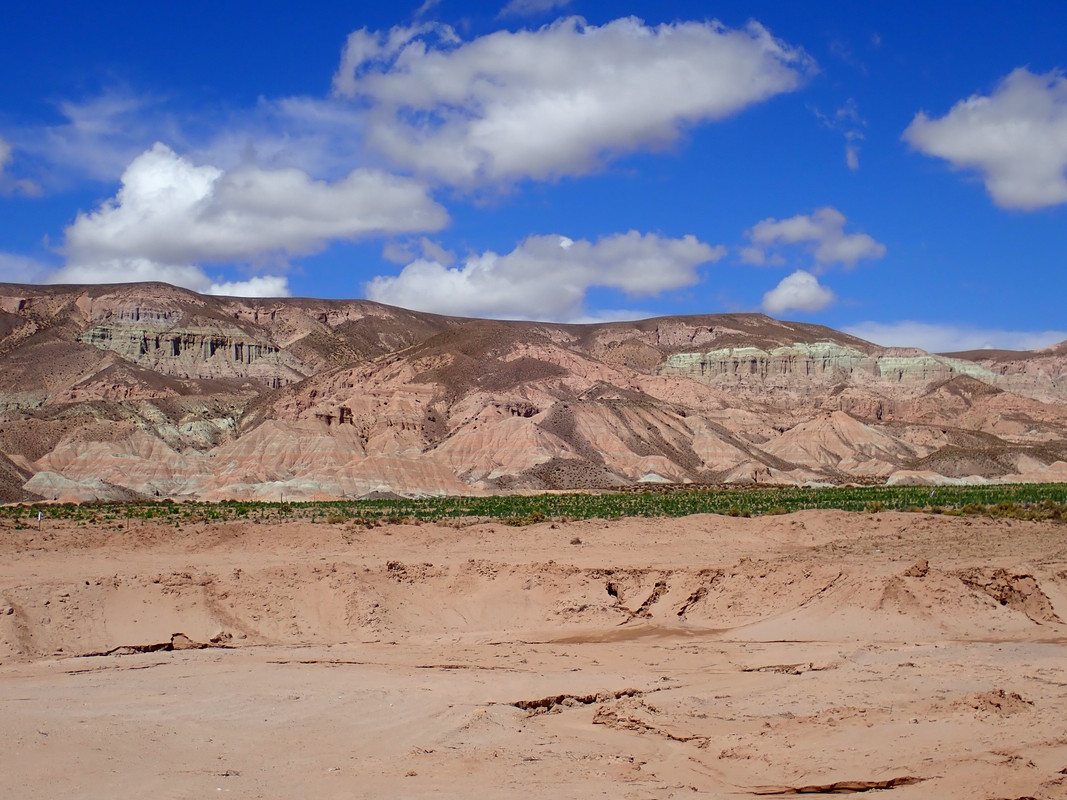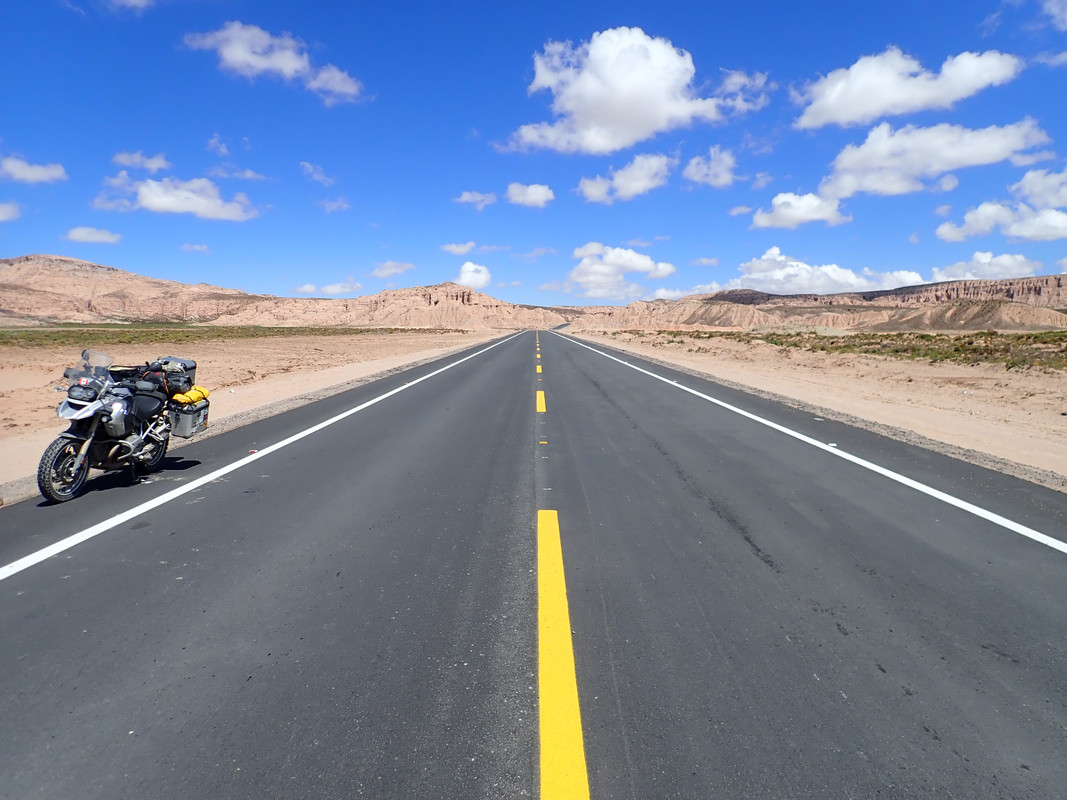 Fresh blacktop didn't last long before it turned into dirt and construction. This detour went along a sandy riverbed which made for a white-knuckled ride as I wrestled the 600 lb beast.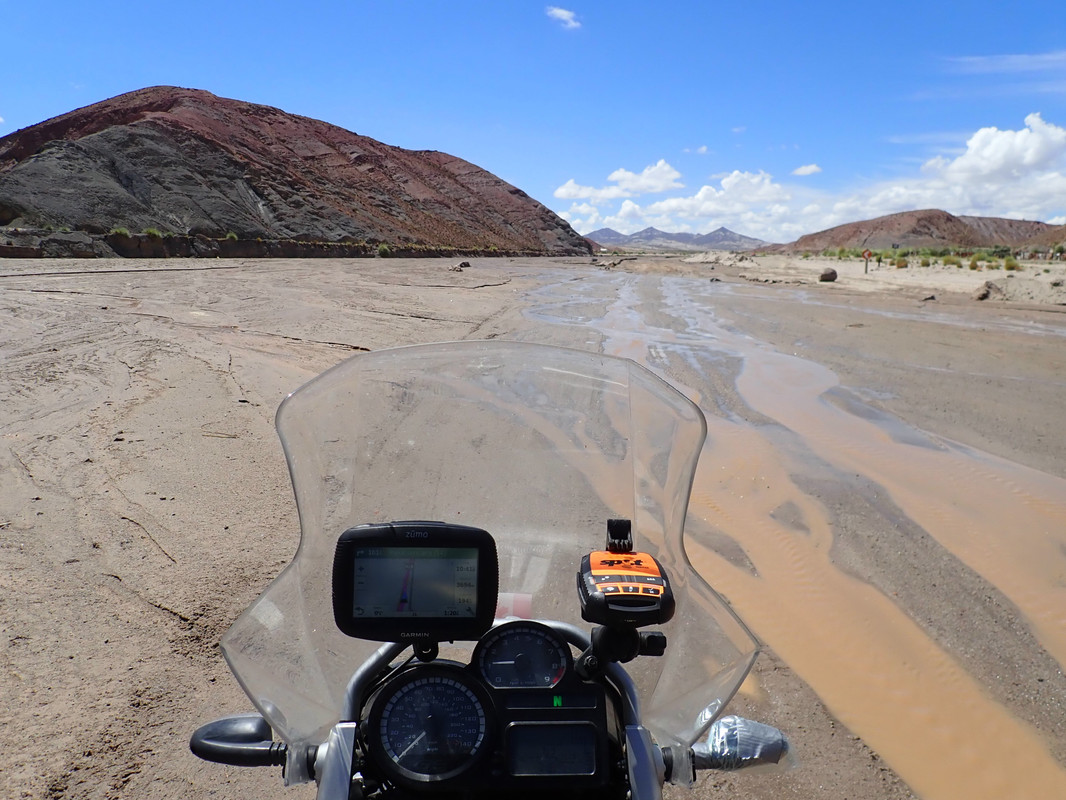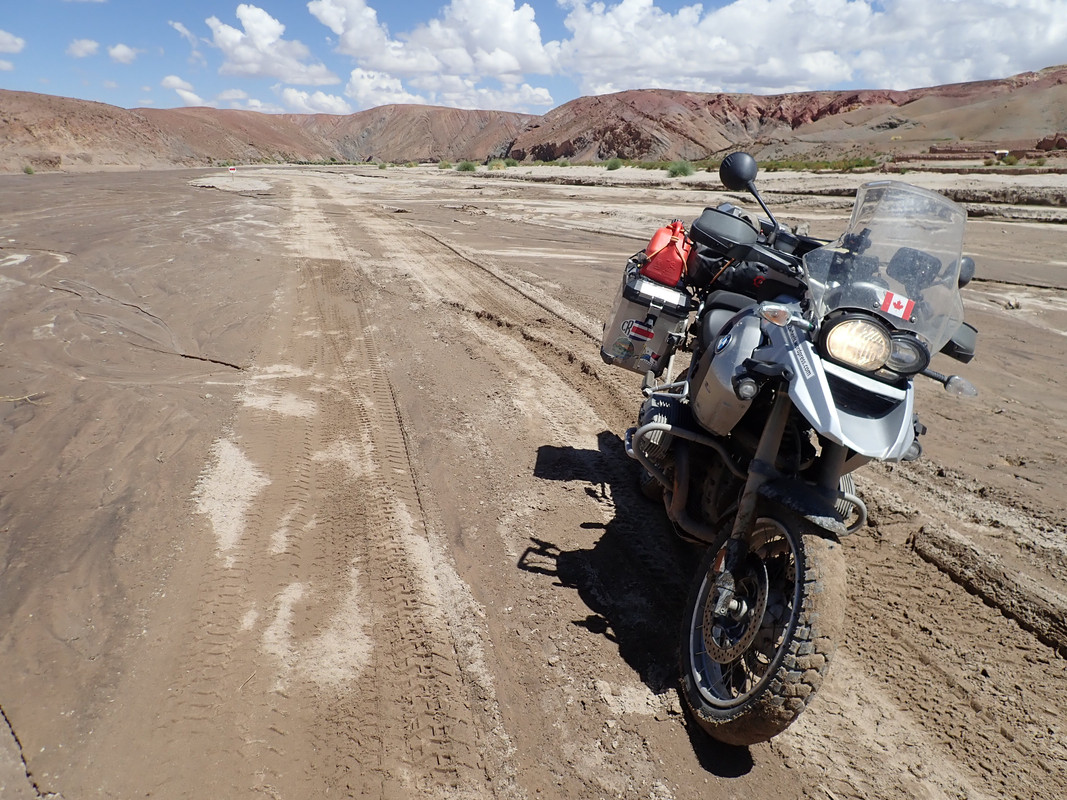 Sure, throw some hail in here too…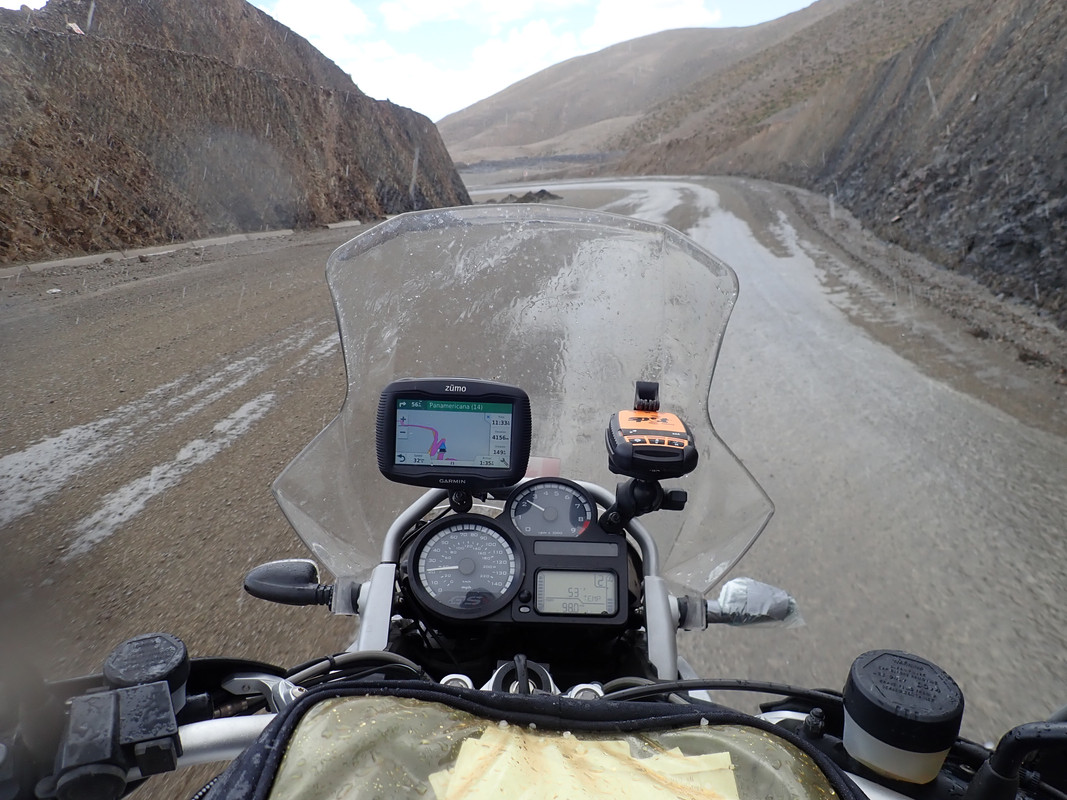 Weather changed for the better with some elevation drop. There are lots of interesting rock formations in the area.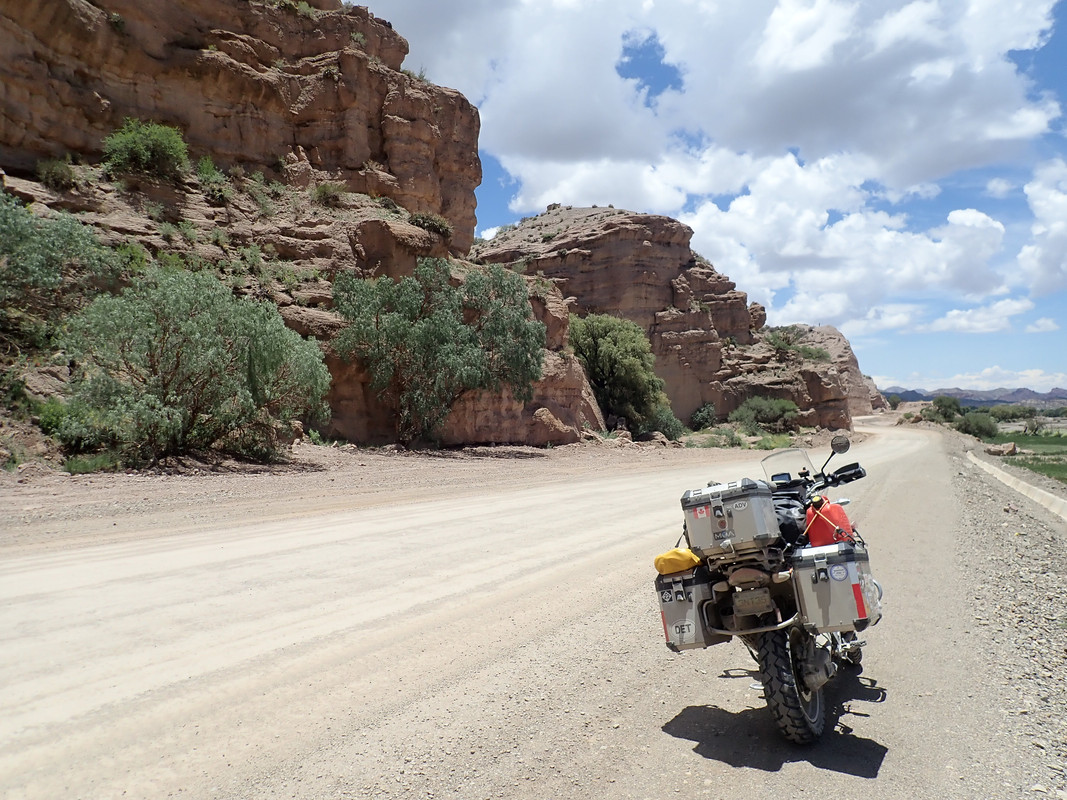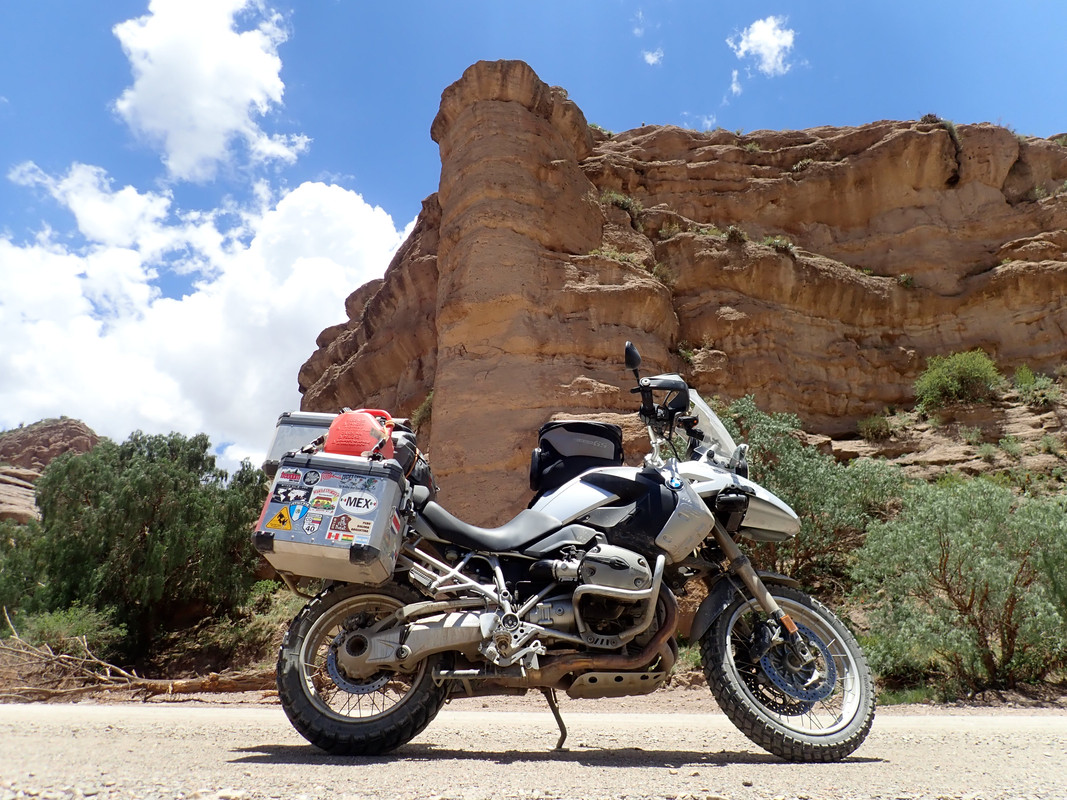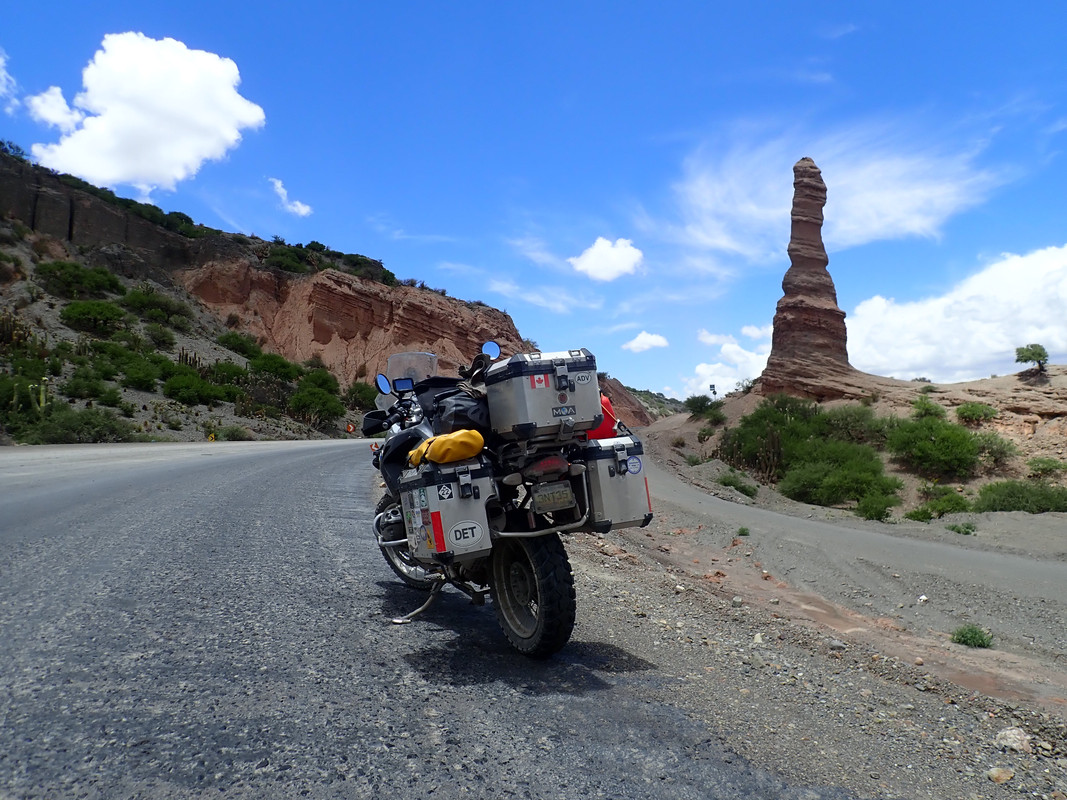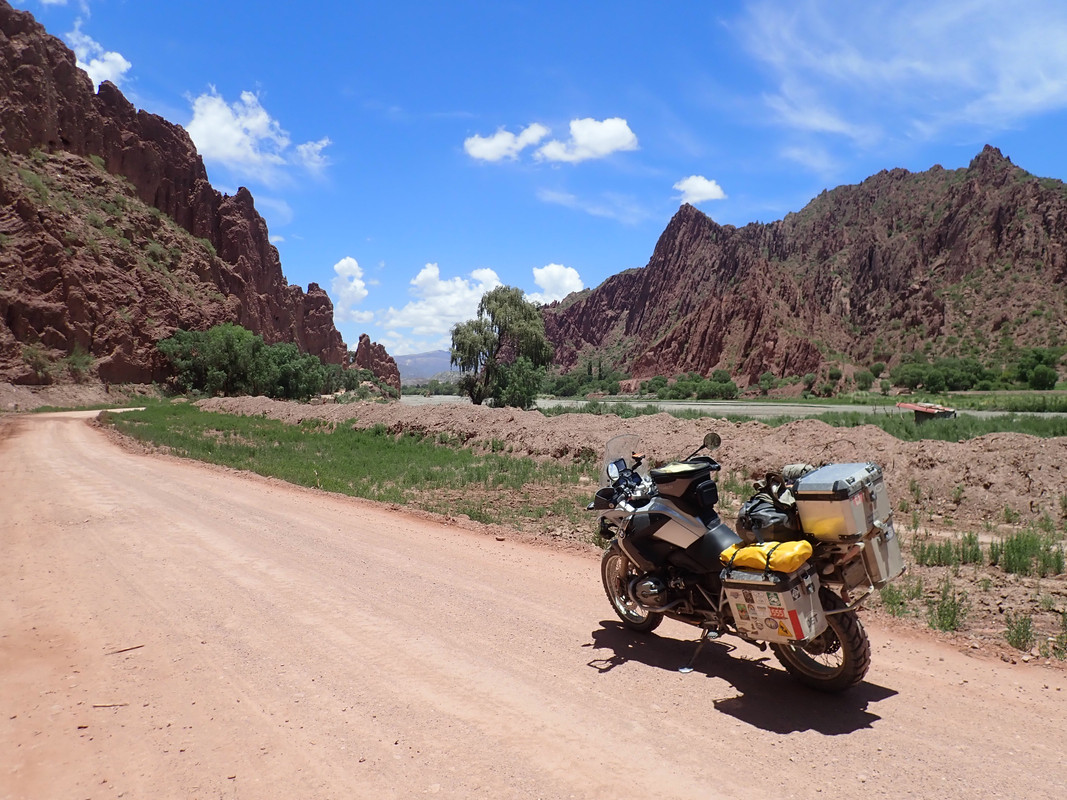 I hope you enjoyed this long update as decent Wi-Fi is scarce in Bolivia. I'm super excited to be crossing into Argentina tomorrow…bring on the steak and wine Mr. Gaucho!