Machu Picchu needs no introduction and it has been on my list for awhile. There is no road going to the town of Aguas Calientes at the base of Machu Picchu so the options are to either take the train from Cusco (Poroy station) or hike the railroad tracks from Hidroeléctrica. Both Derrick and I splurged on the $160 roundtrip via Perurail Vistadome for the full experience. It may sound steep but taking the rail truly felt like high class travel. Besides it was nice to enjoy the scenery without having to constantly focus on the road for a change.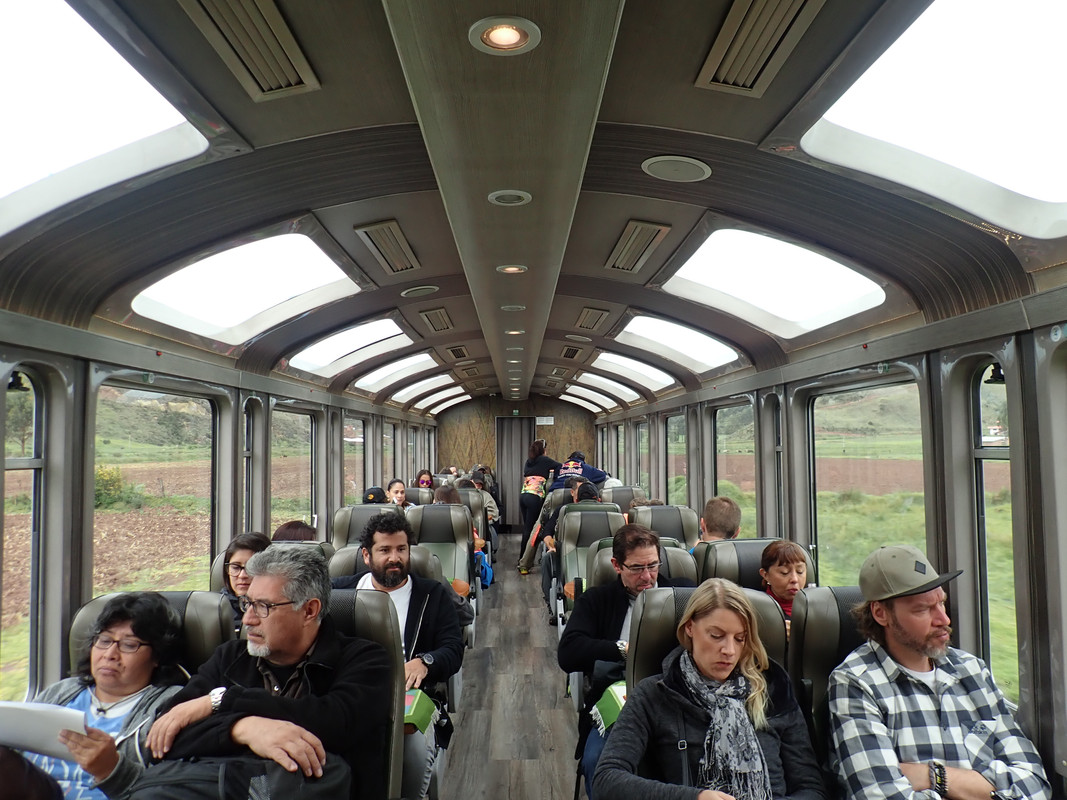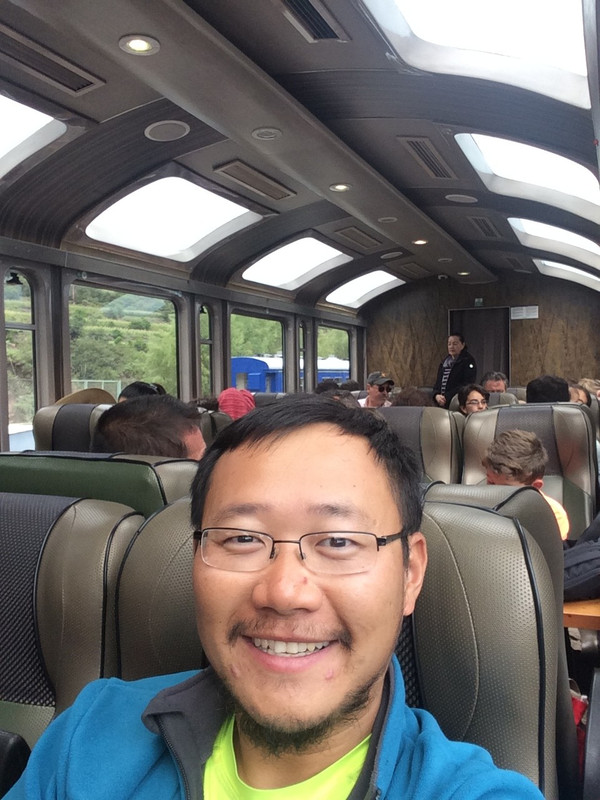 The train went back and forth a few times onto a lower set of tracks along the mountainside to drop in elevation…sort of like switchbacks for trains if you will. The tracks followed Urubamba River in the Sacred Valley for the most part.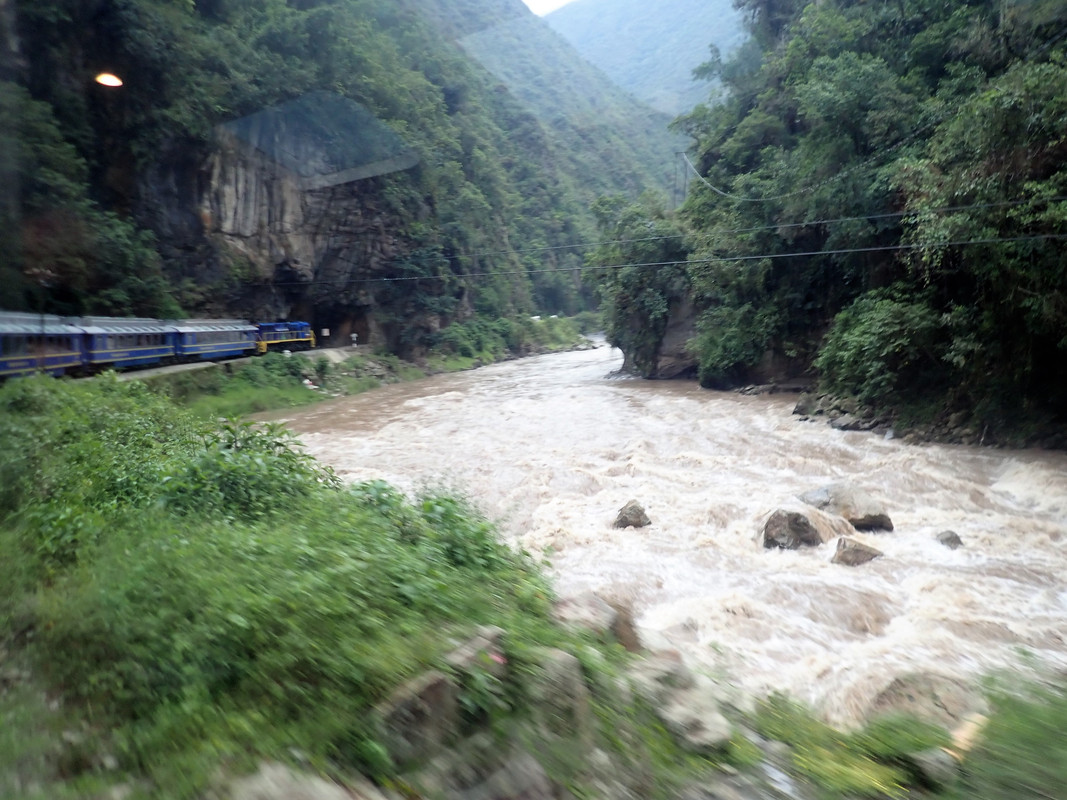 There are some strange buildings clinging onto the cliff edge. A quick research showed they are 'Skylodge Adventure Suites'.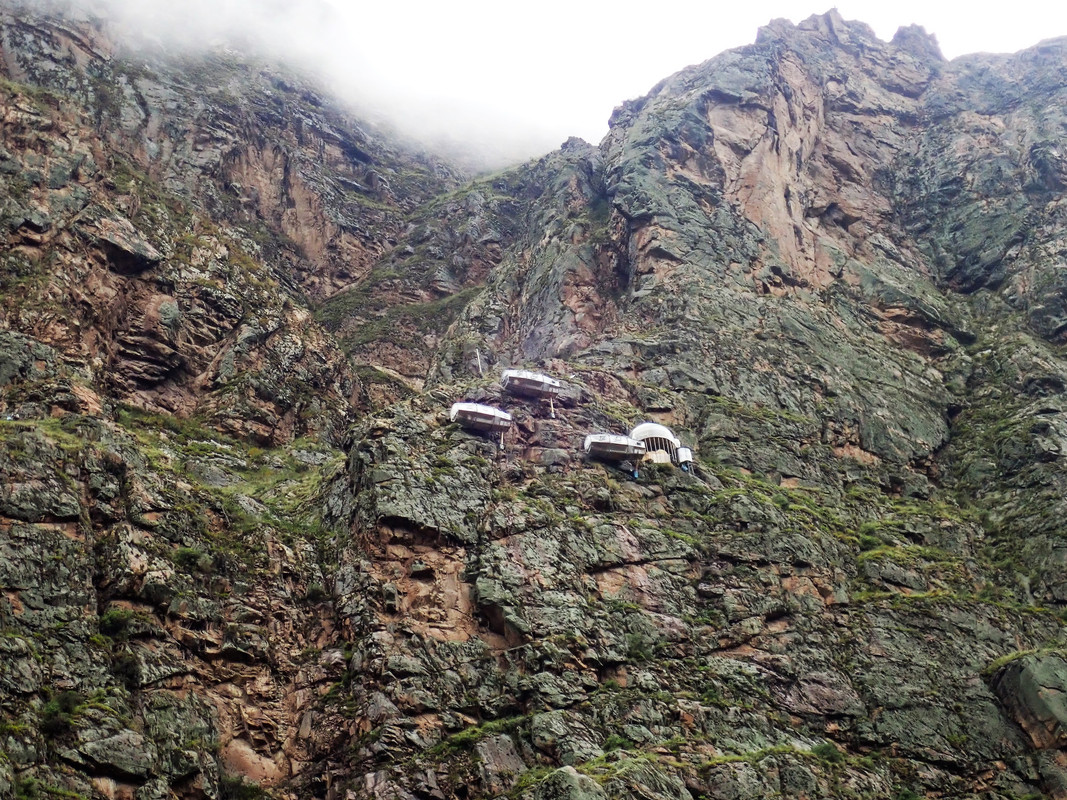 It took about 3 hours of leisure train ride to cover the 112 km from Poroy to Aguas Calientes.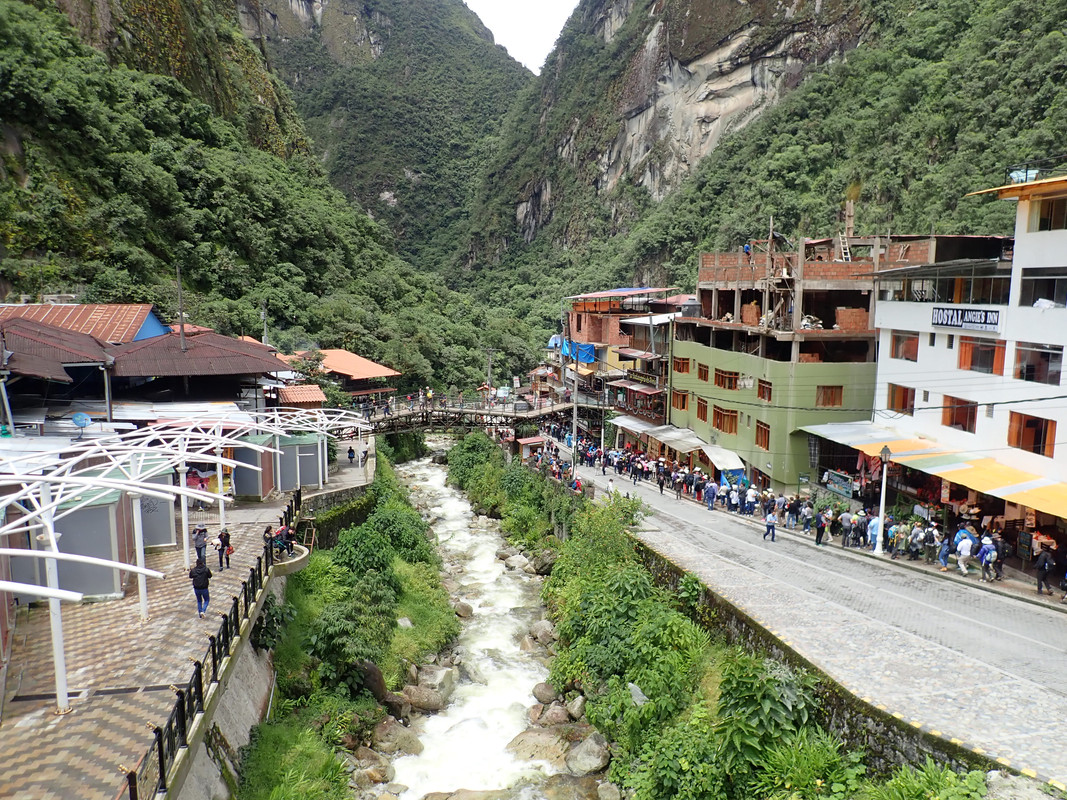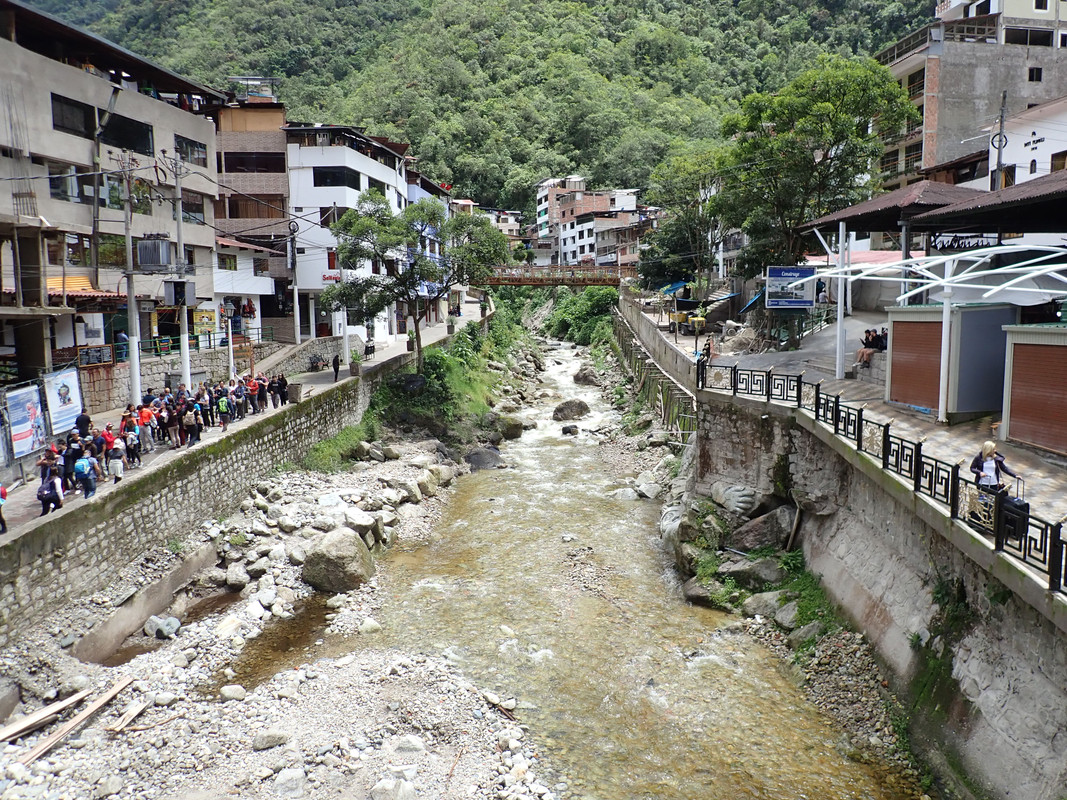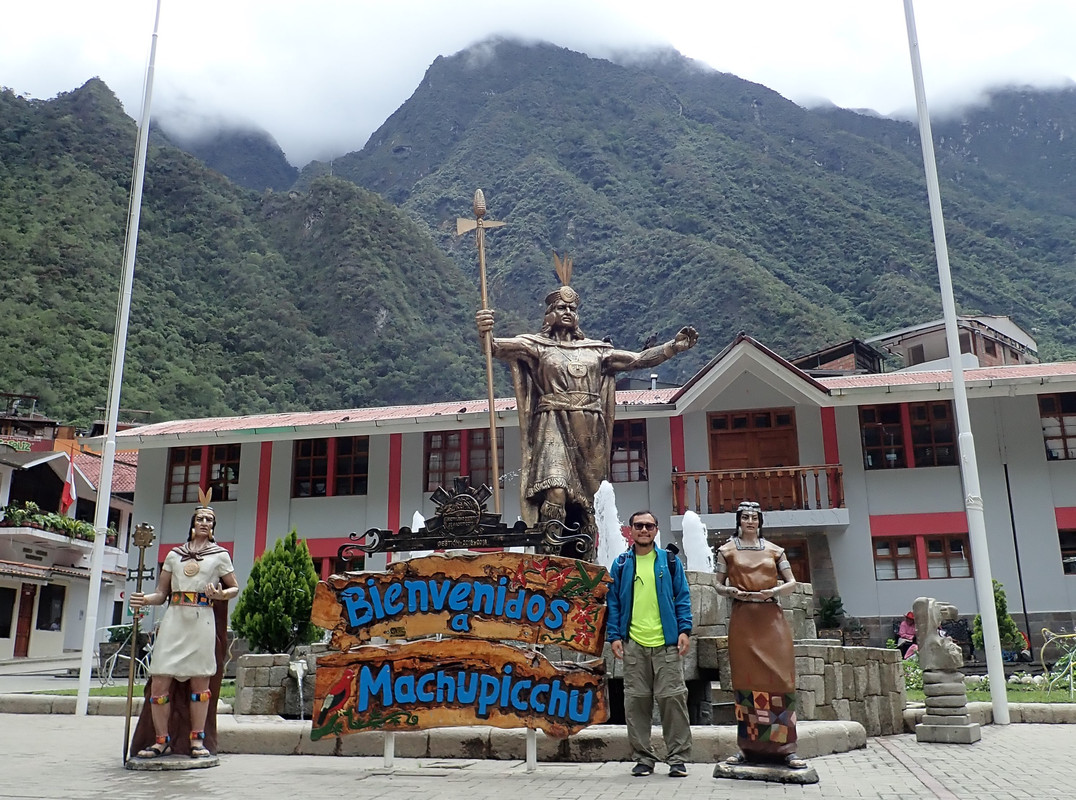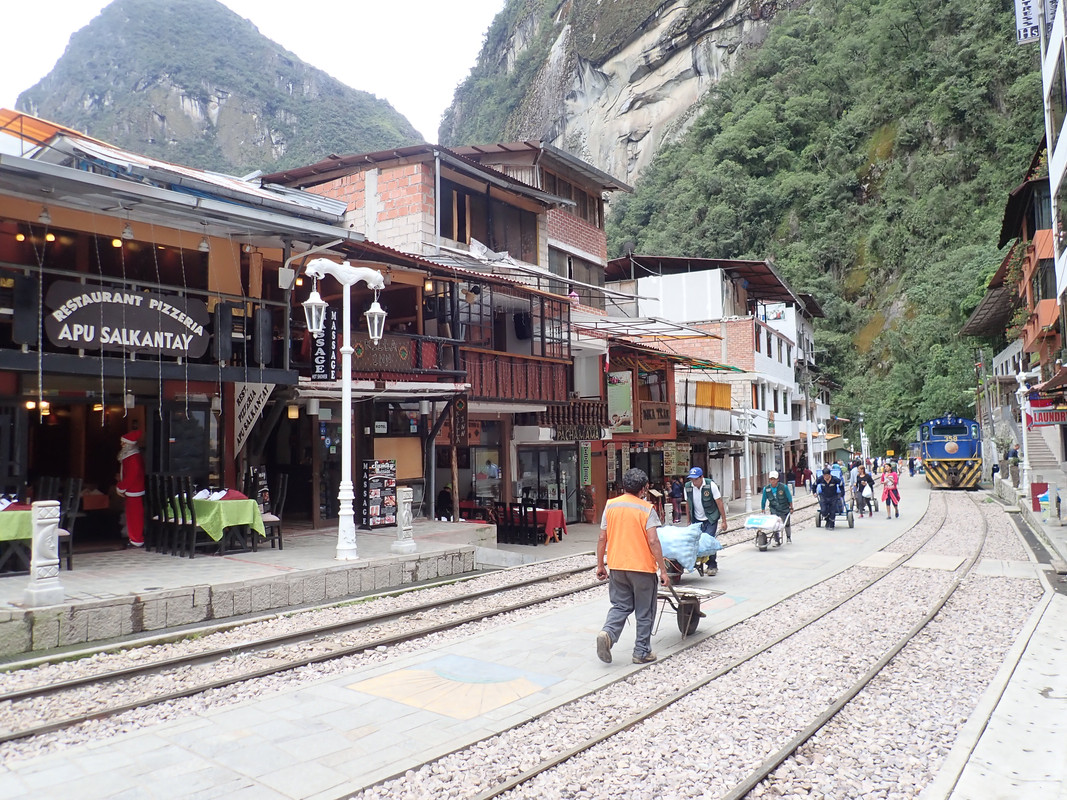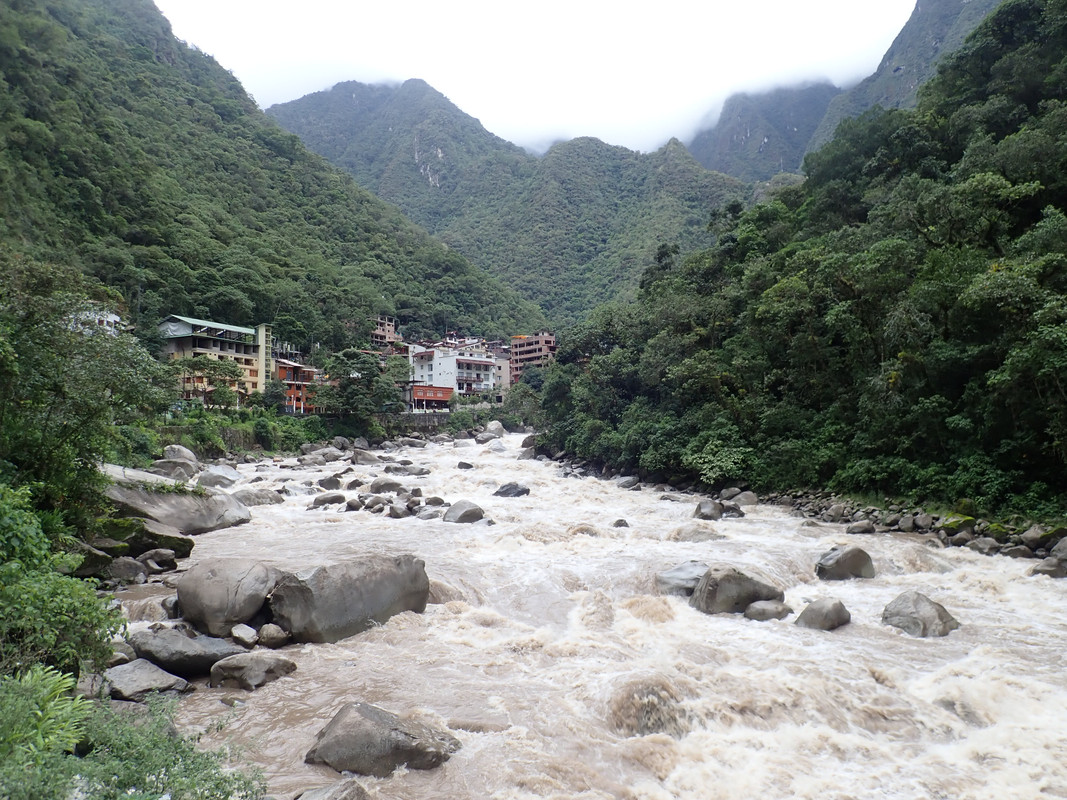 We hiked the railroad tracks to Los Jardines de Mandor to make the most out of the day.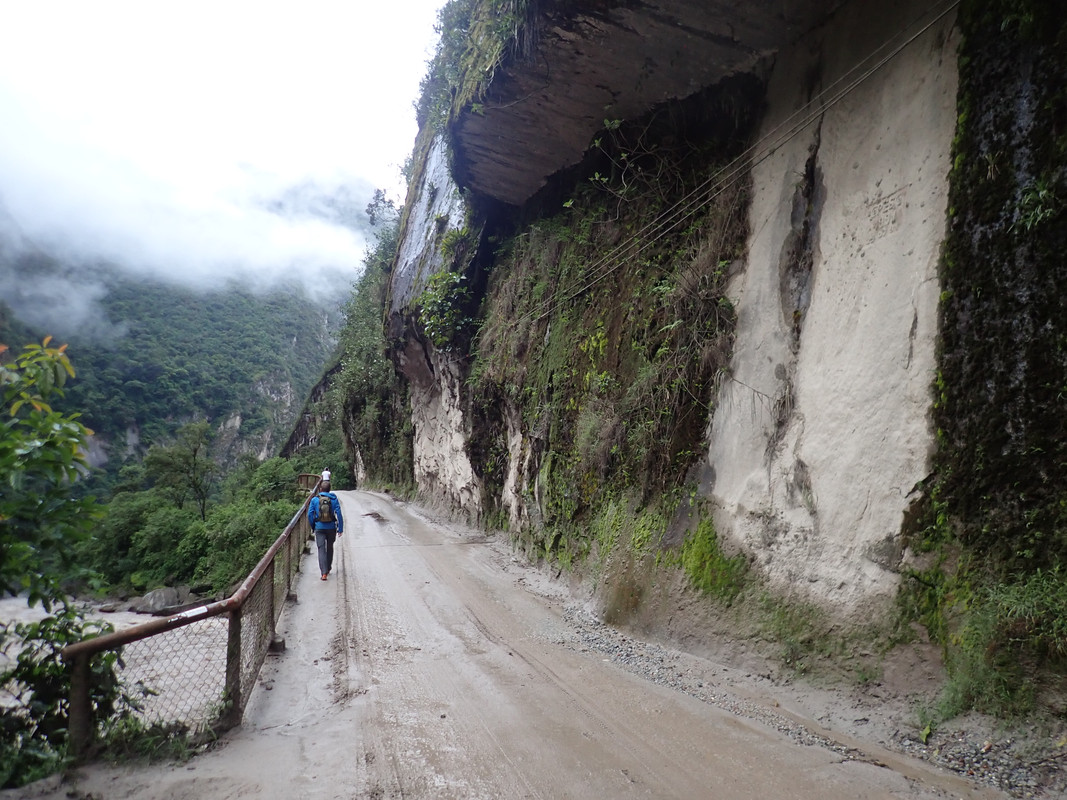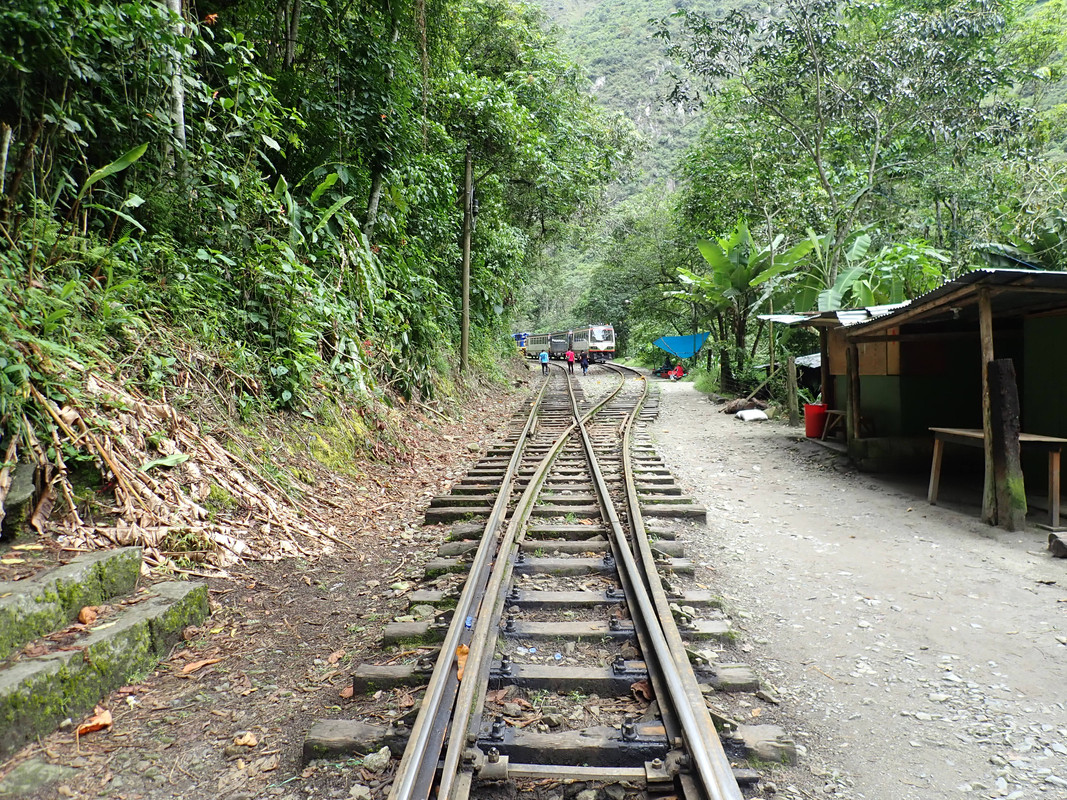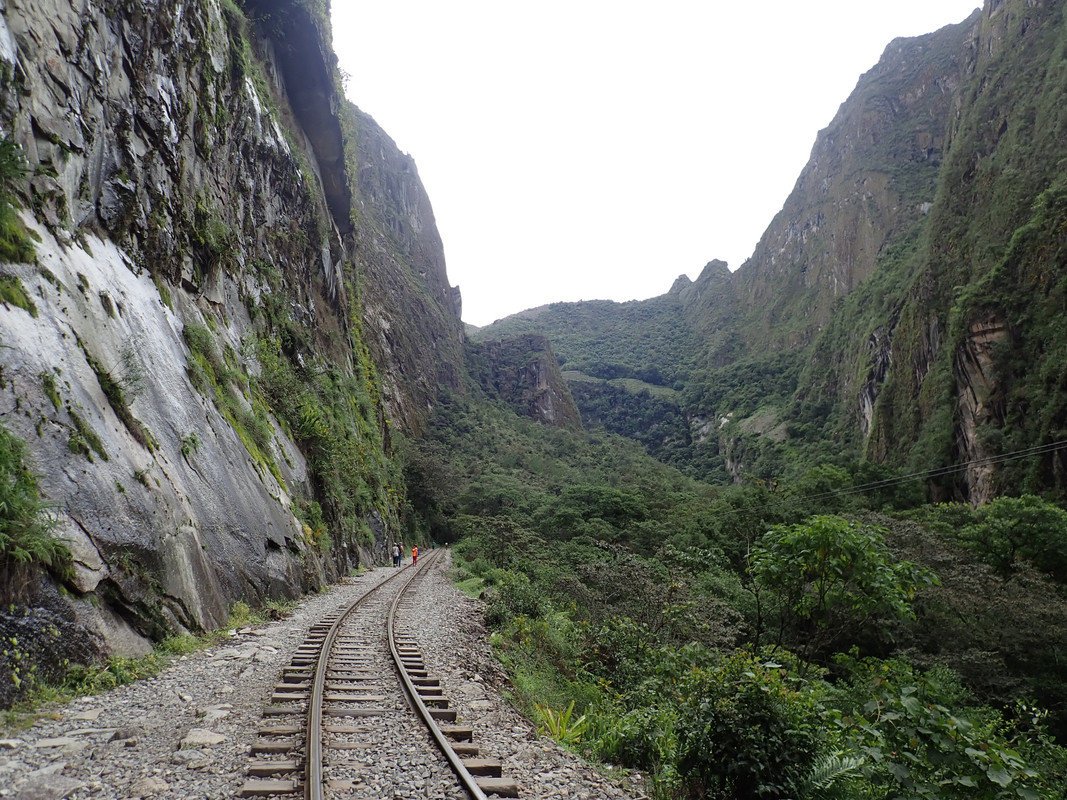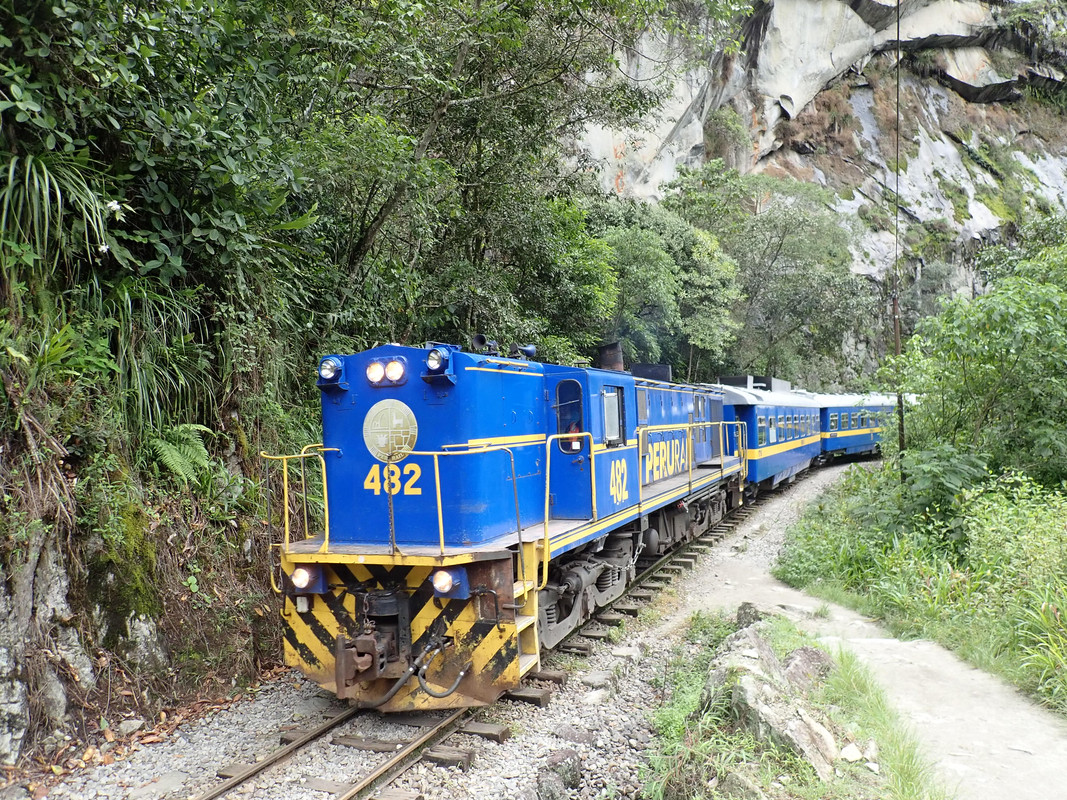 Hiking through the humid and dense vegetation of Los Jardines de Mandor reminded us of Central America. Farm boy Derrick taught me a thing or two about different species of flowers.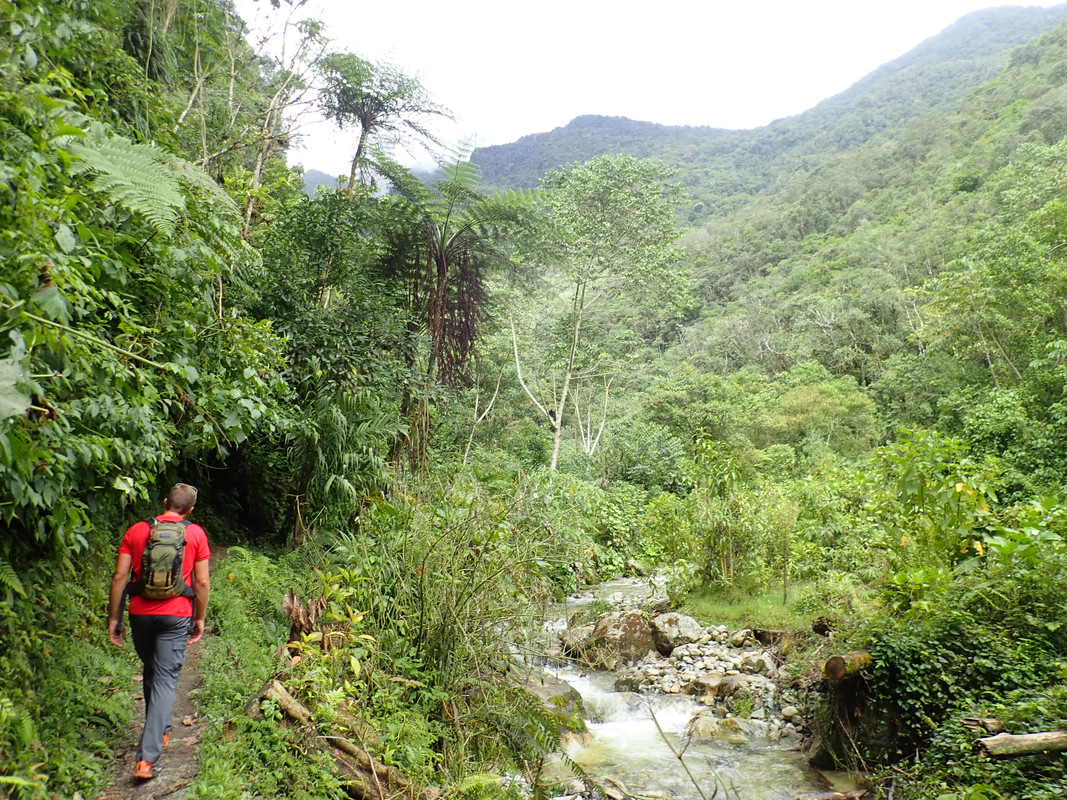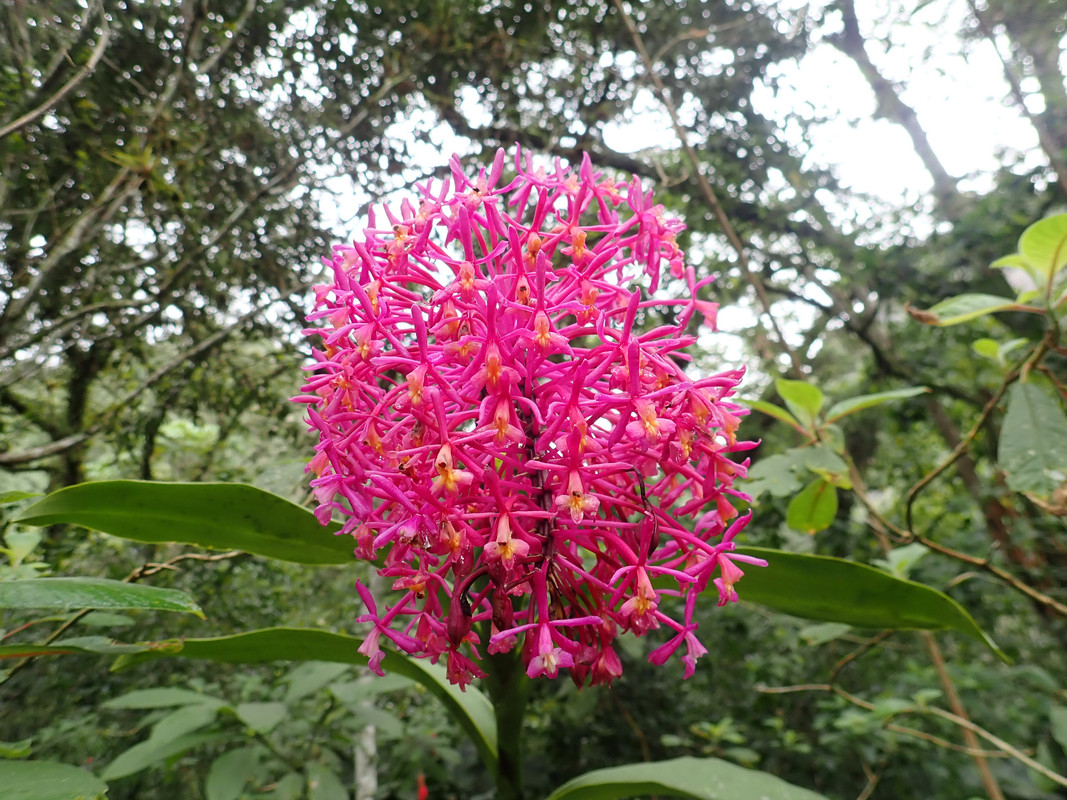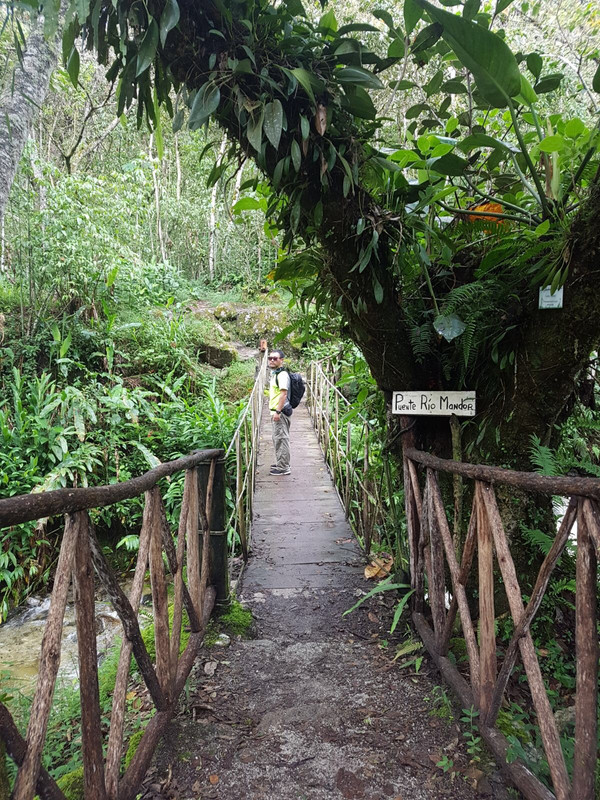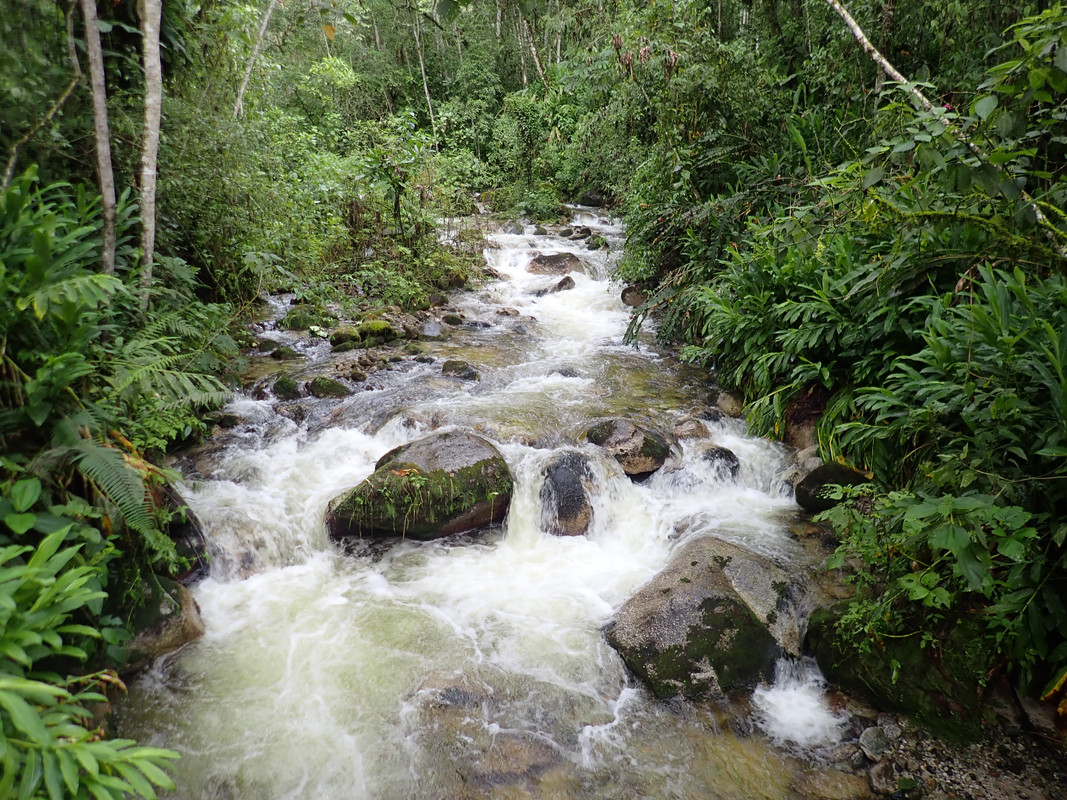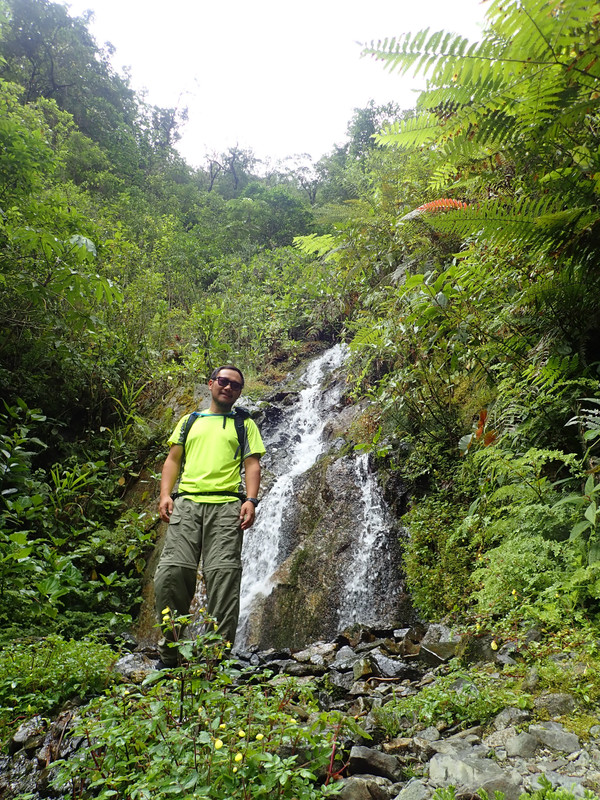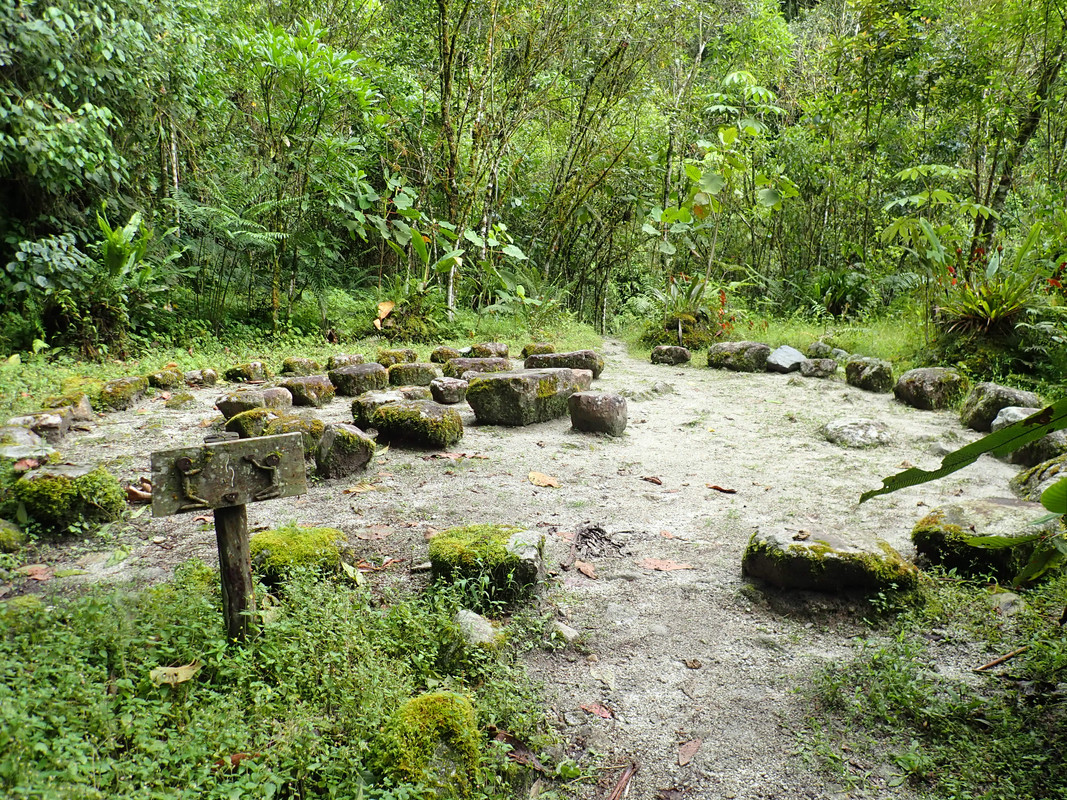 We sampled some alpaca steak (taste like beef with a hint of gaminess) for dinner and went to bed early for a 4:30AM start to hike up Machu Picchu. We opted out on the $24 shuttle ride up Machu Picchu and hiked the 1.7 km near-vertical trail. The view gets better with every step.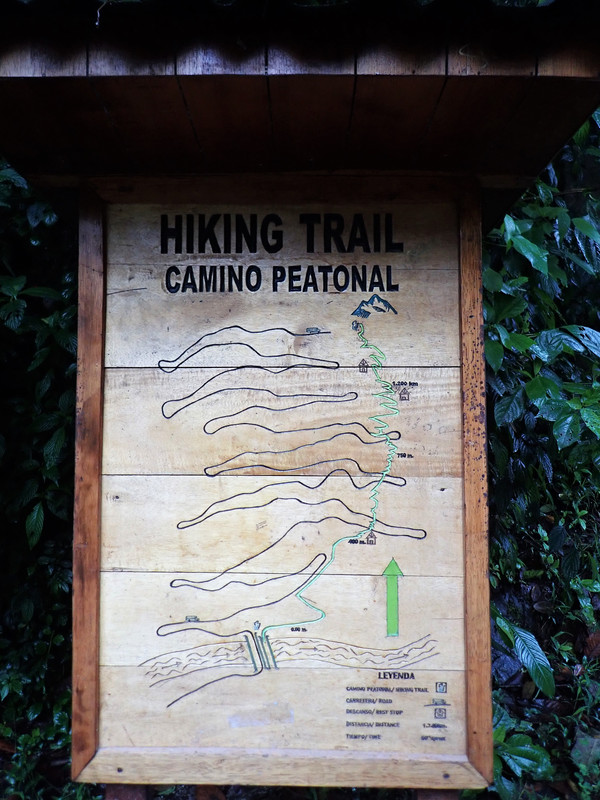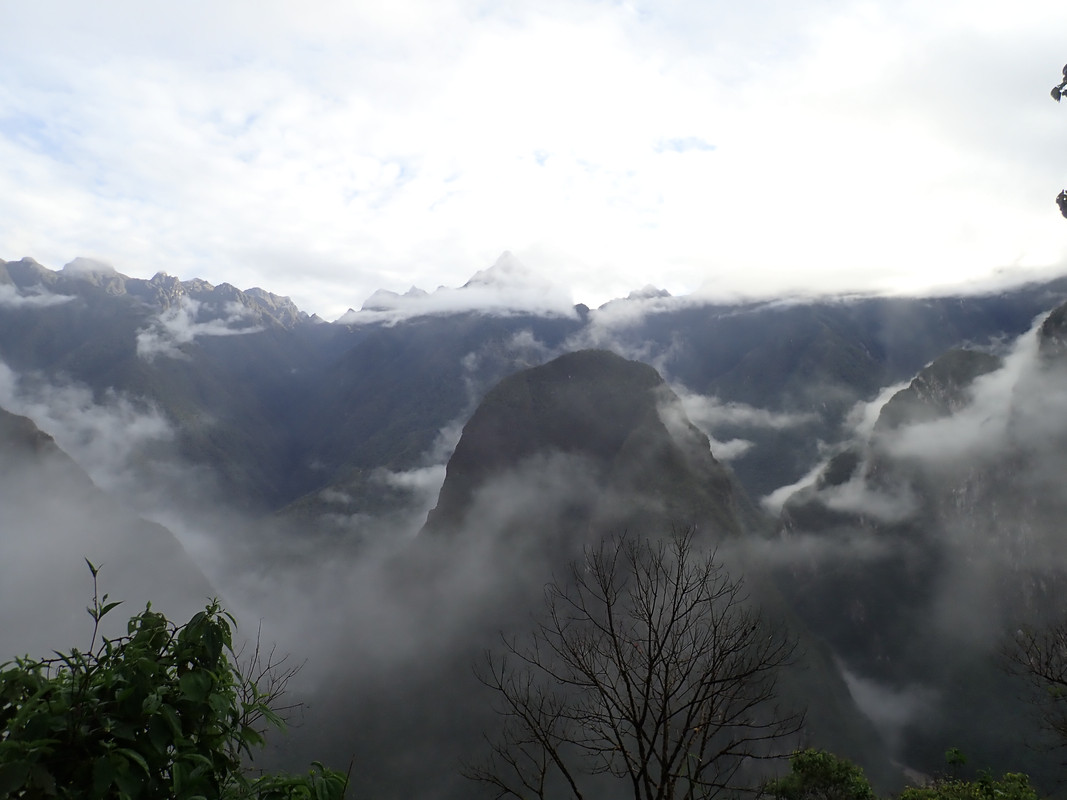 We hired a guide to get the most out of this highly anticipated visit. It was money well spent and really made me appreciate the level of detail of this ancient marvel and Inca culture. I would also recommend arriving early (6-7AM) to beat the crowd.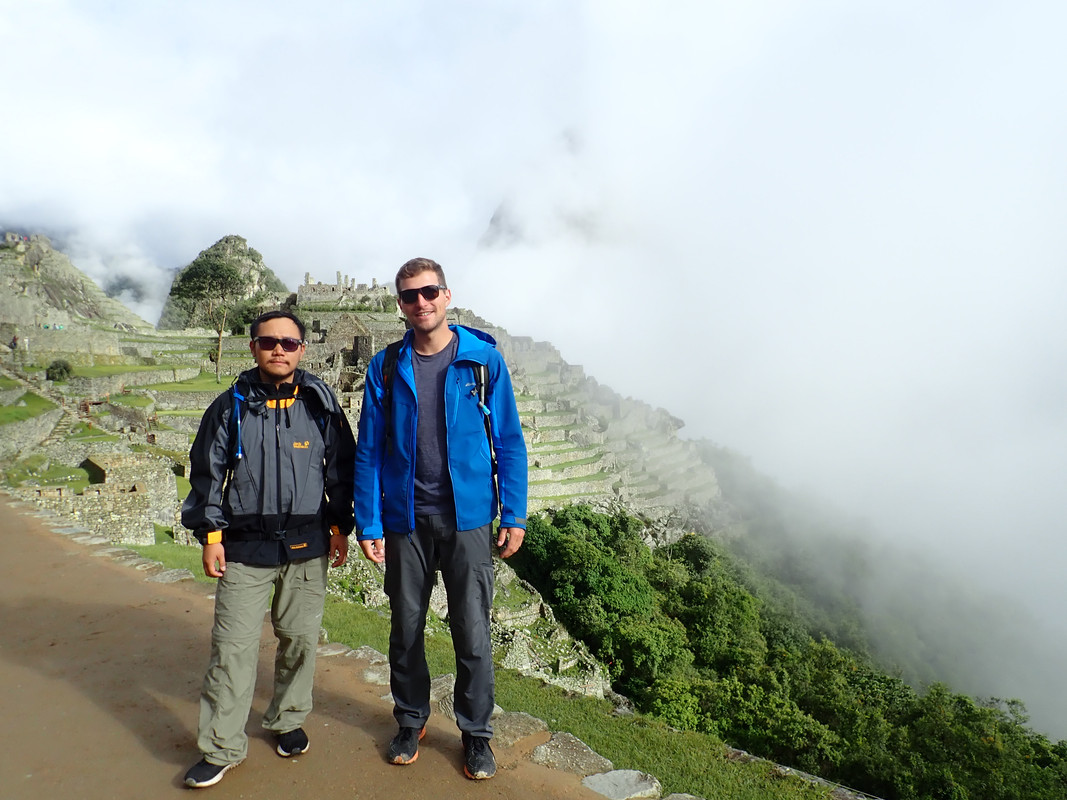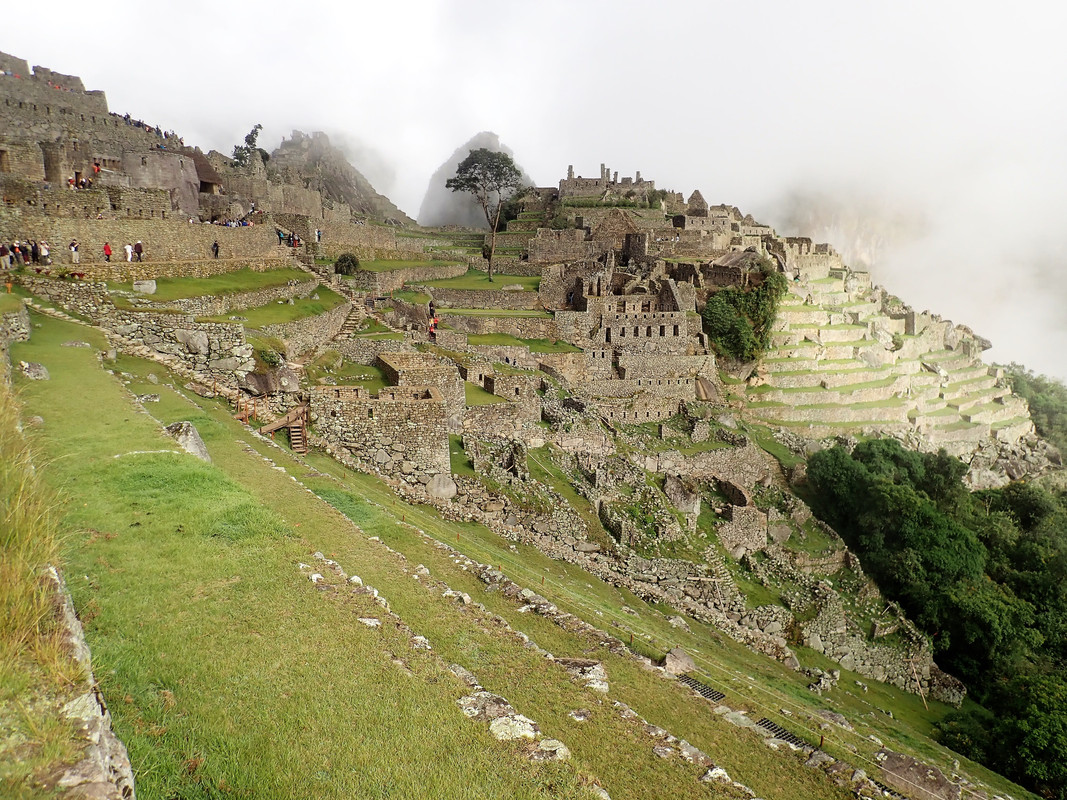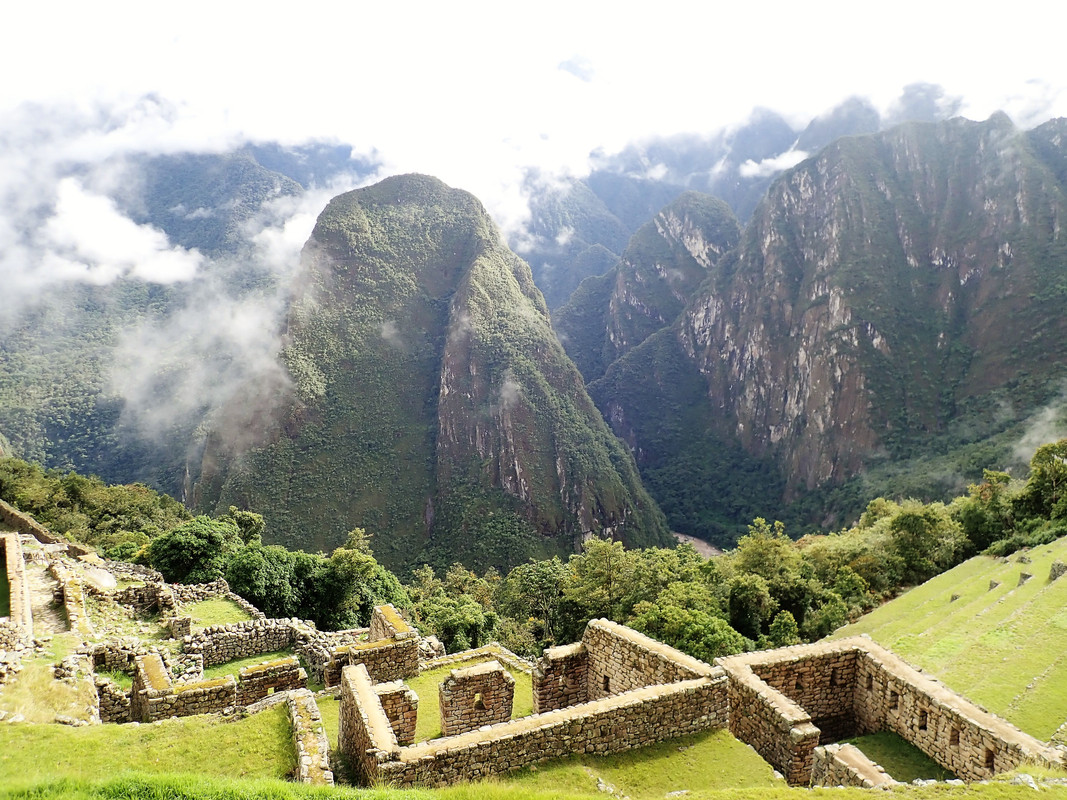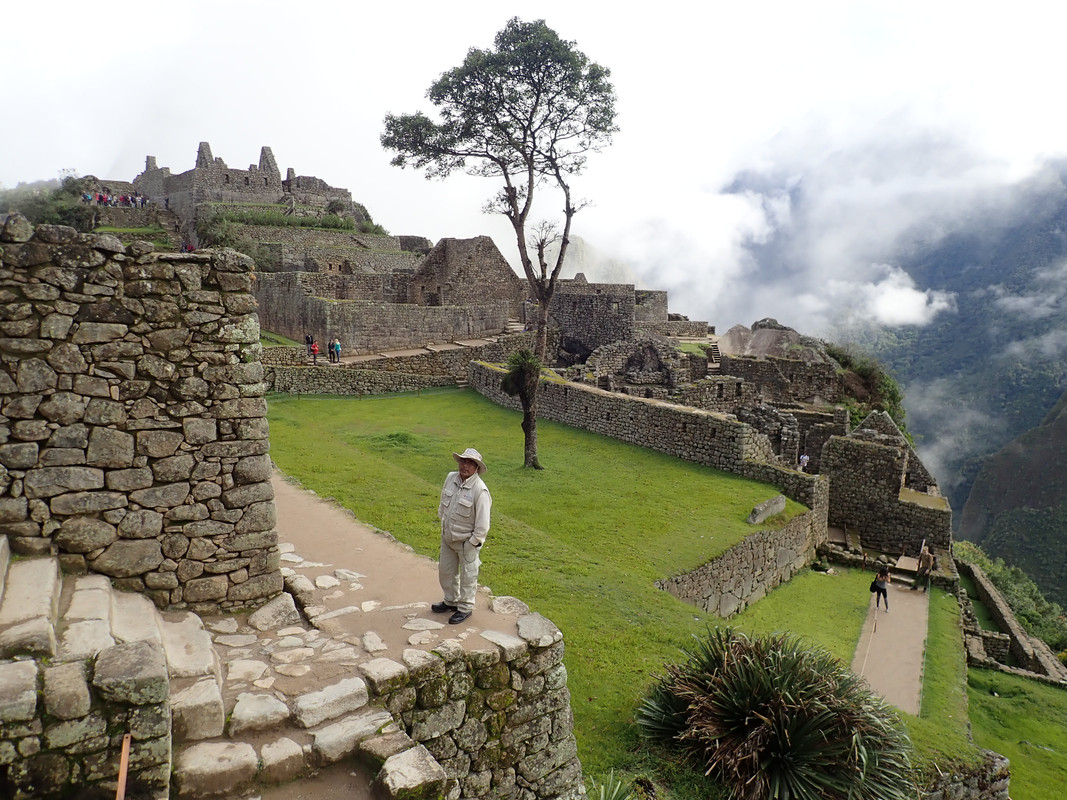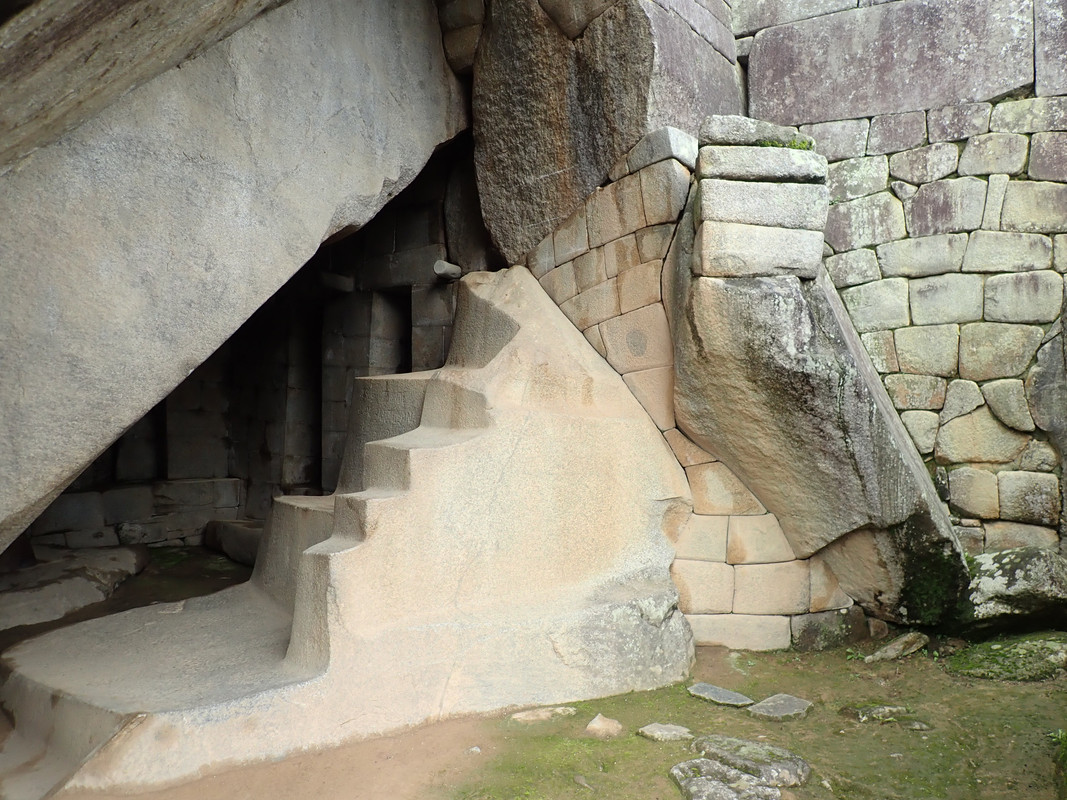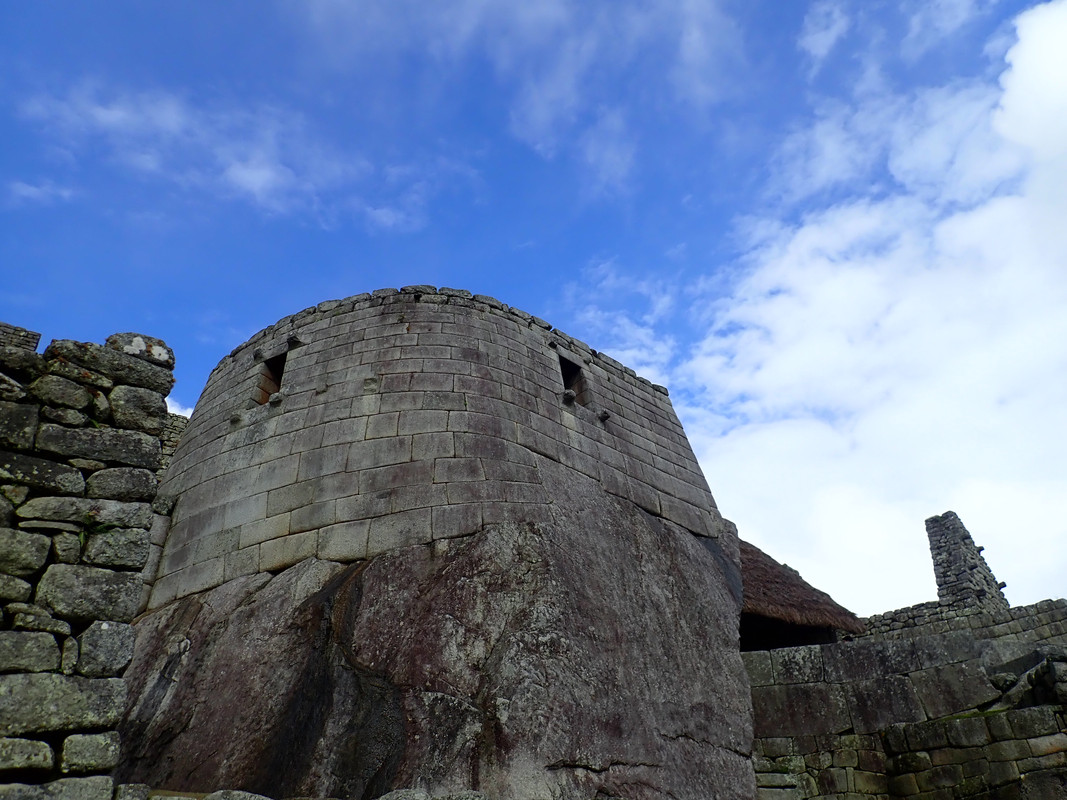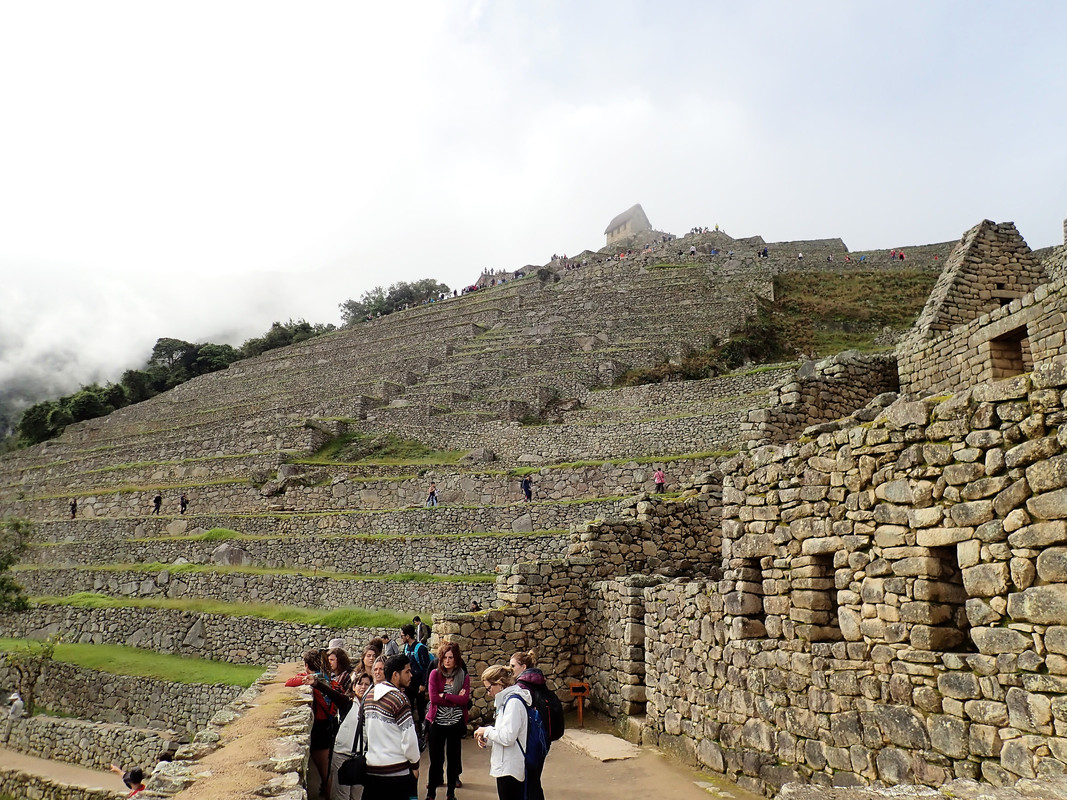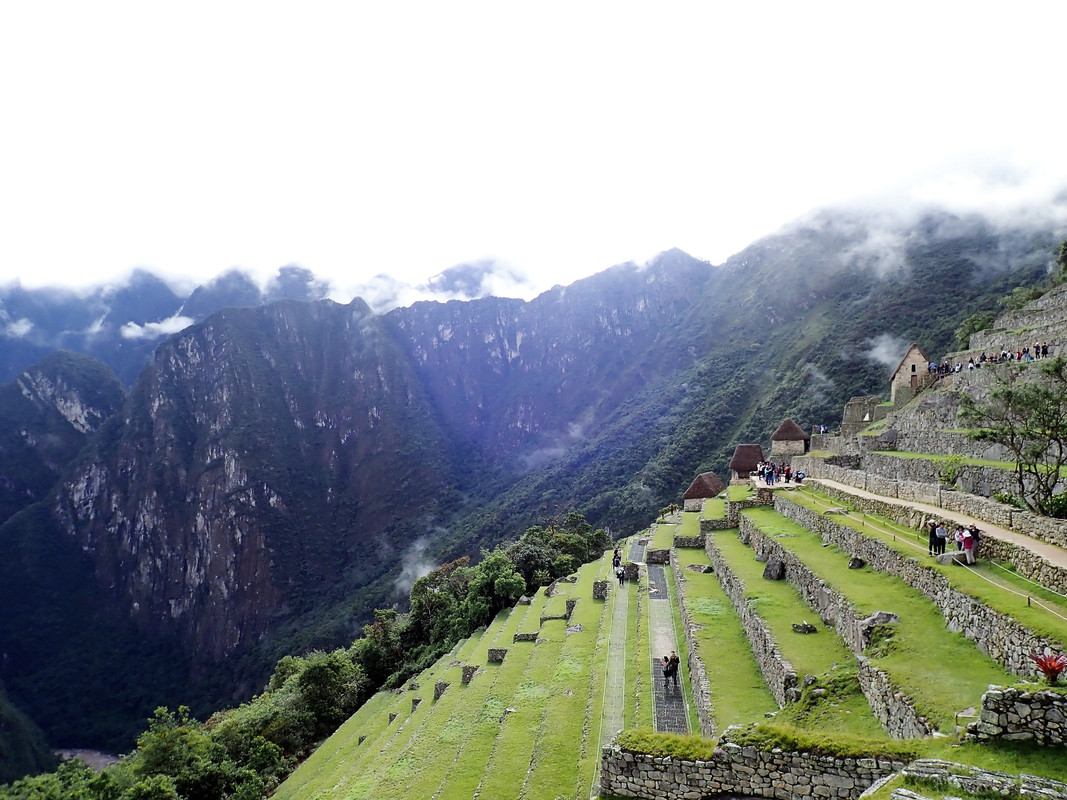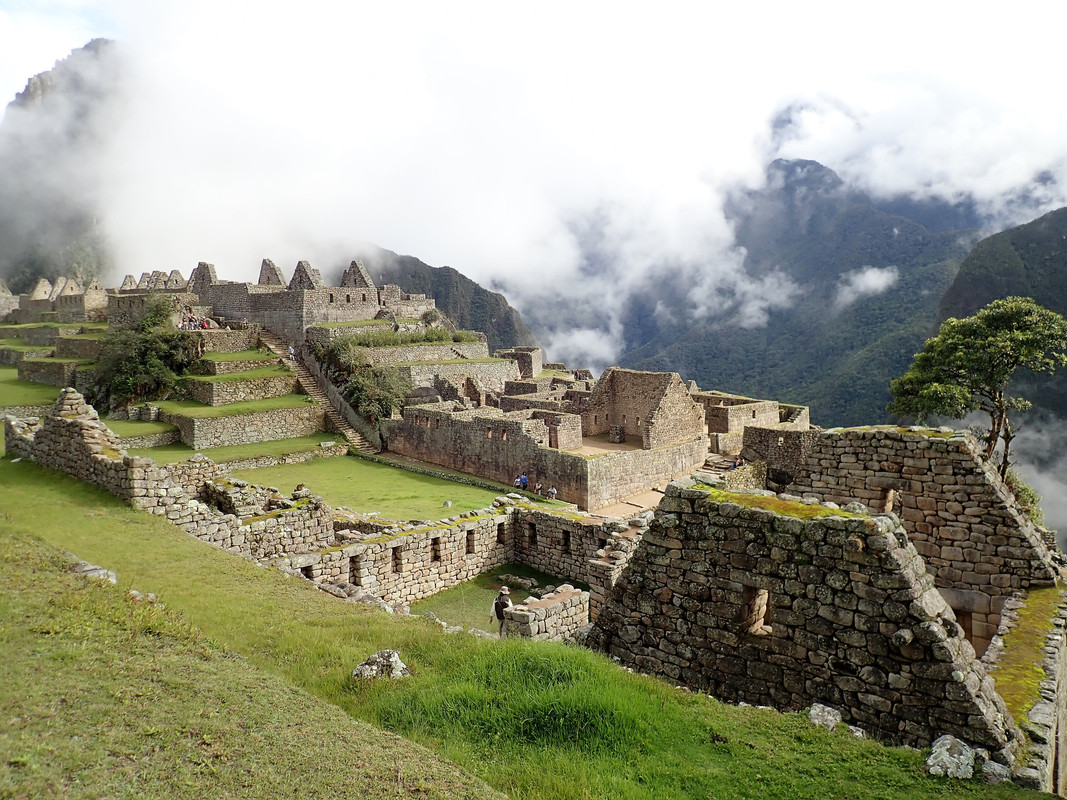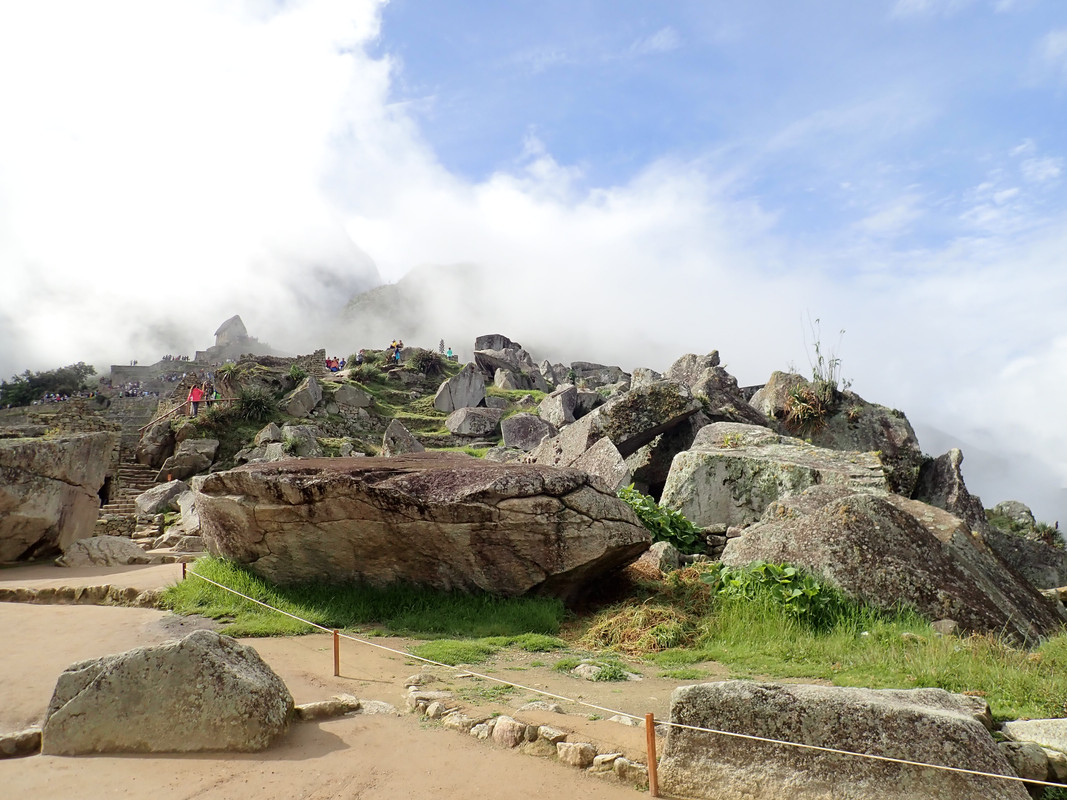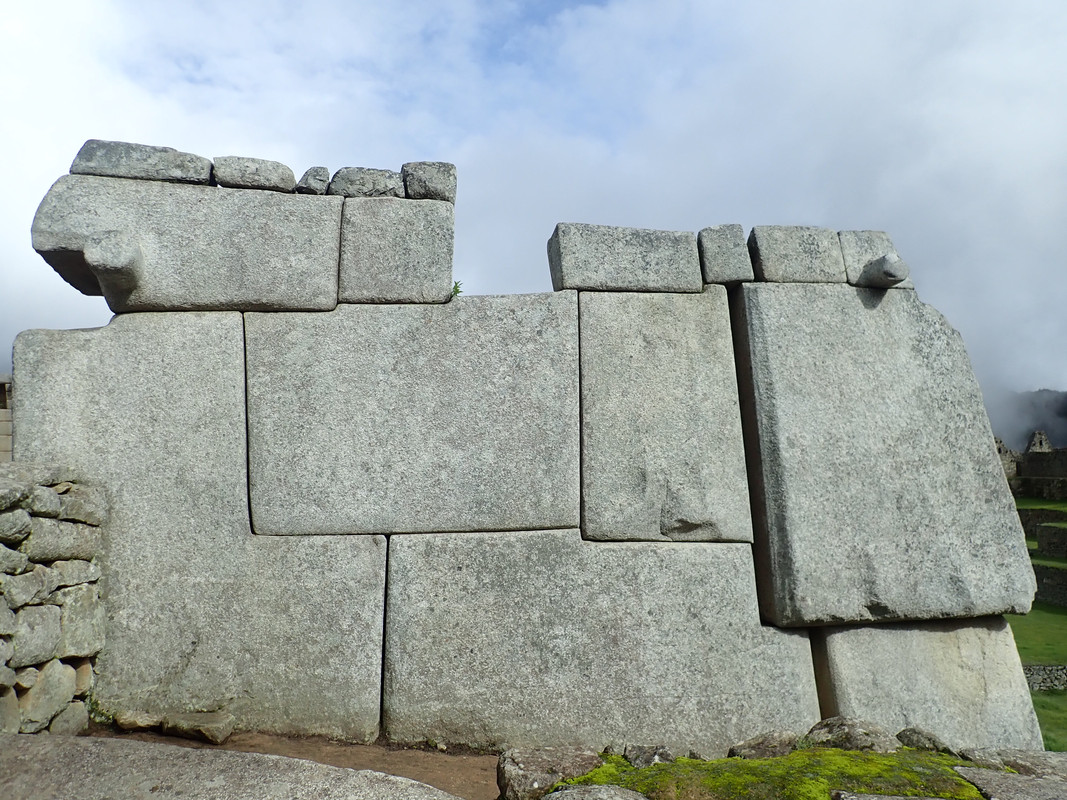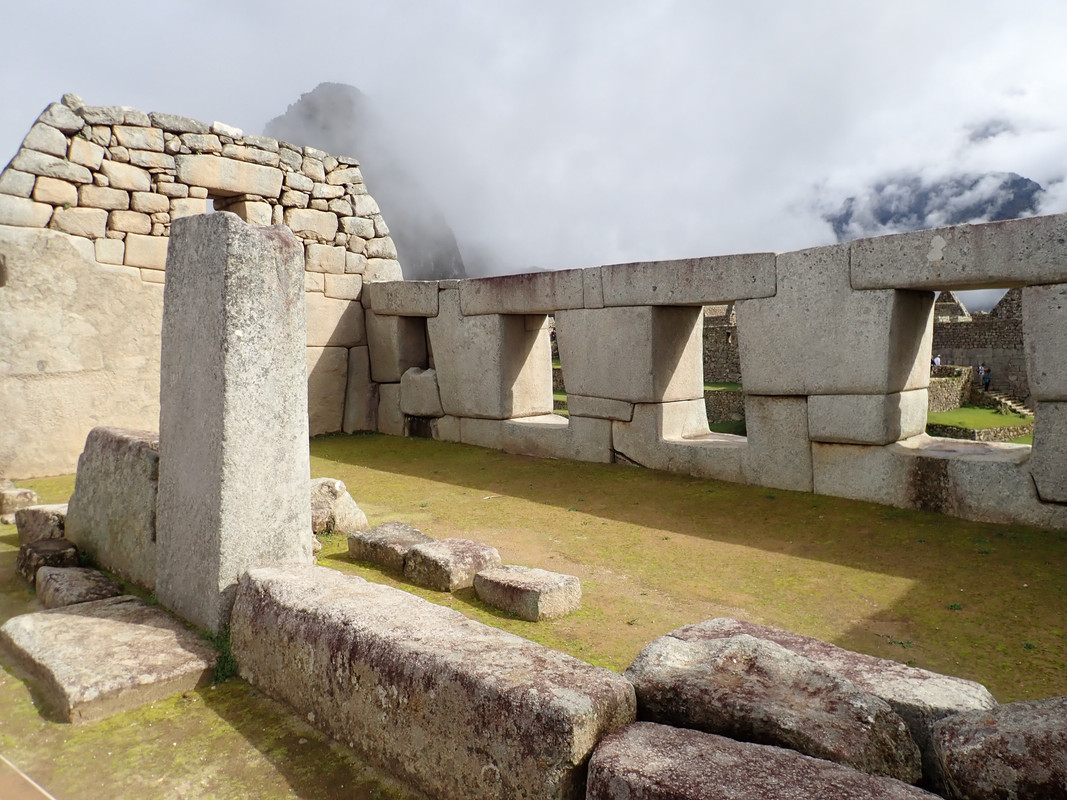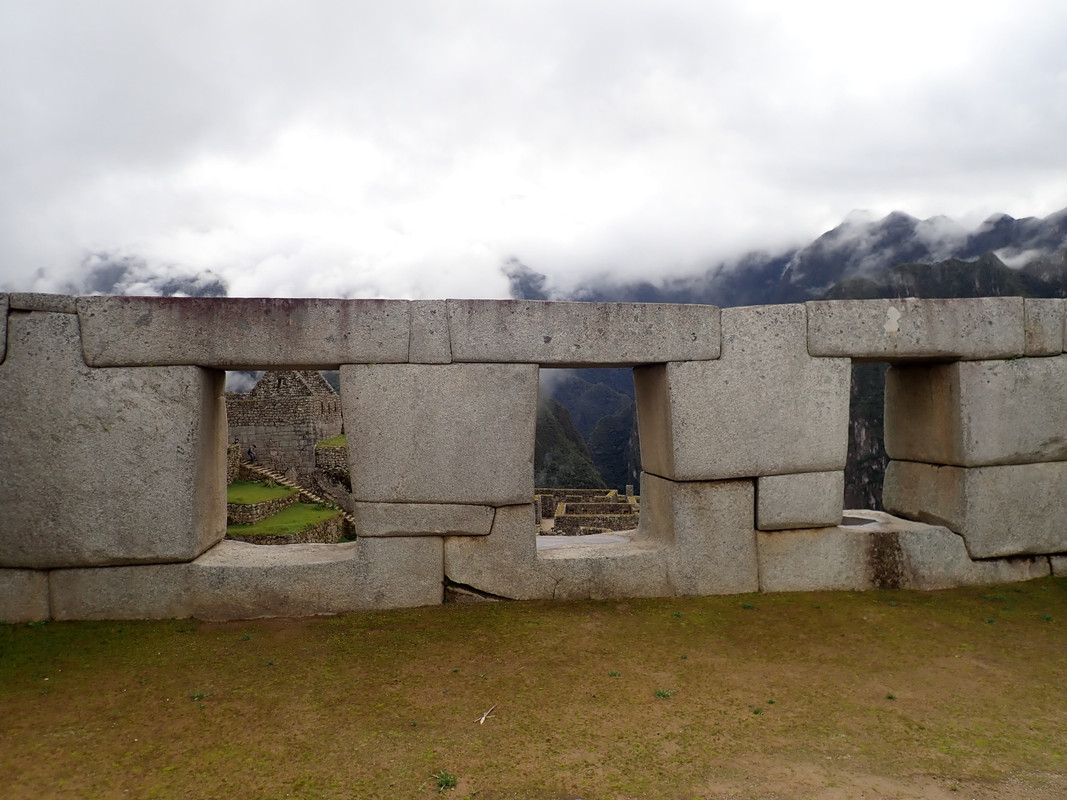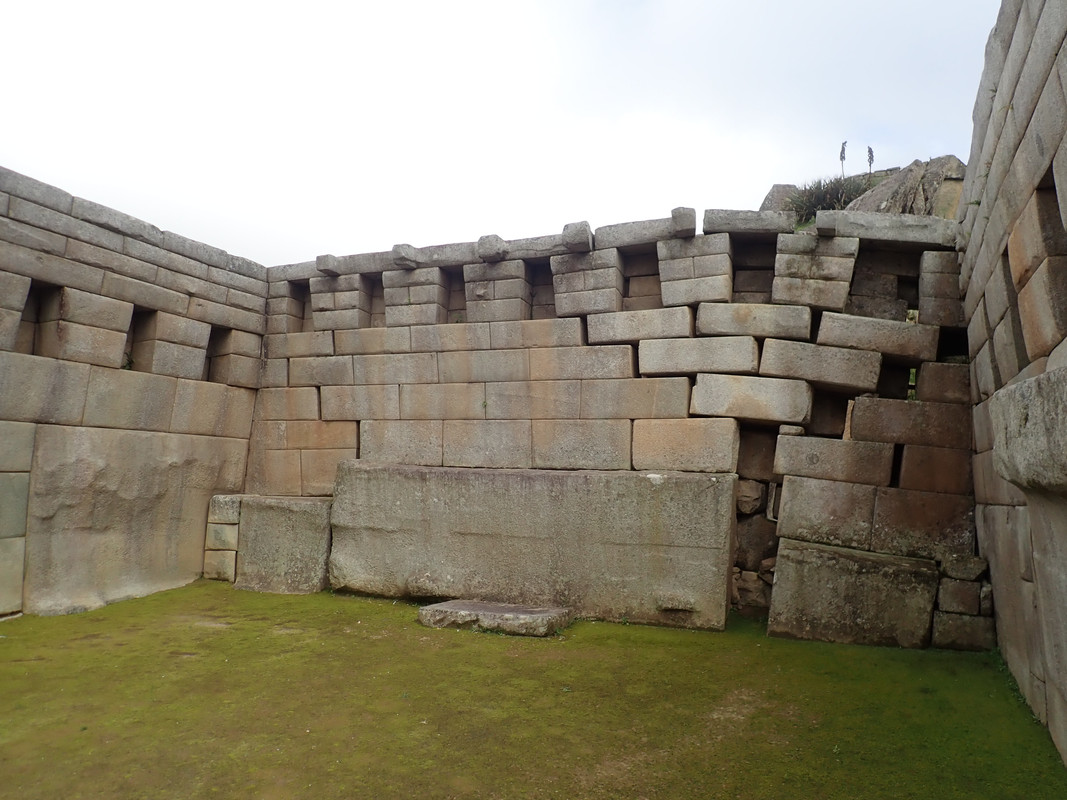 The perfectly interlocked stone buildings are reserved for the higher status and are very satisfying to look at for an OCD engineer. 😛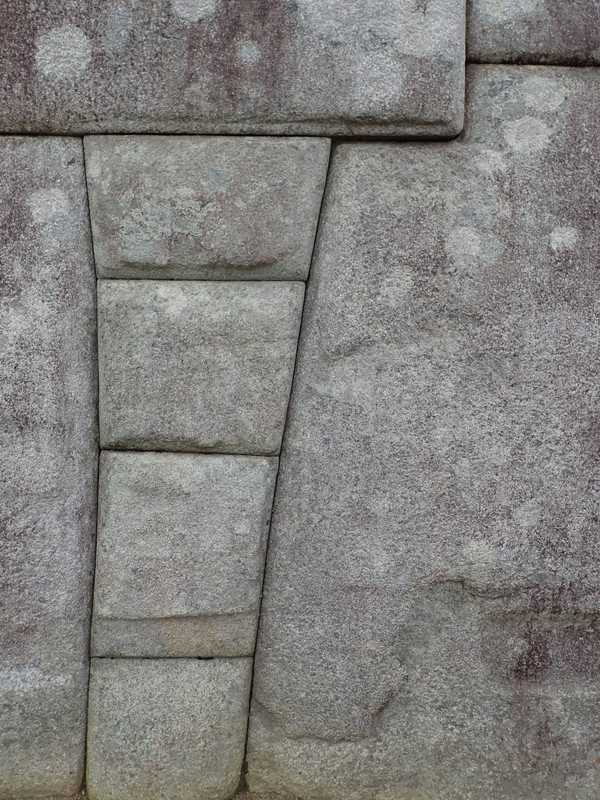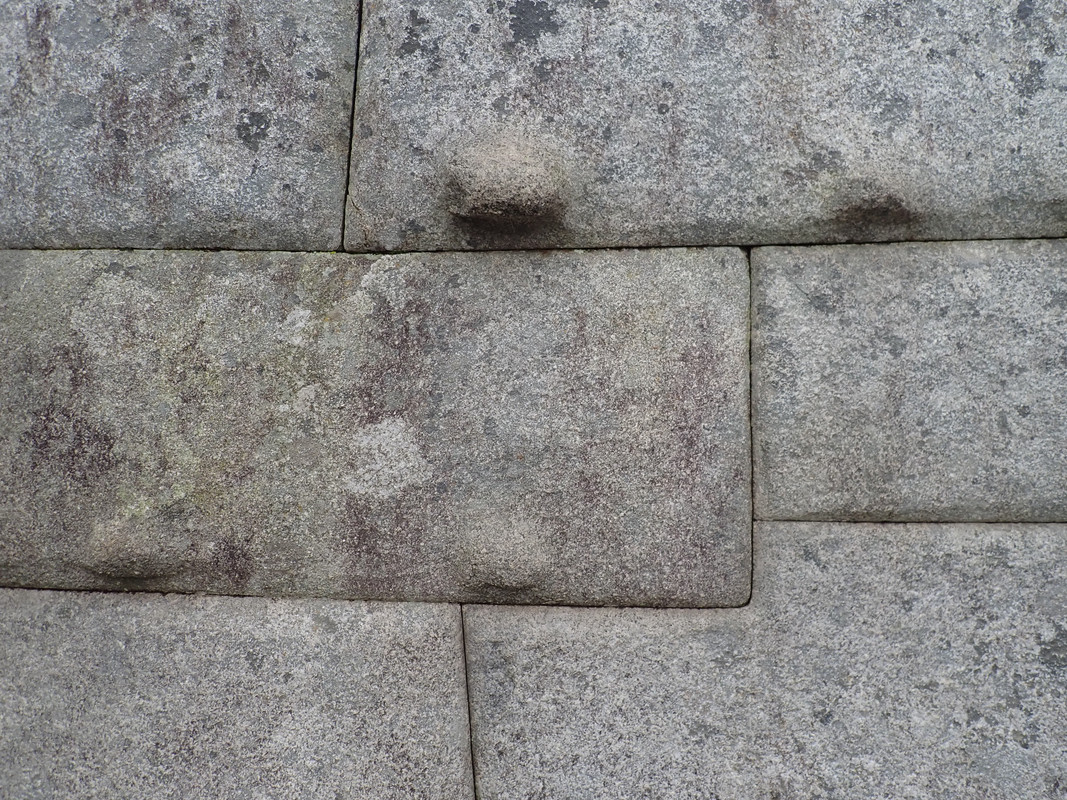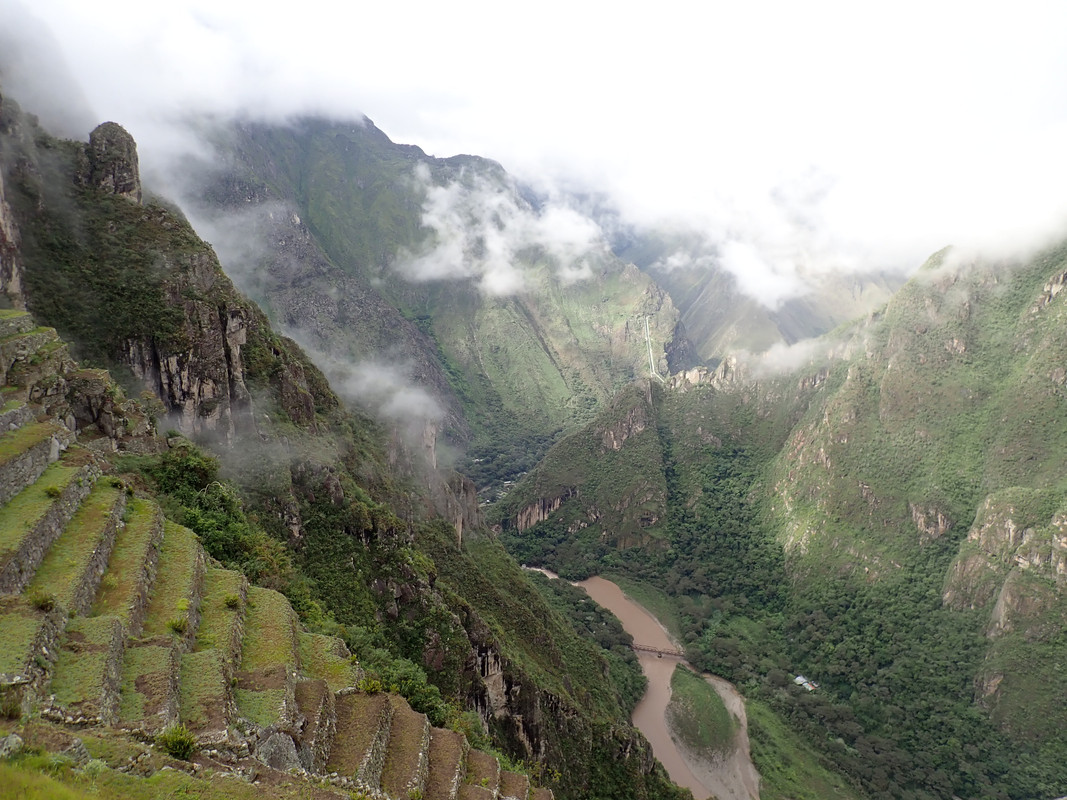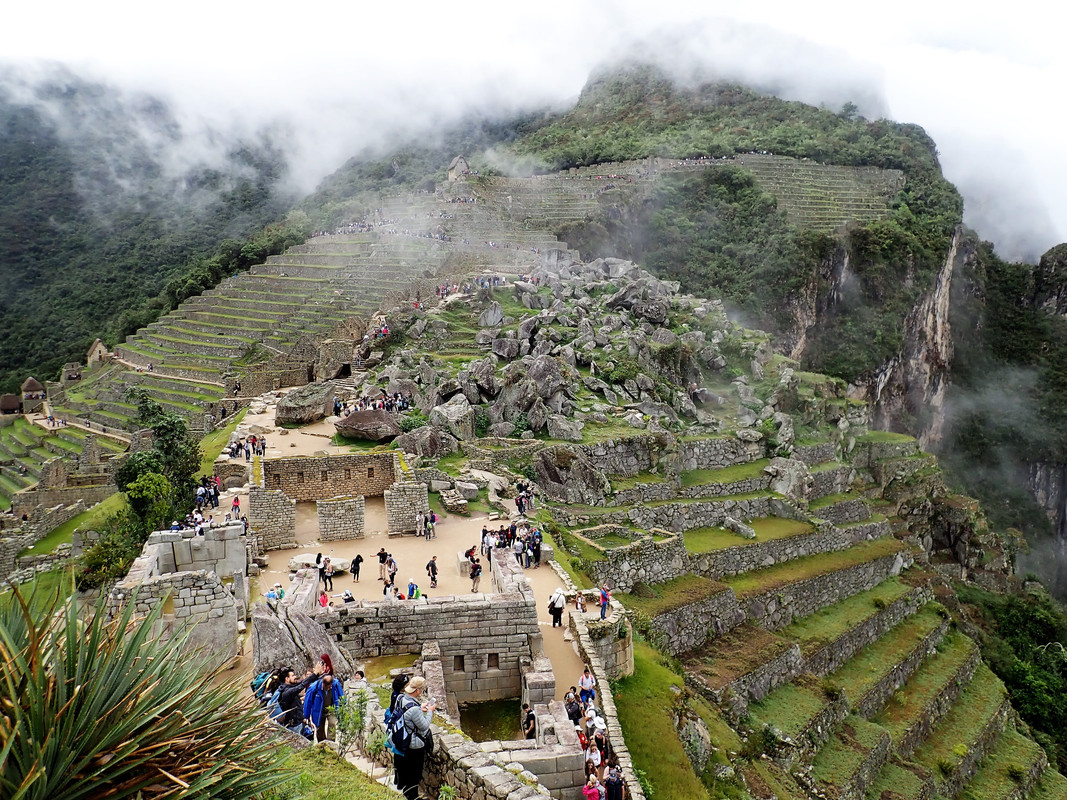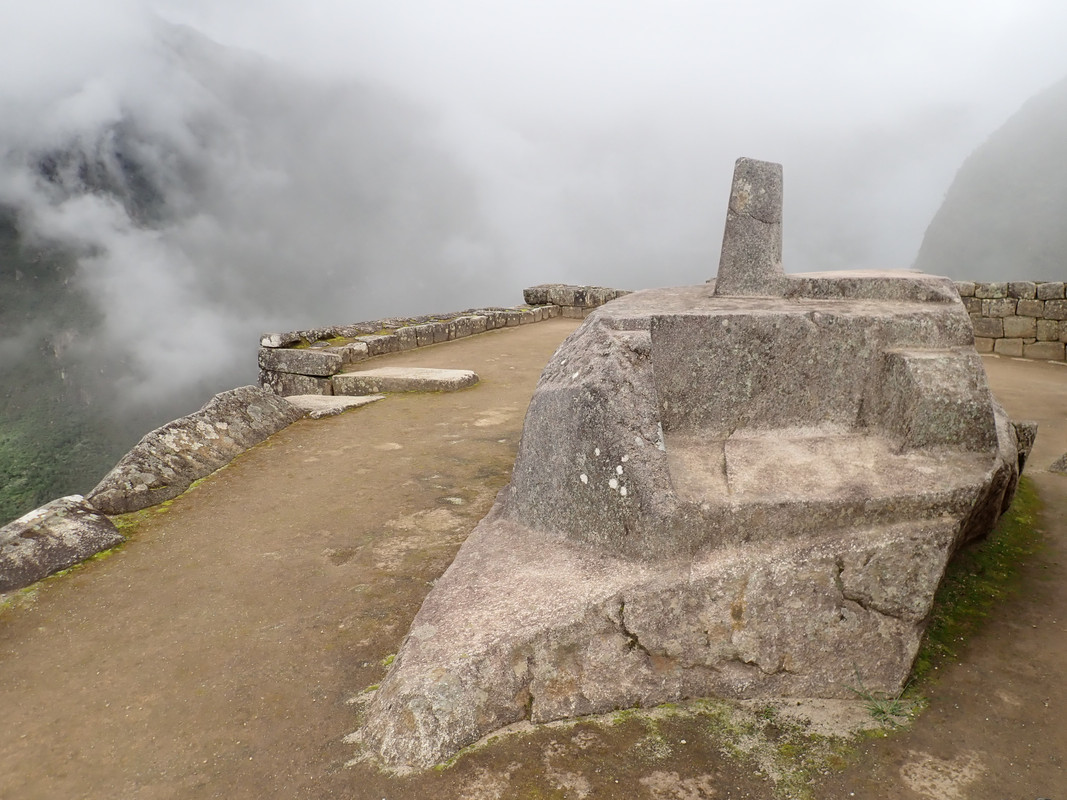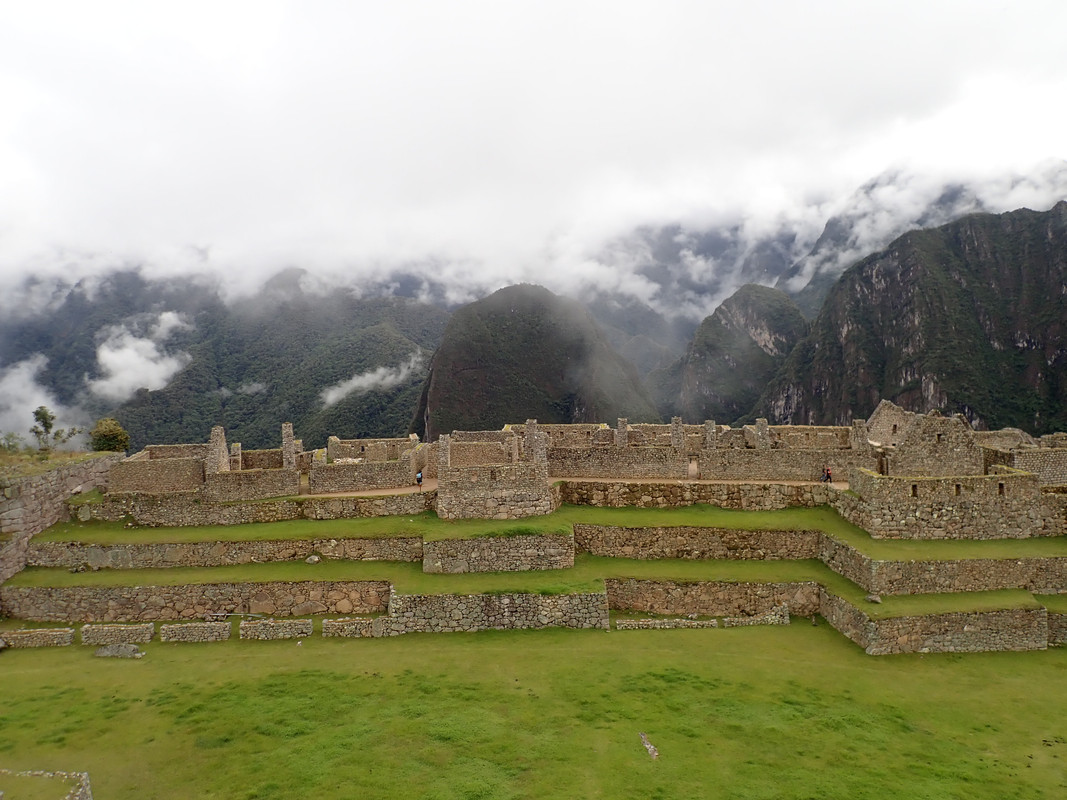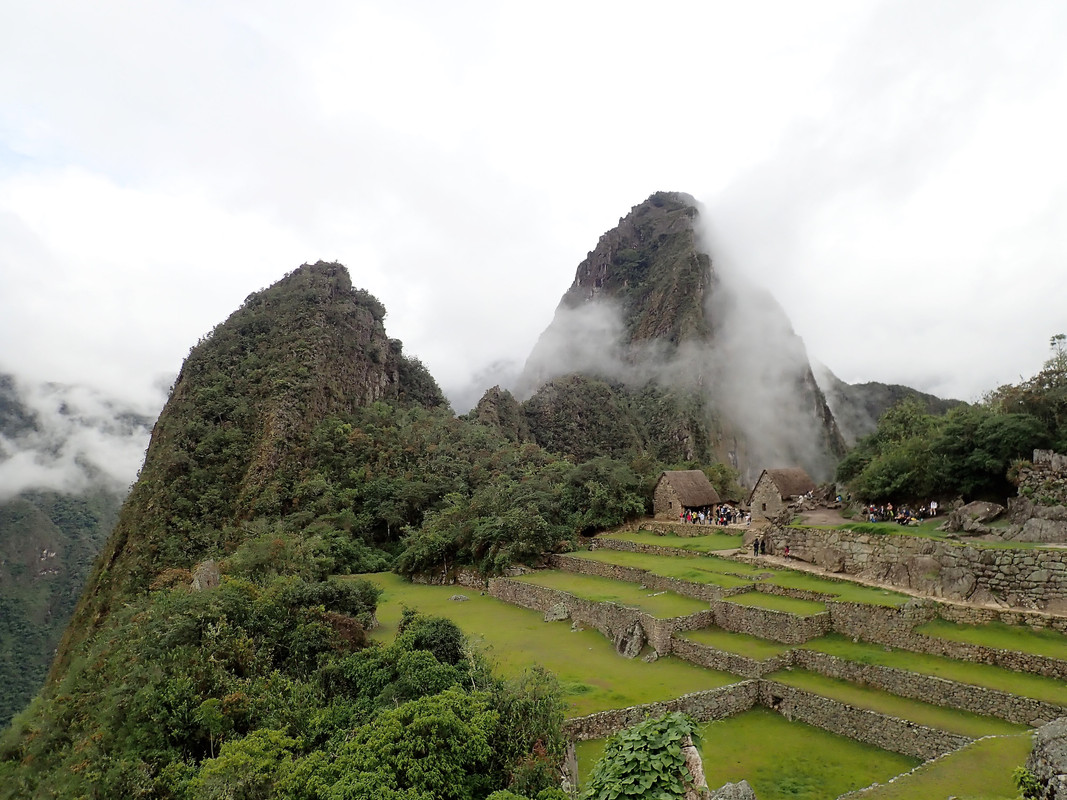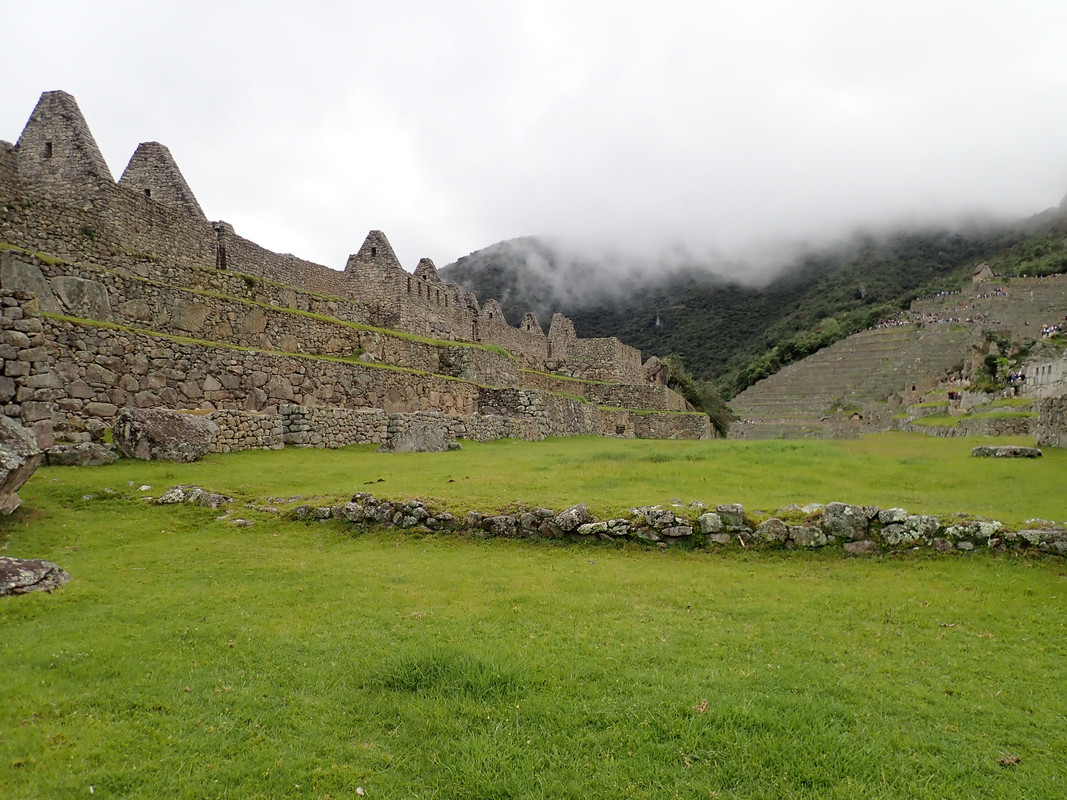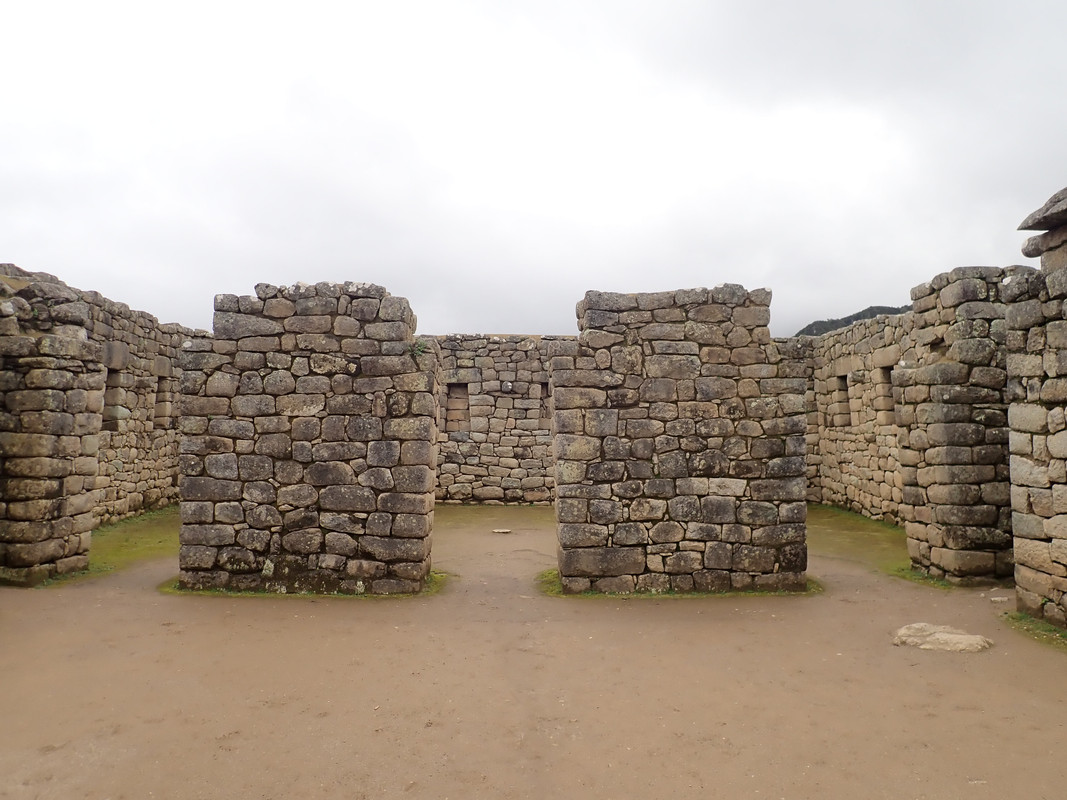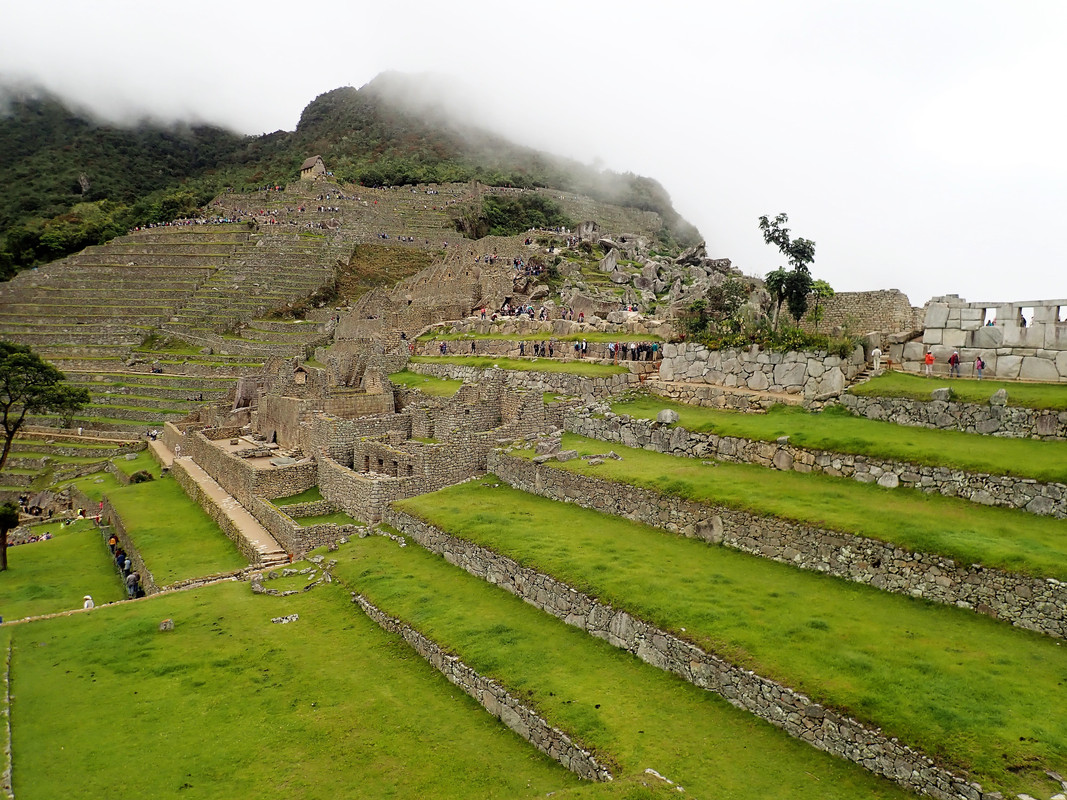 Lots of alpacas and llamas hanging out with the tourists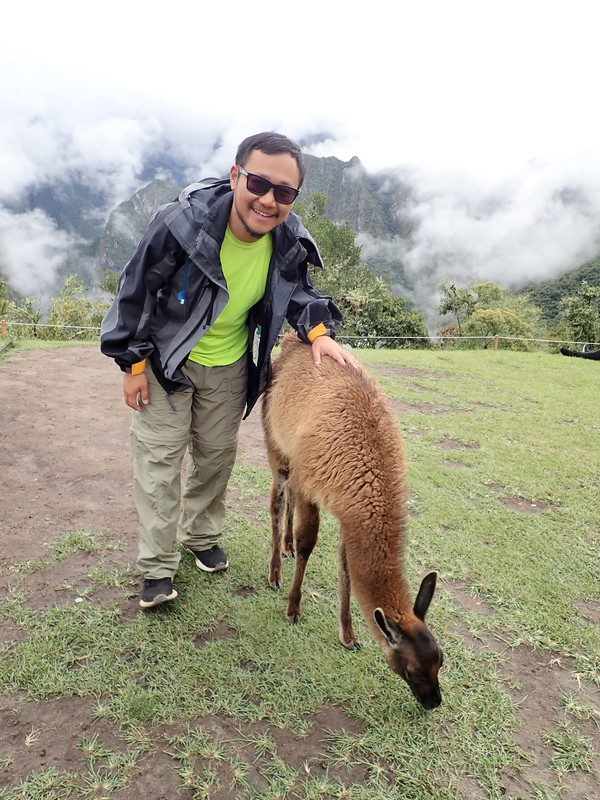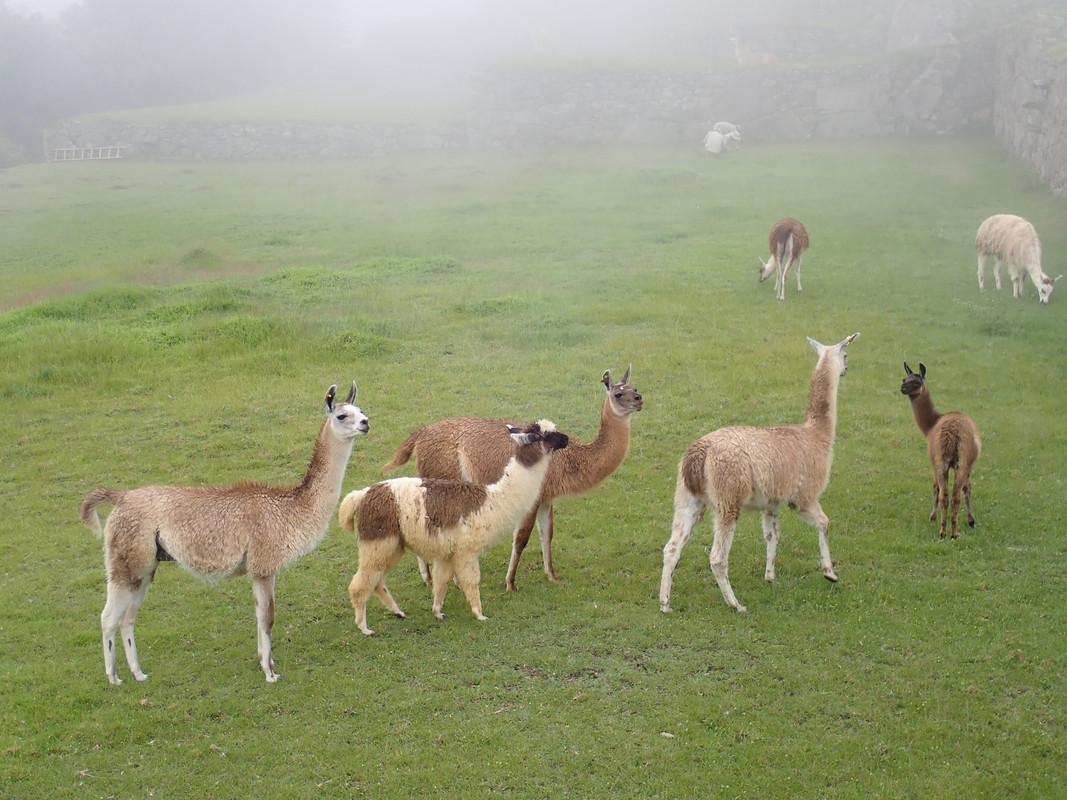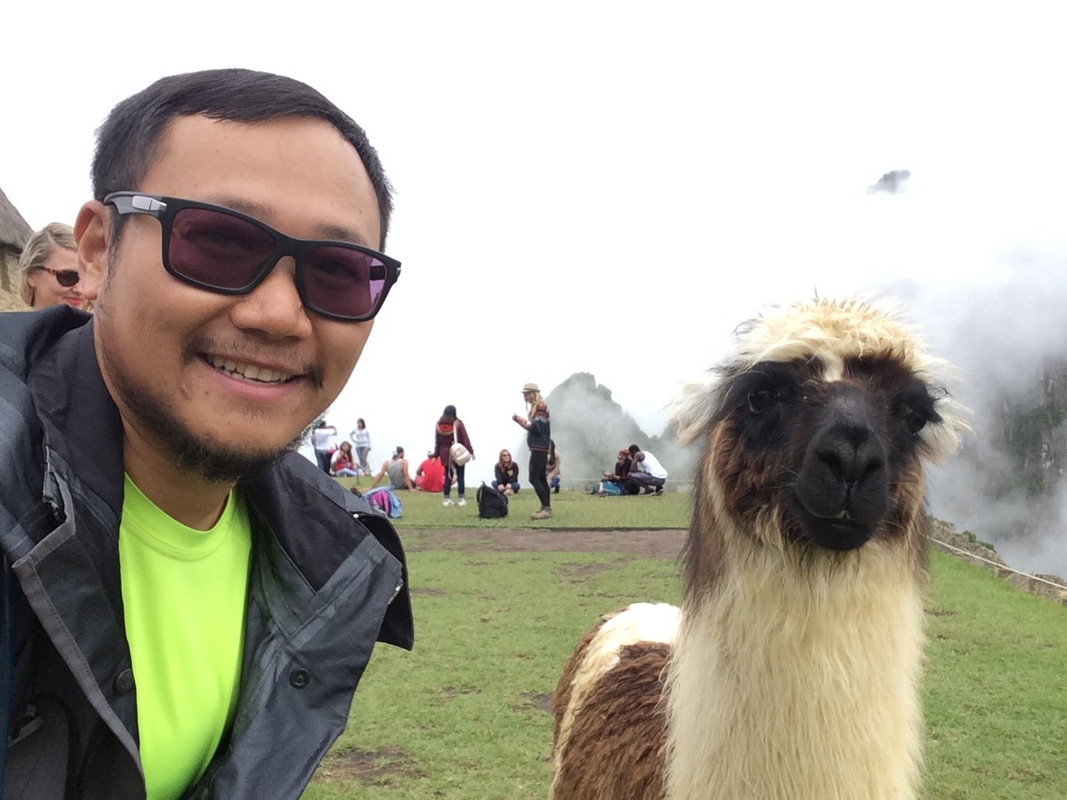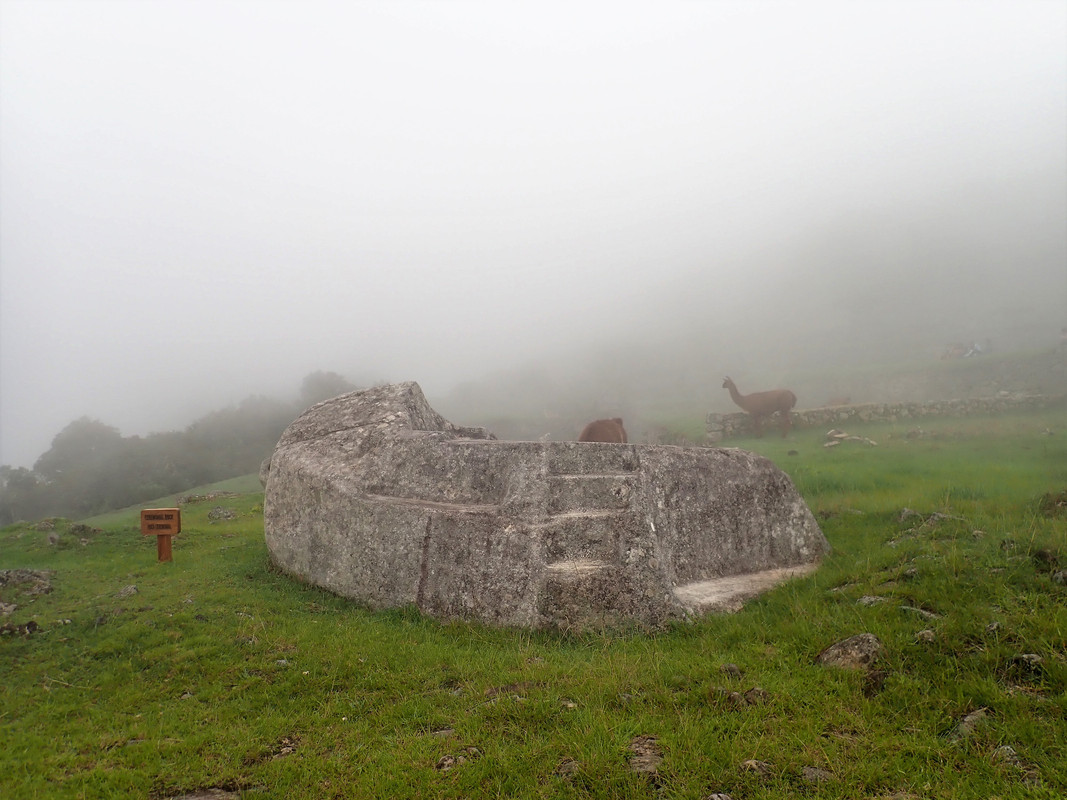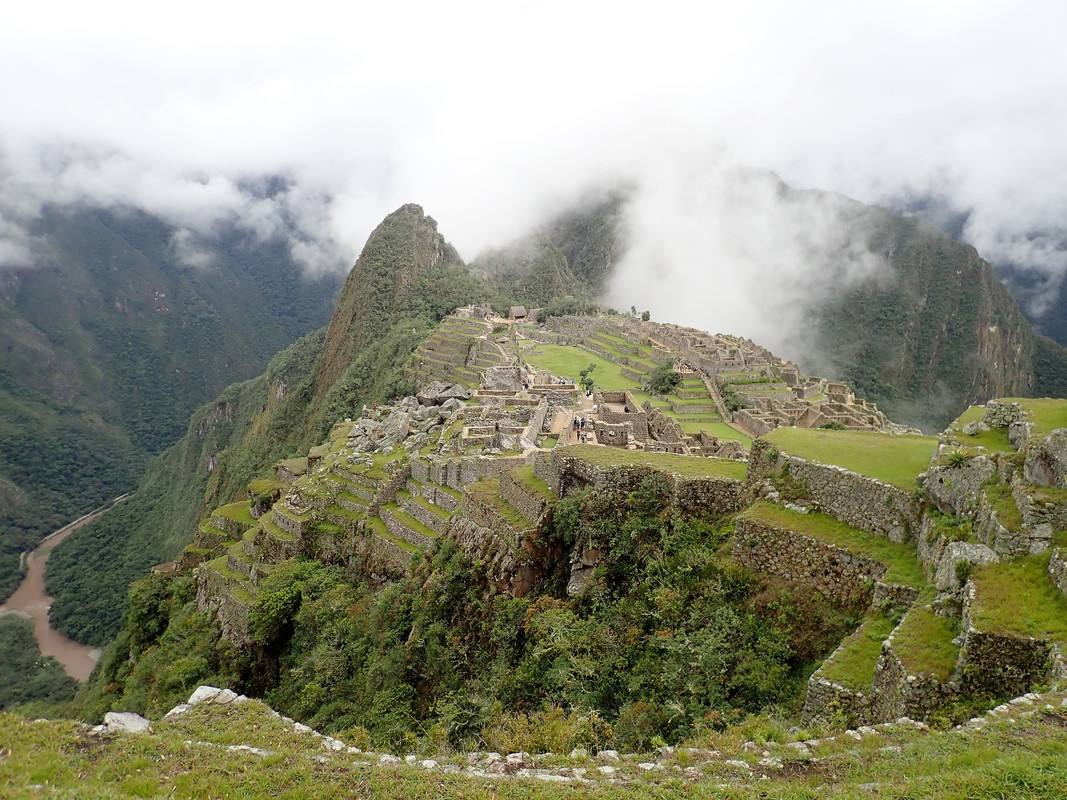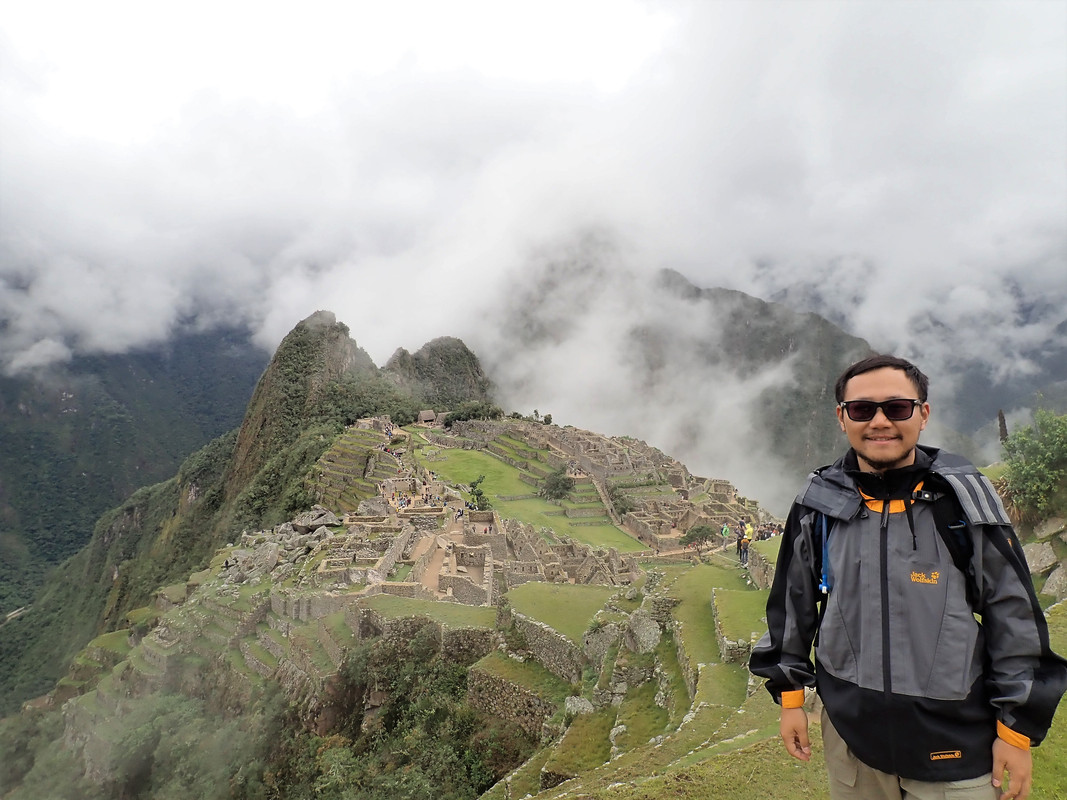 We hiked another 1.7 km on the Inca trail to the Sungate. The original Inca emperor would arrive at the Machu Picchu estate from Cusco via this trail. The sun would also pass through the Sungate and align with the Sundial at exactly 6AM during season change.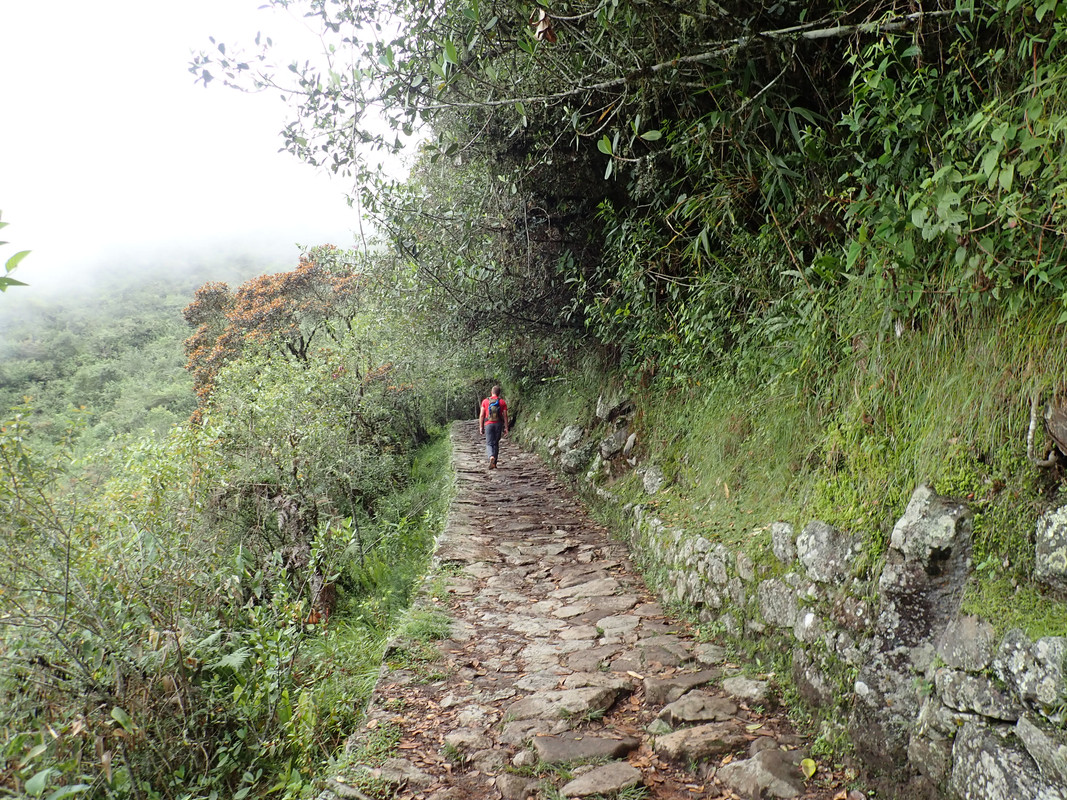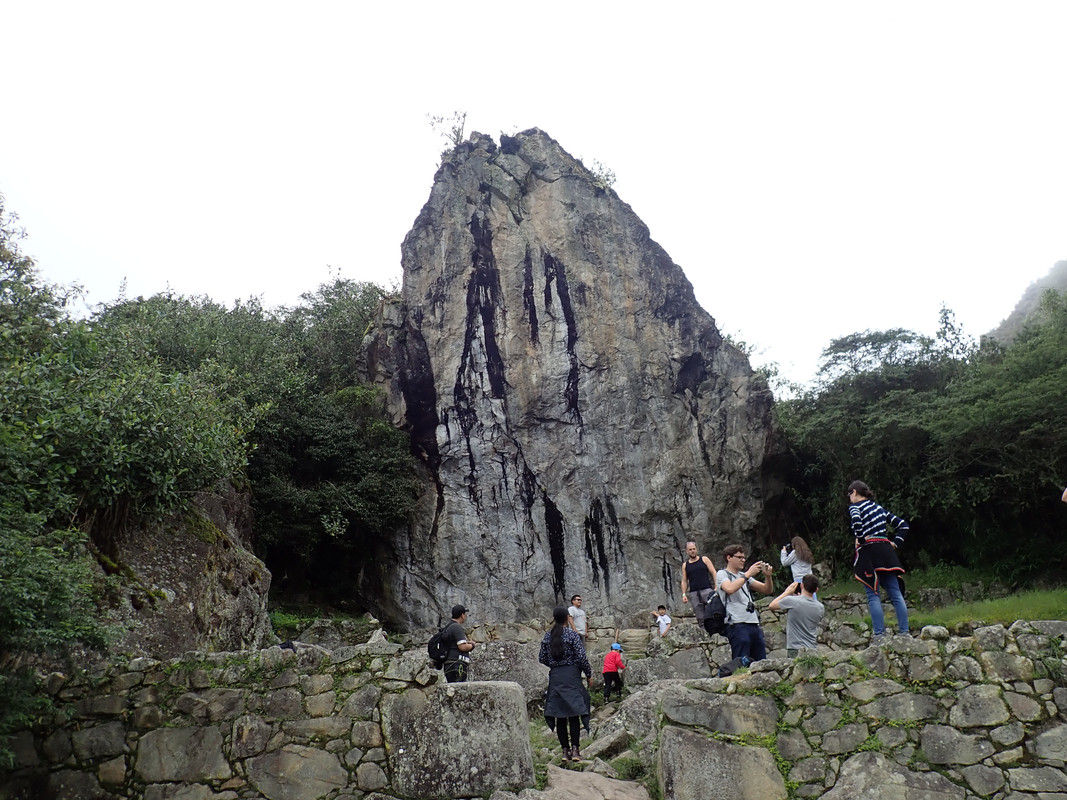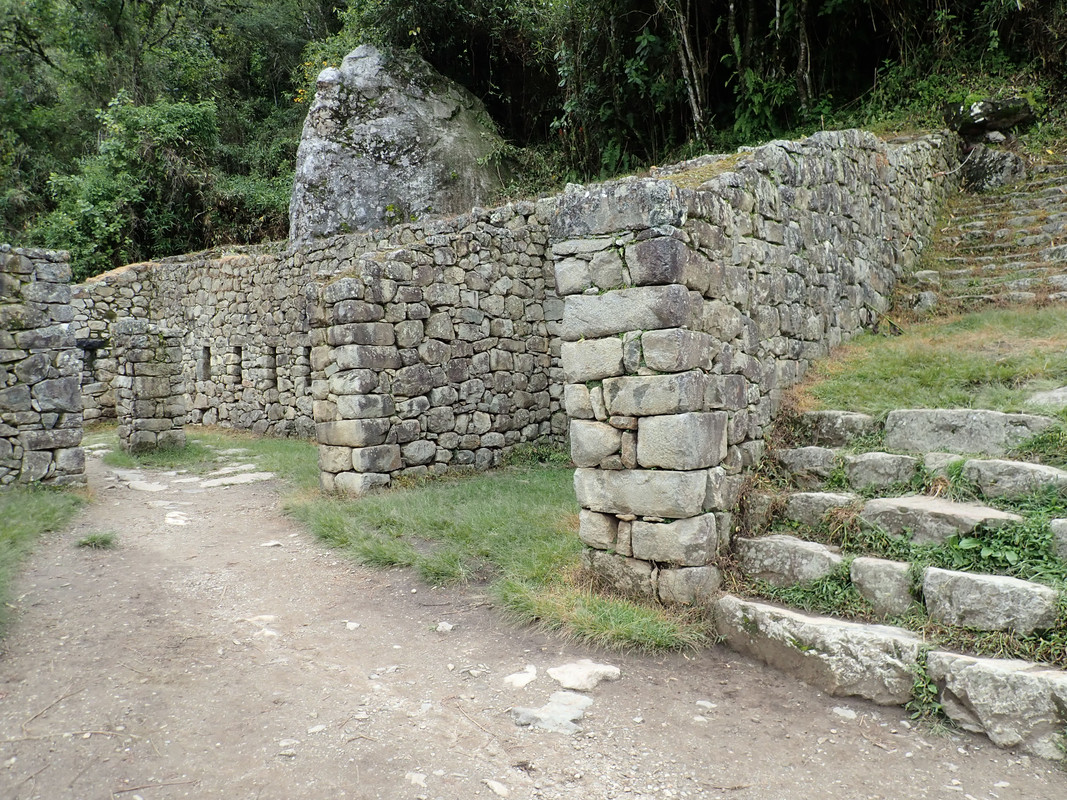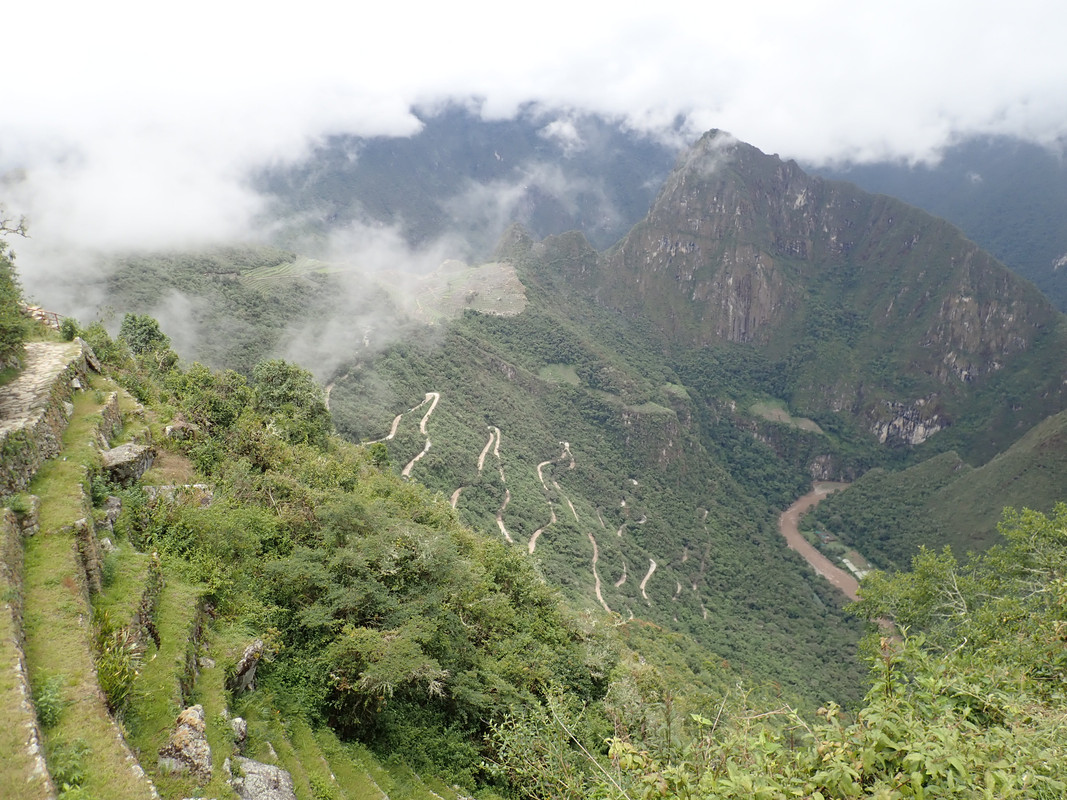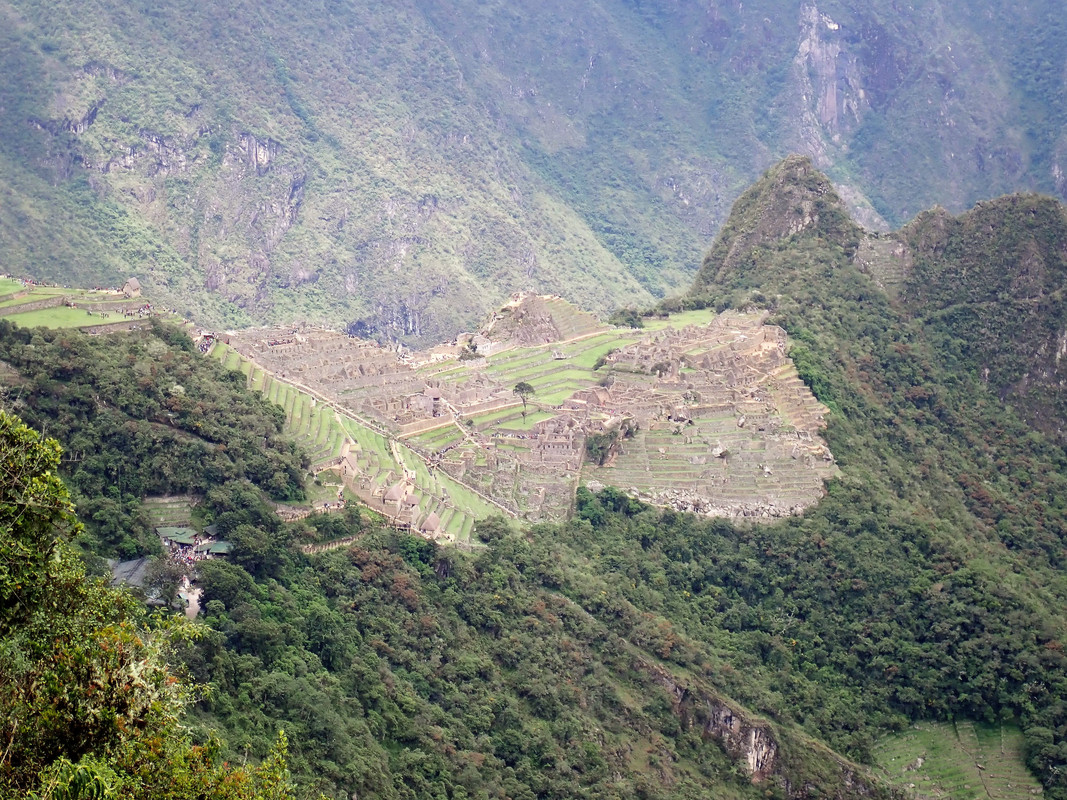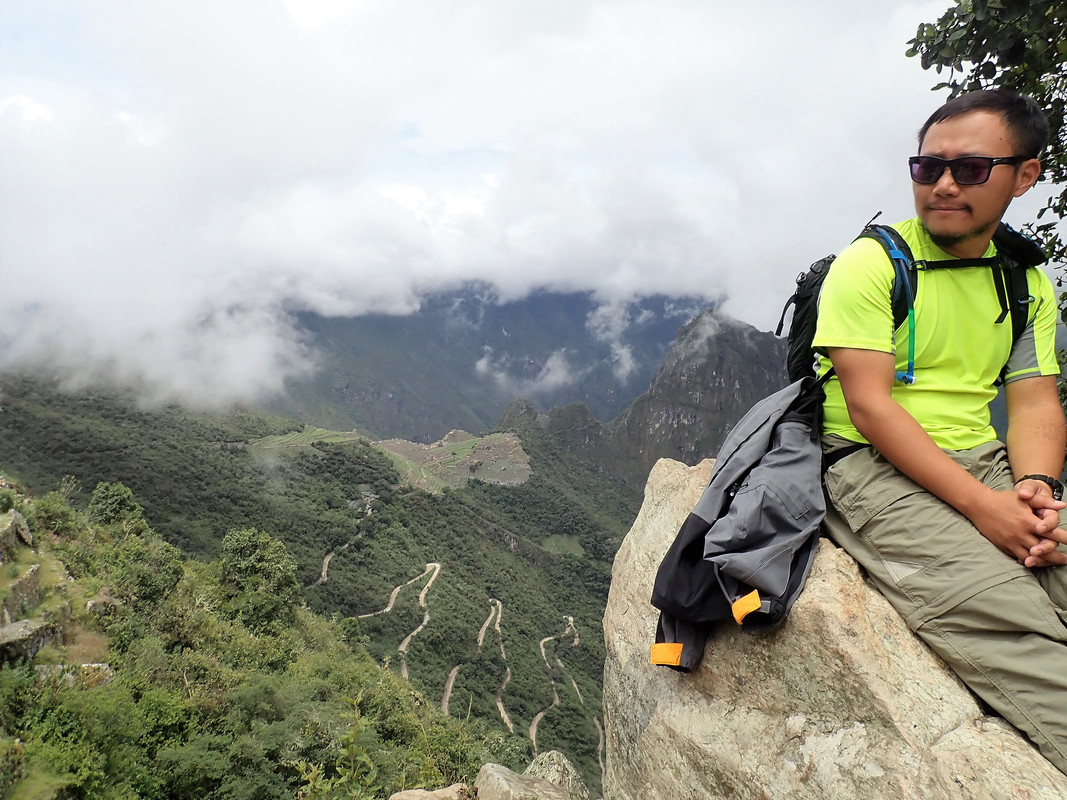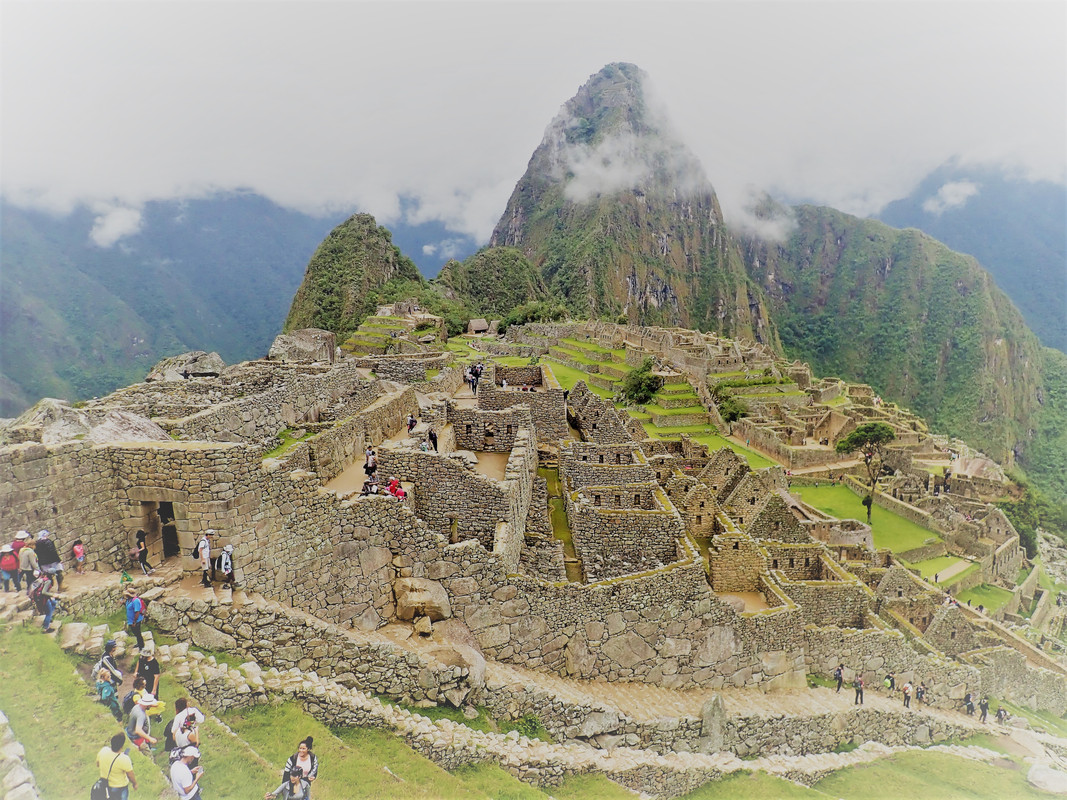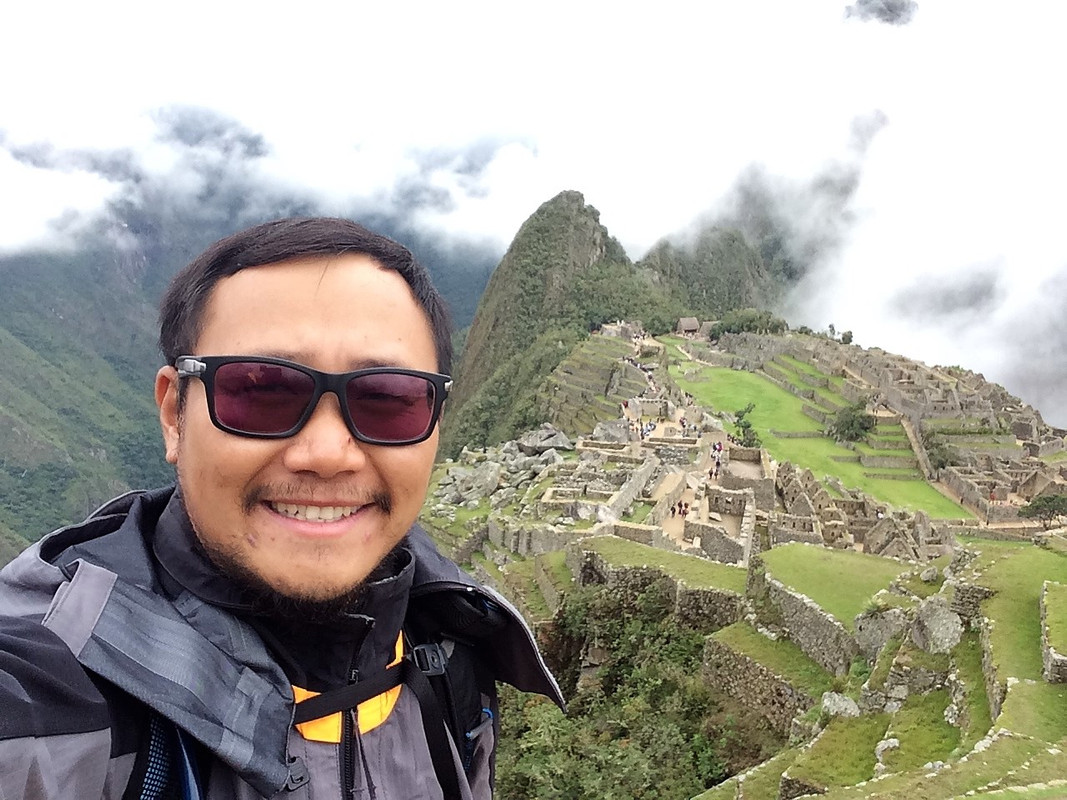 These guys provided some priceless entertainment on the train ride back to Cusco.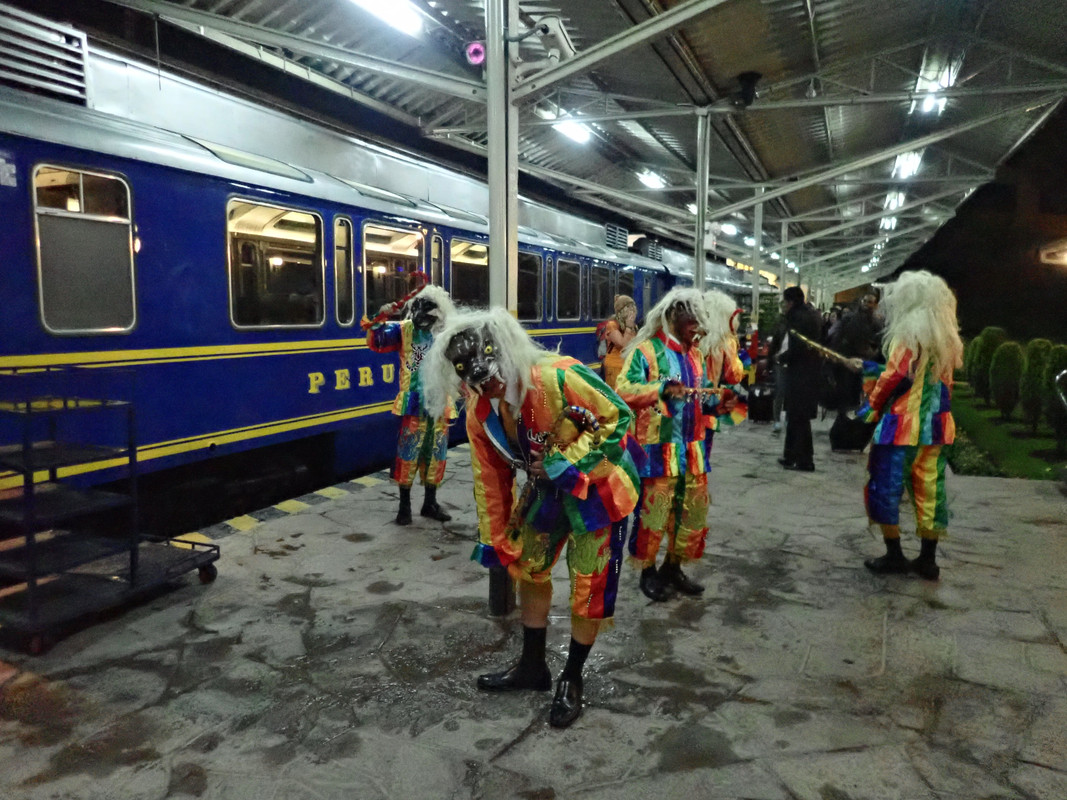 We got back to Cusco late at night on the 31st and a bunch of motorcycle travelers have arrived at the hospedaje. We had fun night out for New Year's eve at Plaza De Armas with fireworks and adult beverages. First day of the year was a complete write-off though.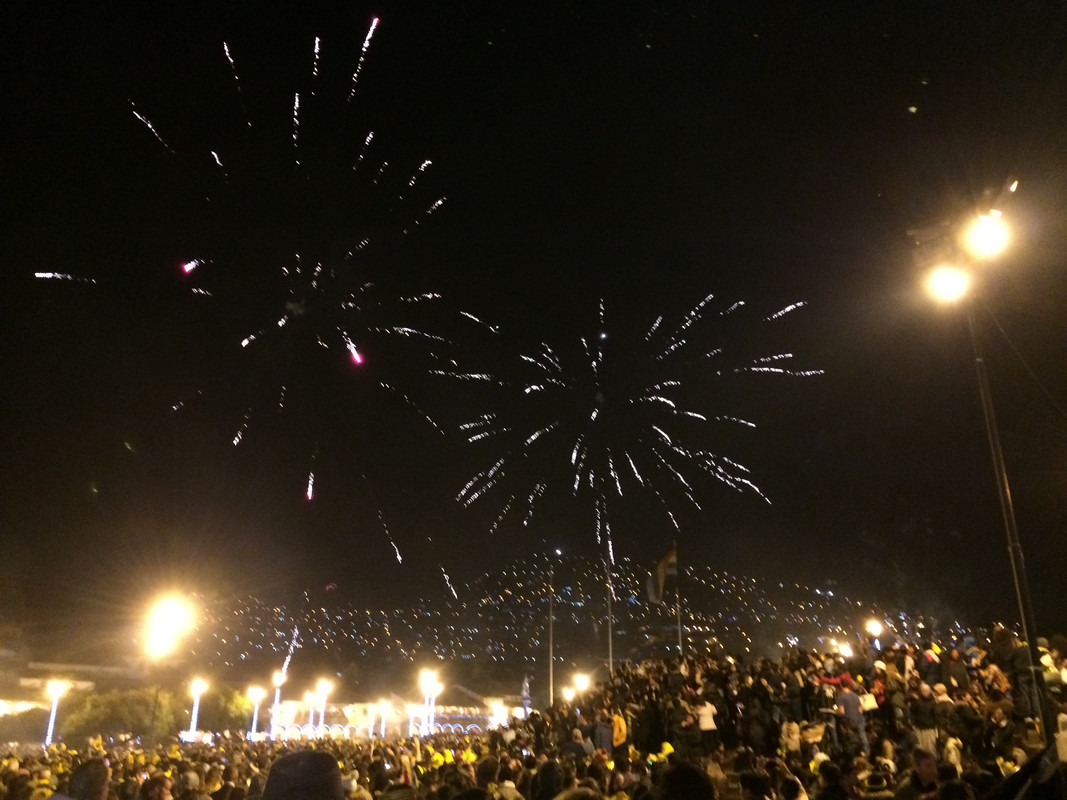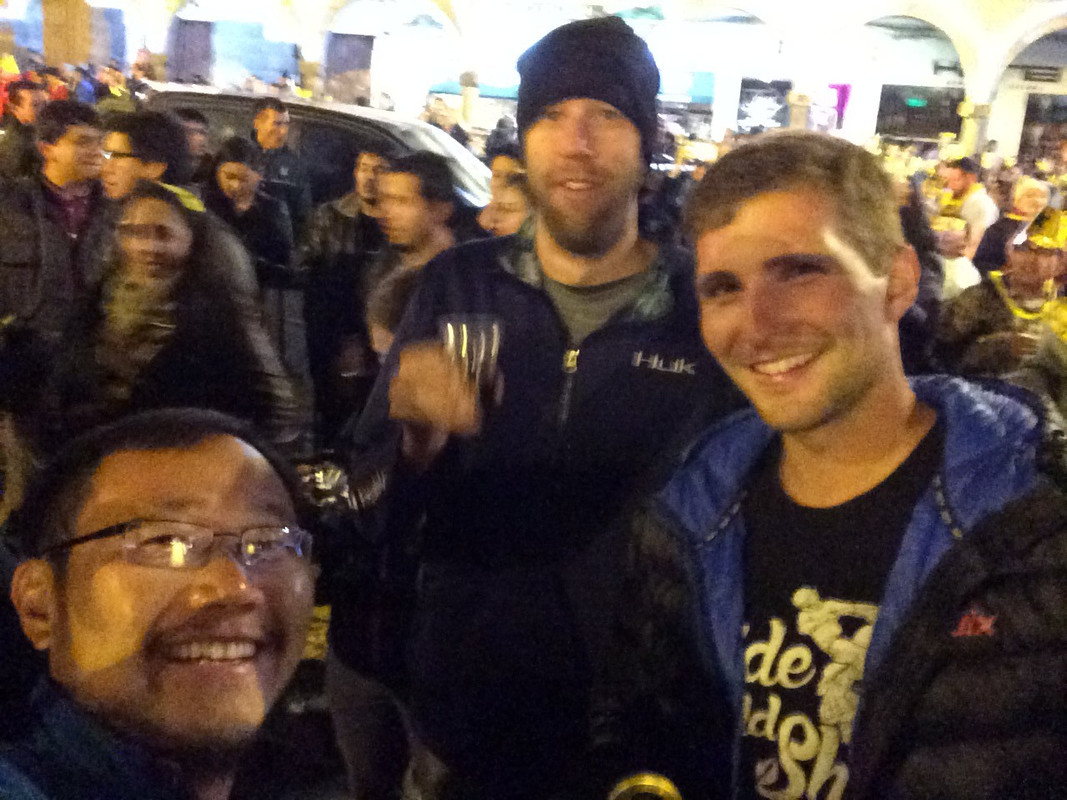 We all parted ways on the 2nd. Most of the group went to Rainbow Mountain and Derrick stayed to explore around Cusco some more while I went off on my own to Puno.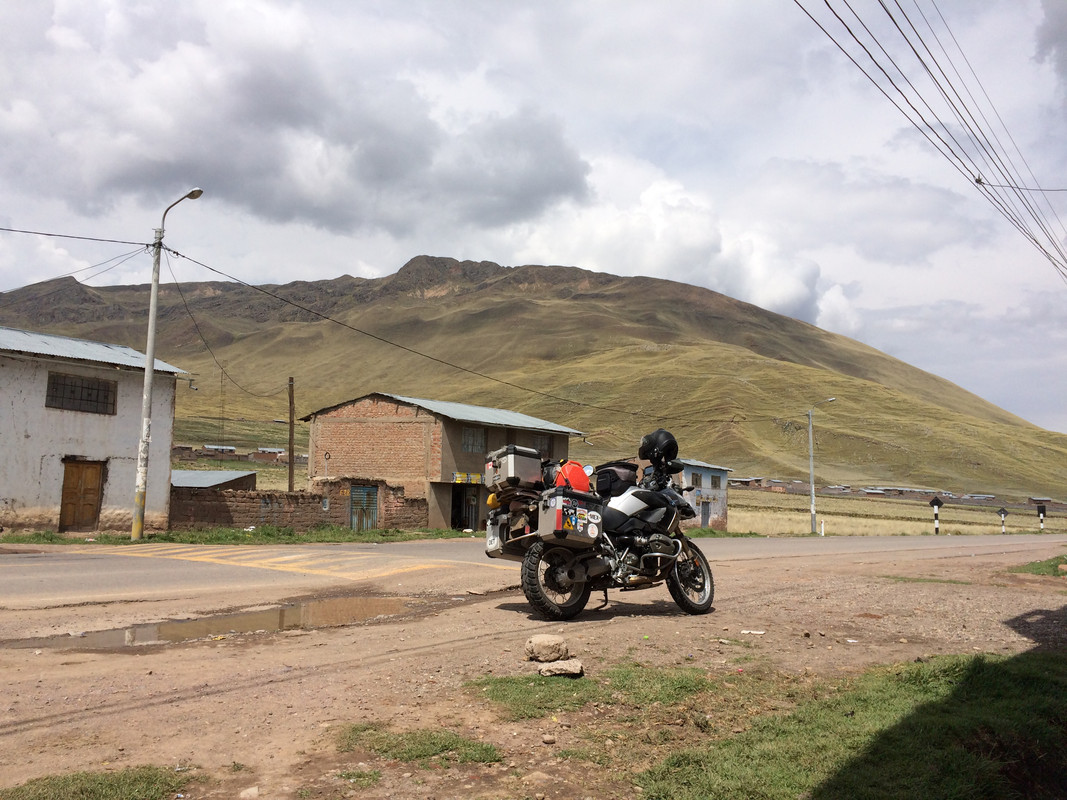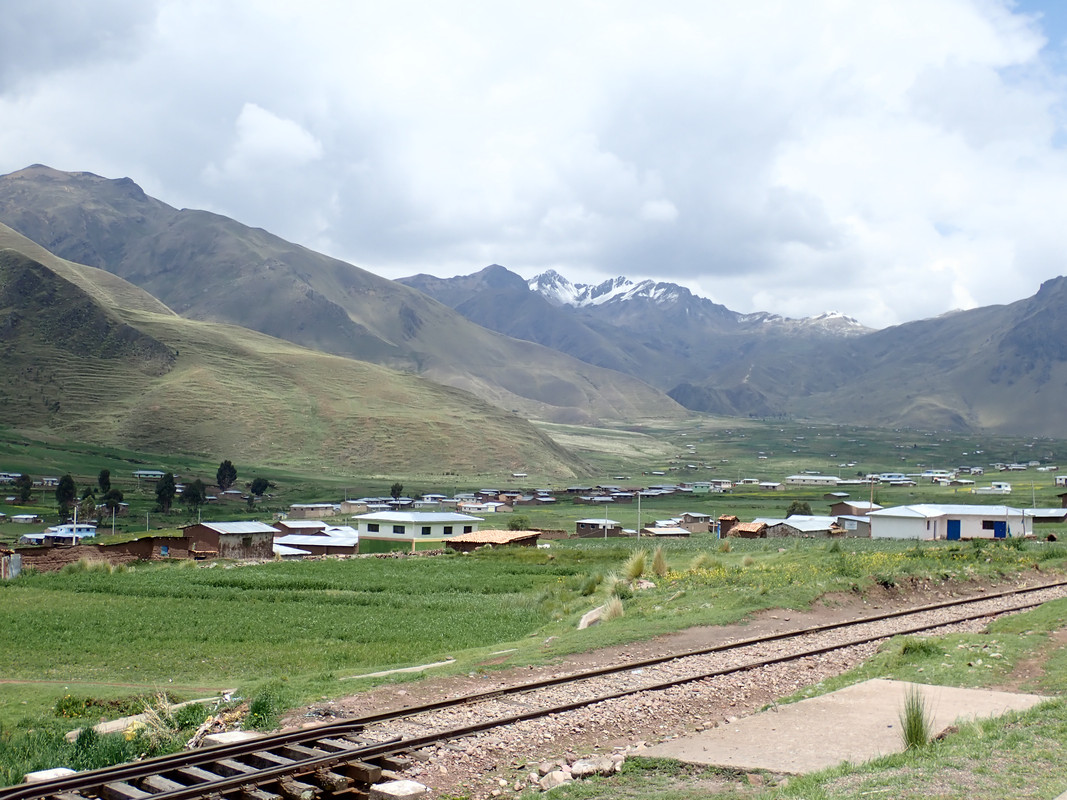 Locals going for a dip at a hot spring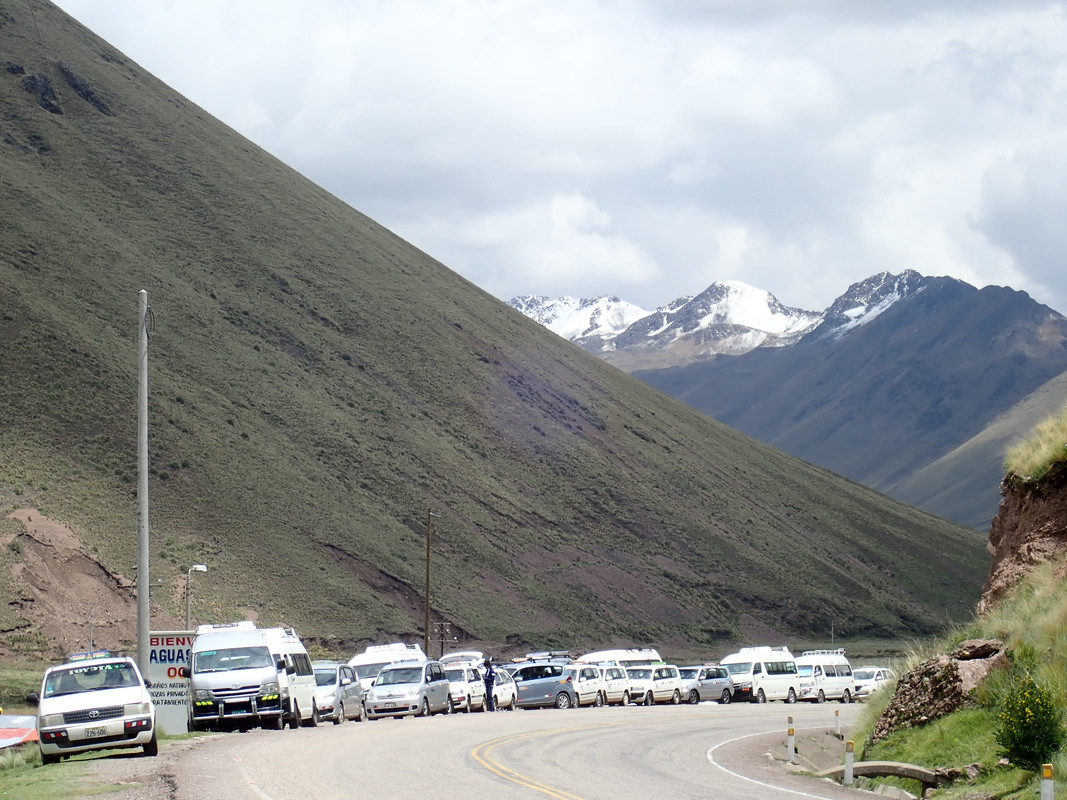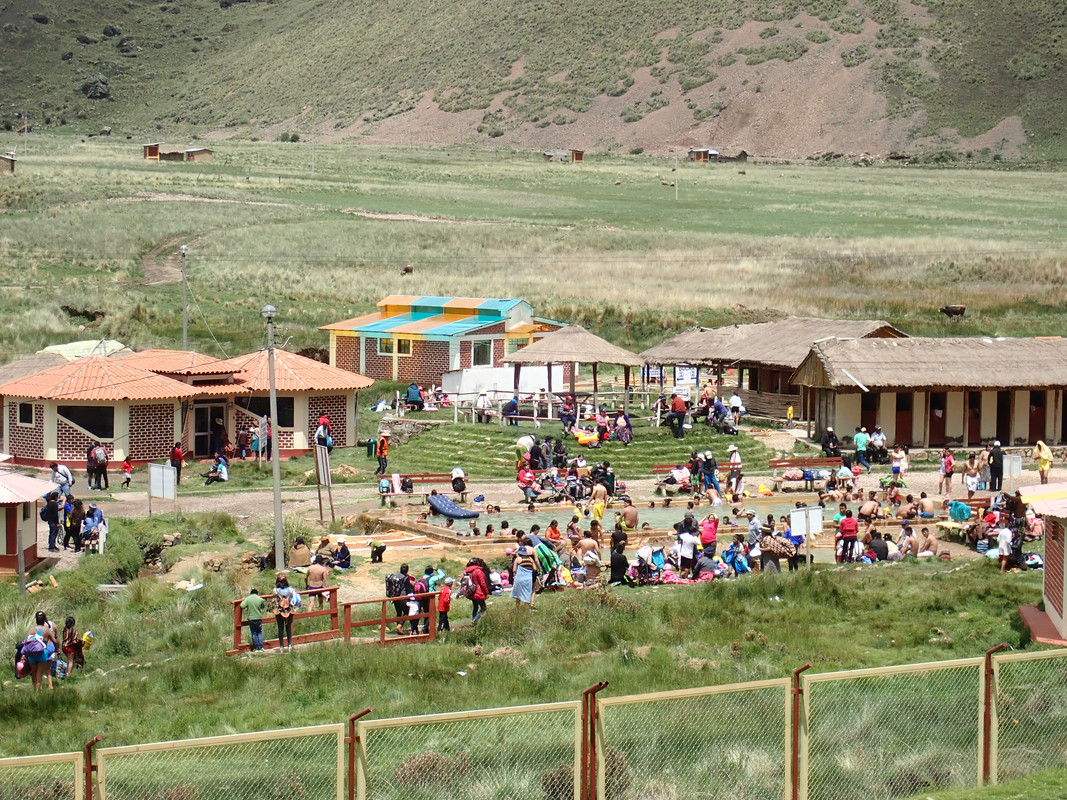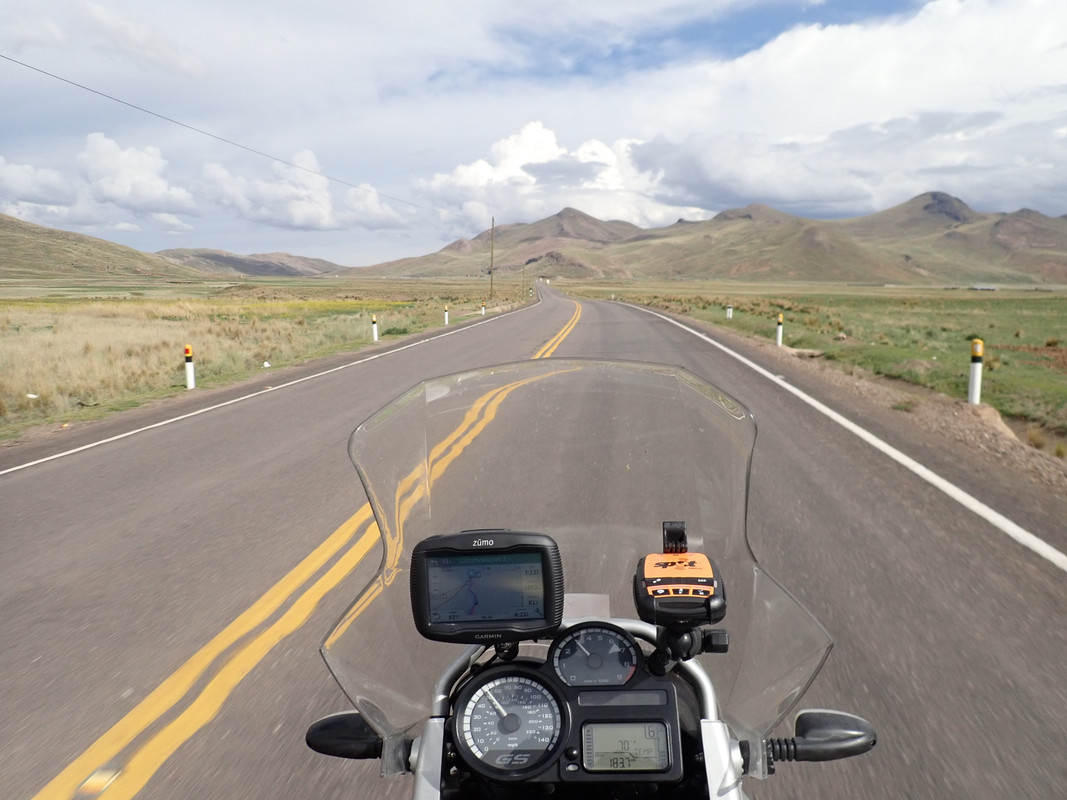 Passing through Juliaca was a nightmare. I don't know how a main city street could deteriorate to this condition. I will never complain about Michigan roads again…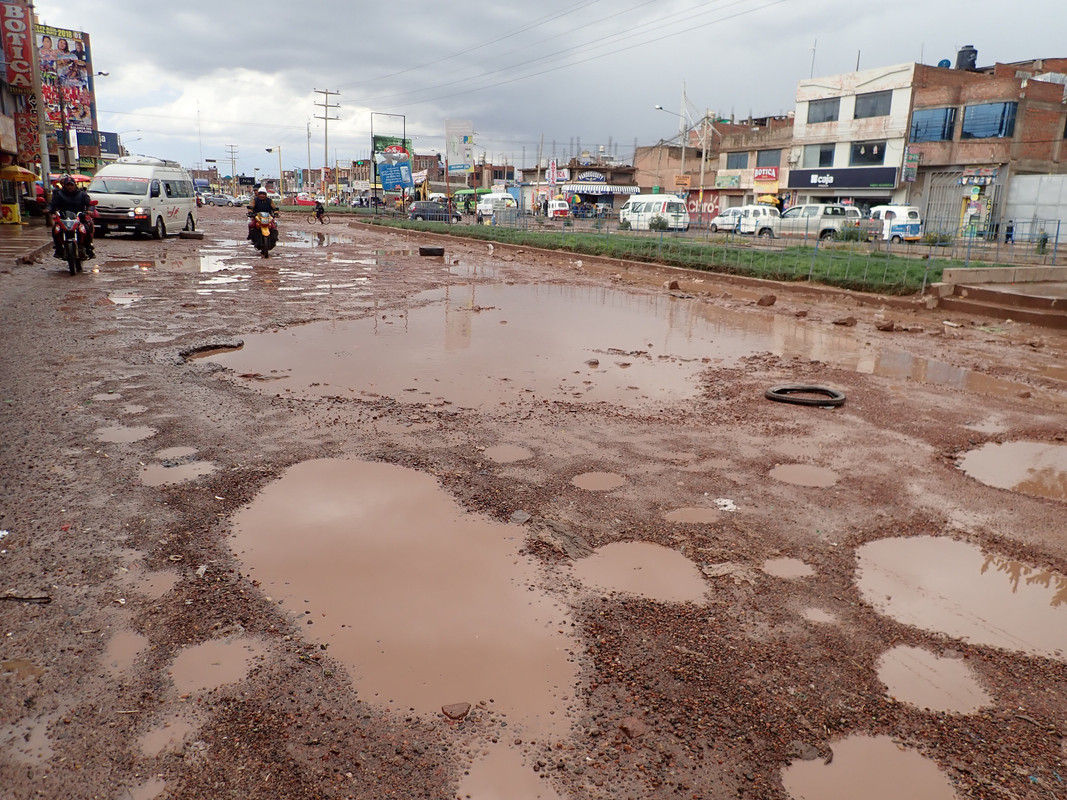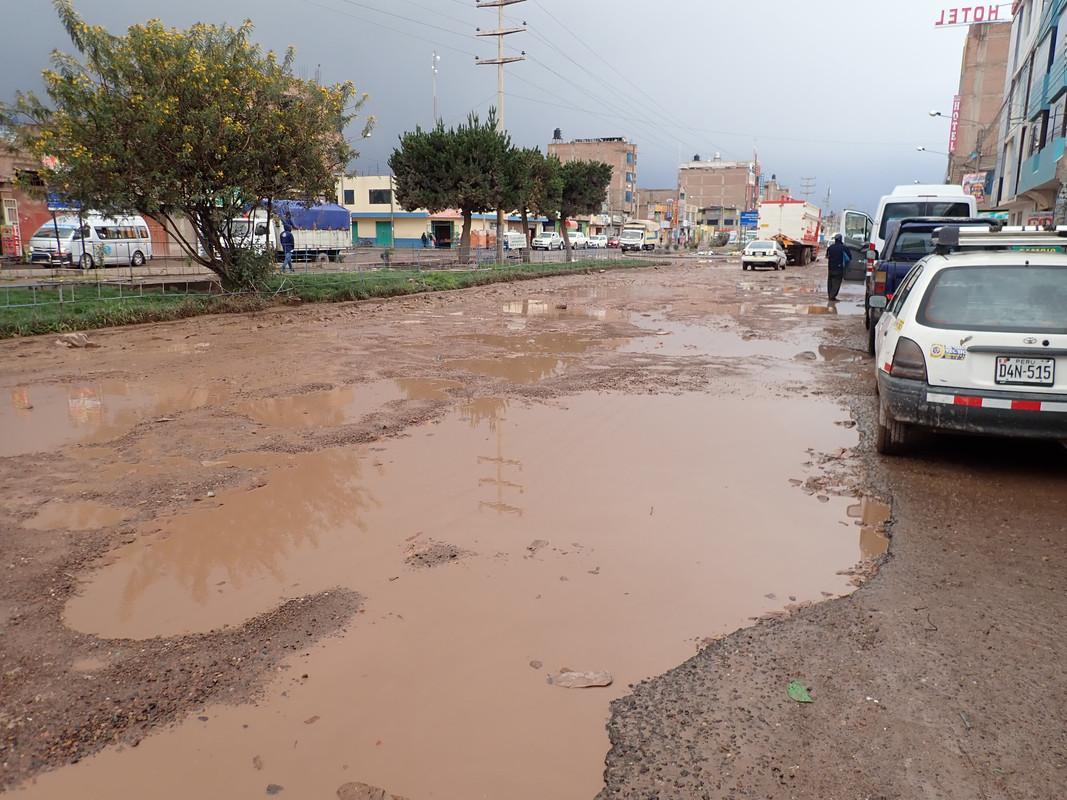 I arrived in Puno which is a small town by Lake Titicaca, the highest navigable lake in the world at 3812 m (12507 ft). There are a few islands occupied by indigenous people of Peru and Bolivia. The first ones I visited are the Uros floating islands. The islands and boats are all made from dried totora reed grown on Lake Titicaca.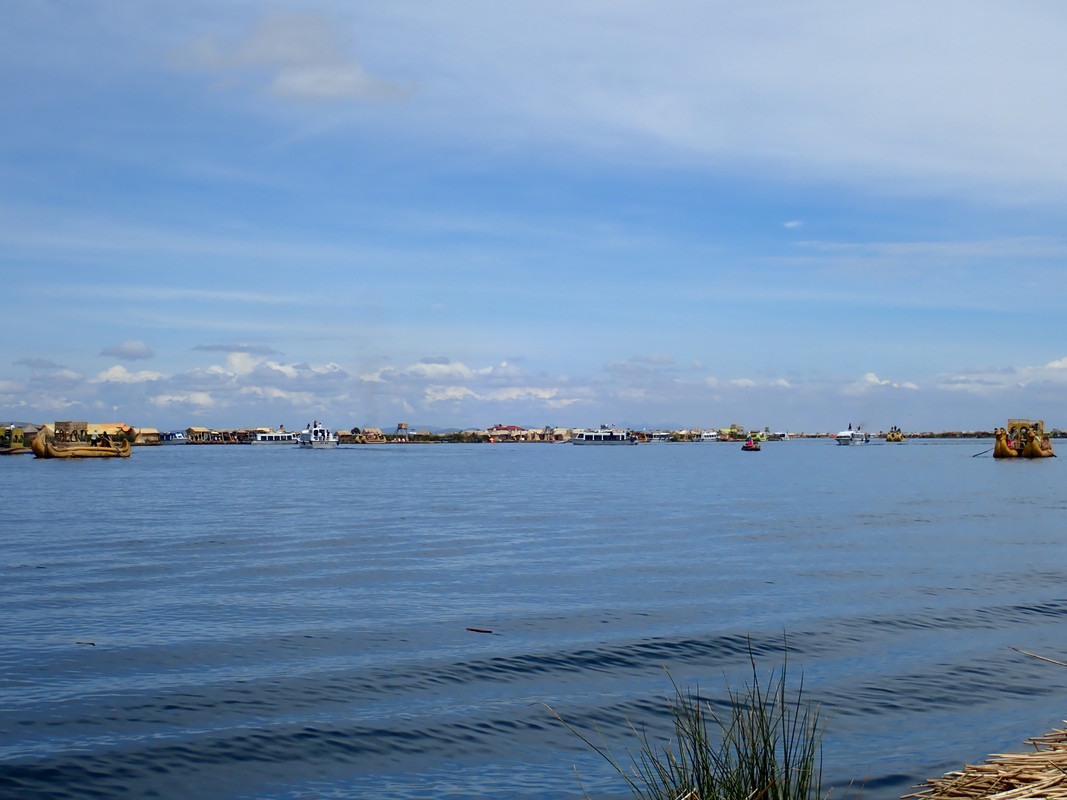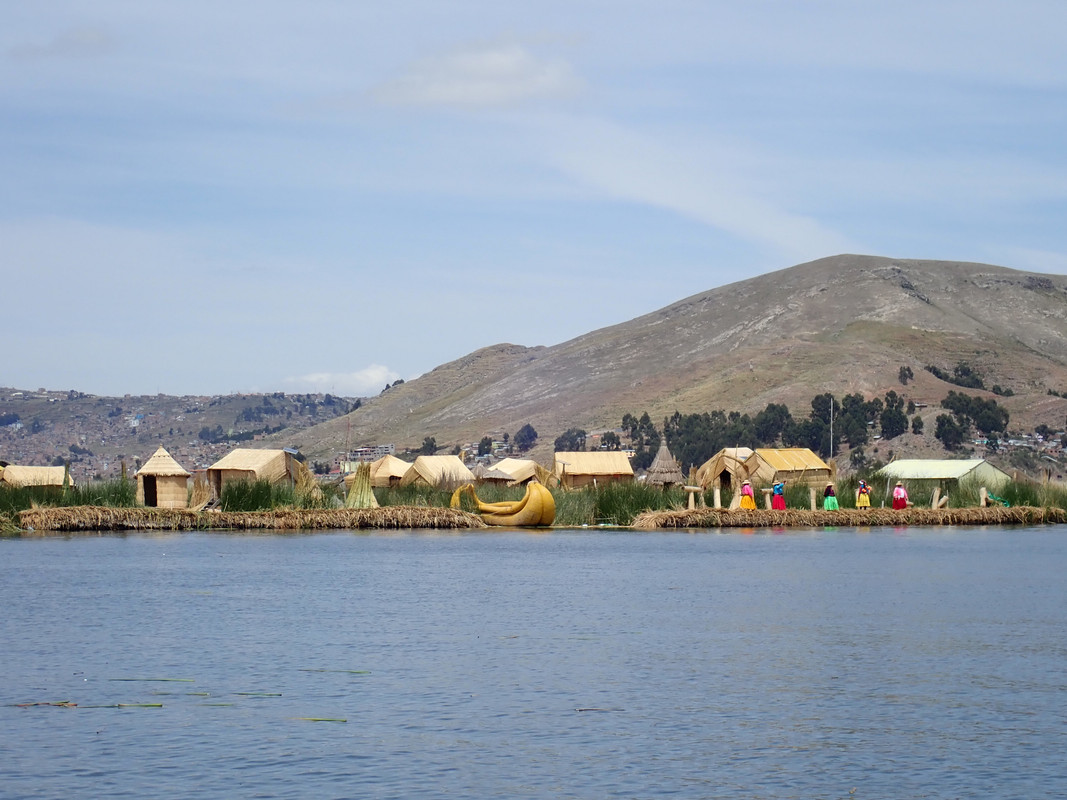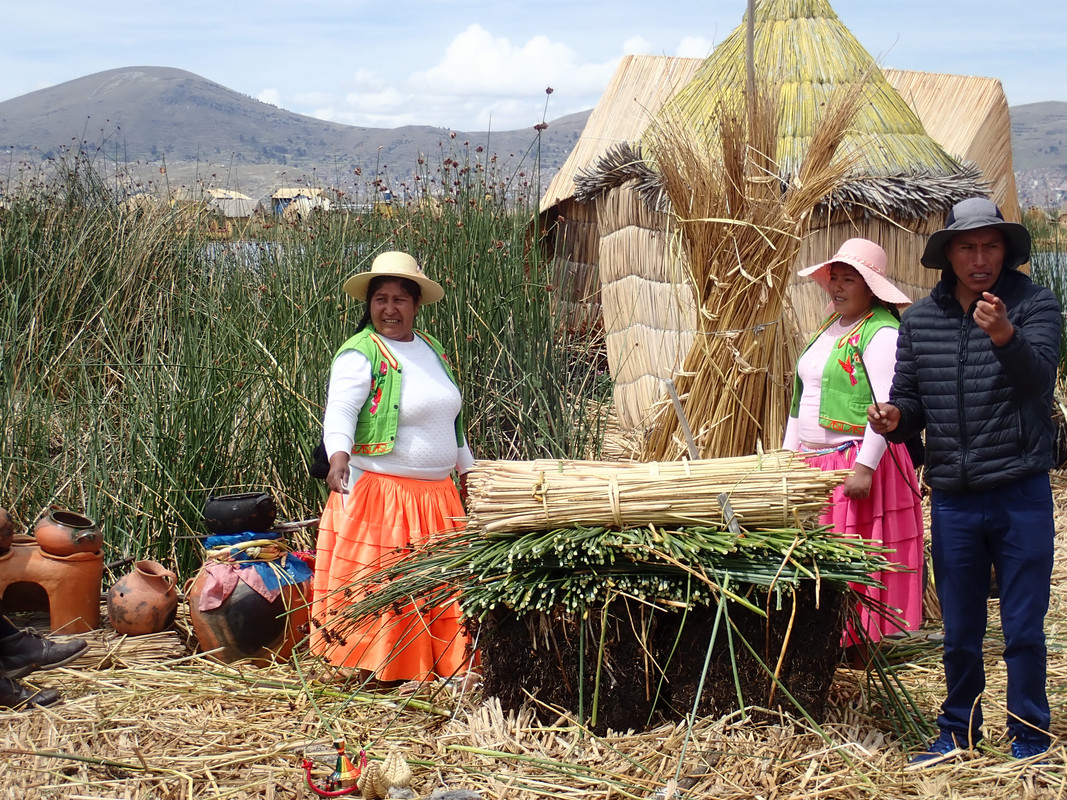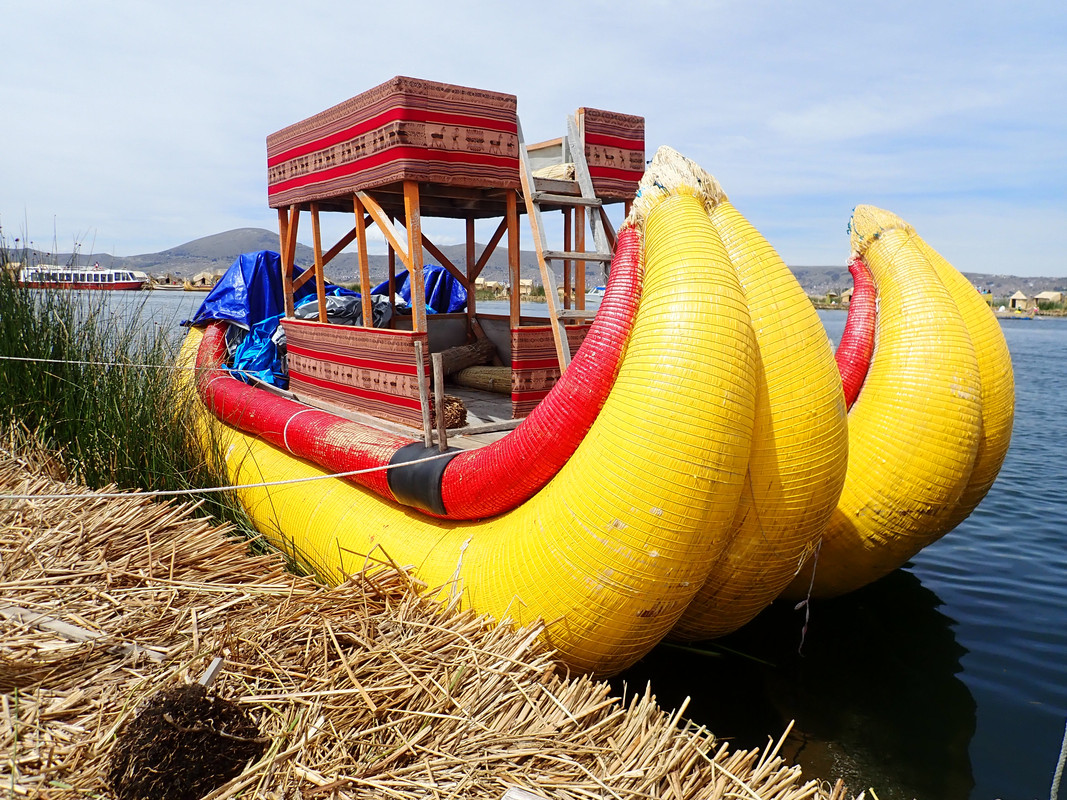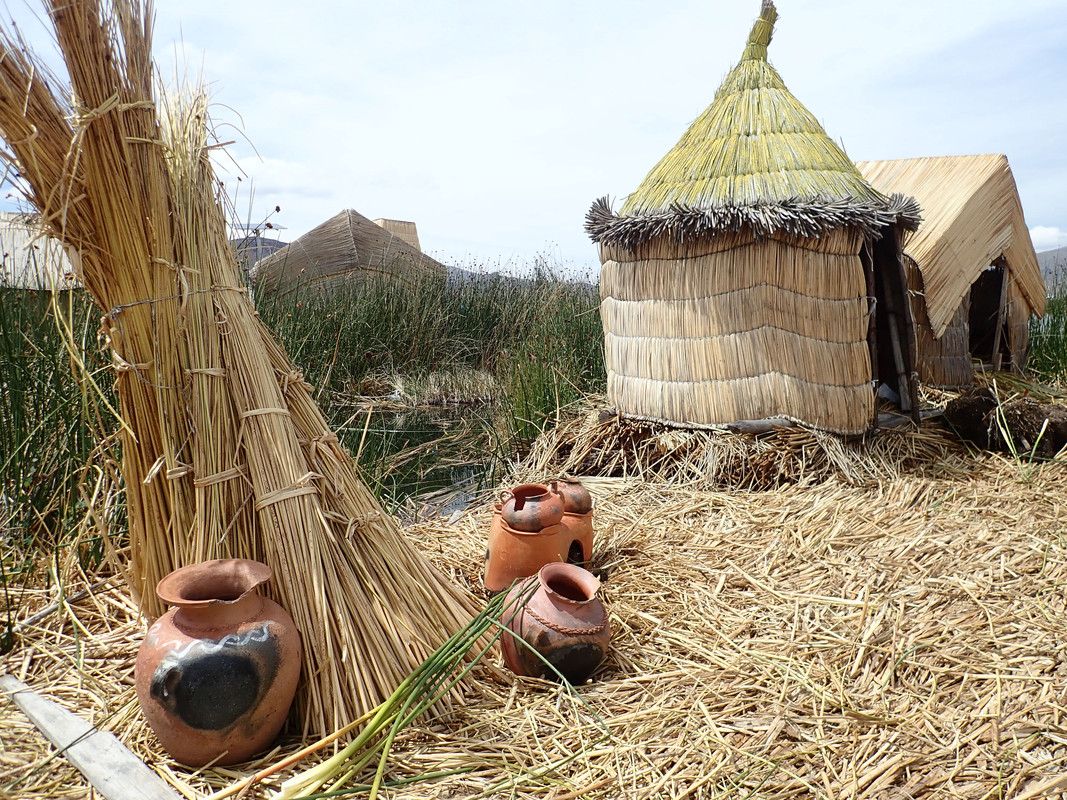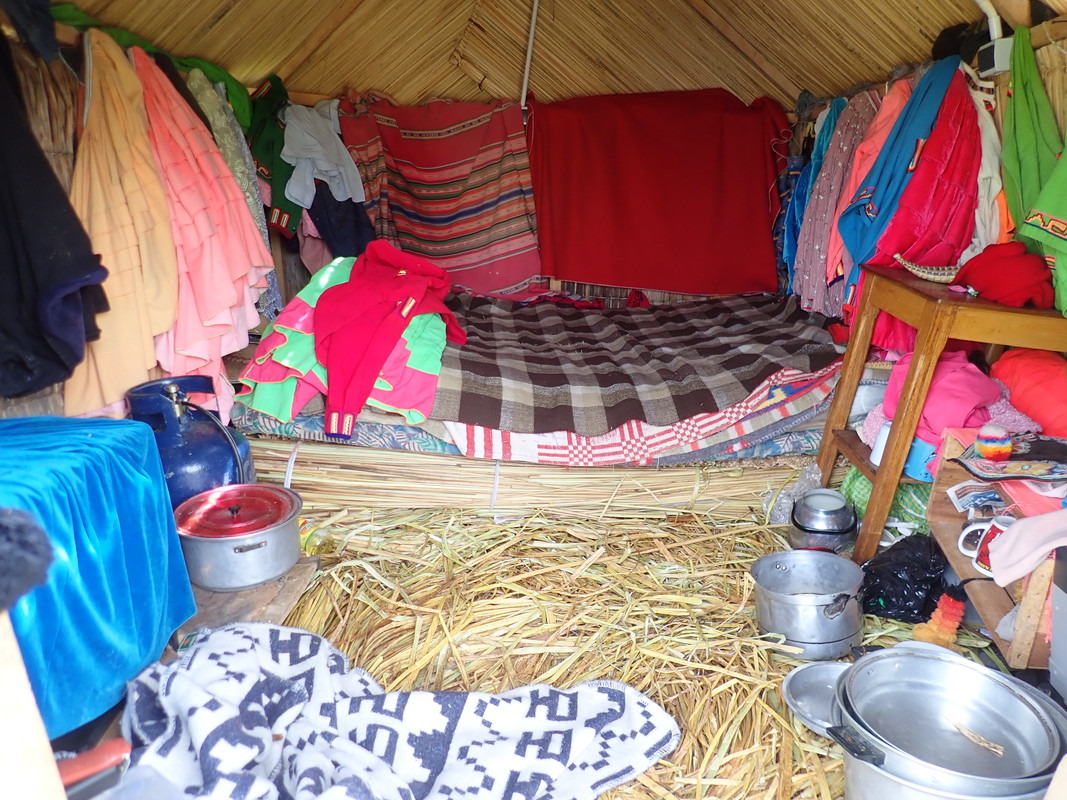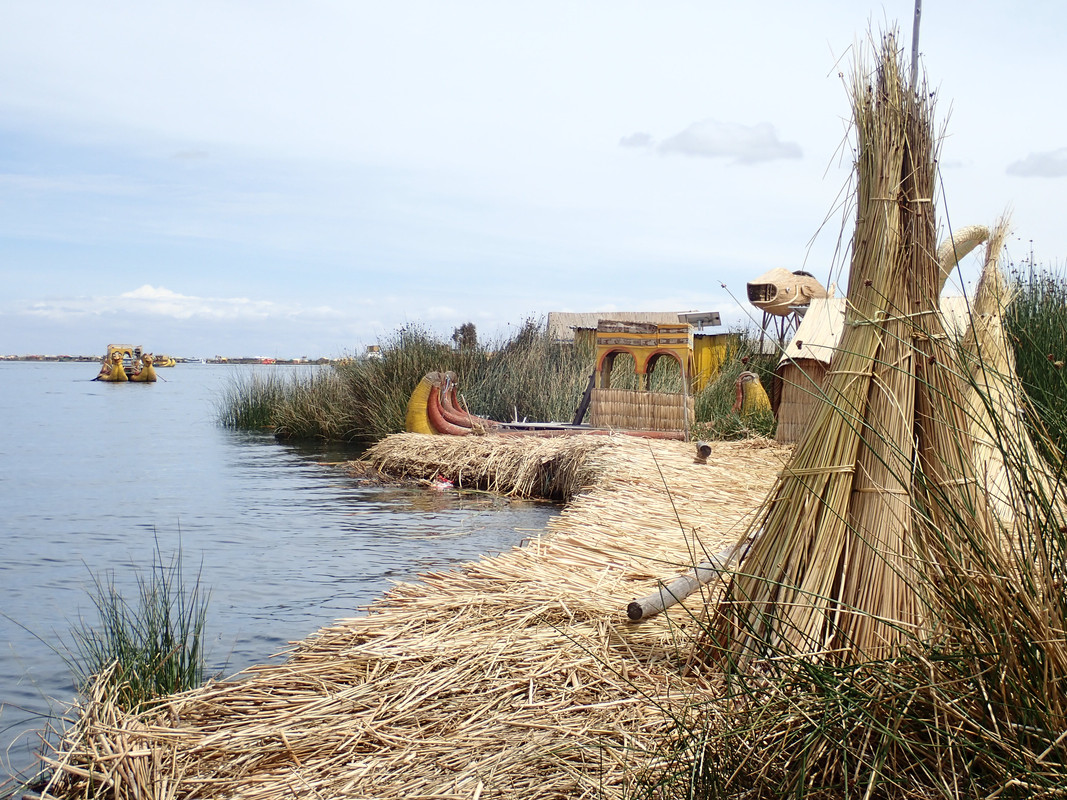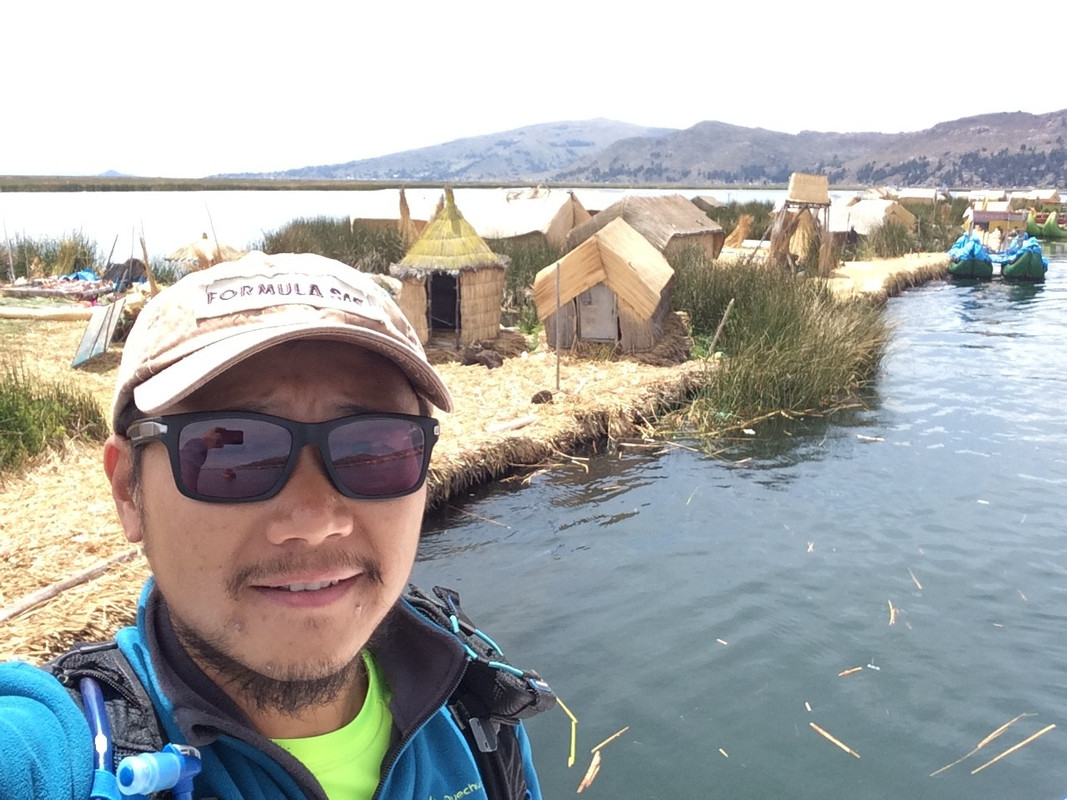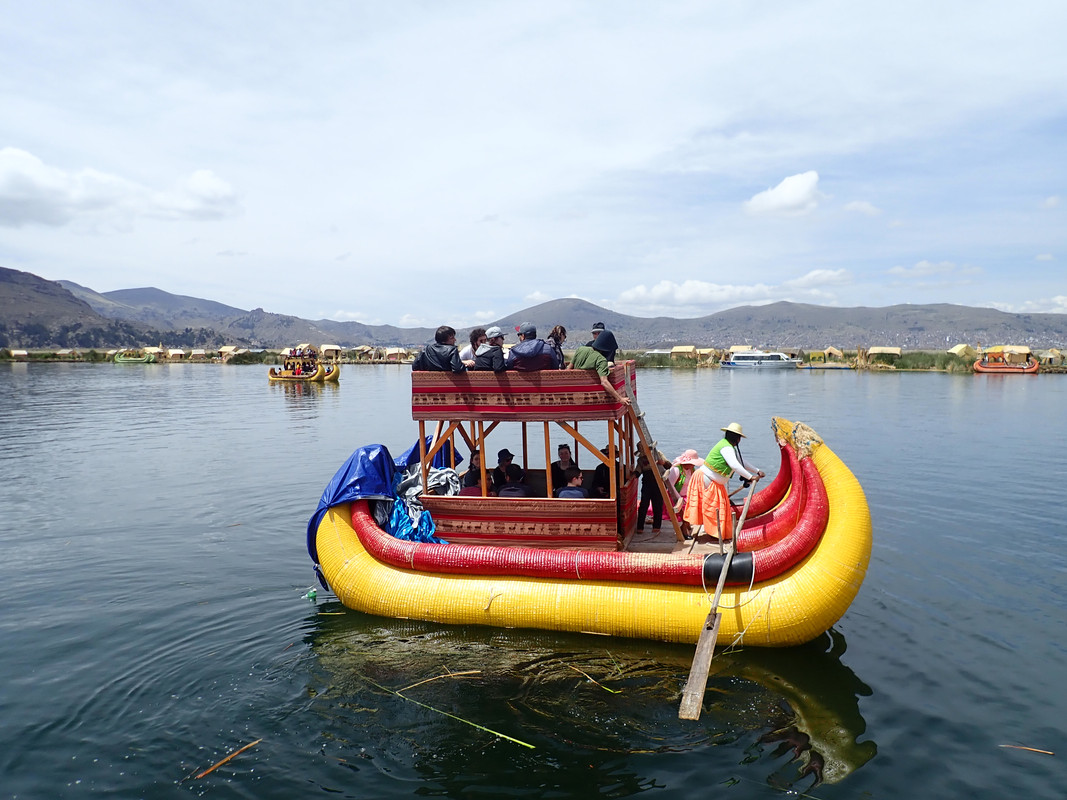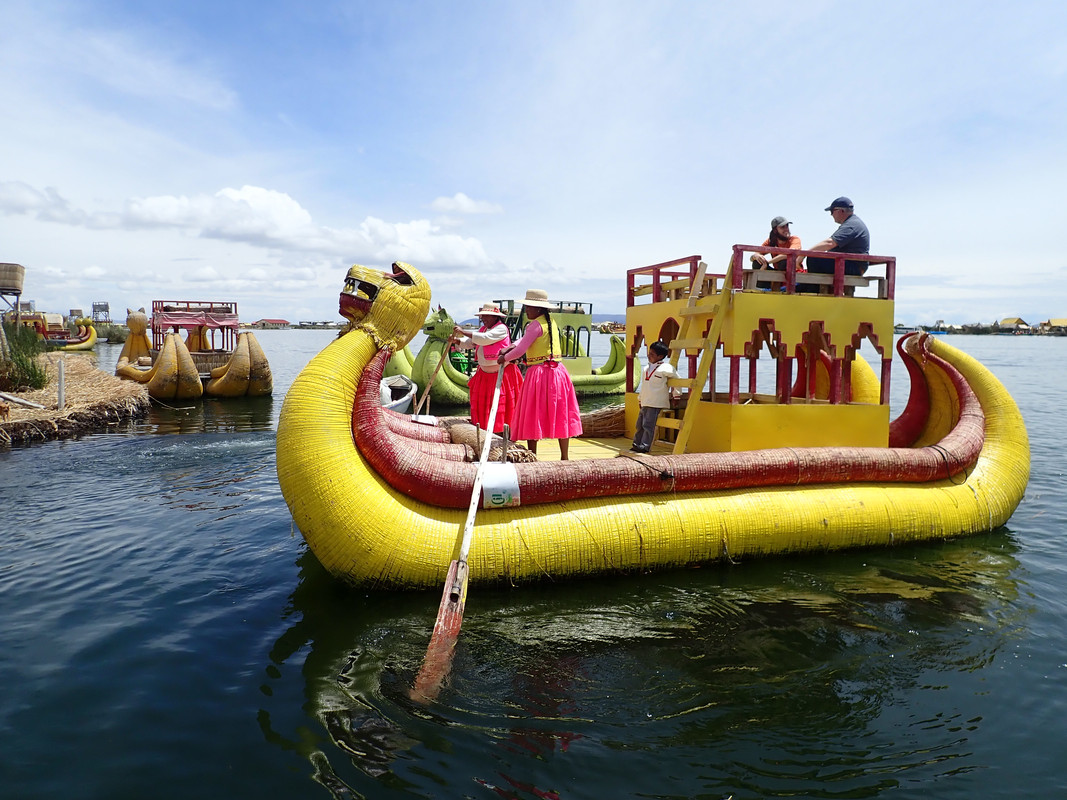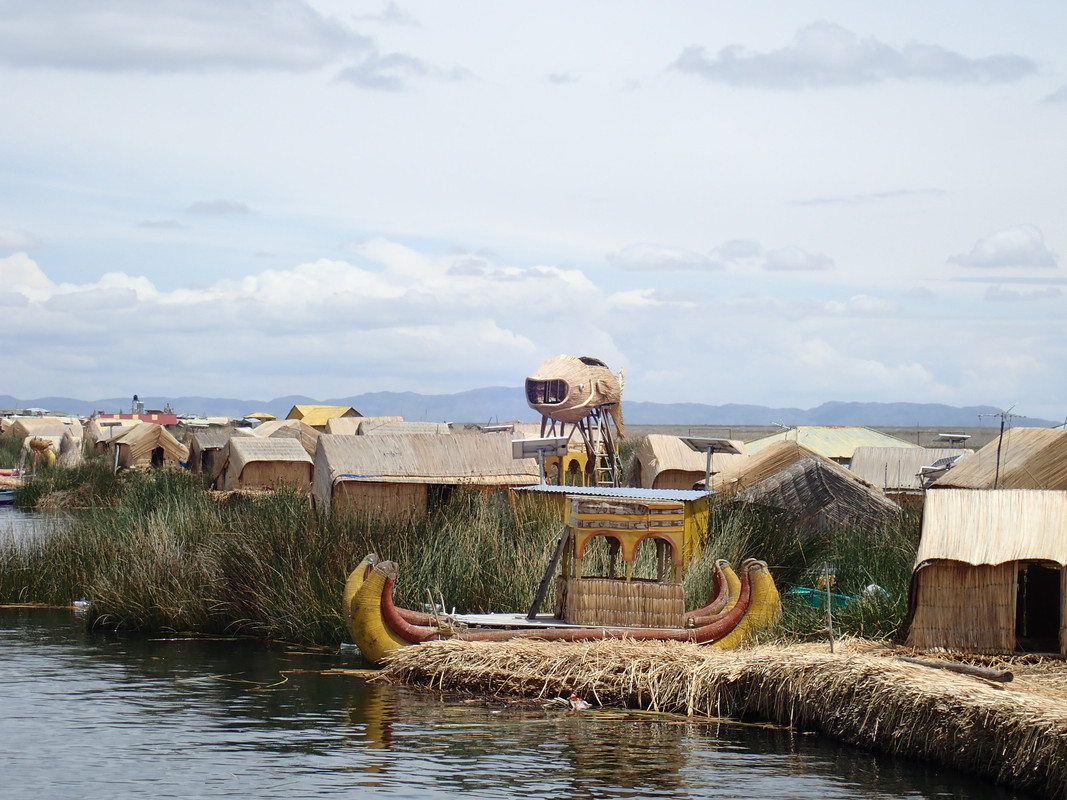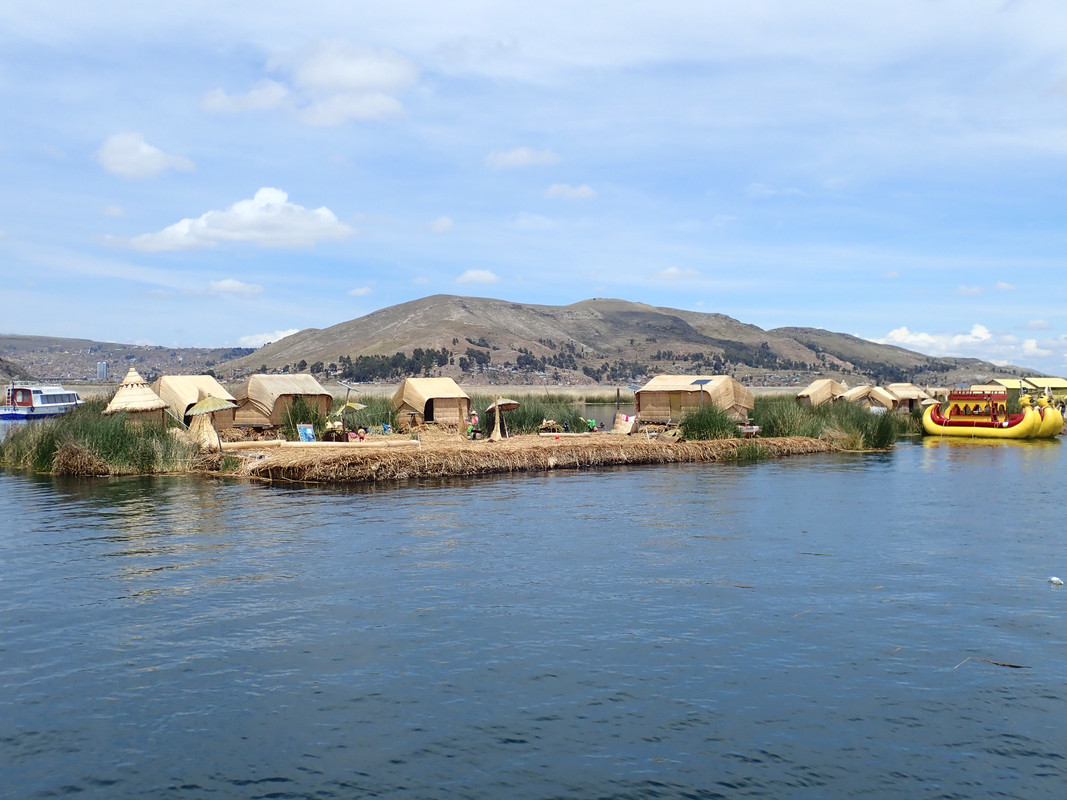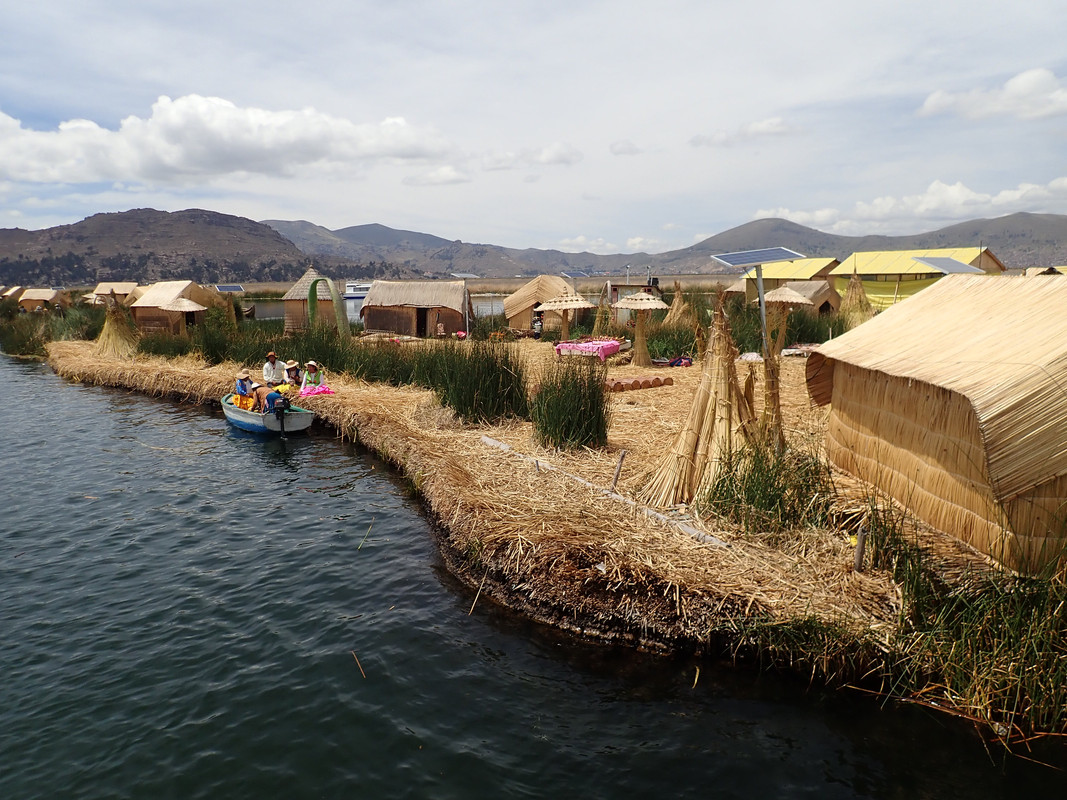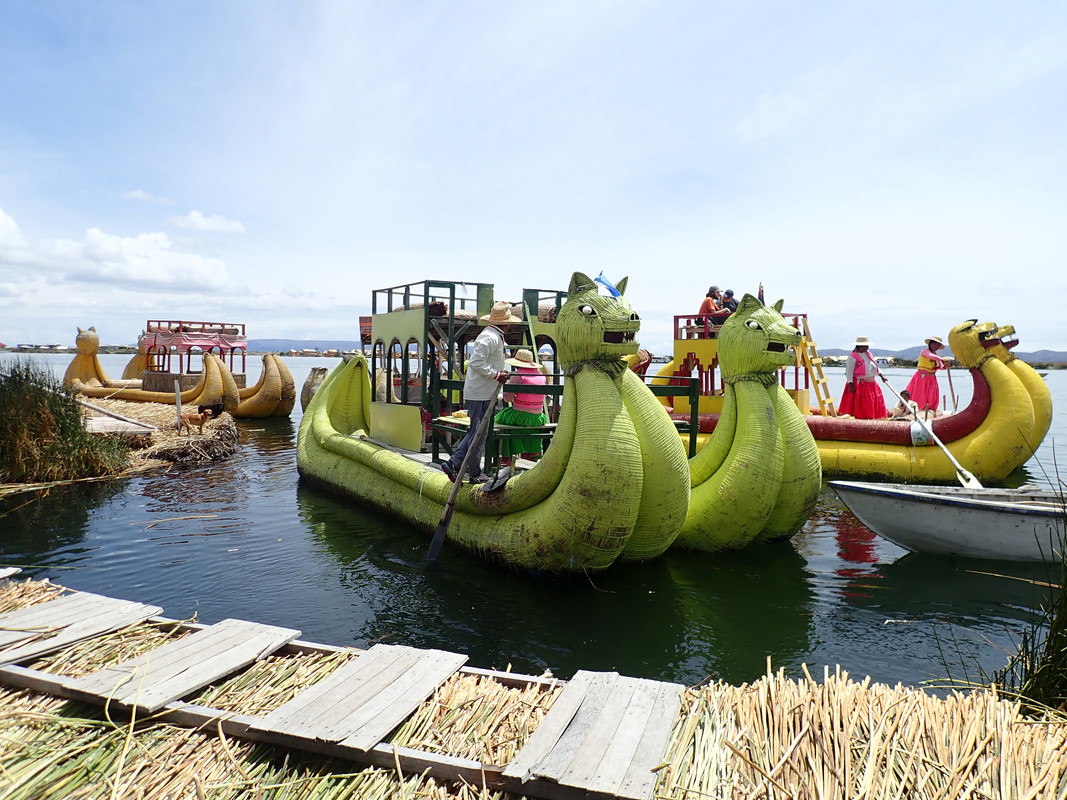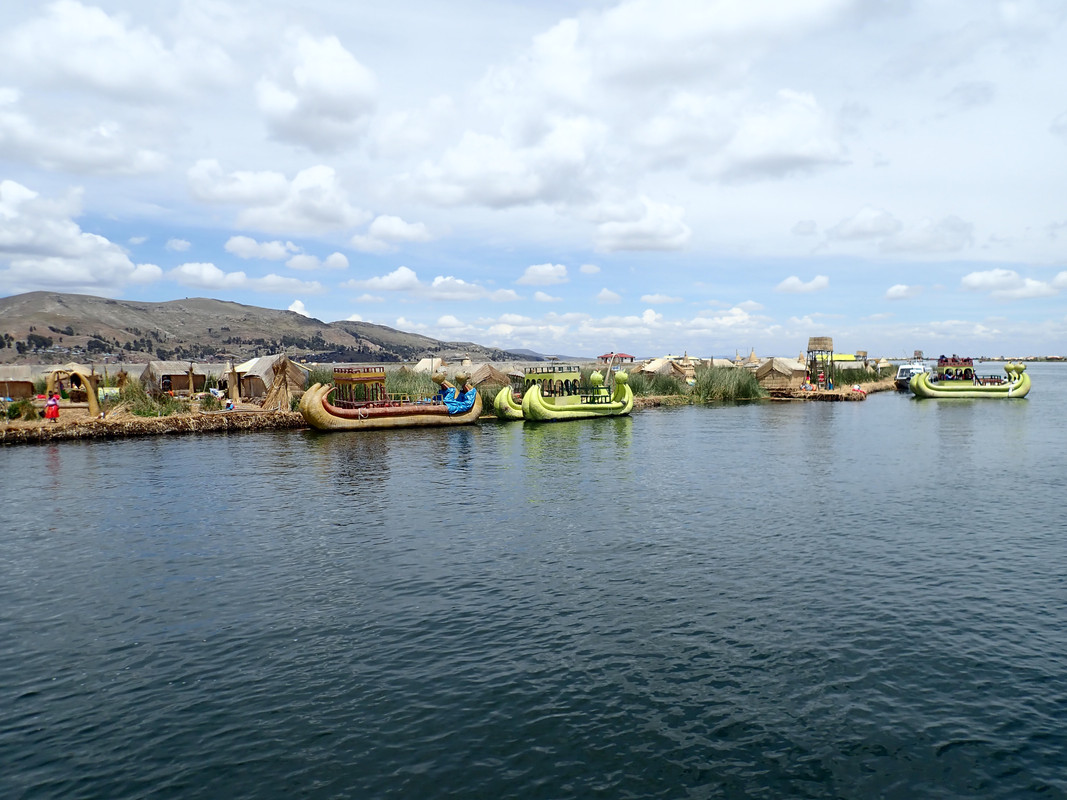 Next stop was an overnight home stay on Amantaní. There is no running water, electricity, internet, road/cars or any of the modern creature comforts on this island. It was literally like step back in time.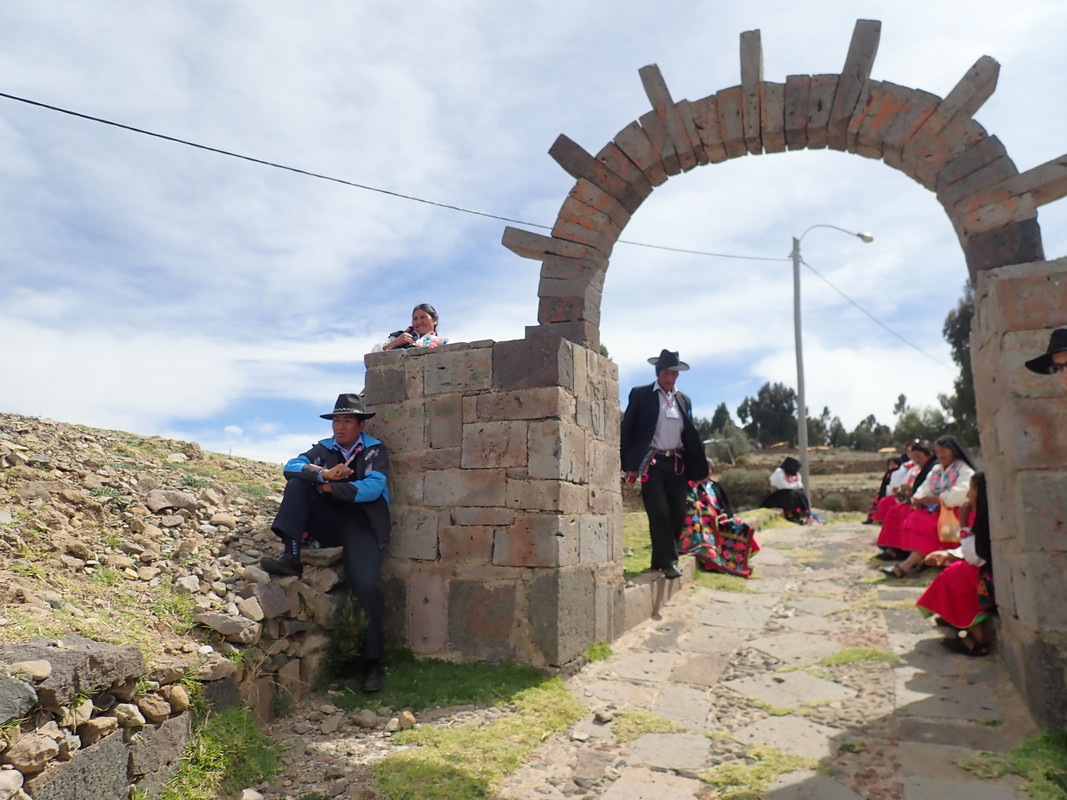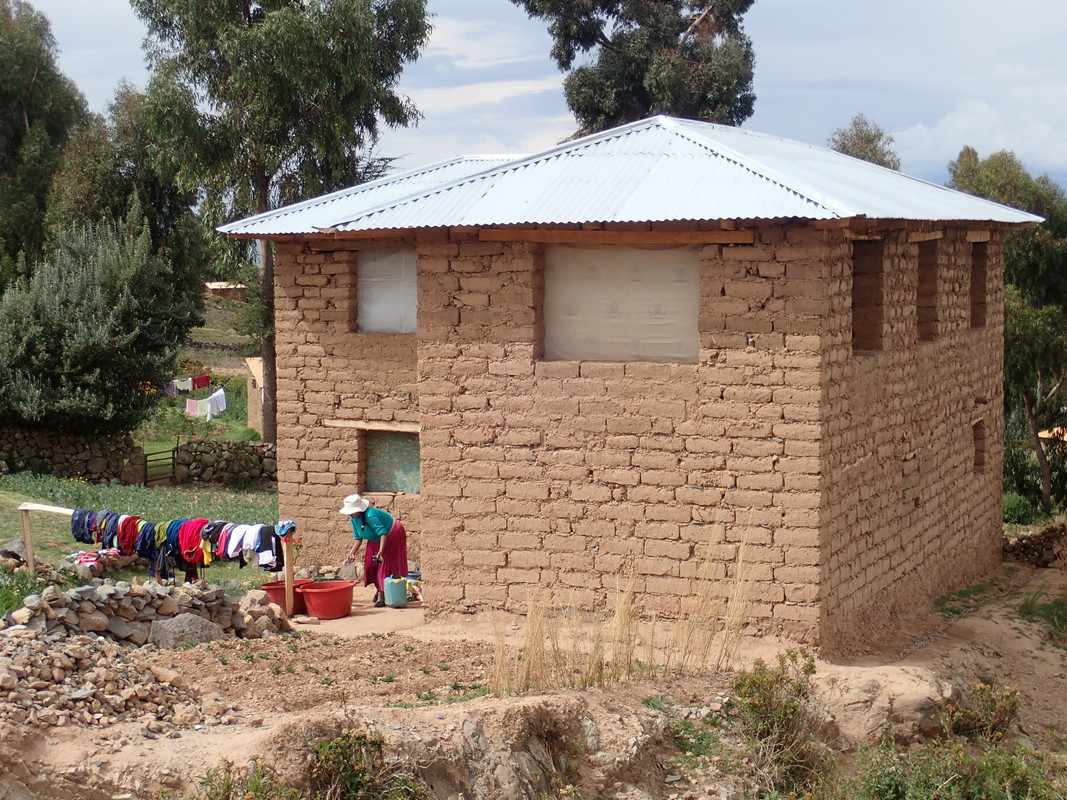 Lunch was served after my host family led me to their house. Meat is not consumed (except special occasions) on Amantaní and diet here mainly consist of quinoa soup, rice and potatoes.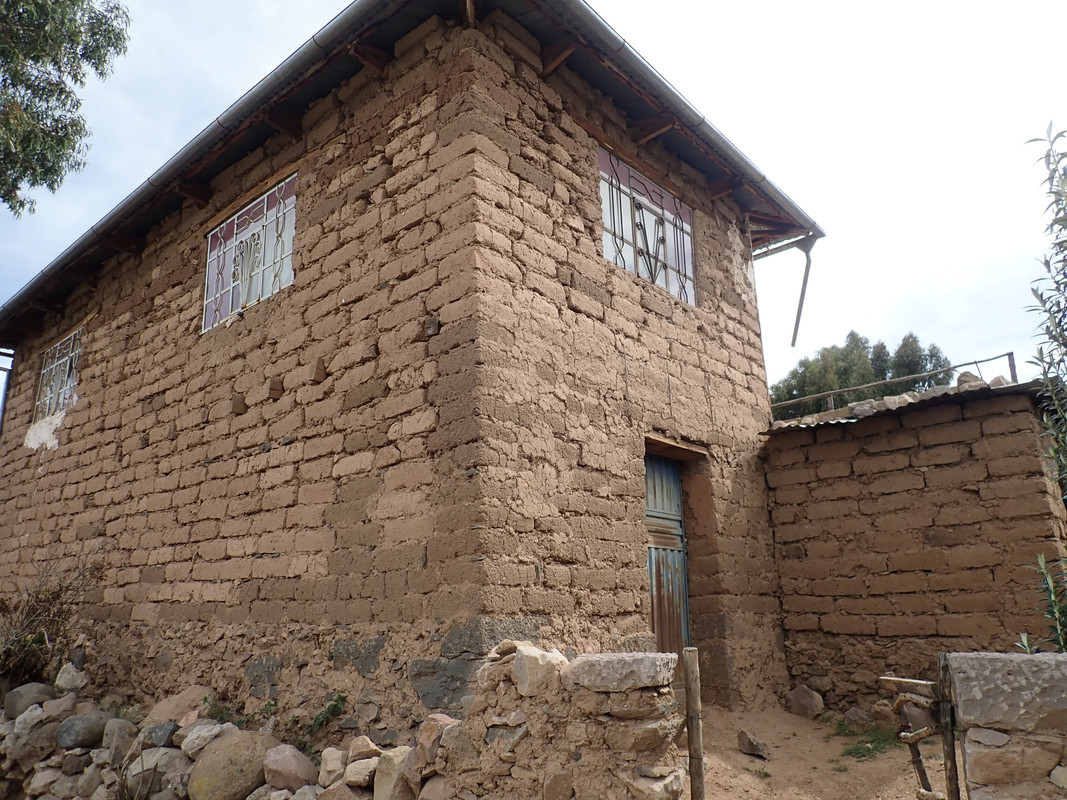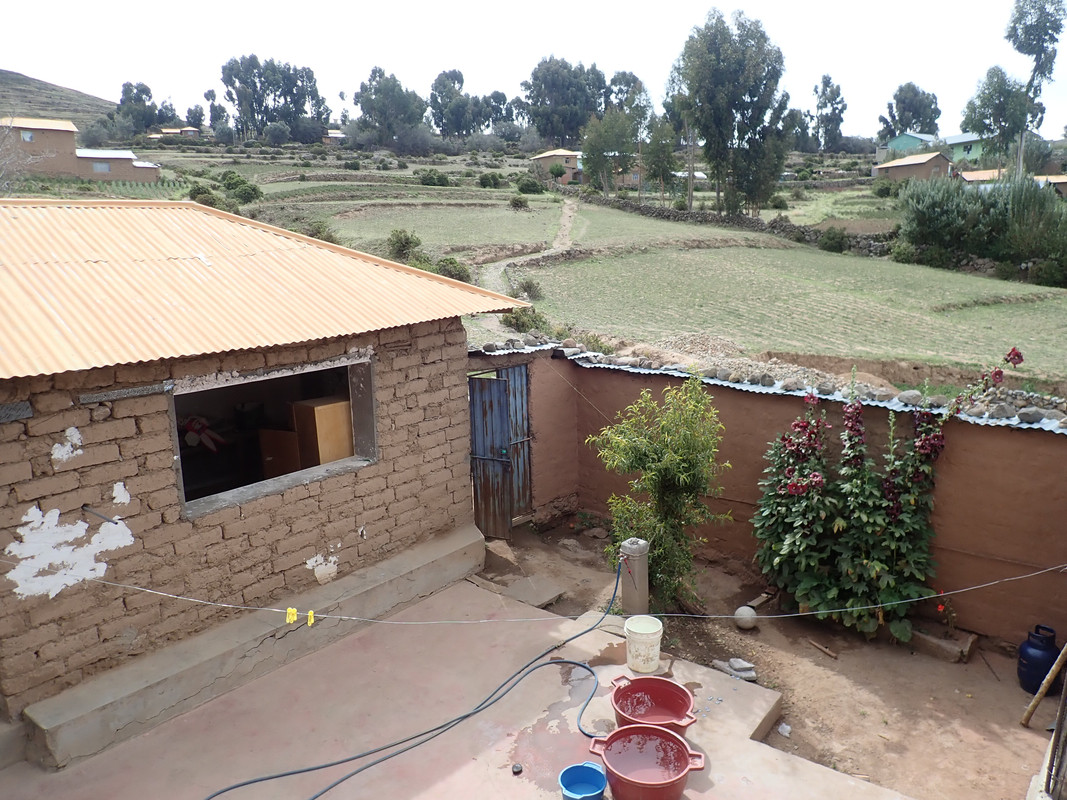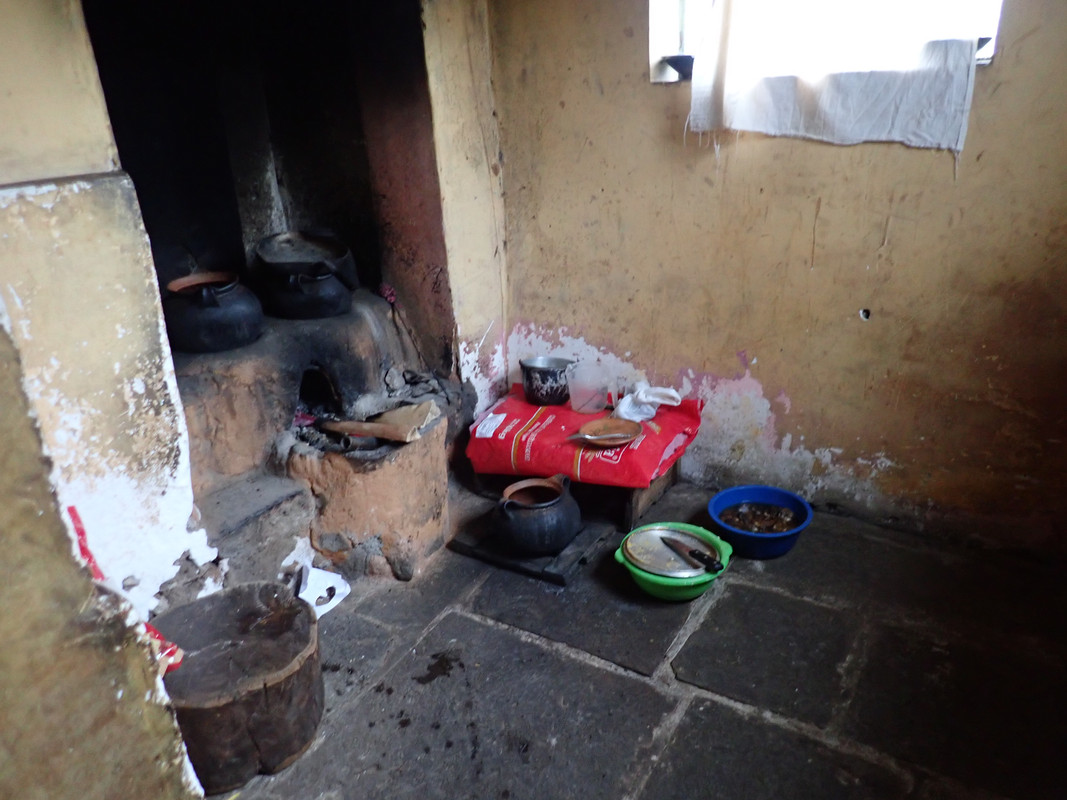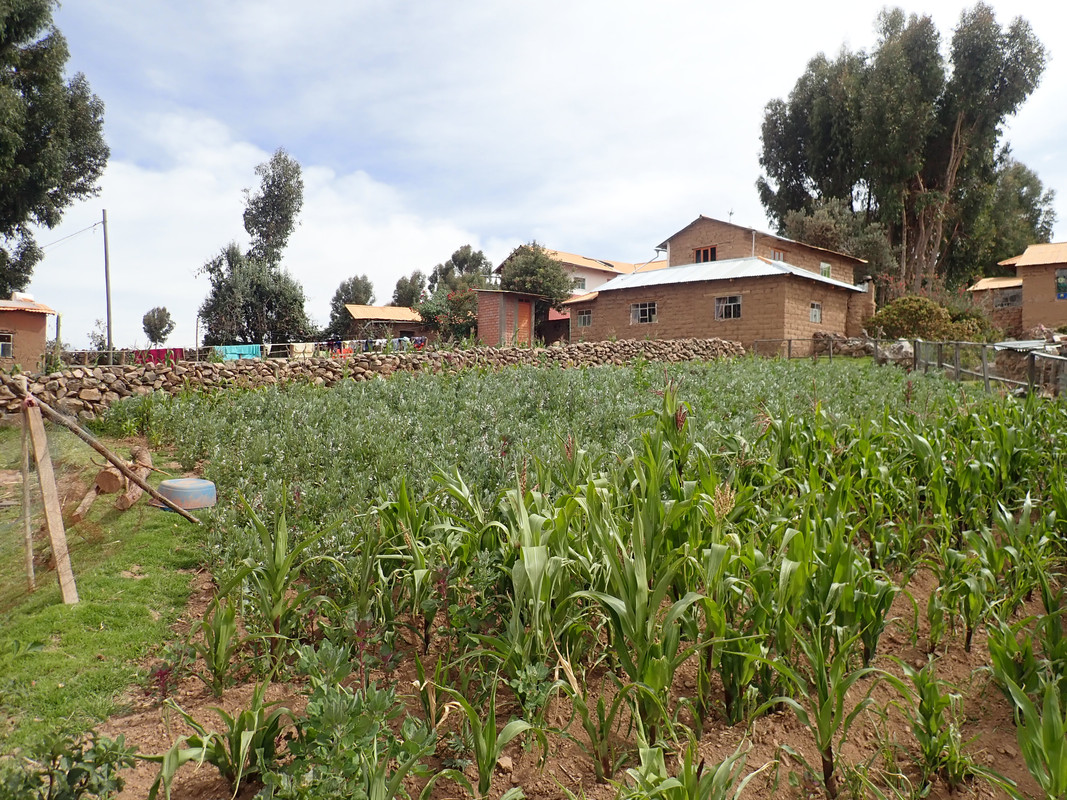 Rest of the day was spent hiking up to the temple at the top of the peak.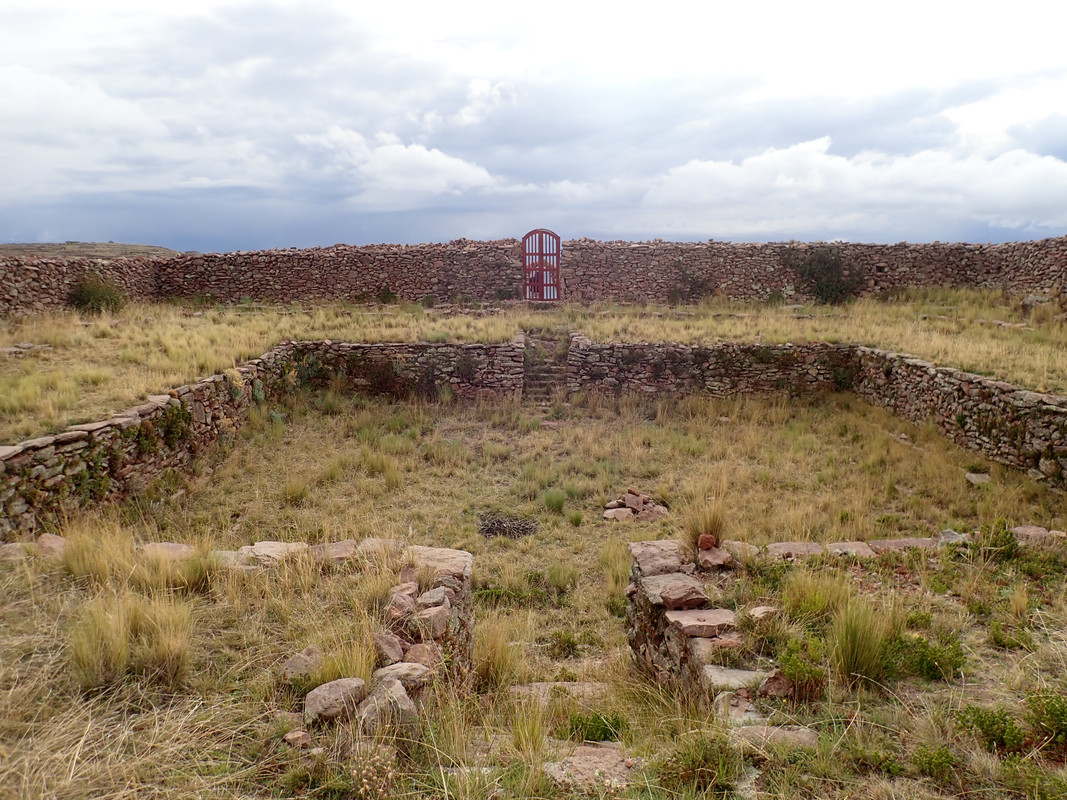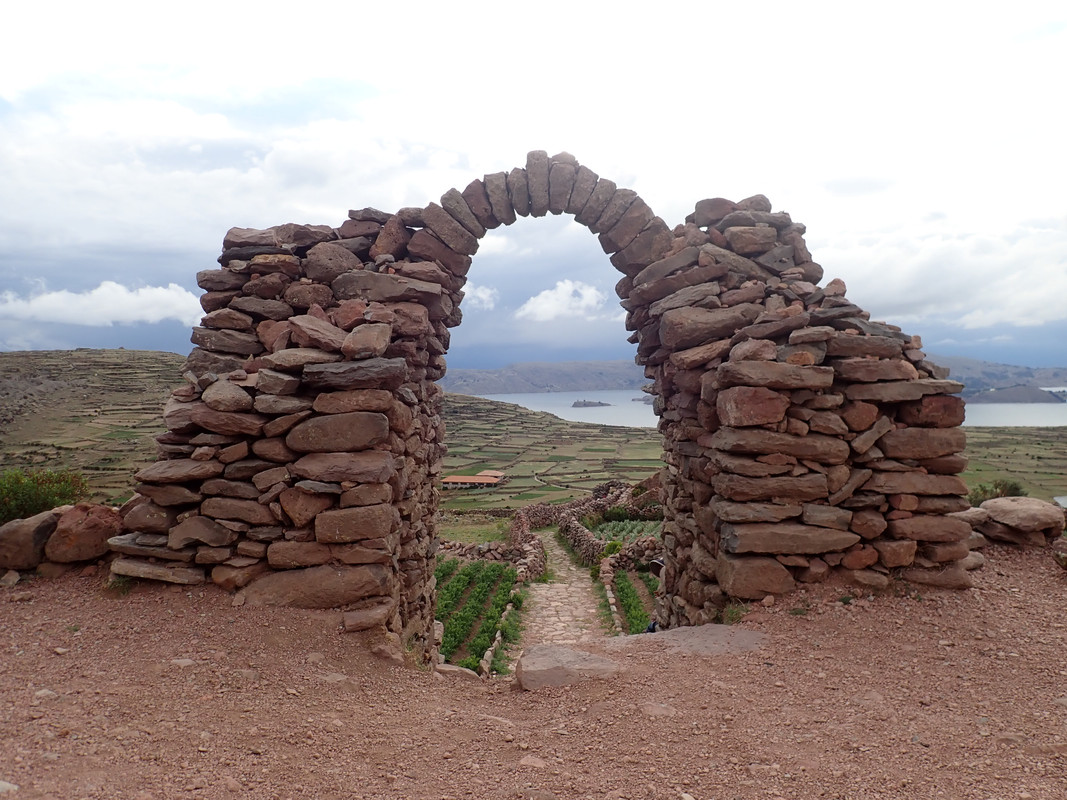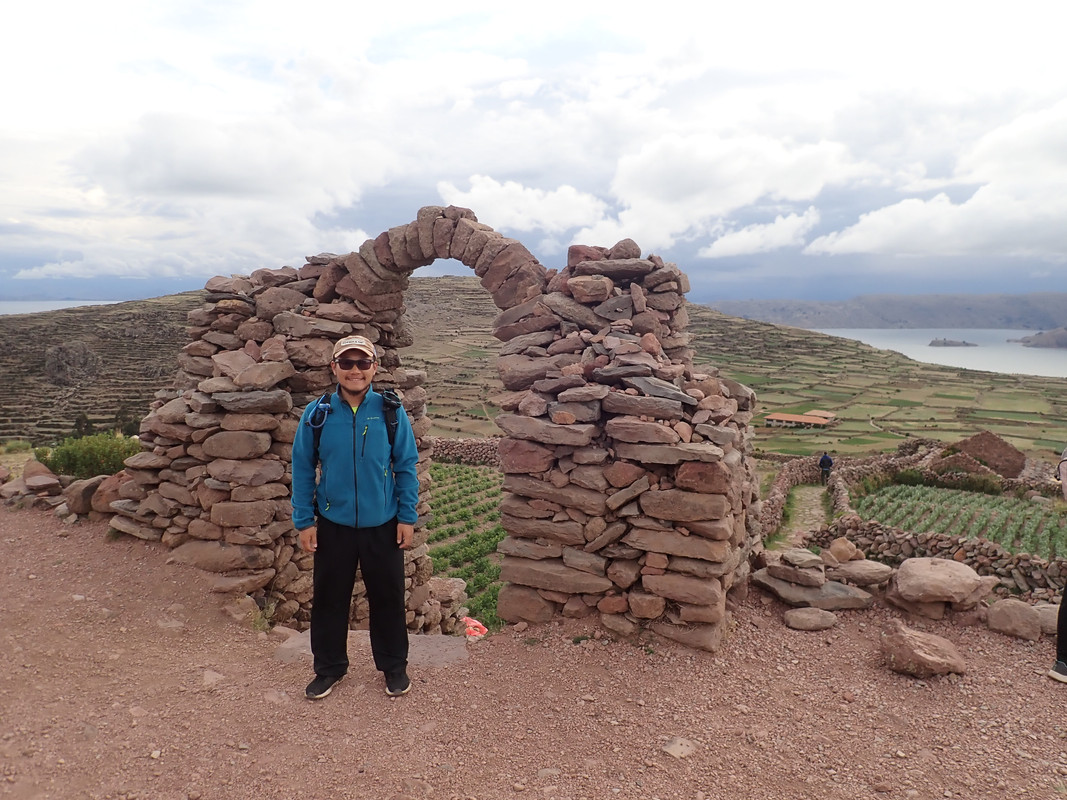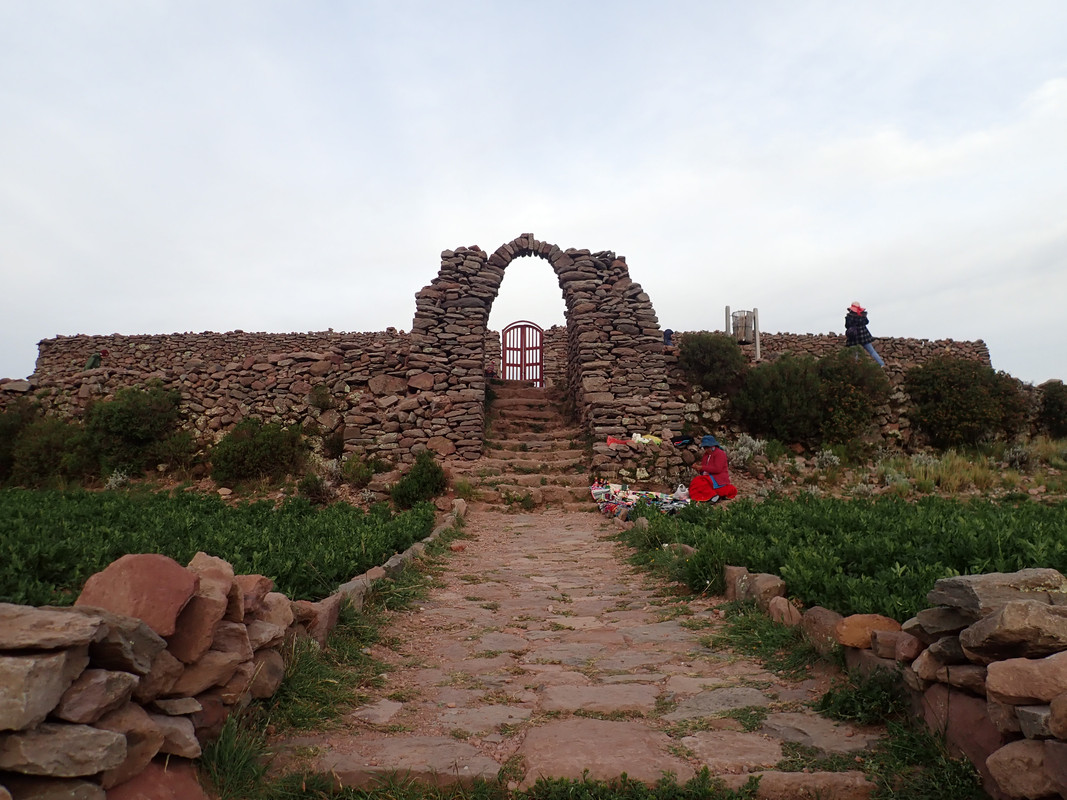 Snow peaked Bolivian Andes across from Lake Titicaca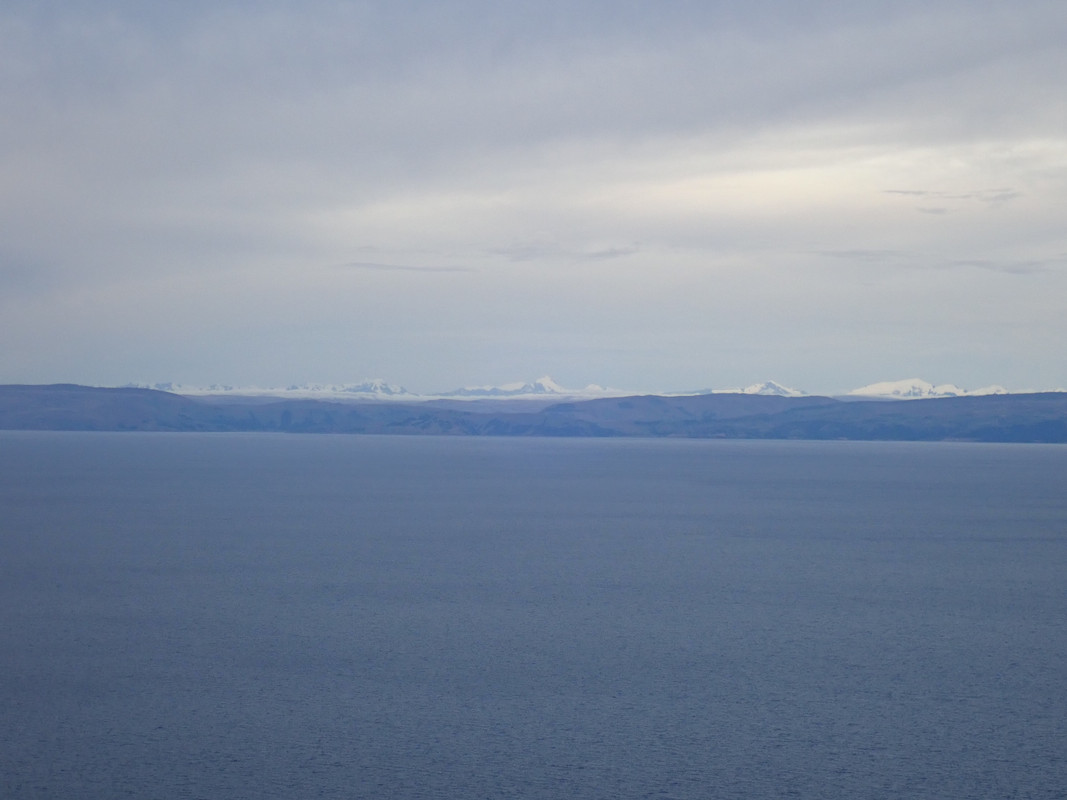 My host family loaned me some traditional attire to attend a fiesta at the town hall that night. She knits all sorts of traditional clothing to make money so I bought a hat called 'chullo' made from alpaca wool. It's surprisingly warm.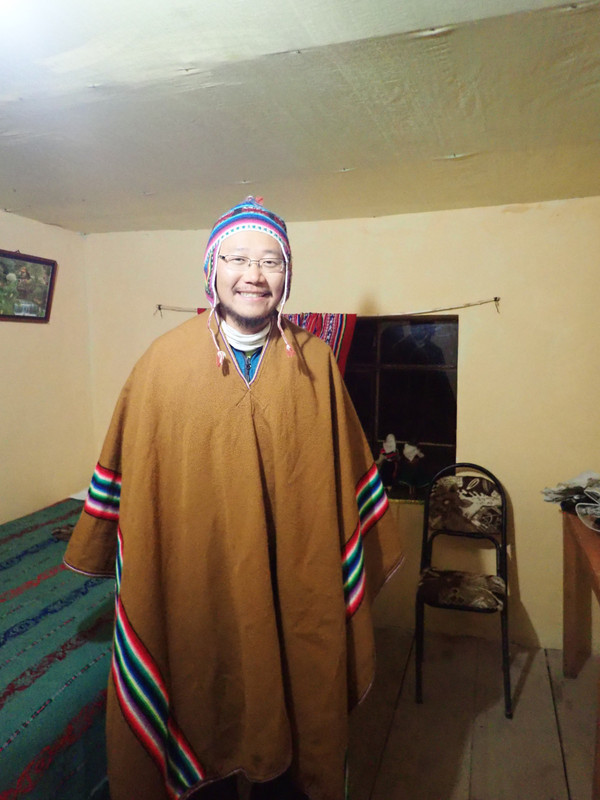 I followed my host family's kids in the darkness to the town hall where the fiesta (video) went on late into the night. Traditional Peruvian music was played and everyone was having a good time.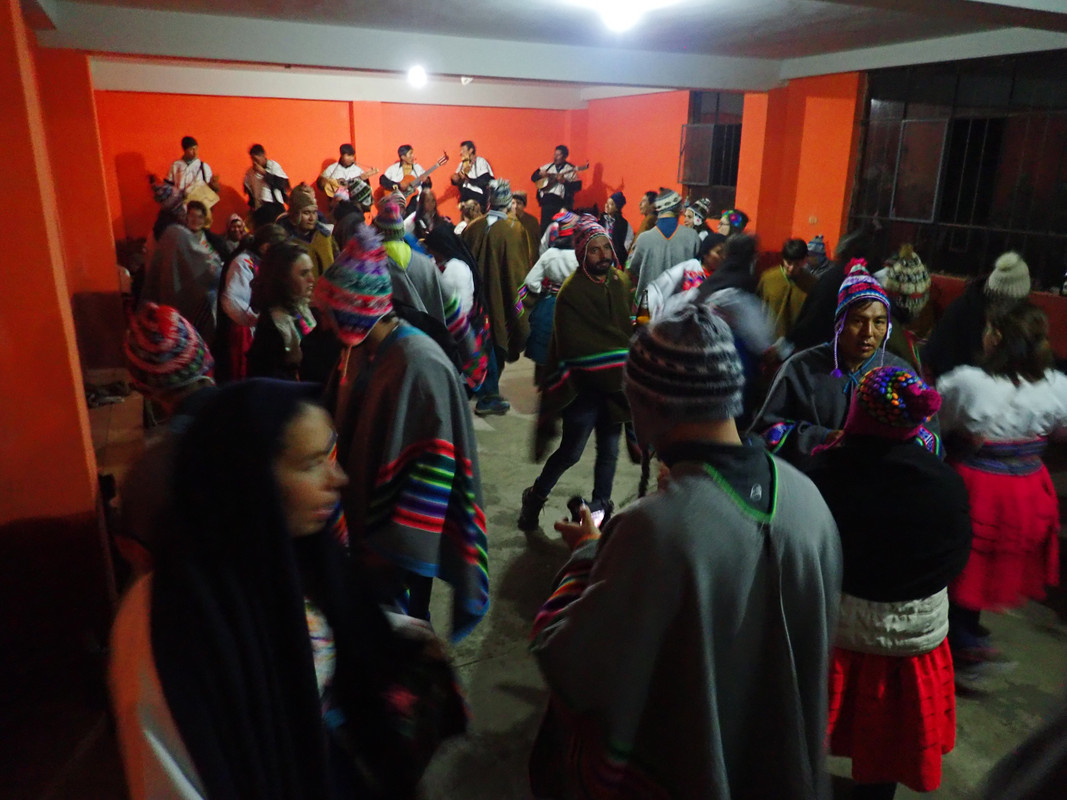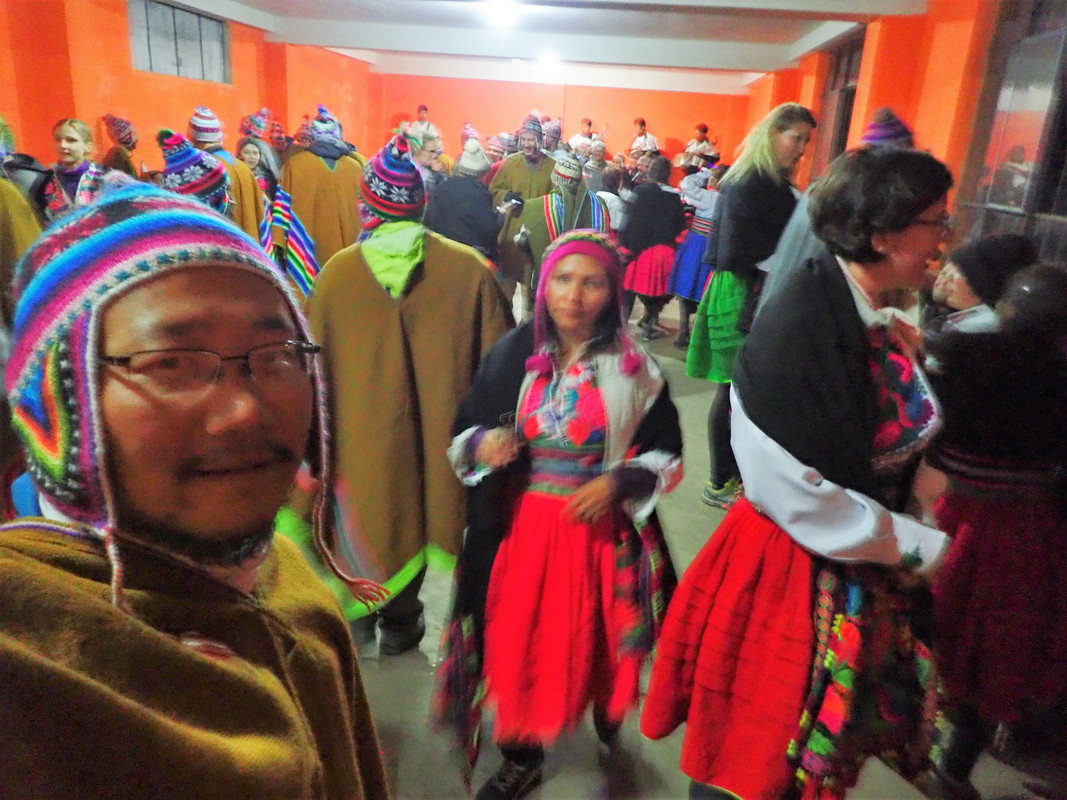 I bid goodbye to my host family Alberto and Honora the next morning and hopped on the boat to Taquile Island.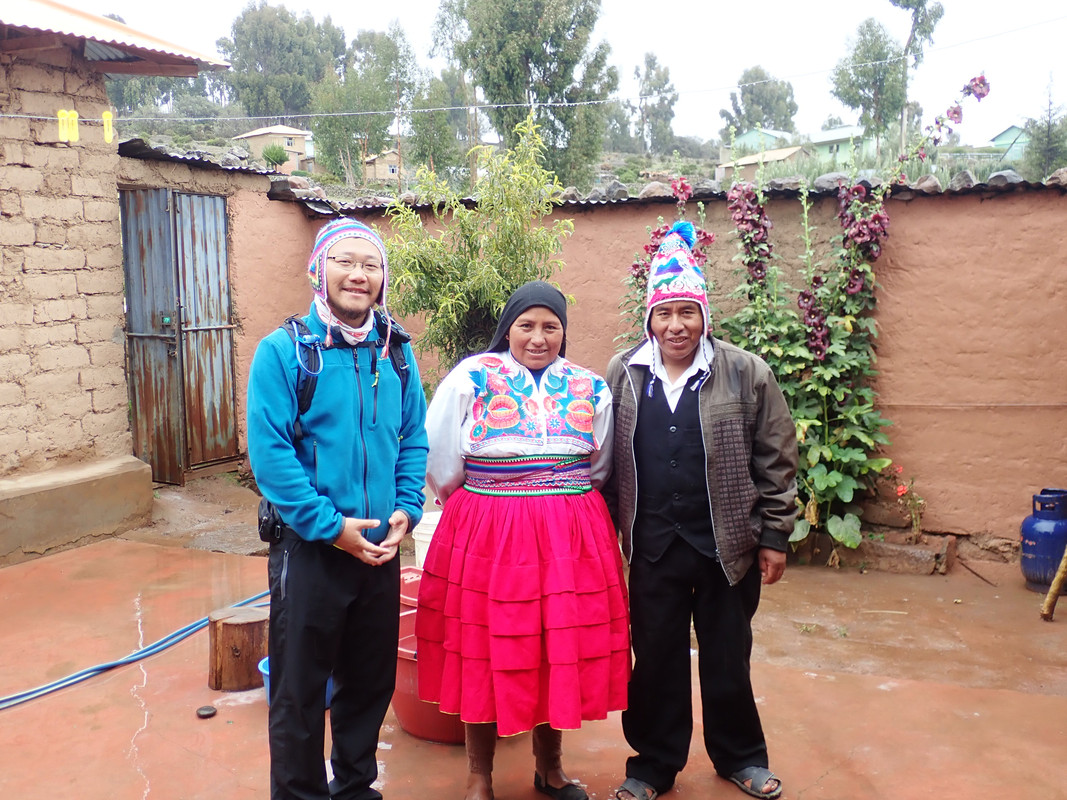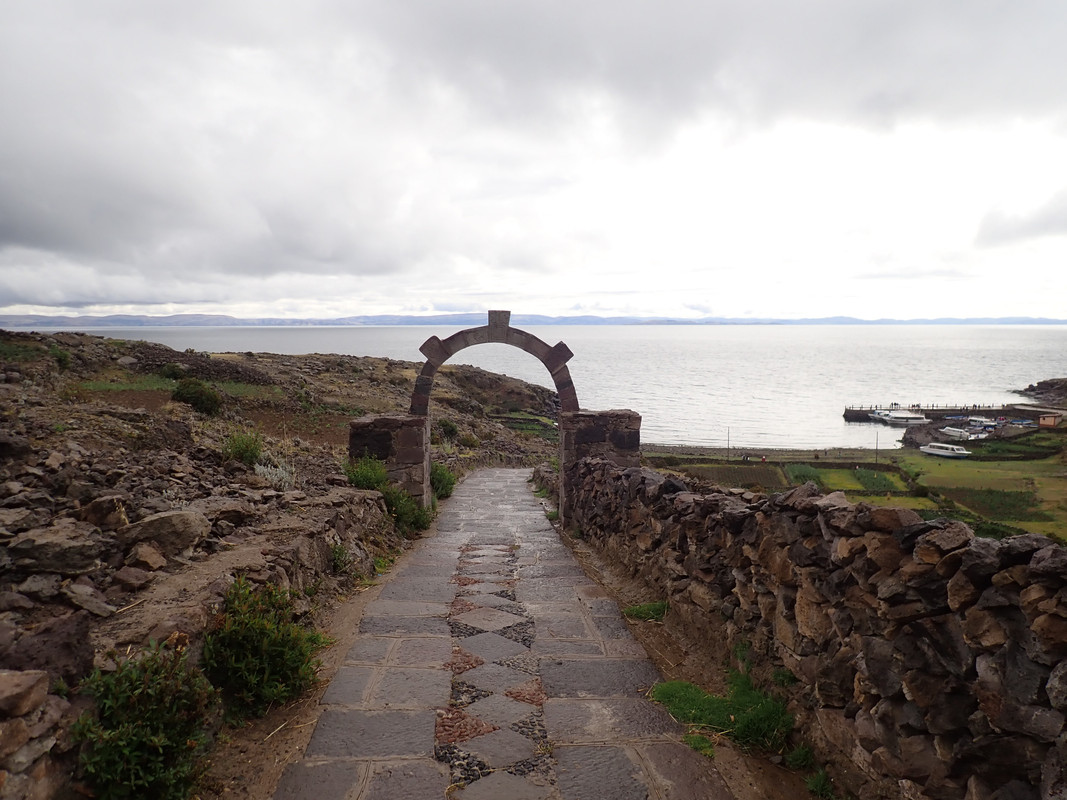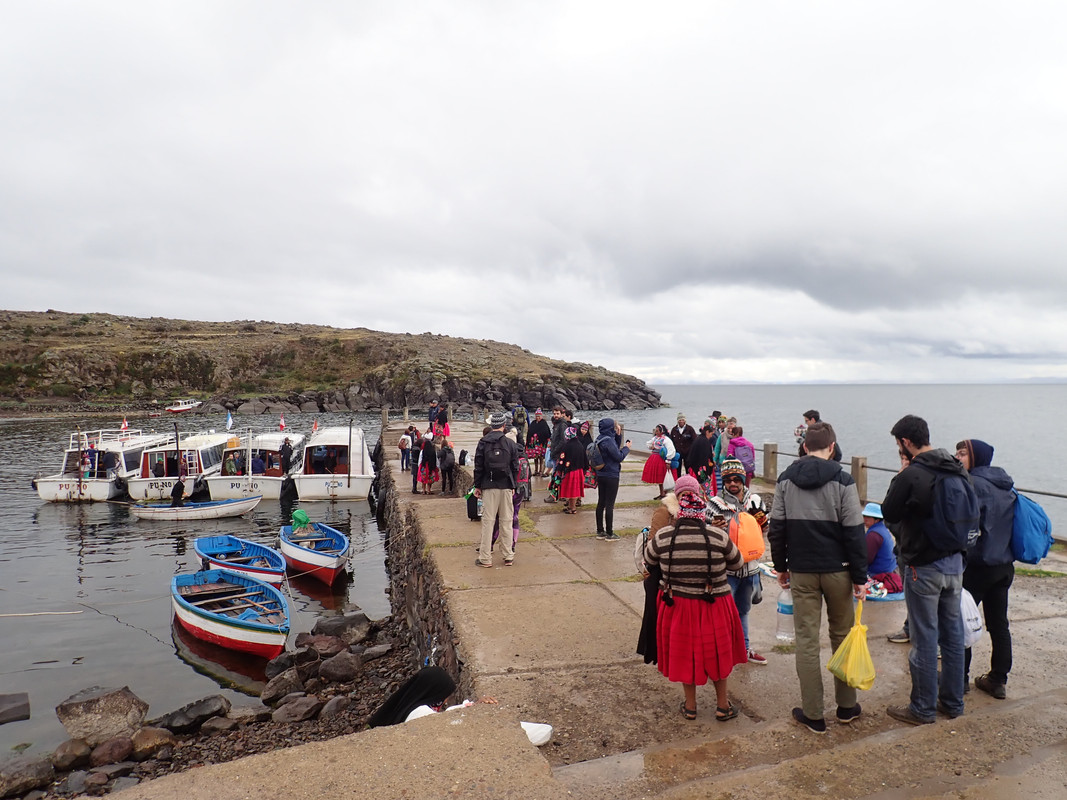 Taquile Island is less populated than Amantaní but unique in its own way. This island is known for producing quality traditional clothing and knitting is exclusively performed by men. A short hike is required to get to the town plaza situated on top of the hill.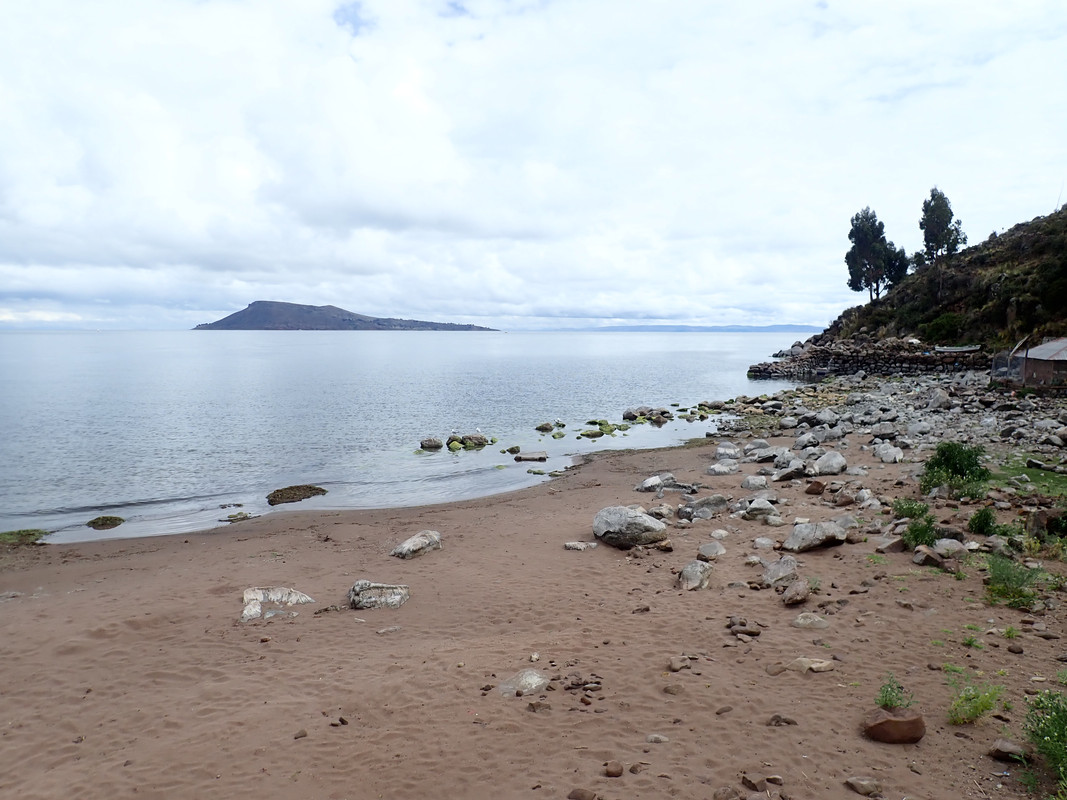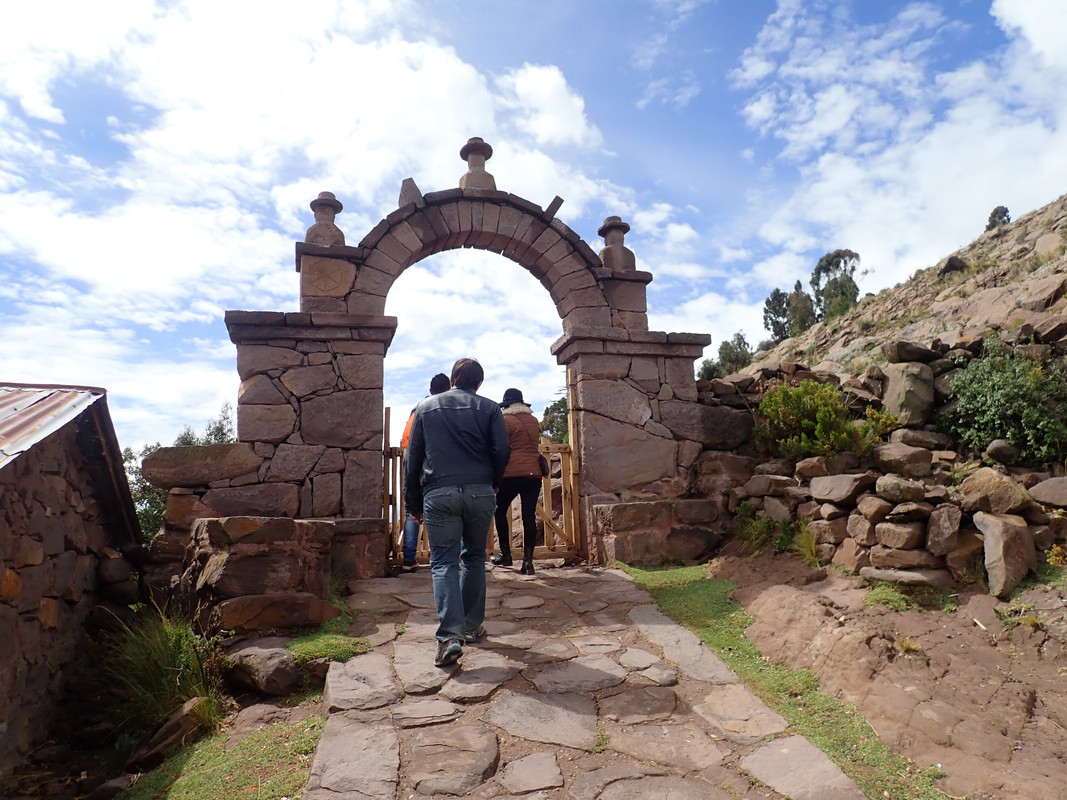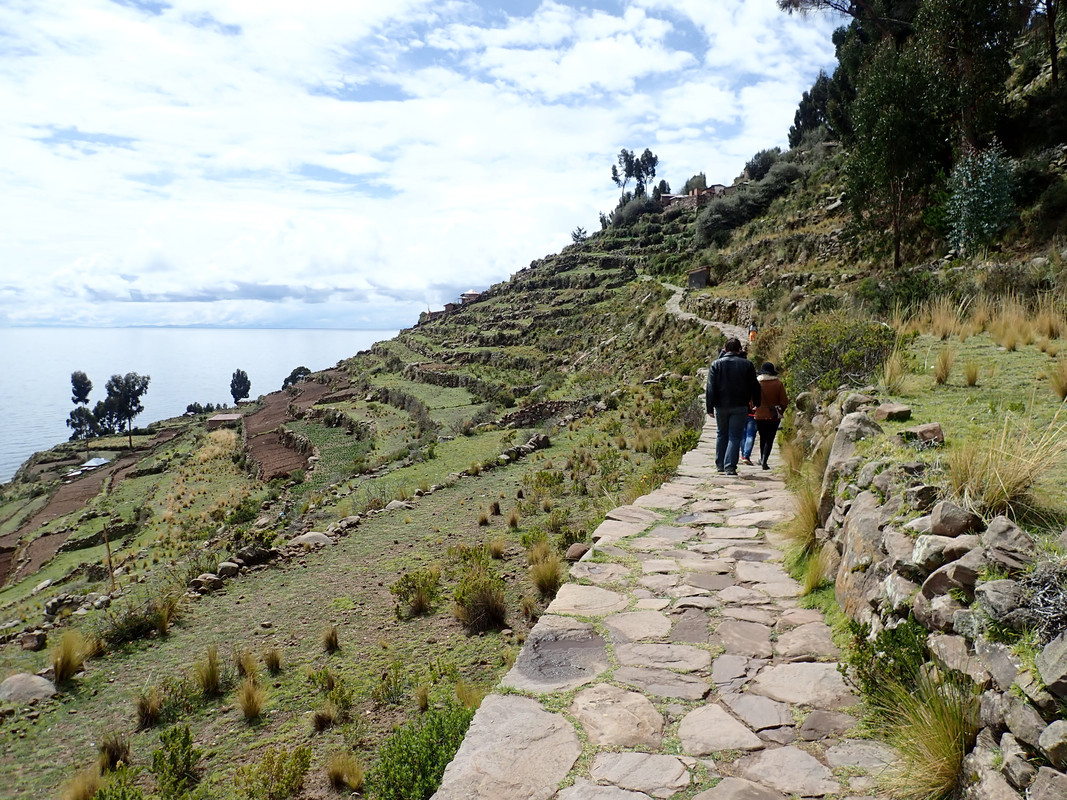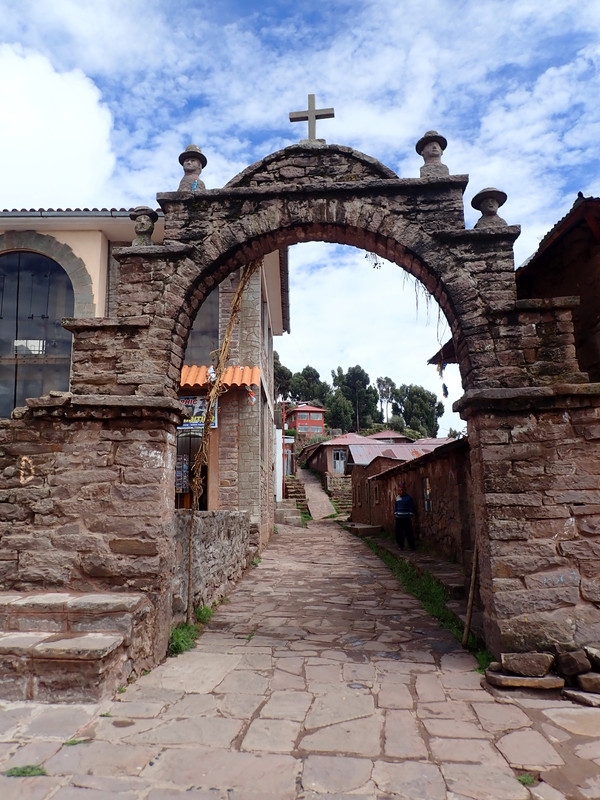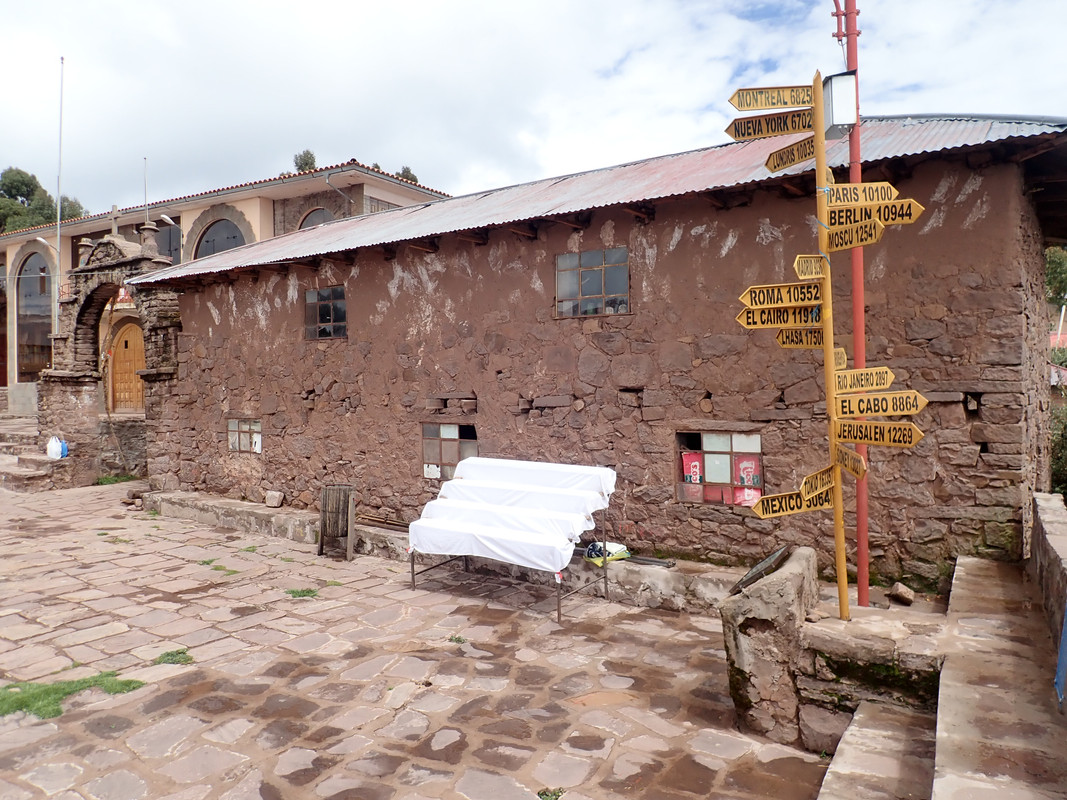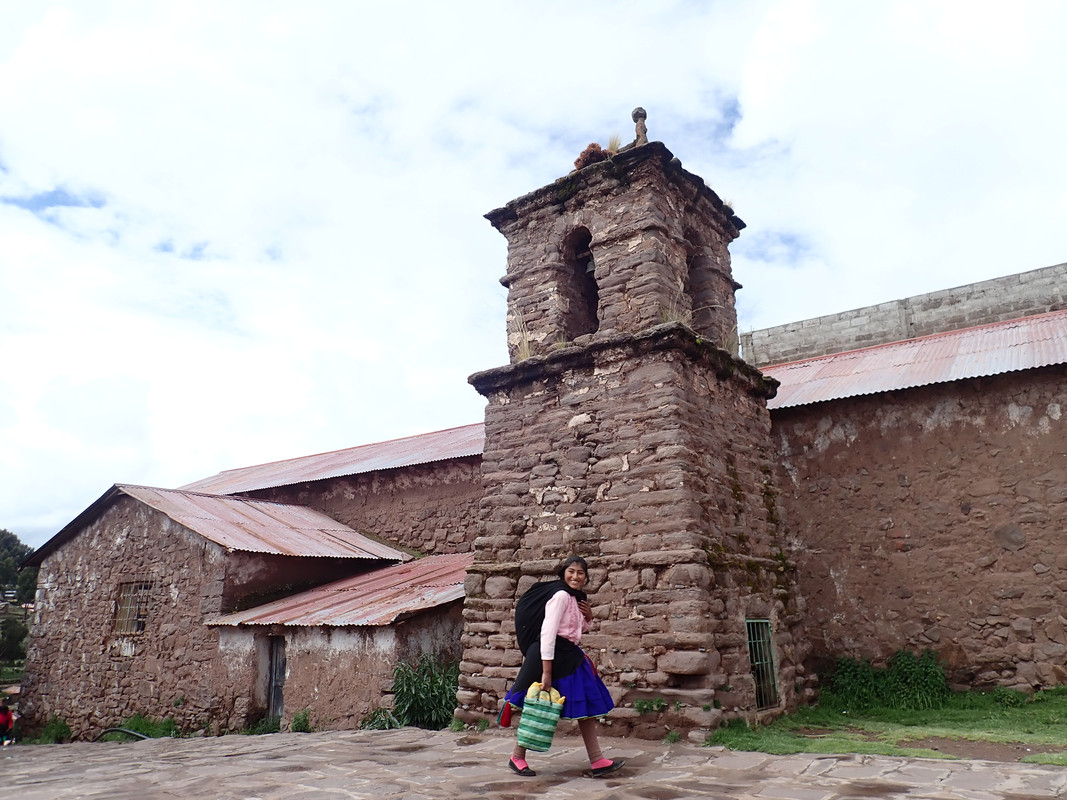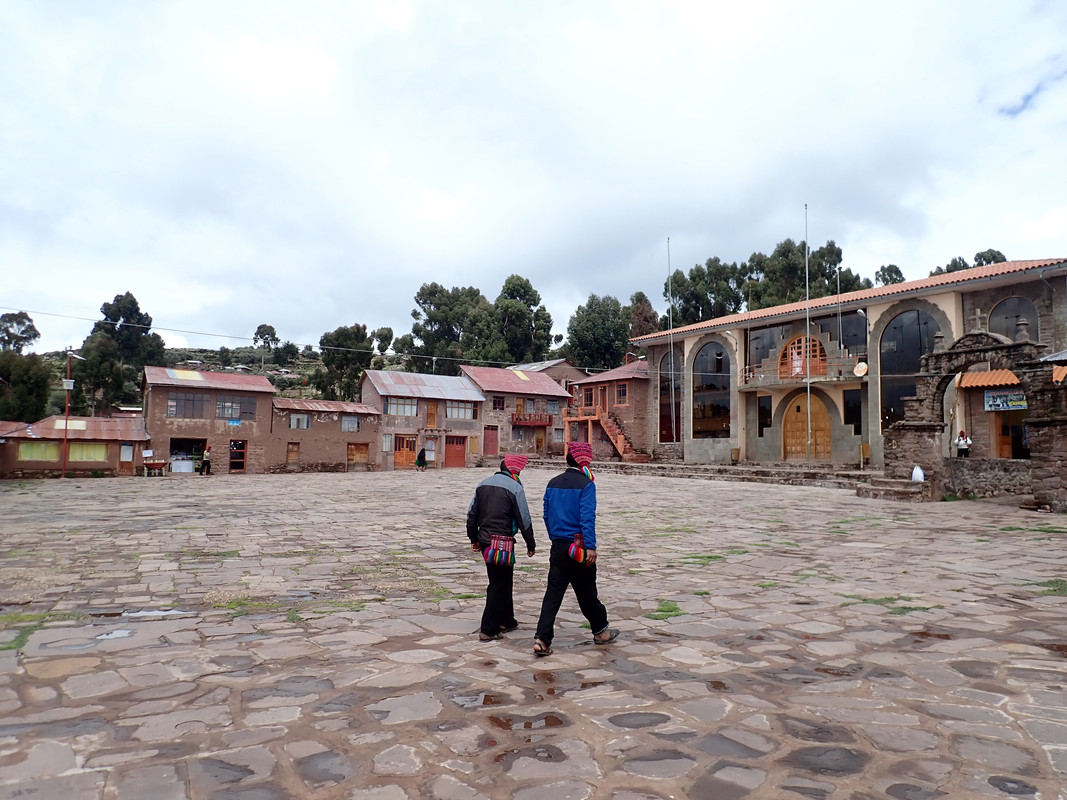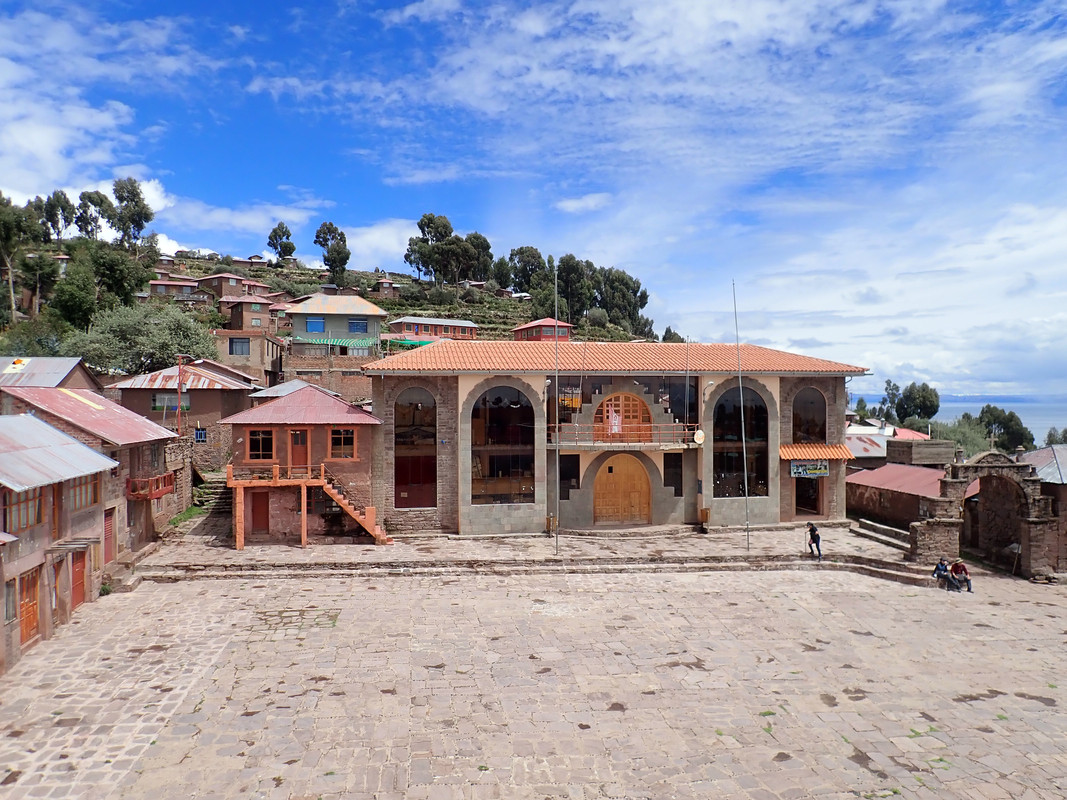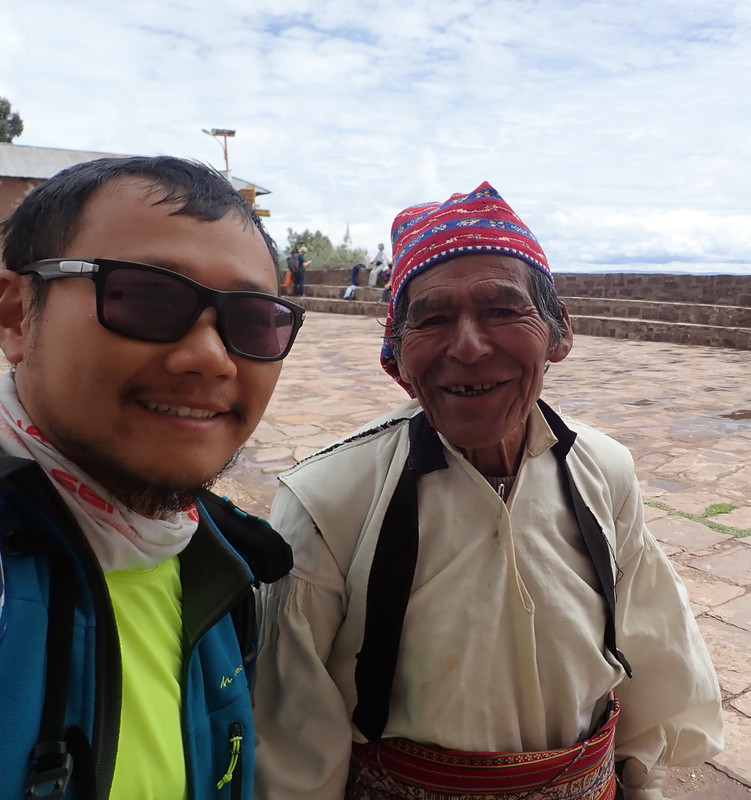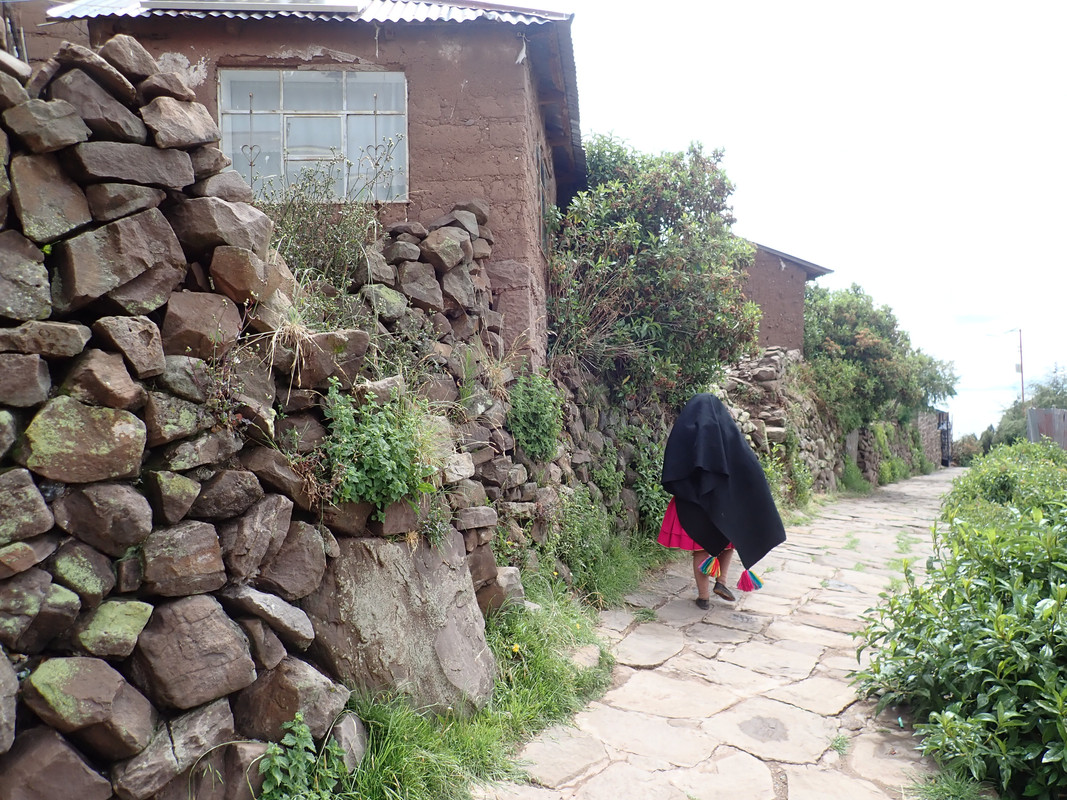 The quaint streets around the plaza are very charming.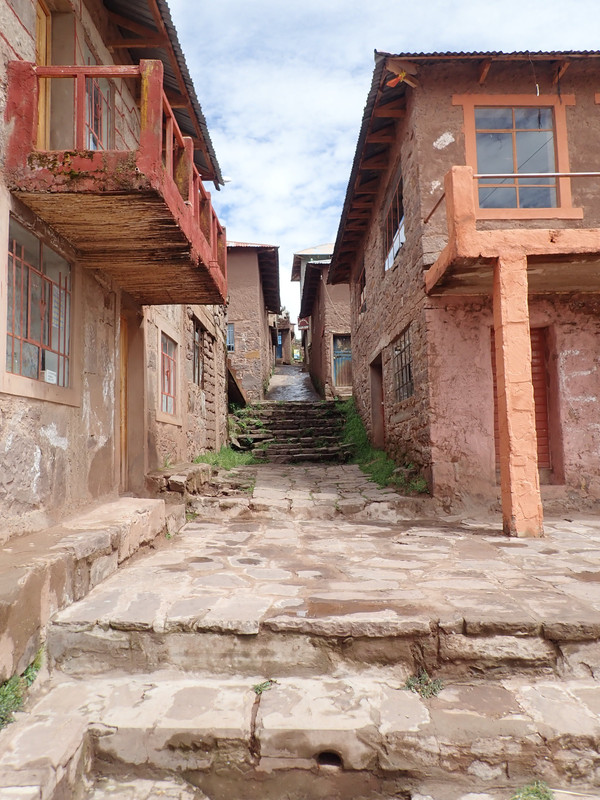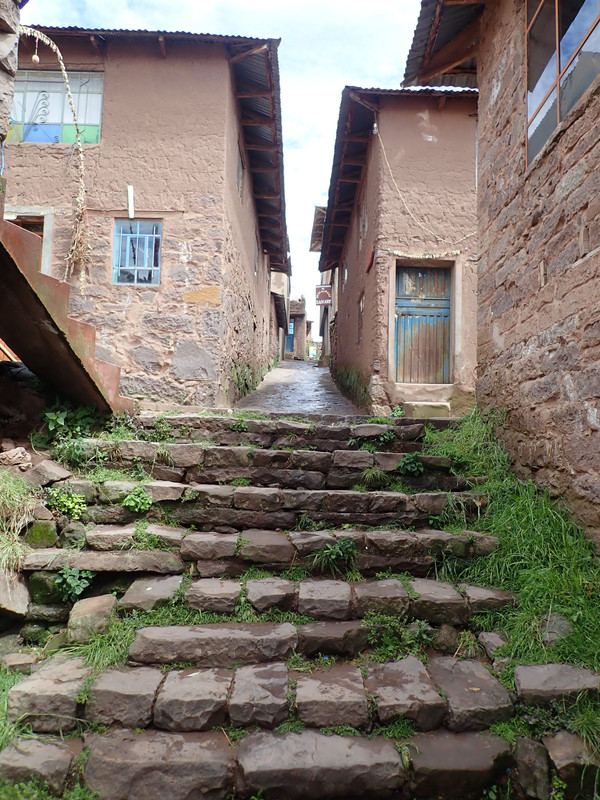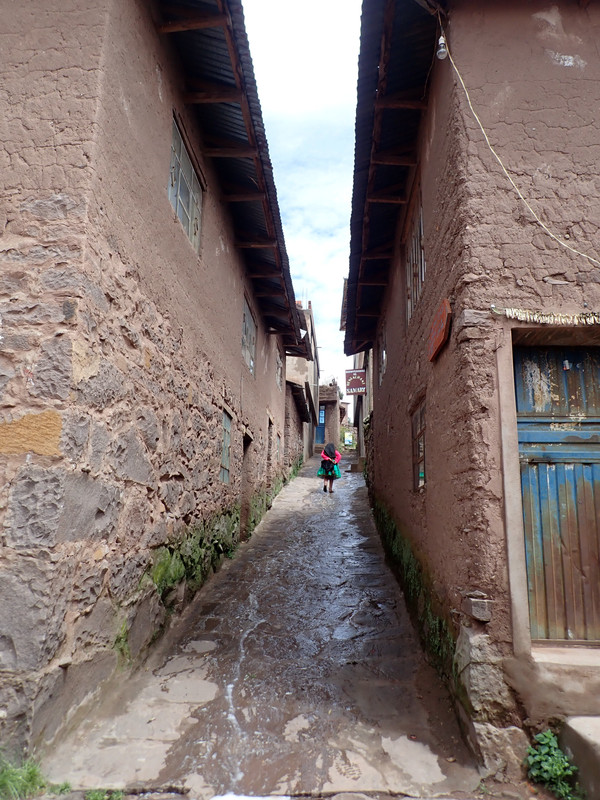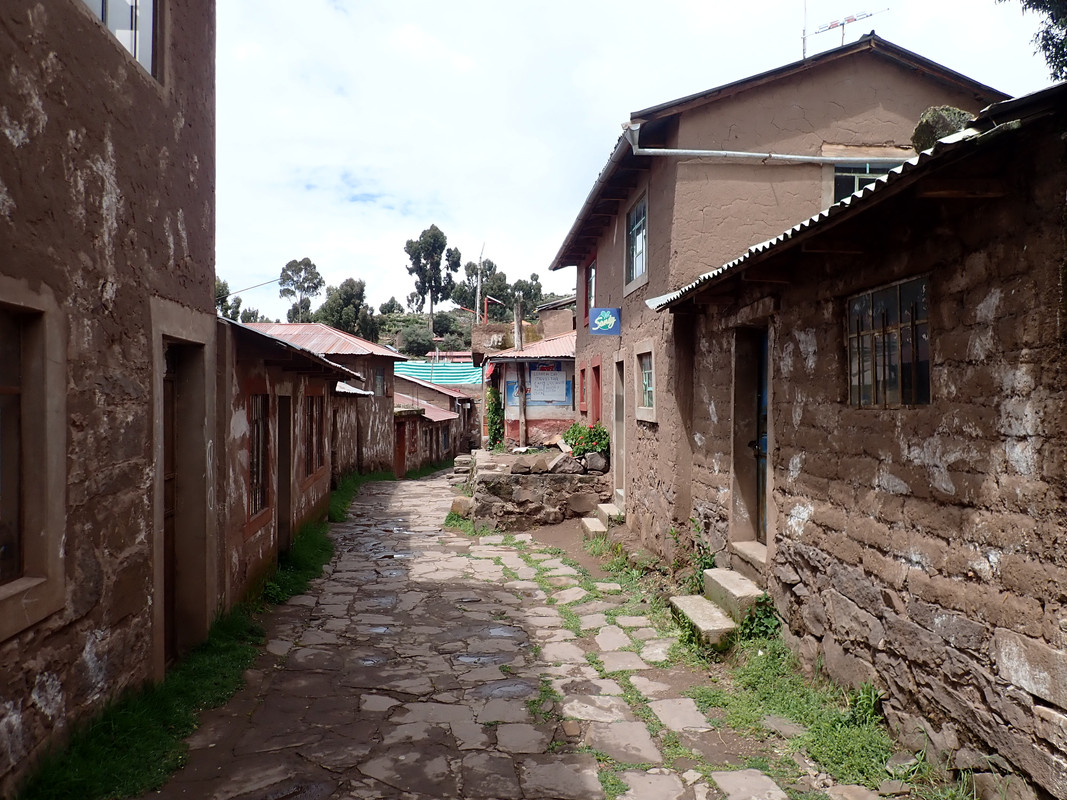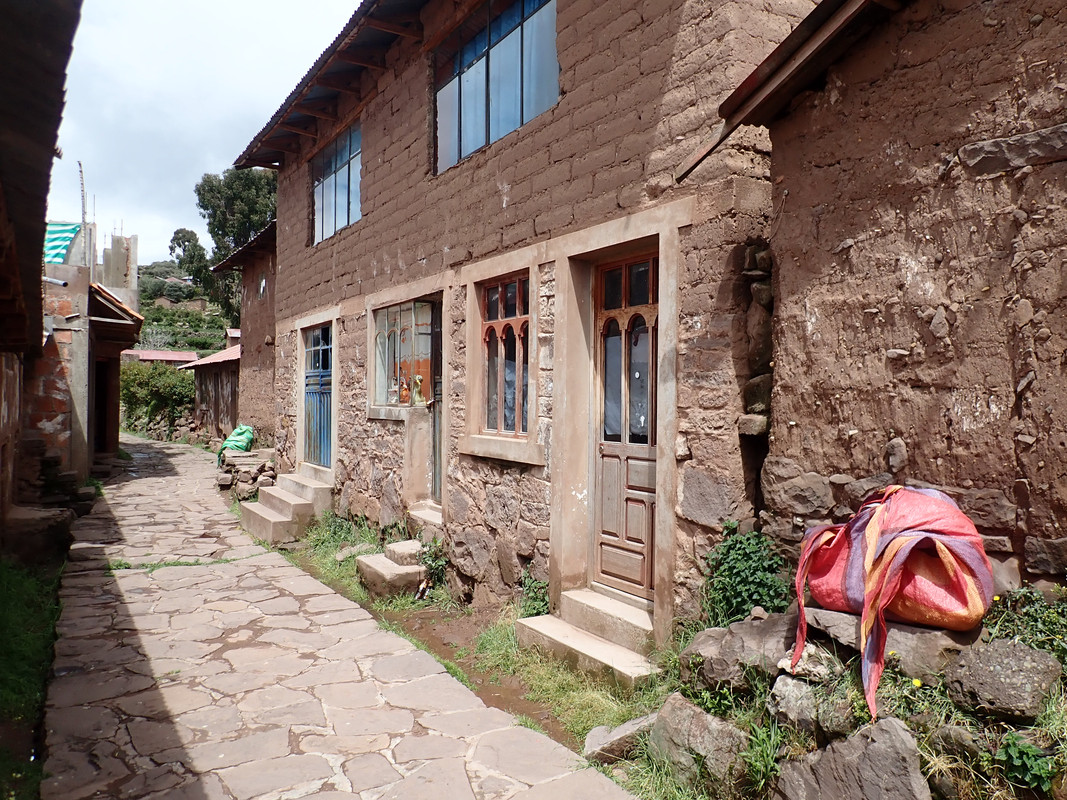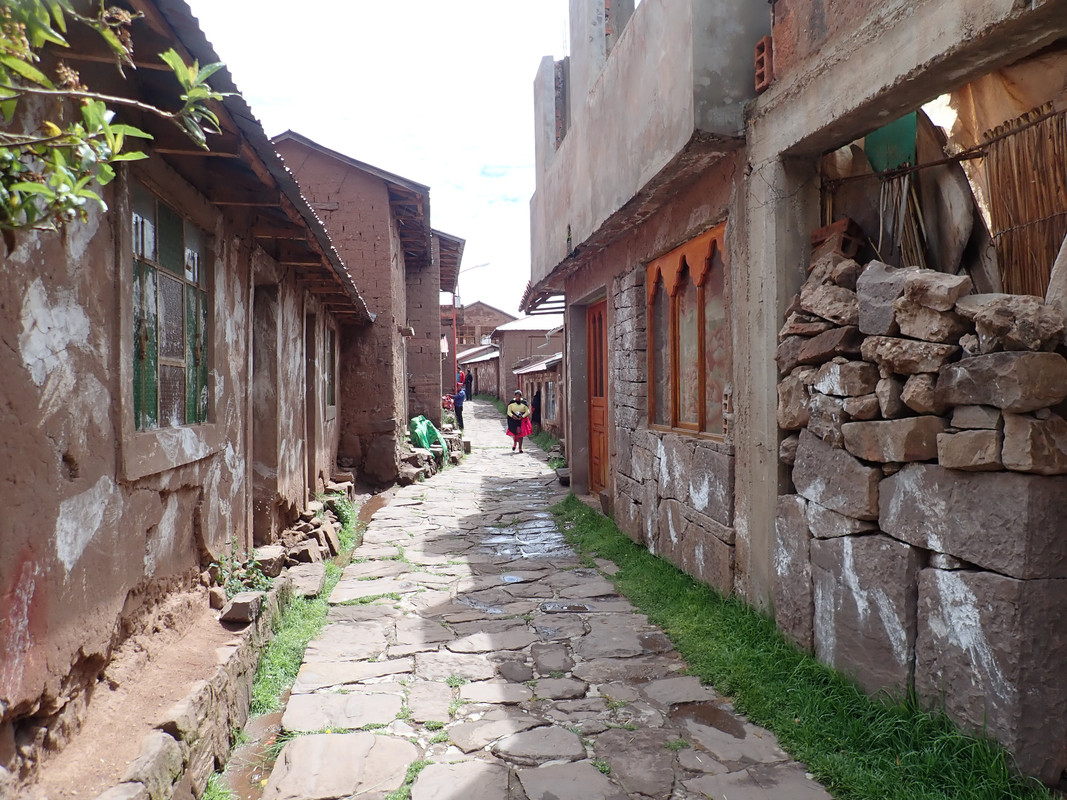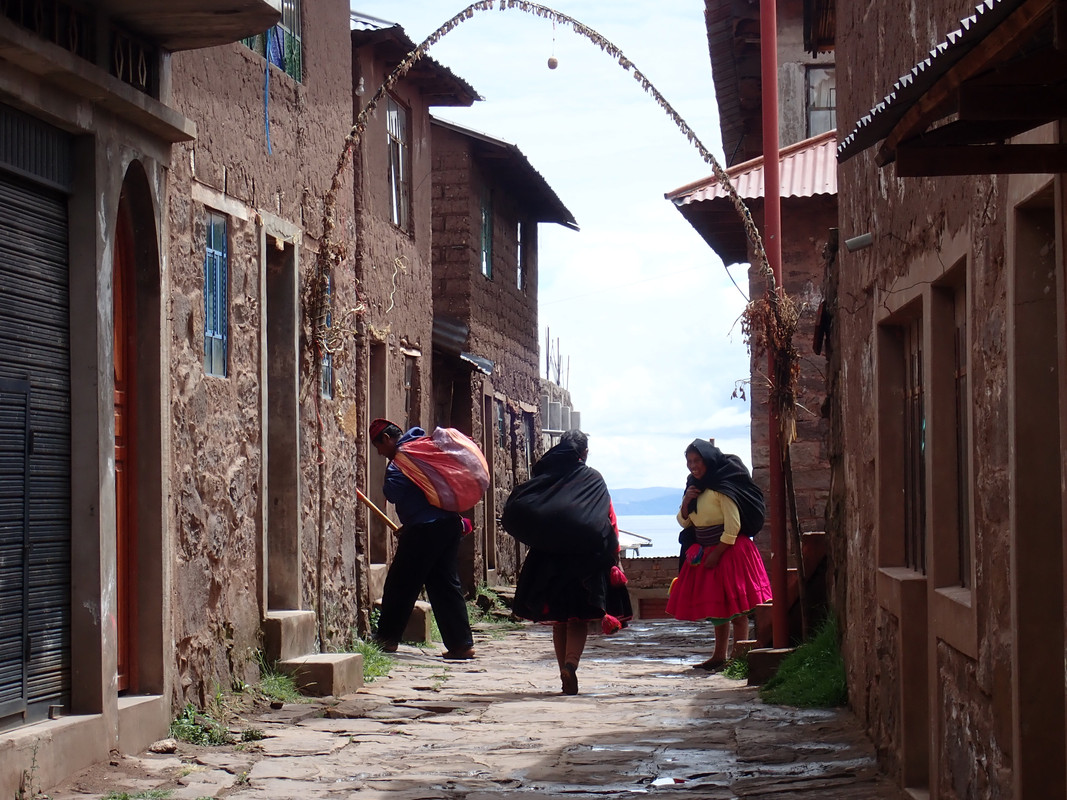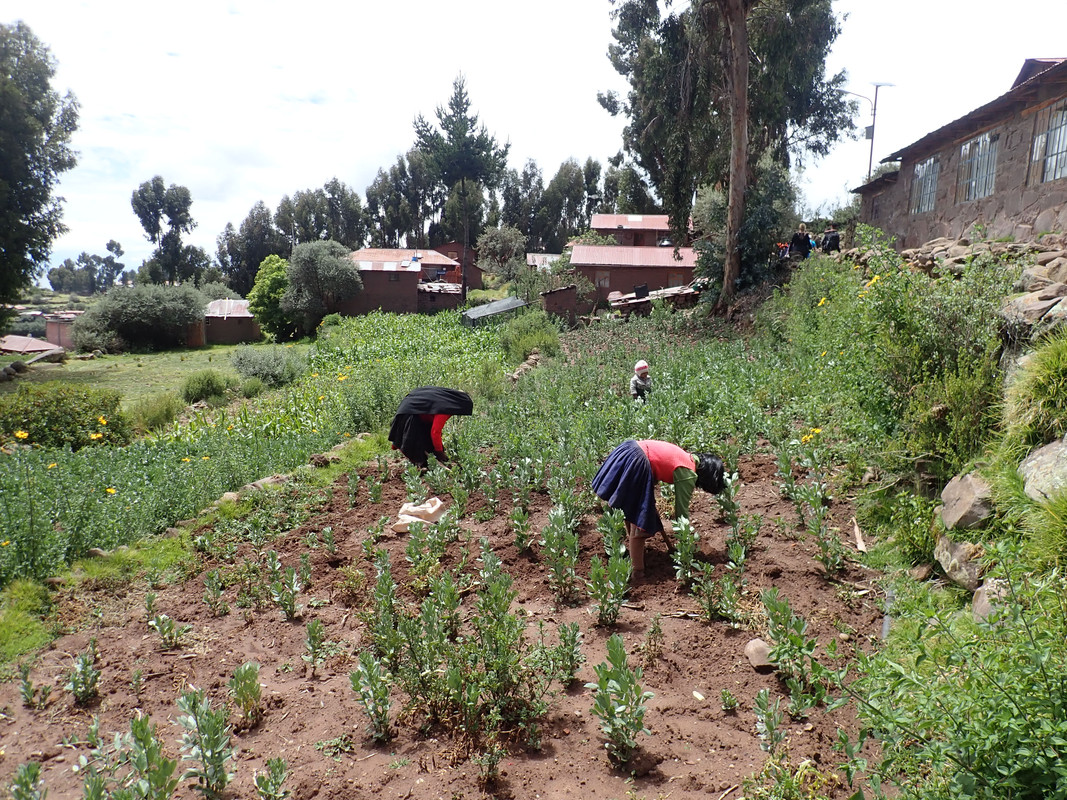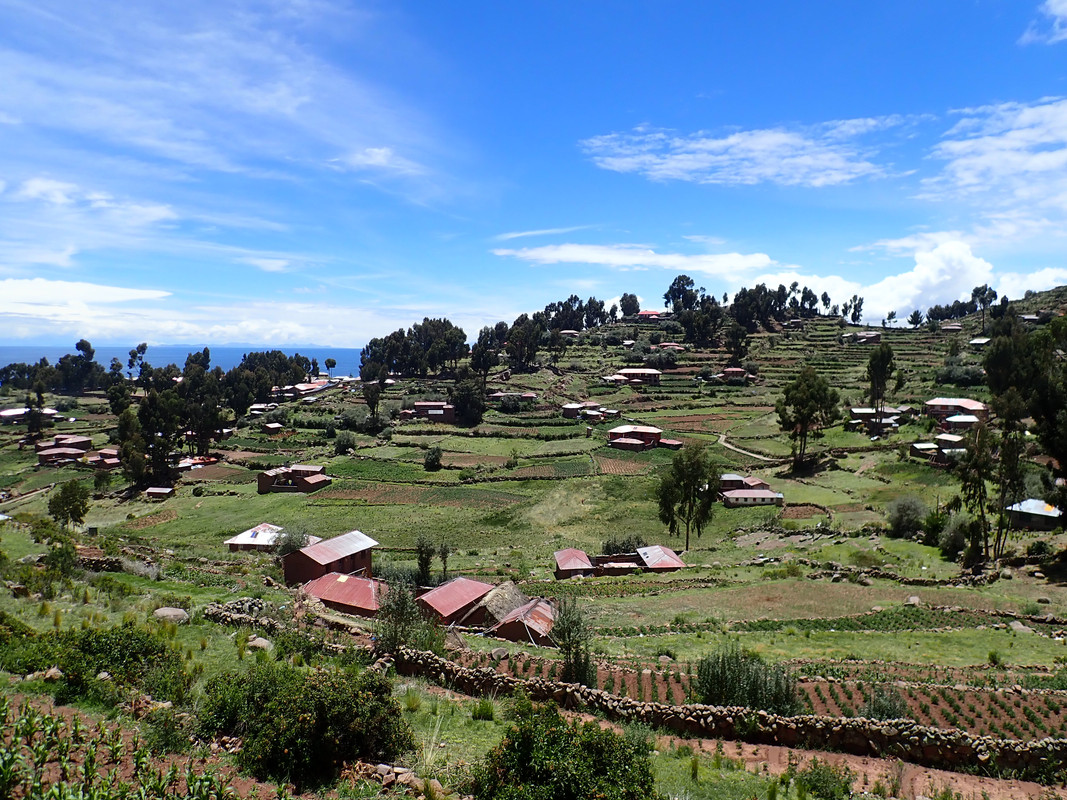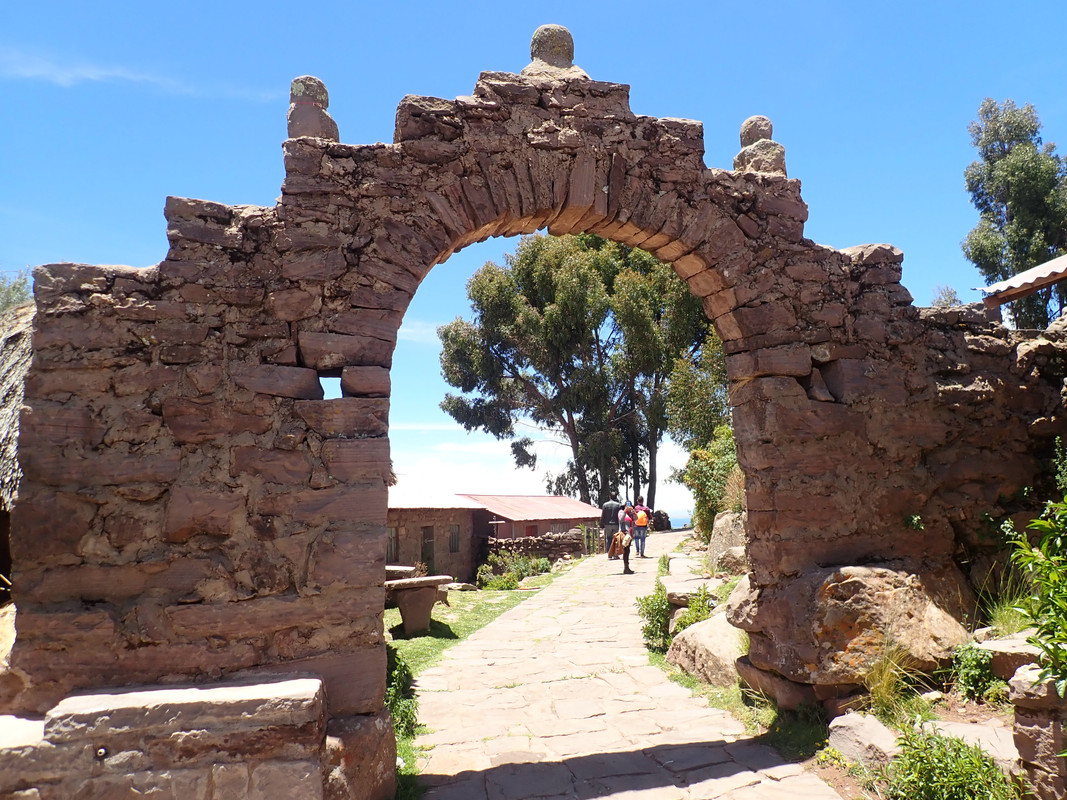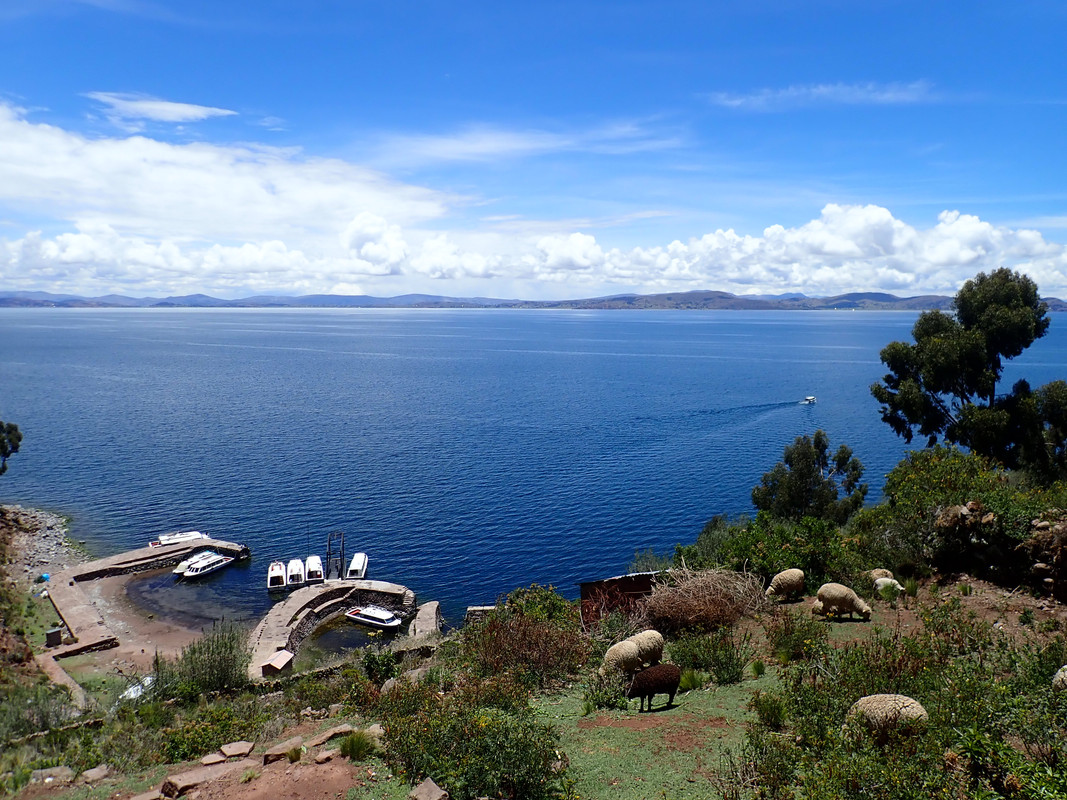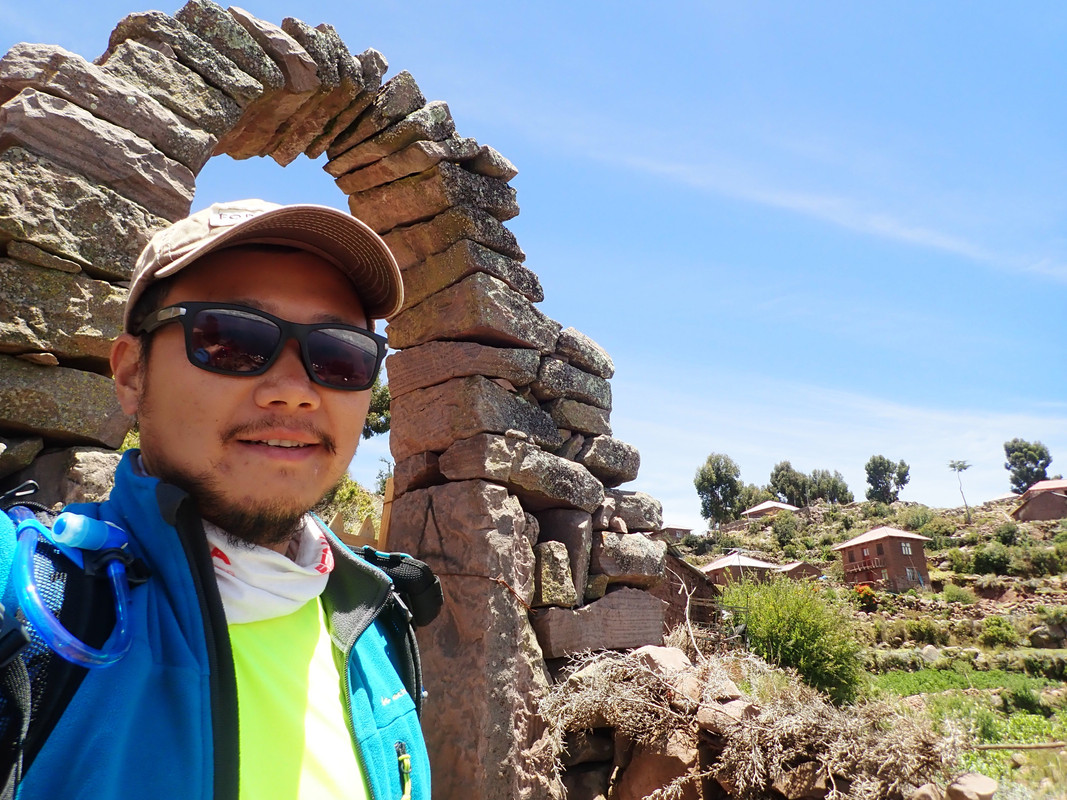 Peru has left me with the most impression so far. Sure the trash littered roads and the dust blown desert has let me down initially but I will always remember Peru for its diverse landscape, rich culture and hospitable people. Now it's time to see what Bolivia has to offer…
December log