All packed and ready to leave Lima in the morning and I noticed the rear tire is completely flat and valve stem cap is missing. We didn't find any obvious leaks so someone must be playing a cruel practical joke on me. Not a great way to start the day.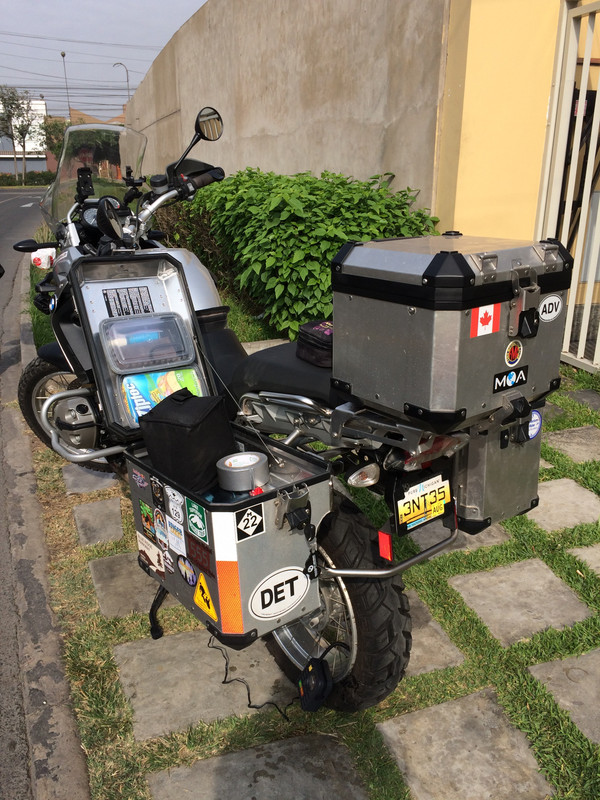 We made a quick stop at Touratech in Lima and I picked up a couple of goodies as Christmas presents to myself. 😀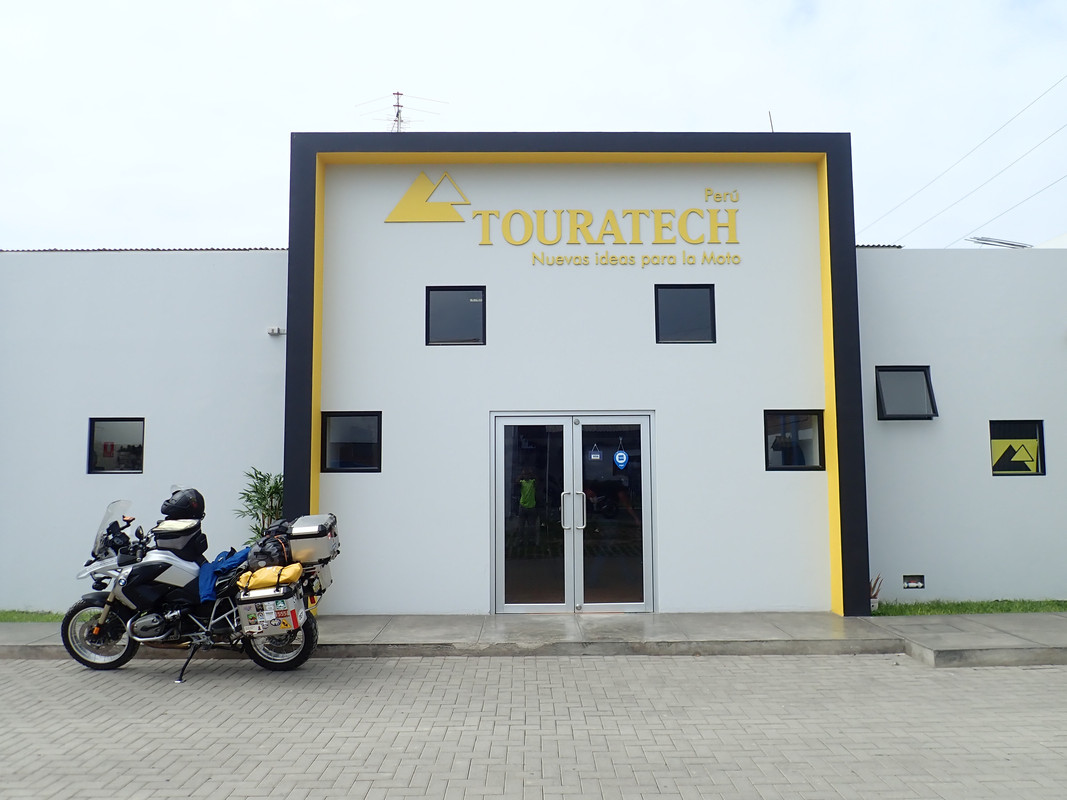 Plentiful along the Peruvian coast: sand, ocean and abandoned buildings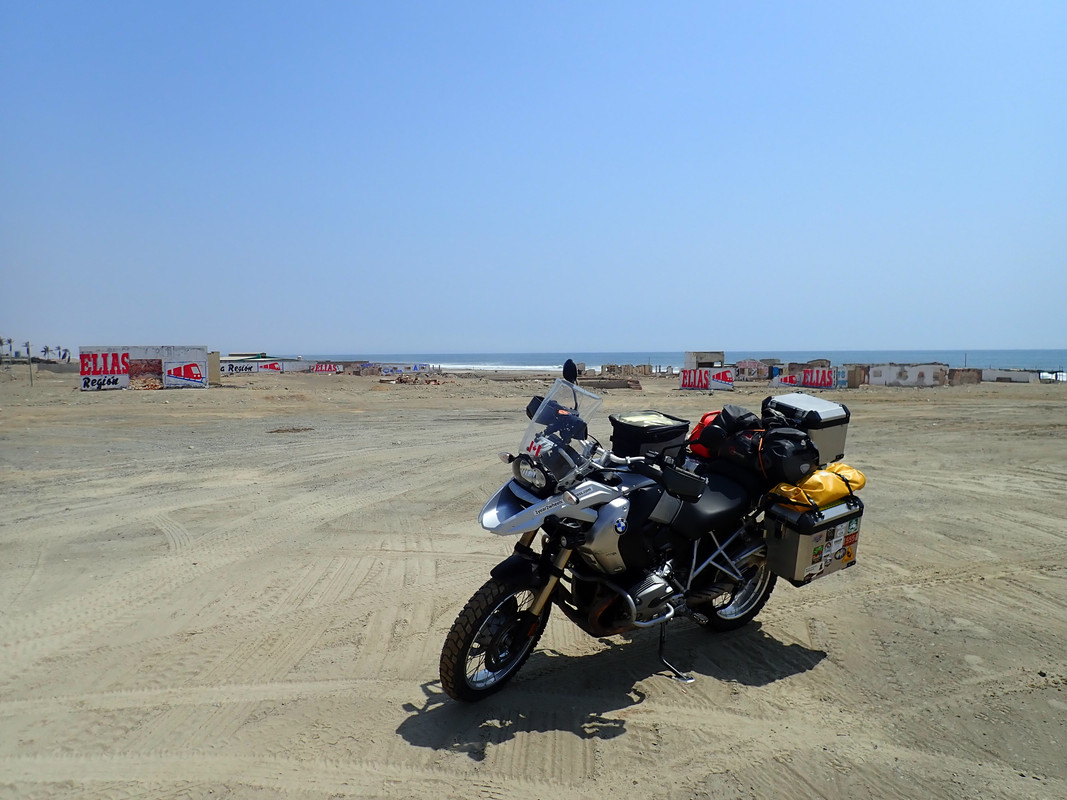 We arrived in Huacachina which is a small oasis surrounded by sand dunes. It's a popular vacation spot that offers dune buggy rides and sand boarding. Quite an extraordinary place…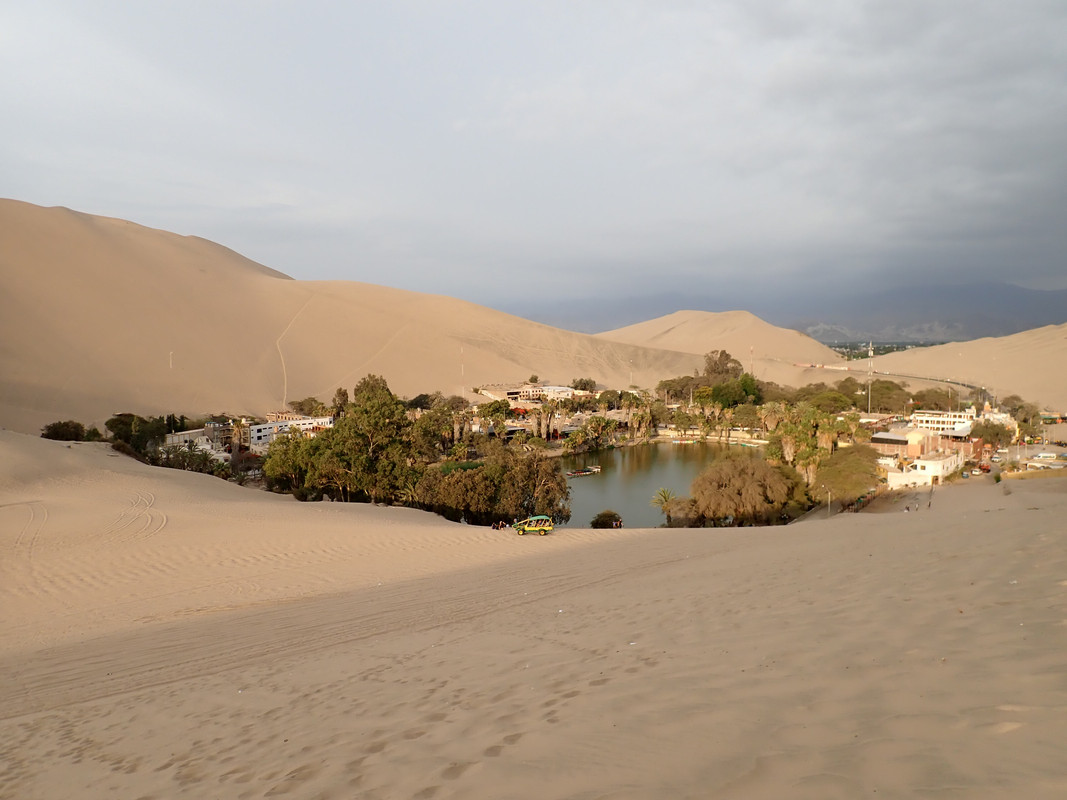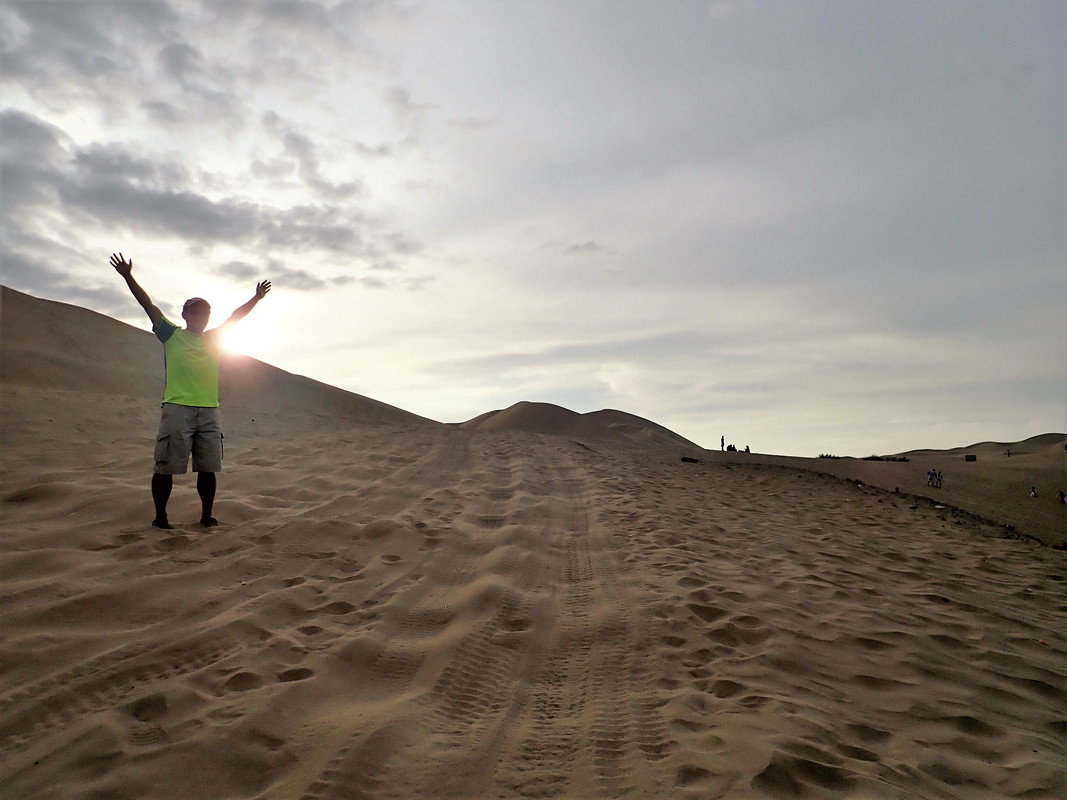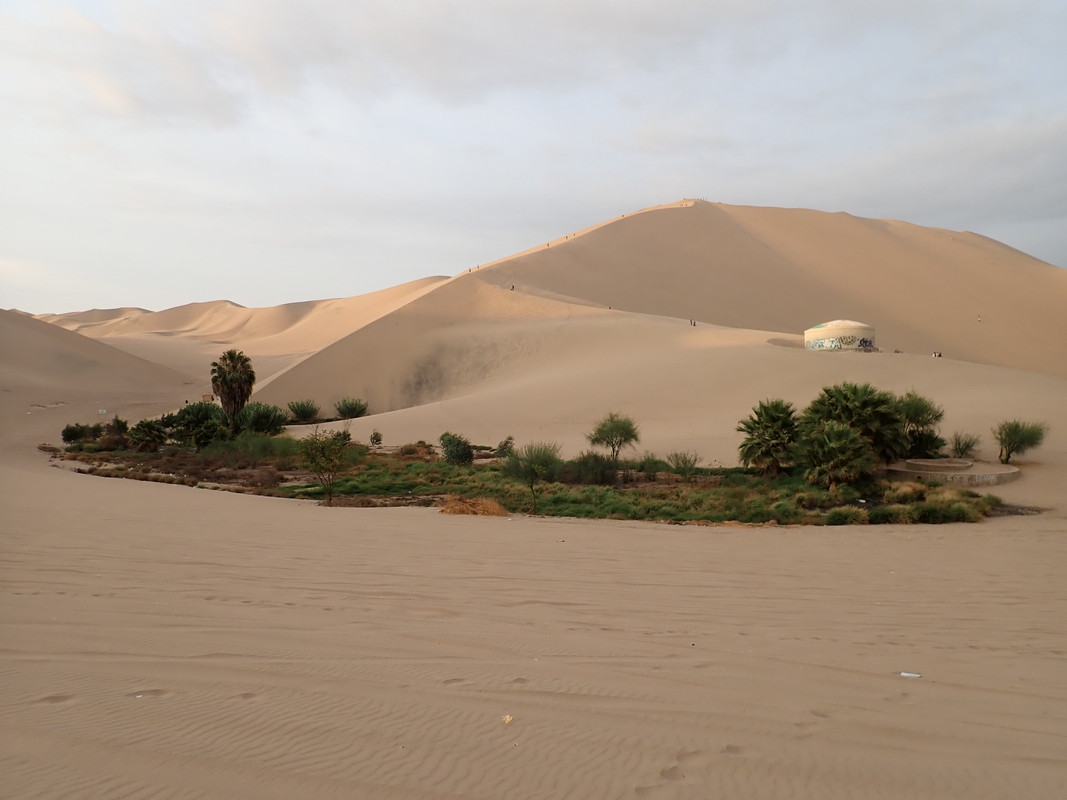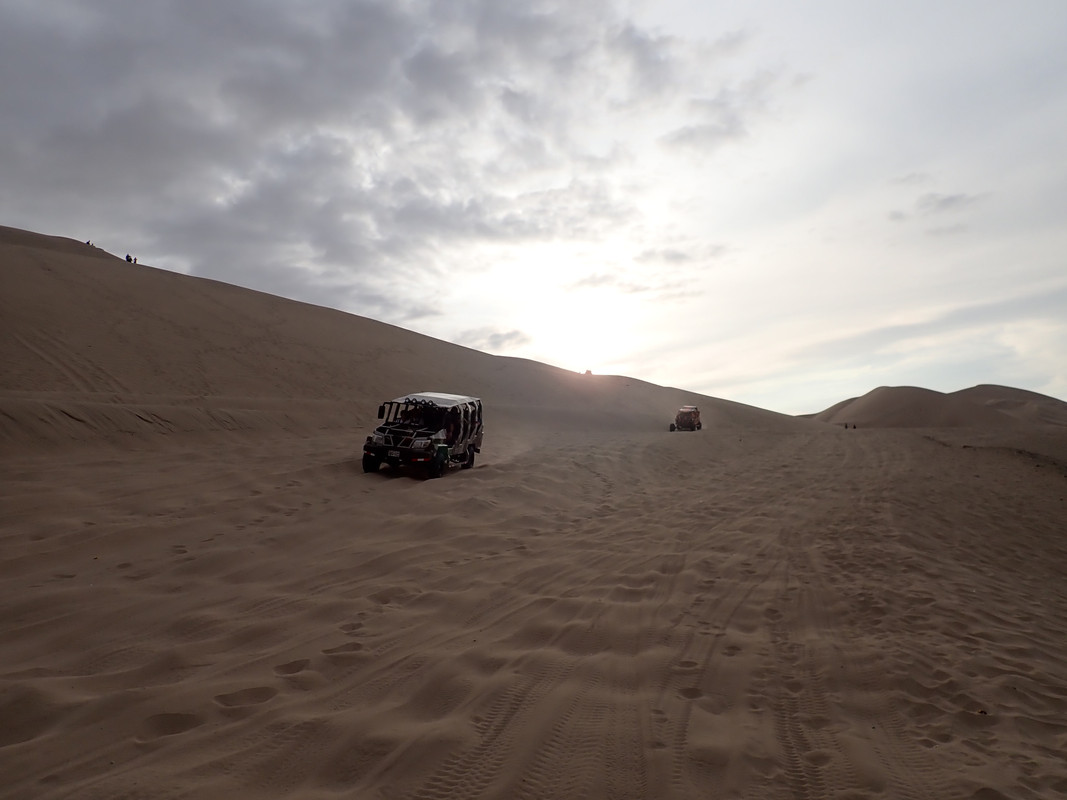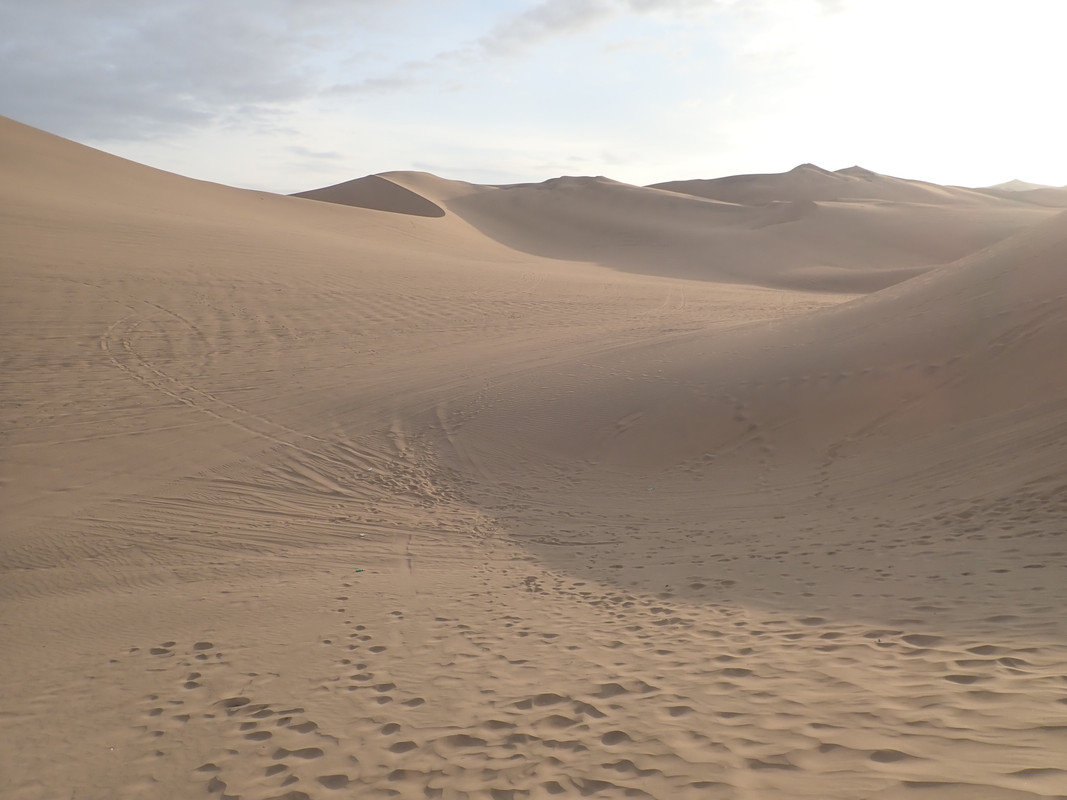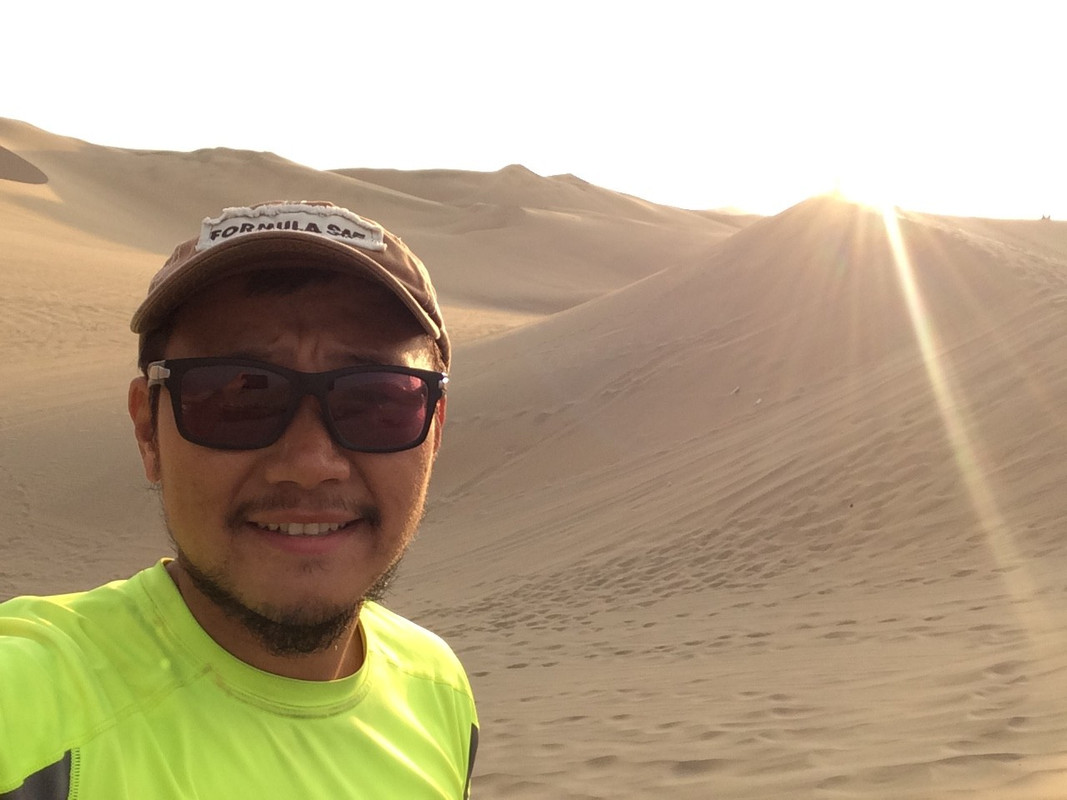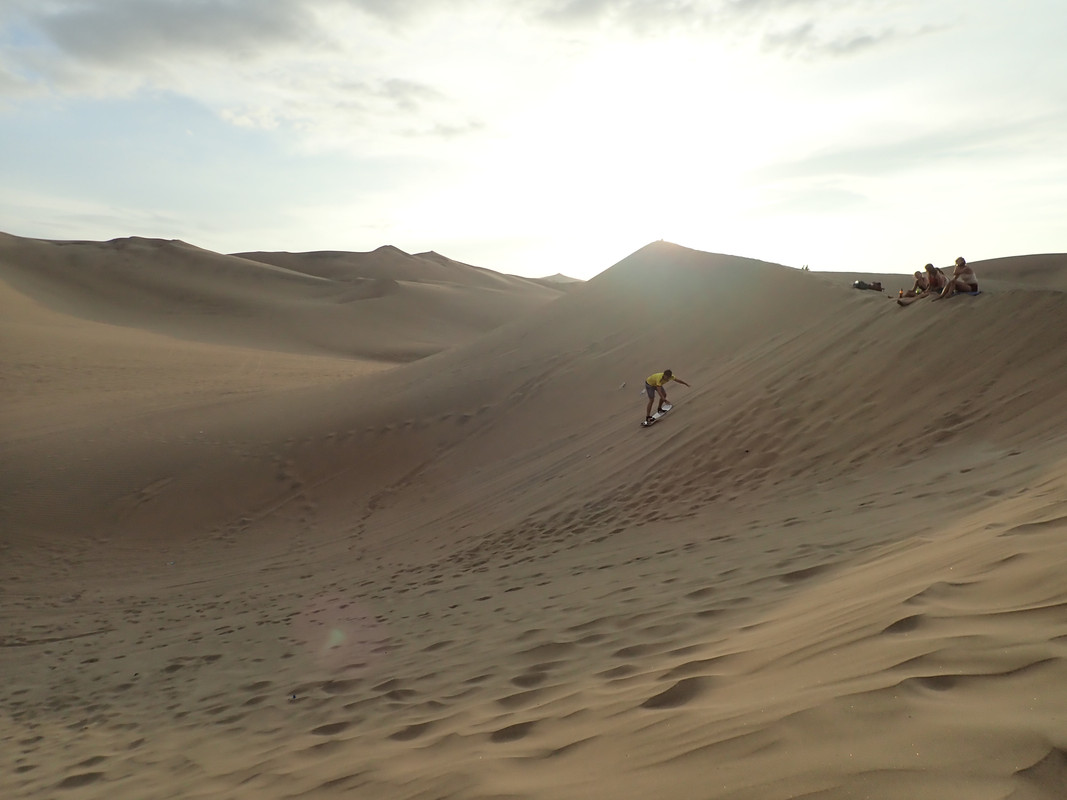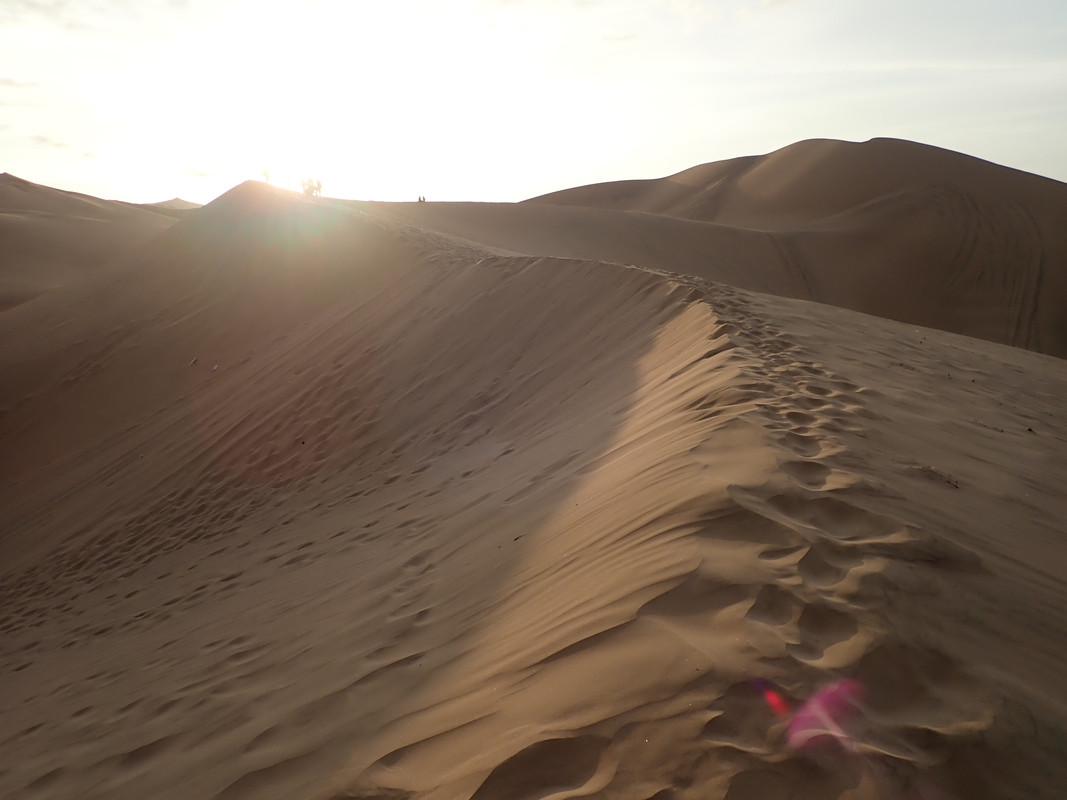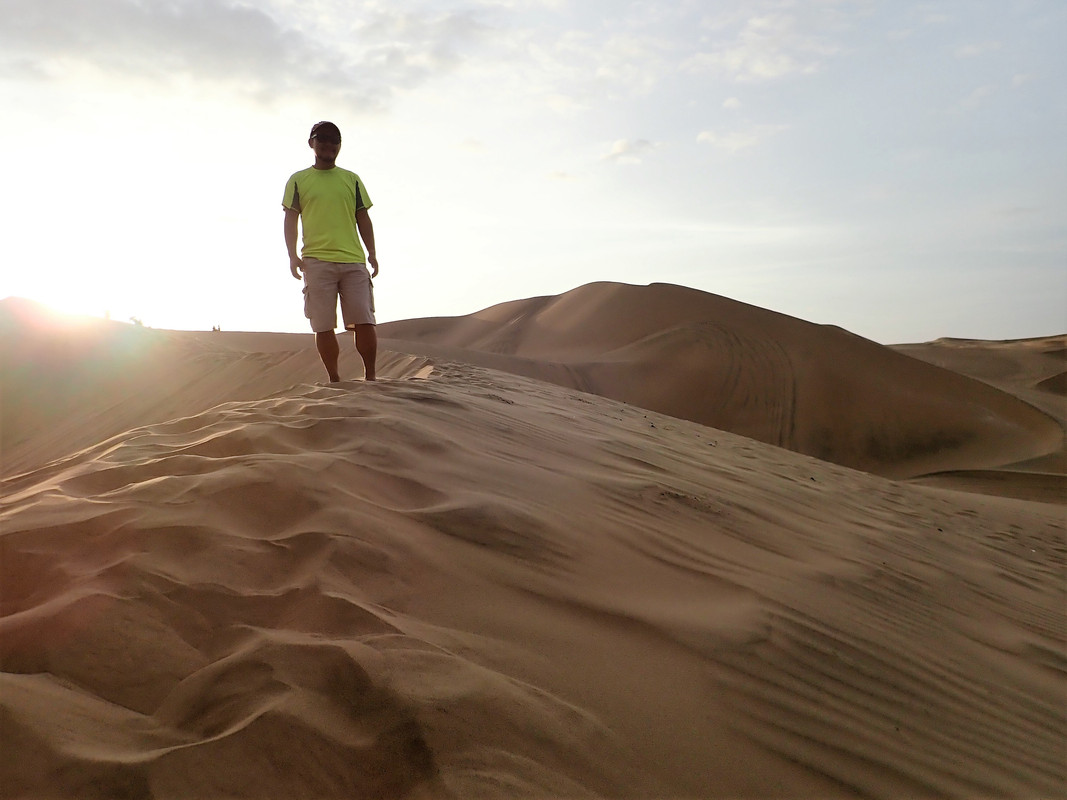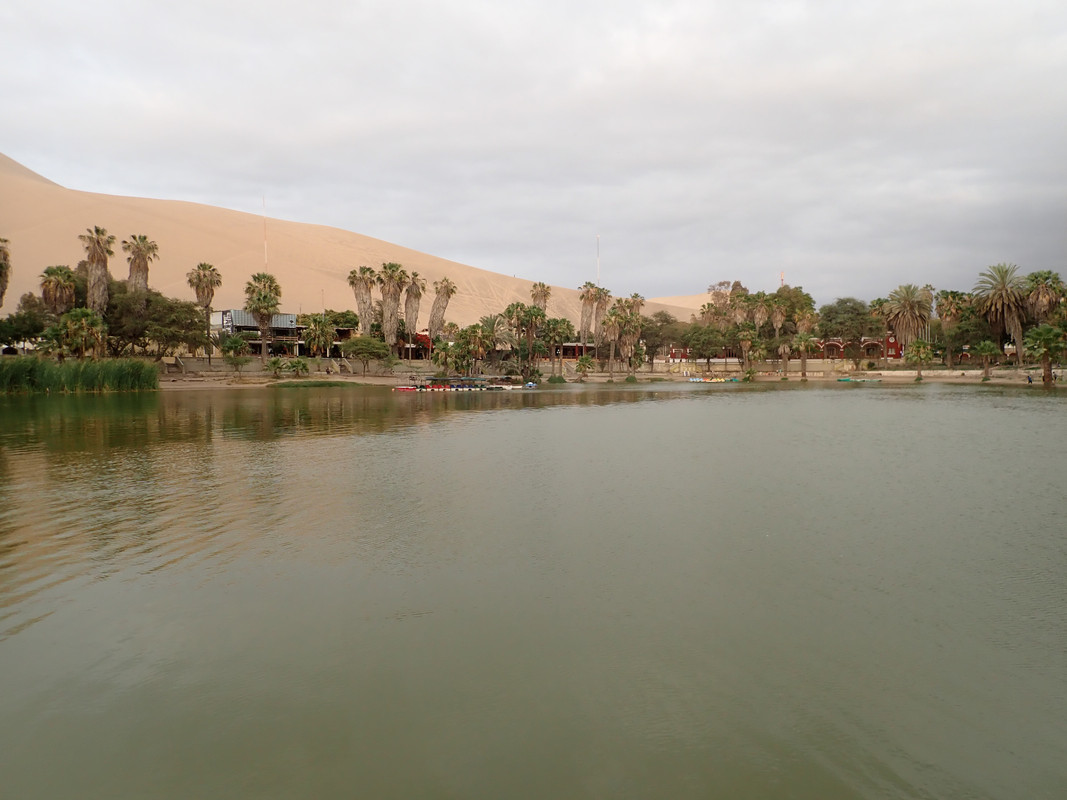 We took an hour dune buggy ride (video) the next morning. It's made from an old pickup chassis and the driver was a bit of a lunatic. It was fun like a roller coaster ride but one hour is about all I can take while holding on for my dear life.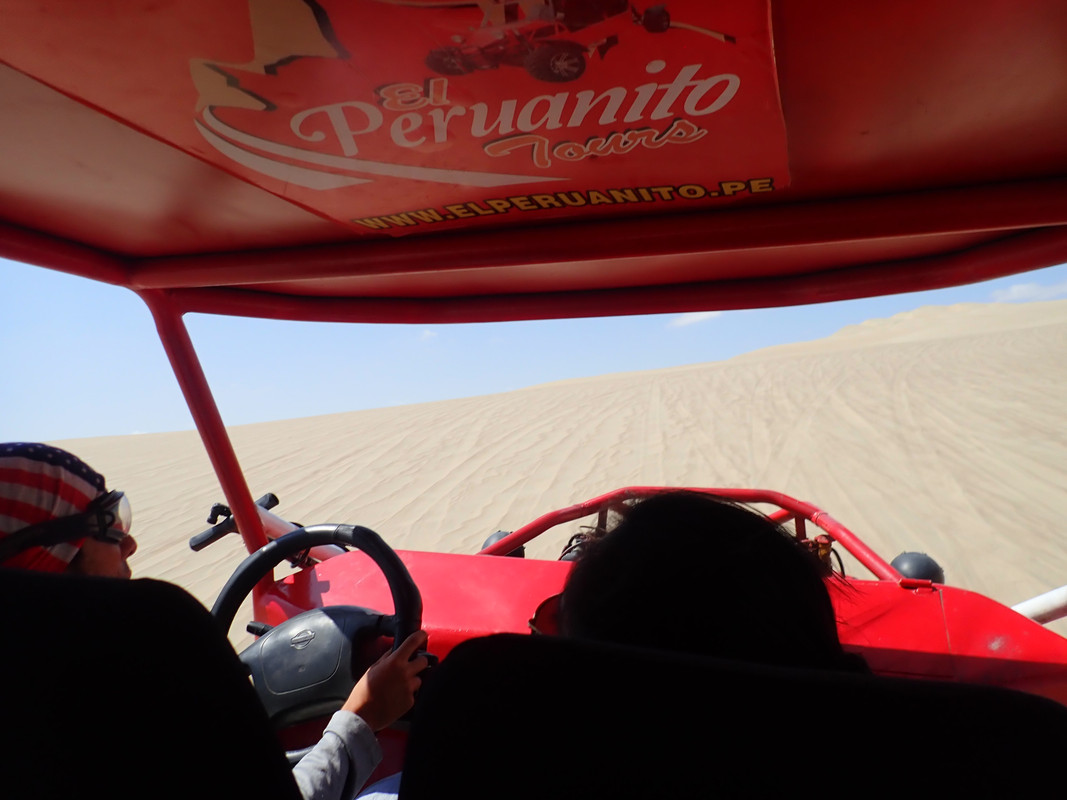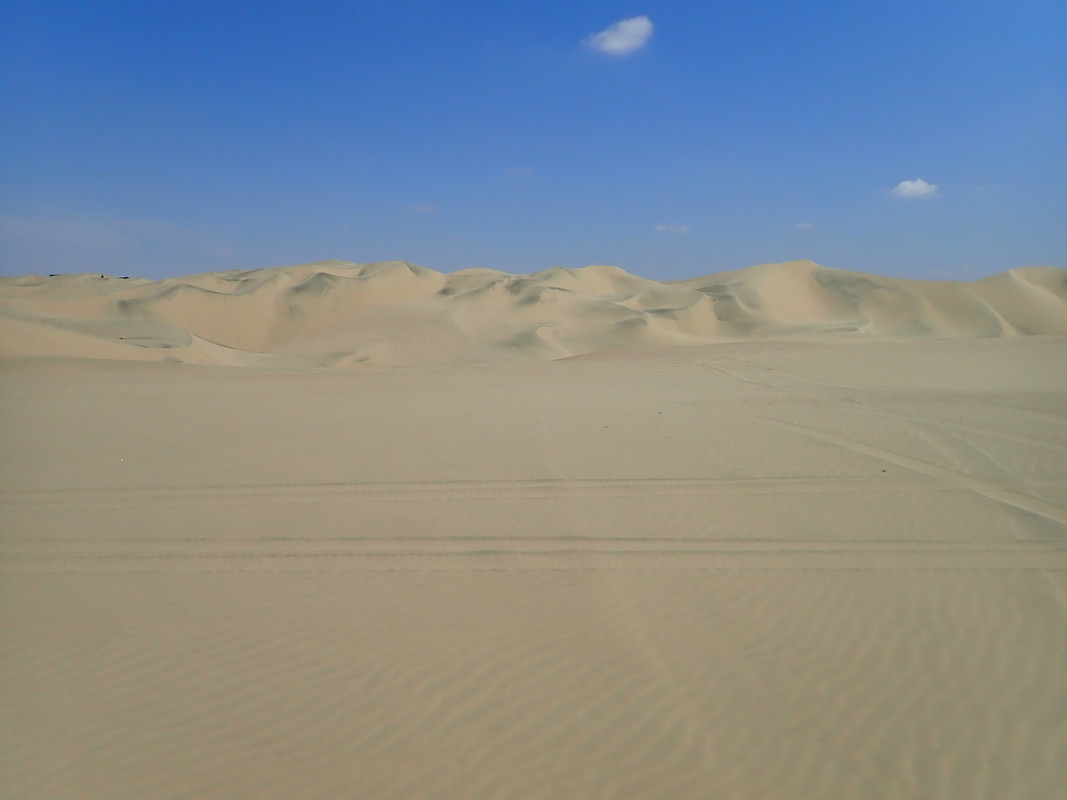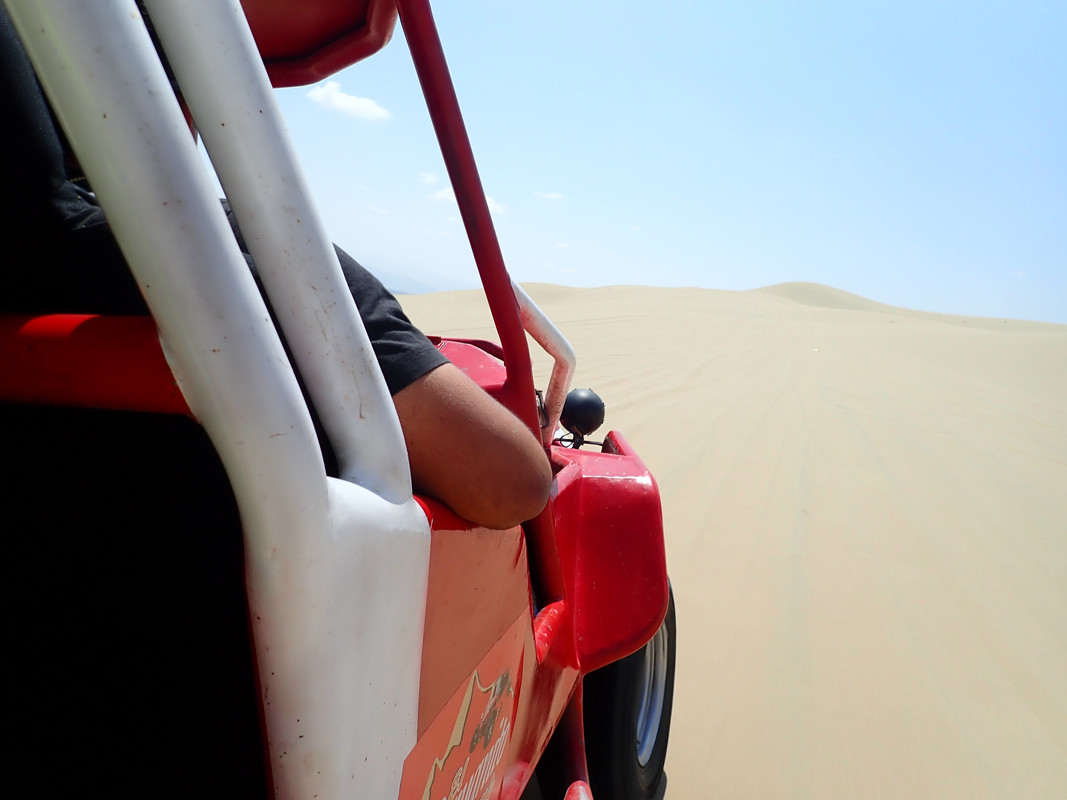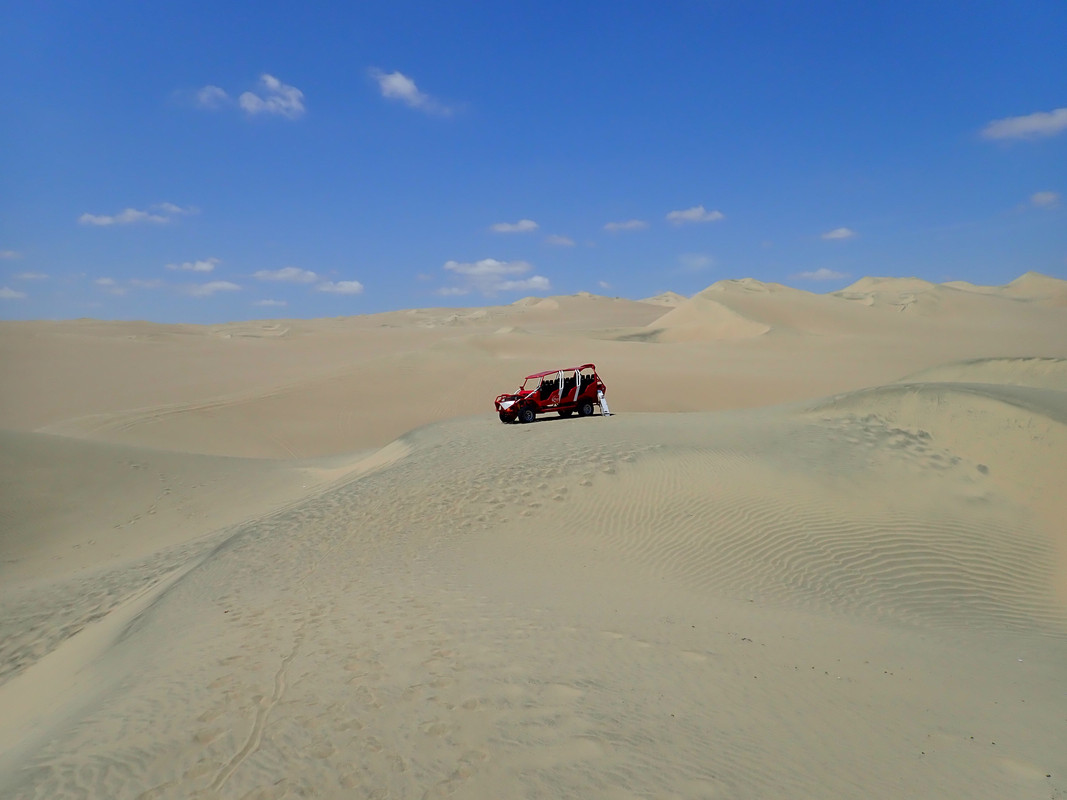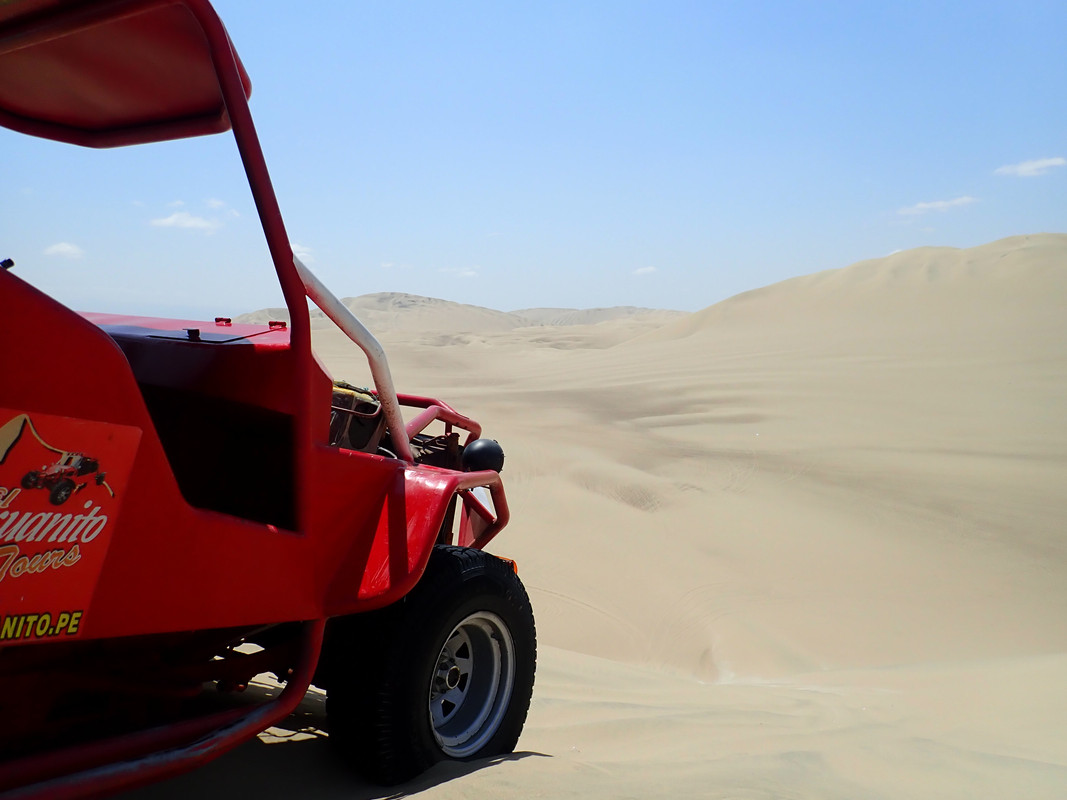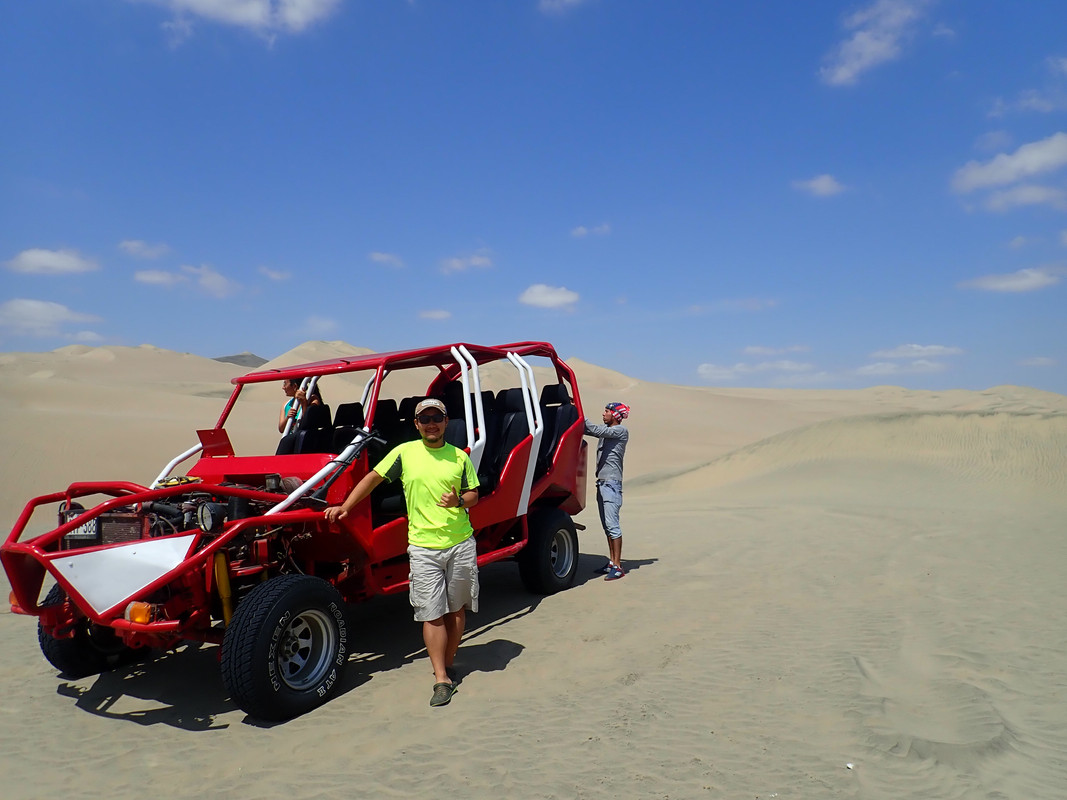 Some sand boarding was included with the dune buggy ride. The sand was blazing hot it was like walking on hot coal and everyone had a good laugh when I hopped bare feet toward my sandals.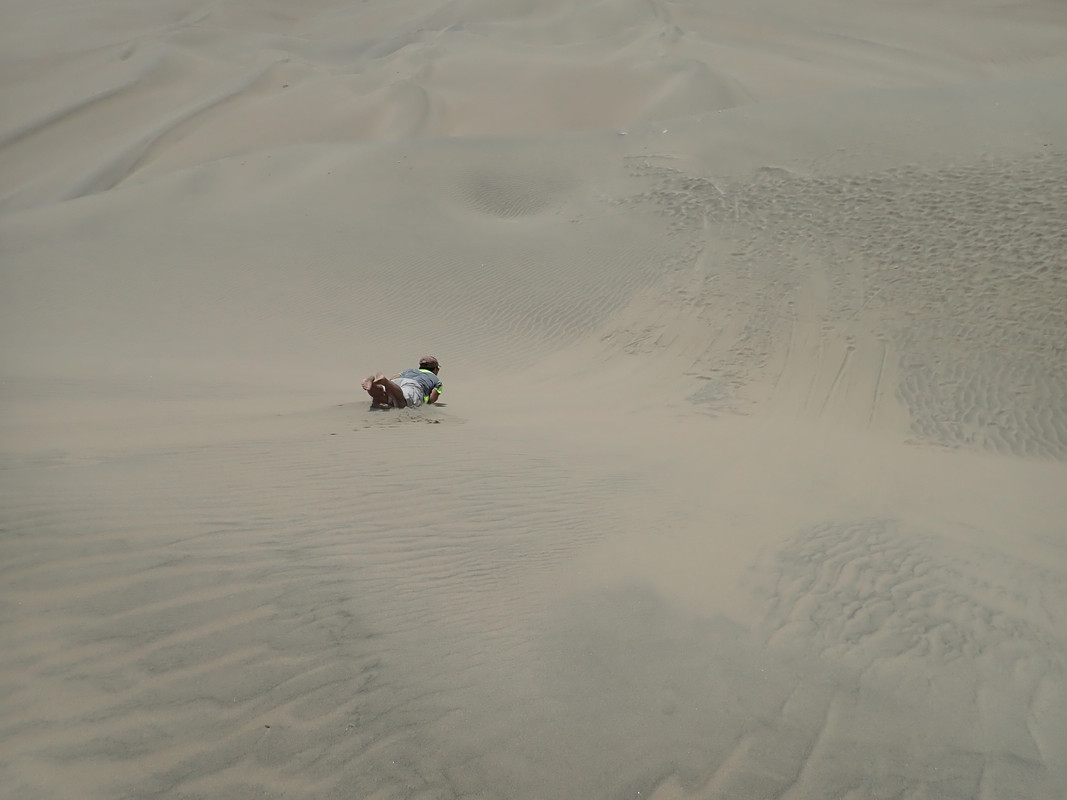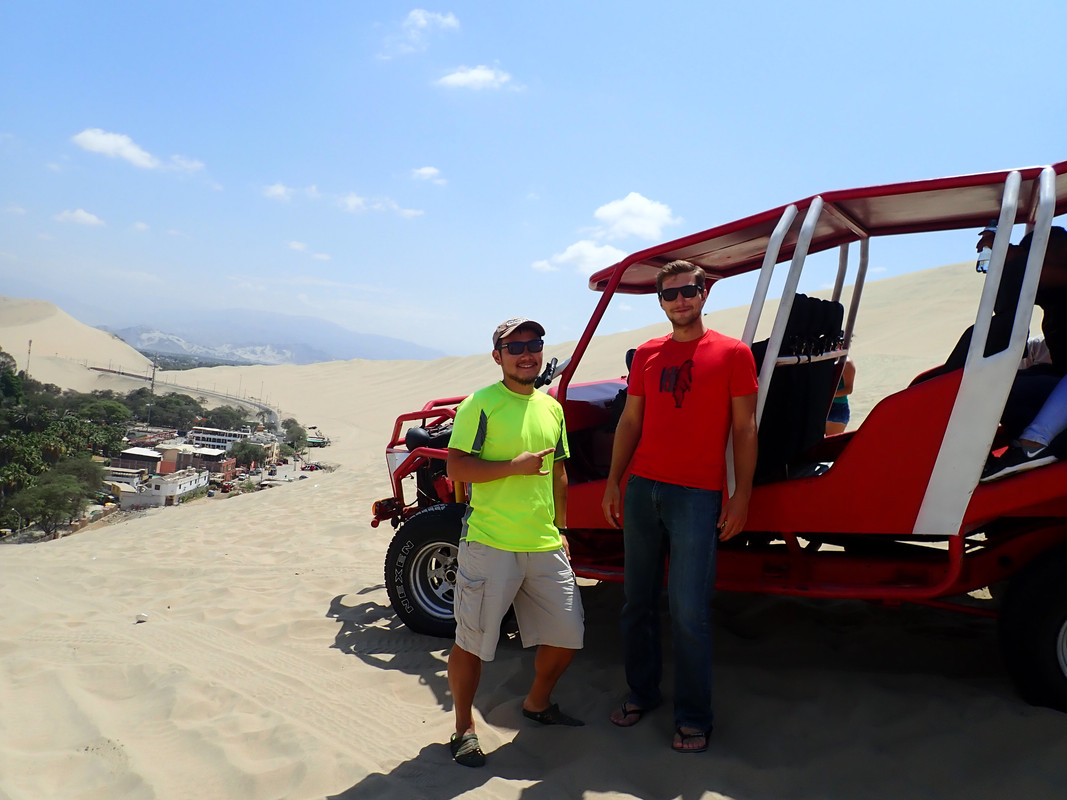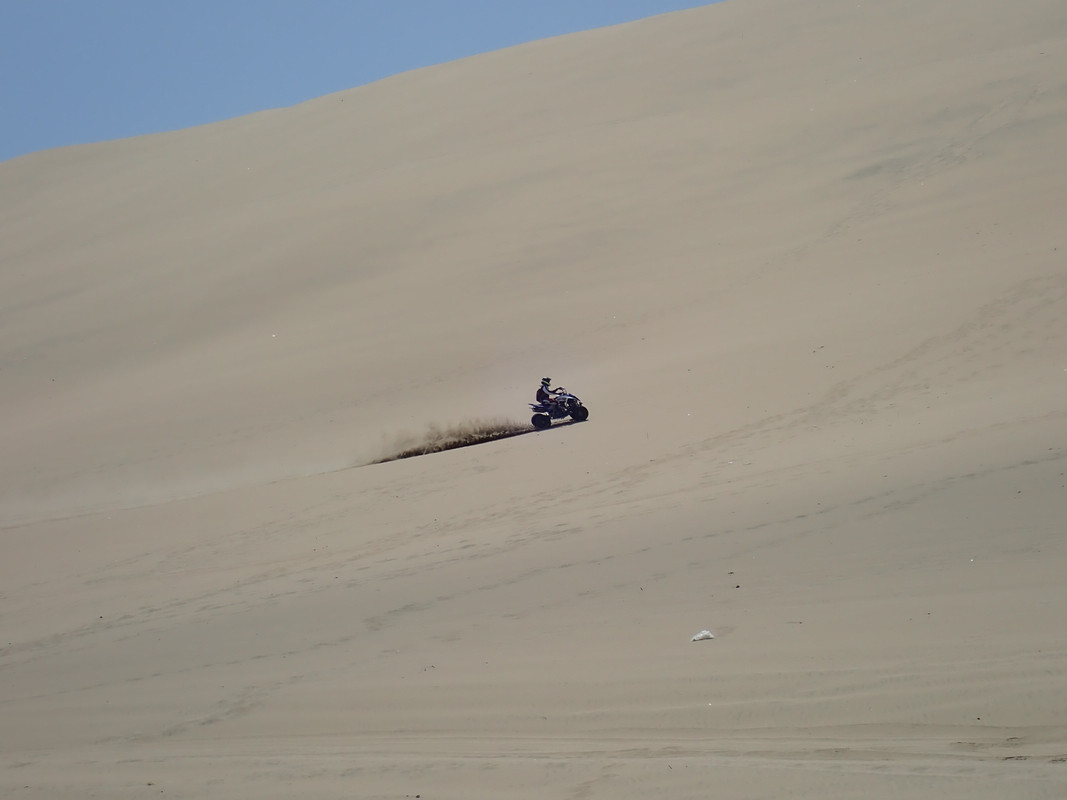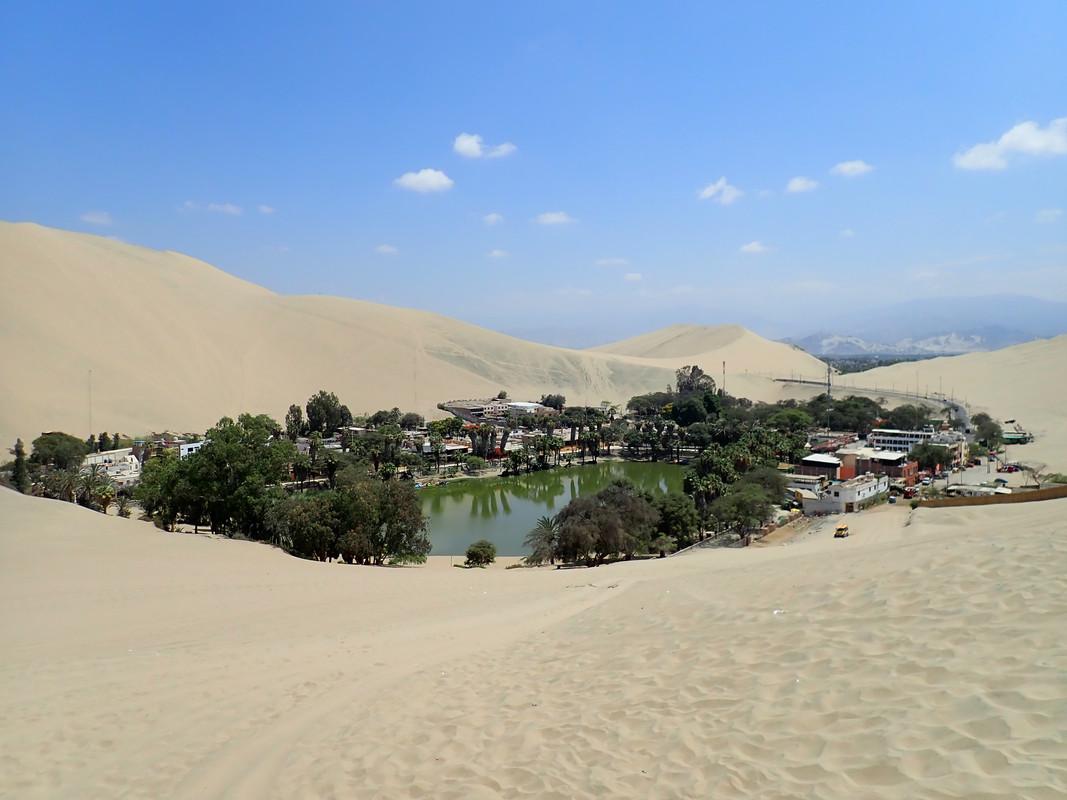 We rode towards Nazca and made a short stop to check out the Nazca Lines. It's a series of large ancient geoglyphs in the desert and a UNESCO World Heritage Site.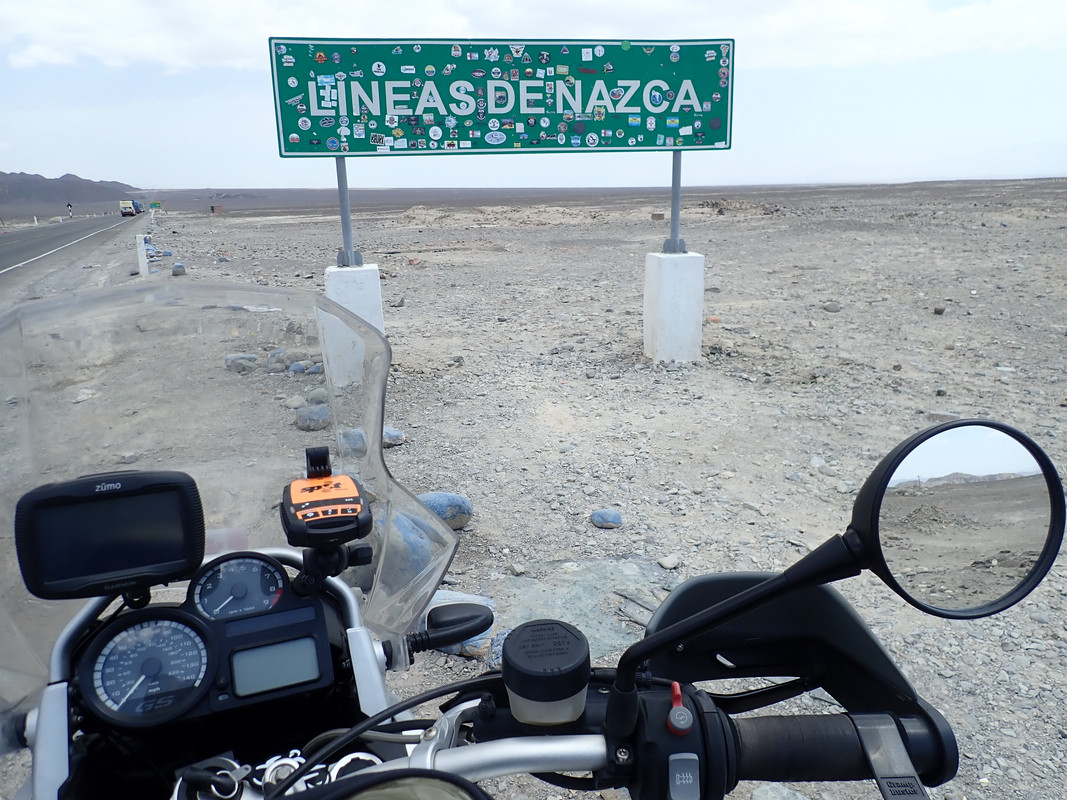 Only a few geoglyphs are visible from the 3 Soles (approx $1) lookout tower. All of the other Nazca Lines can only be seen from small aircraft tours which cost $60 so we cheaped out.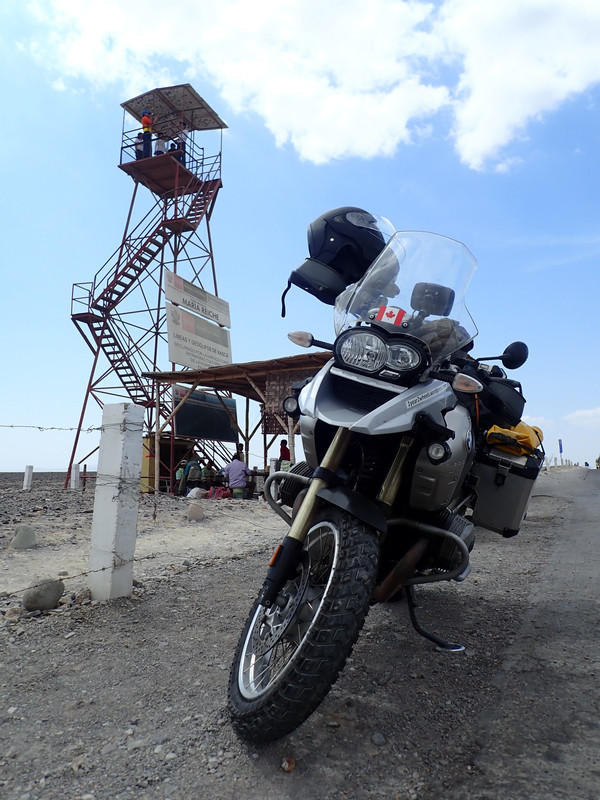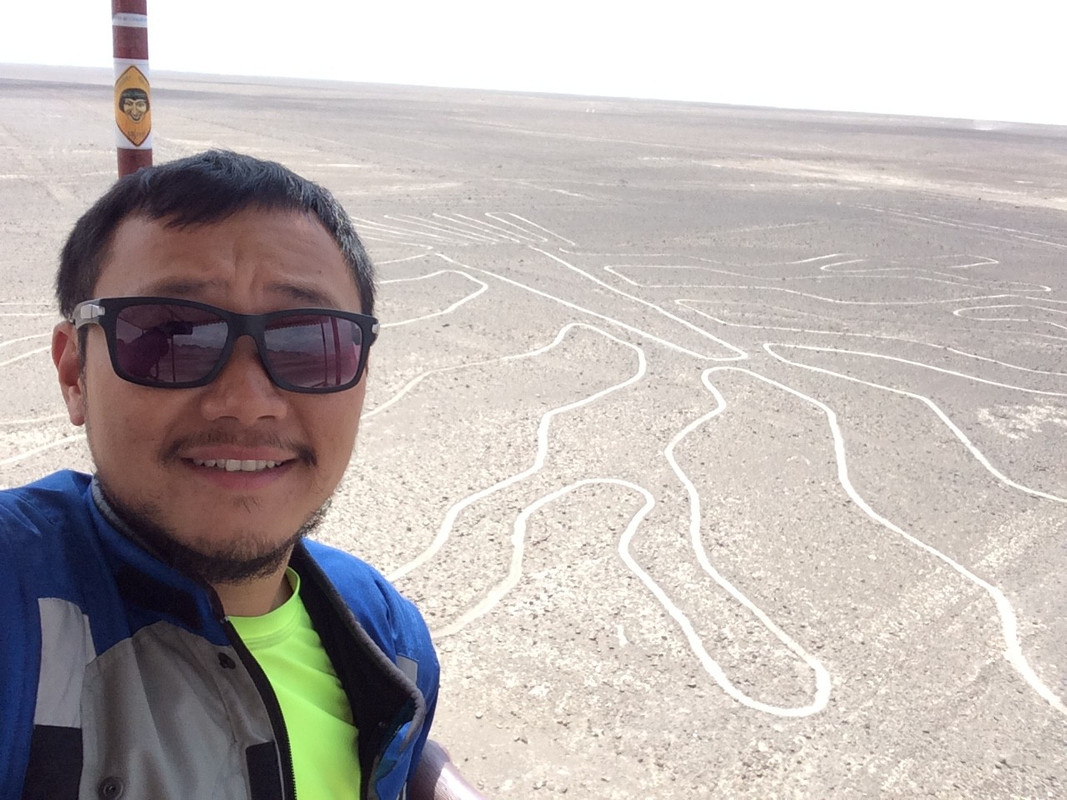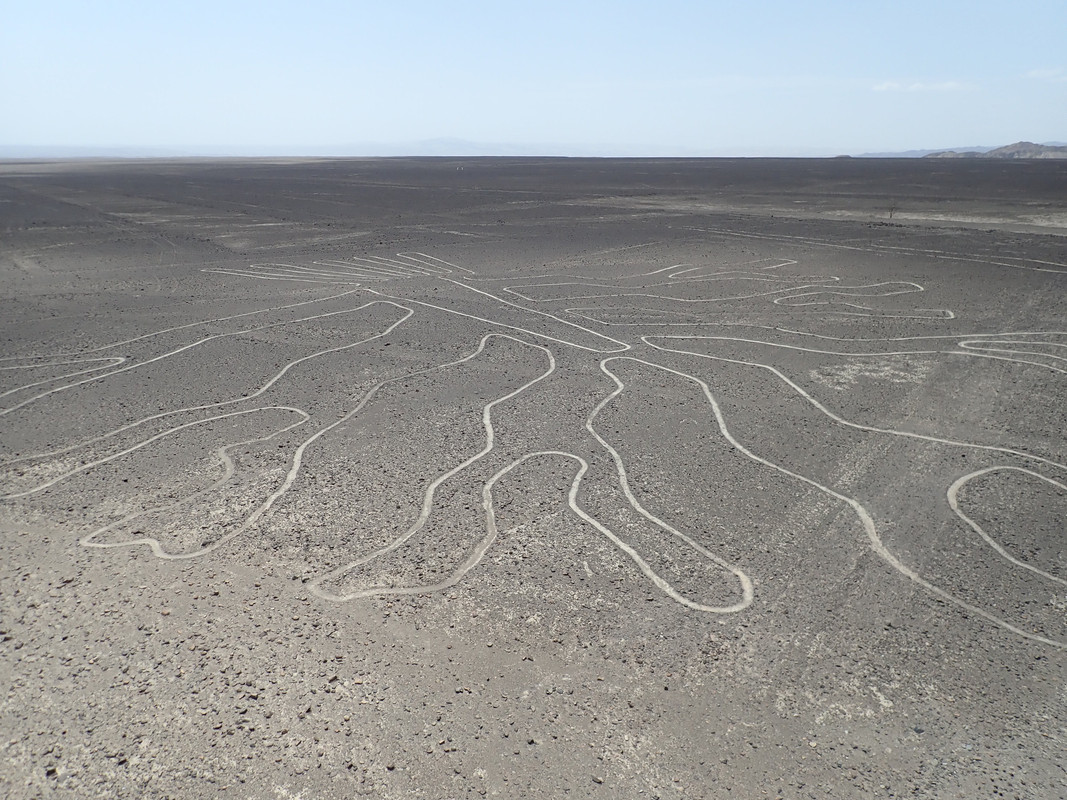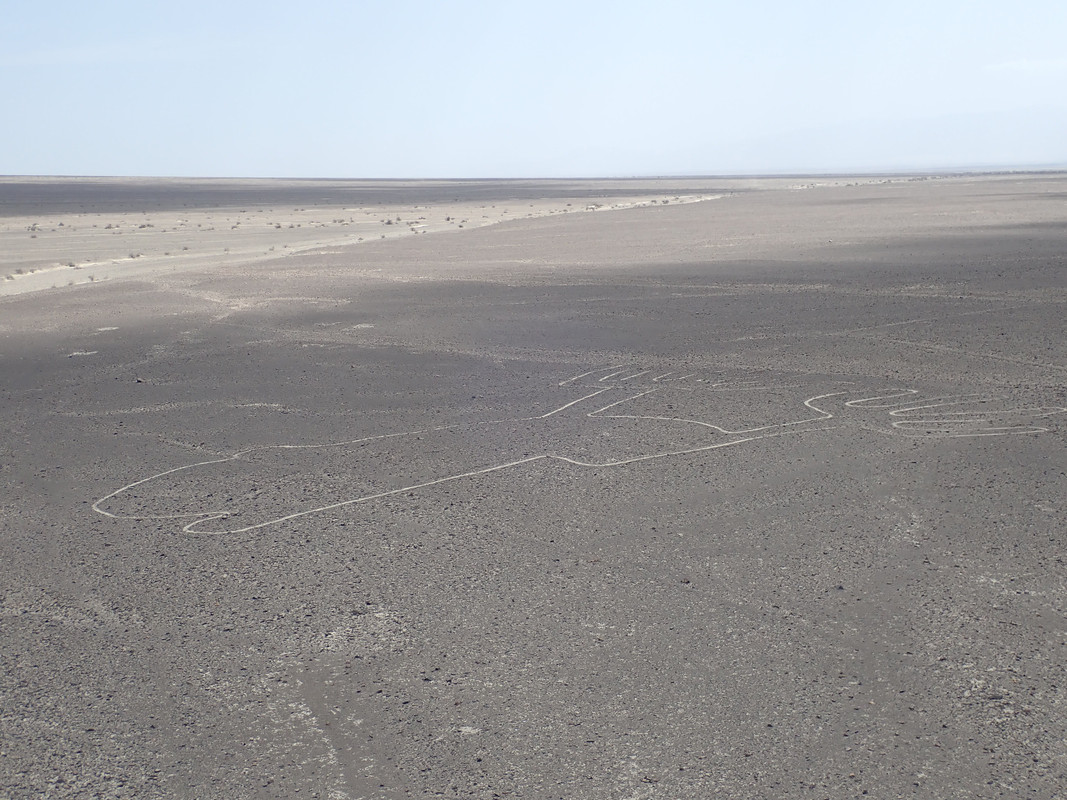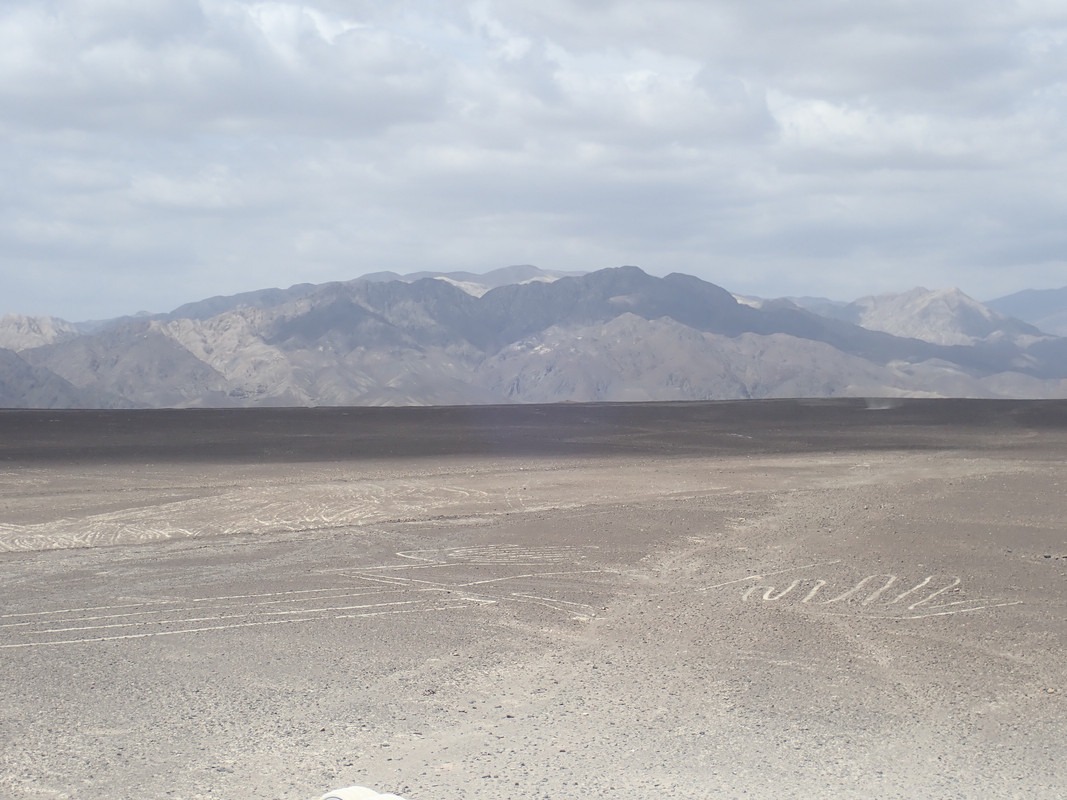 A closer look reveals the Nazca Lines were made by removing large rocks and gravel from the desert hence they were naturally preserved for thousands of years.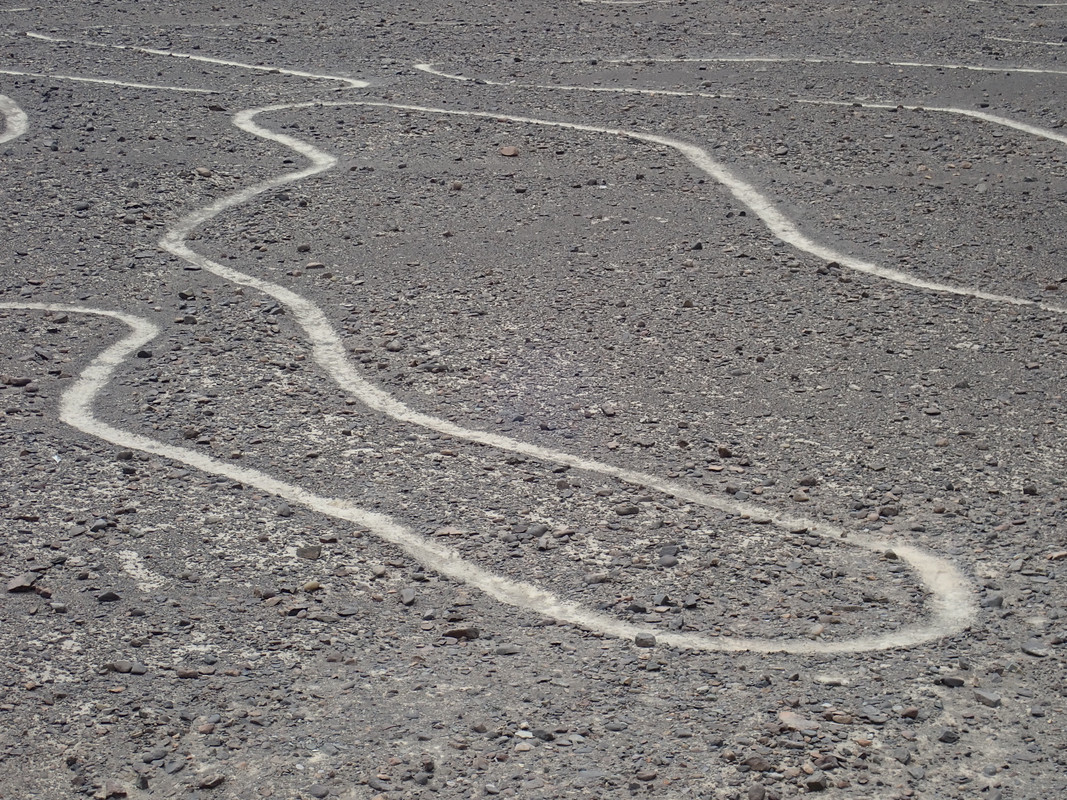 The vastness of the Peruvian desert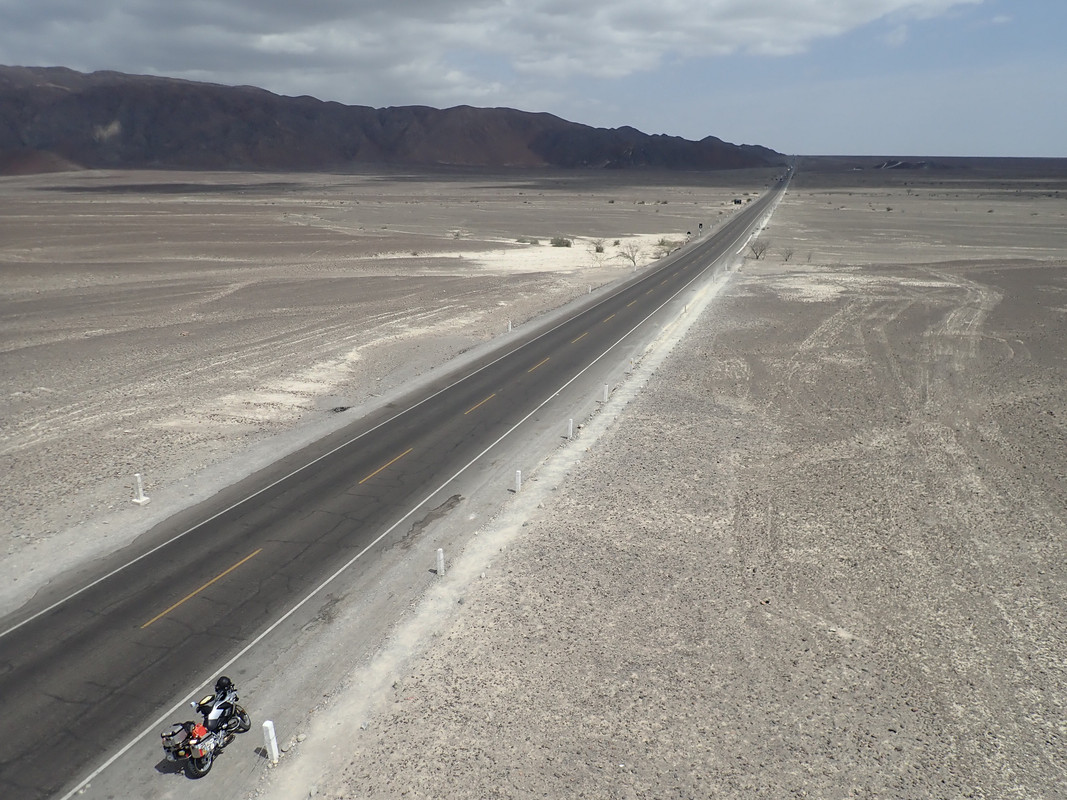 There was another hill about a mile down the road to observe the simple lines across the desert.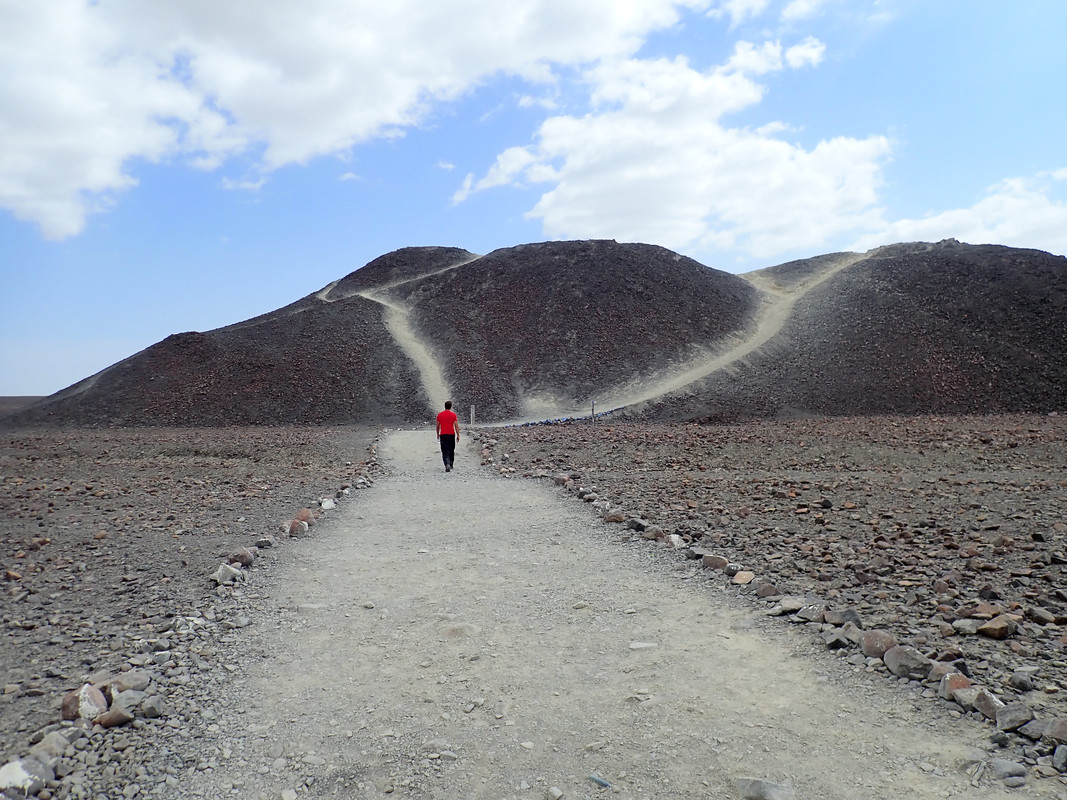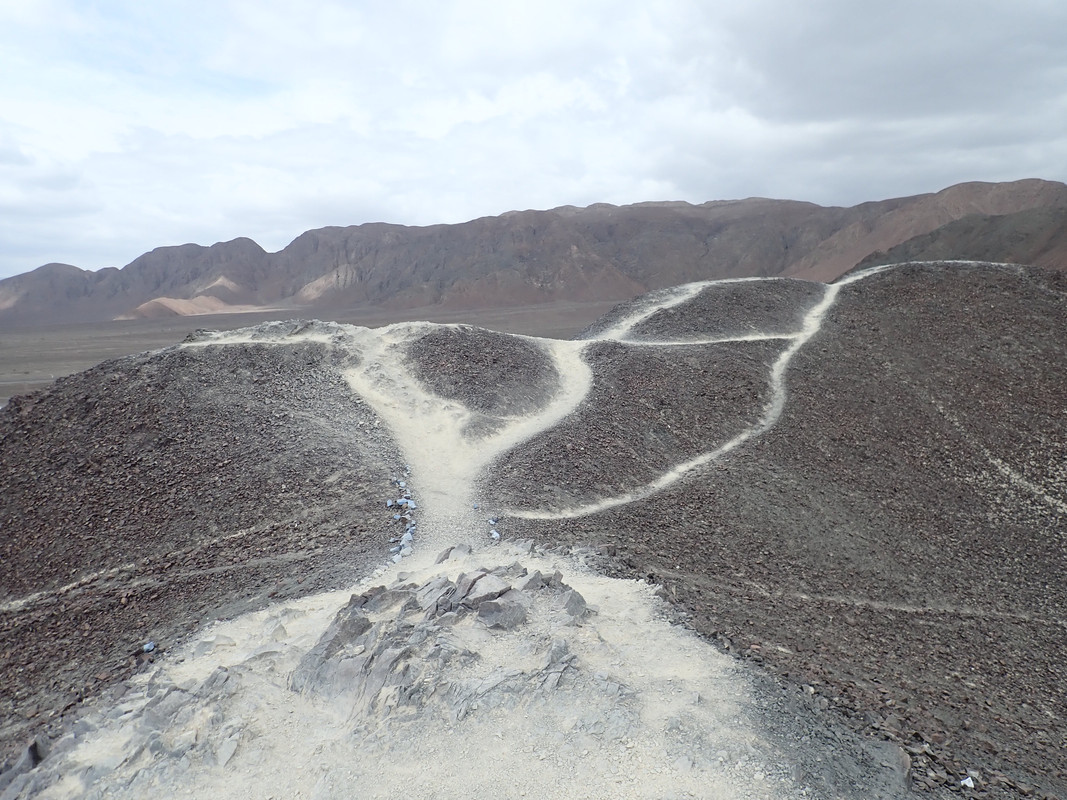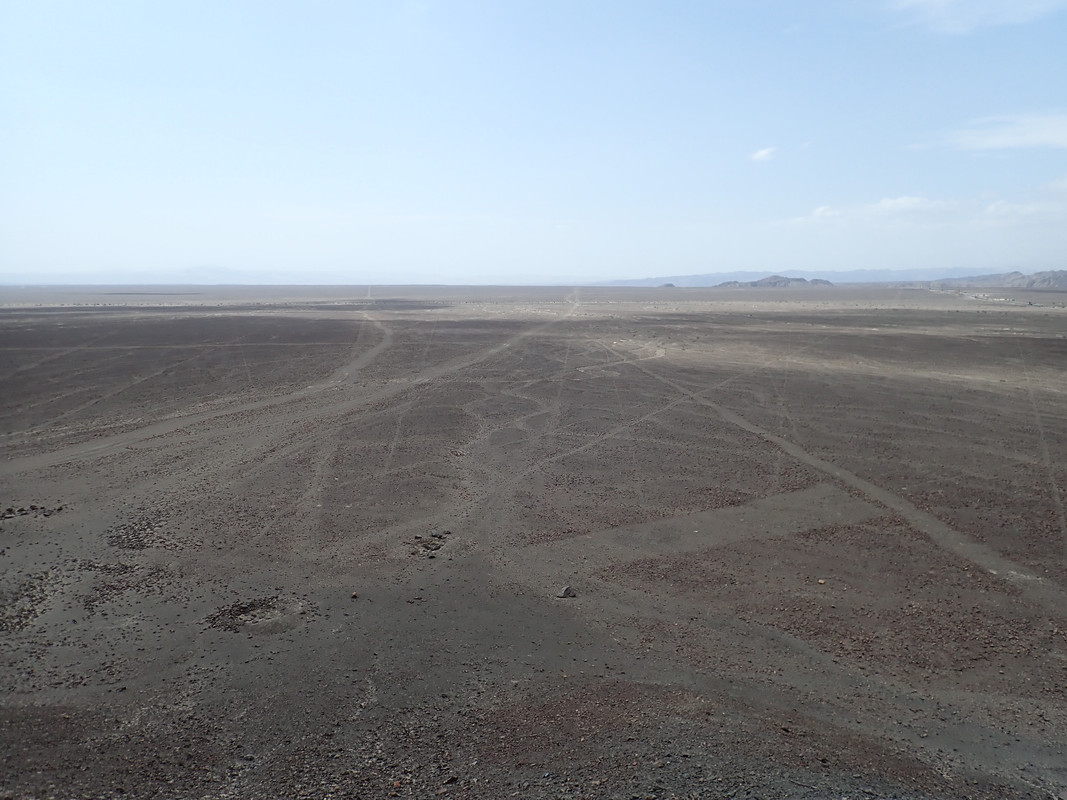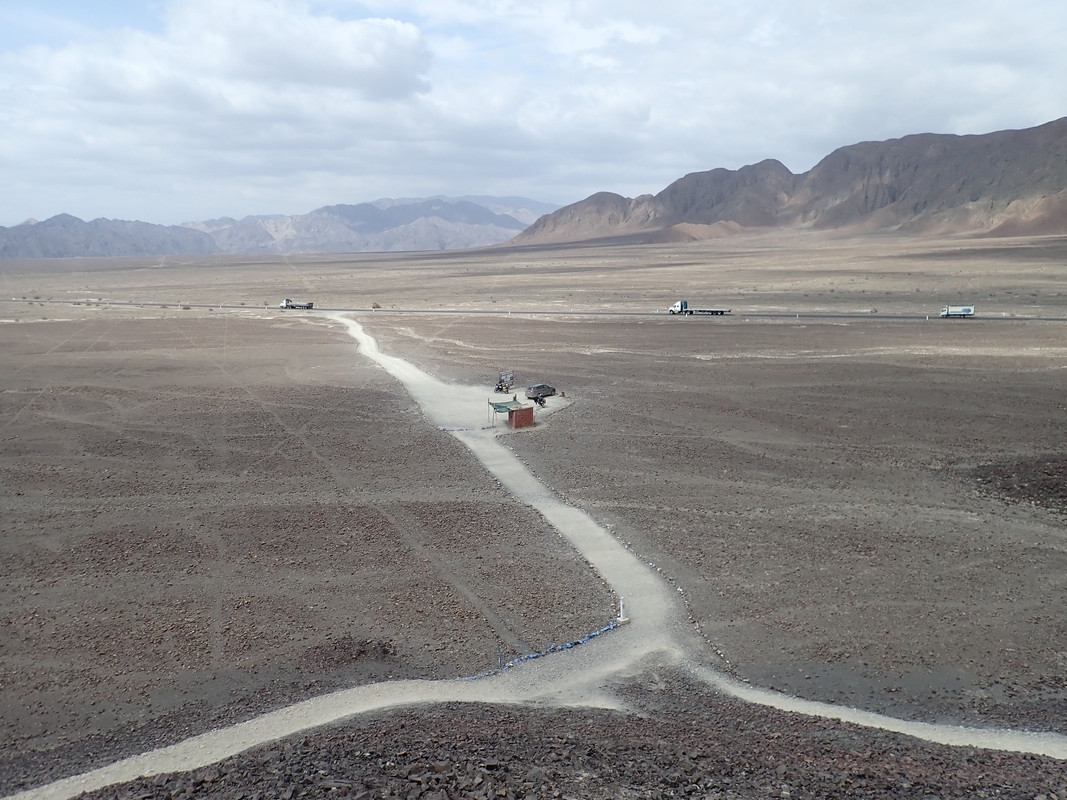 The city of Nazca was so dry that there was no water under any of the bridges. Cars were simply driving across the dry riverbeds.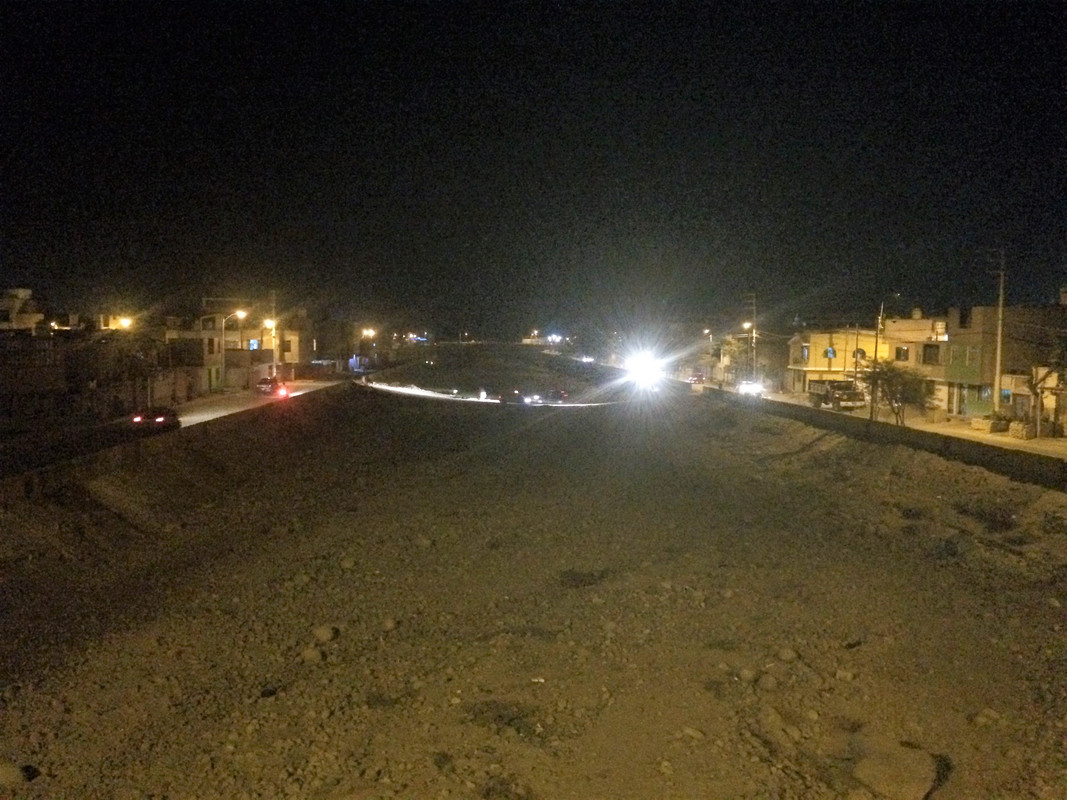 This Christmas cactus really put me in the holiday spirit. 😛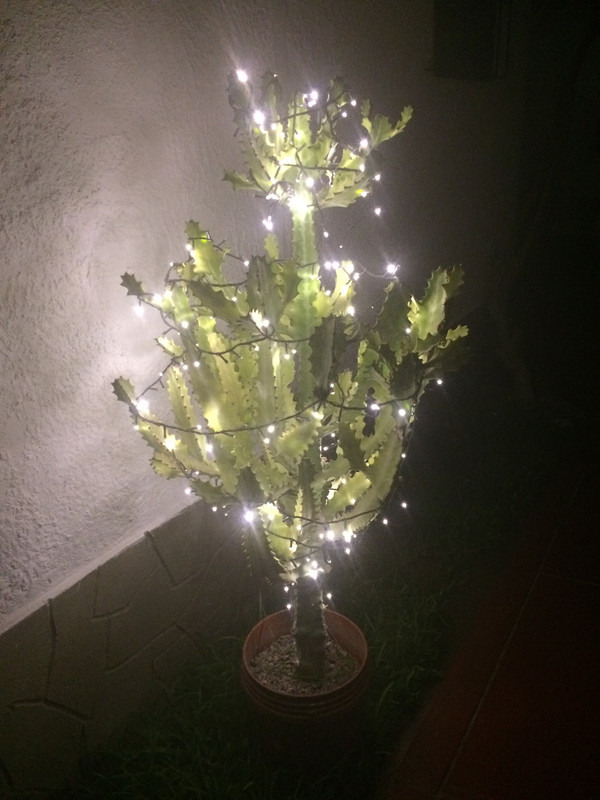 It was time to leave the desert for the mountains as we rode towards Cusco. Lots of curves and elevation changes…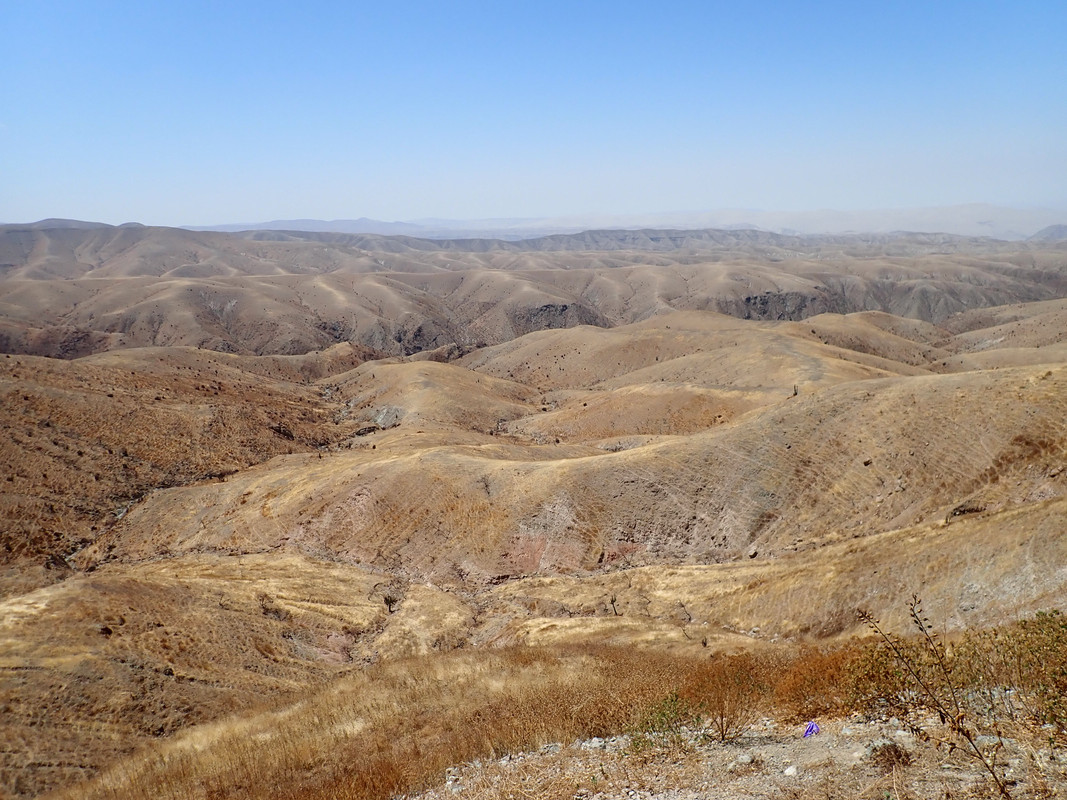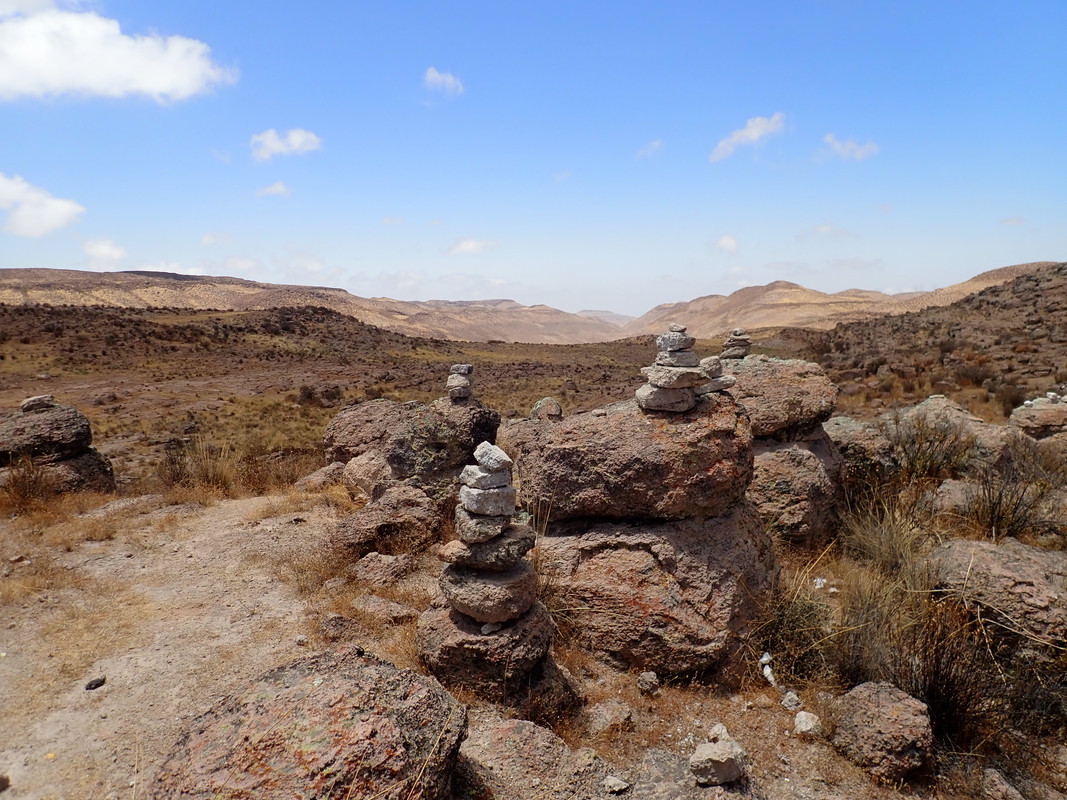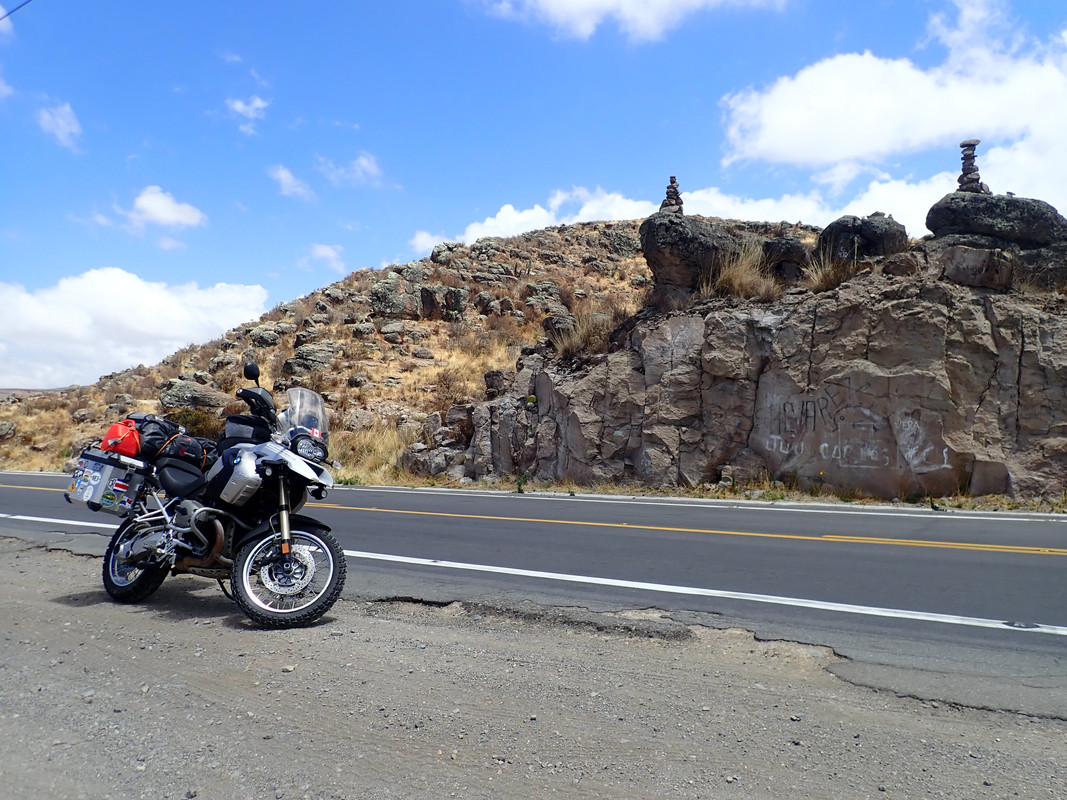 The plateau is like the prairies at over 4000 m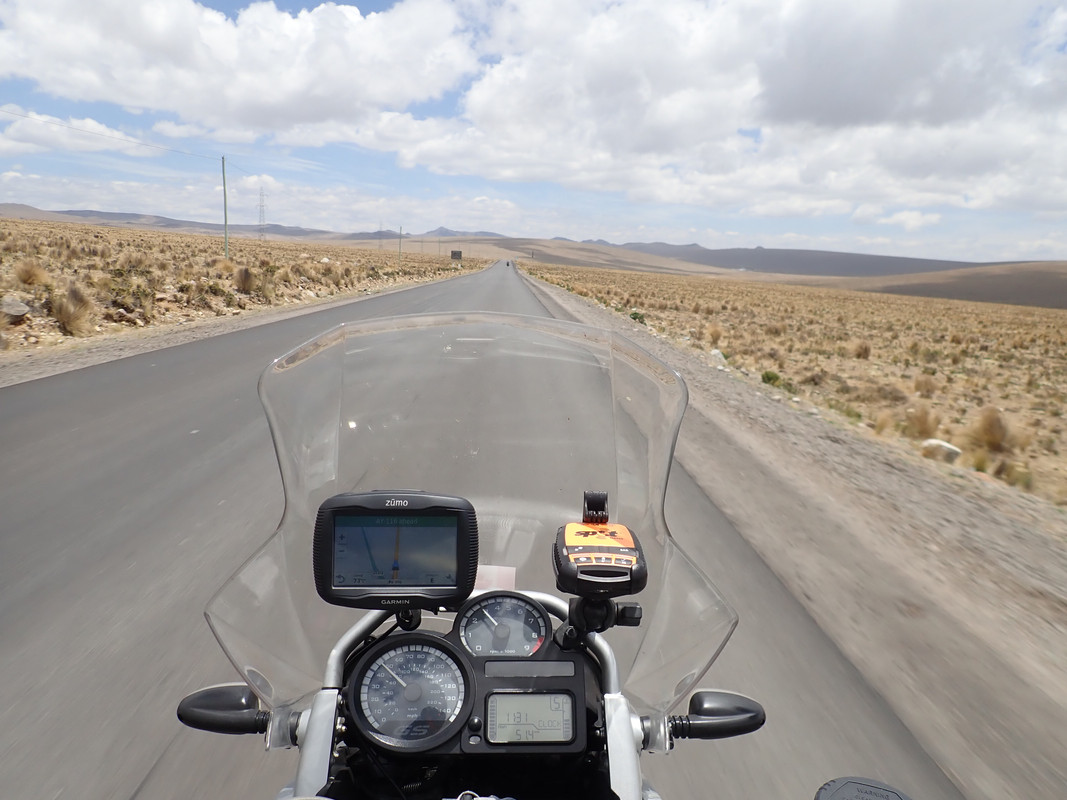 Lots of wild alpacas roaming the road sides but they were very skittish when we stopped for pictures.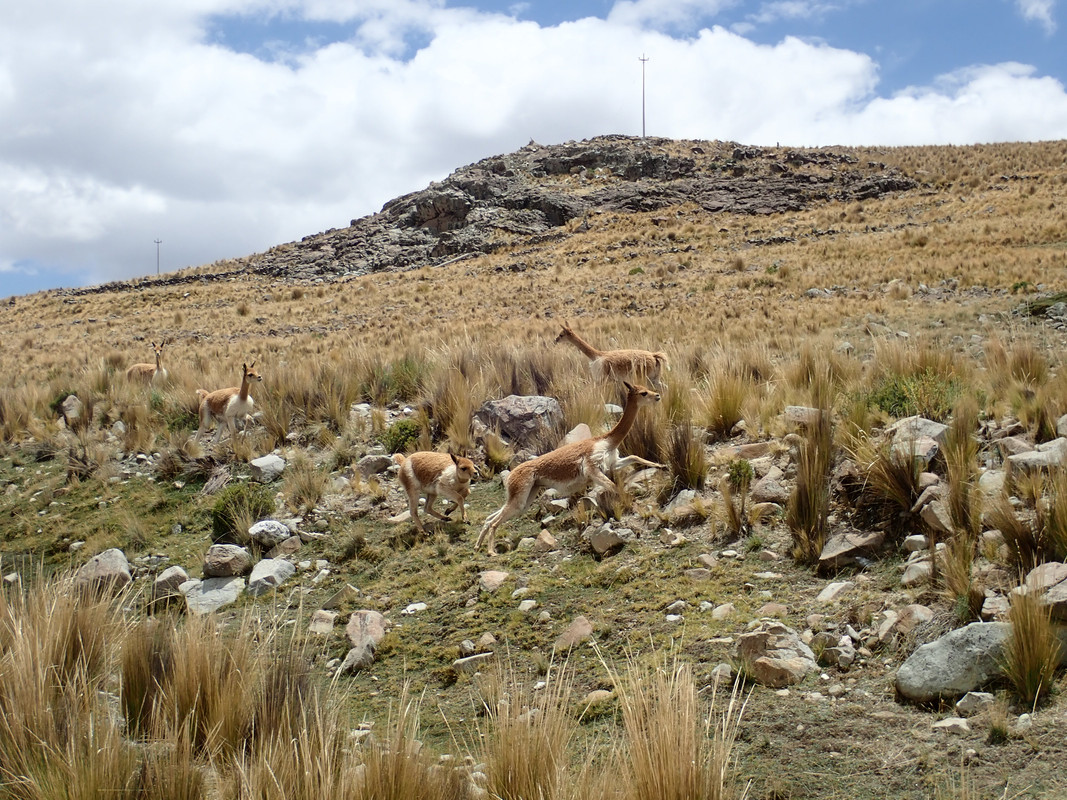 Both the bike and I did not like the high altitude. I was starting to feel lightheaded and the hydraulic clutch on my R1200GS would not disengage at 4600 m / 15000 ft. Derrick fumbled around with the lever and got it going again but there was still a lack of pressure in the line. I had a real panicky moment as the temperature was in the 40s and it was windy and rainy.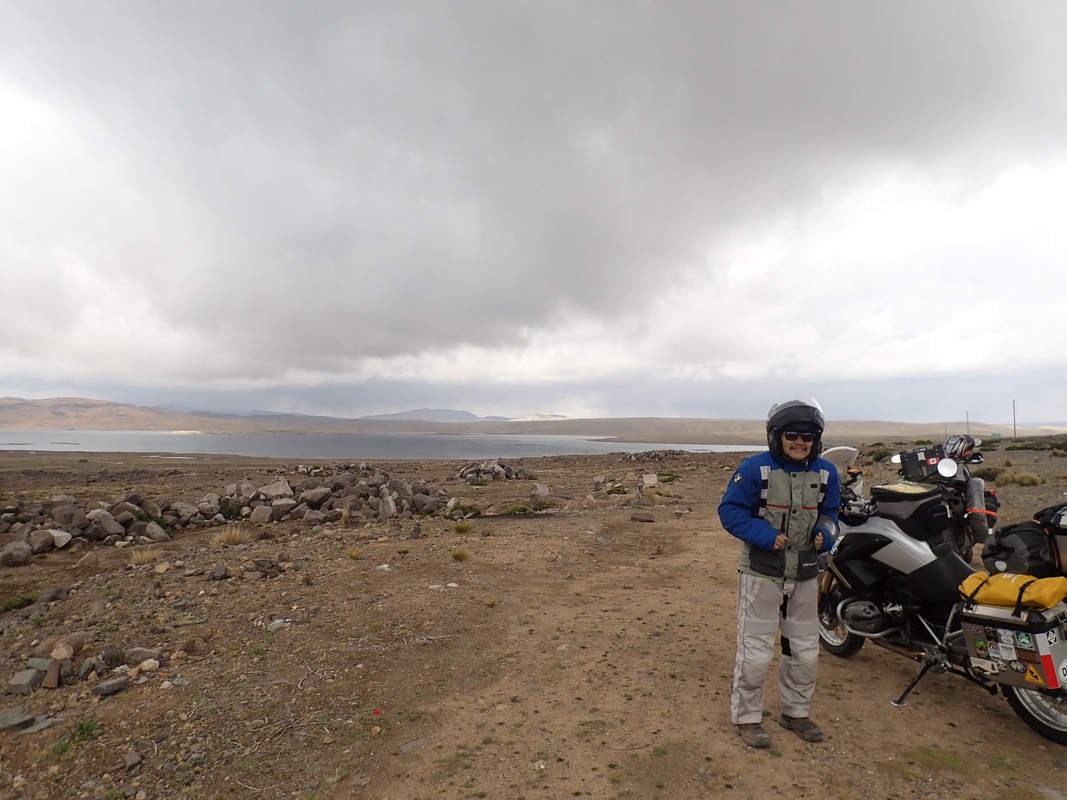 I coasted down the mountain in 5th and the mechanical glitch magically disappeared at lower elevation.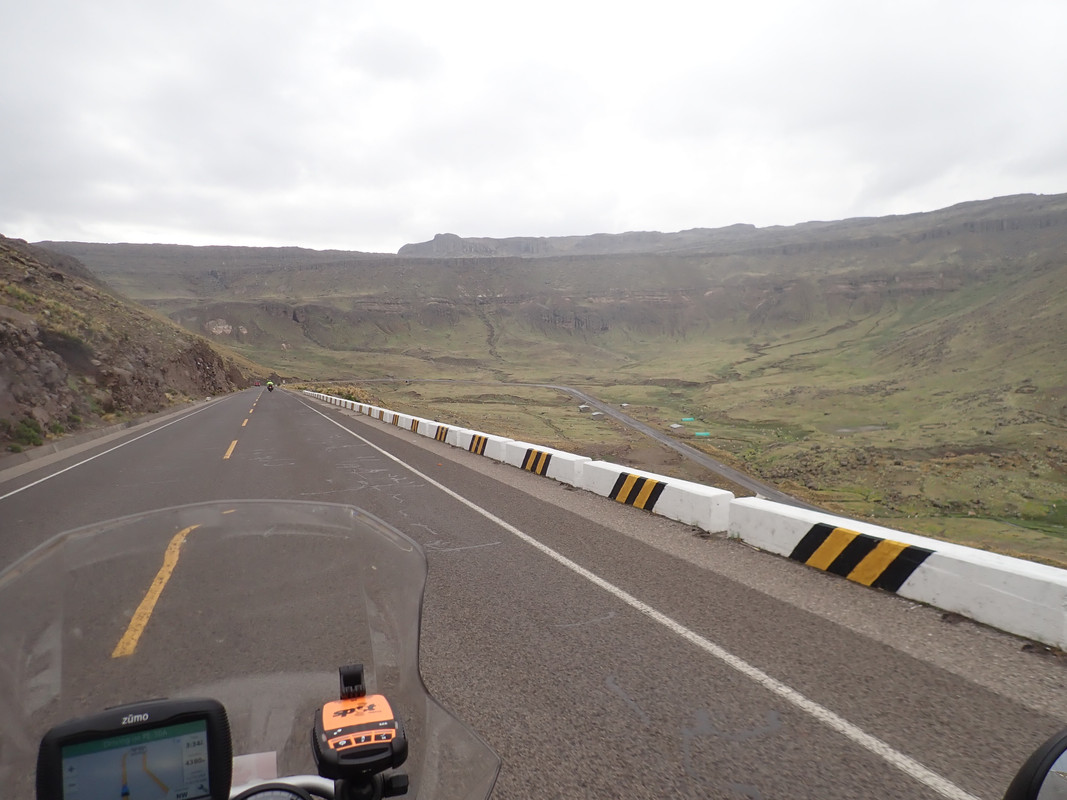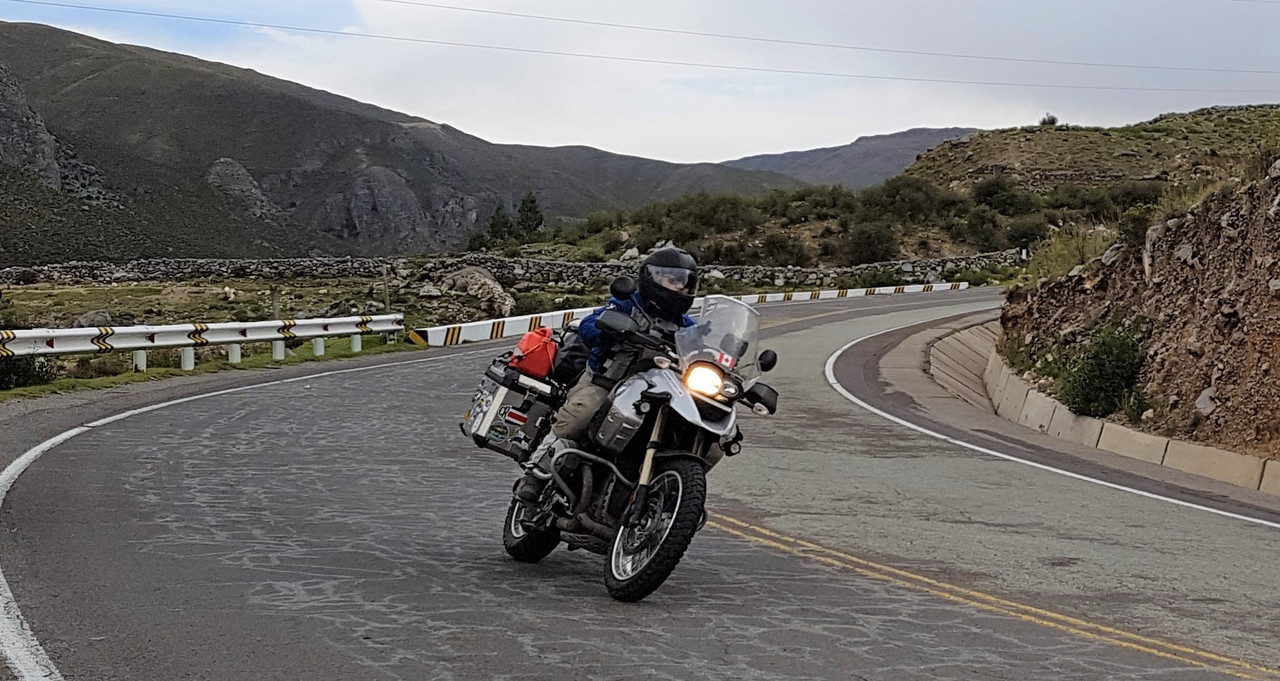 I always wondered how my pants got wet with the rain pants on. This photo answered the question.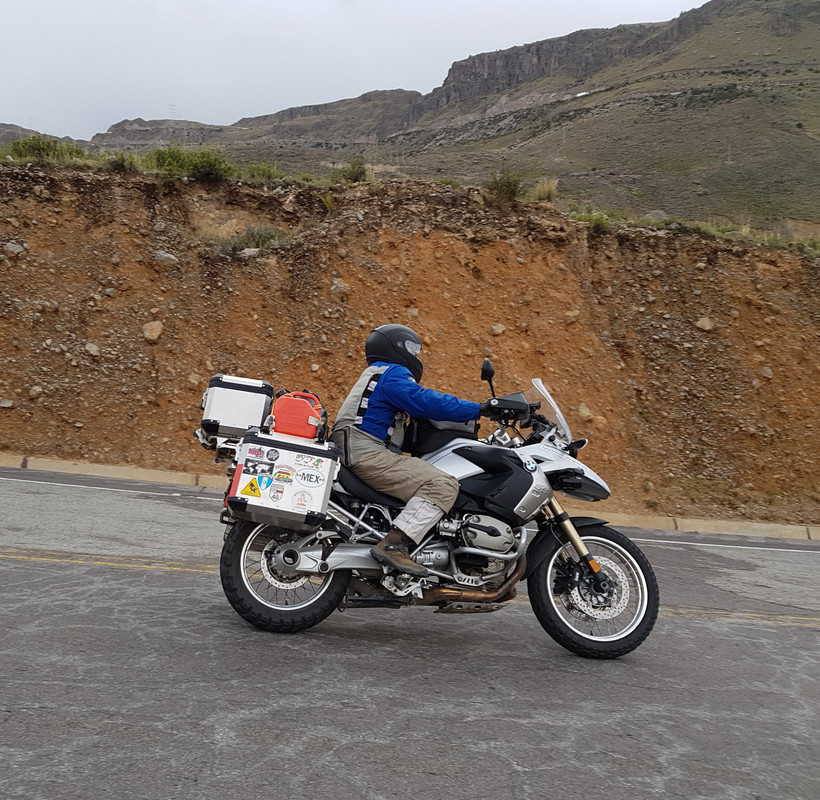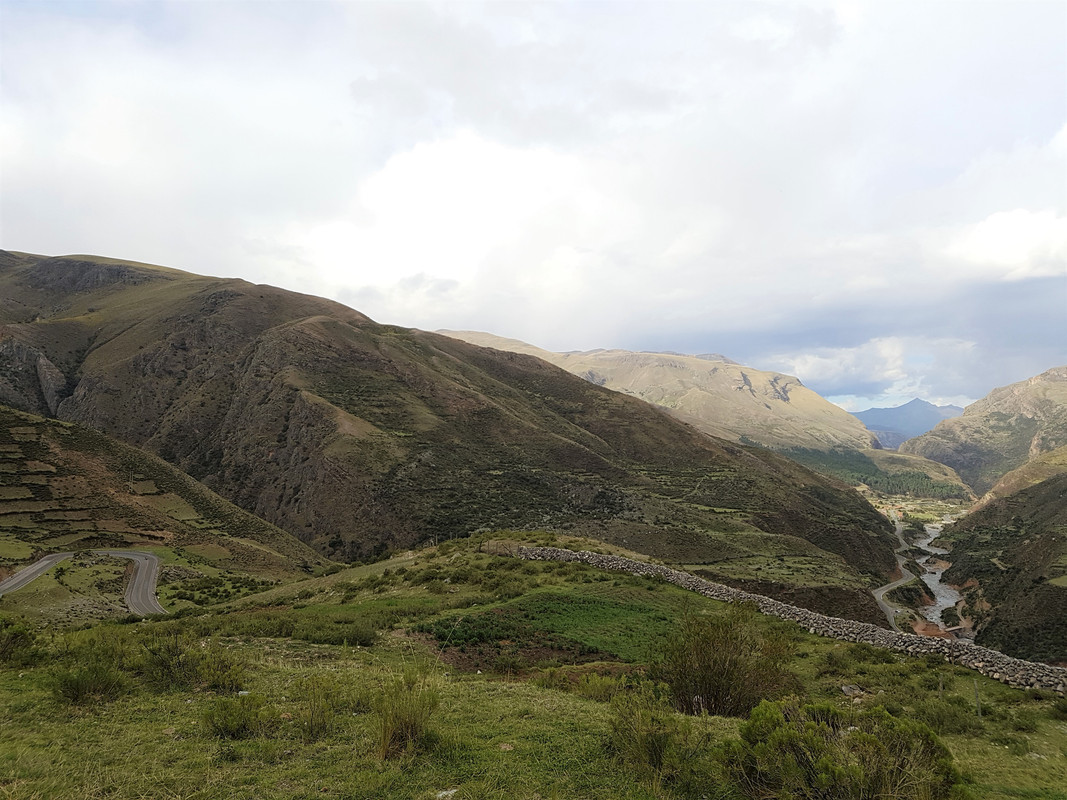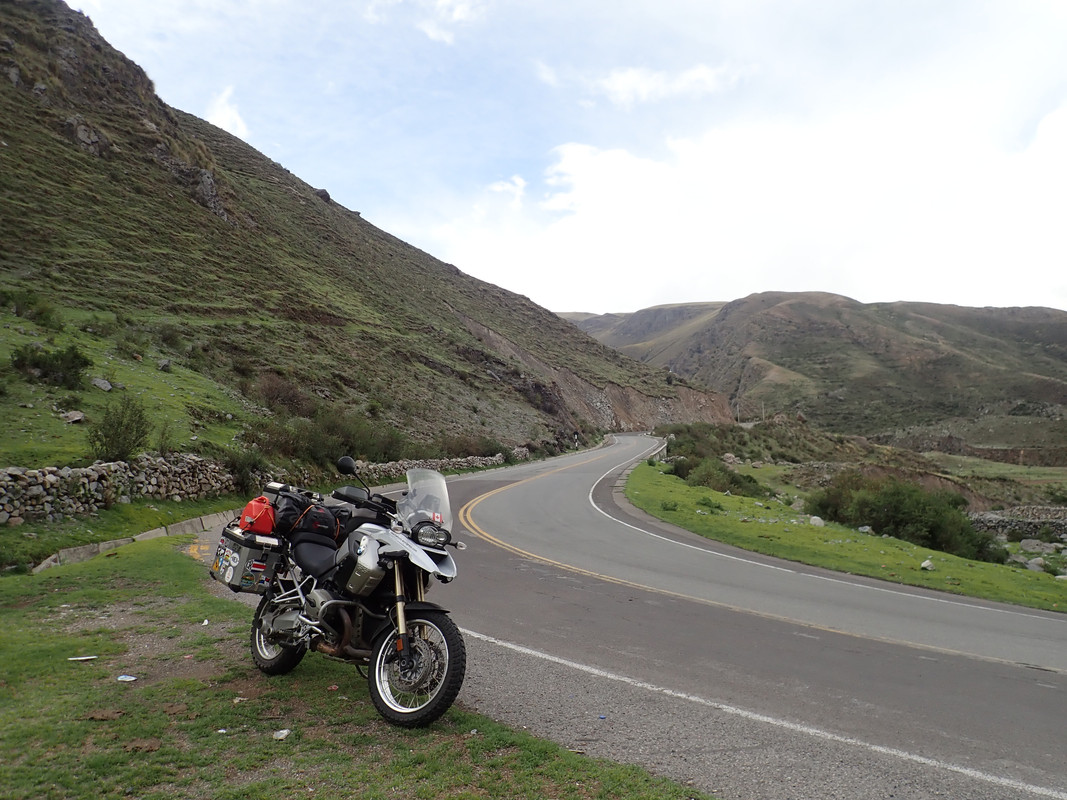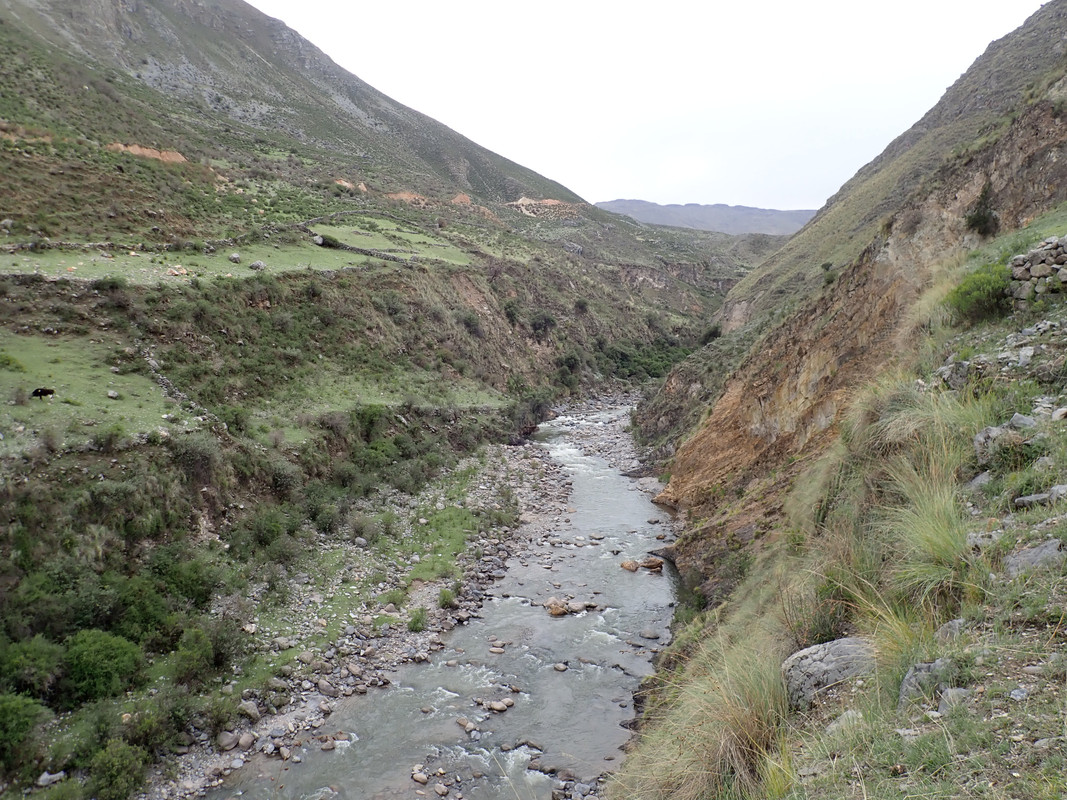 We found a place to camp in the little village of Yaca and ended the day with some ramen and canned tuna. Some rain came throughout the night but the temperature was perfect.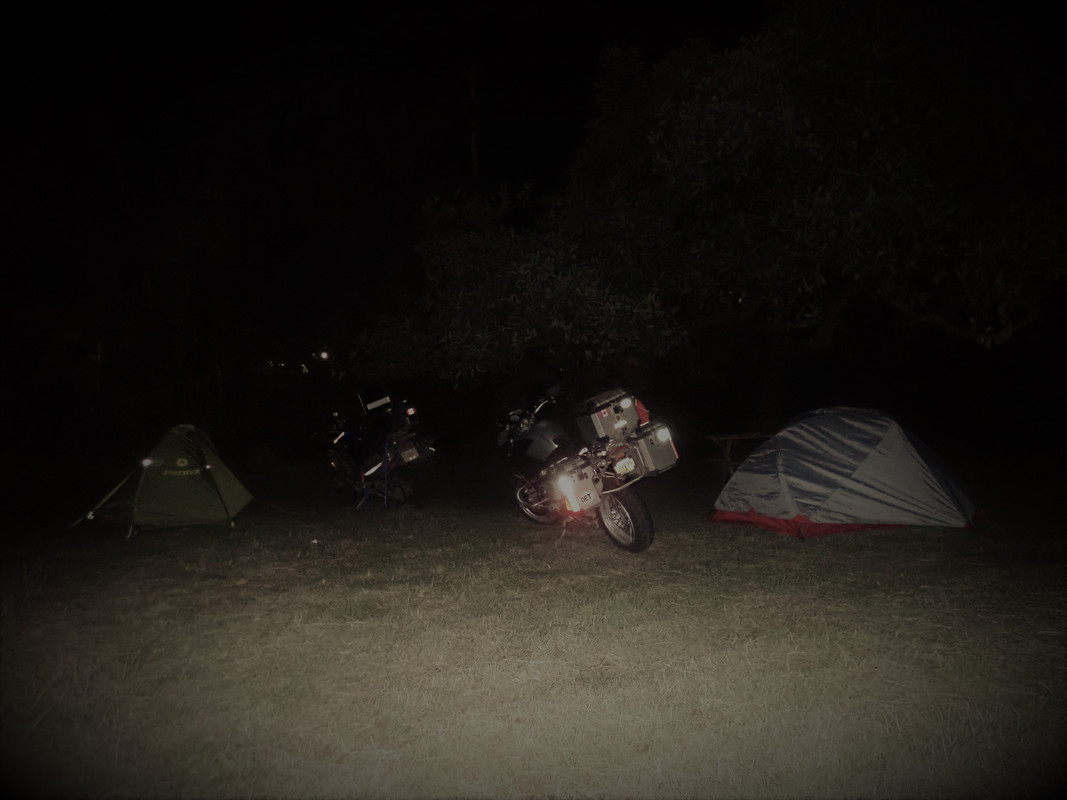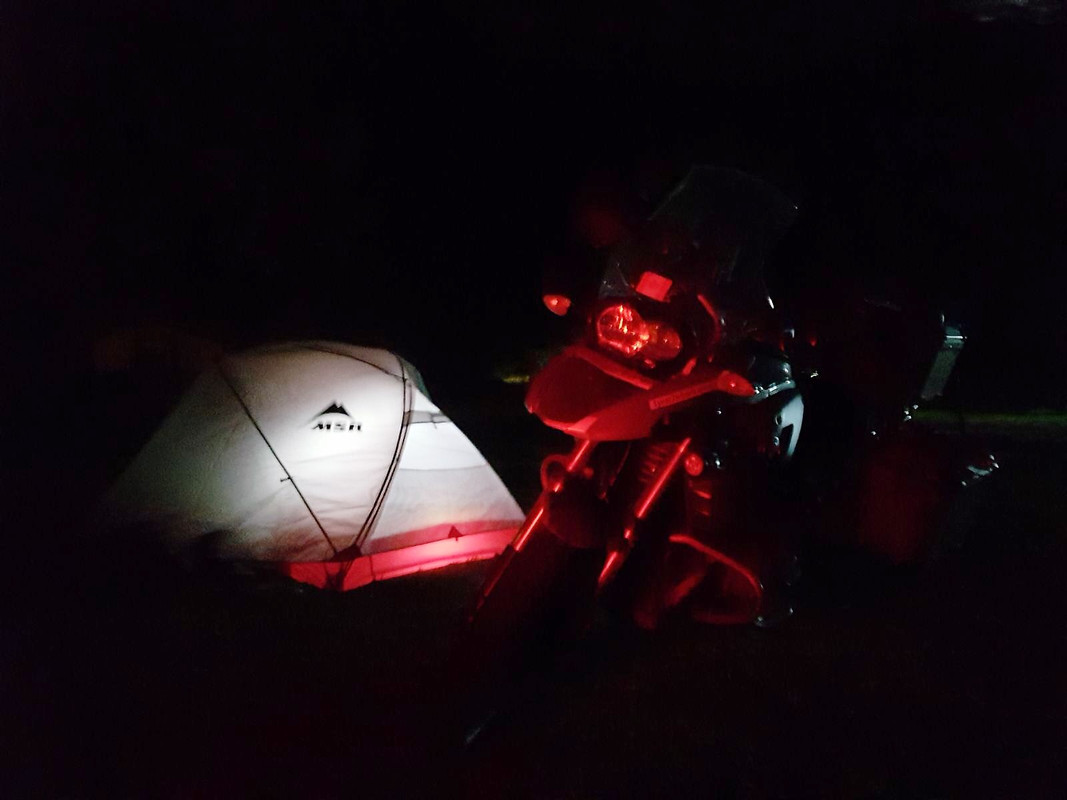 Roosters started cock-a-doodle-doo at 5AM and music started blasting from the church across the street at 6. It was a bit chilly in the morning but the worst bit was packing up a wet tent.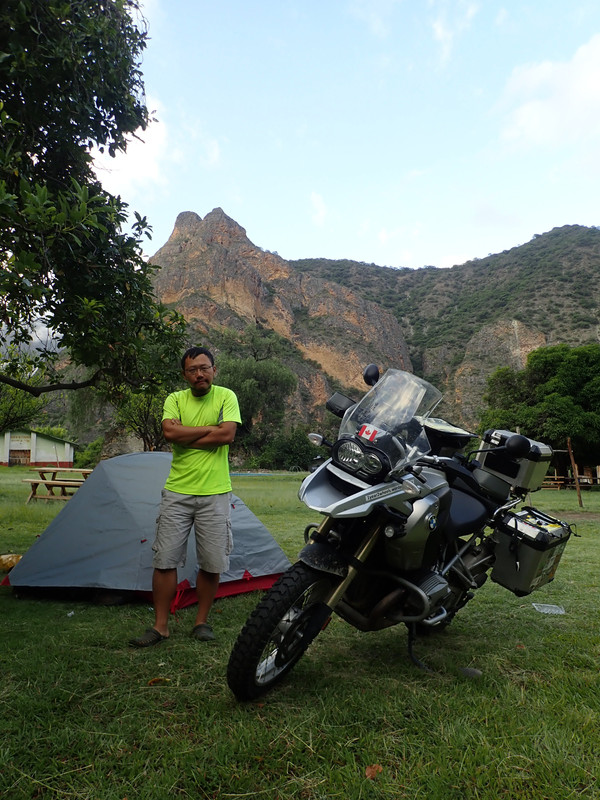 Lots of traffic through the towns we passed. People were probably scrambling for some last minute Christmas shopping.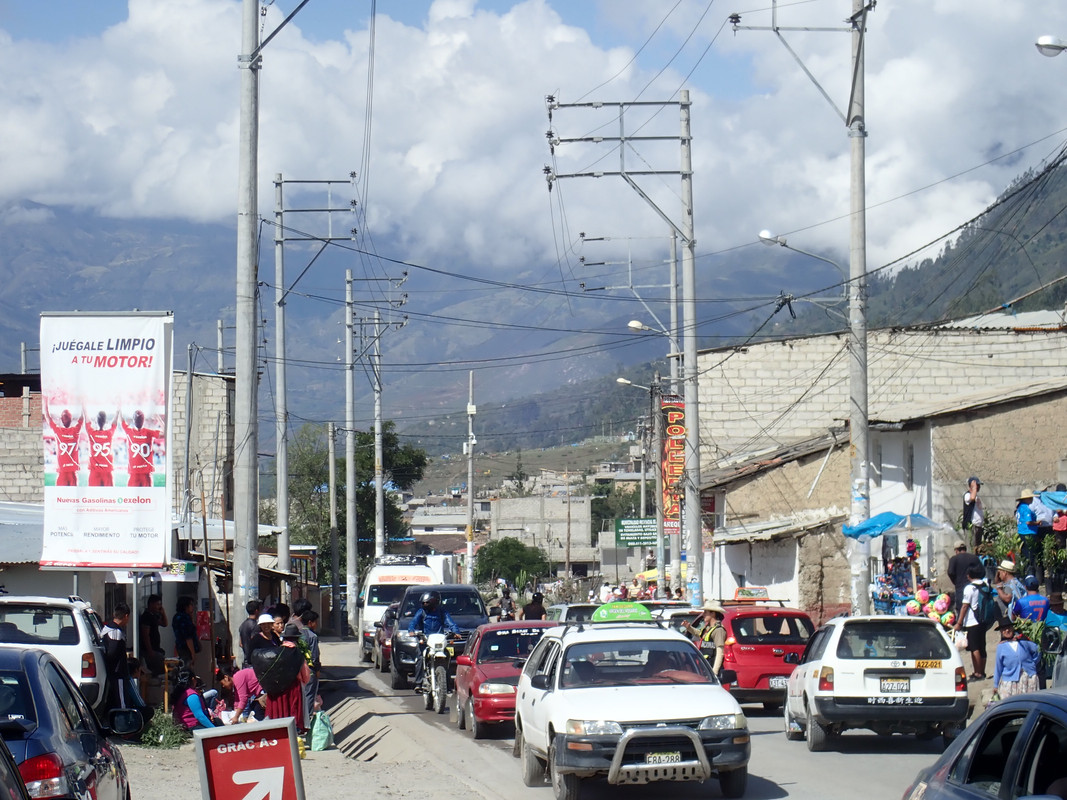 Can you see me?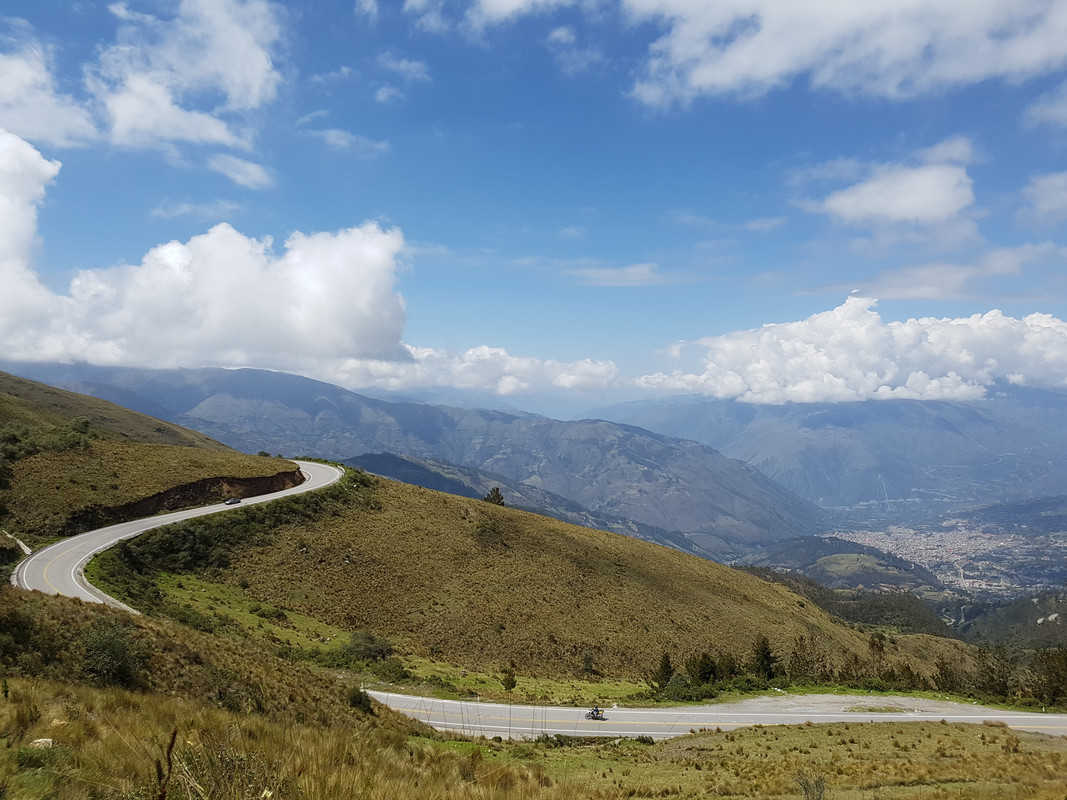 Today was travelling mostly in the vertical direction towards Cusco at 3400 m / 11000 ft.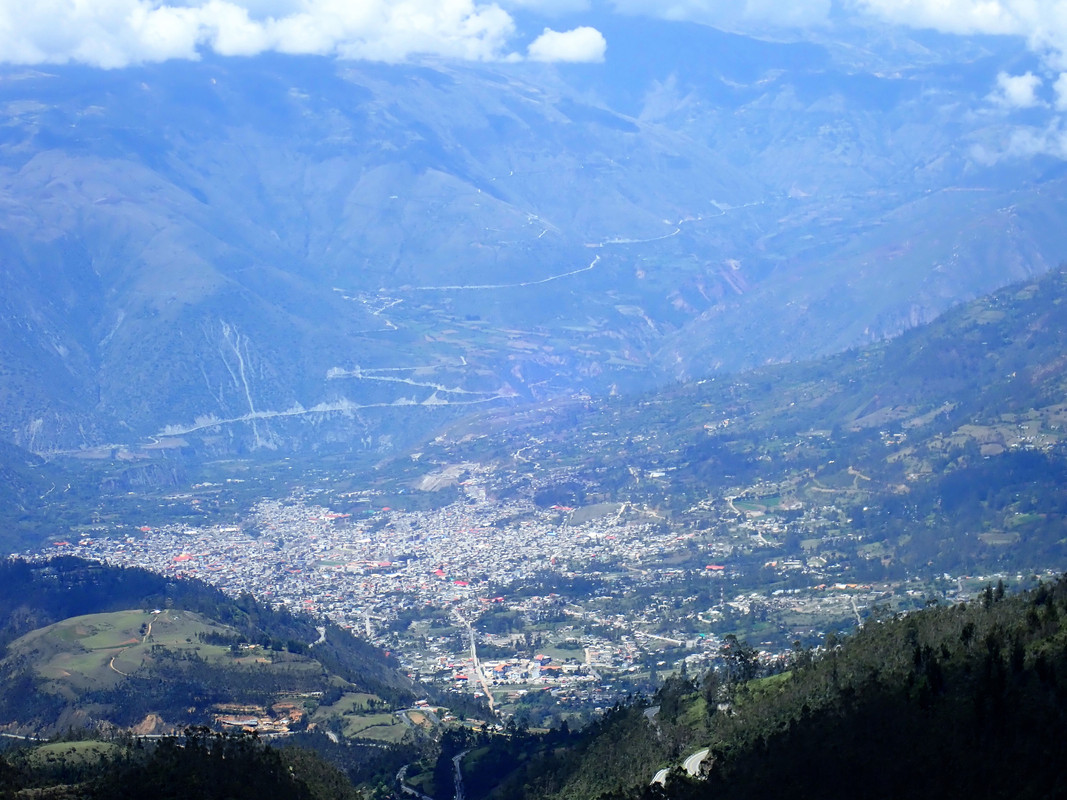 No trip to South America is complete without riding your bike through a lobby into the courtyard.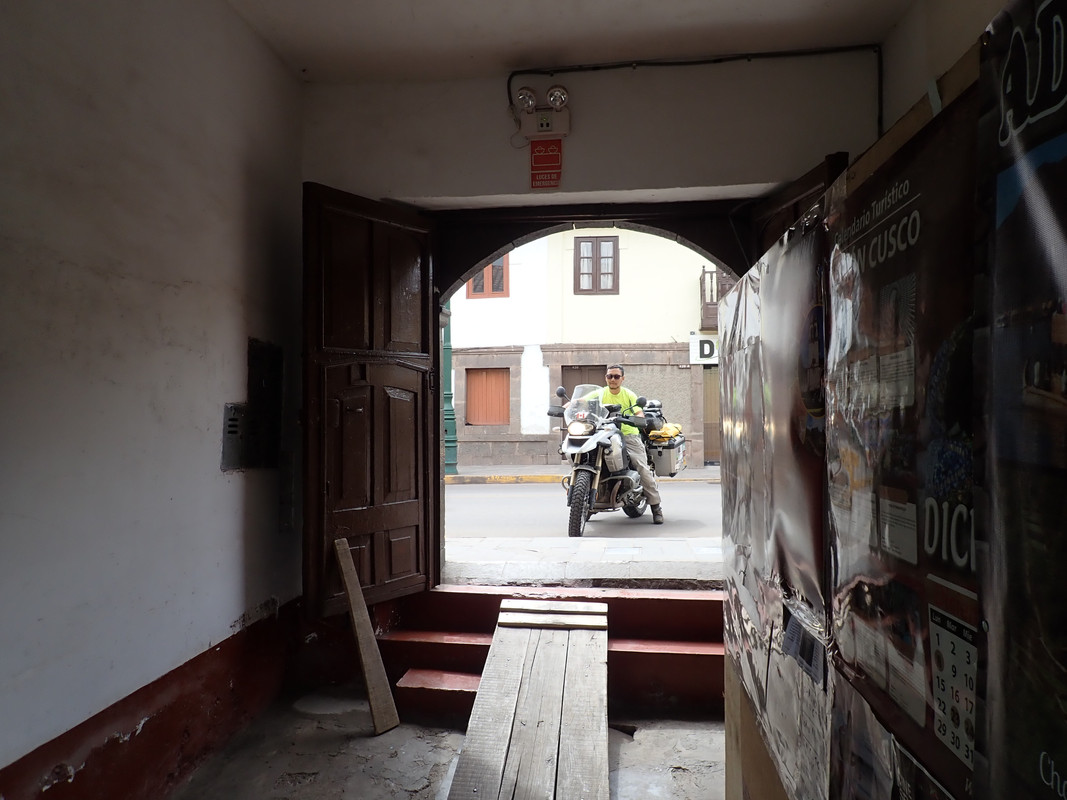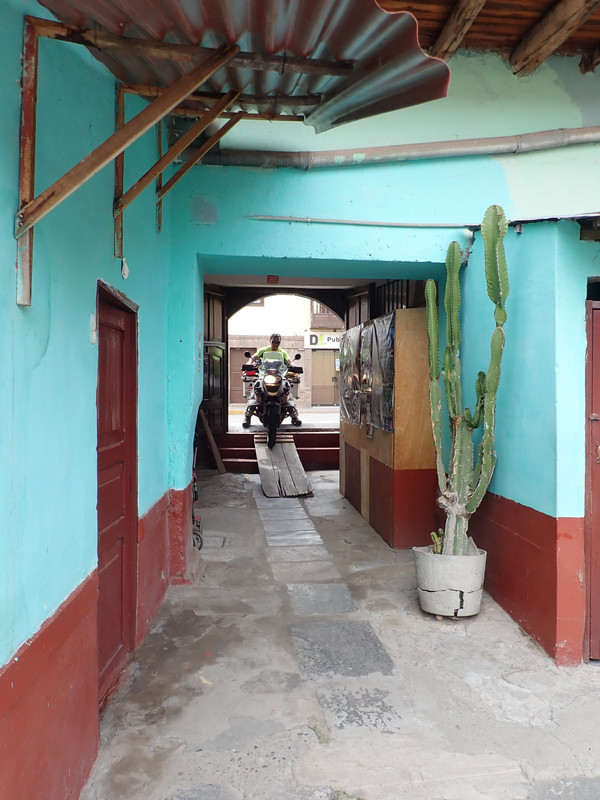 Drying out our tents in the courtyard. Hospedaje Estrellita was a fairly decent place to stay for 20 Soles (about $6) per night including breakfast.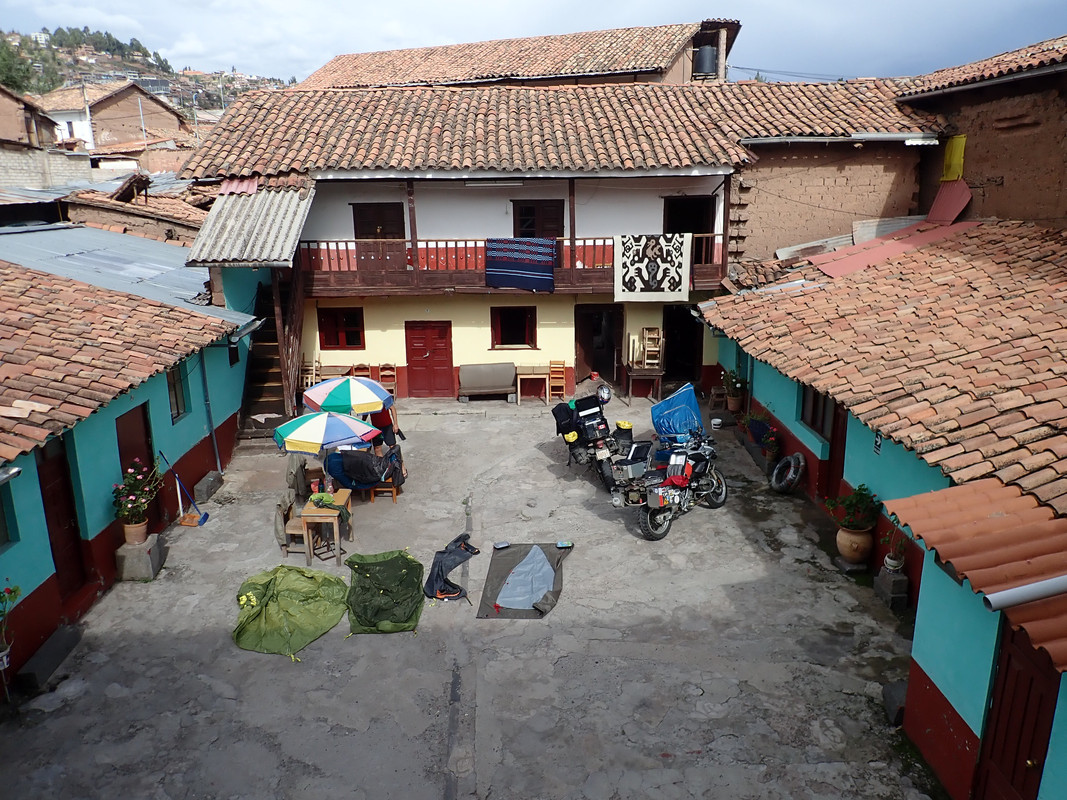 We wandered the streets of Cusco and the downtown plaza was packed with people. Apparently there is a Sunday market where Inca people come to sell their goods.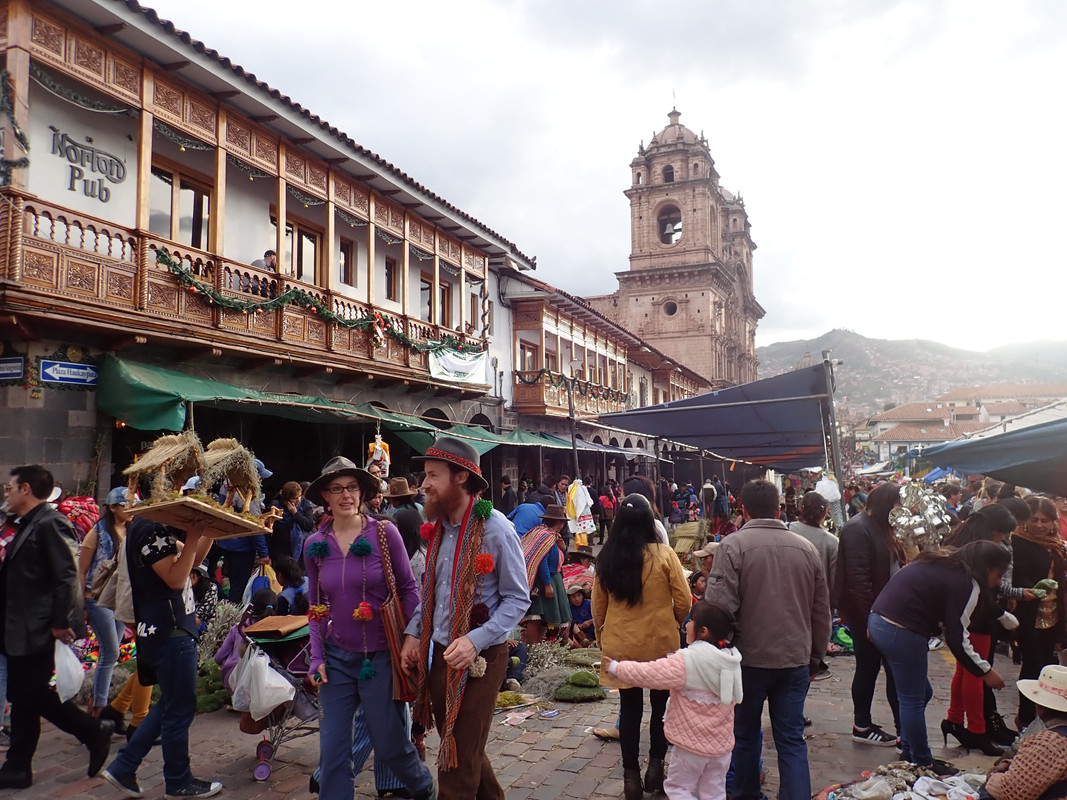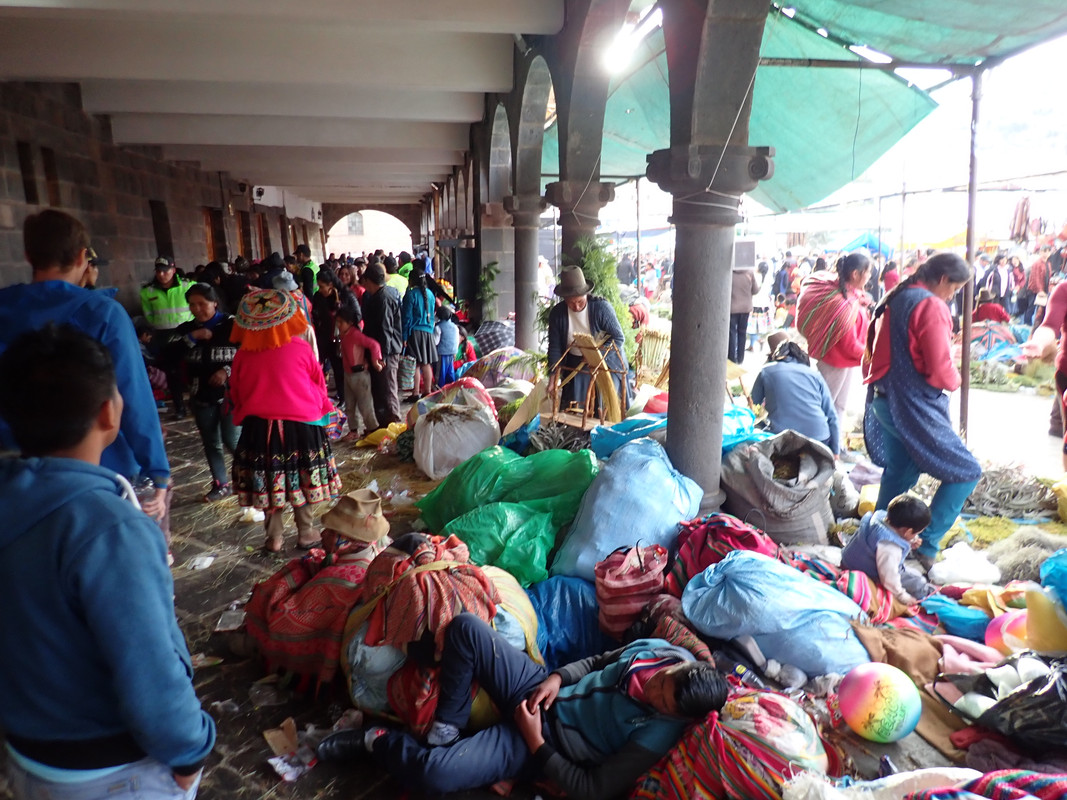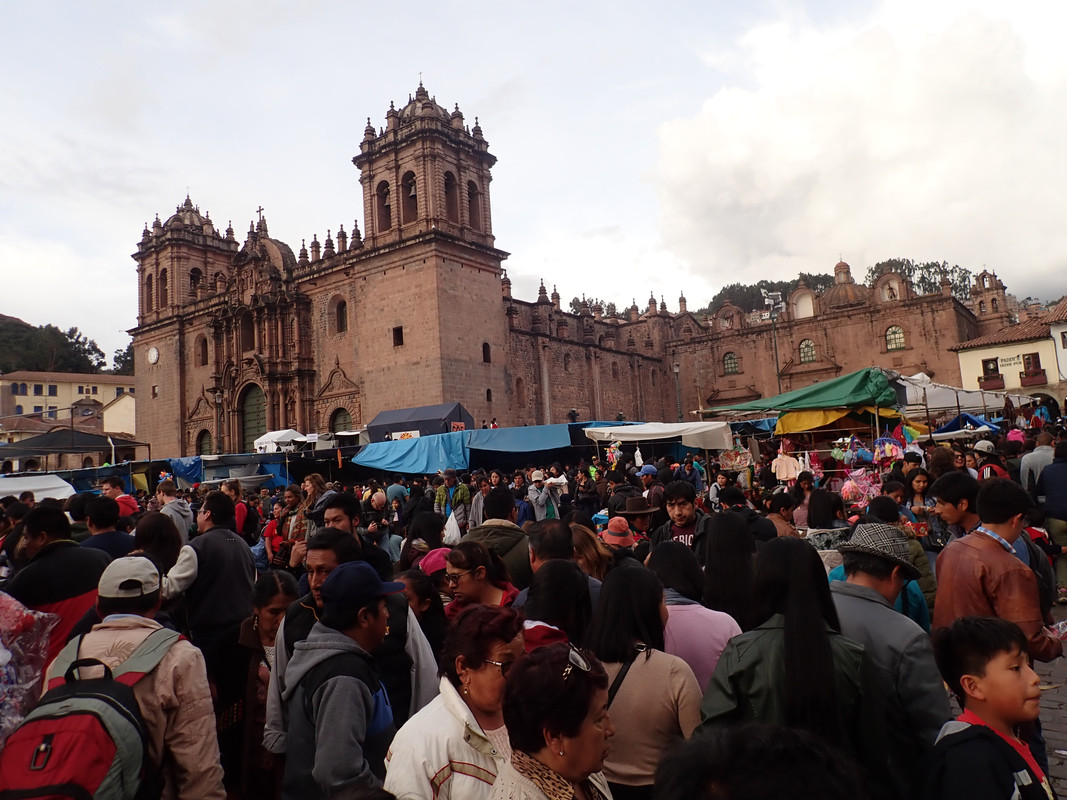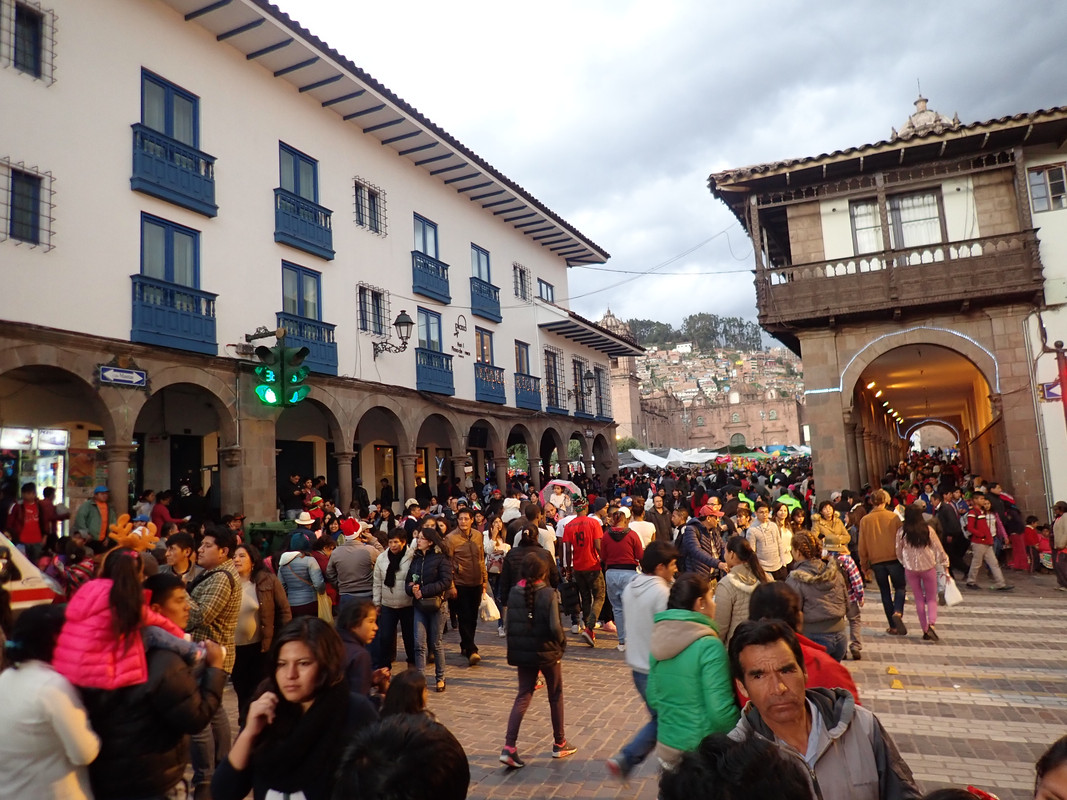 I spent the next few days resting in Cusco. The city did not quite meet my expectation consider how much praise it gets. Maybe it's because I've passed through too many colonial cities, or maybe it's because most streets smelled like piss and I can't walk 10 m without being approached by a solicitor.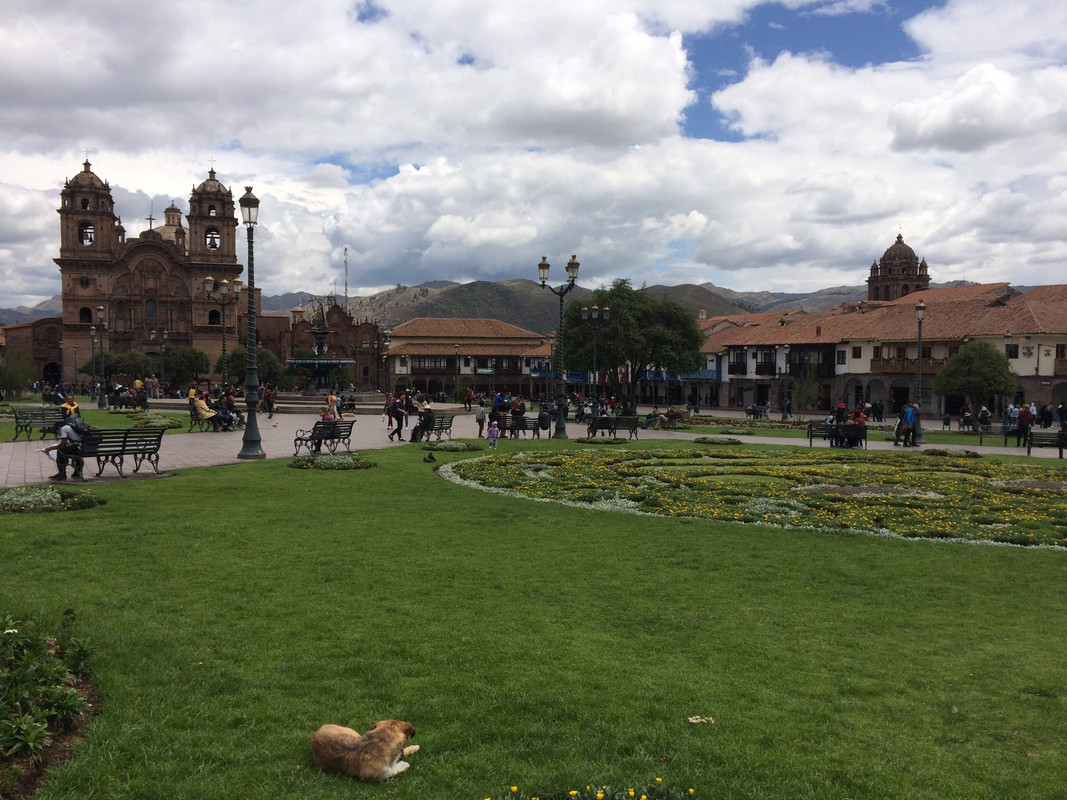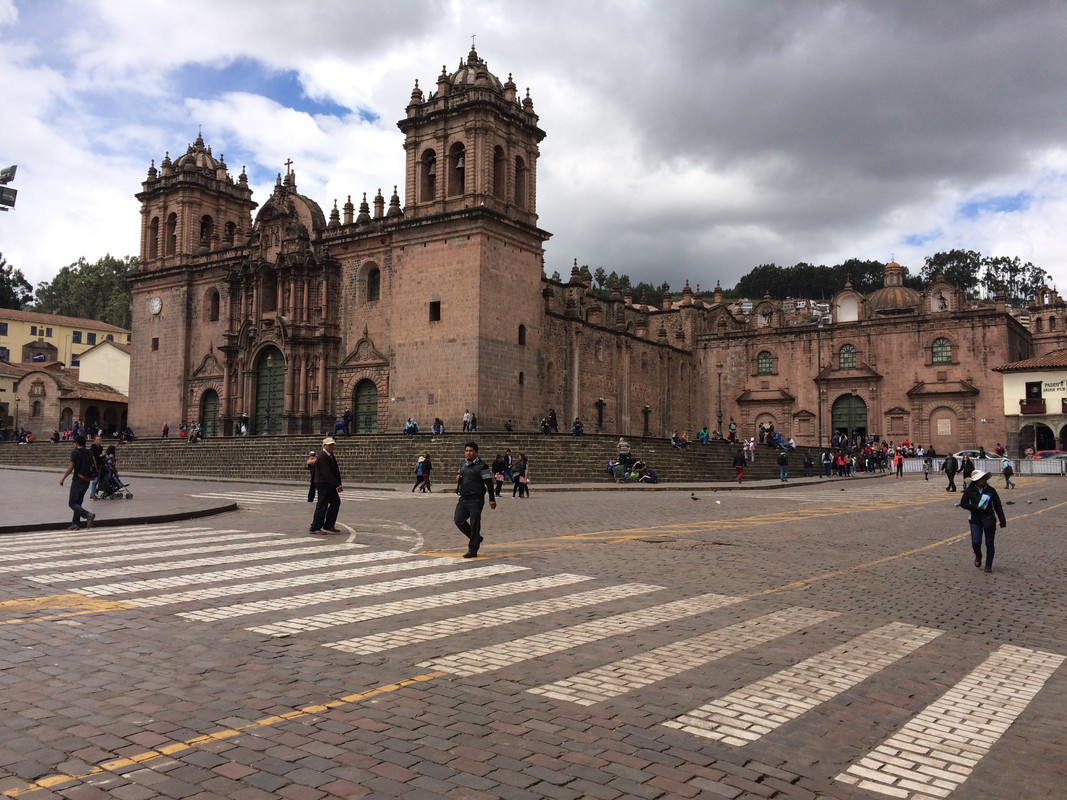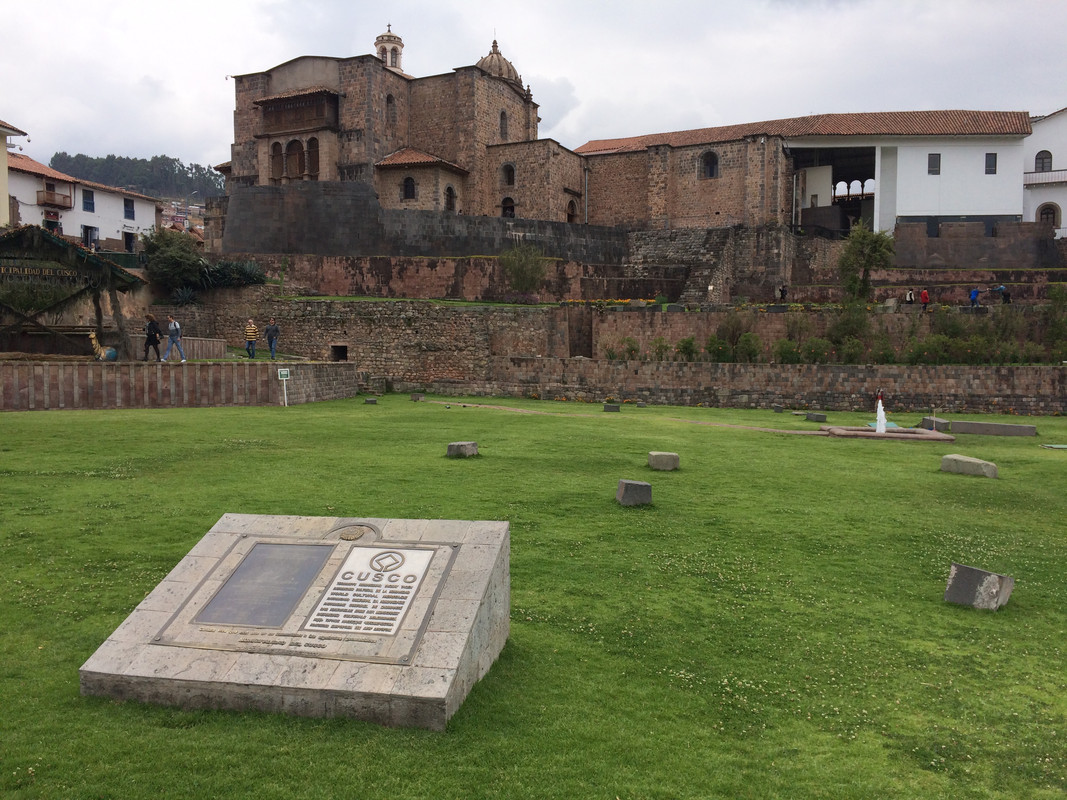 Taking the llama for a walk 😛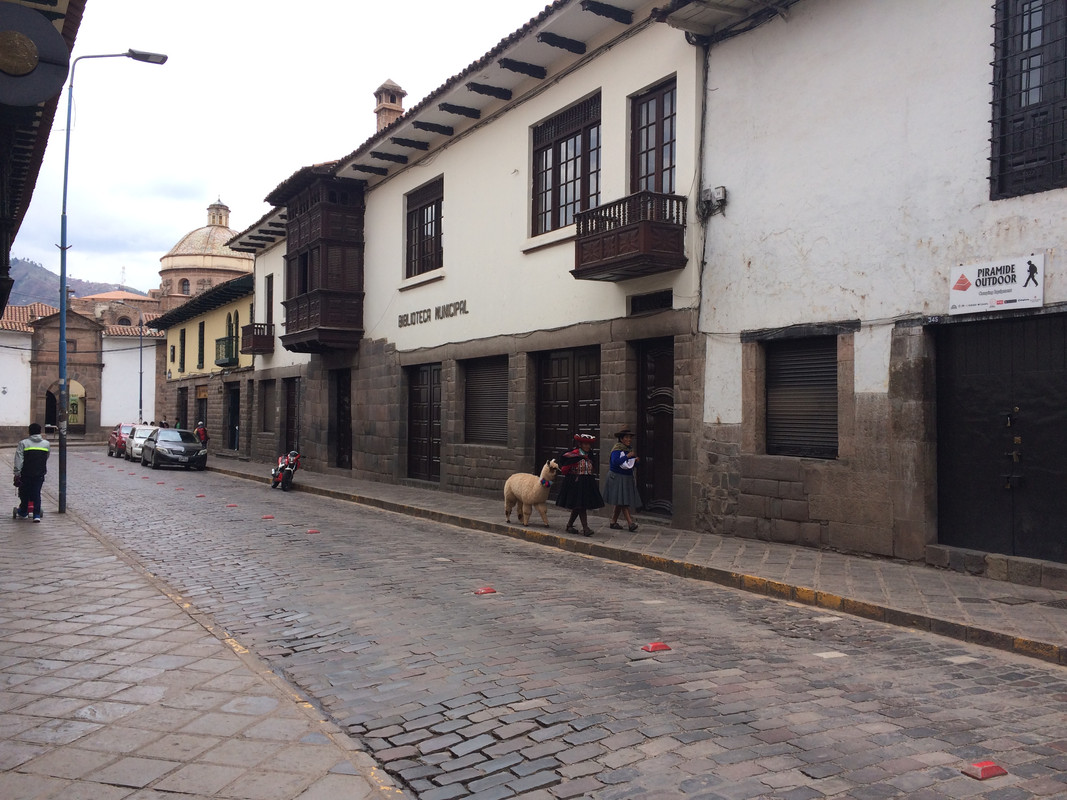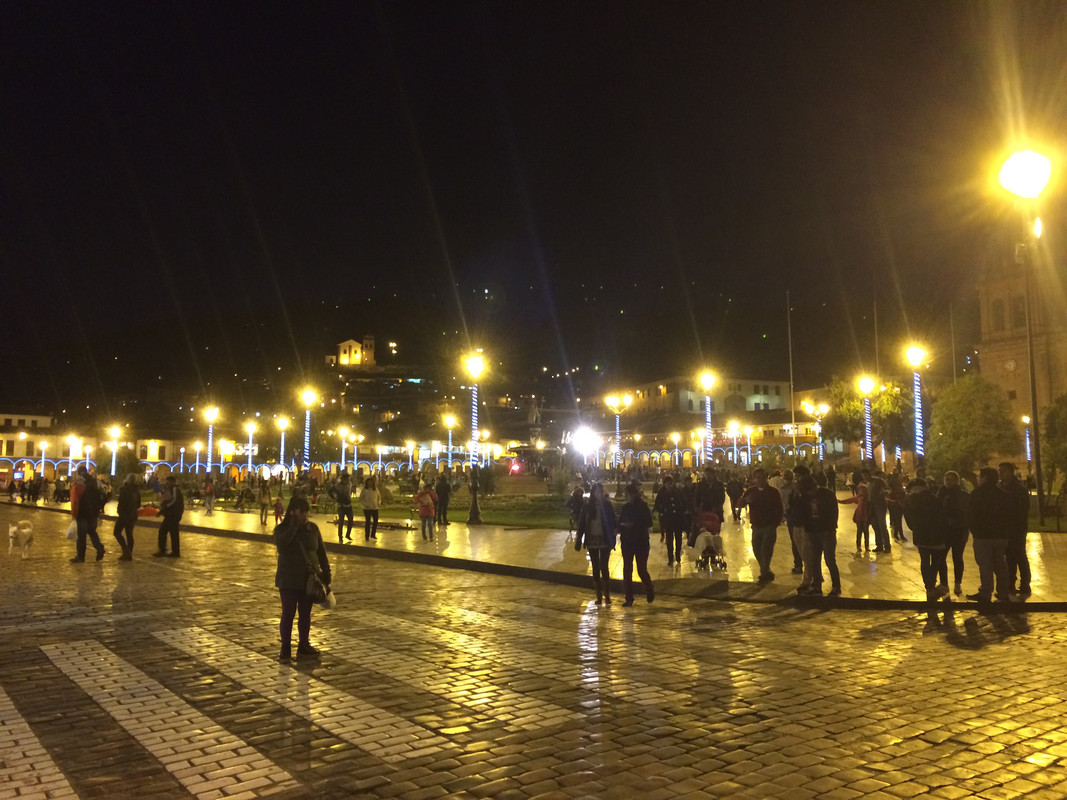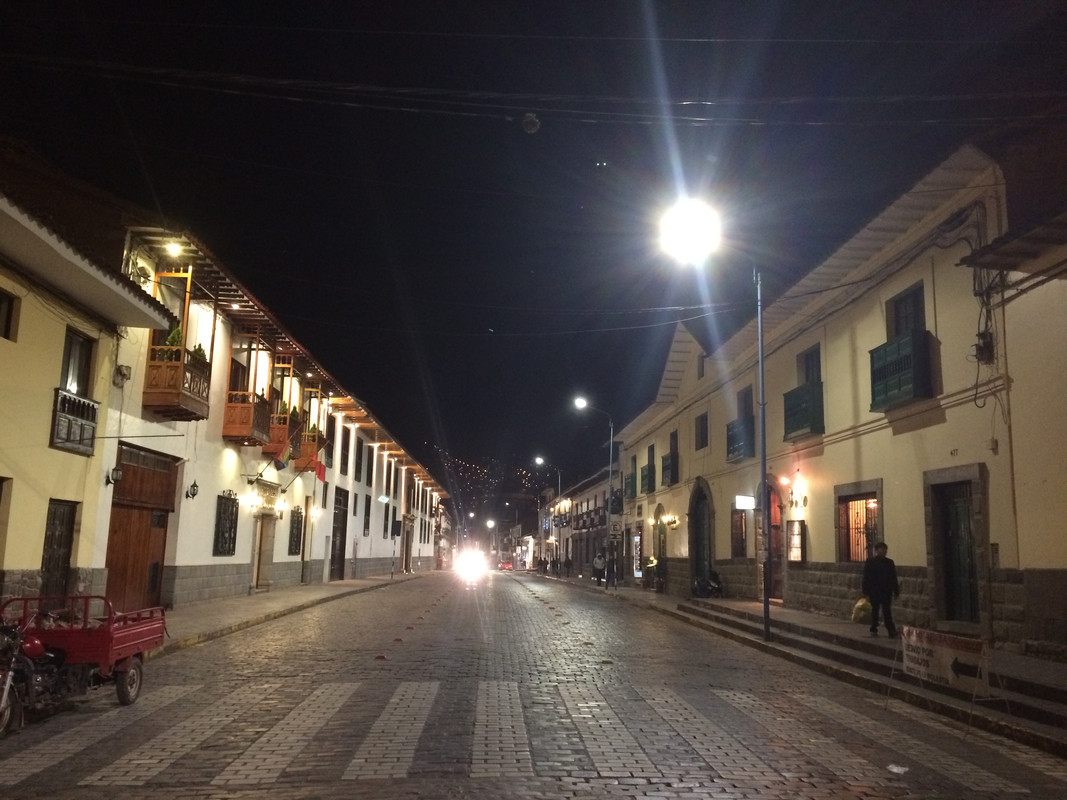 The San Blas was a unique neighborhood with compact-car-wide streets. Be careful not to step off the sidewalk!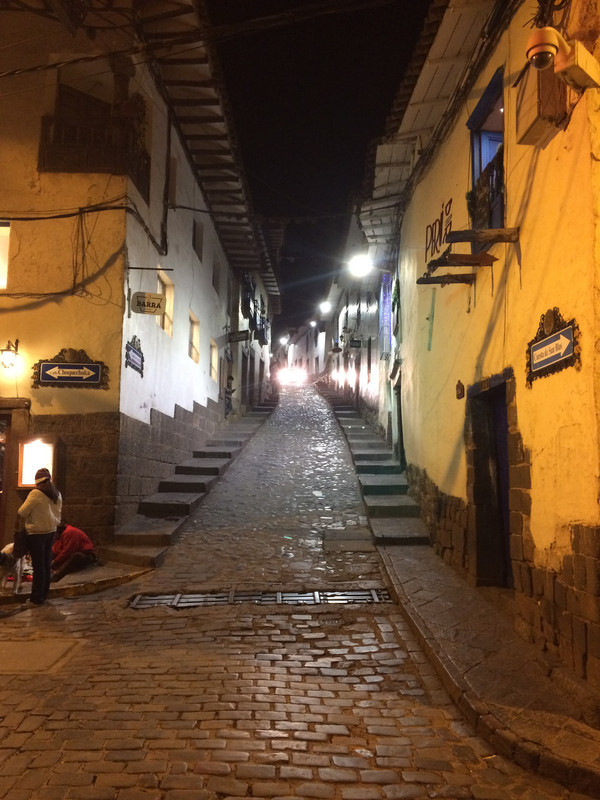 Did you know the former Peruvian president is a Japanese dude? There is a protest daily against Fujimori's pardon for his corruption and human rights violations.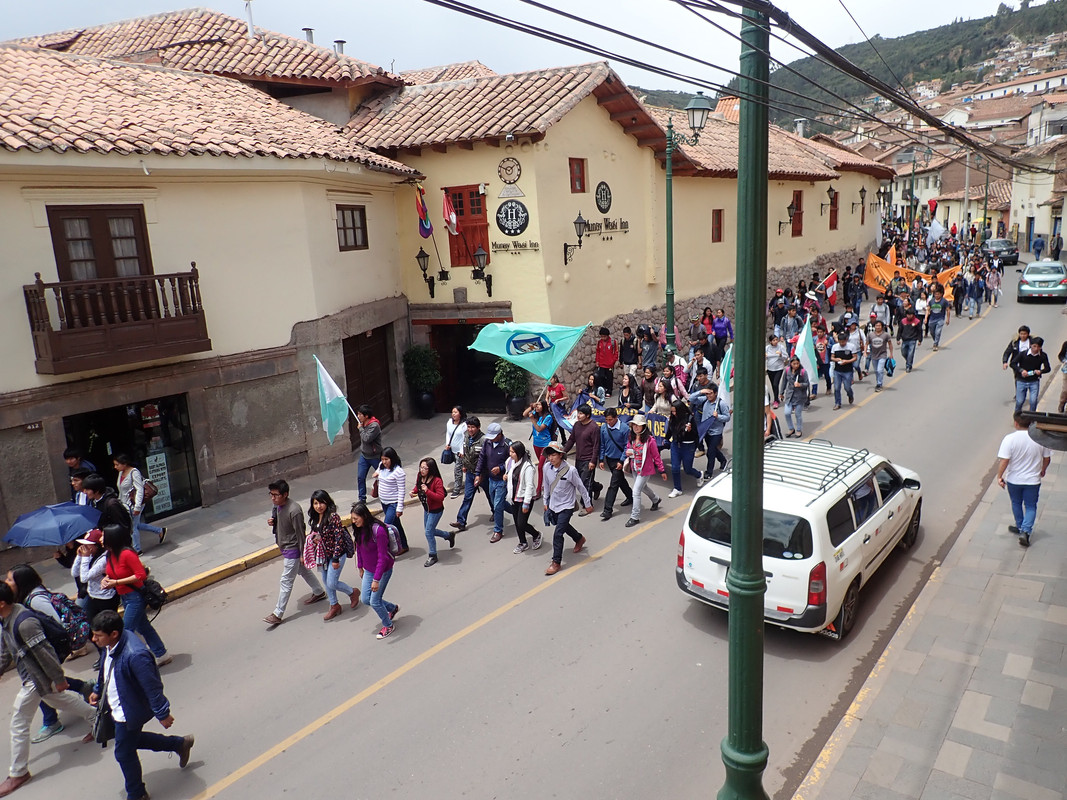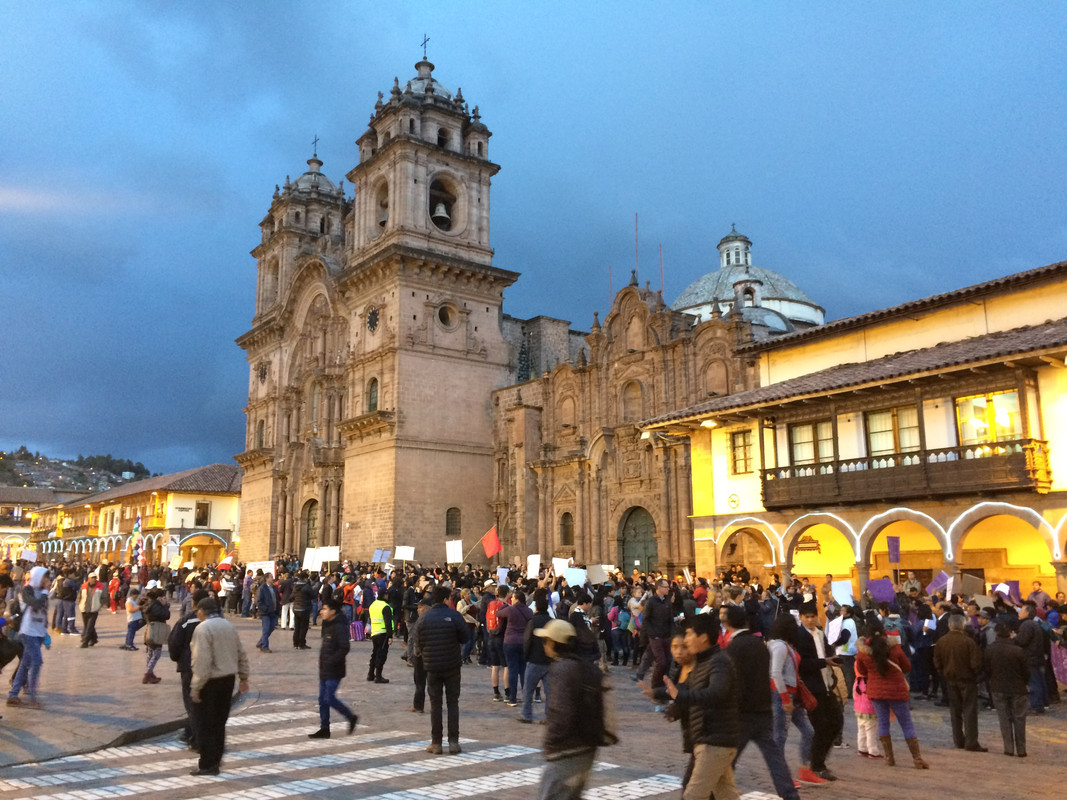 I took a day trip to Rainbow Mountain (Vinicunca) after feeling energized again. The trail itself isn't difficult but elevation peaked at 5200 m (17000 ft) throughout the 12km hike. I was chewing on coca leaves all day to prevent altitude sickness. Supposedly it's a mild narcotic so hopefully I don't get addicted.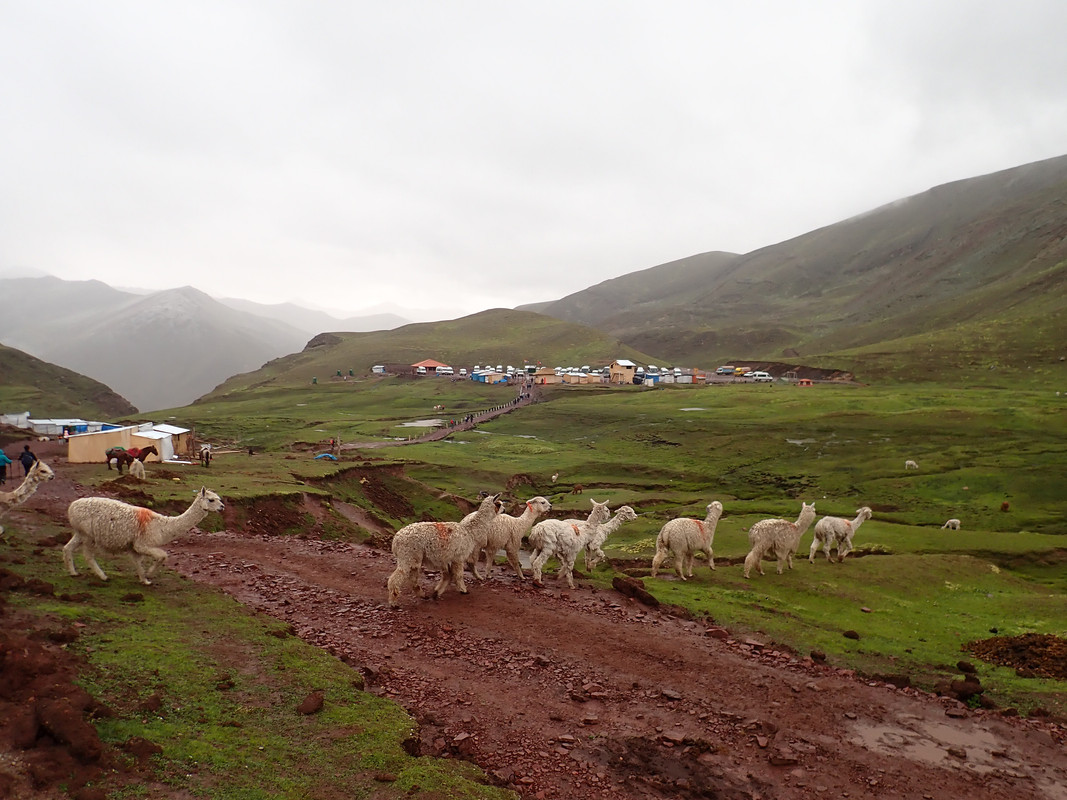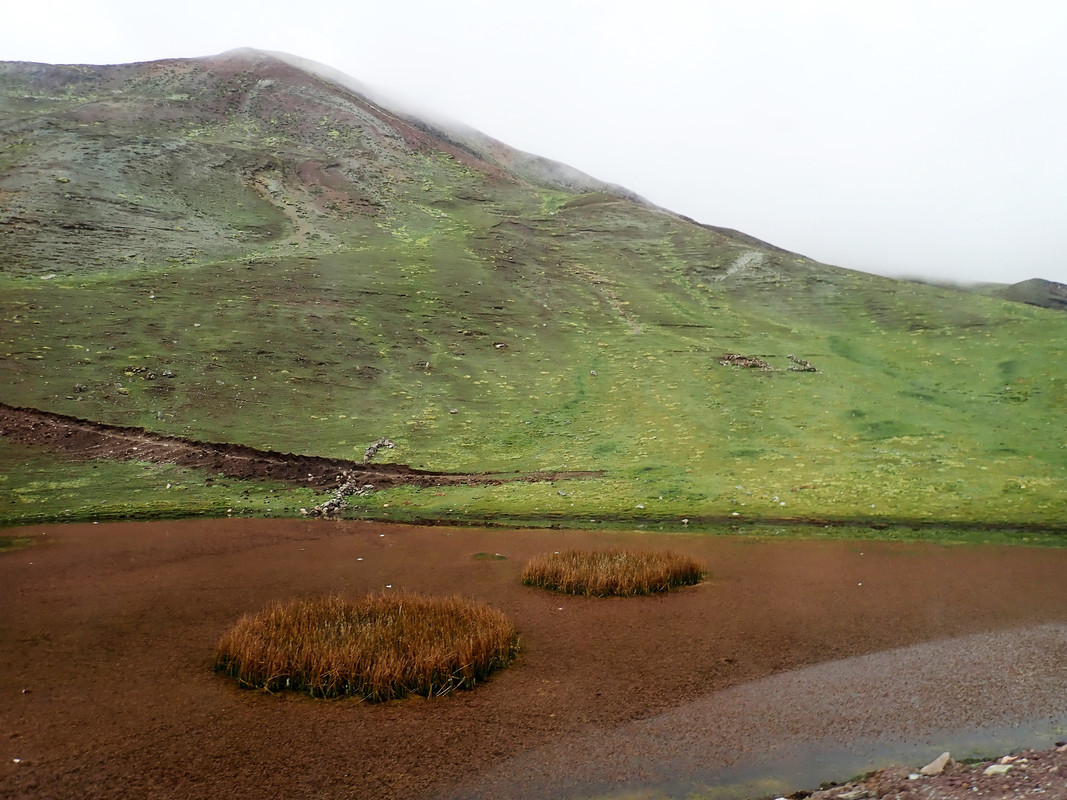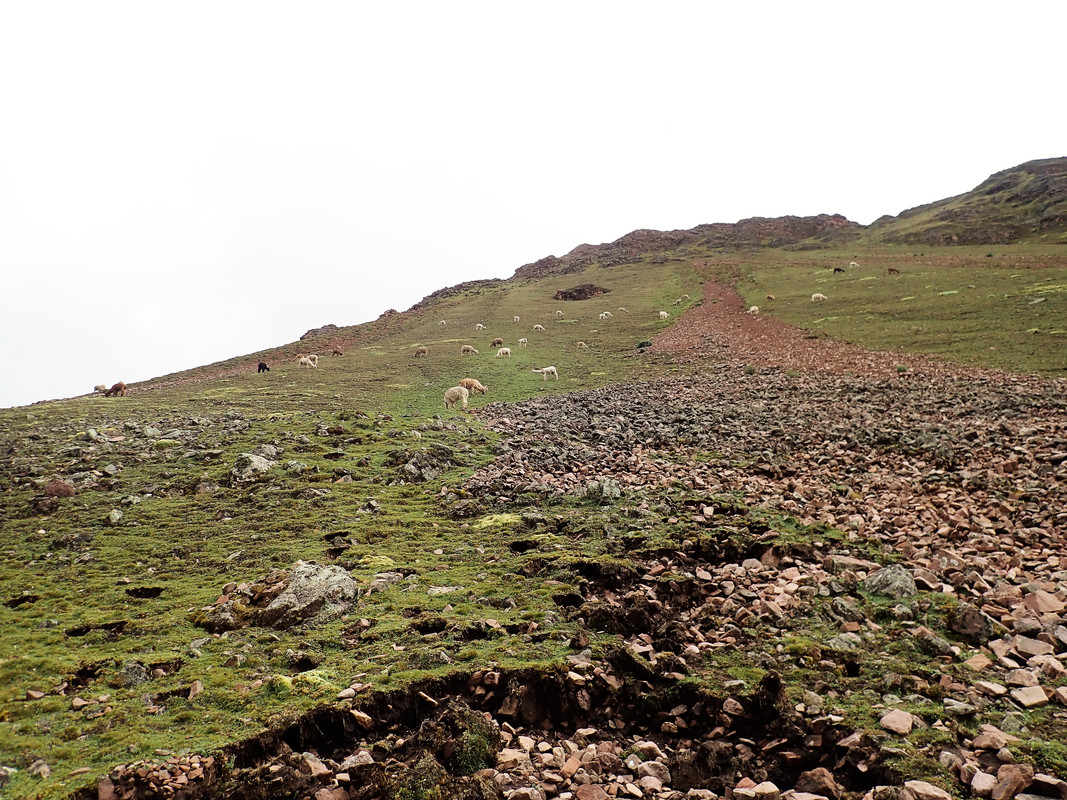 Some people prefer to travel in comfort. This guy was on a horse browsing his iPad.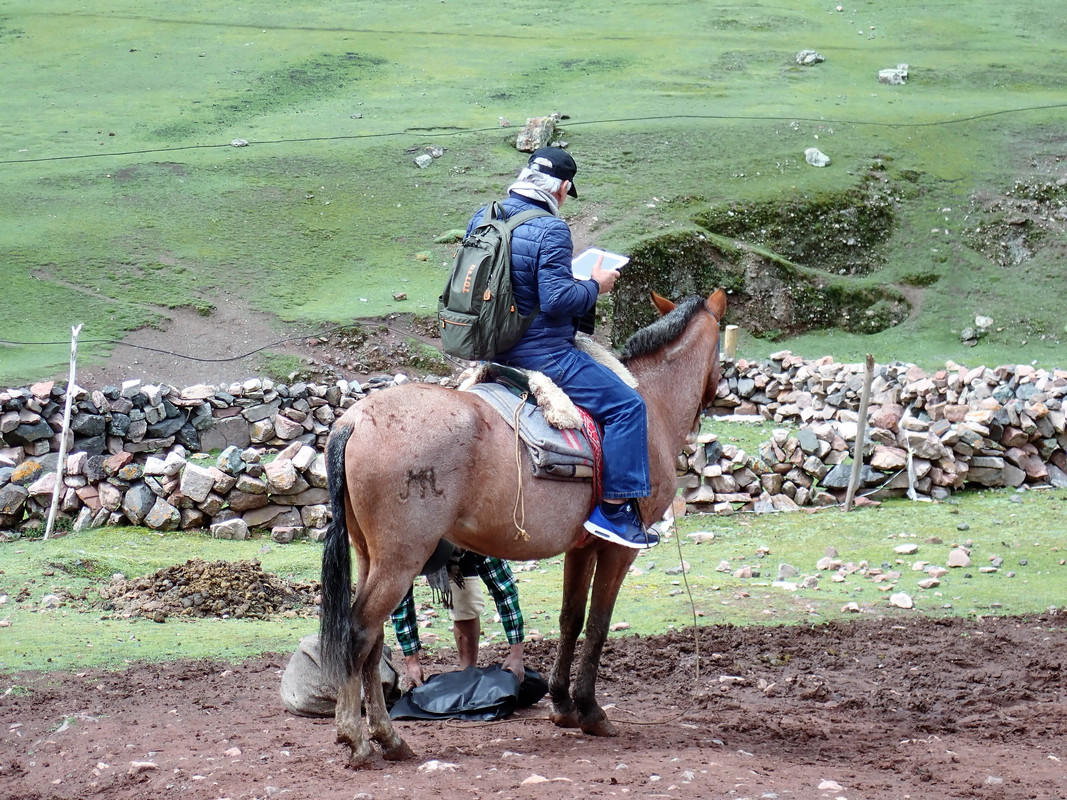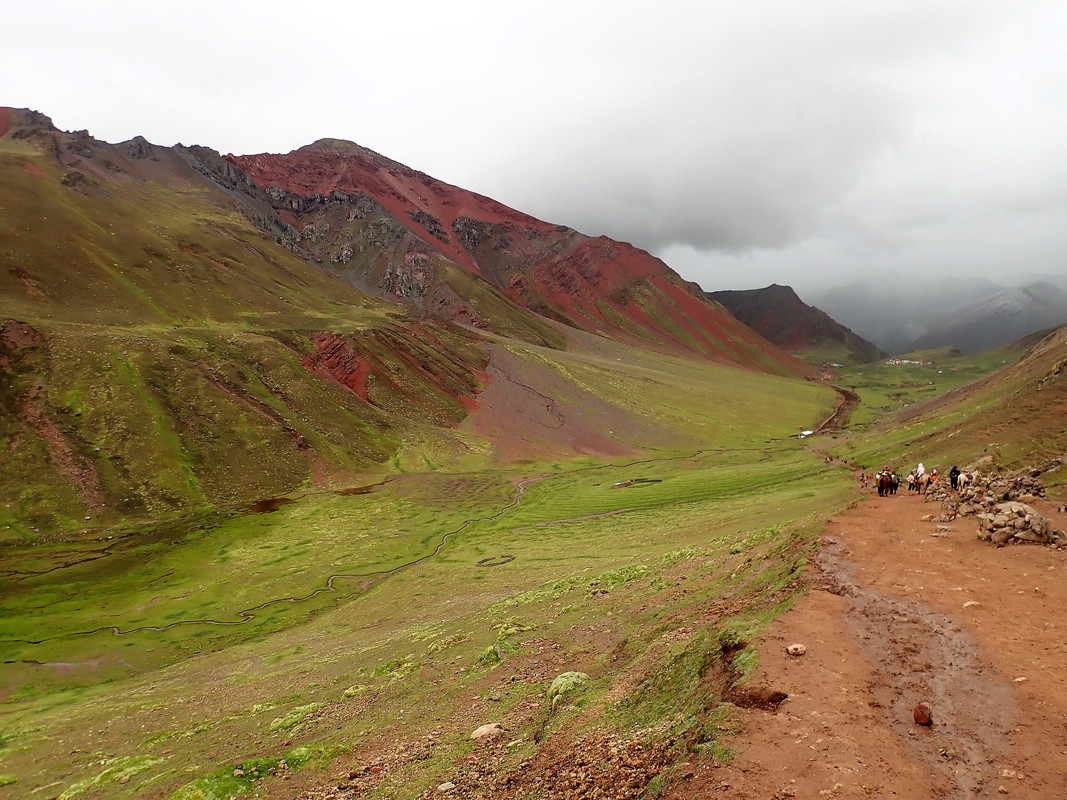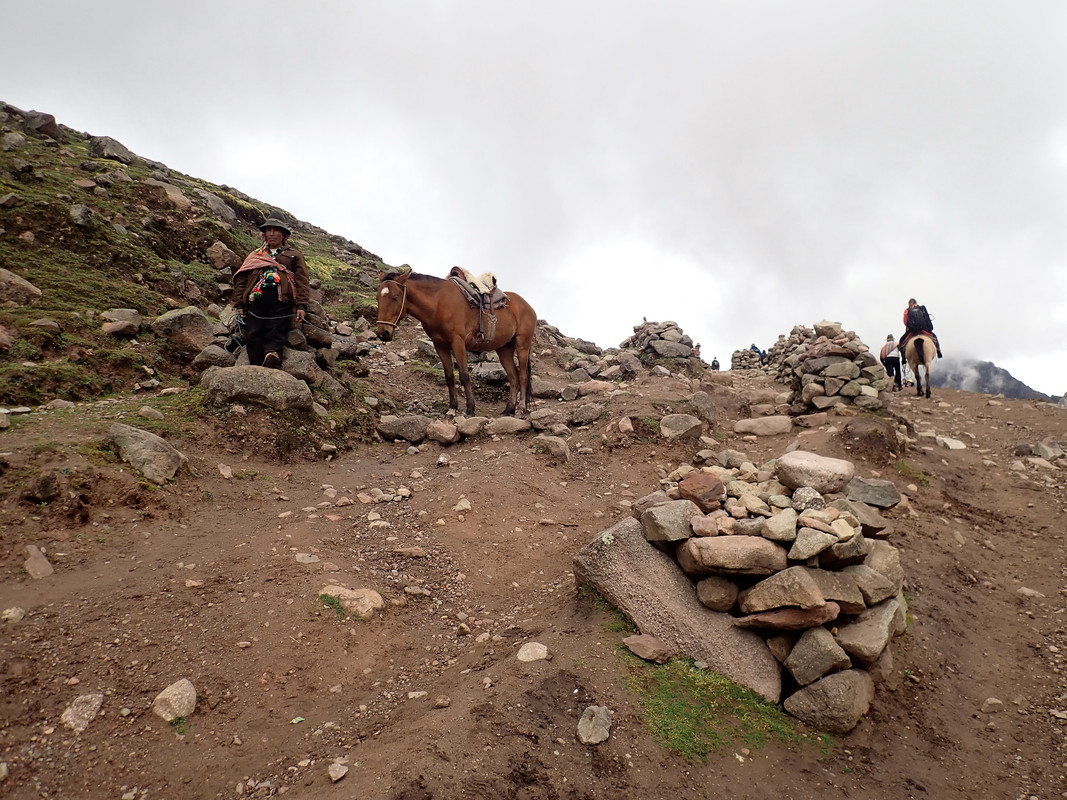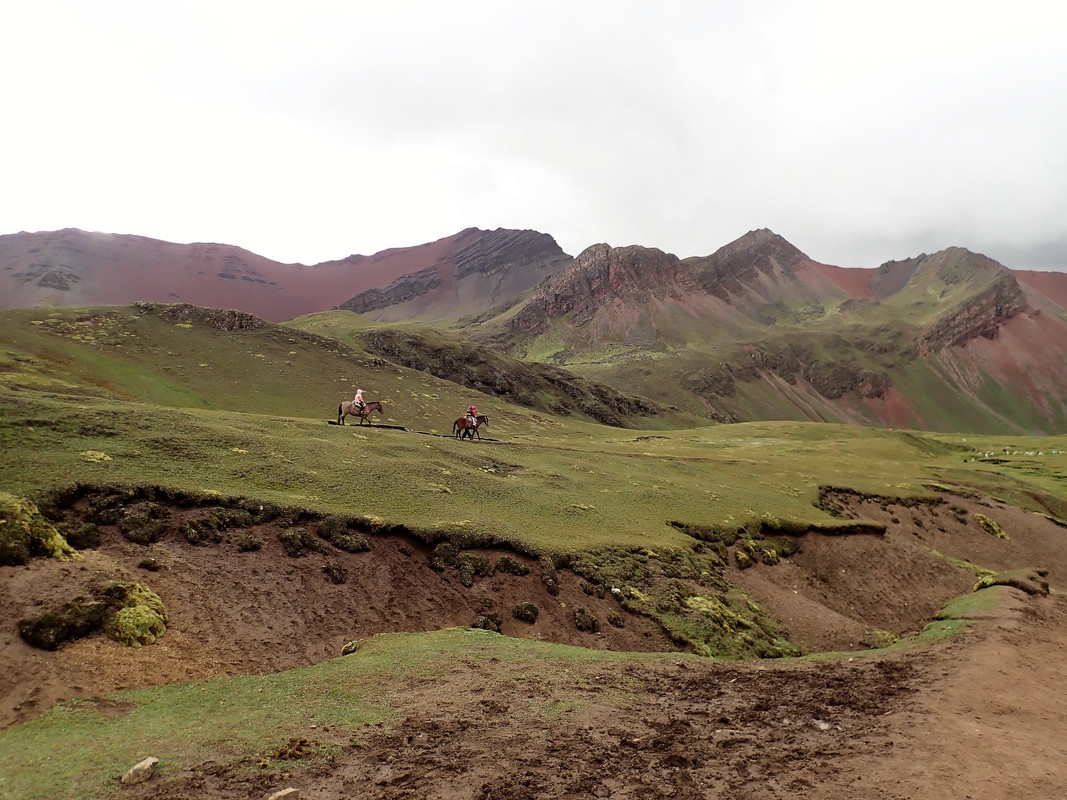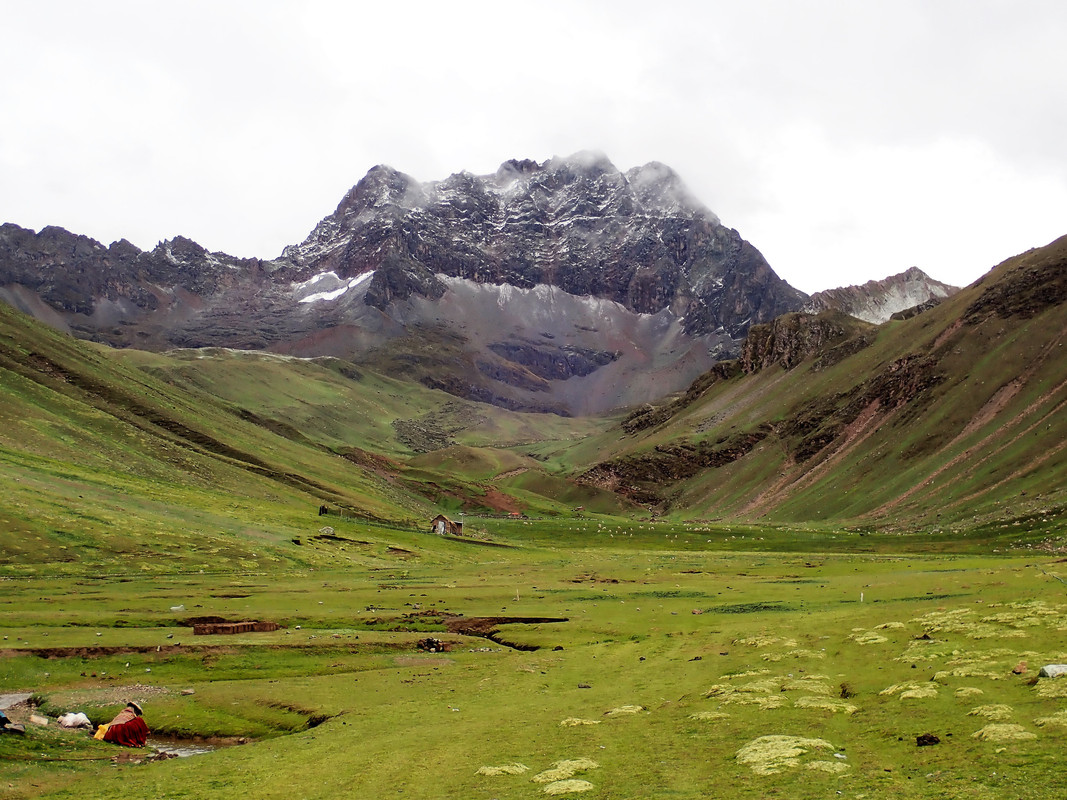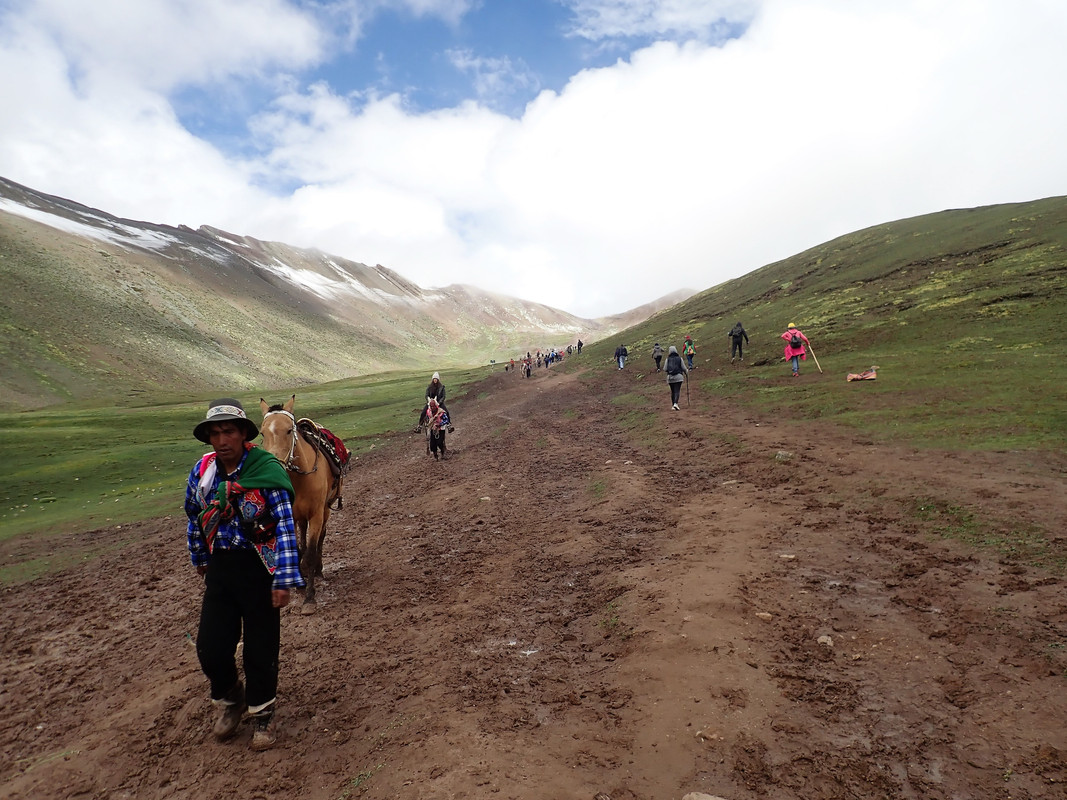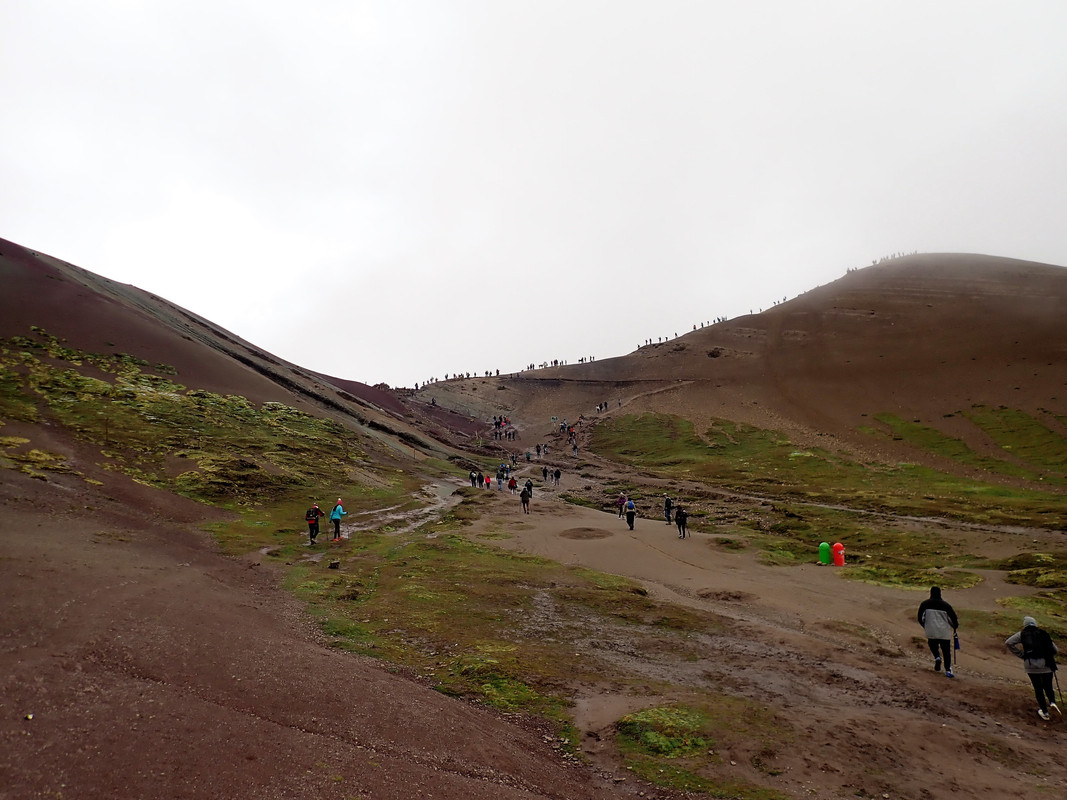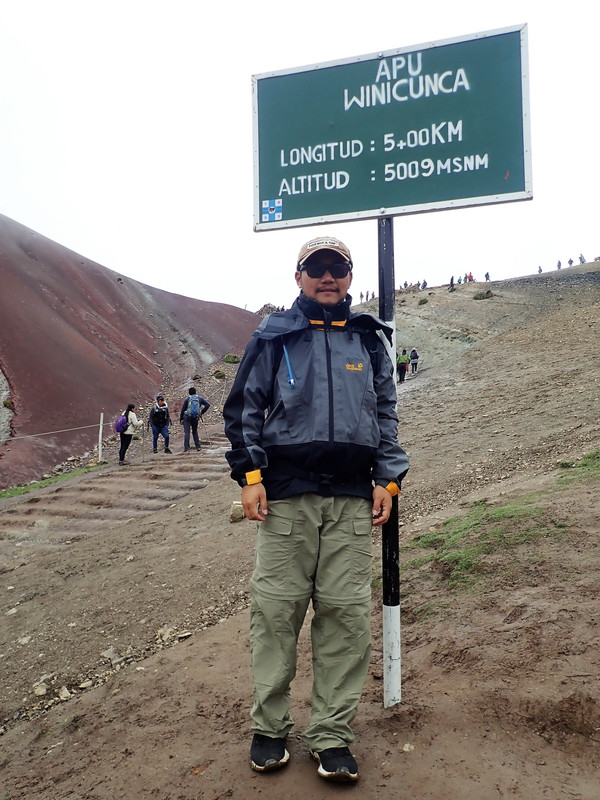 The view from the top was worth everything.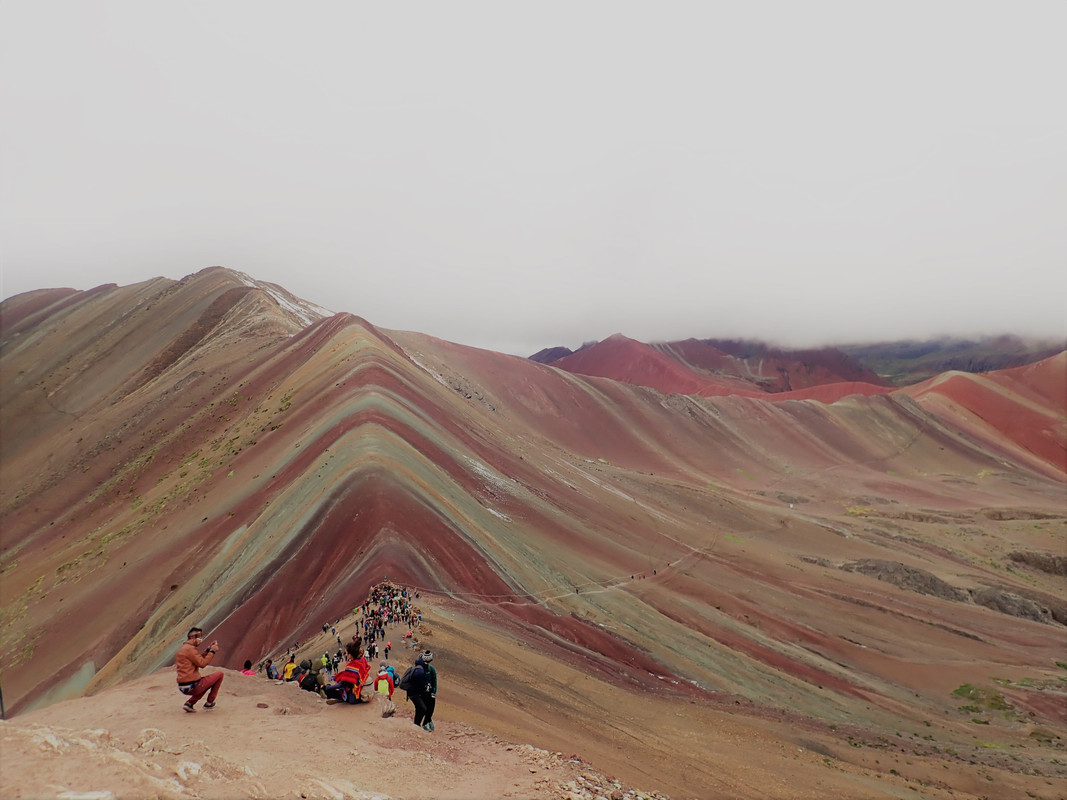 The colors are formed from different mineral deposits.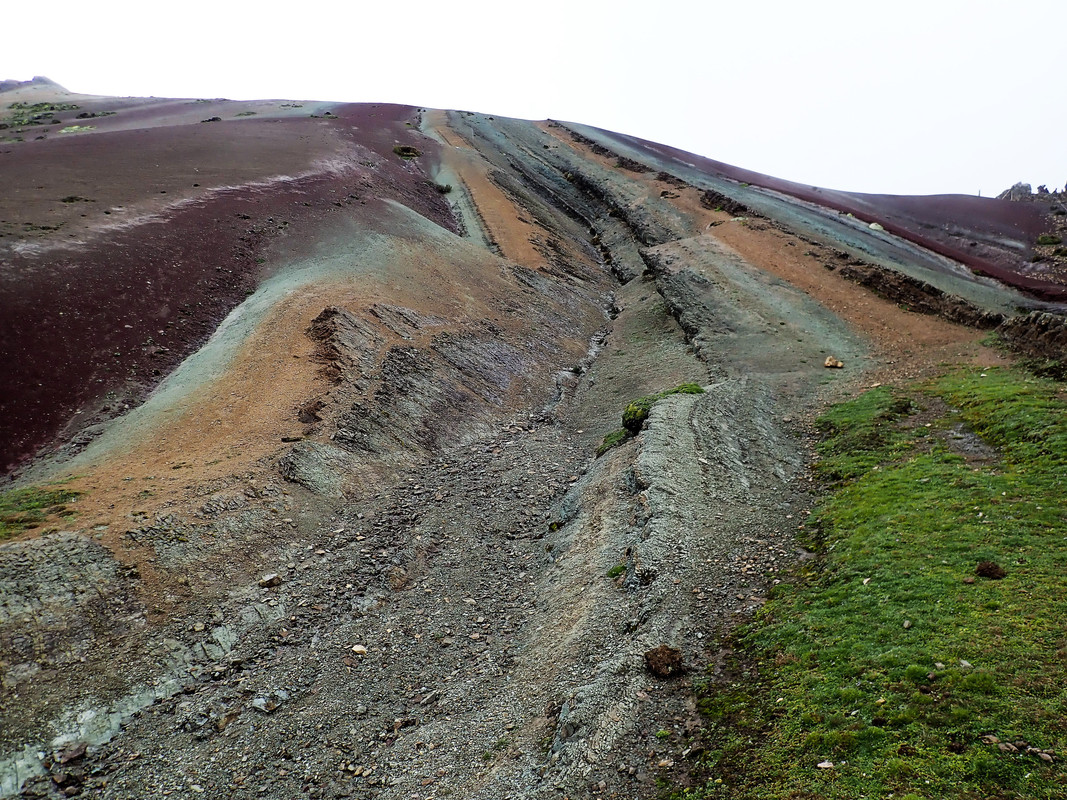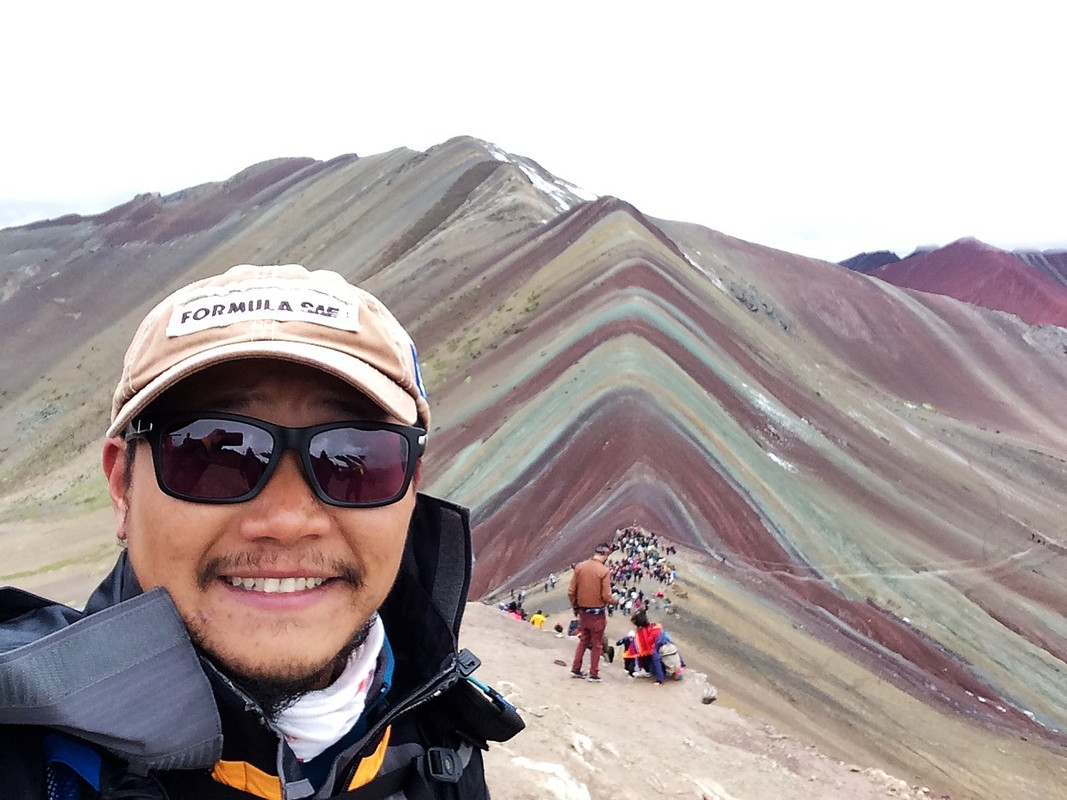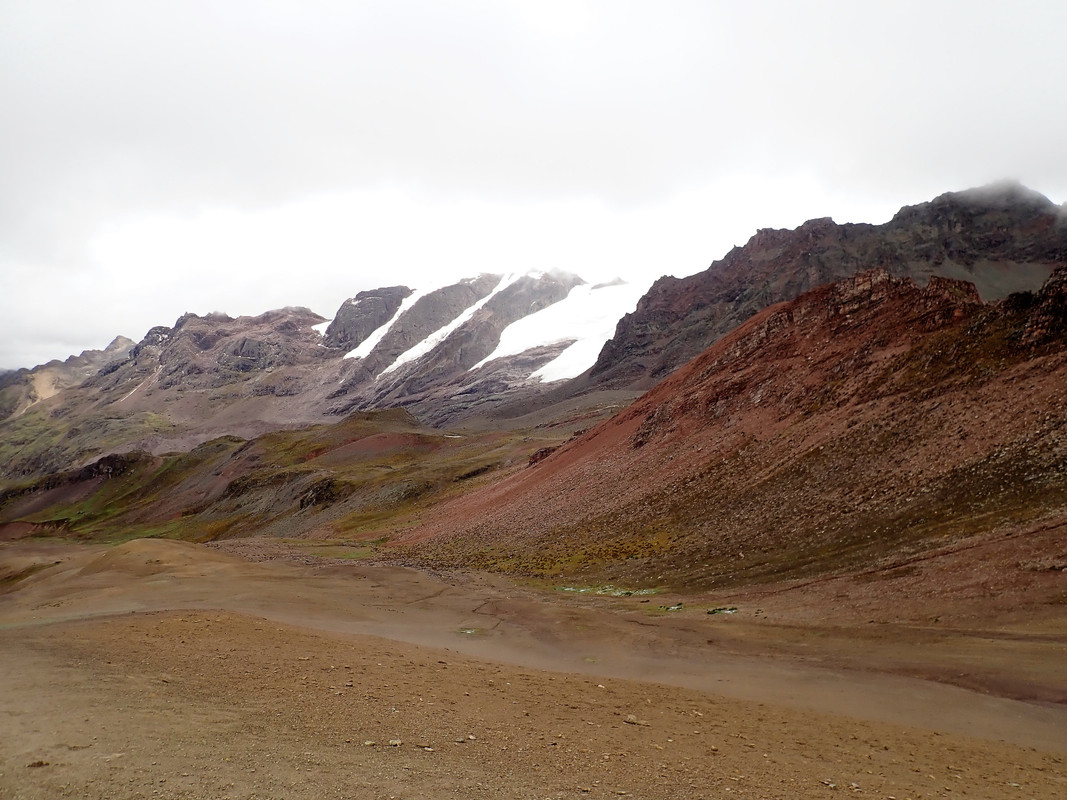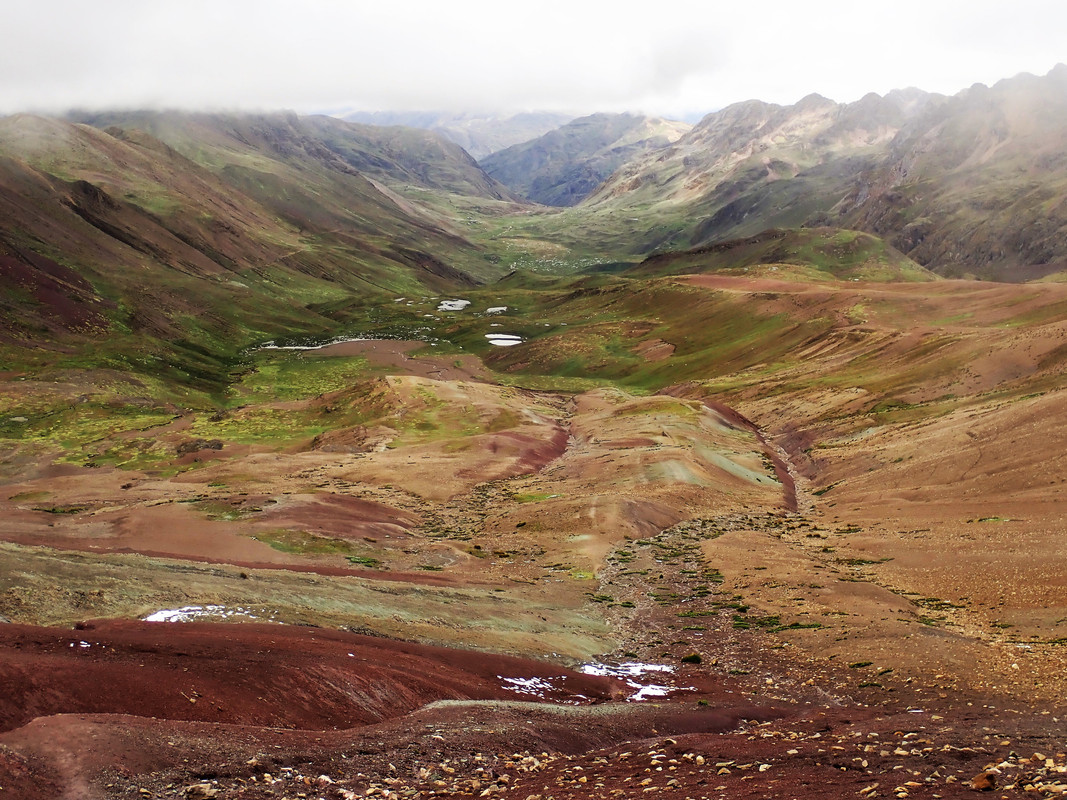 Happy New Year! My last days of 2017 will be spent on a train ride to Machu Picchu. 😀