I was getting a bit antsy from not covering any miles in nearly 10 days. So I left Quito and headed south despite being exhausted and restless. I only got as far as Riobamba by noon before sleep deprivation took over and I settled for a trashy place to crash. Some bad road food also broke my seal and I spent most of evening in a bathroom that smelled like a urinal that hasn't been flushed in ages. The shower head/water heater combo was the sketchiest I've seen with exposed wire leads.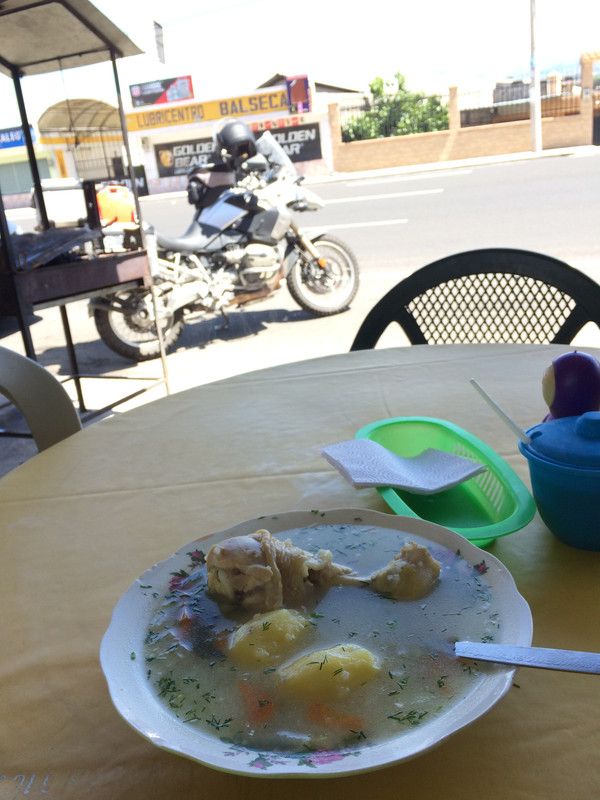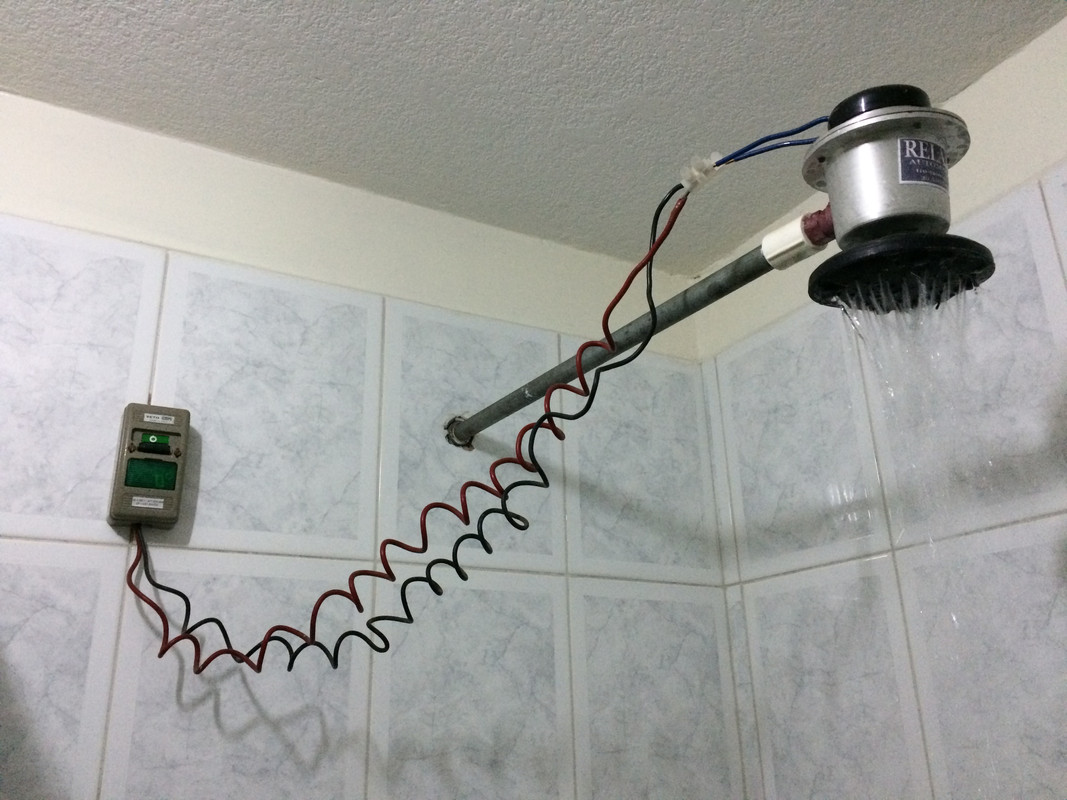 I rode towards Cuenca the next day through some spectacular scenery. If I can sum up Ecuador in one word that would be: Mountains!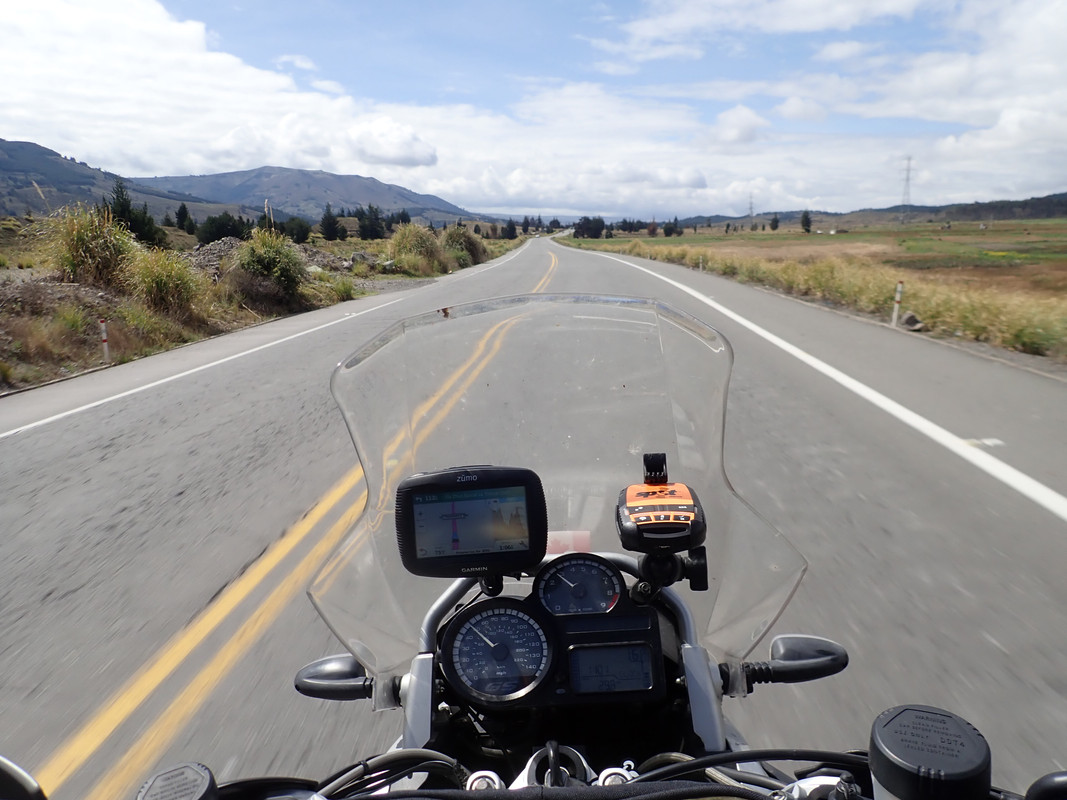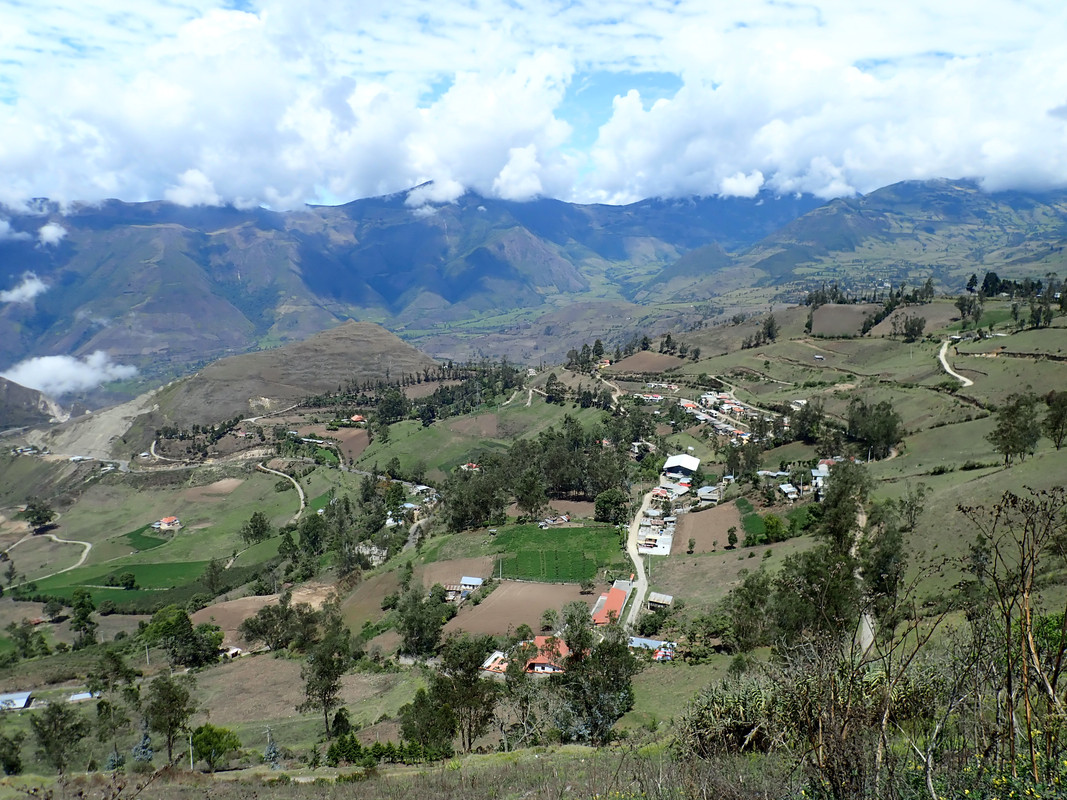 Cuenca was a nice little colonial town without the city madness. I spent a day to rest and met up with Derrick from Edmonton who I've met previously on the Stahlratte. We had a few drinks with Michnus and Elsebie from PikiPiki whose blog I have followed for the last while. (www.pikipikioverland.com) Joe was also in town with a few other bikers getting some repair work done. Small world!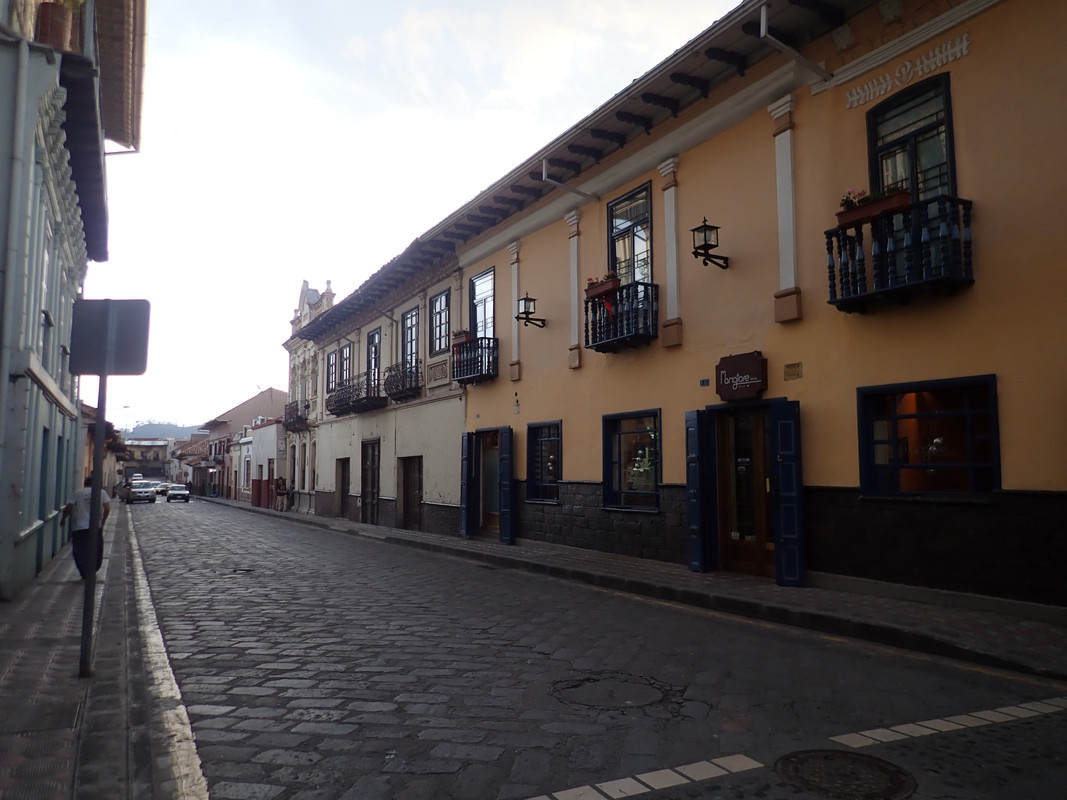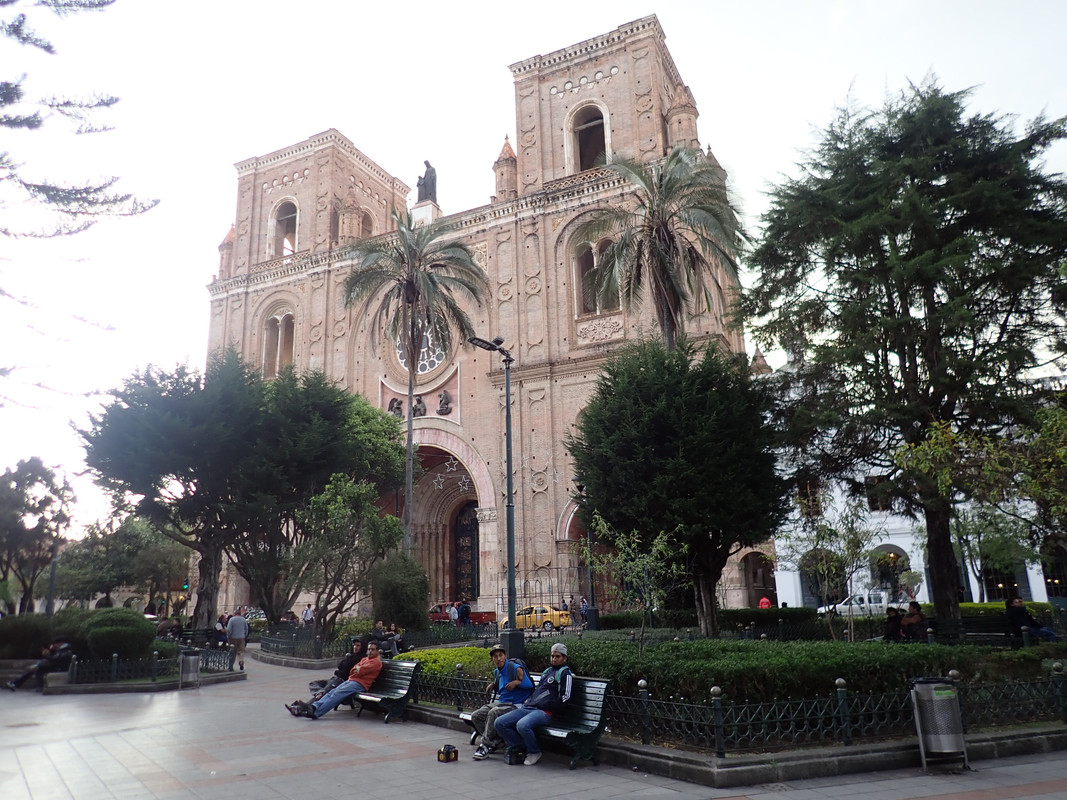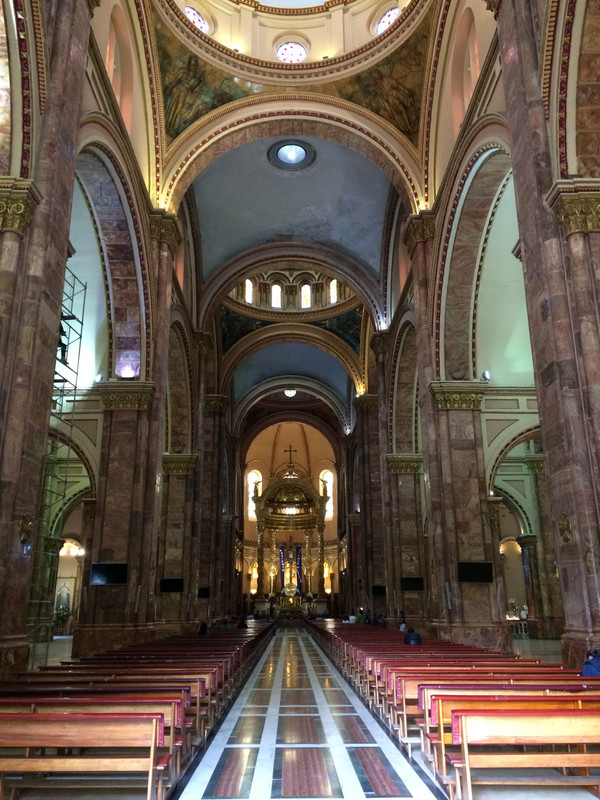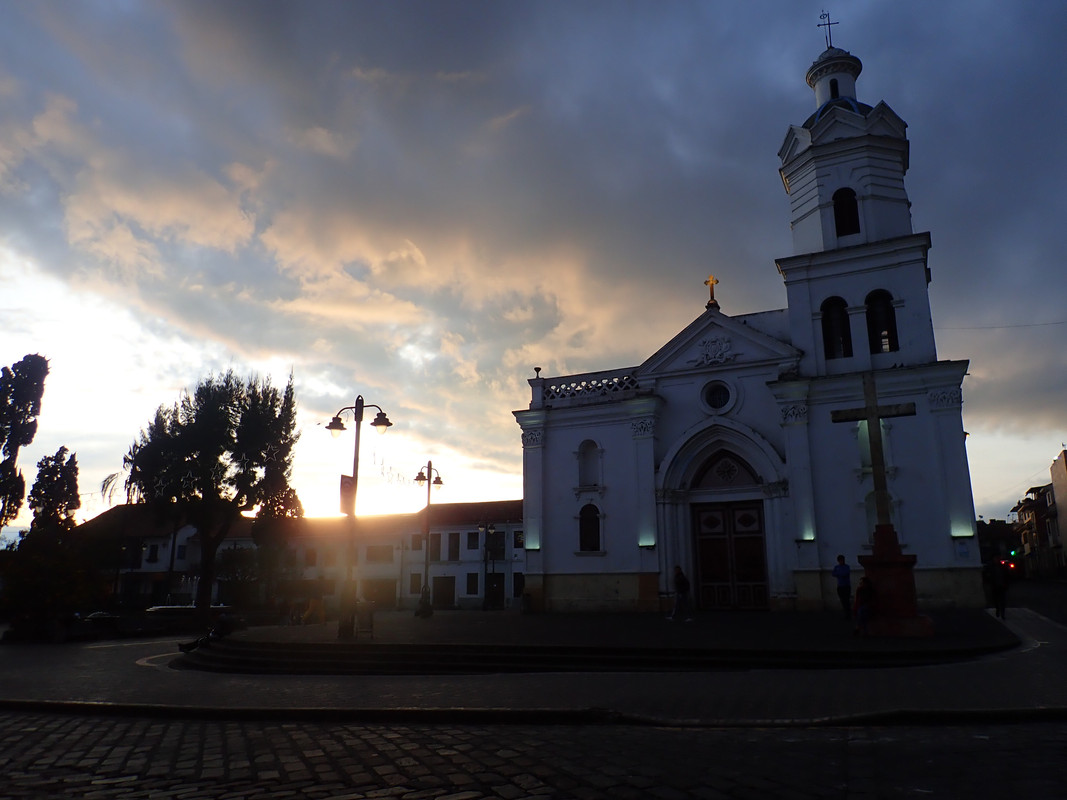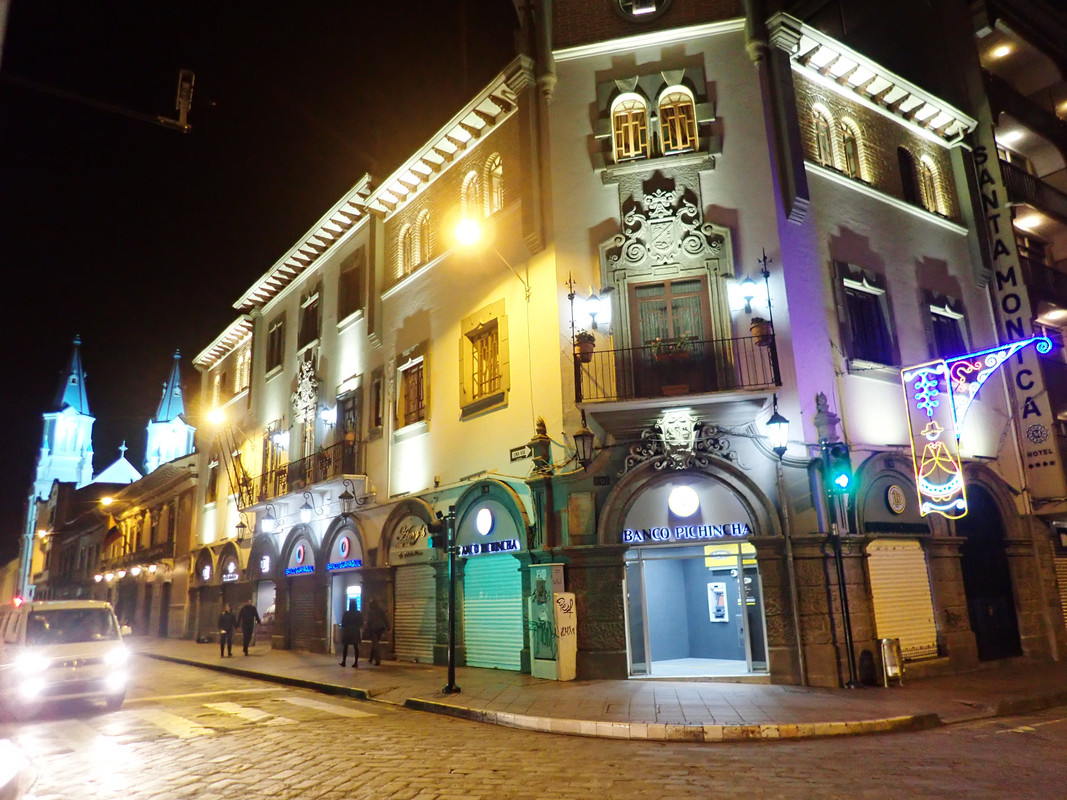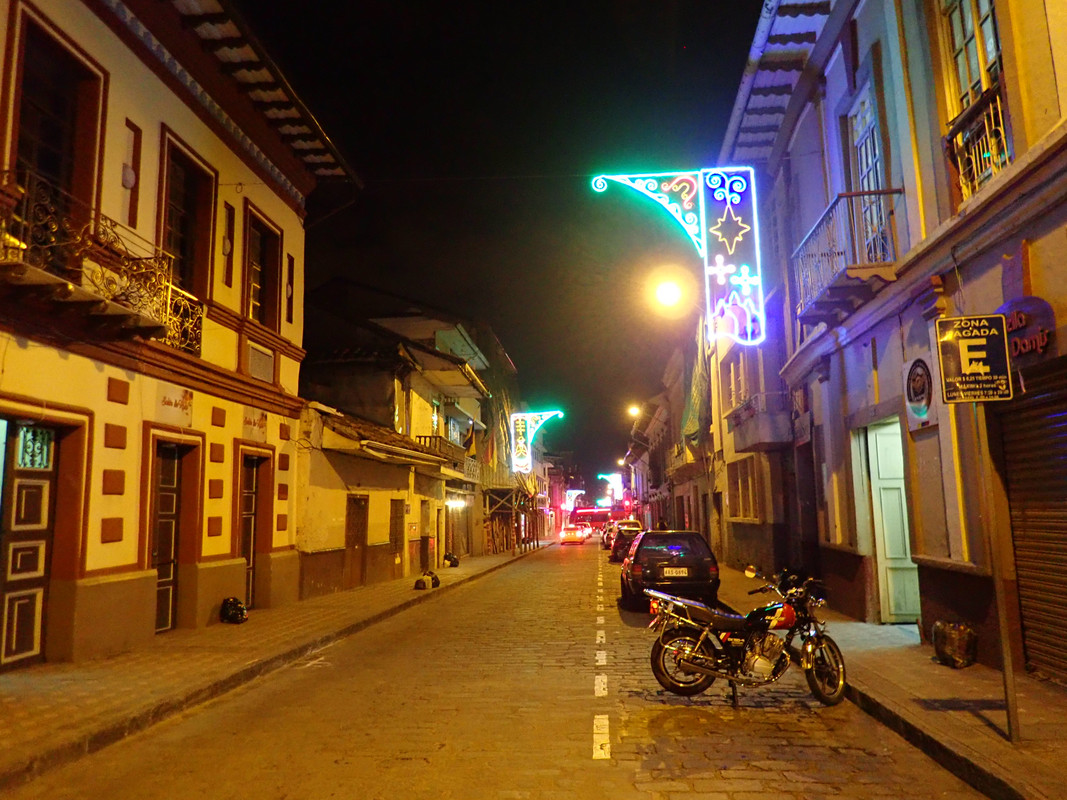 Derrick and I pushed for the Ecuador/Peru border. The last day in Ecuador was a real pleasure to ride and parts of it brought back fond memories of the Canadian woods for the two Canucks.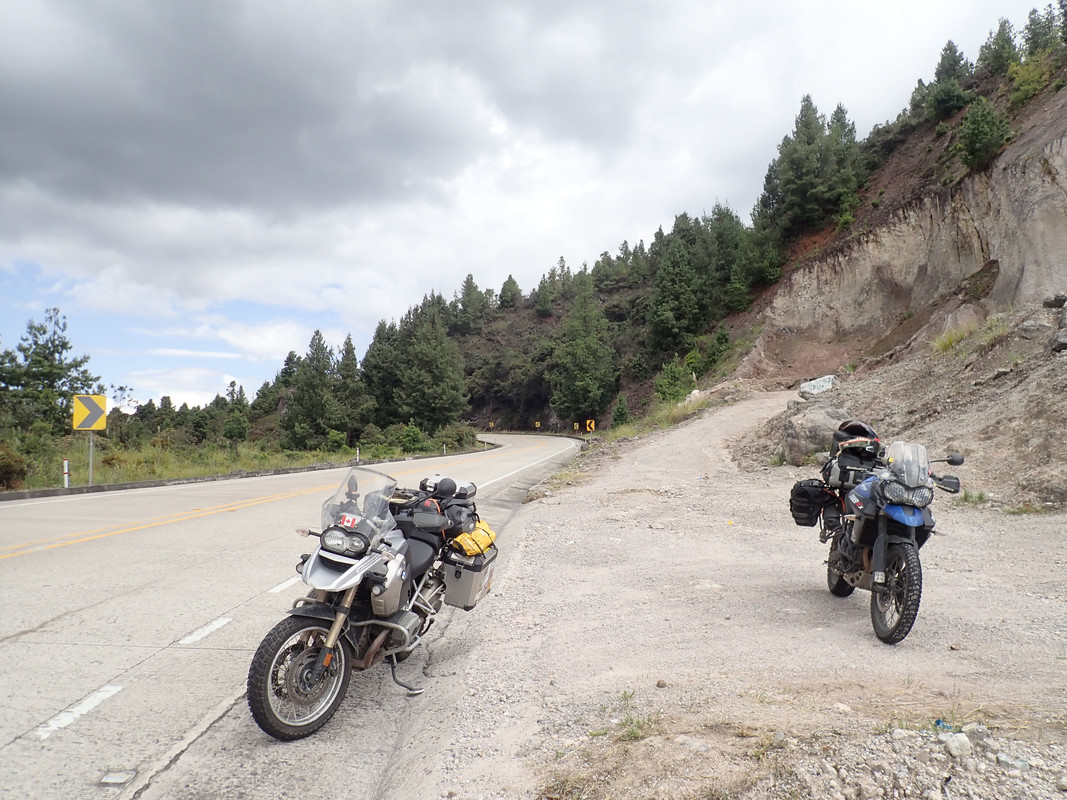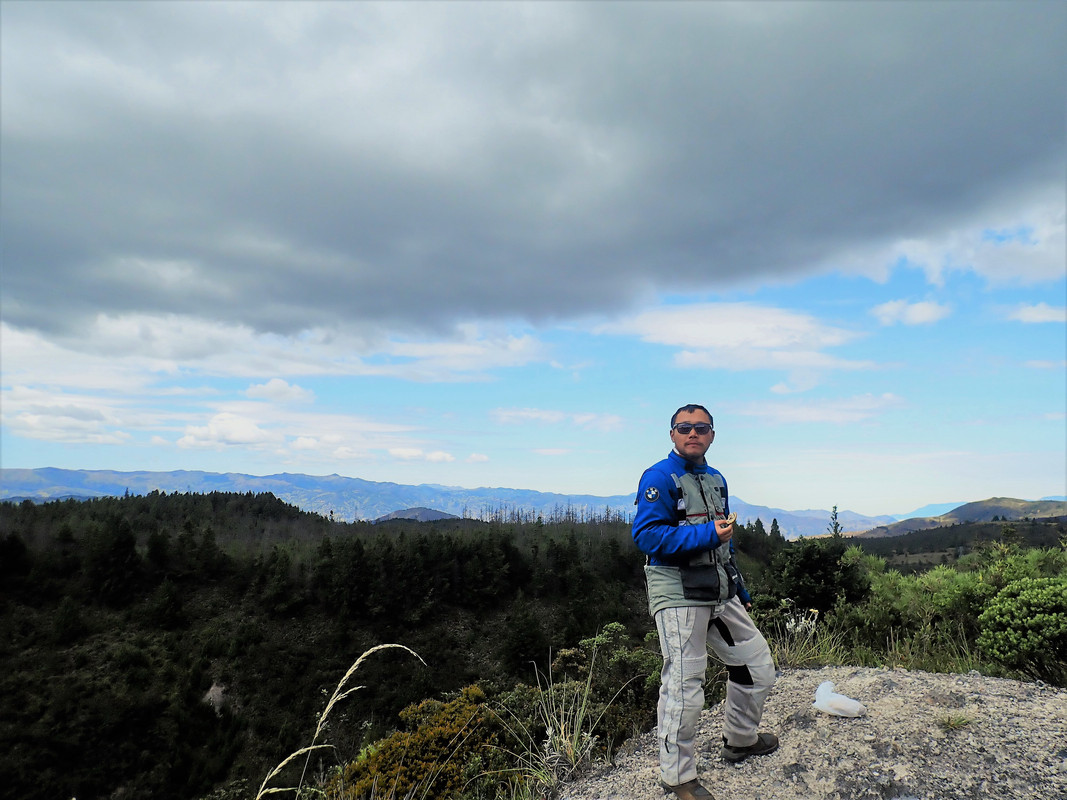 I hit a big pothole while passing a truck immediately followed by a hissing sound and I thought I blew a tire. Turns out the rear splash guard broke off and lodged itself in the wheel well.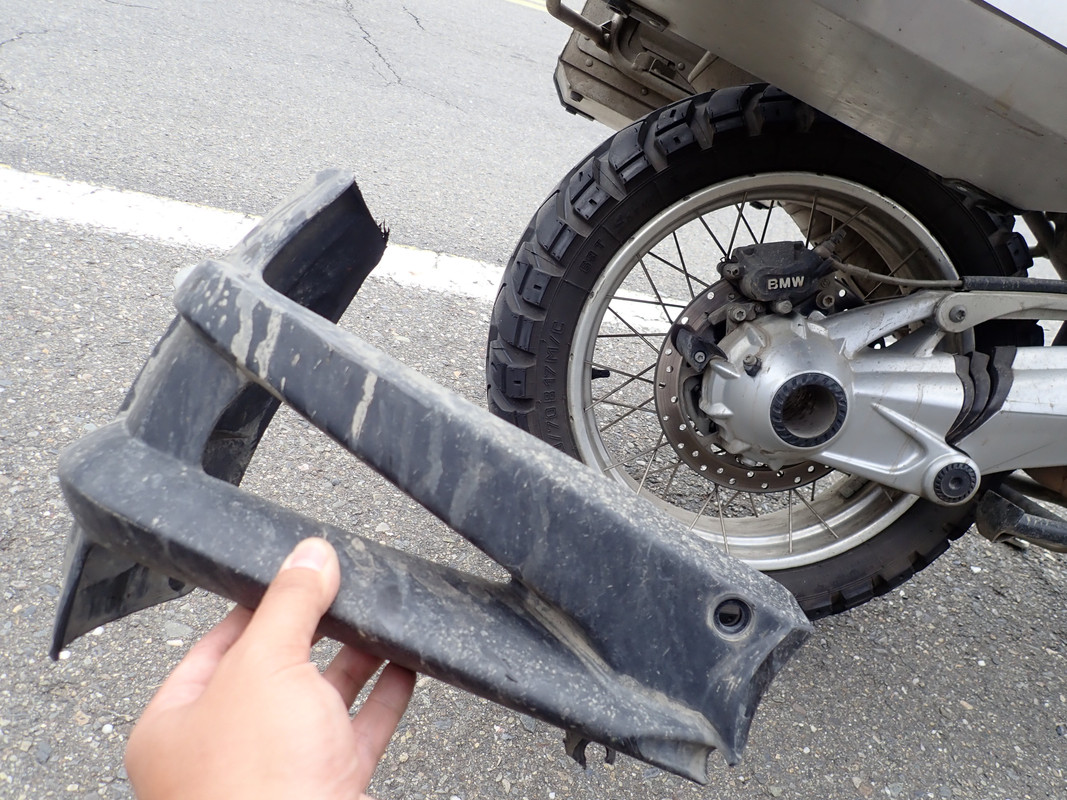 The landscape was slowly changing as we rode into the border town of Macará. The lush green mountains had turned into desert like terrain. It was actually nice to be in the heat again and we resolved to some ice cream for dinner.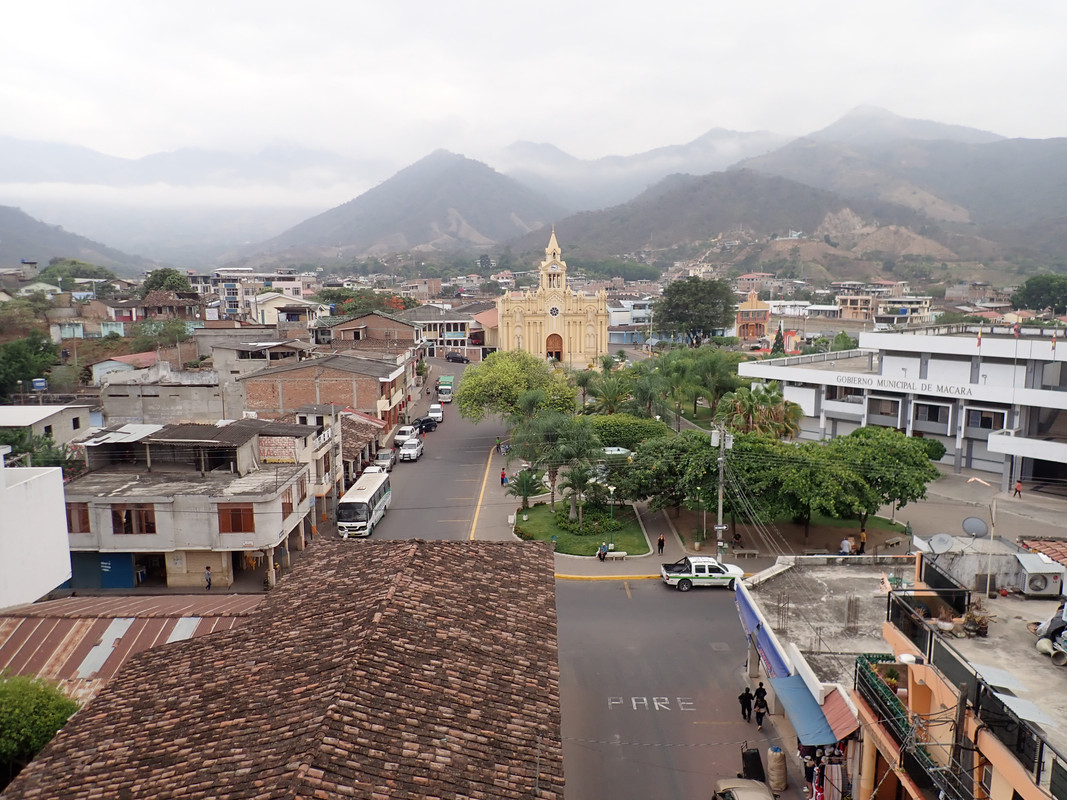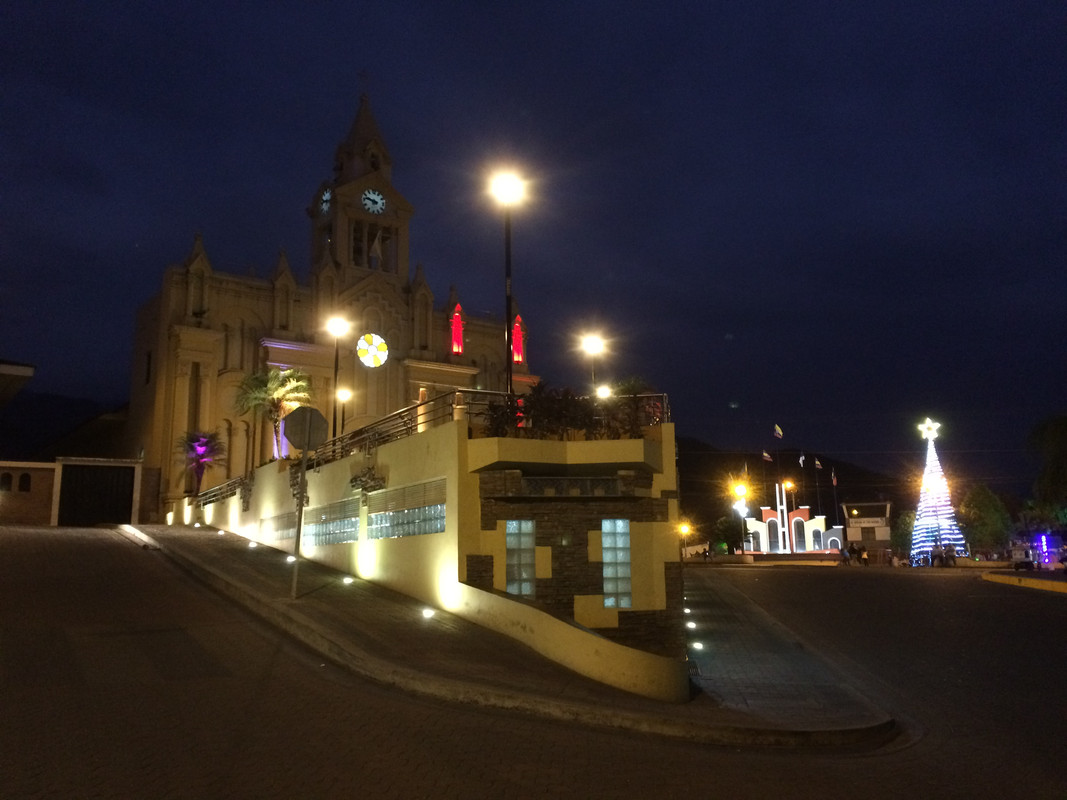 We topped up on cheap Ecuadorian gas in the morning prior to entering South America country #3. This was the fastest border crossing yet with very little traffic. We were back on the road in an hour and it would have been even quicker had we not missed the cheaper insurance agency immediately after crossing the bridge.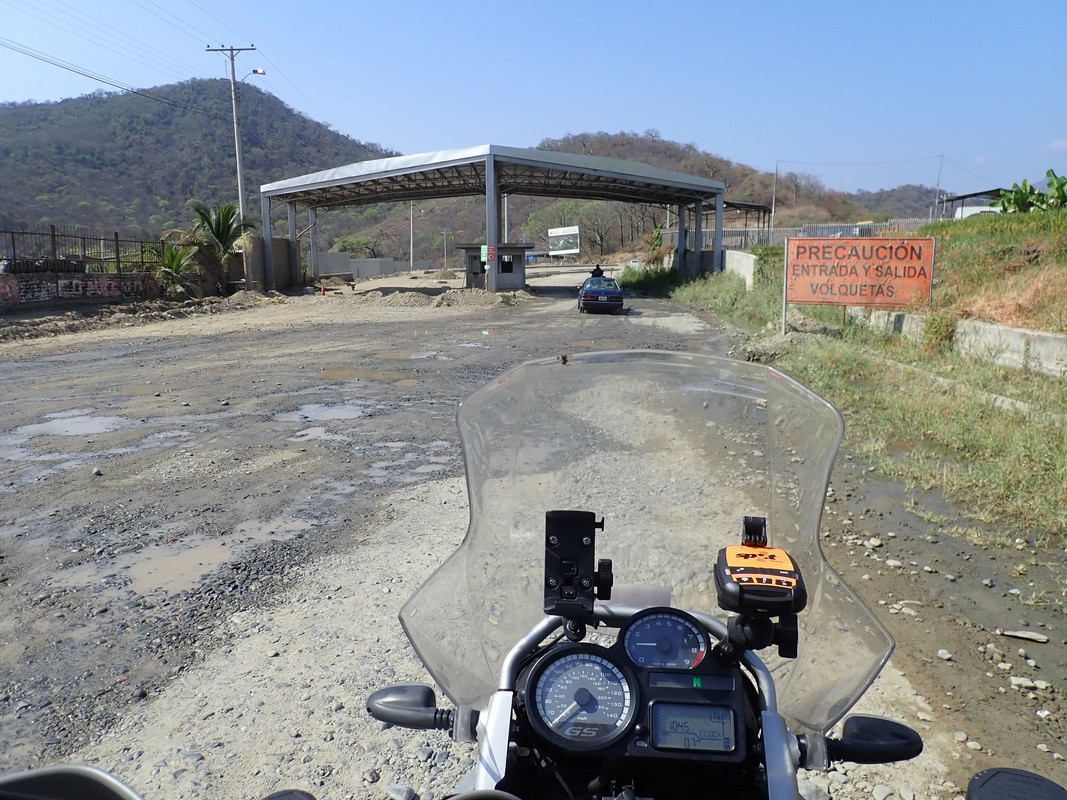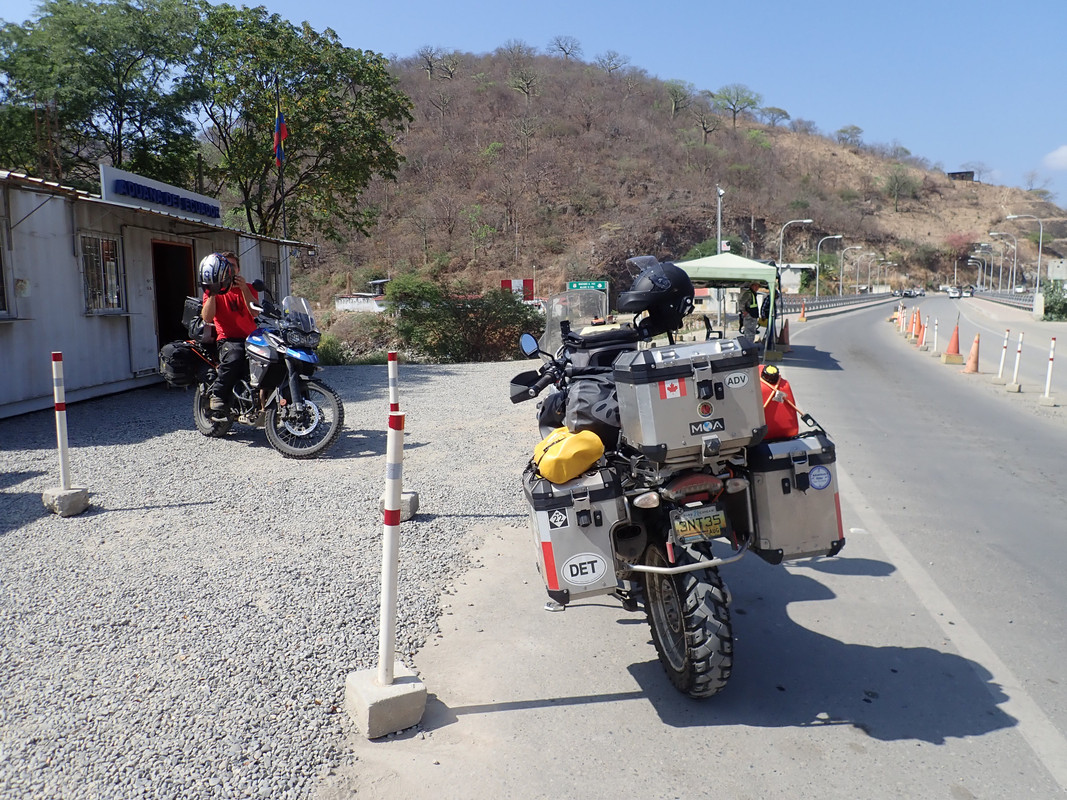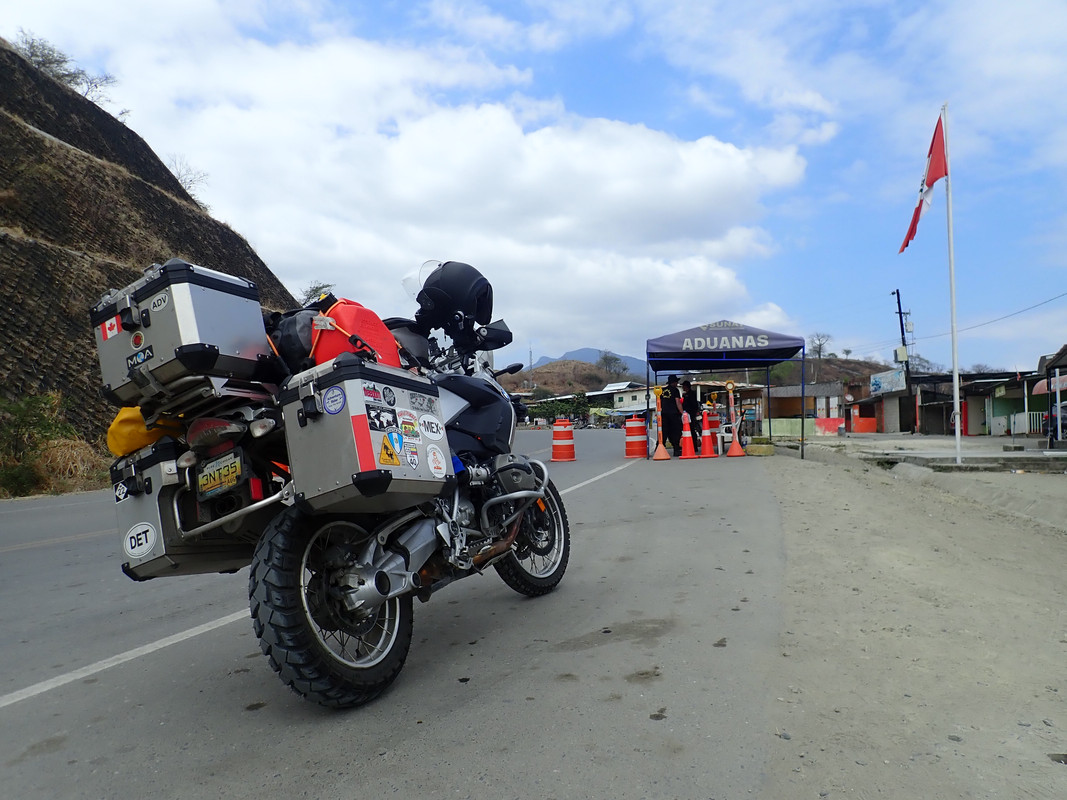 Exiting Ecuador
Park on the left before the bridge by the containers
Hand in the TIP at Aduana; filled out an exit card and stamp out at Migración
Entering Peru
Park on the right side in front of the Aduana canopy
Fill out an entry form and stamp in at Migración building
Purchase SOAT insurance from a shop on the left right after the bridge (1 month insurance is $30; insurance is required in order to obtain TIP)
Apply for TIP at Aduana with Passport, DL and registration
Show TIP at the secondary checkpoint a few miles down the road
My first impression of Peru to be honest is not very good. It's windy, dusty and garbage is everywhere along sides of the road. It seemed people simply used the roadsides as a landfill and some strips were set on fire as a method of cleaning up. Most of the streets through towns were completely torn up and road courtesies were nonexistent.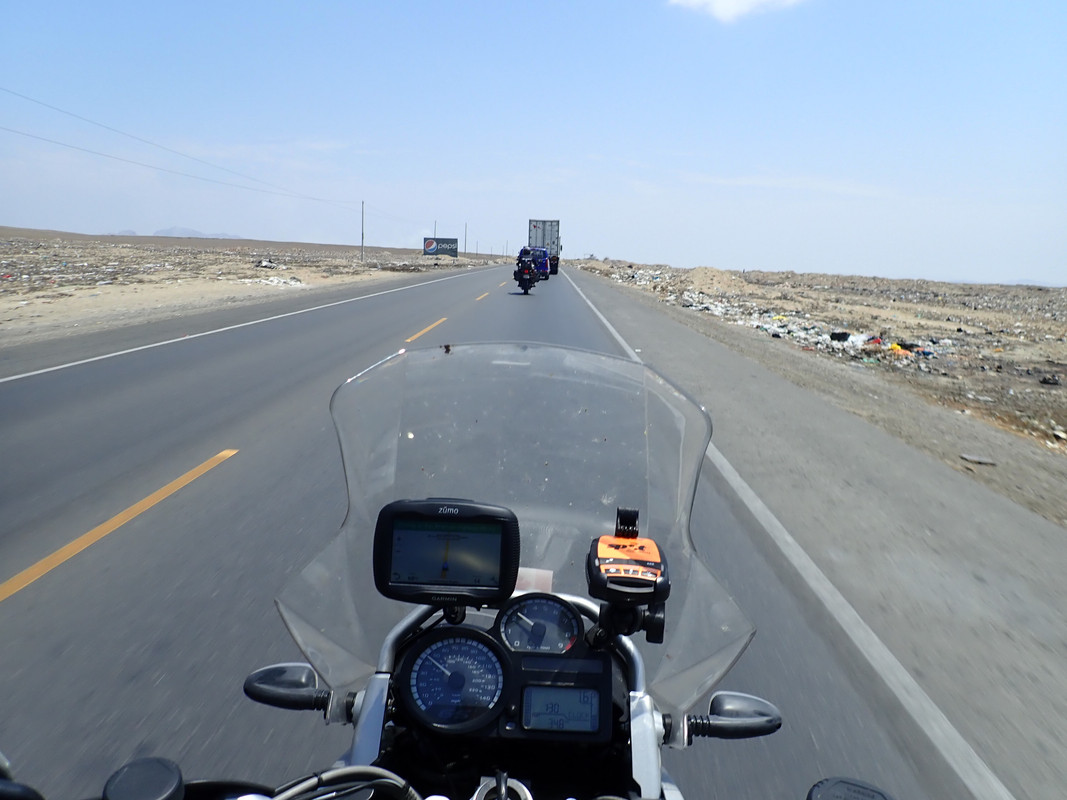 Motor oil in a bag anyone?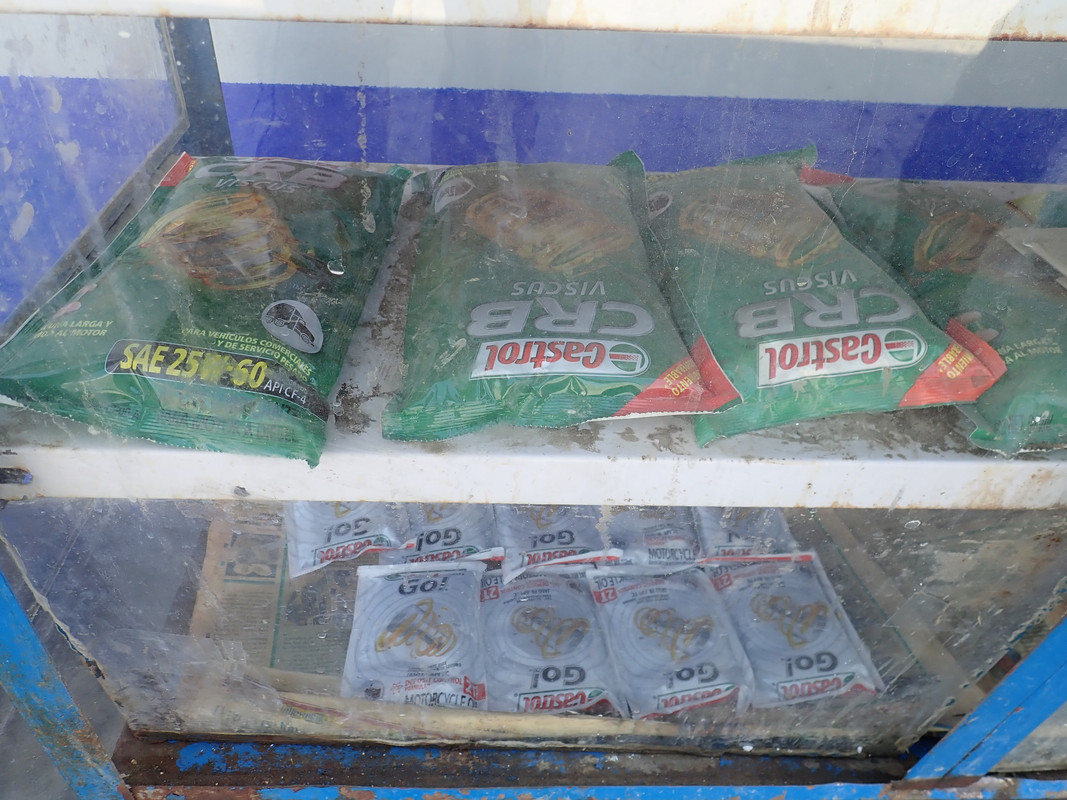 Having some roadside snacks and admiring the sand dunes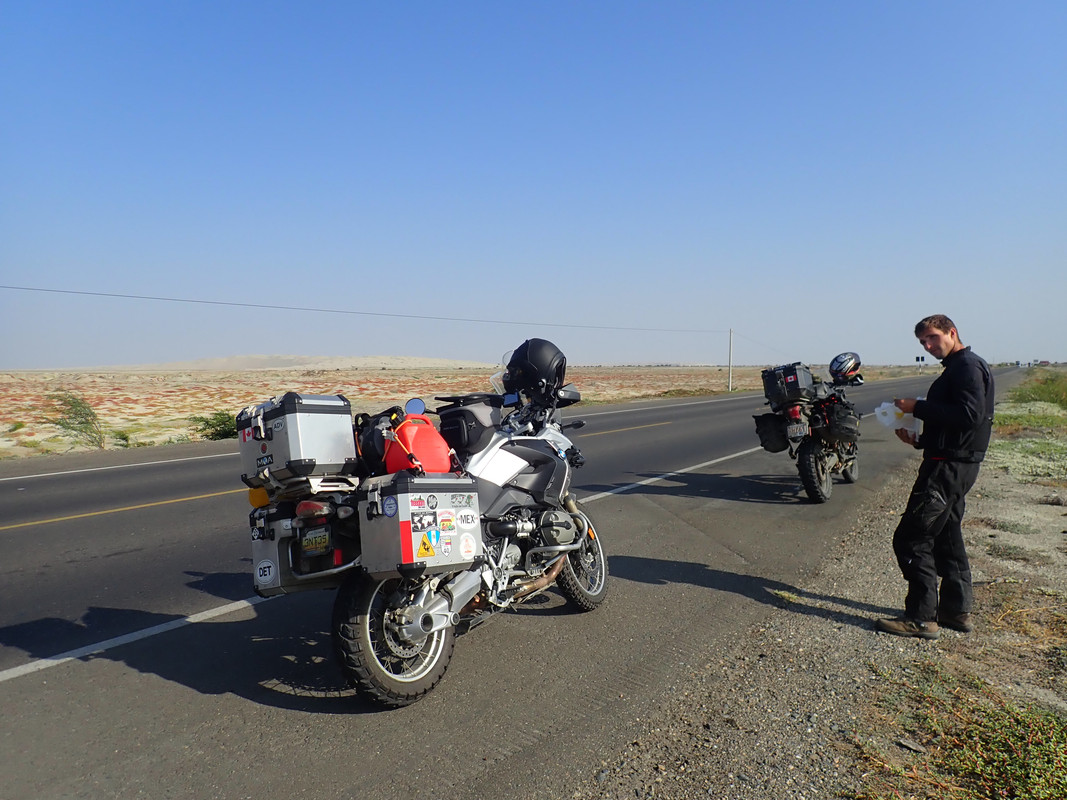 I had to lean constantly in order to go straight through the gust of desert cross wind. Also there was no gas station (or anything) for 100 miles south of Piura and we pretty much rolled into Lambayeque on fumes. I was stoked on getting 230 miles on the last tank but first fill up in Peru cost nearly $20 which was more than double that of Ecuador.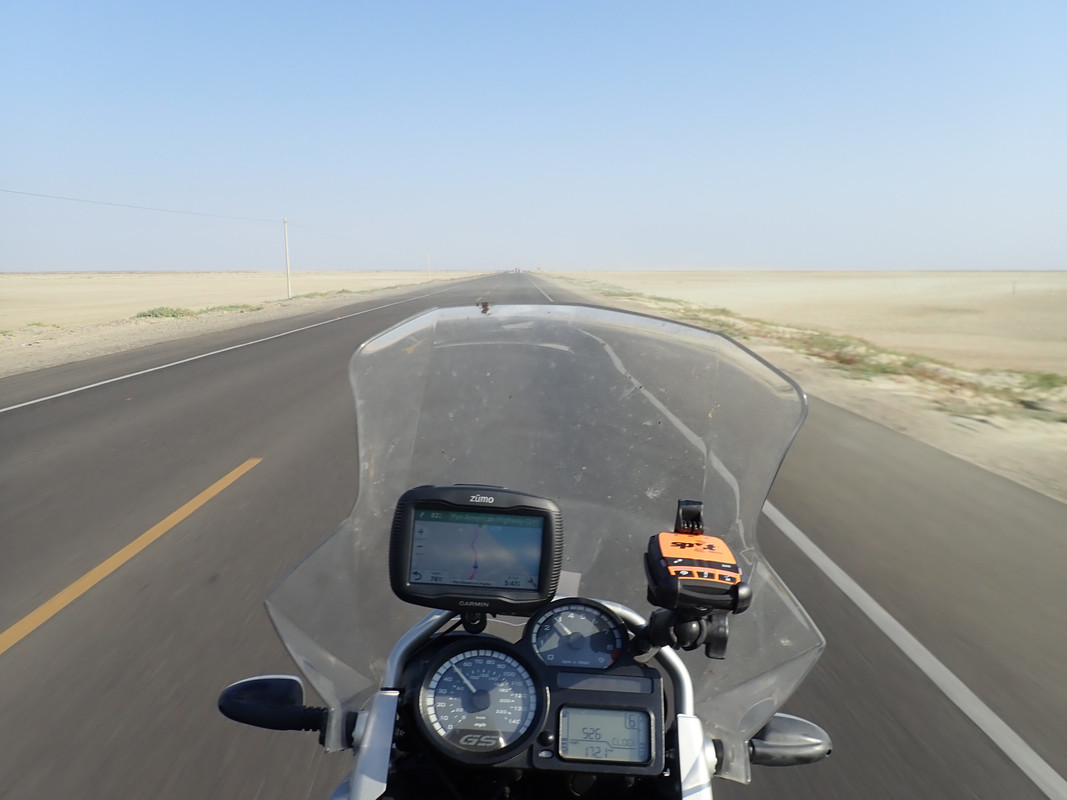 We went to the Museum of the Royal Tombs of Sipán the next morning and learned about Moche culture (pre-Inca). Unfortunately photos are not allowed inside.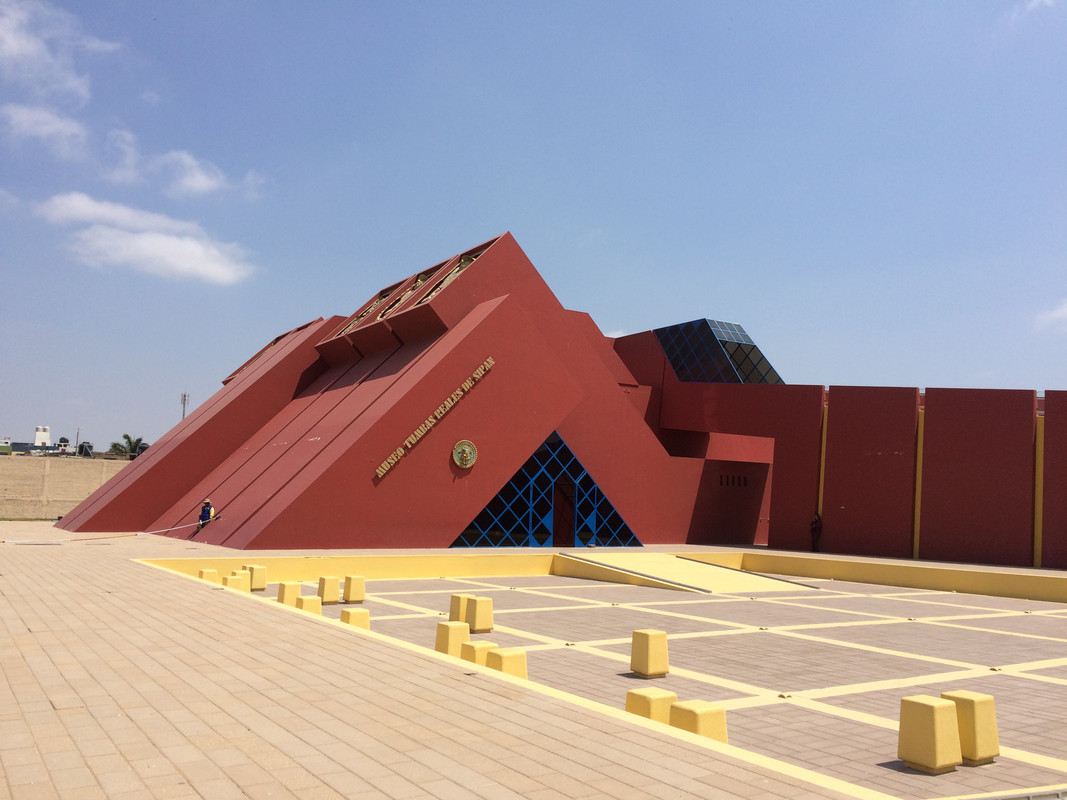 We settled in the little coastal town of Huanchaco after much more of the same arid landscape and went for a jog on the beach. 3 months on the bike really put me out of shape, not that I was in a great one to begin with.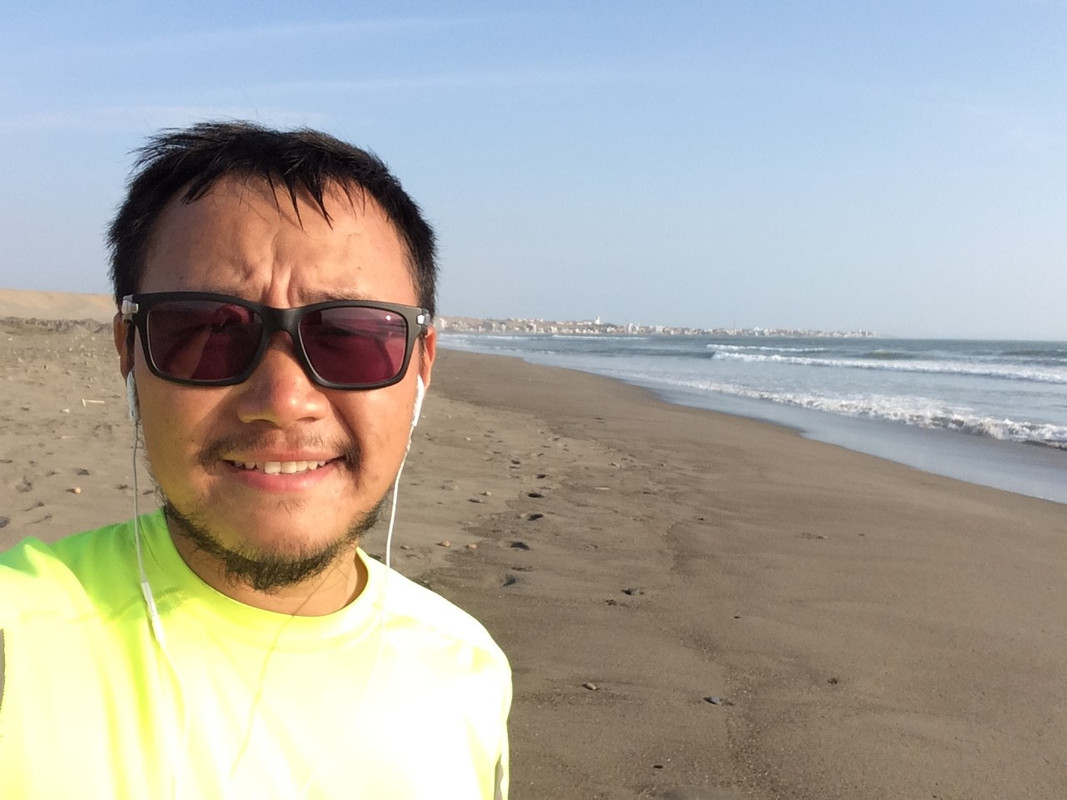 Hippies and surf towns go hand in hand and Huanchaco is no exception.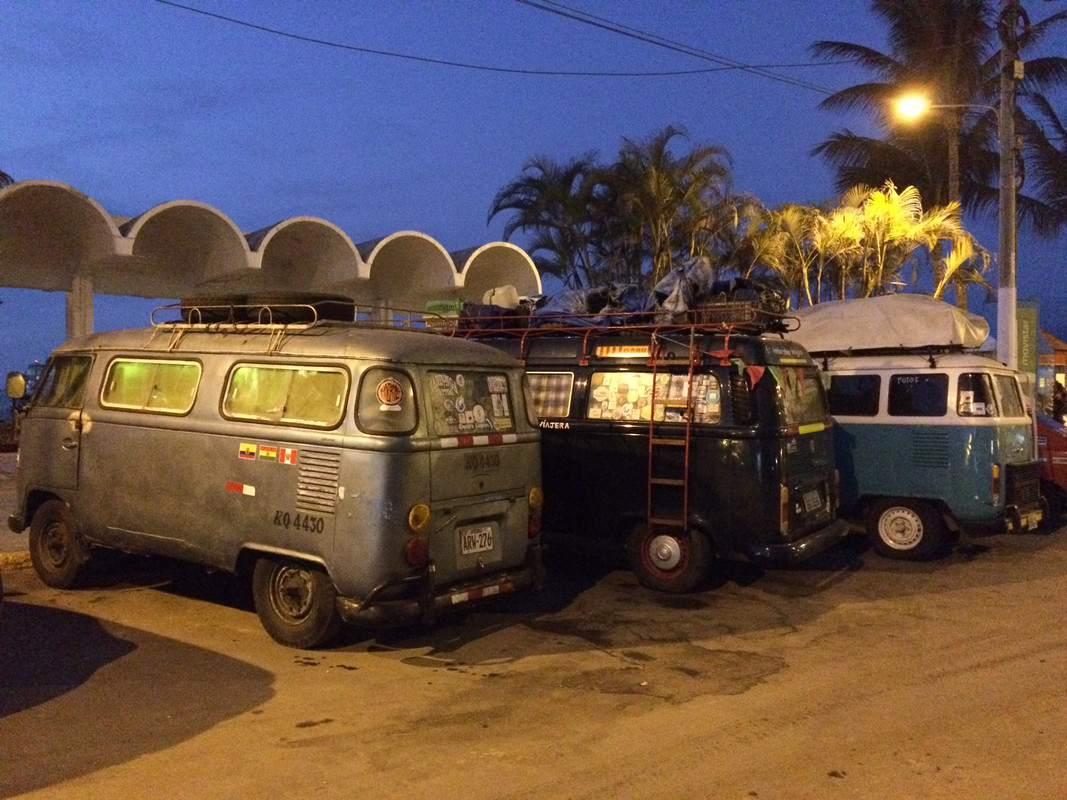 I noticed a small puddle and some drips around the final drive which is notoriously known to fail on the older GS. I was very nervous at the moment but haven't seen any leaks since so it was probably just cat piss.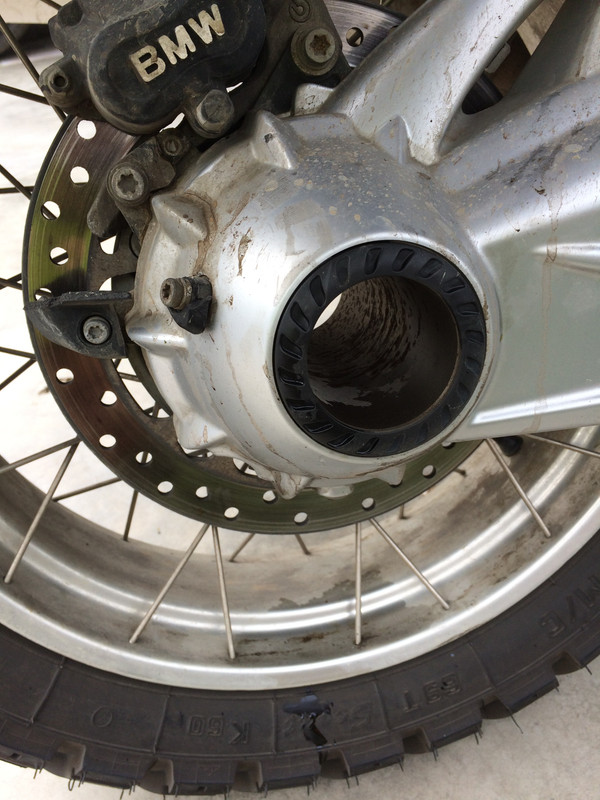 We took a short ride into Trujillo to visit a couple of pre-Inca archaeological site. First one was Chan Chan which was the largest city of the pre-Columbian era in South America situated in the coastal desert of northern Peru.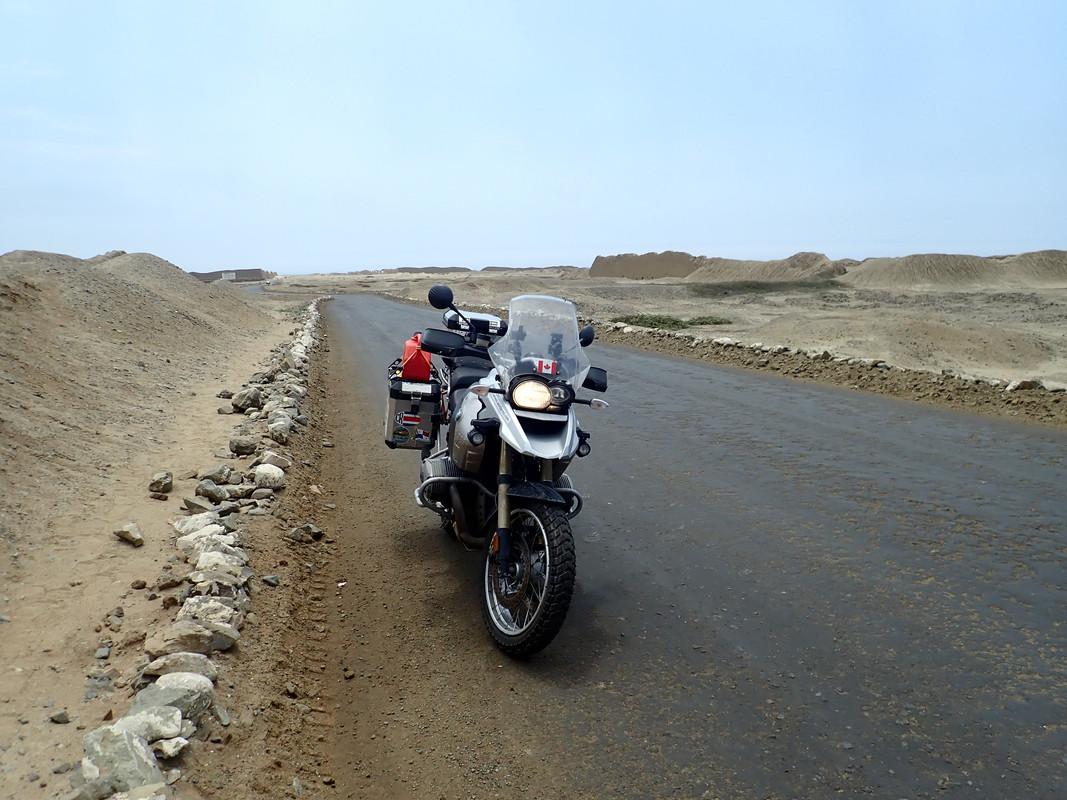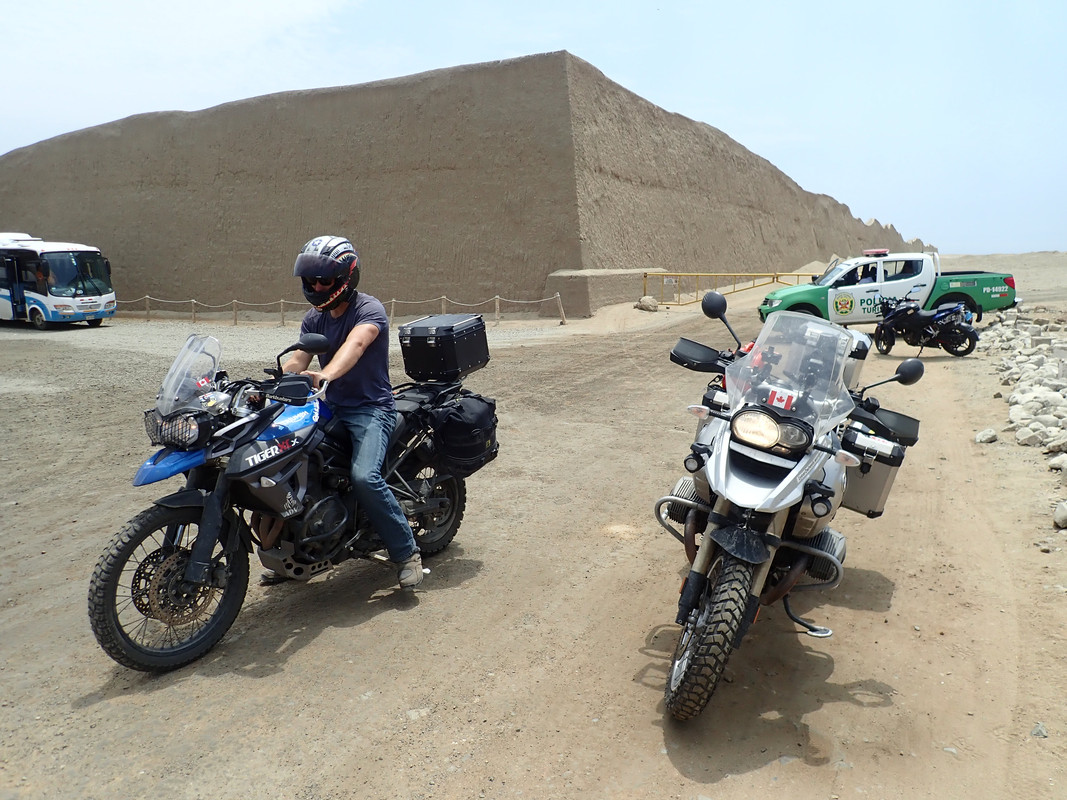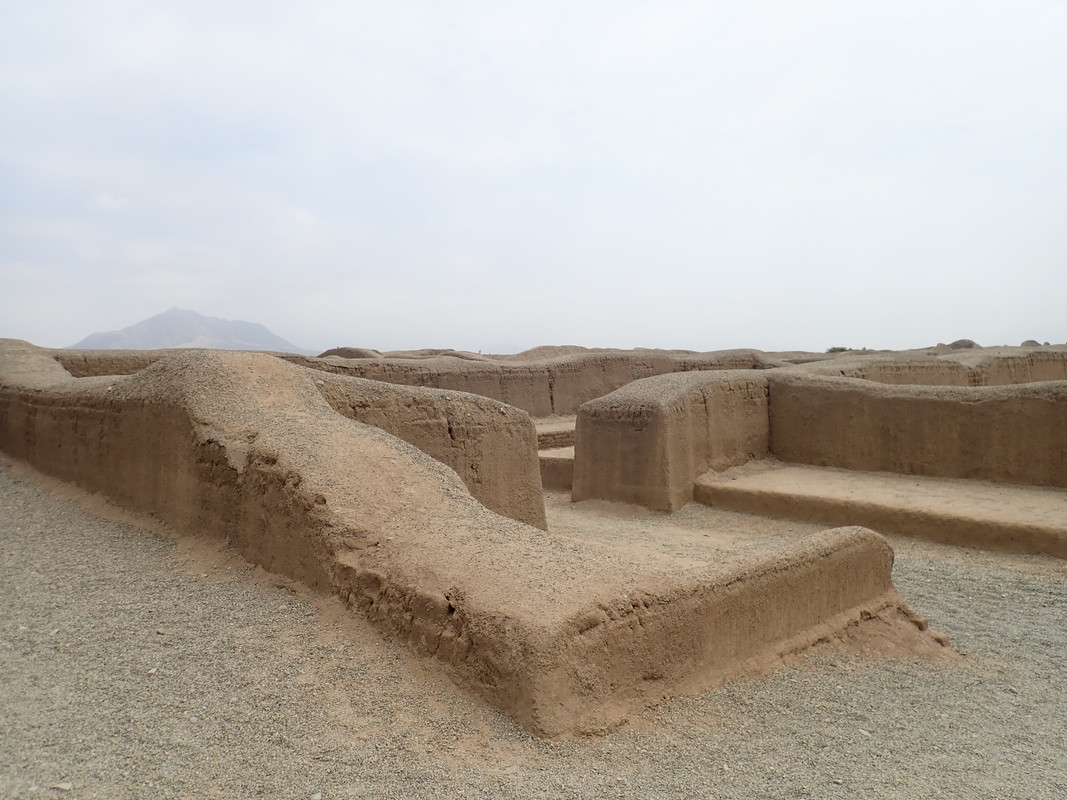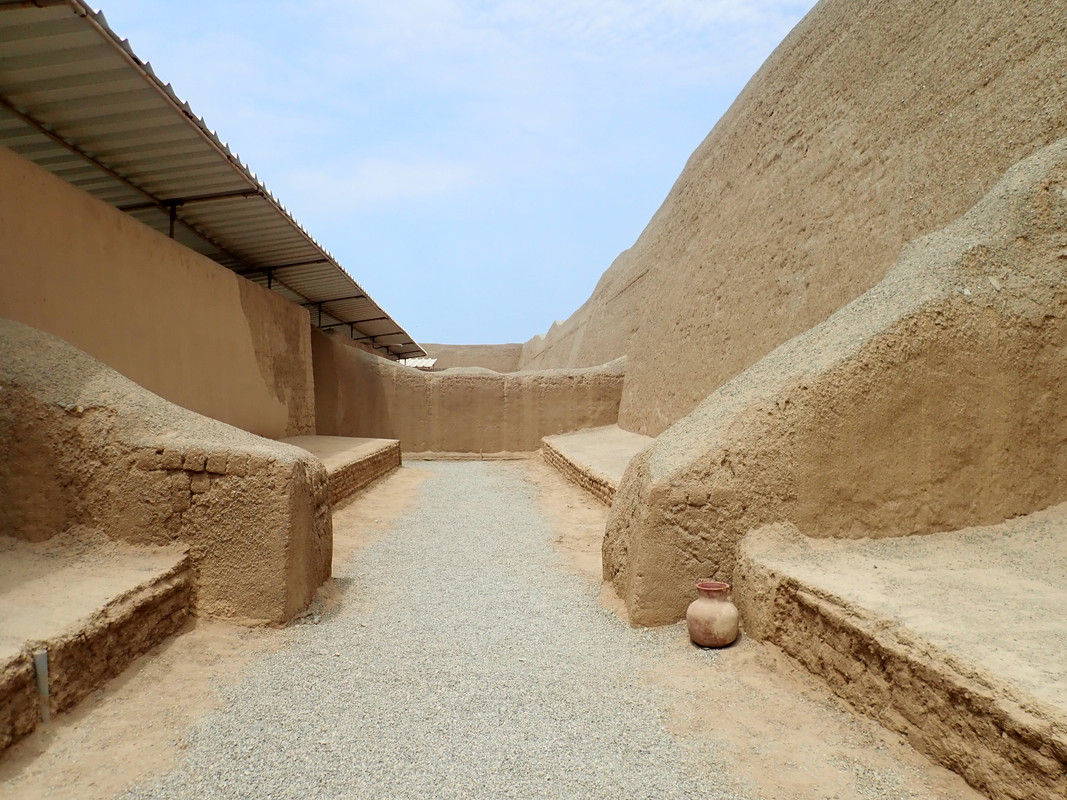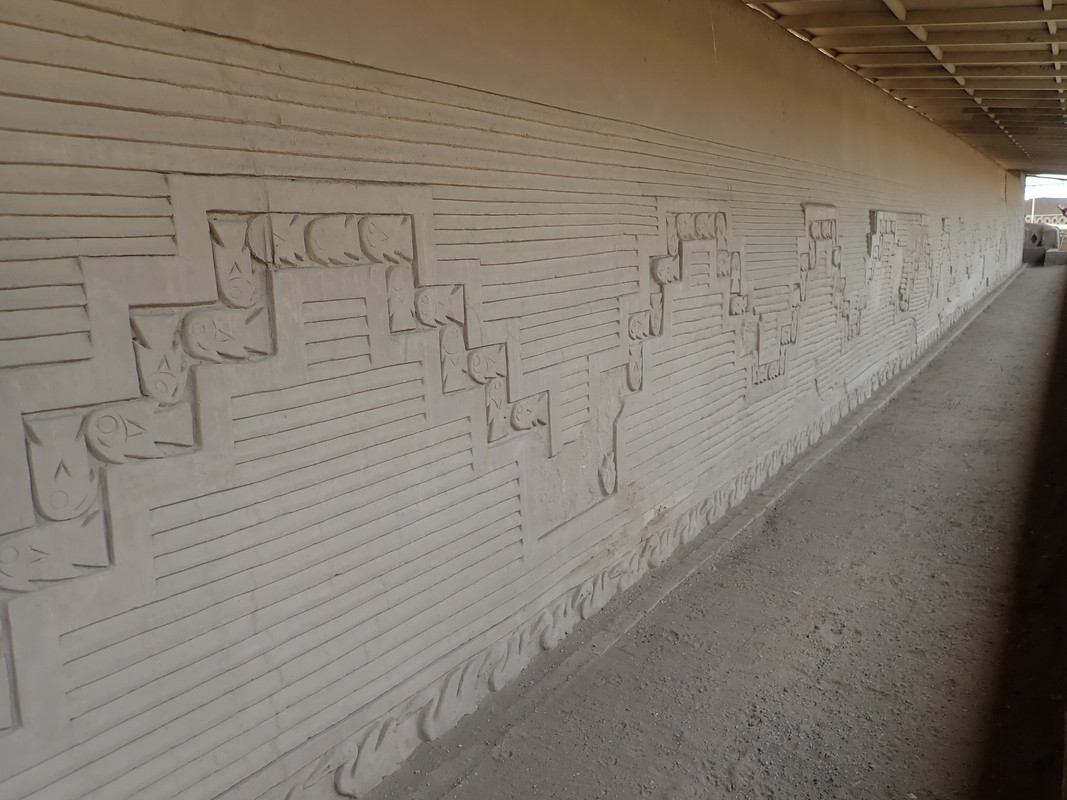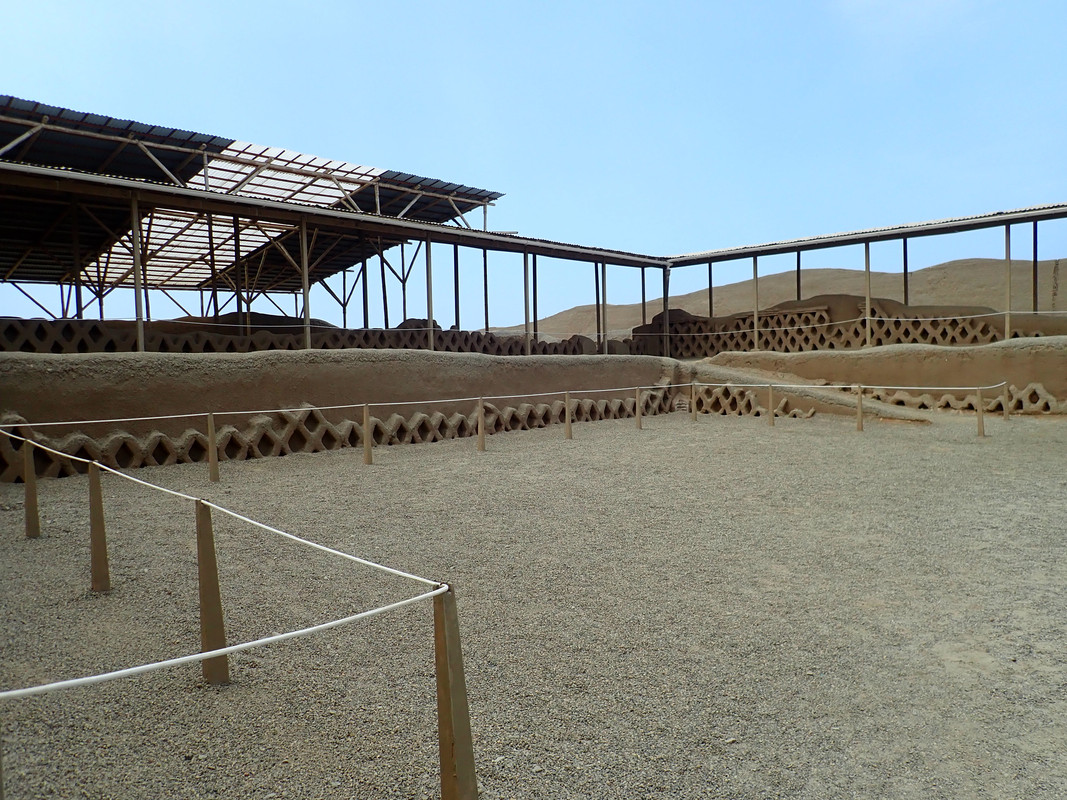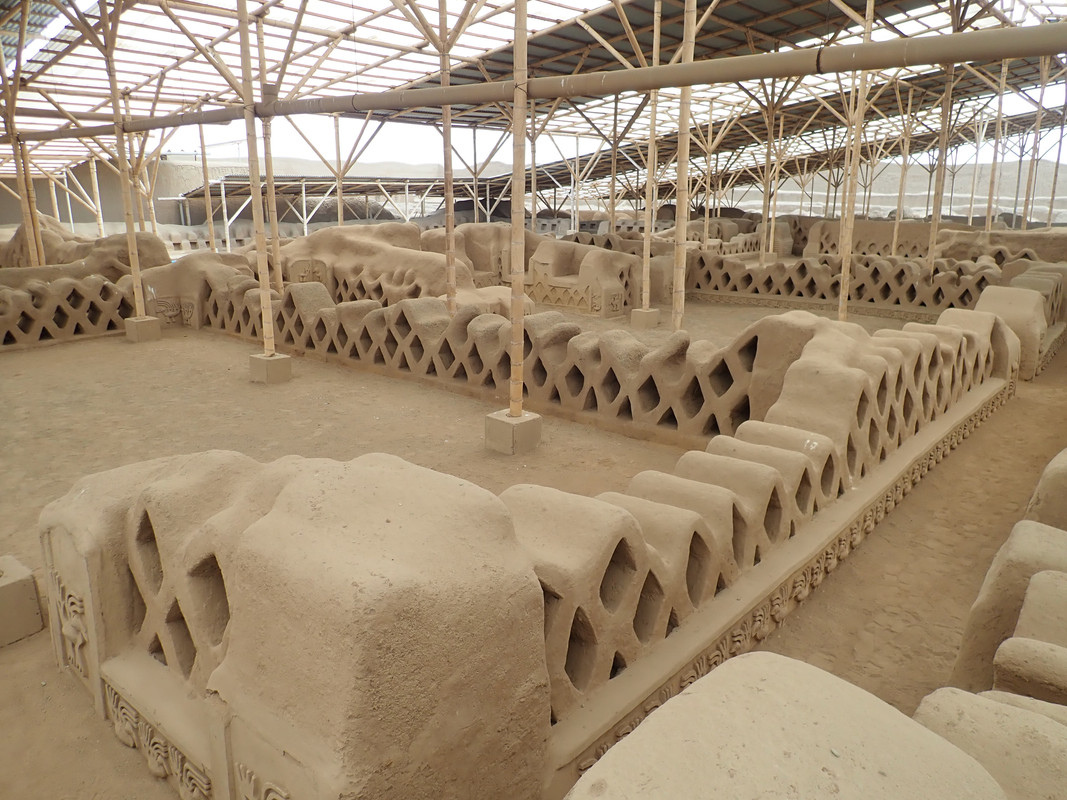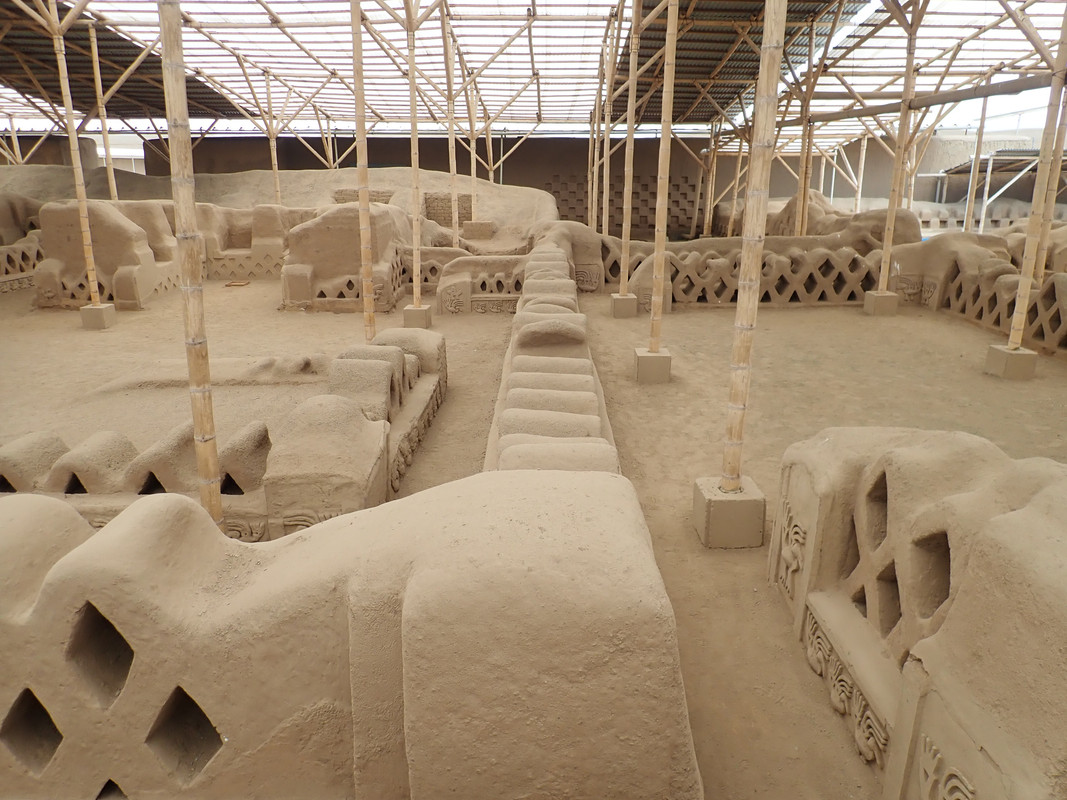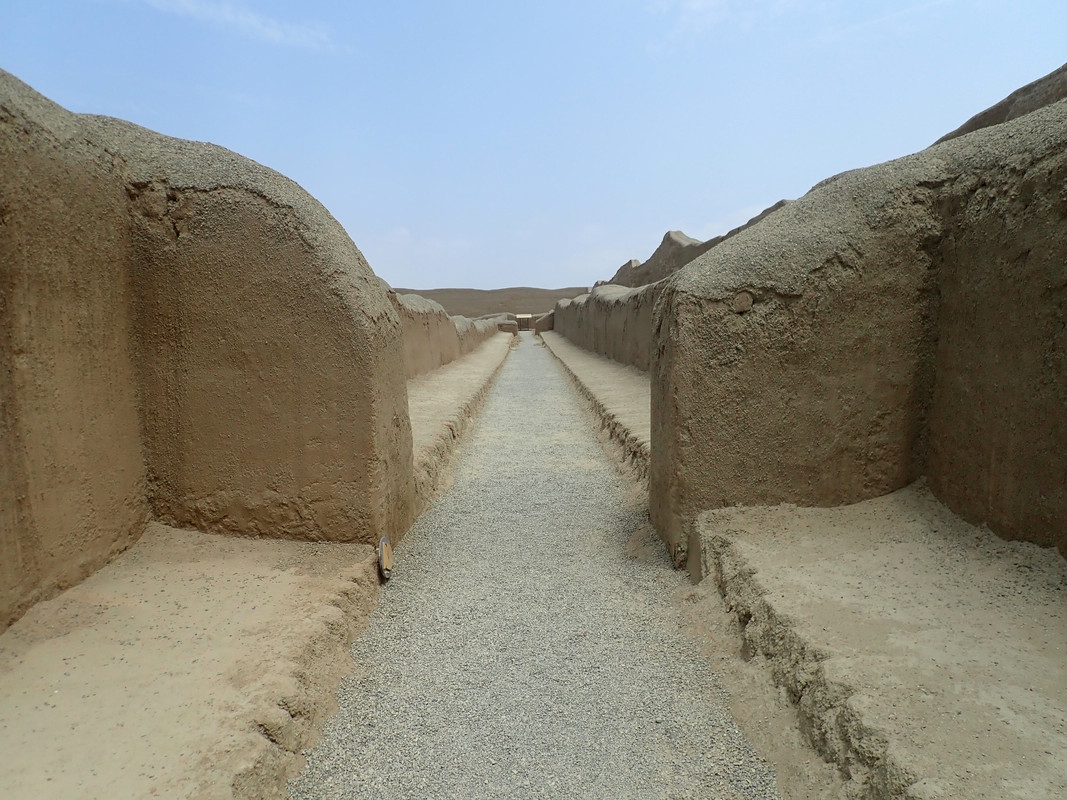 The water storage pond collected runoff from the Andes and was used for irrigation.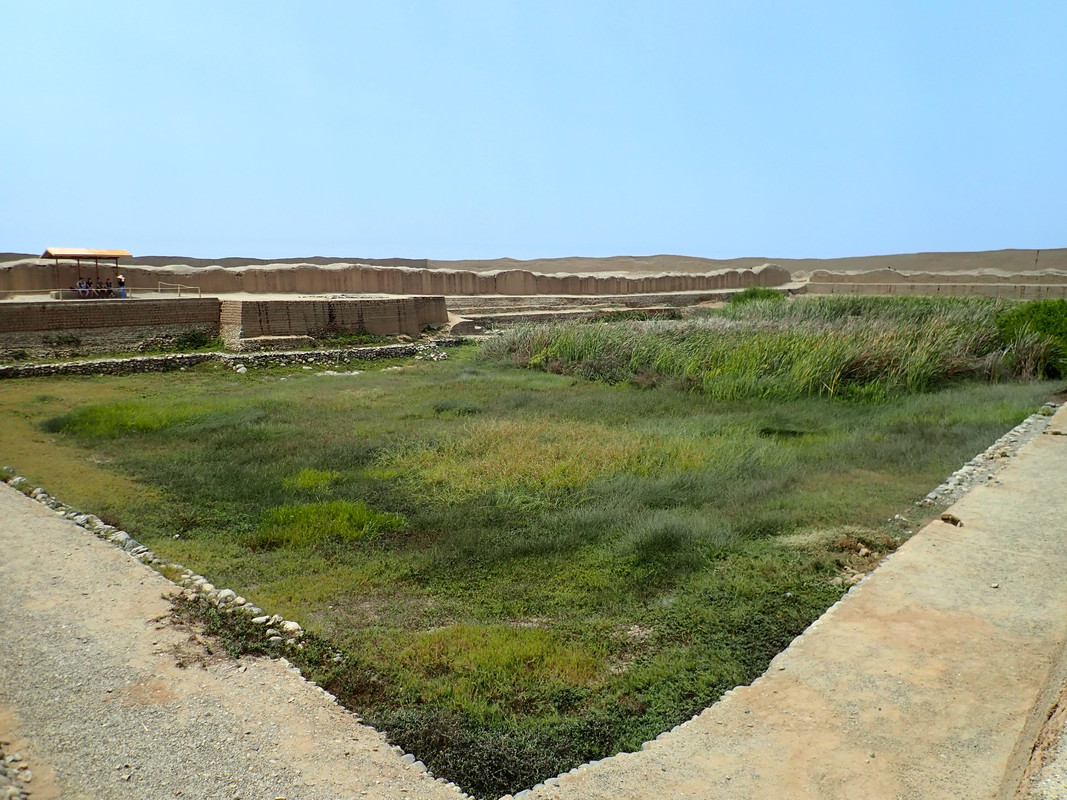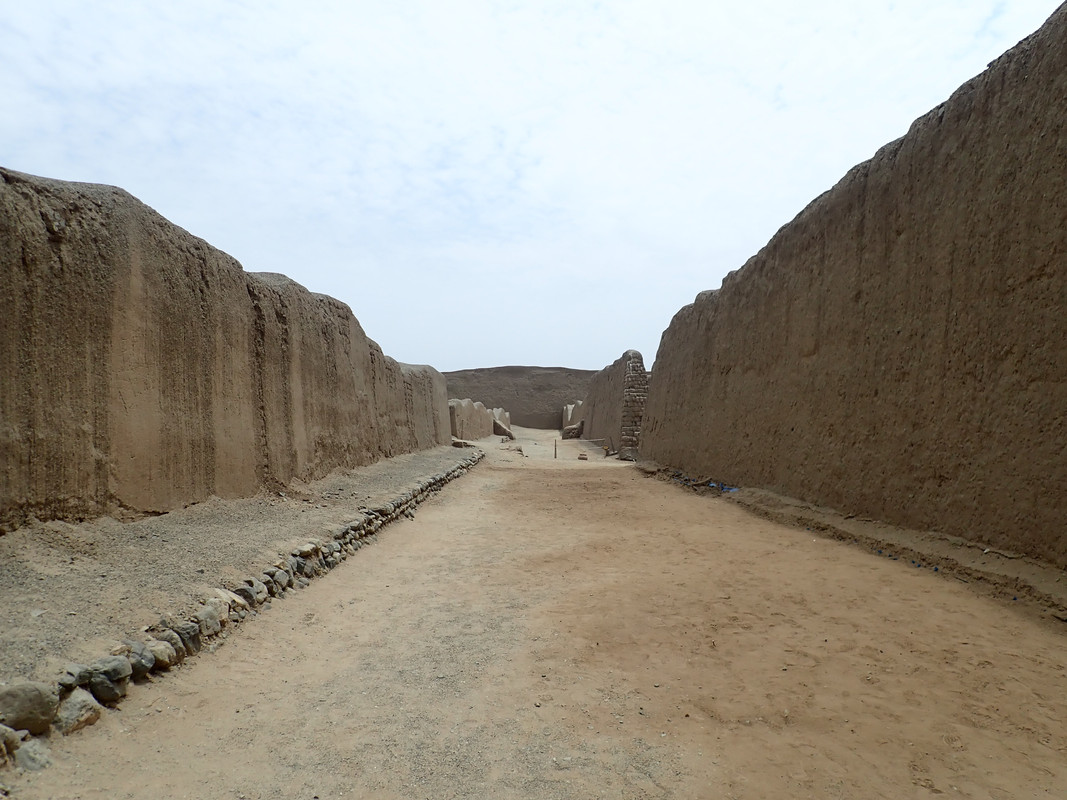 The ancient subdivision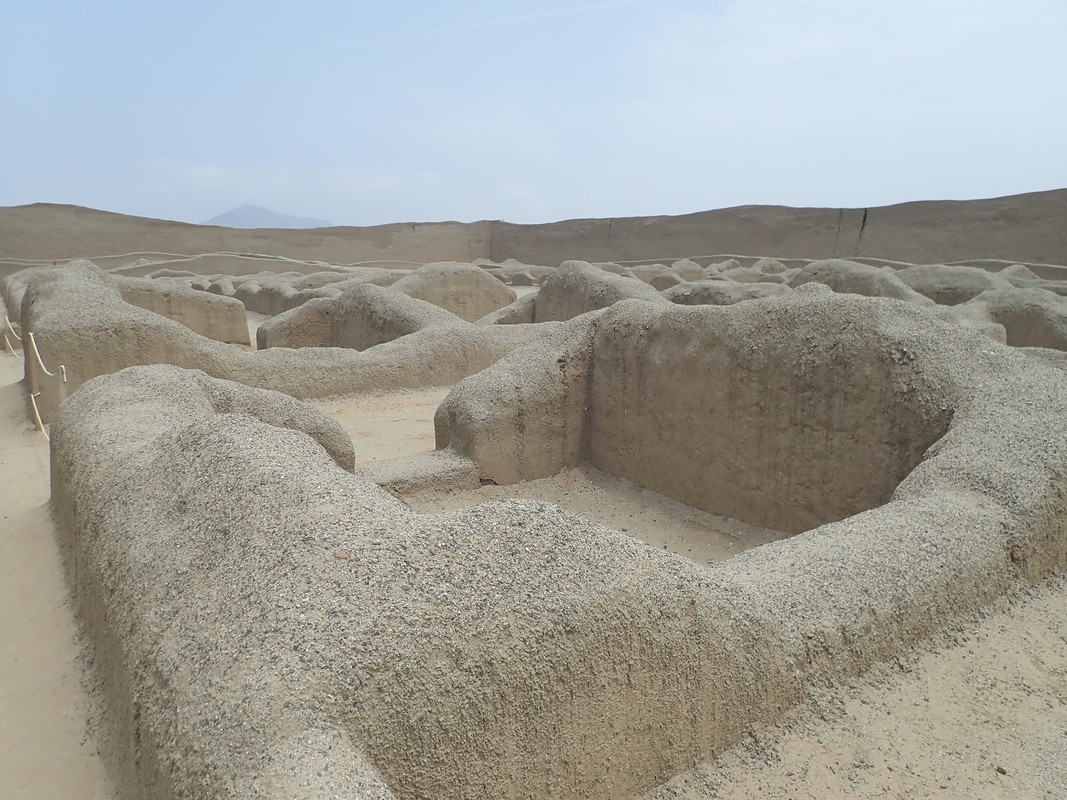 This place is like a maze.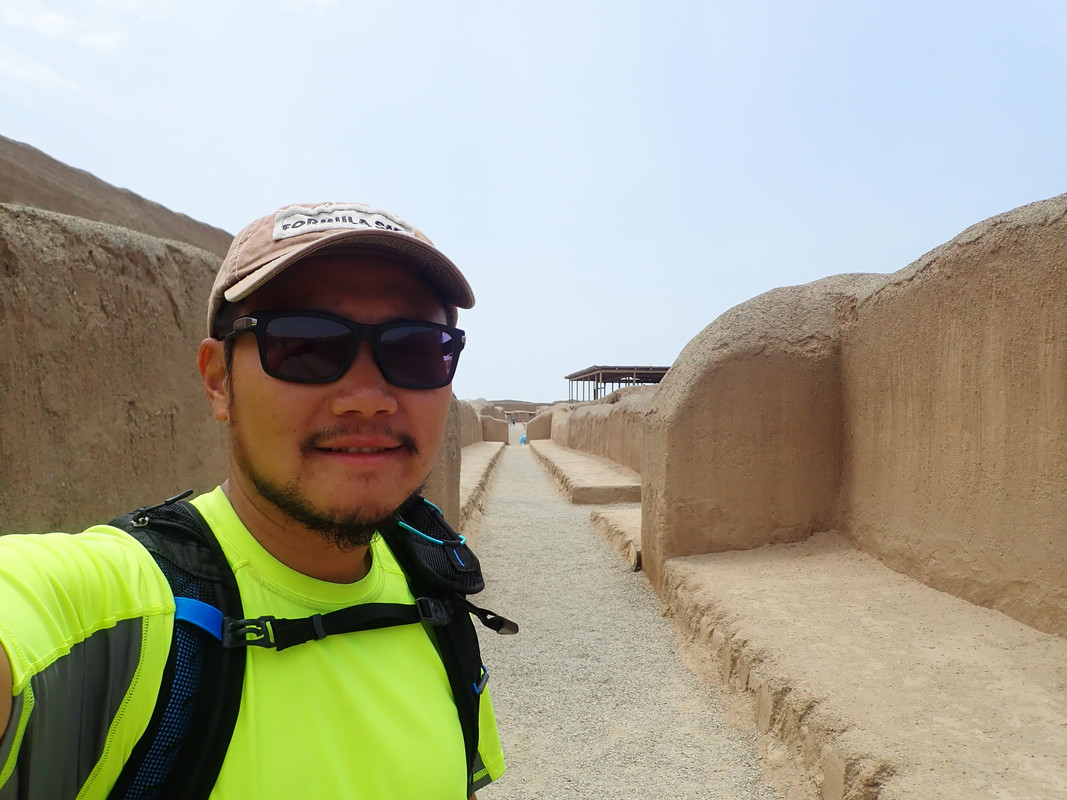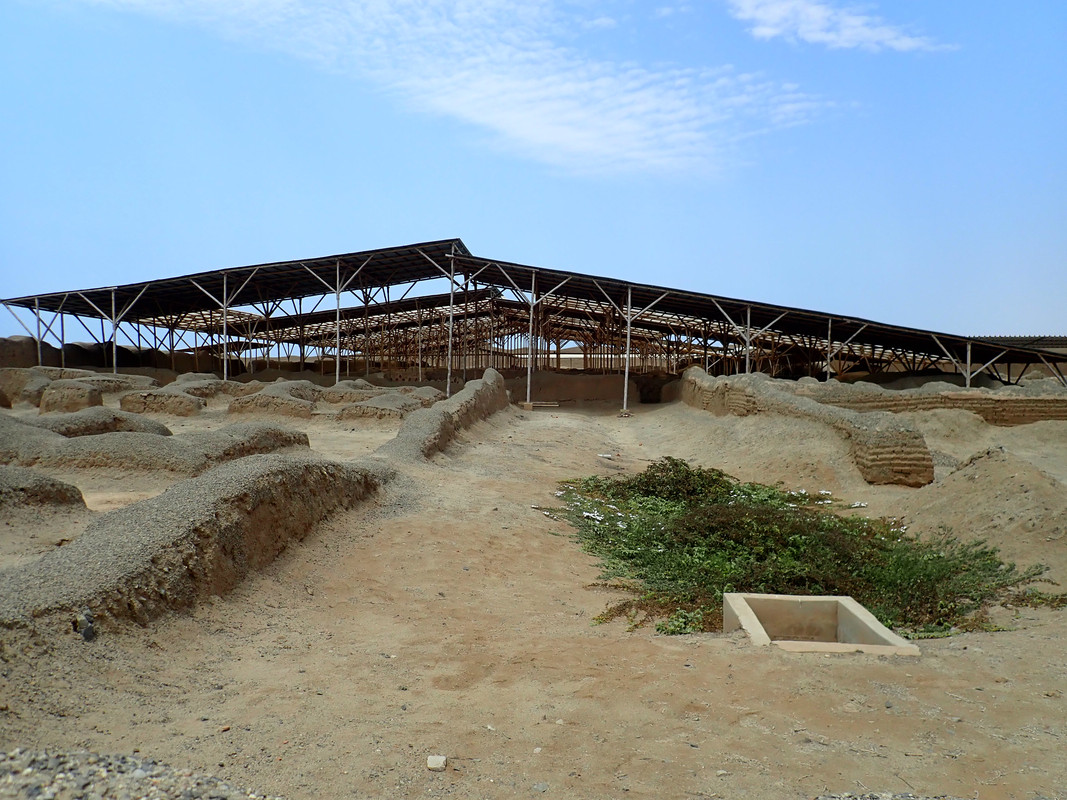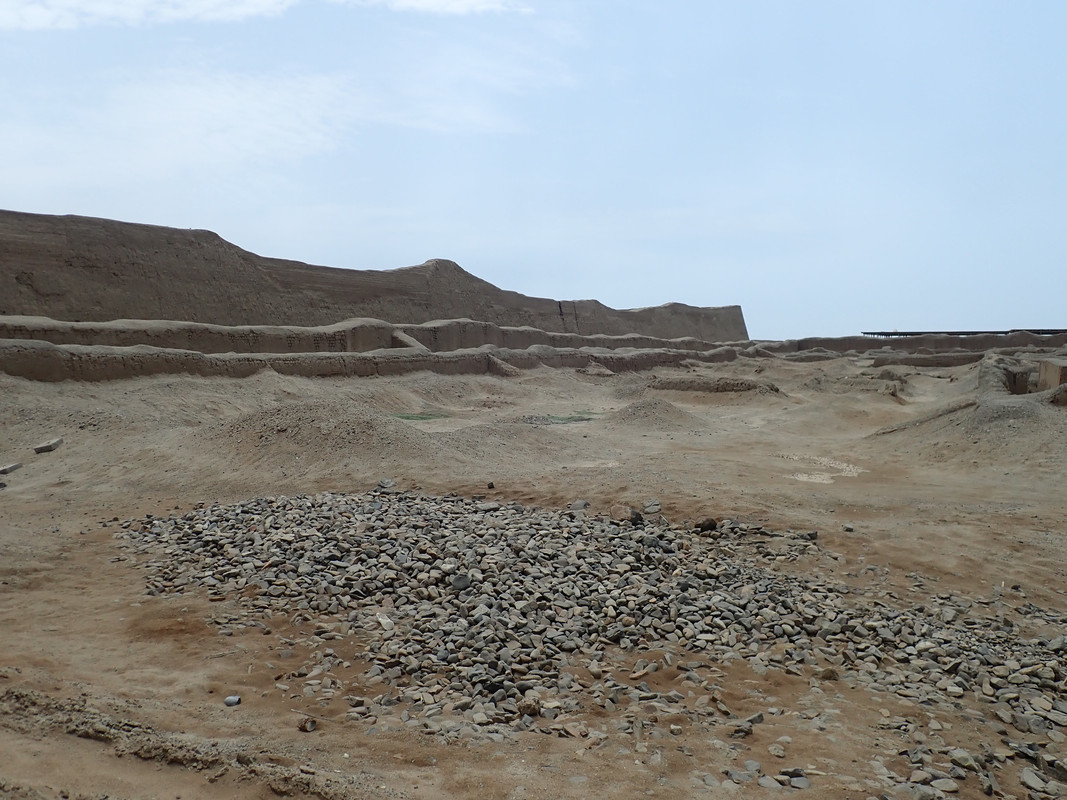 The nearby museum had a few hairless Peruvian dogs wander freely on the premises.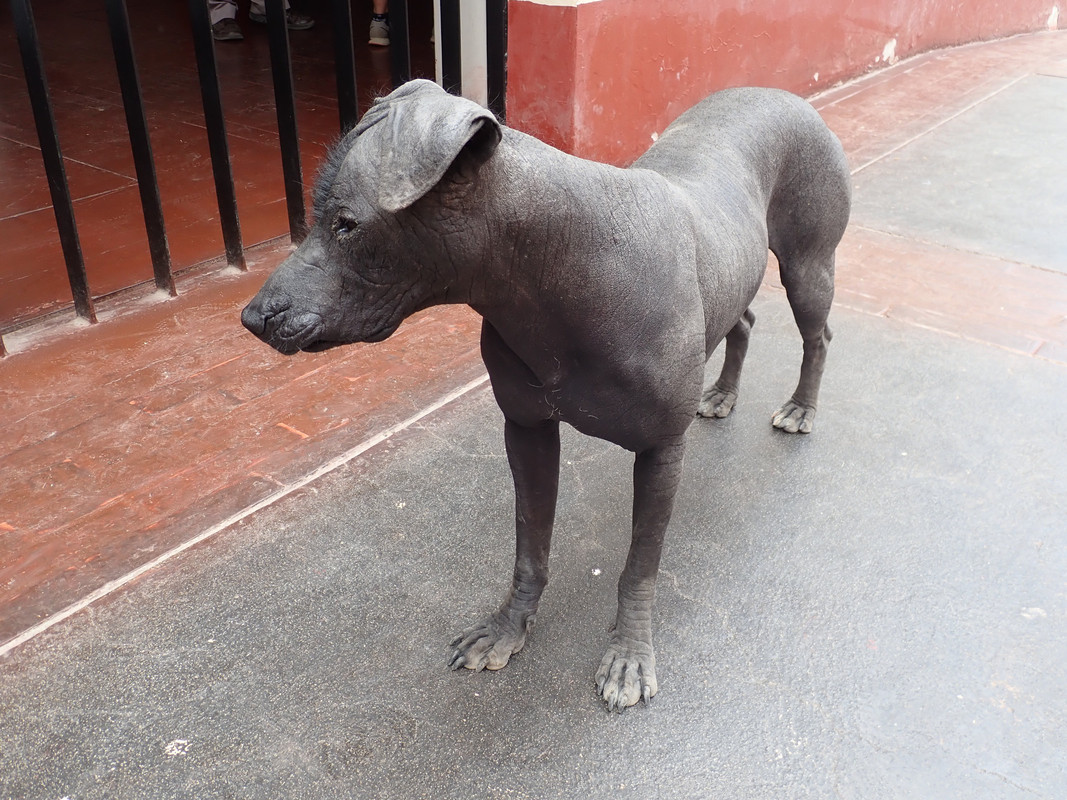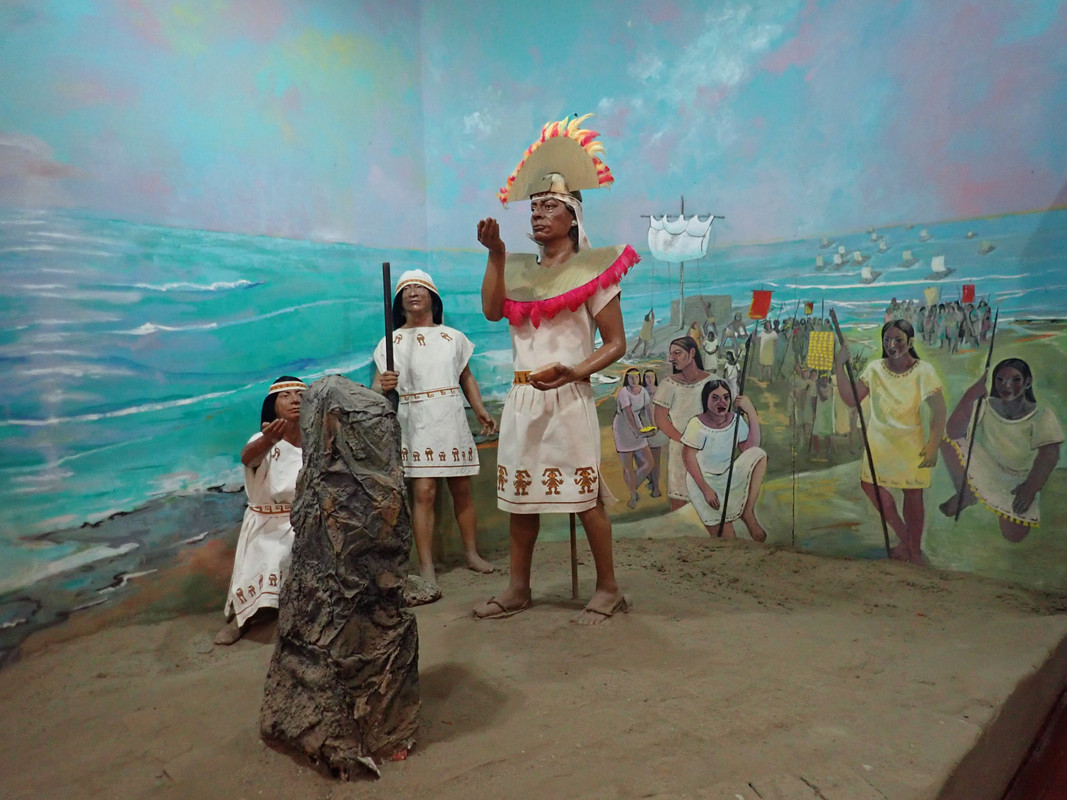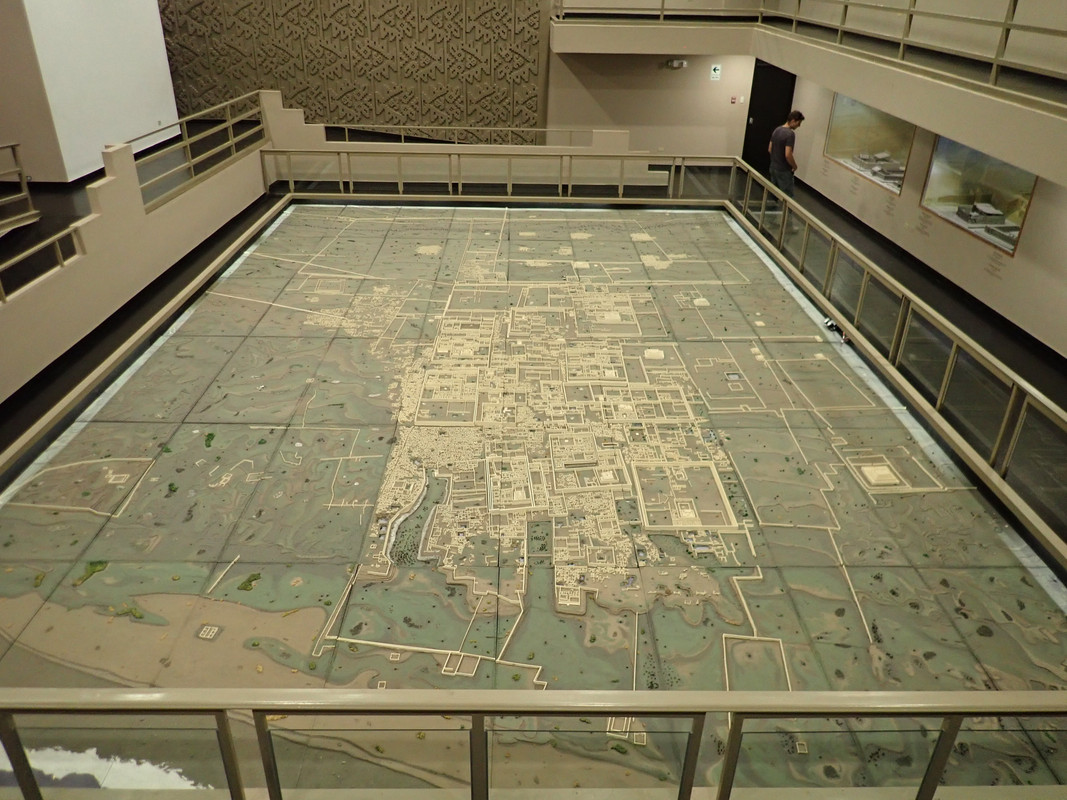 We headed for Huacas after a quick lunch in town served with chicha morada which is a Peruvian beverage made from purple corn.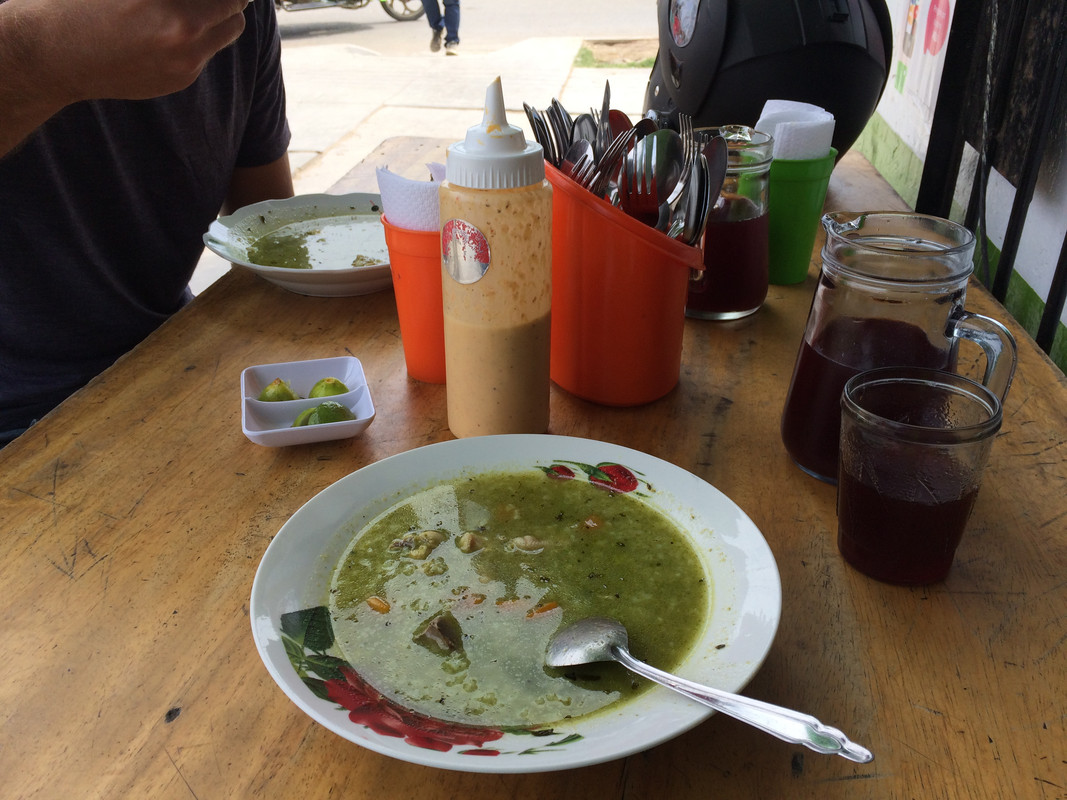 Huacas are temples built by the Moche civilization between 100 – 800 CE. Huaca del Sol below have yet been excavated due to lack of funding.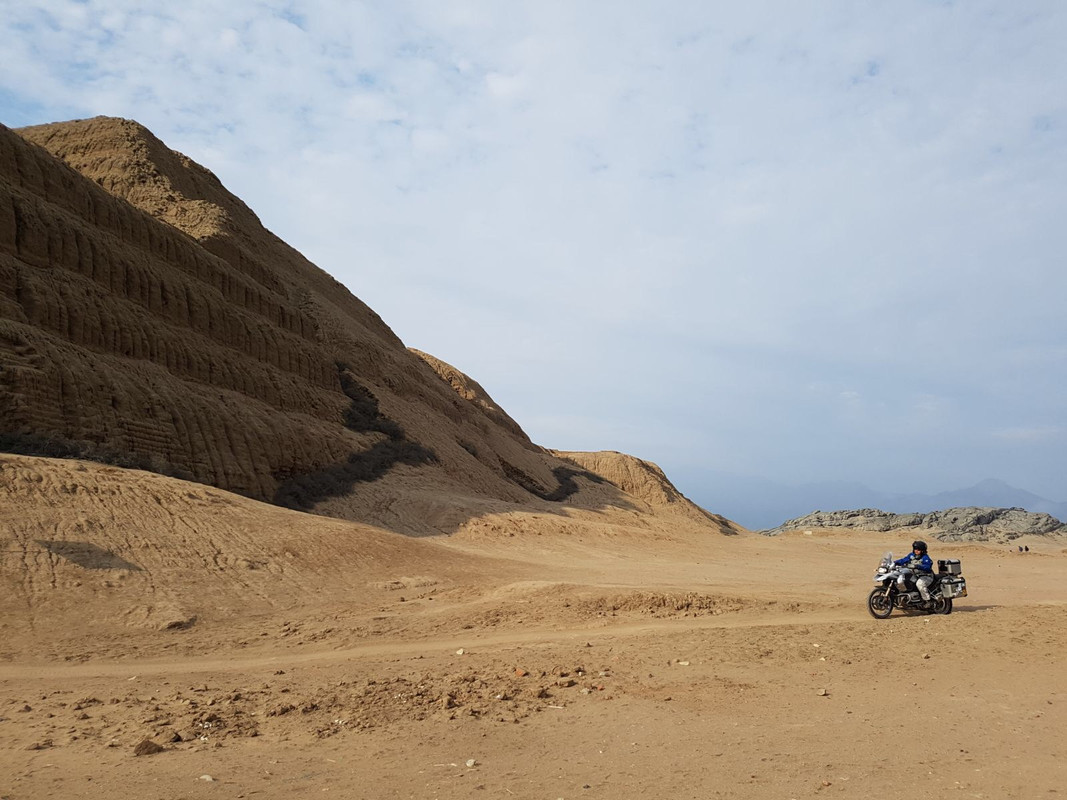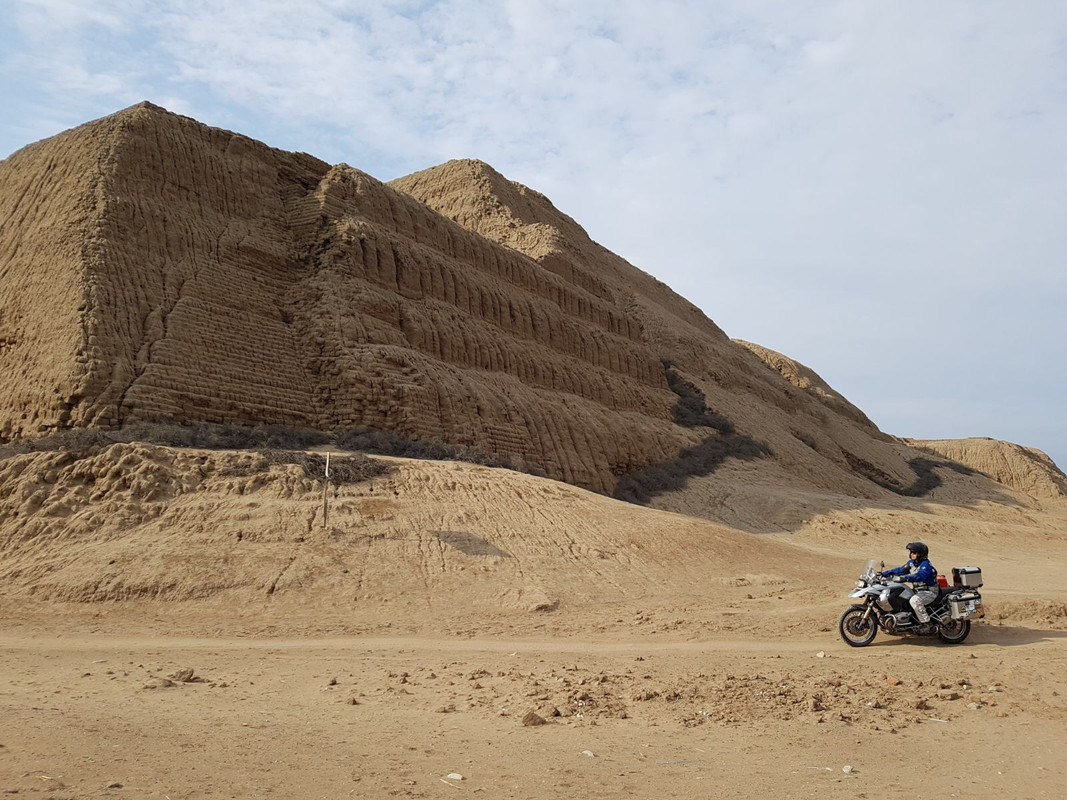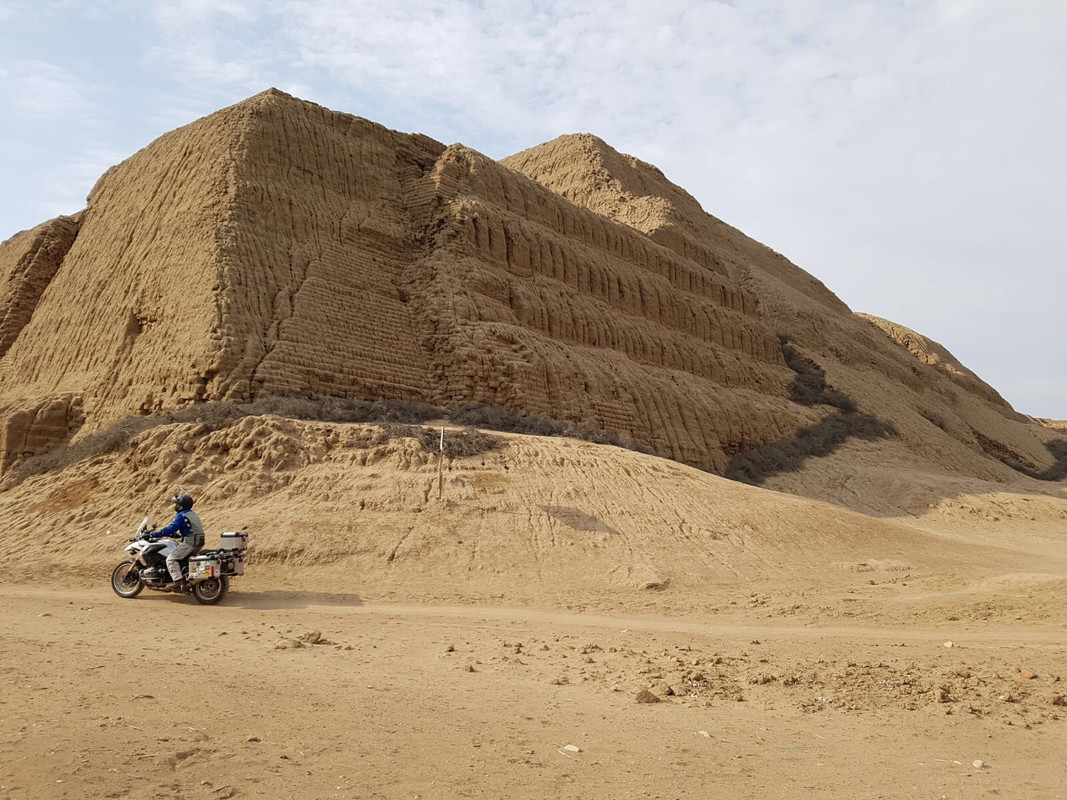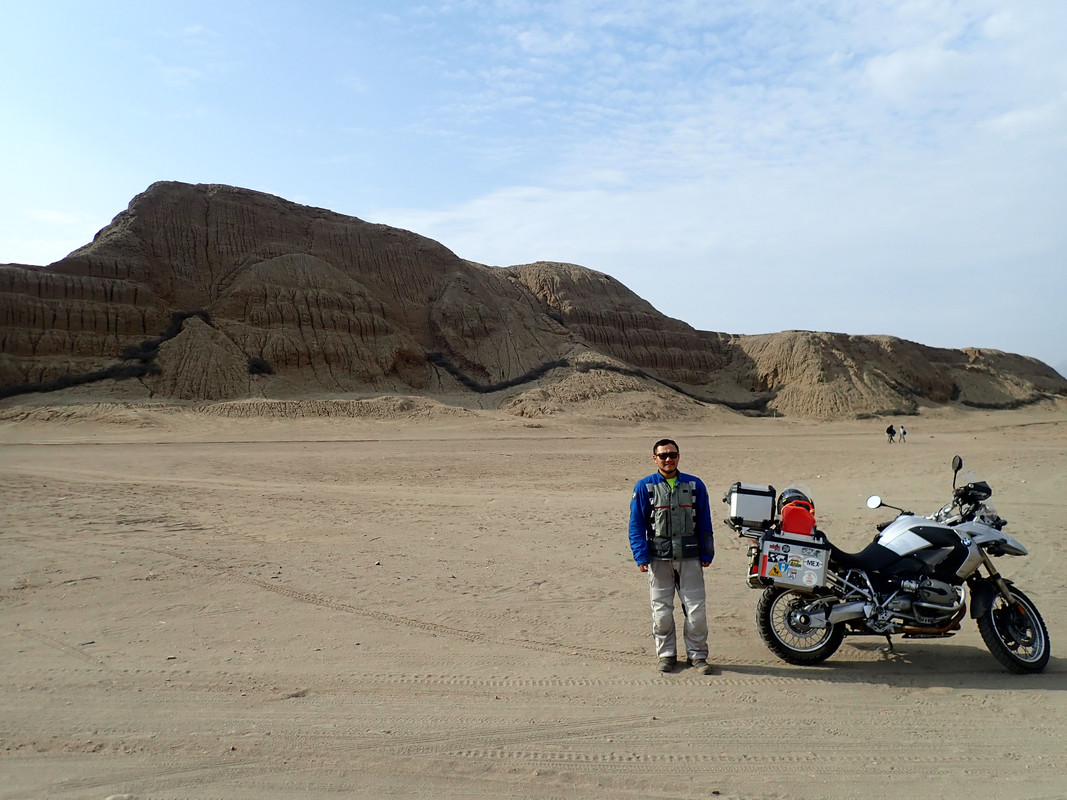 Huaca de la Luna is the smaller is of the two Huacas situated right next to Cerro Blanco. The structure was built in layers where a new layer of bricks were added on top for each generation. Murals were also painted over the previous ones and most are fairly well preserved other than the damage by the Spanish conquistadors in the 17th century.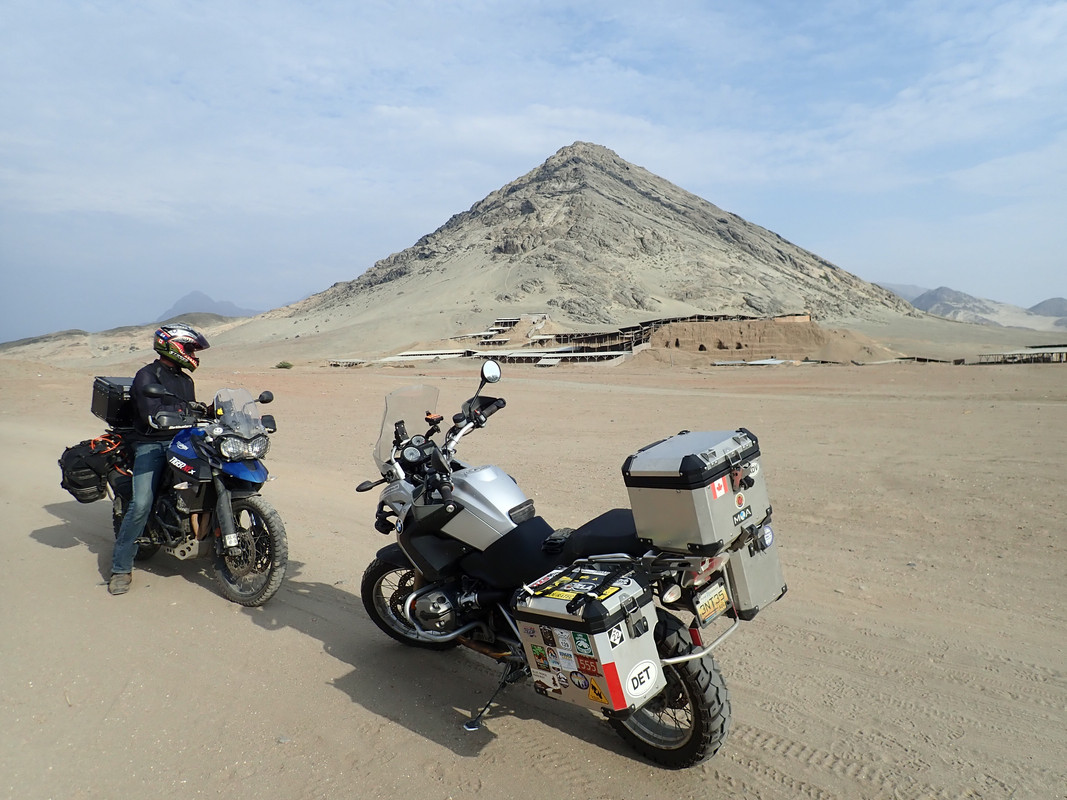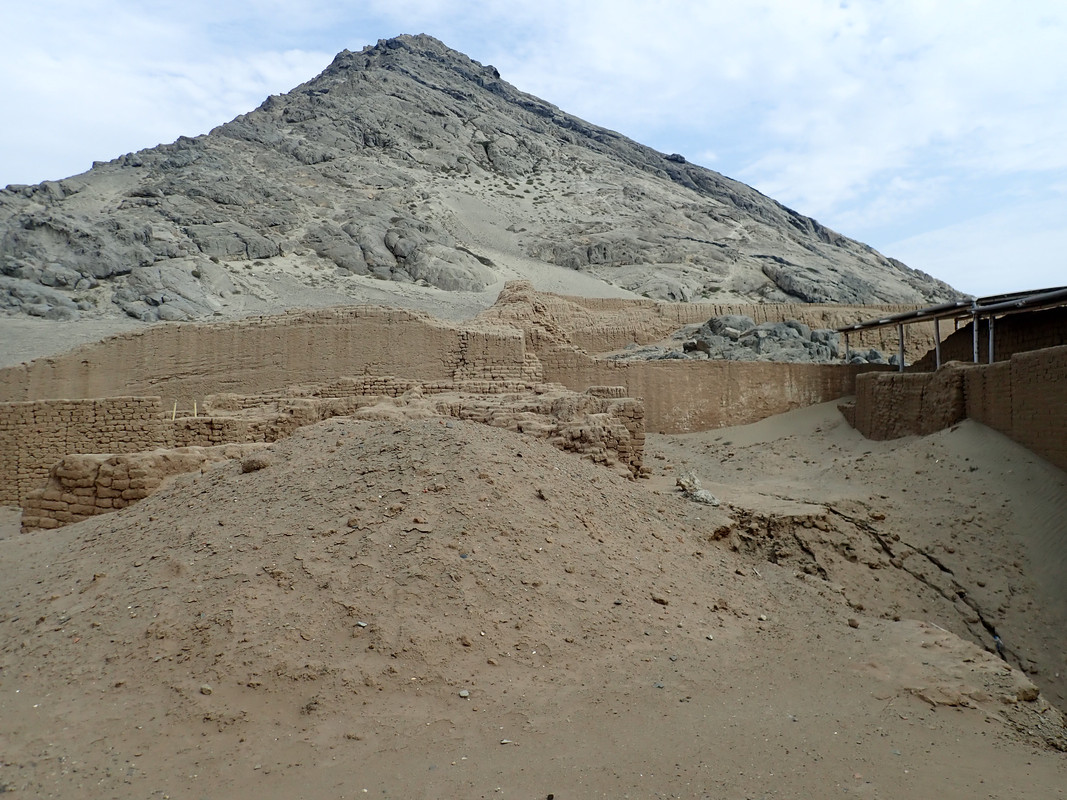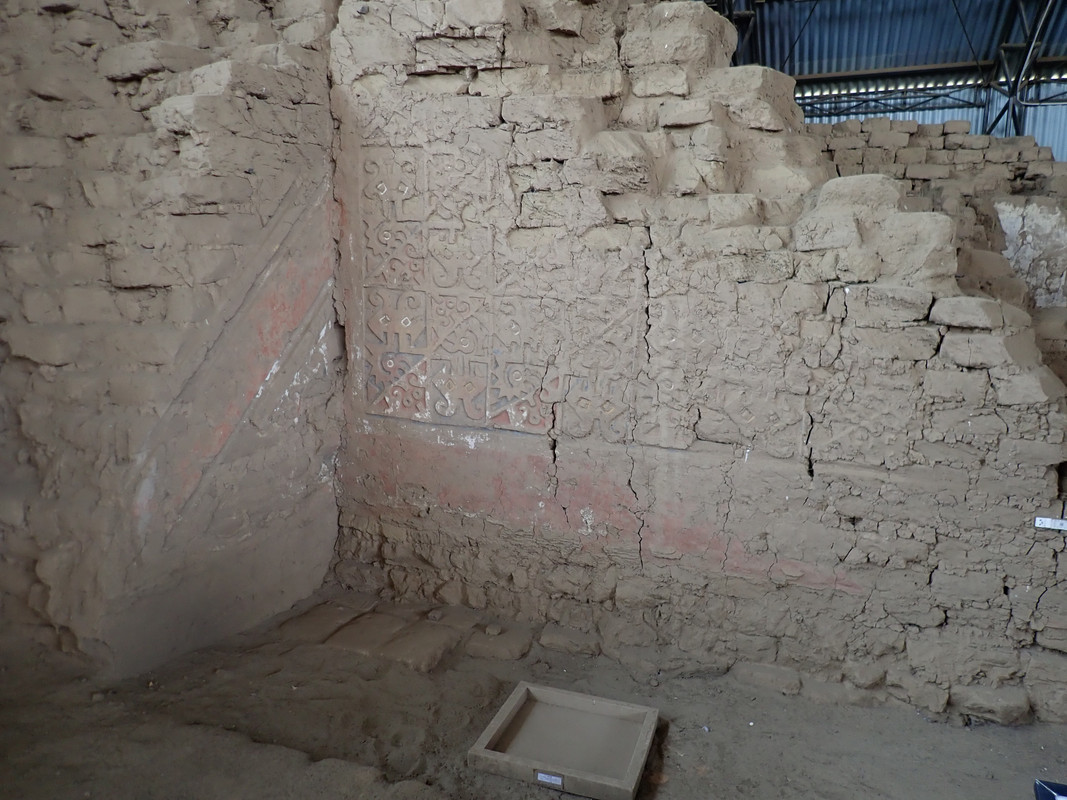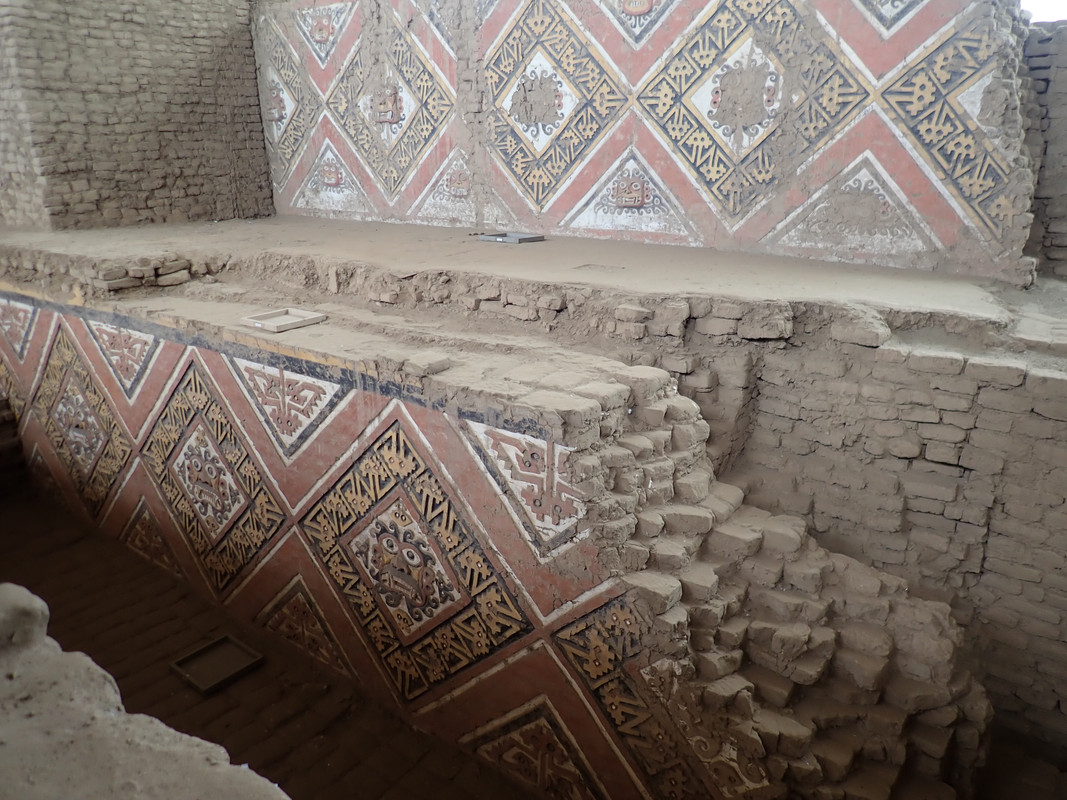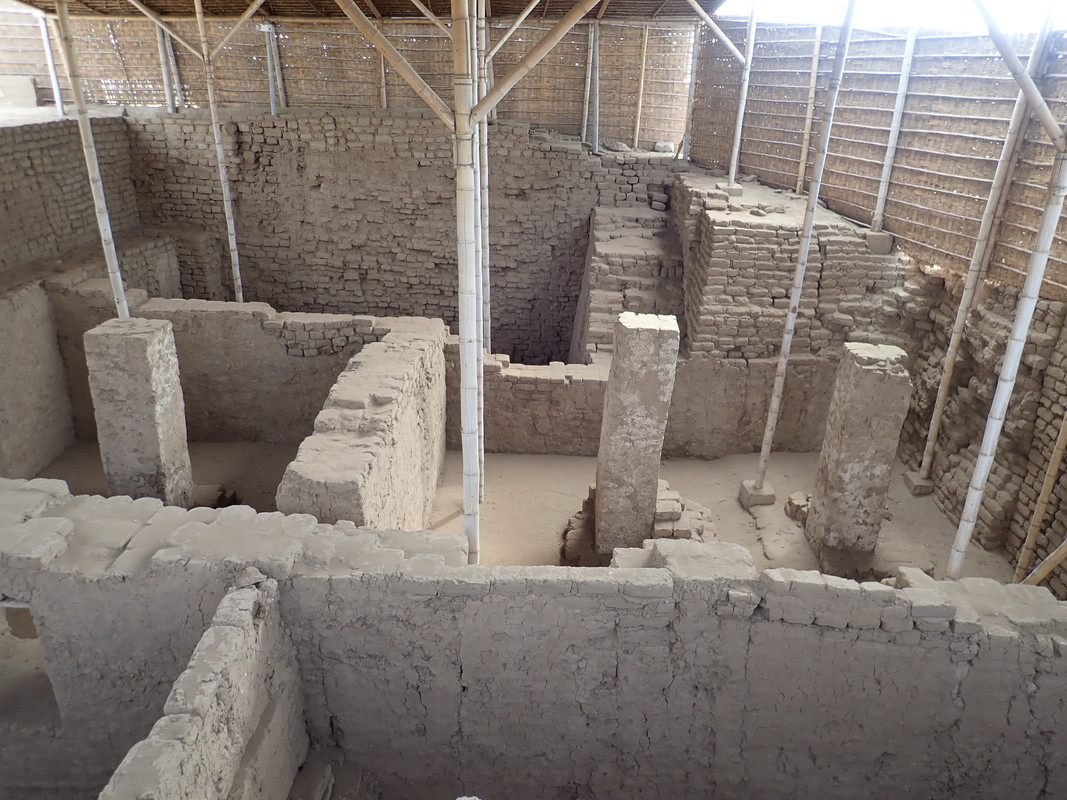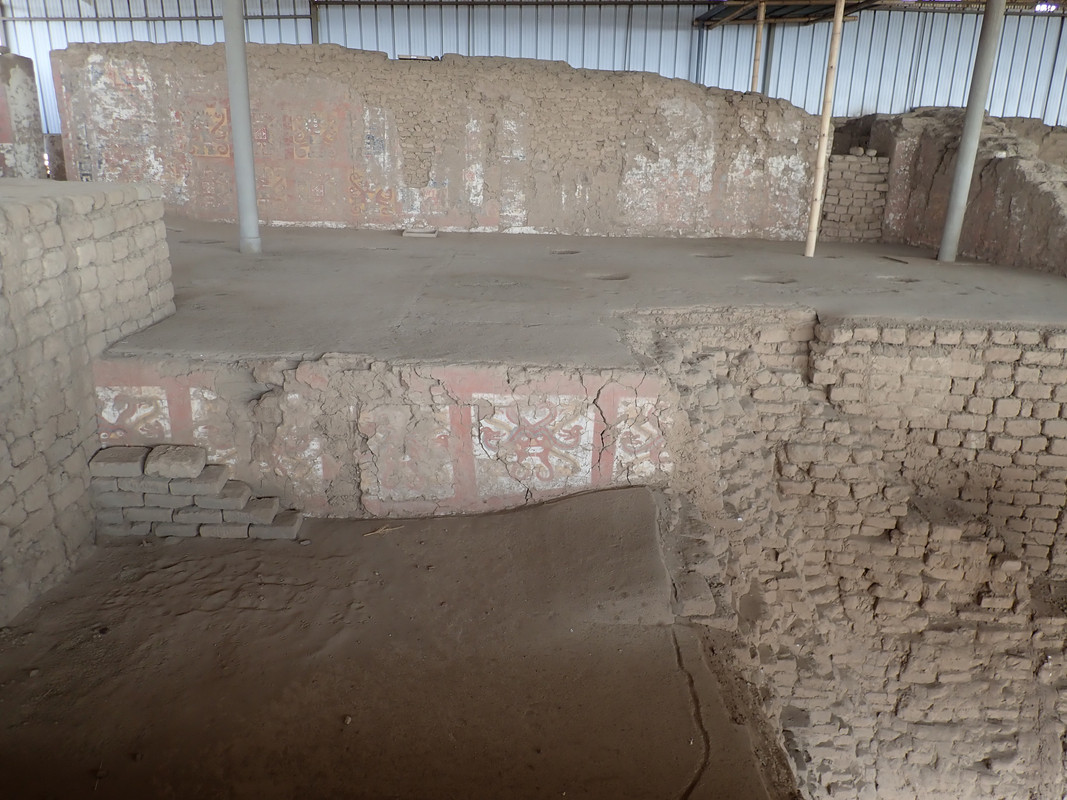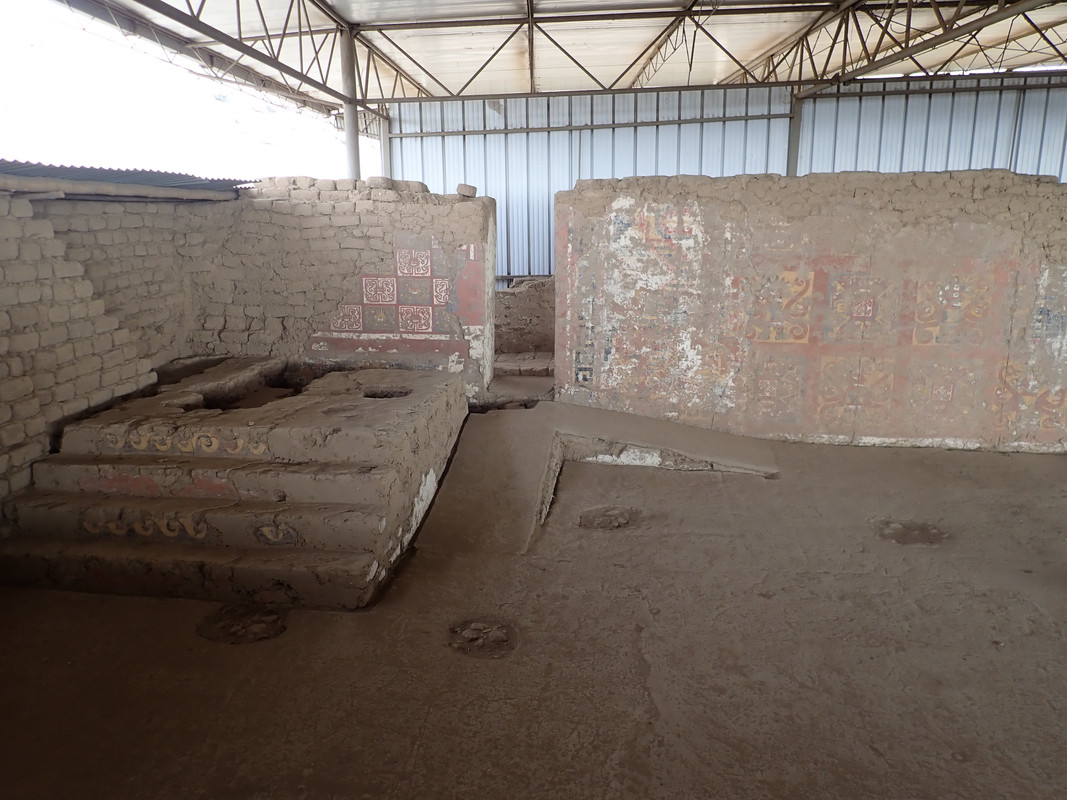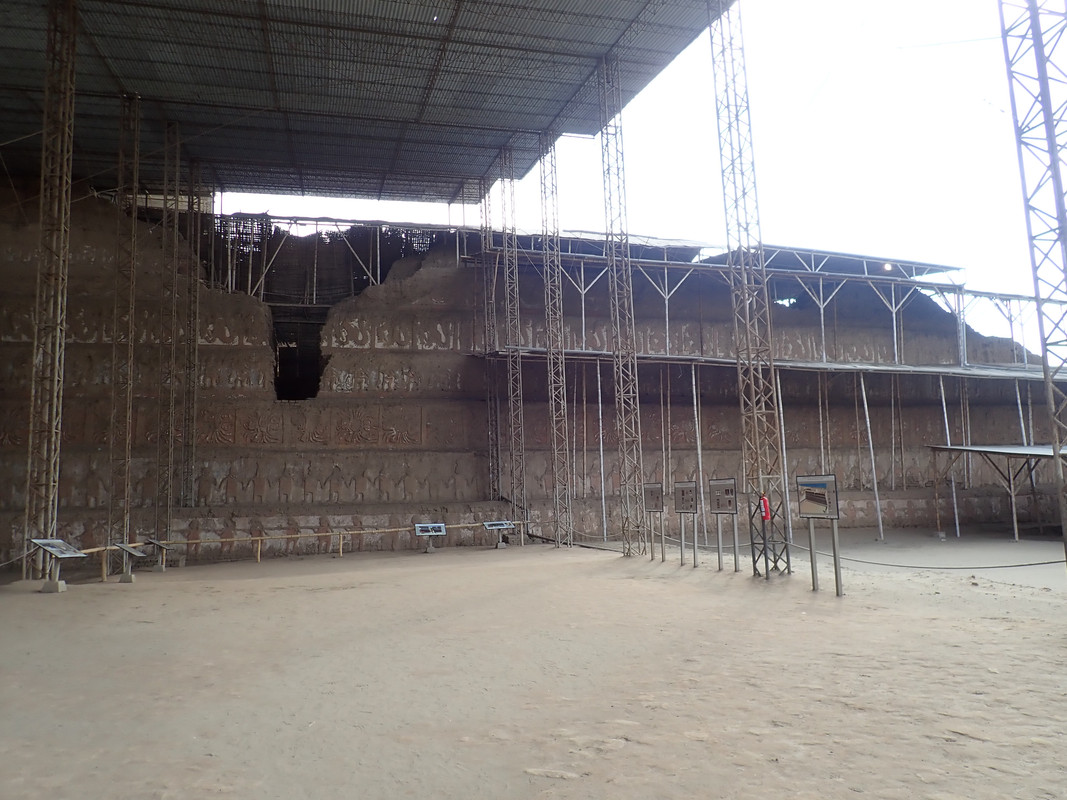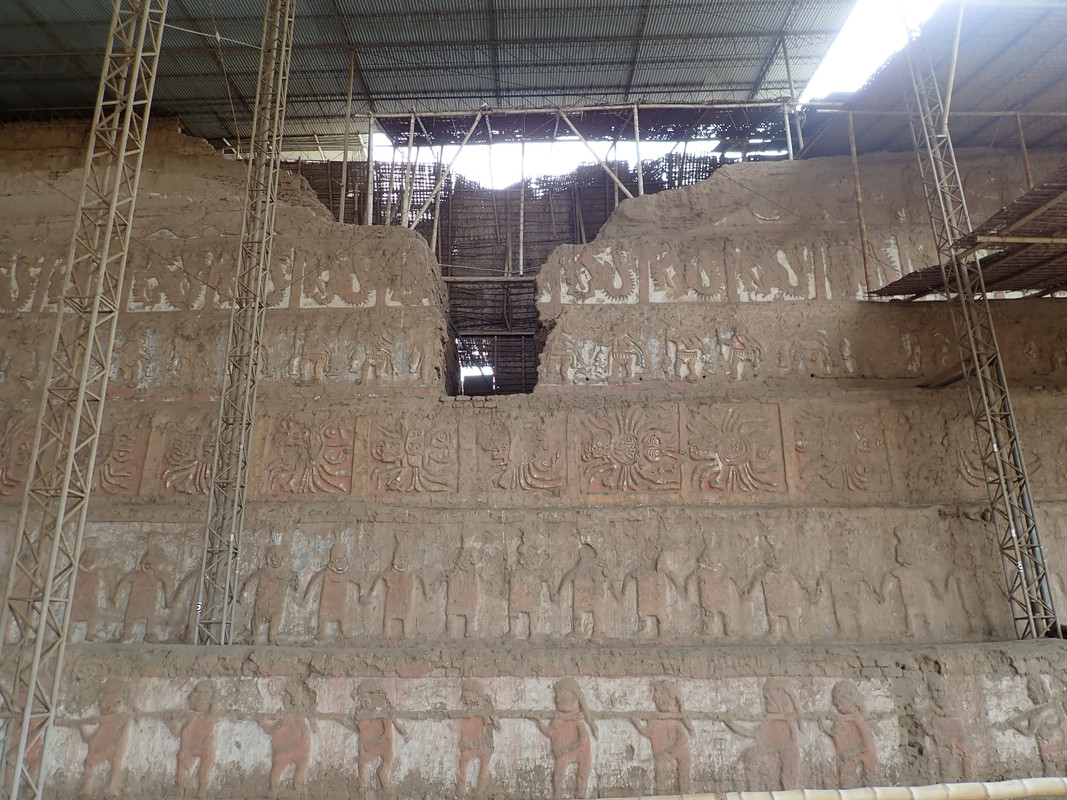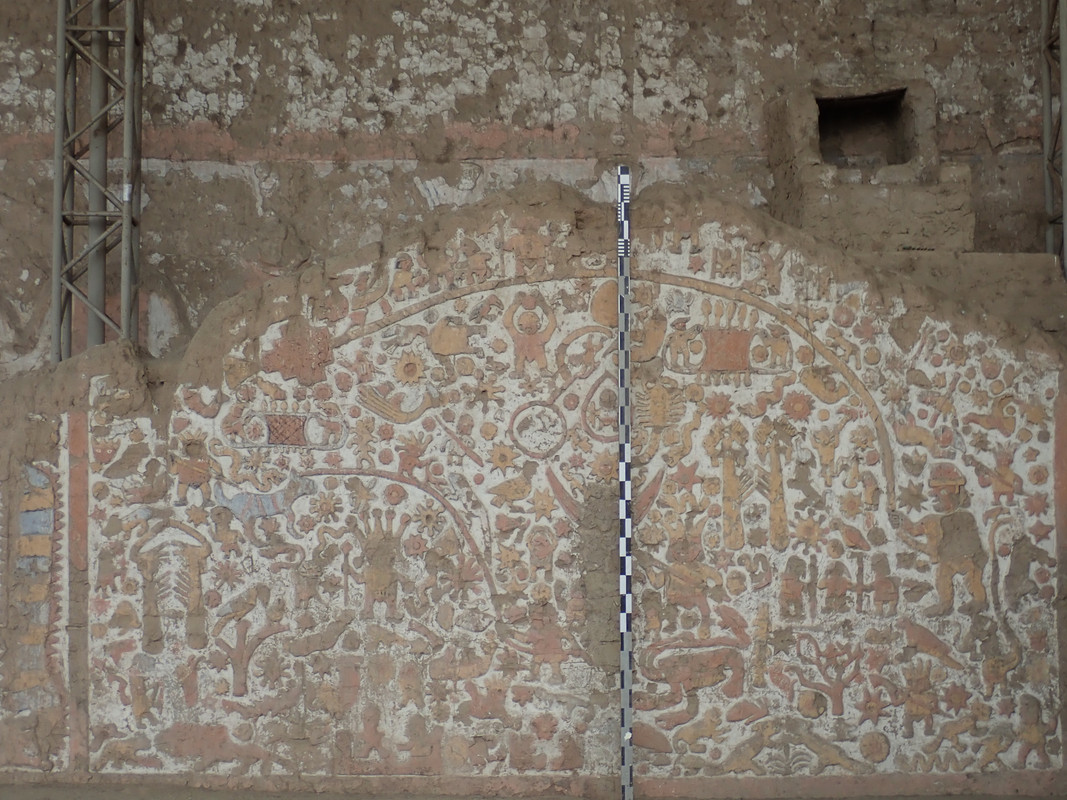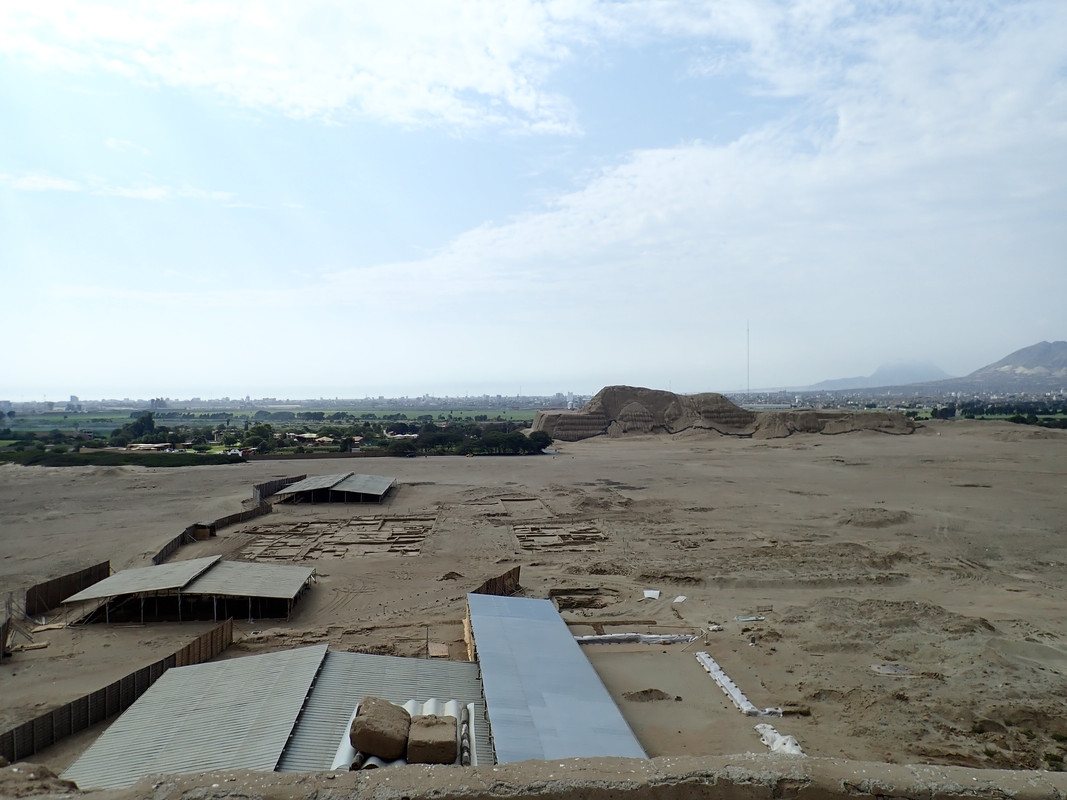 Still had some daylight left after we got back to the hostal so I swapped out the air filter that I've been carrying since Medellín. The old filter shows that 1 Central America mile is not equal to 1 US mile.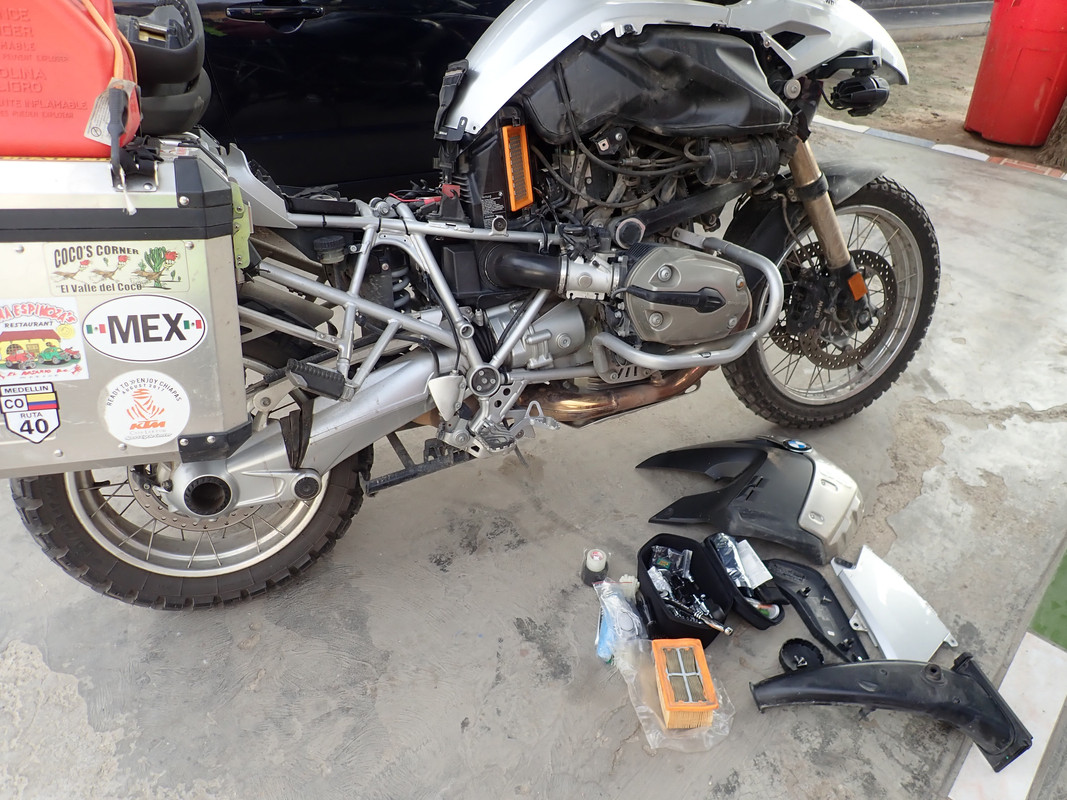 The end of a long day calls for some grilled street meat.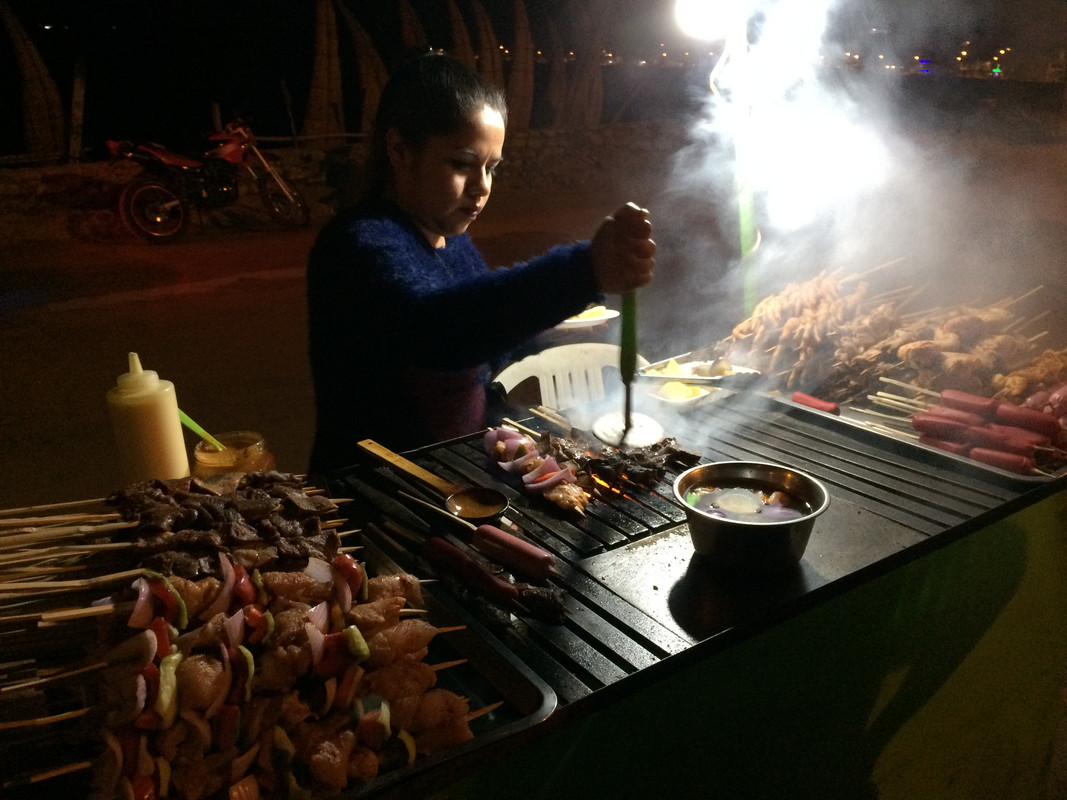 Derrick and I were both hook on picarones which is a Peruvian dessert similar to doughnuts dripped in fig syrup.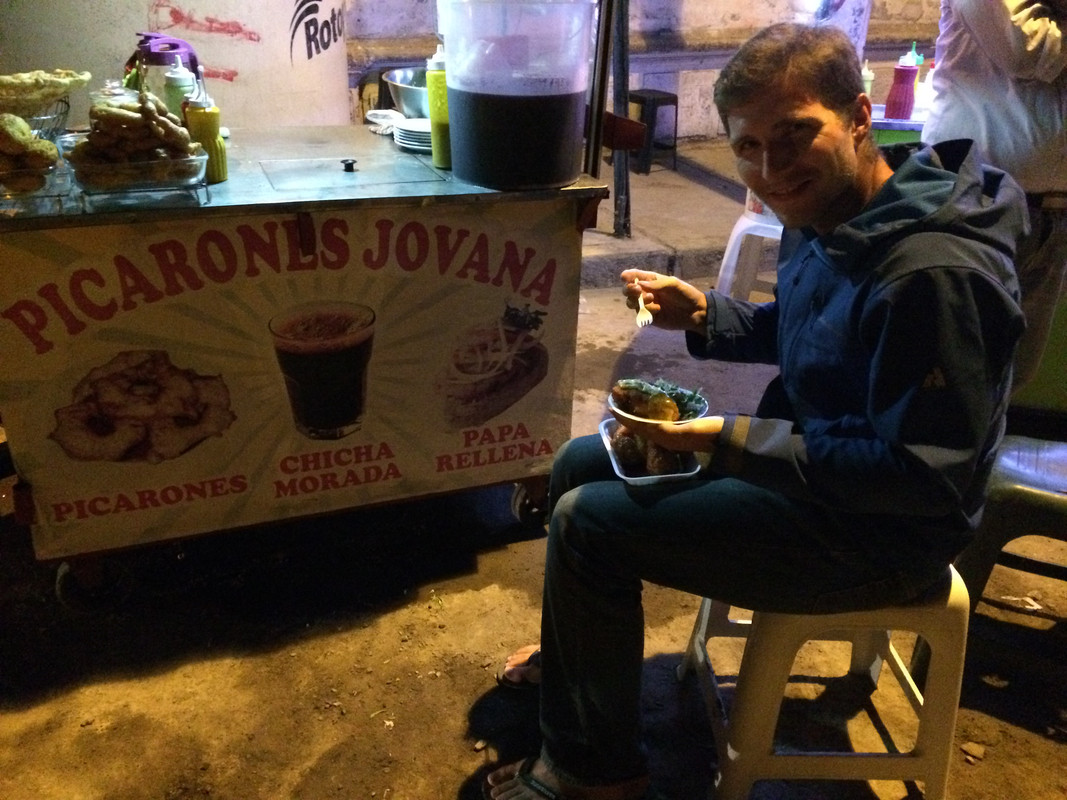 Spotted some reed boats (traditional Peruvian rafts) along the pier.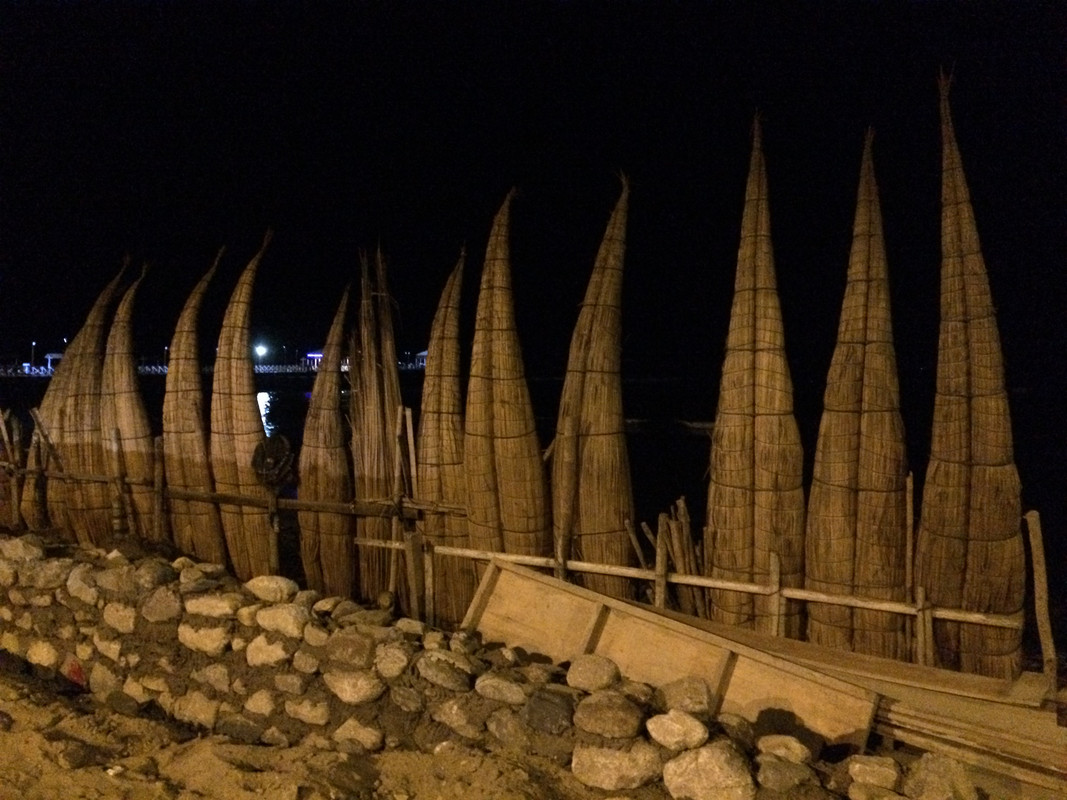 We went to tackle the PE-3N which is the road with carved out tunnels in the Peruvian Andes. It eventually turned into a 1-lane road with 2 way traffic. Flying past by a truck mid-tunnel was a little terrifying.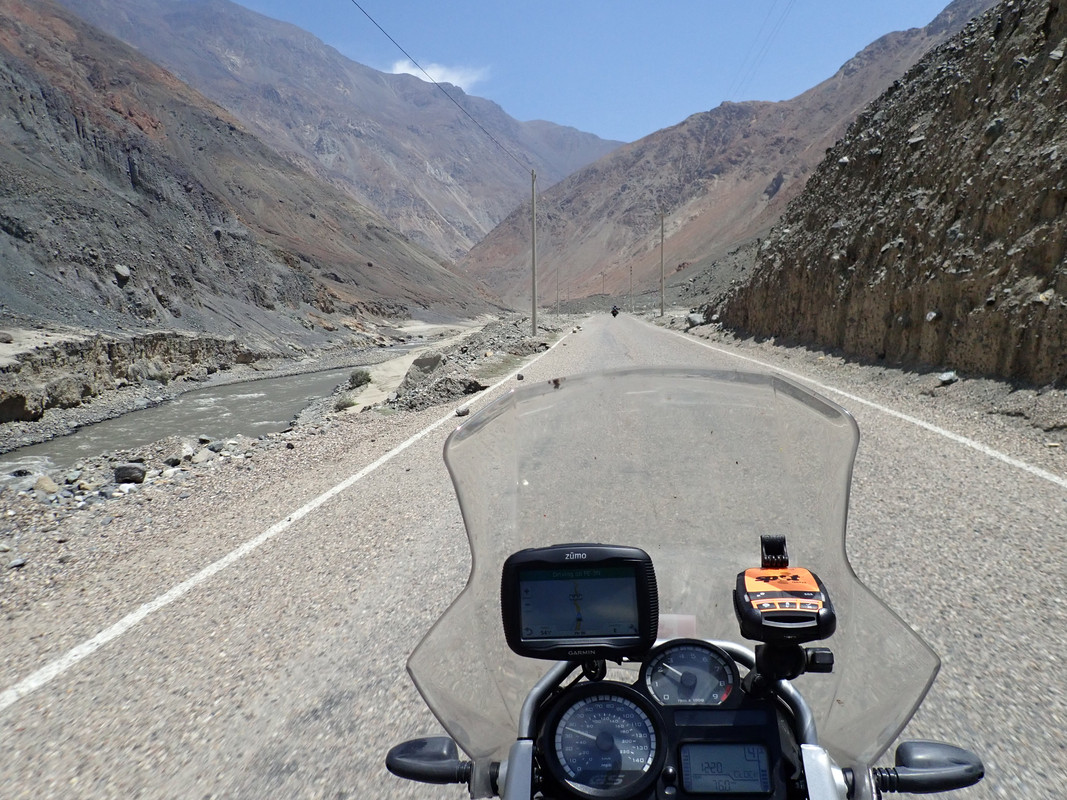 Passing through some desolate towns in the Andes…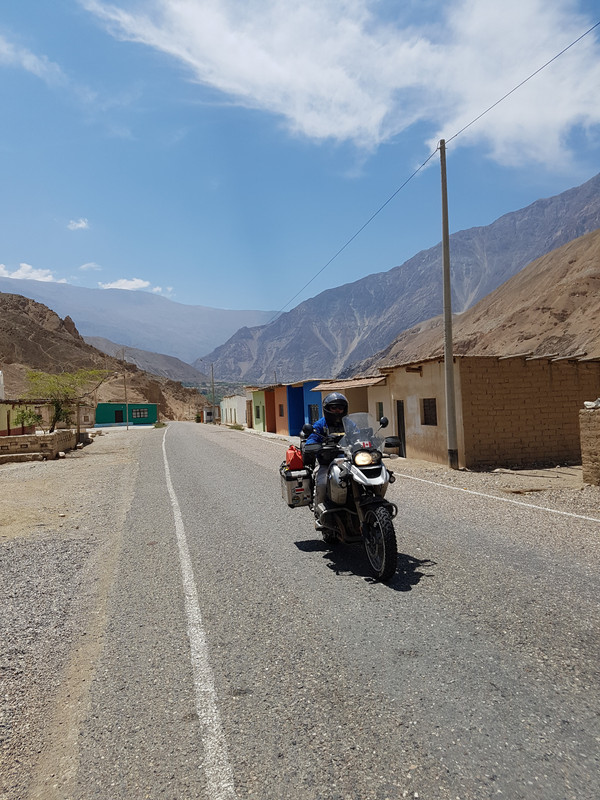 And water crossings…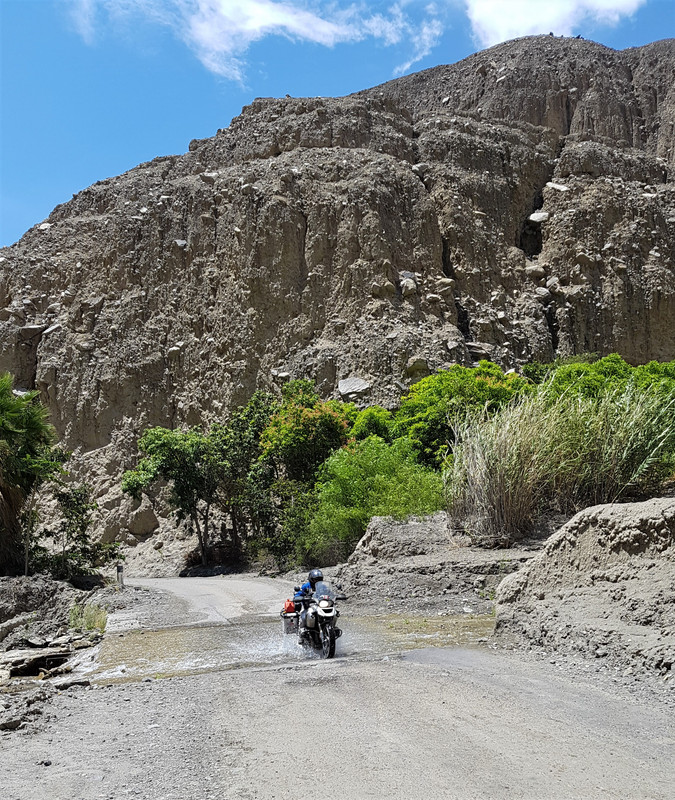 Where the fun begins!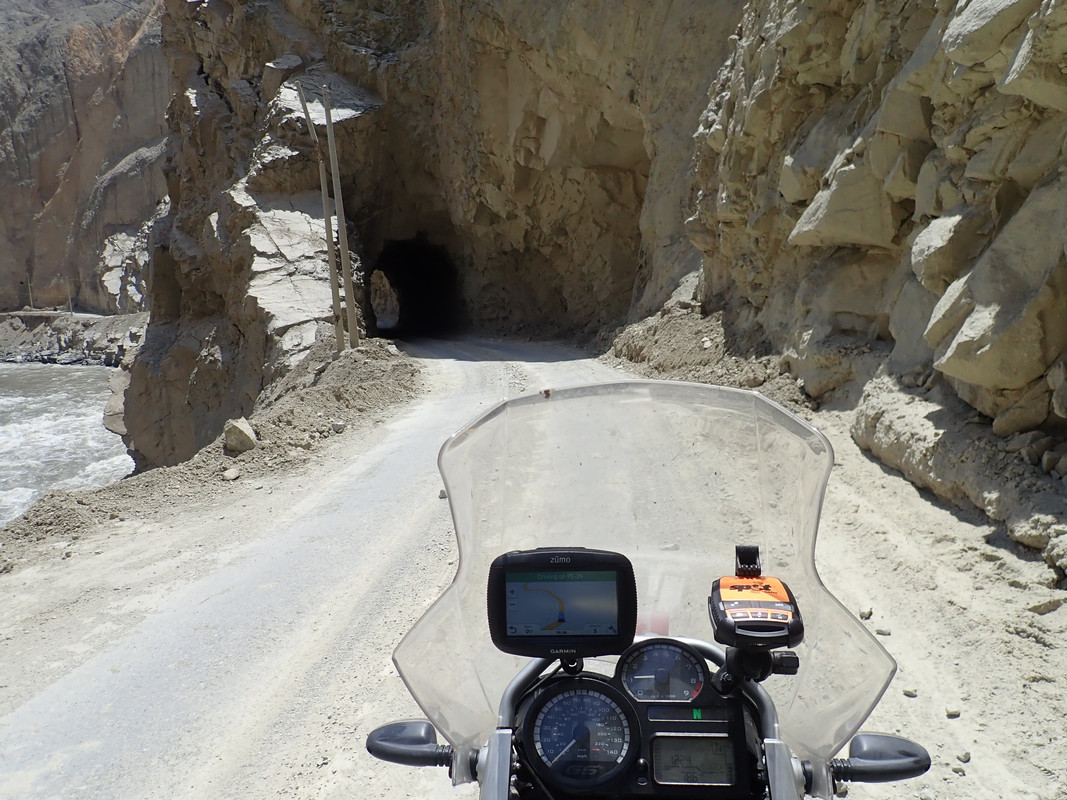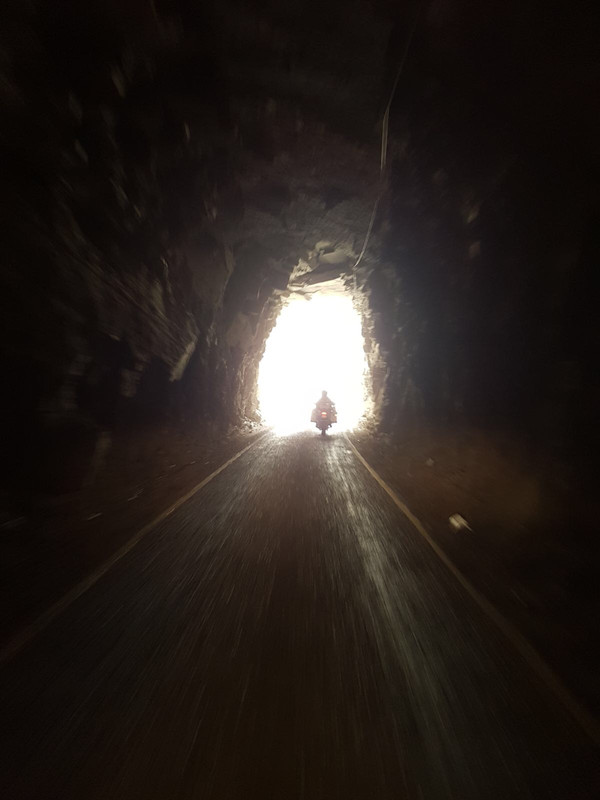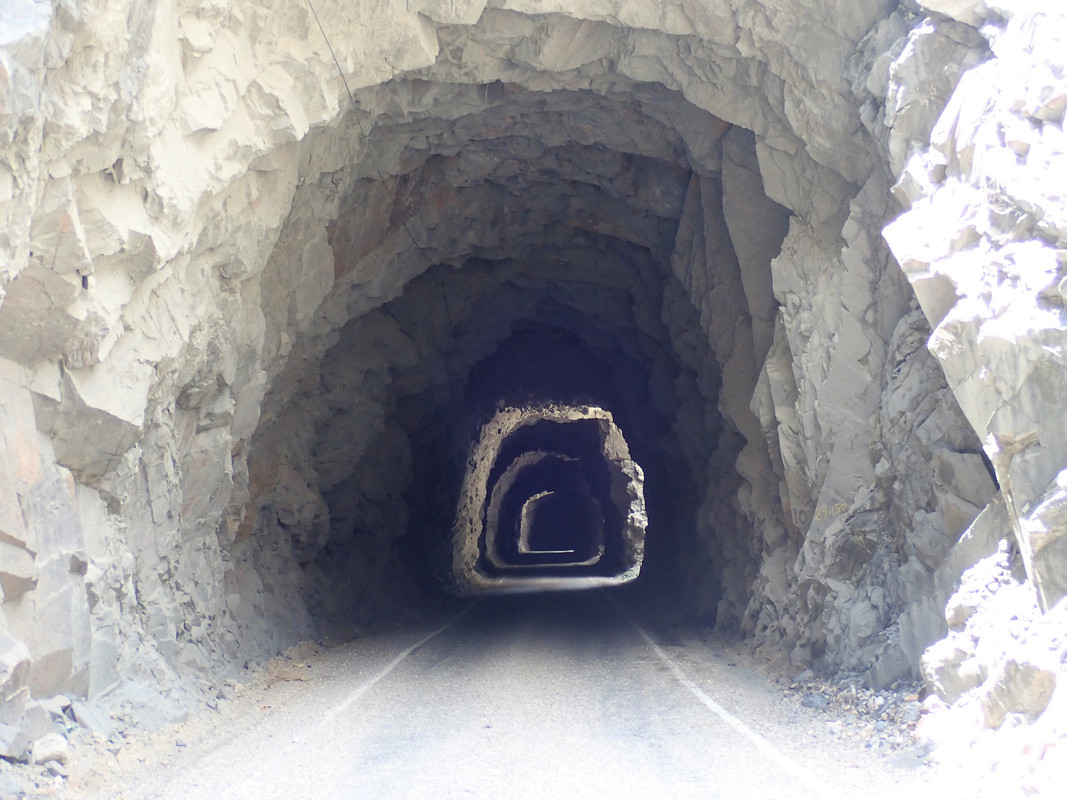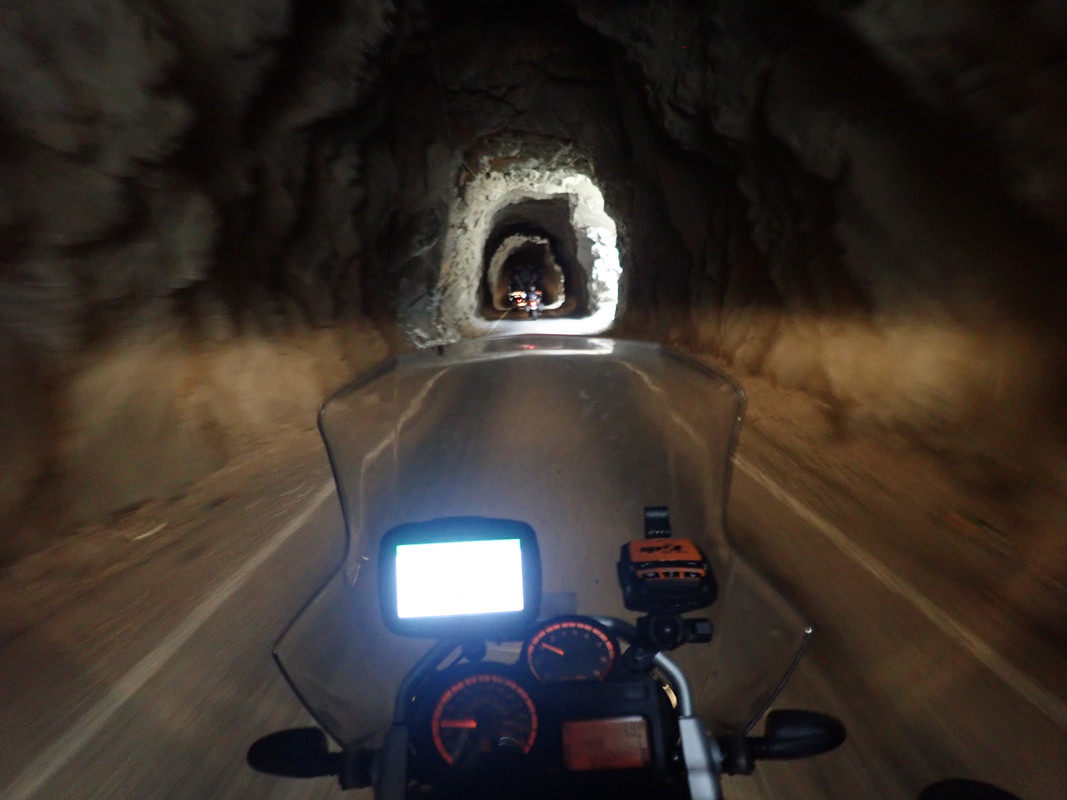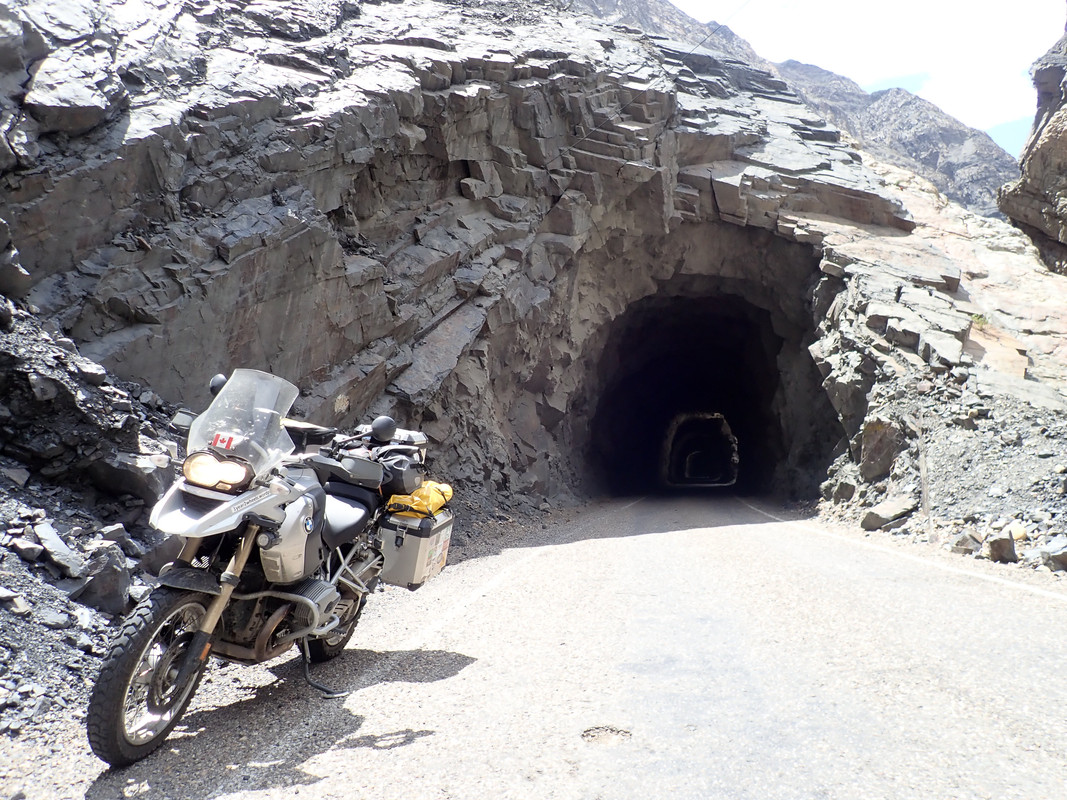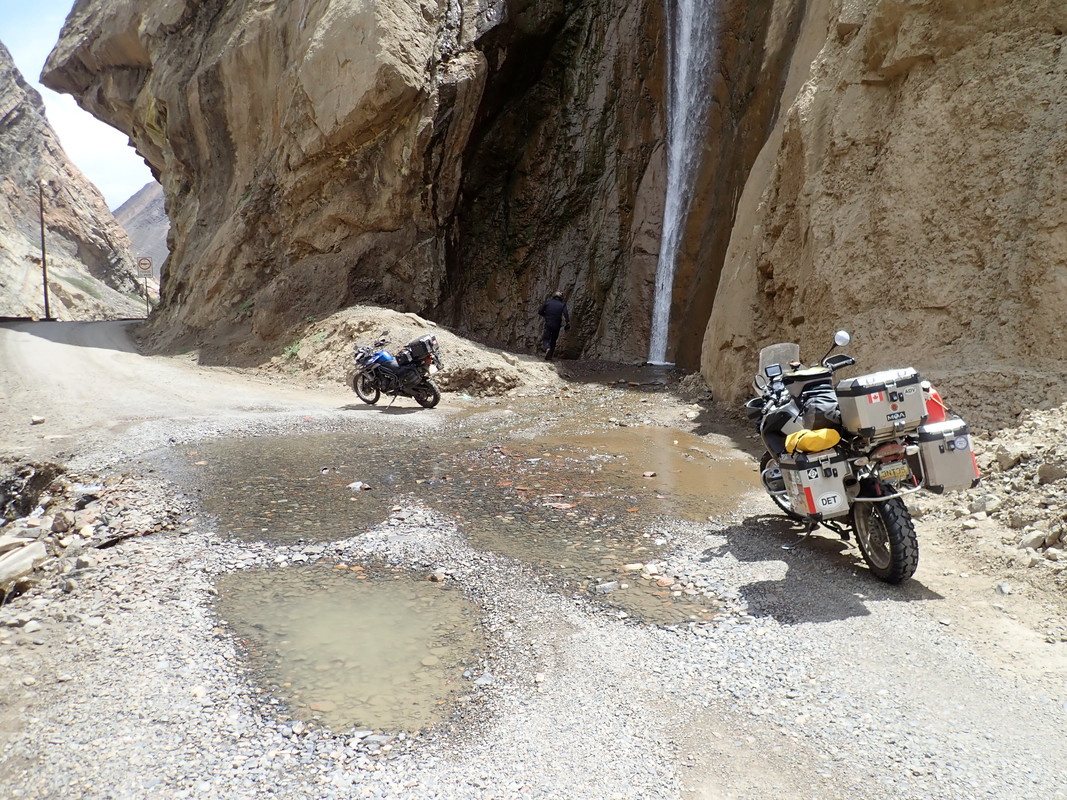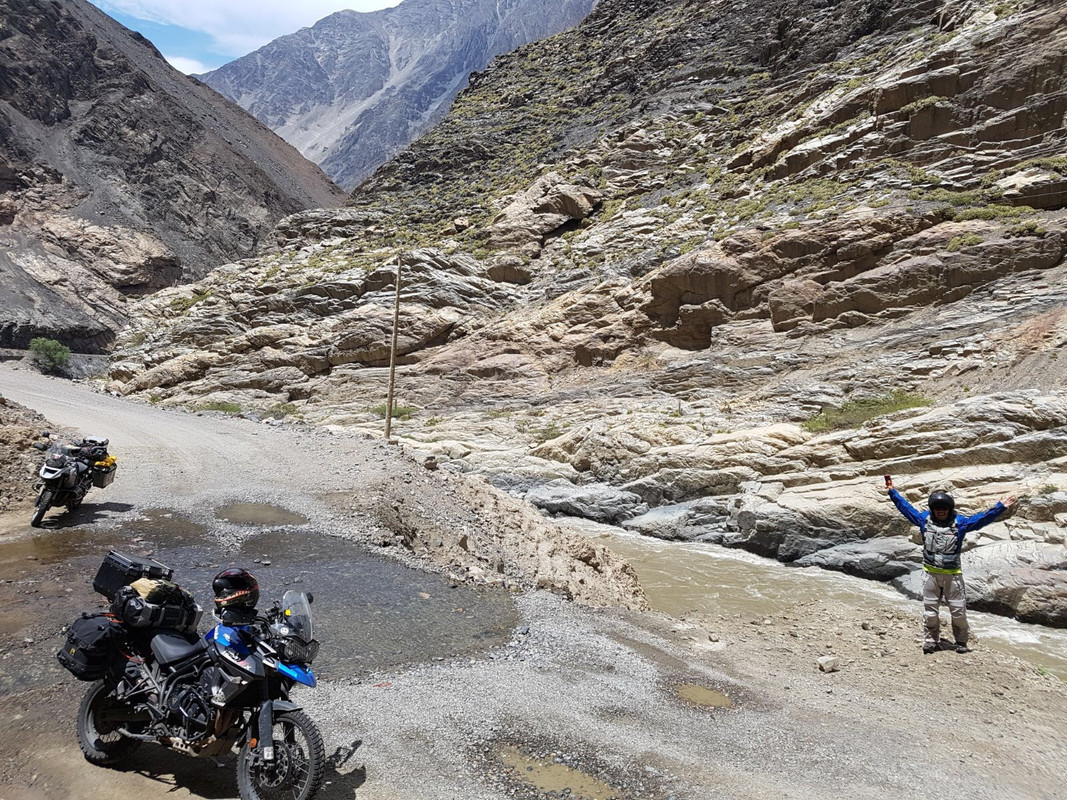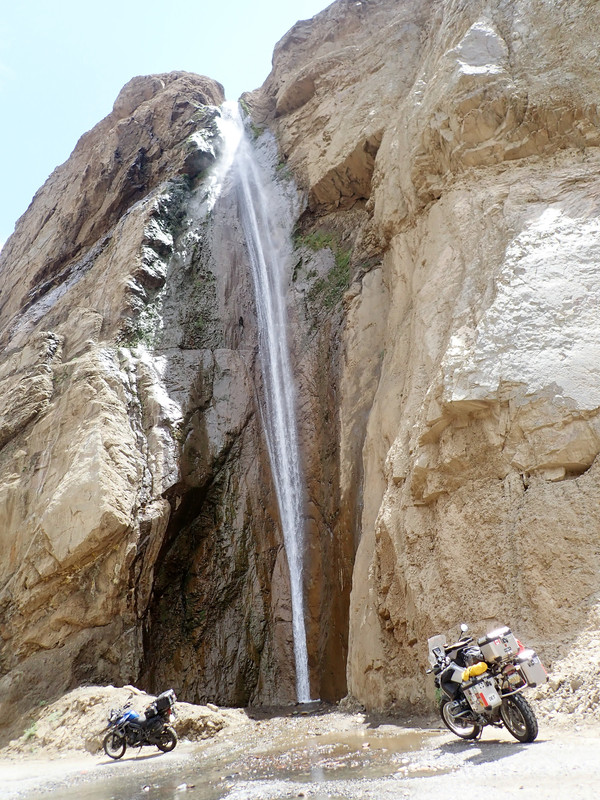 The 3N was closed about half way through due to bridge construction so we continued on the detour for about 2 hours on an even narrower 1-lane road through the mountains. Trucks and buses were screaming through the switchbacks and I had to pull over close to the edge to squeeze by. There were no guard rails and looking over the drop off got my heart racing yet I kept peeking!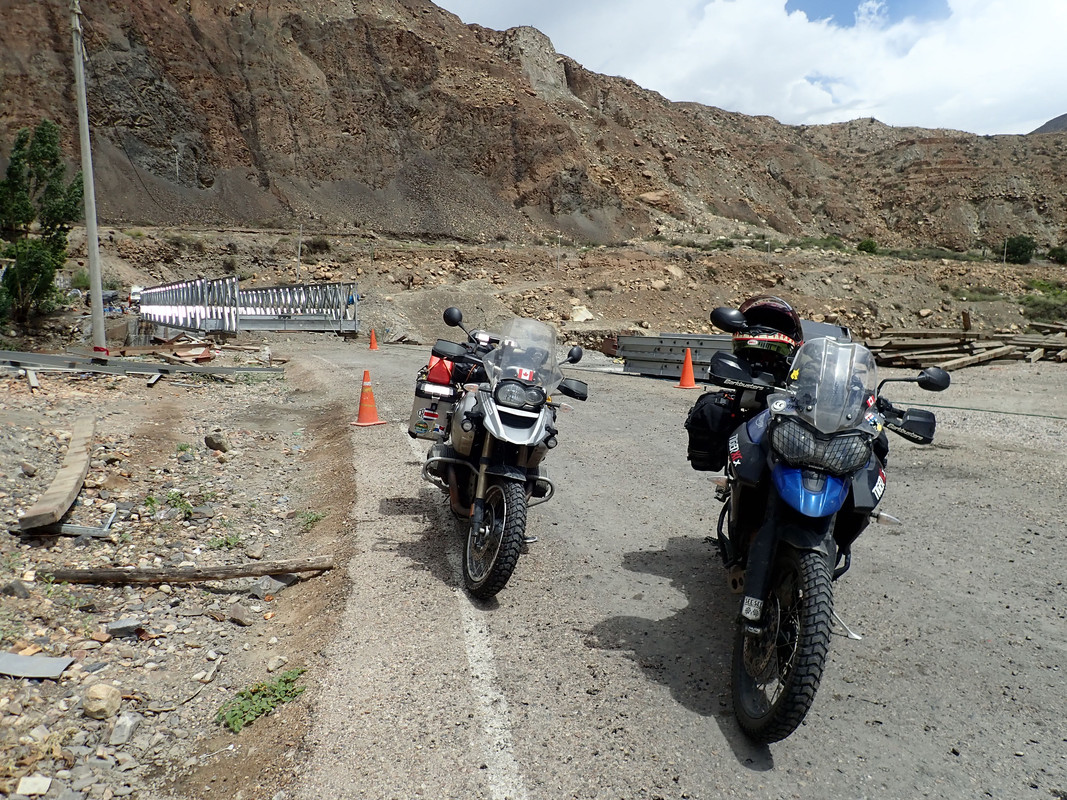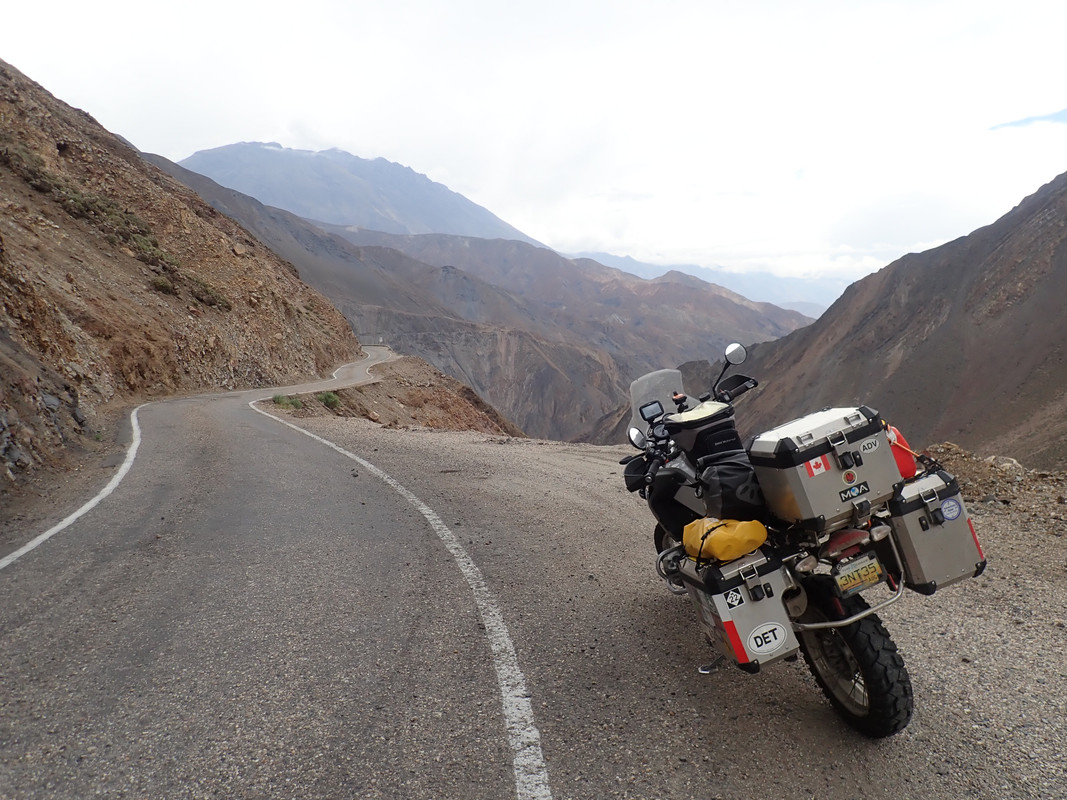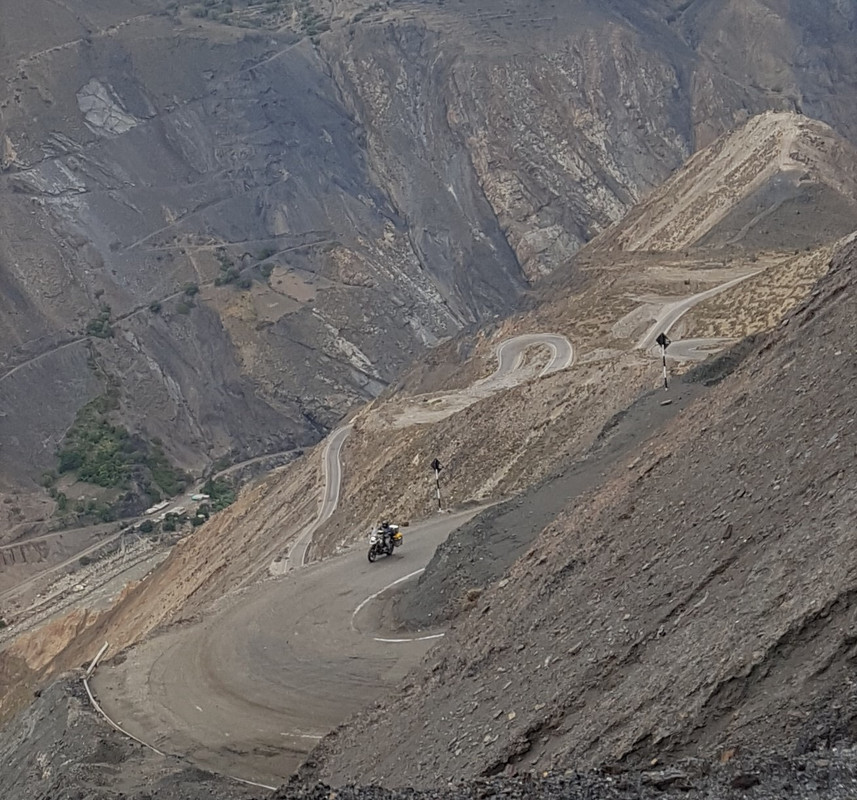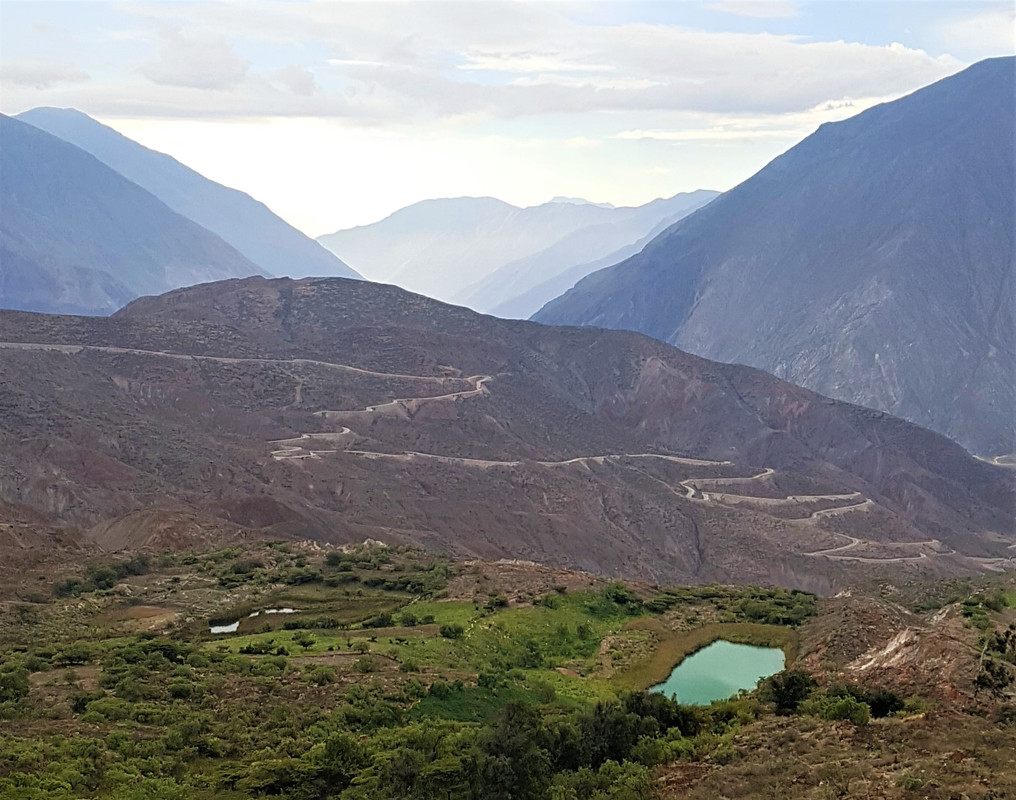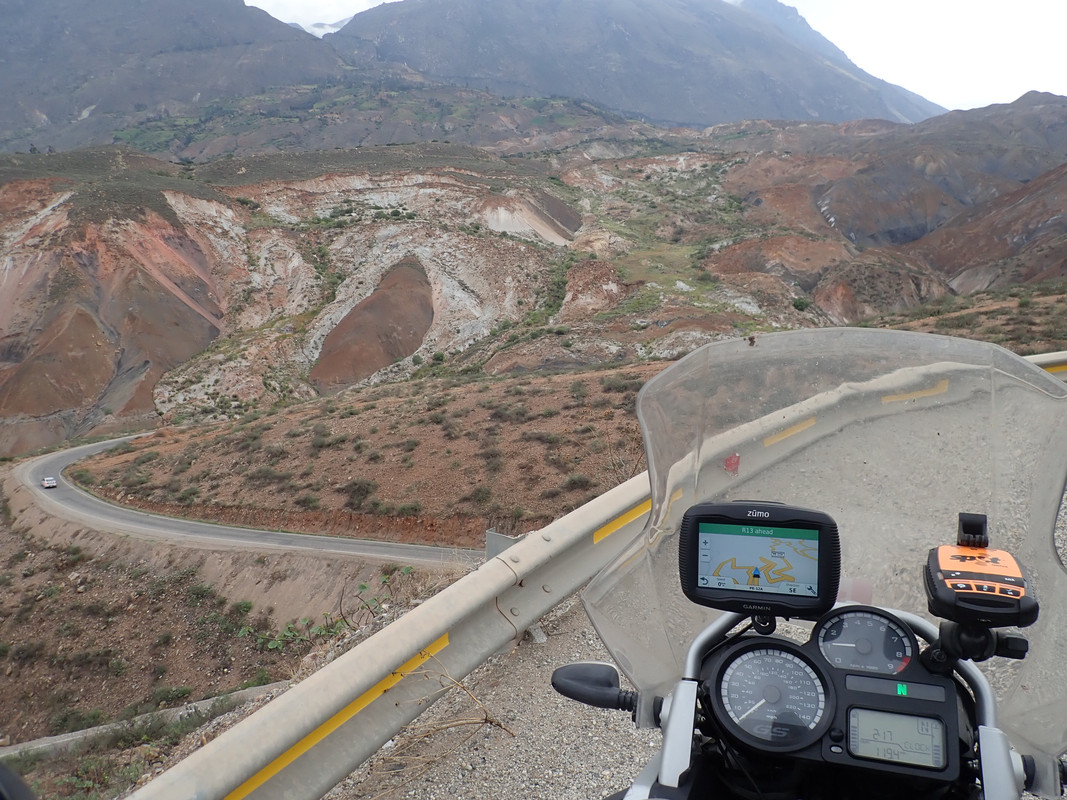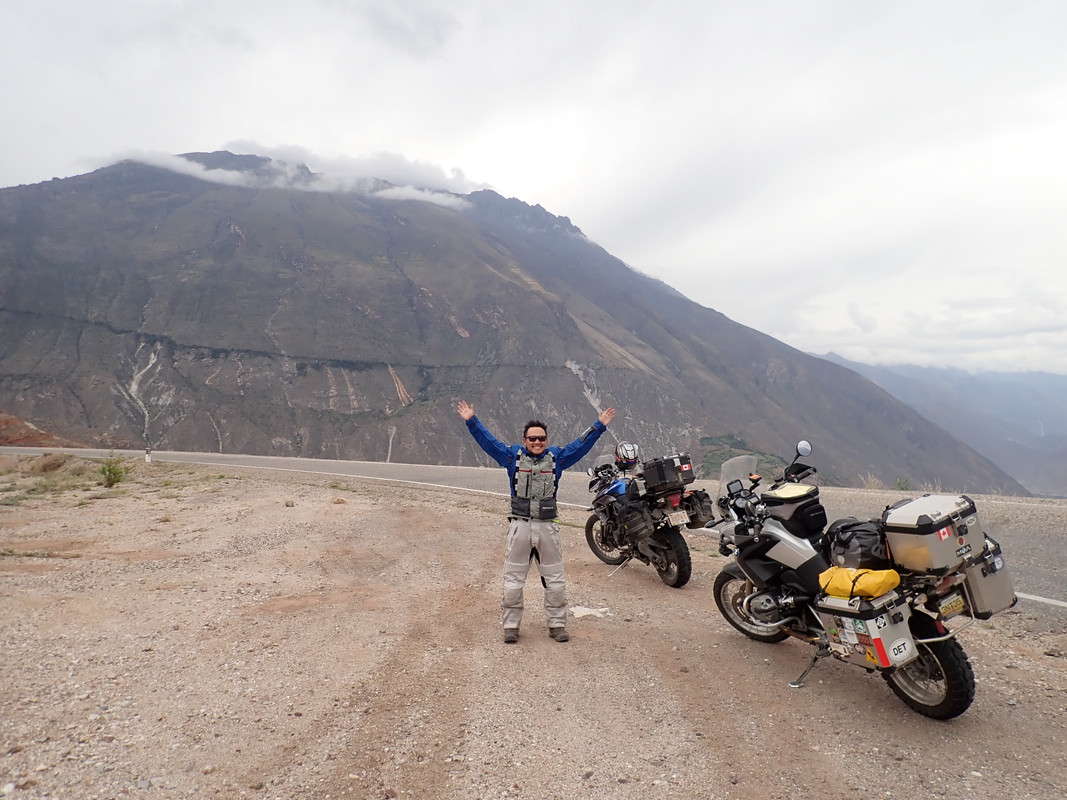 We covered about 20 miles in over an hour in mostly 1st and 2nd gear before the detour turned into steep dirt. I was exhausted, hungry and low on gas so we took the safe way out by backtracking to the coast. We got into Chimbote after dark and celebrated not falling off the cliff with a couple of pisco sours.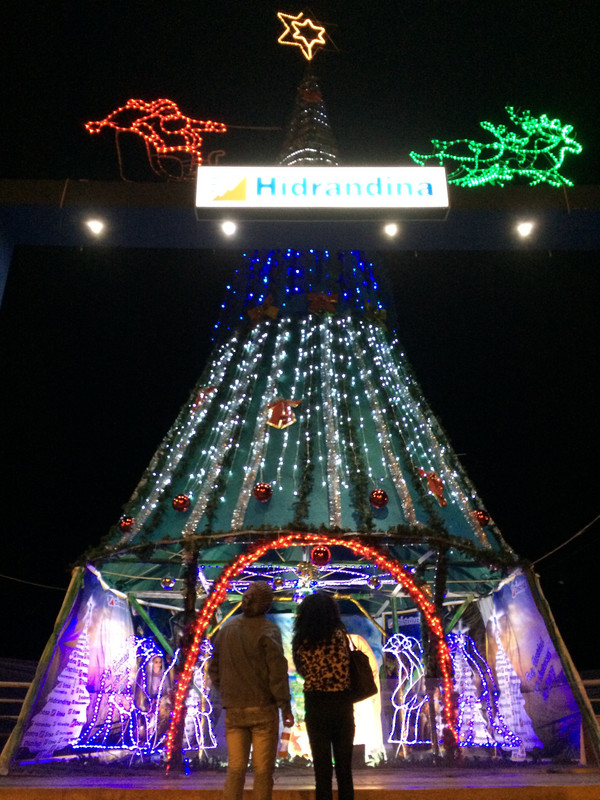 Another day getting sandblasted riding through the desert. At this point we were no long amused by the dunes.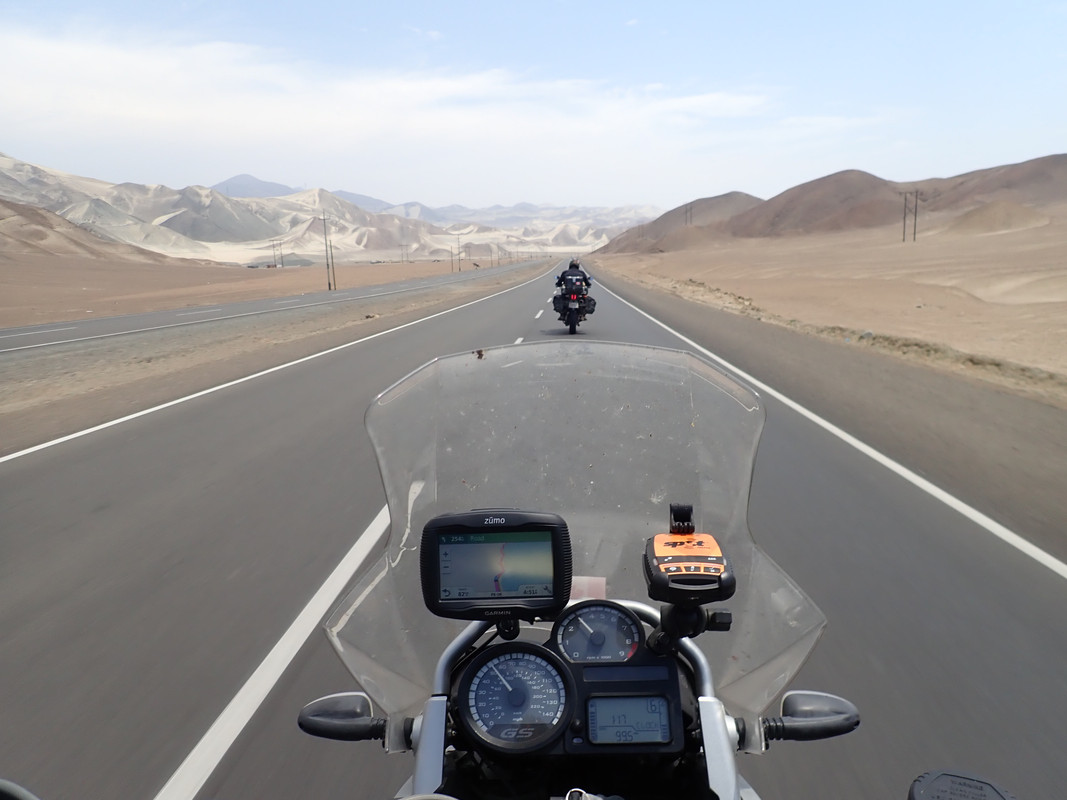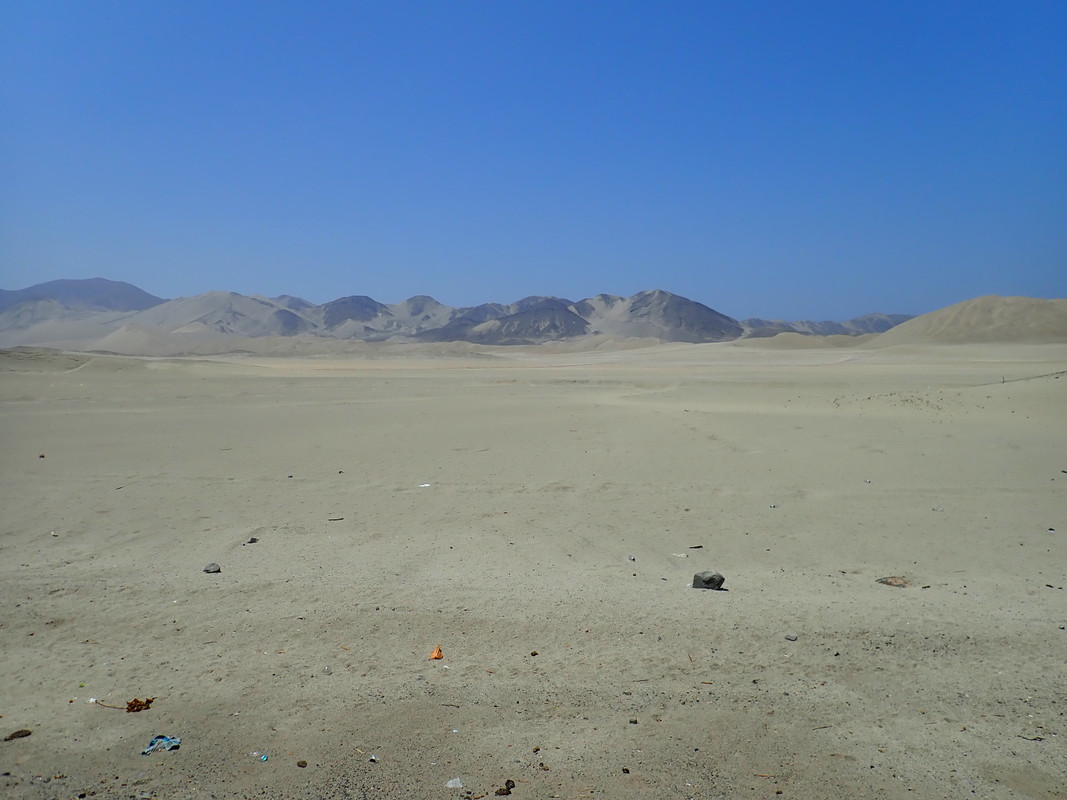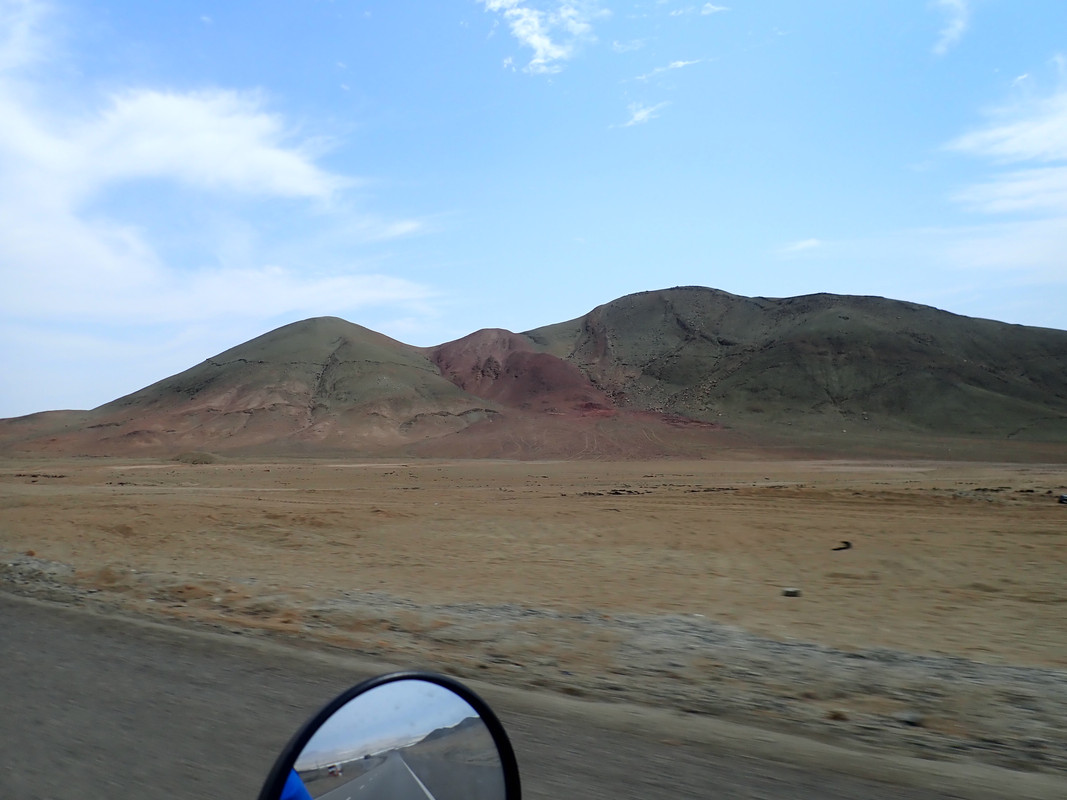 We missed a turn and ended up on a road called Serpentín Pasamayo. Sand dunes on the left and Pacific Ocean on the right…pretty epic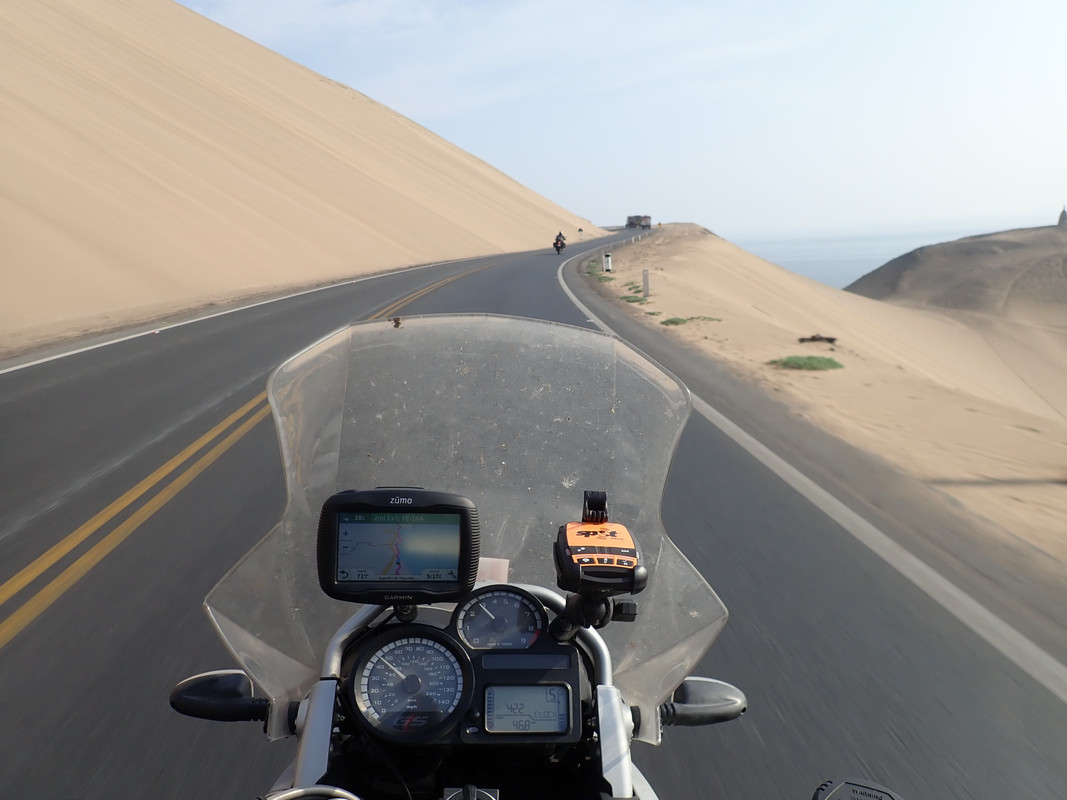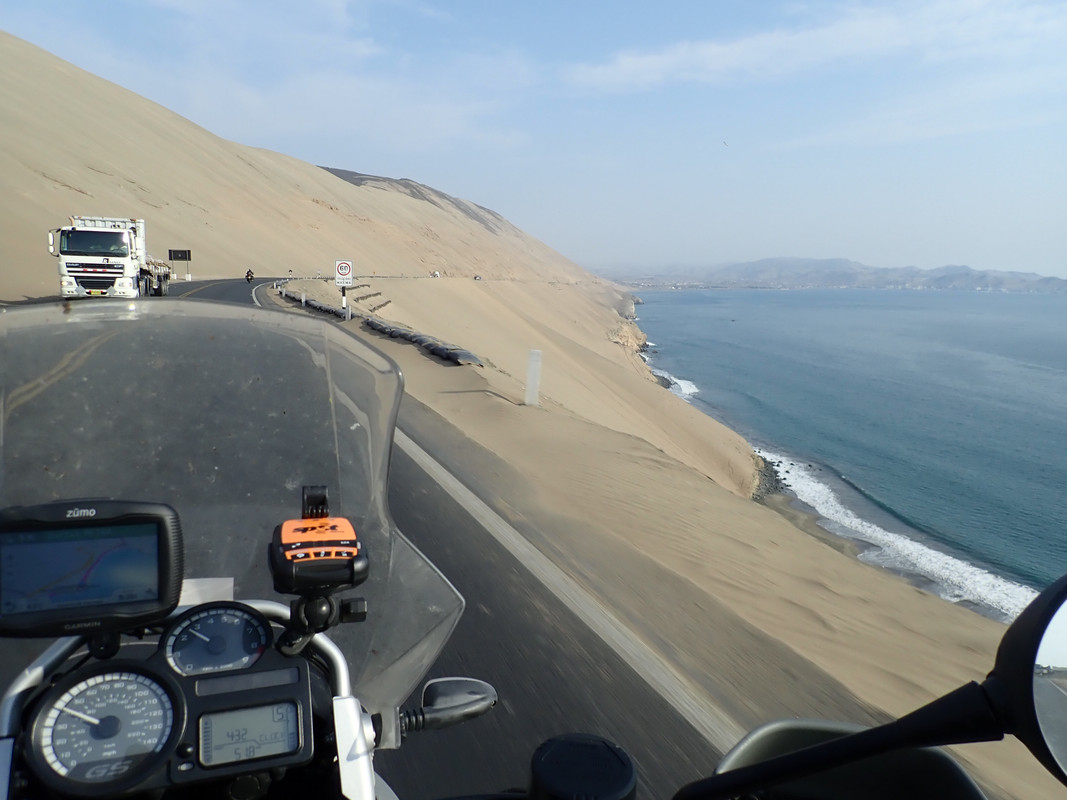 We rode into Lima through some of the worst traffic I've encountered on this trip and decided to grab dinner first. It turned into another late night searching for accommodation and the best we could find was a guest house with one bed. Derrick was being a good sport and camped on the roof top terrace. Apparently sleeping under the stars next to a cactus reminded him of Baja.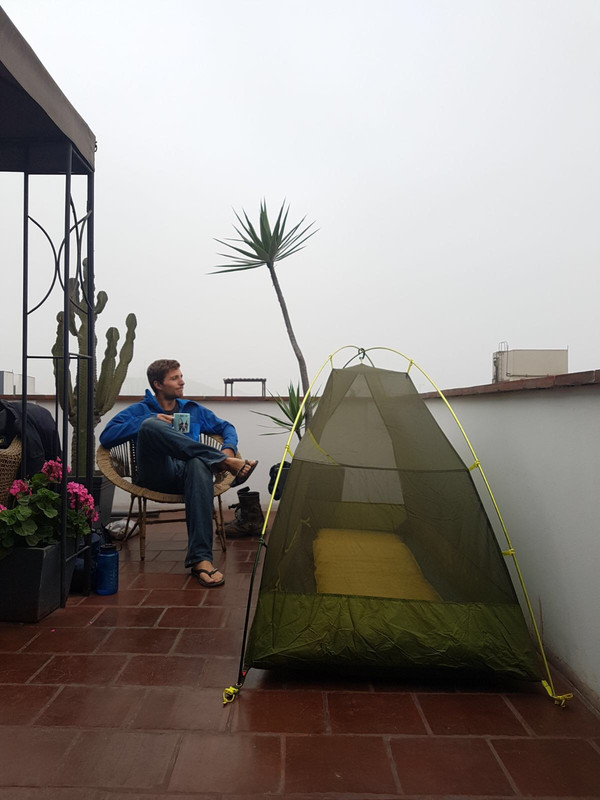 Cities are great refuge after spending a few days in the desert and we caved in on some home comfort. Besides this is where ADV bikes belong 😛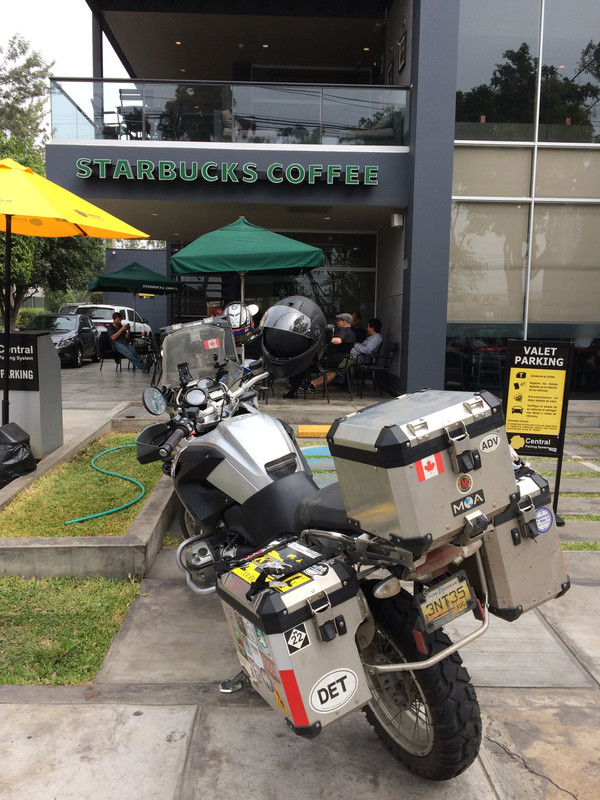 I got an oil change in Lima while Derrick picked up some tires. A complimentary wash was also in order.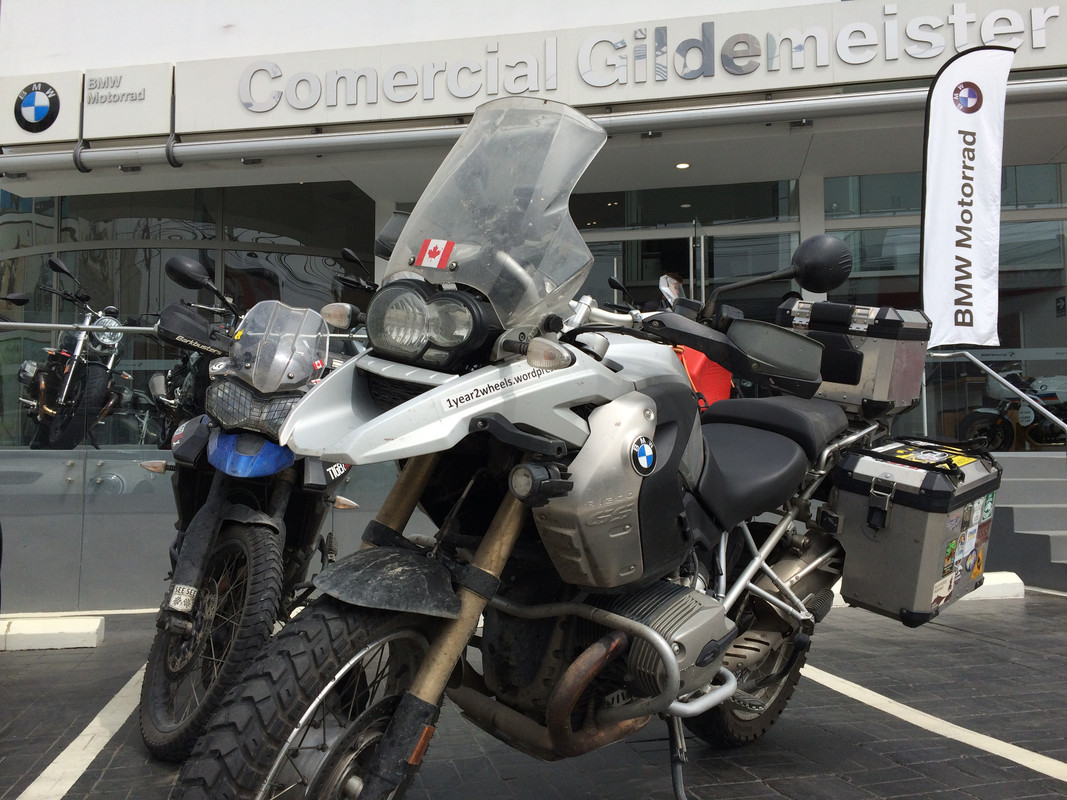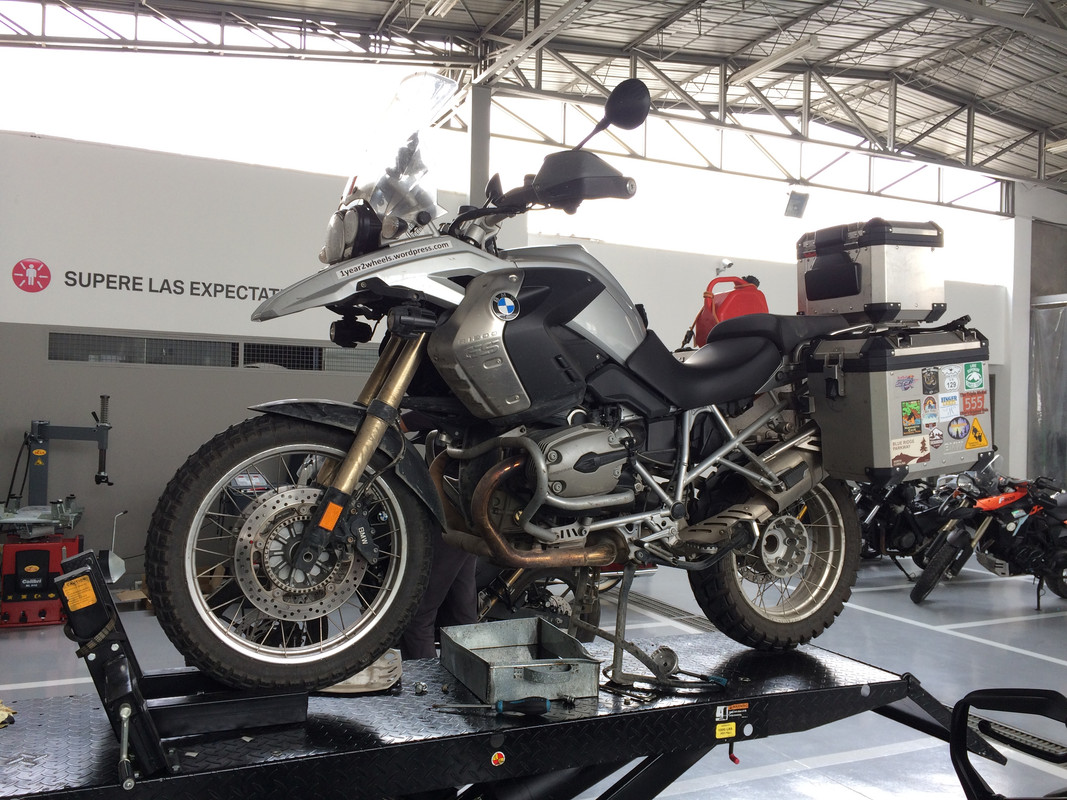 We stumbled upon a KTM dealer in the quest of a new chain for Derrick's Tiger. The shop was busy prepping bikes for the 2018 Dakar Rally. 80k Euros and ready to race from the factory.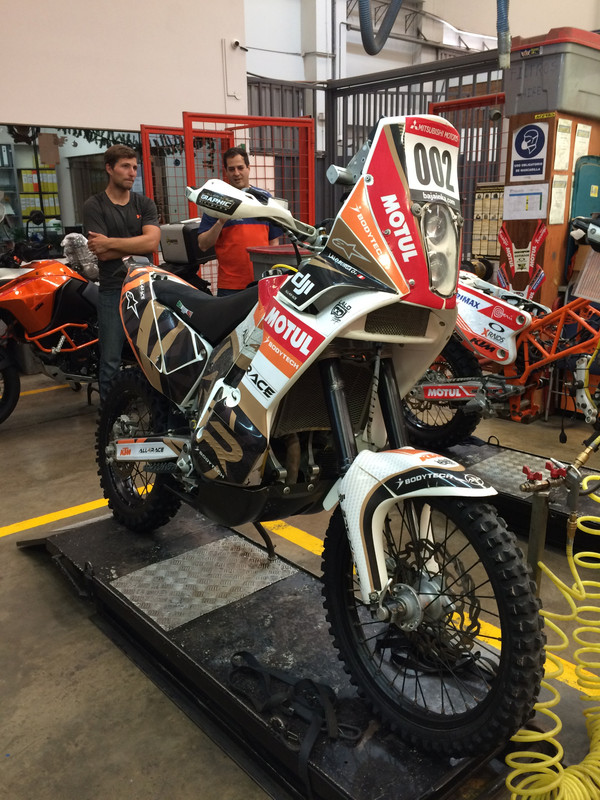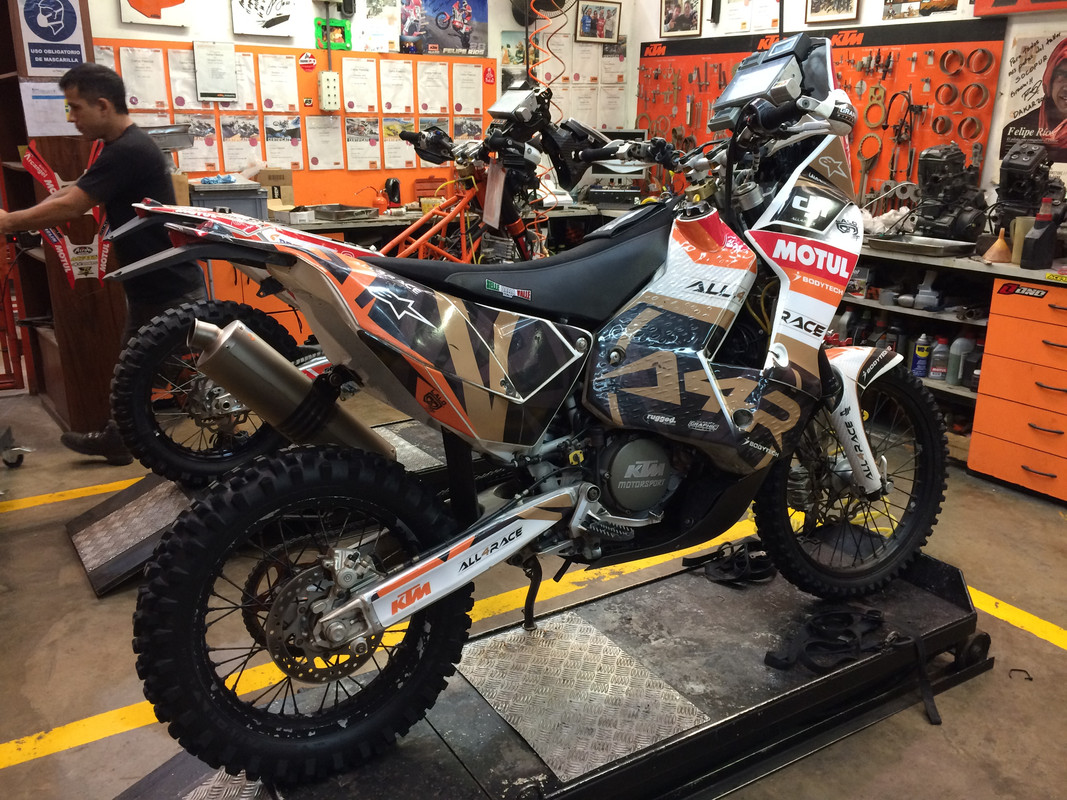 Merry Christmas to all following my blog! 🙂