Joe and I rode together for a few days from Oaxaca to San Cristóbal de las Casas. We took the more adventurous route of MEX 175 south down to the Pacific coast. It was full of tight narrow twisties the whole way as we climbed to over 9000 feet through cloud forest.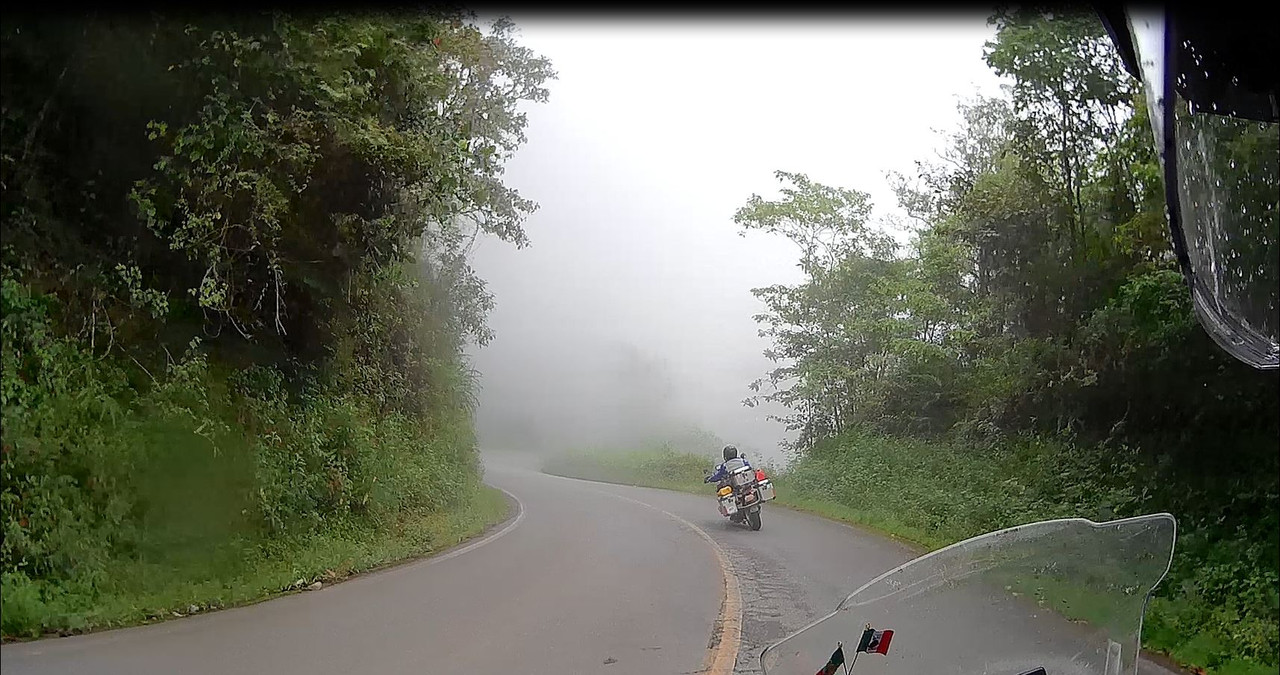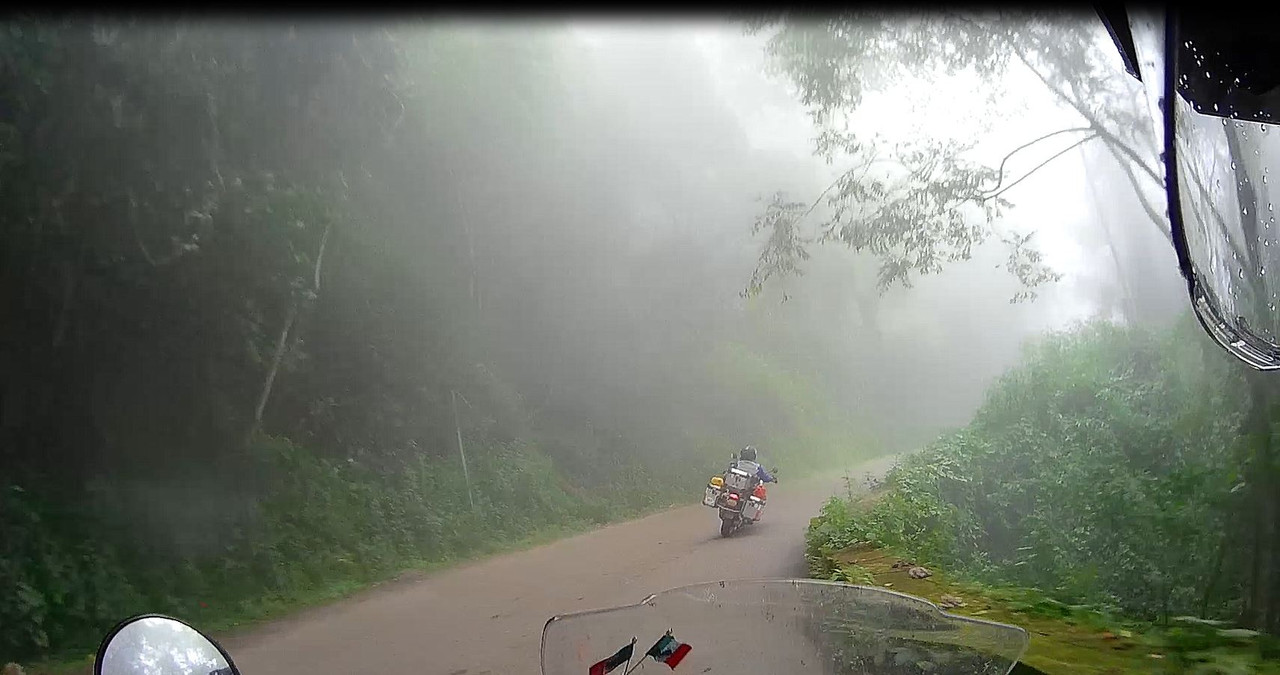 There were a lot of collapsed road sections on this route from the recent earthquake and we passed through a few landslides along the way. A pickup was stuck in some spongy mud on a washed out stretch so we powered him through with some North American muscle. We certainly got lucky as this would be a turn-around point had we came through a few days earlier.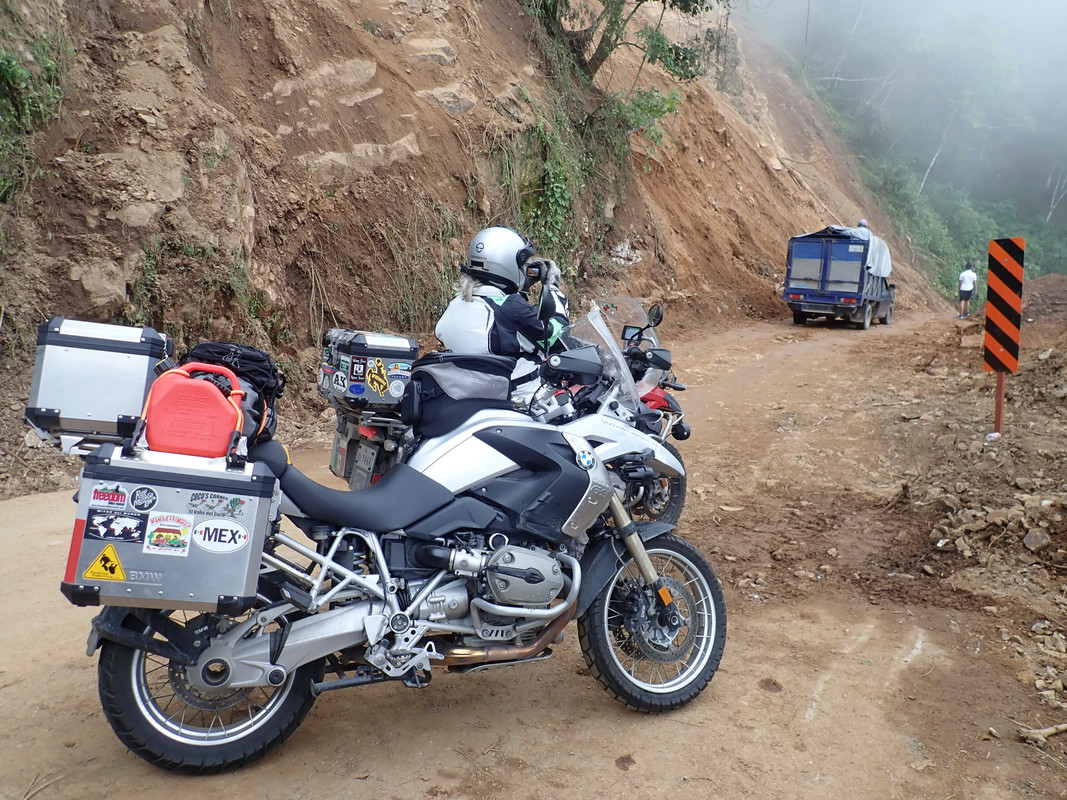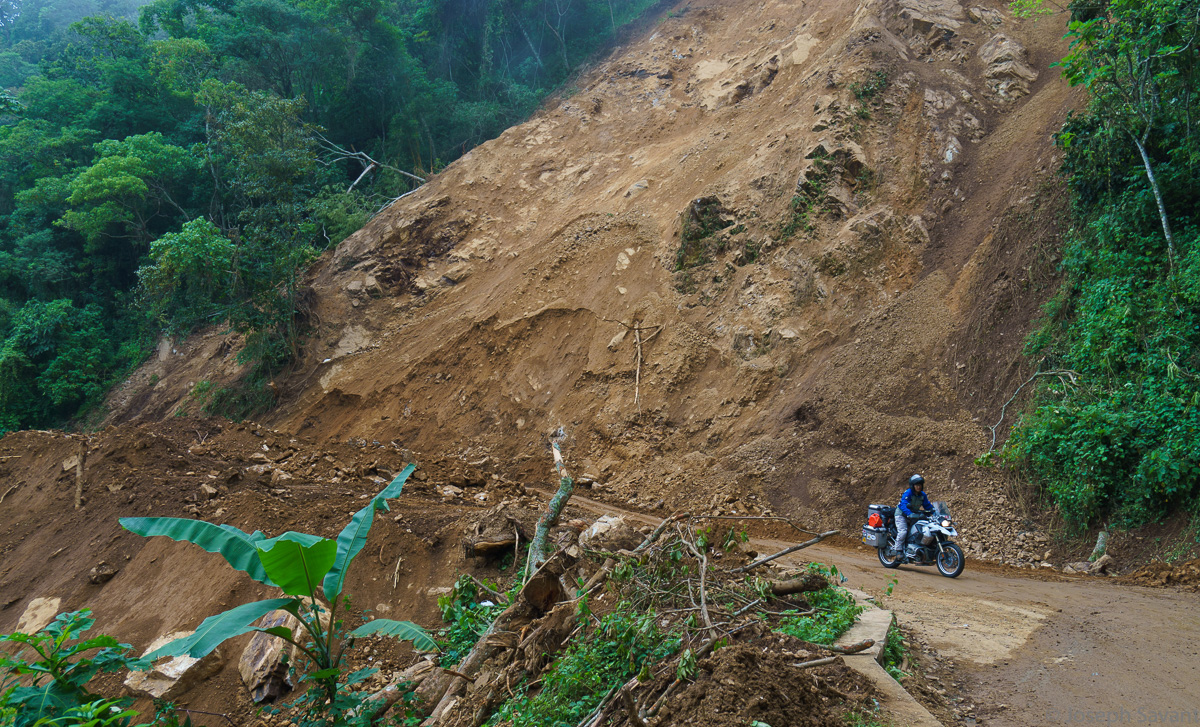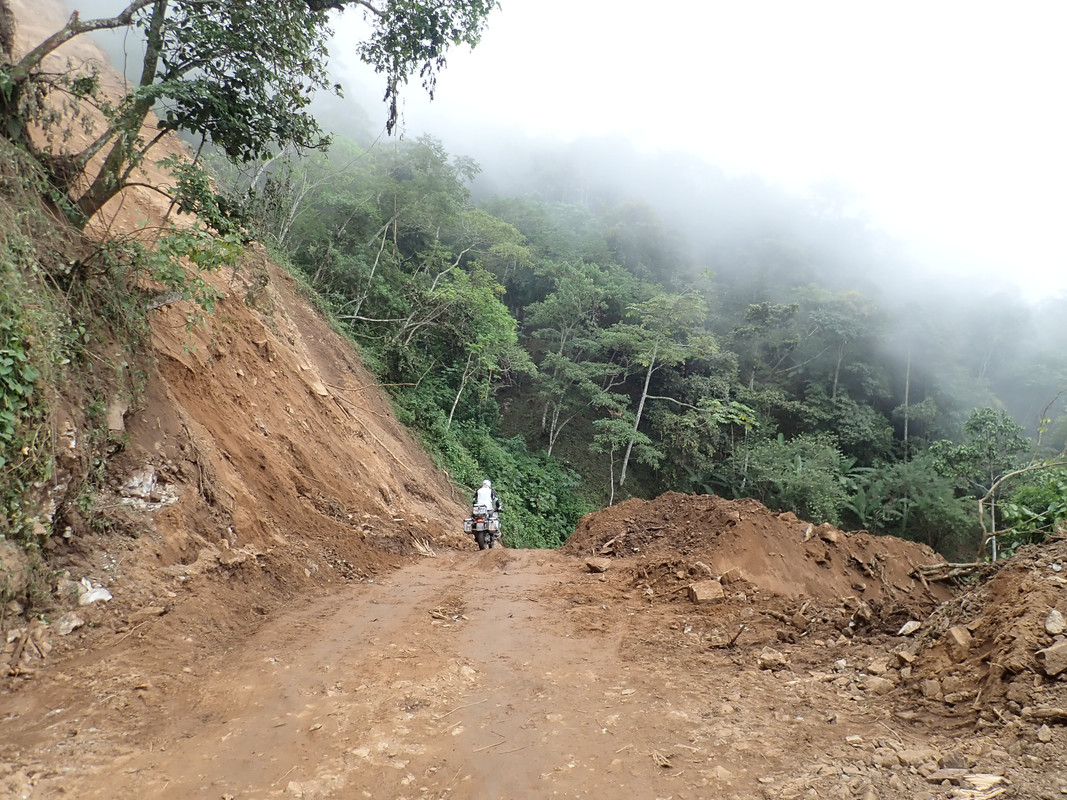 Temperature and humidity were on the rise as we got closer to the Pacific coast so we scrapped the beach camping idea and splurged on a hotel with a pool in Huatulco. I woke up early the next morning in a vibrating bed and found out there was another 4.9 scale earthquake in the area. In fact, there have been several earthquakes between Oaxaca and Chiapas throughout the day! I caused another earthquake by dumping my bike in front of a small crowd. The upside is that there is no shortage of help picking it up. A broken turn signal was fixed promptly with some duct tape.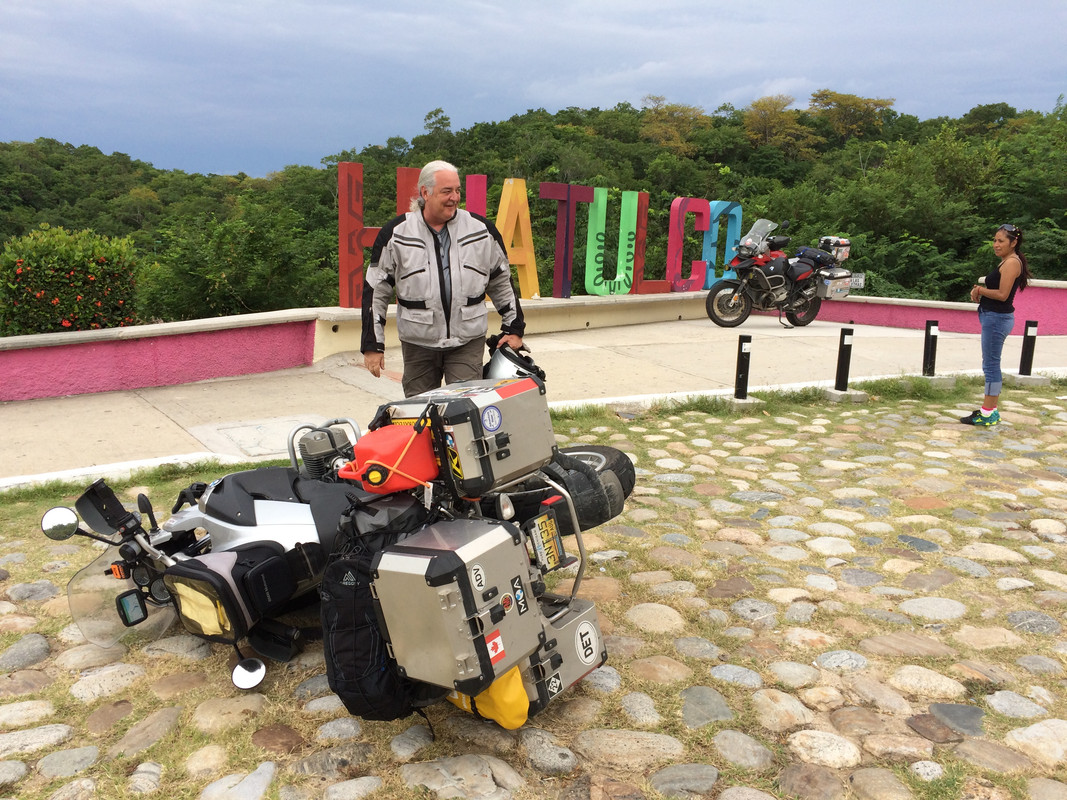 Chikitas like my moto 😀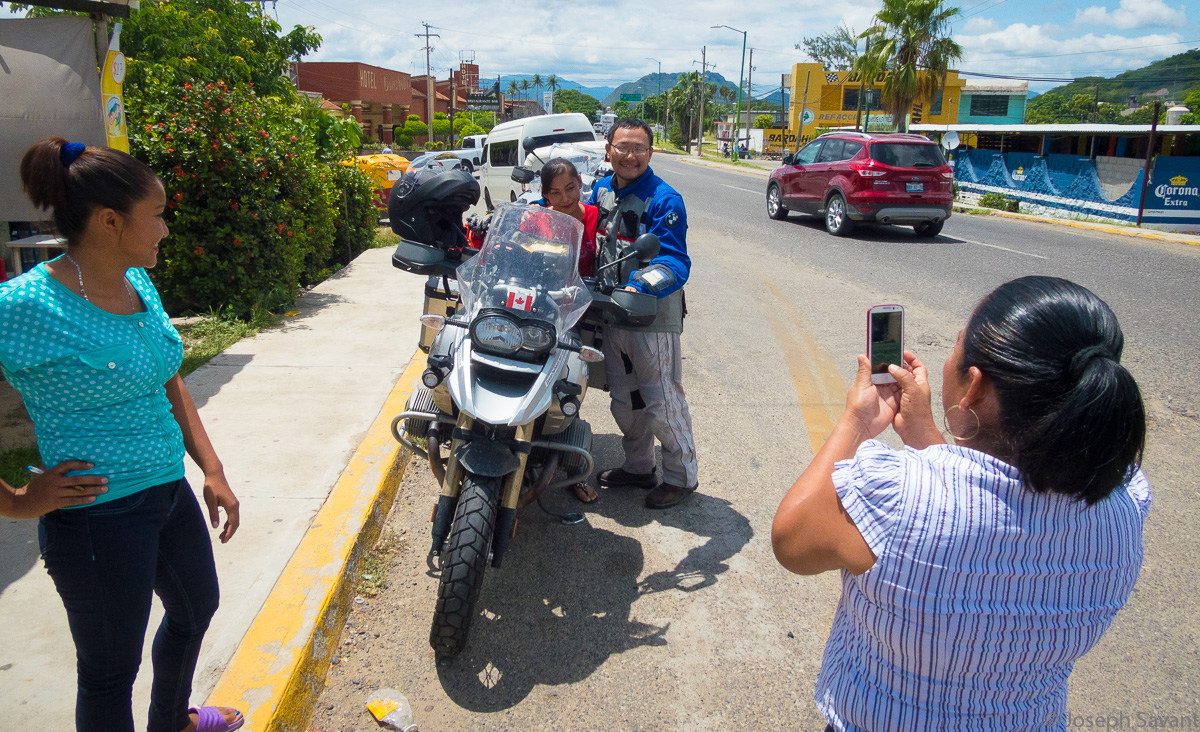 We made it to San Cristóbal de las Casas two and half days later even though it's less than 500 miles from Oaxaca. It's just challenging trying to cover distance when there are lots of elevation and climate change. San Cristóbal de las Casas is a small town in the highlands of Chiapas and it's considered the cultural capital of the state. The whole city is made up of colonial style architecture surrounded by narrow cobblestone streets. We went out to explore the city in the rain since we arrived early in the day for a change.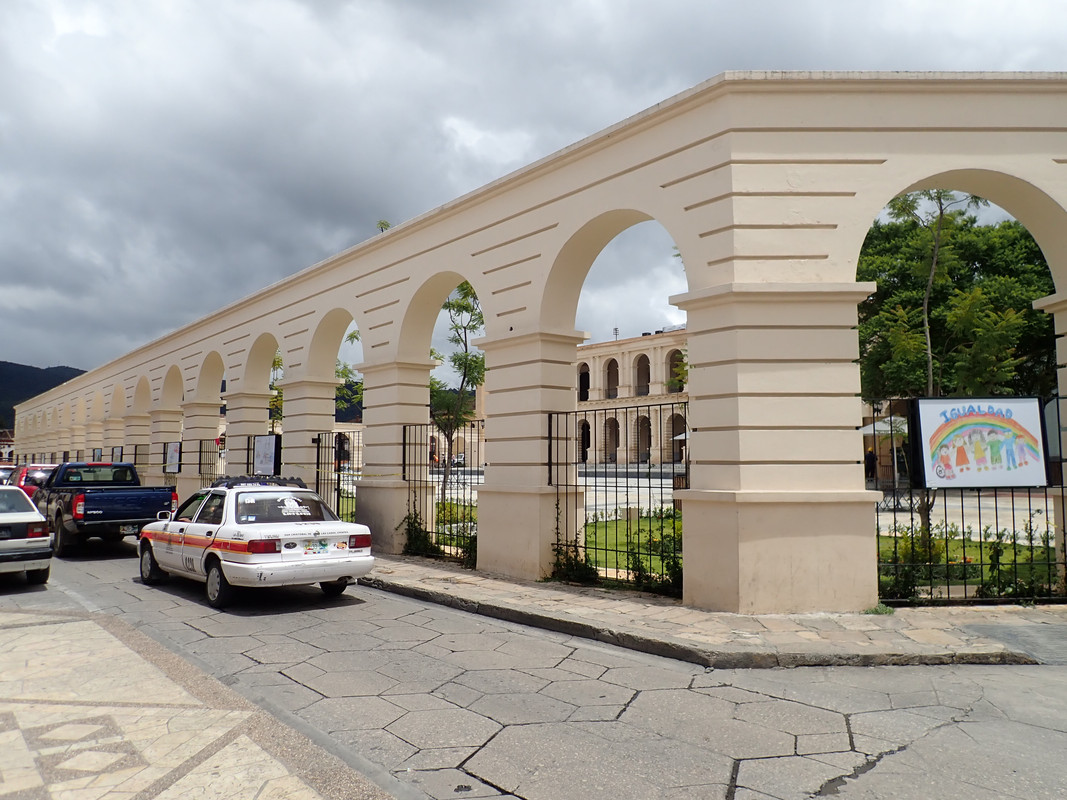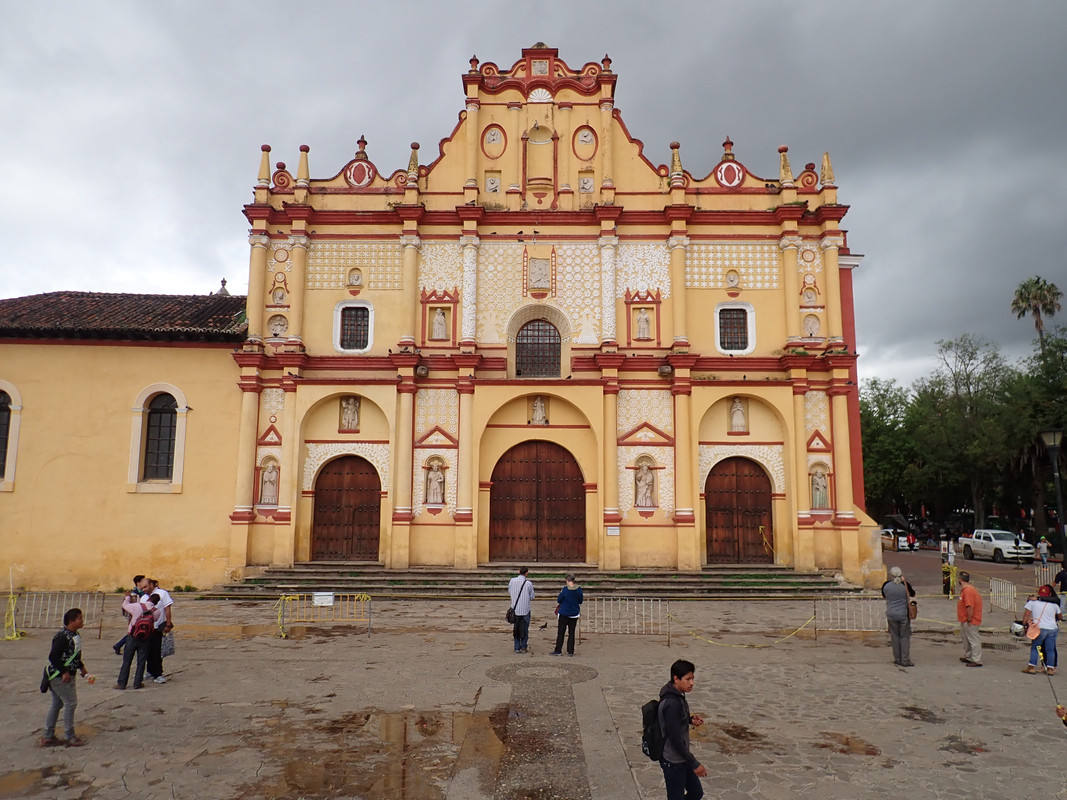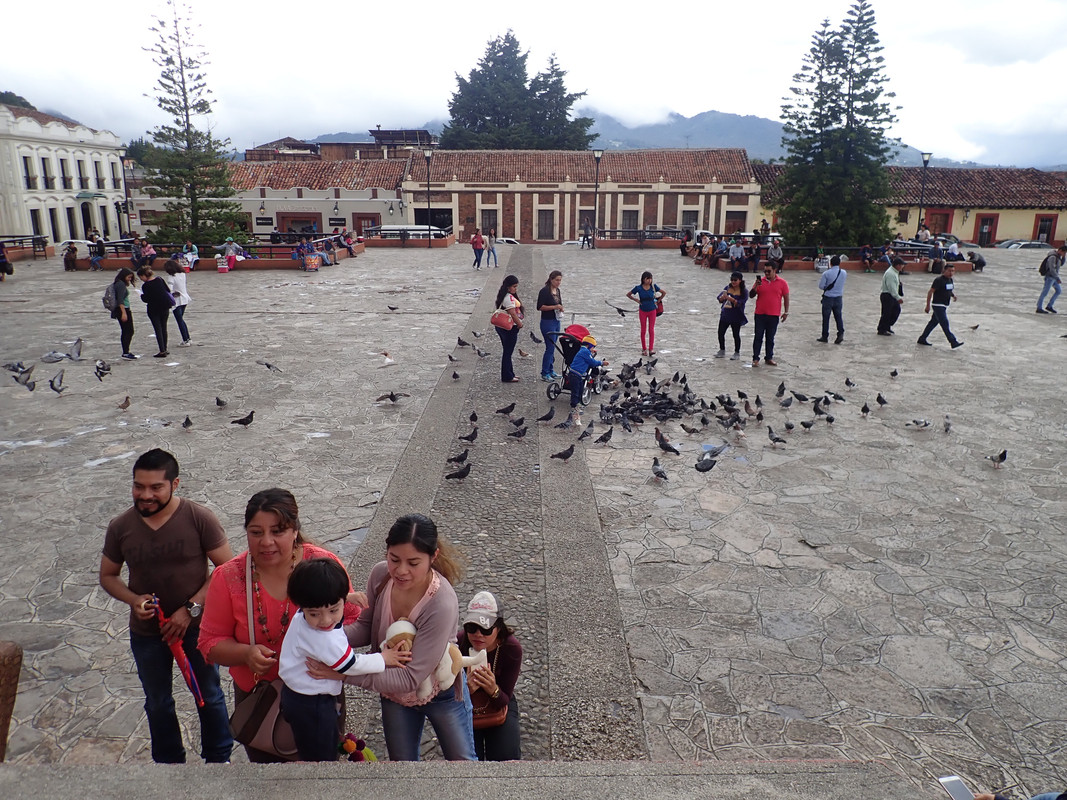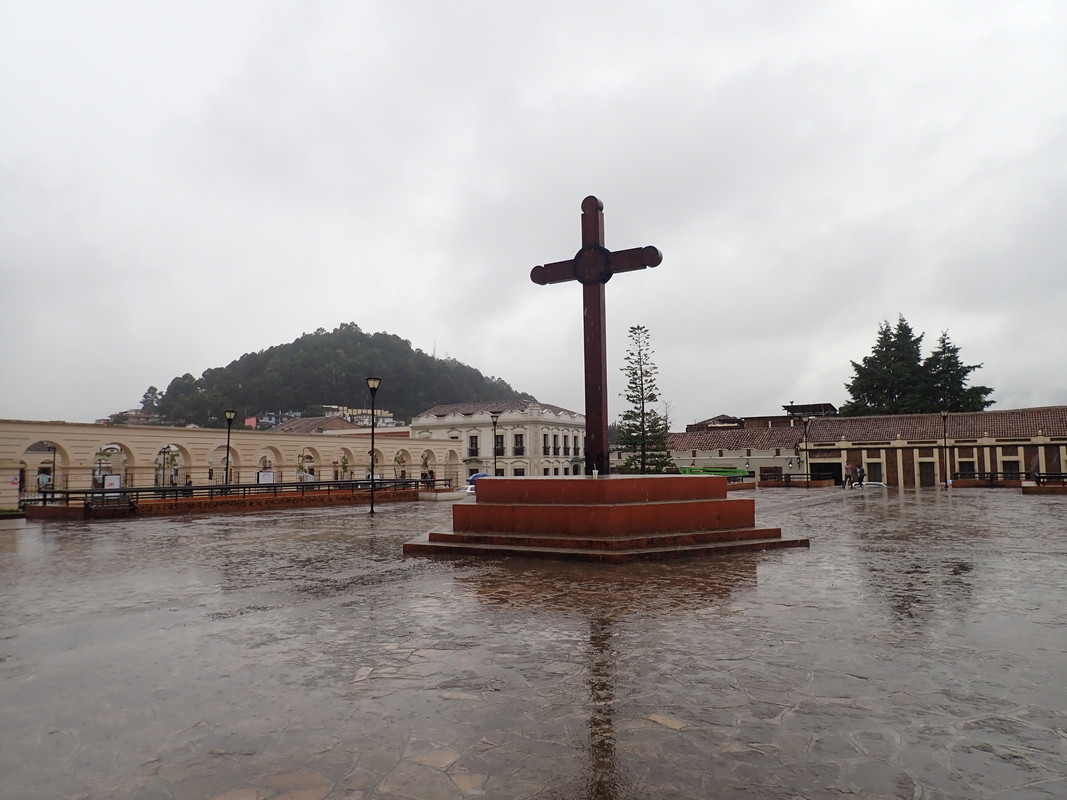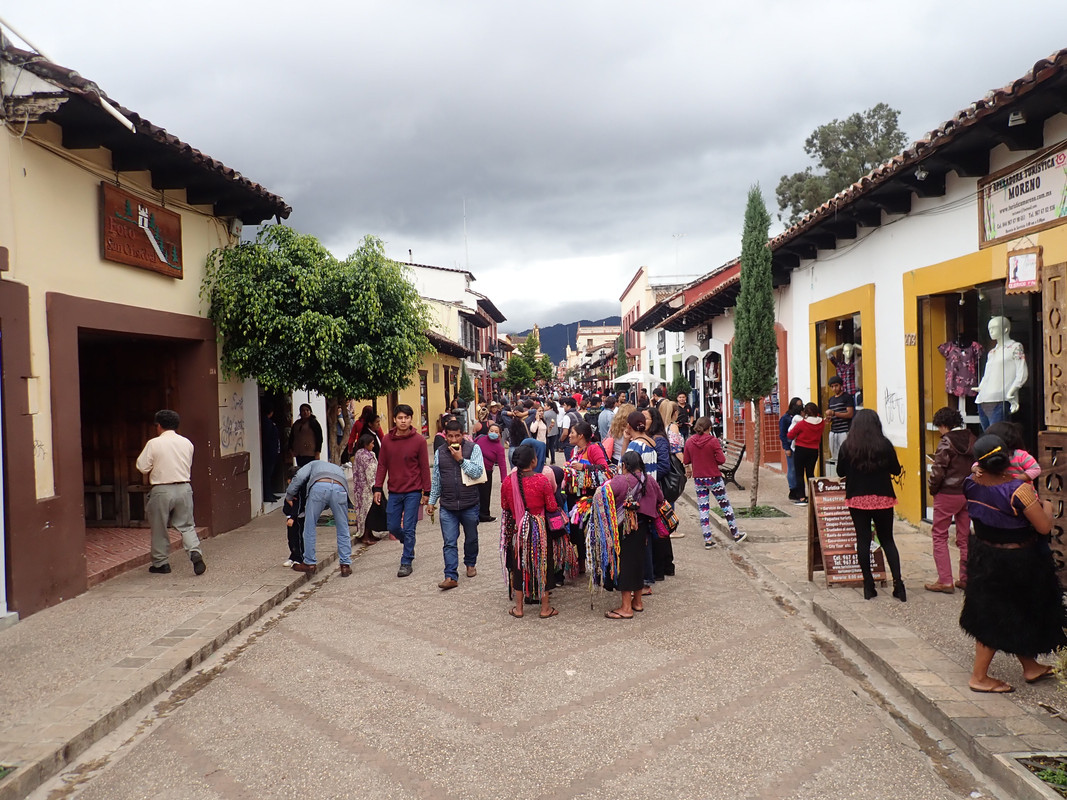 It rains like clockwork everyday in the afternoon so the streets are designed liked drainage troughs. The curbs are higher than car door opening in some streets.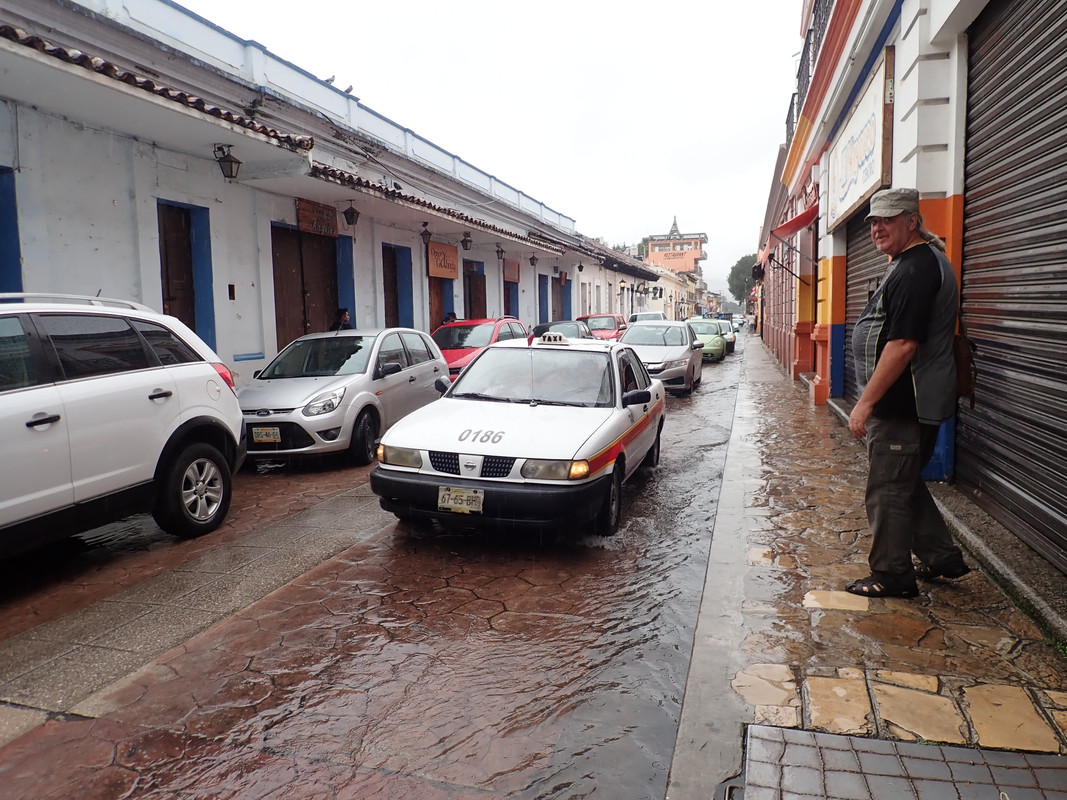 The night scene is equally enchanting.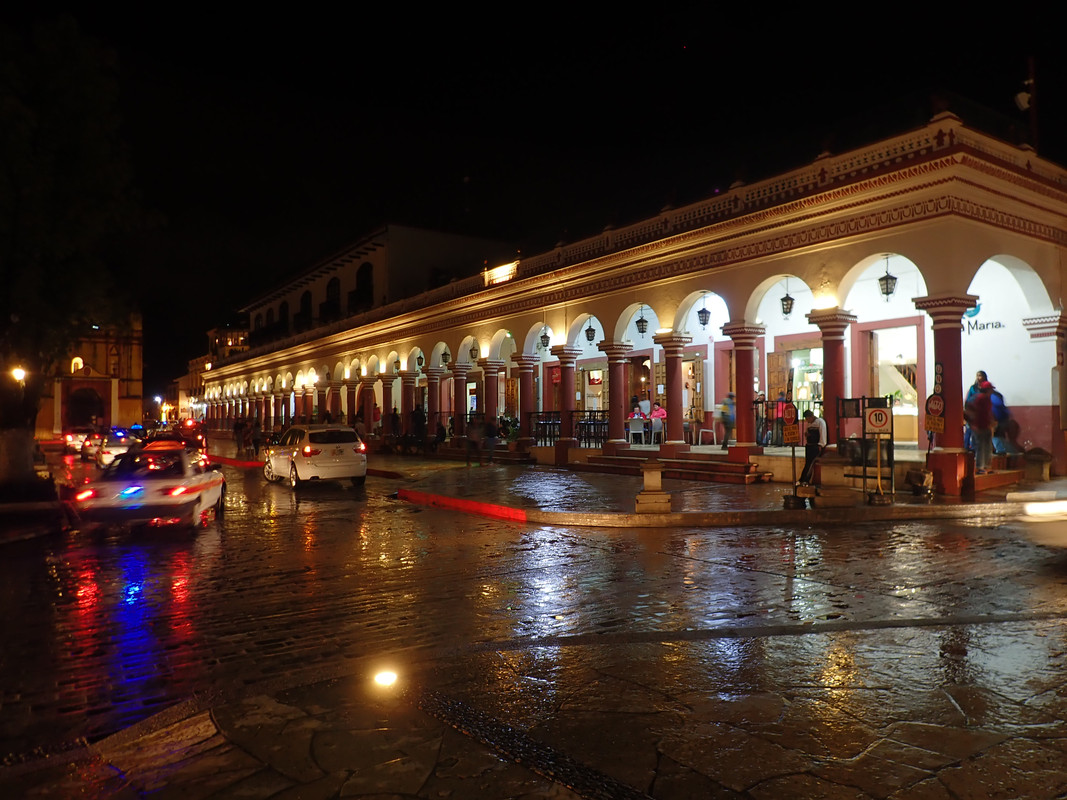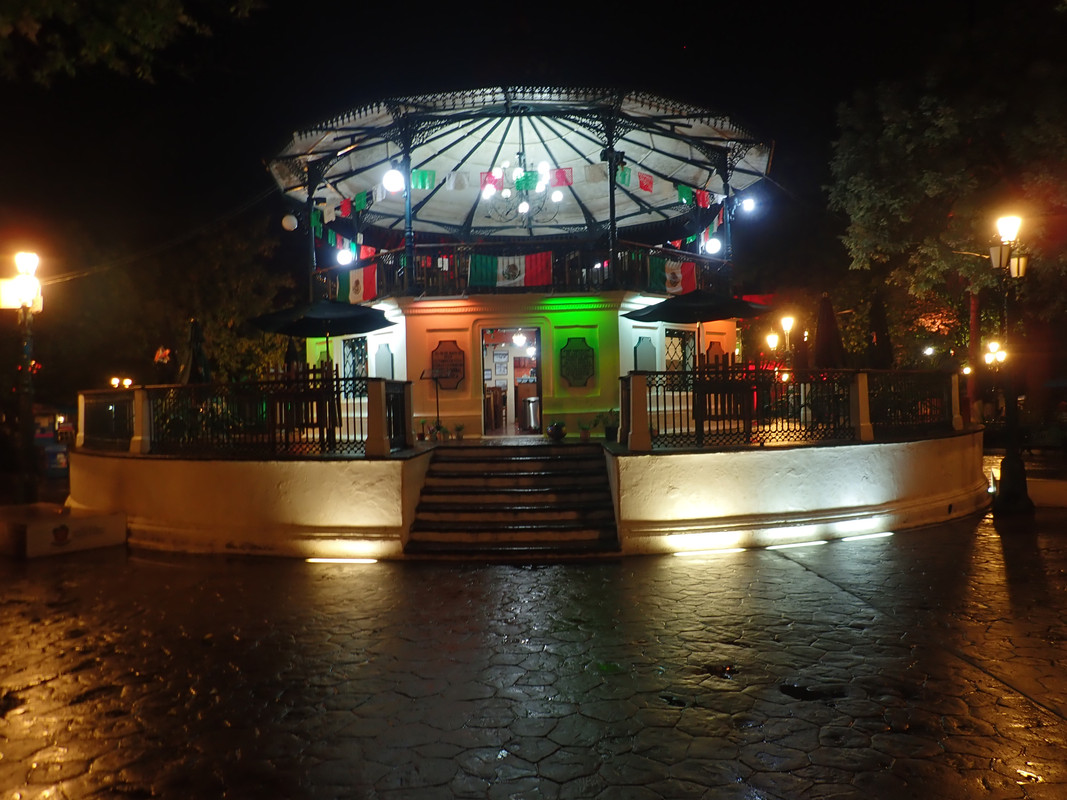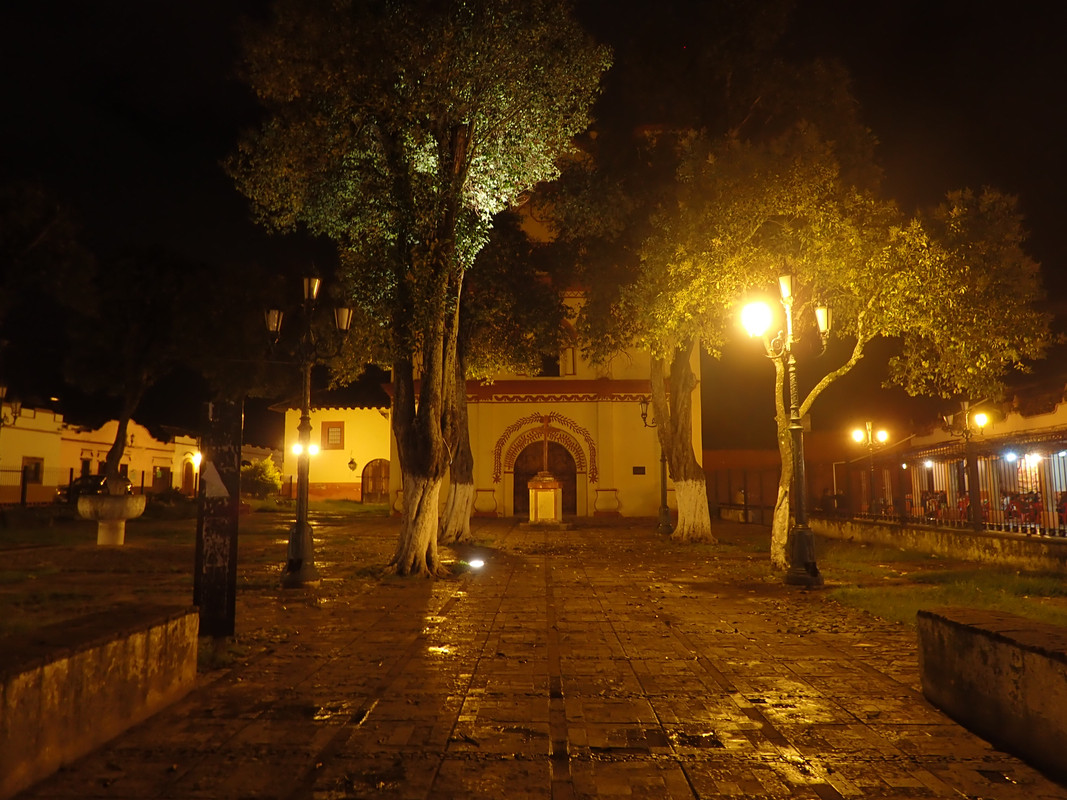 We had a 3 course dinner with a drink for about $5 USD…early retirement anyone?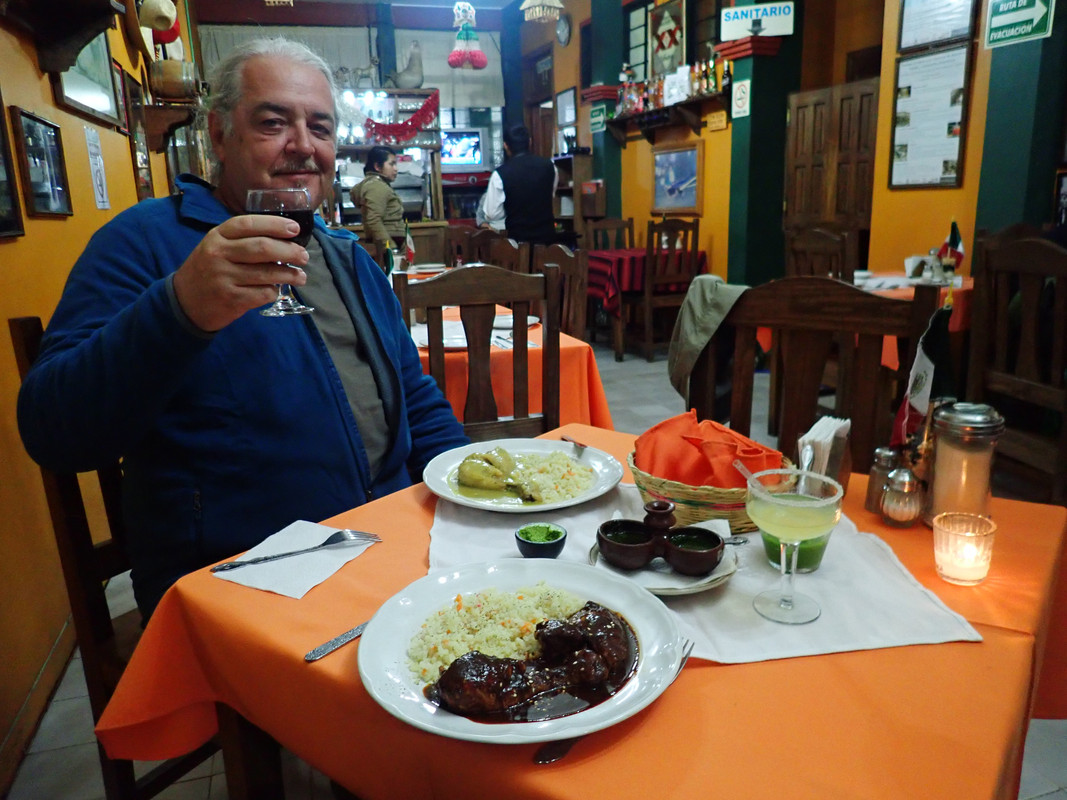 The next day Joe and I visited a couple of indigenous towns near San Cristóbal de las Casas. The first one en route is Zinacantán which means 'Land of Bats'. The indigenous Tzotzil Maya people speak their own native language and wears traditional purple shawl that resembles bat wings. We toured a couple of churches in town both of which suffered some damage from the recent earthquake.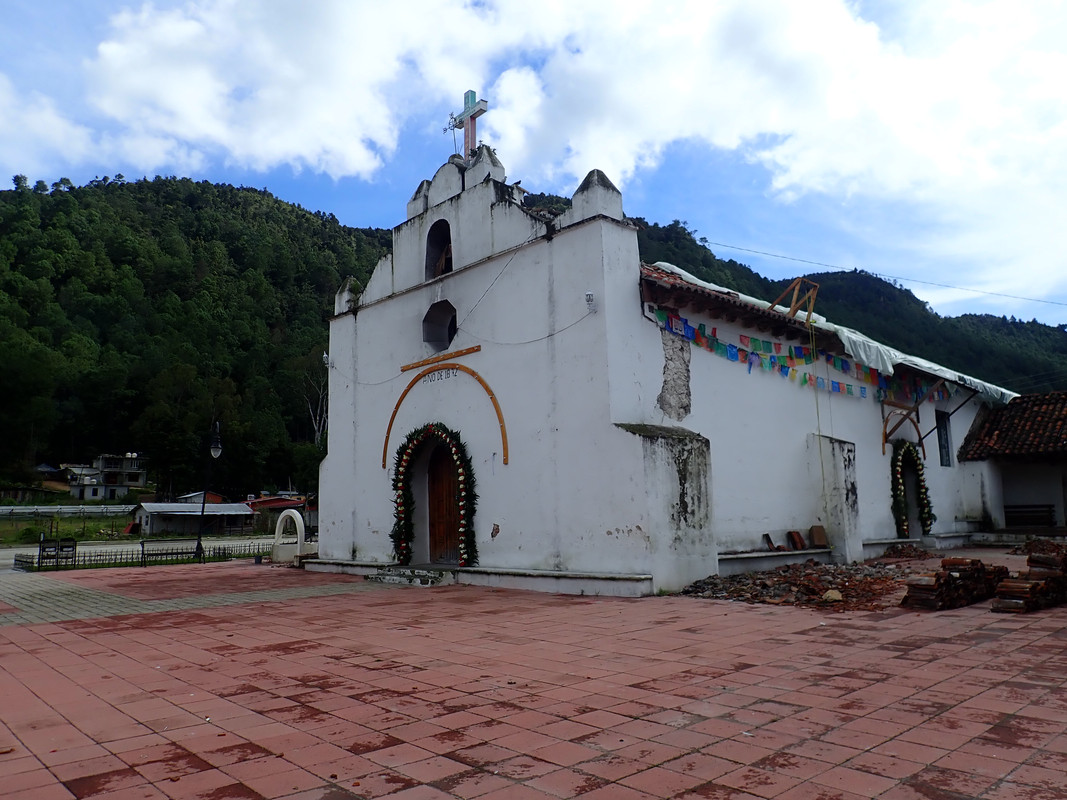 Gringo alert! Joe takes a photo with the locals and gets his wallet cleaned out. 😛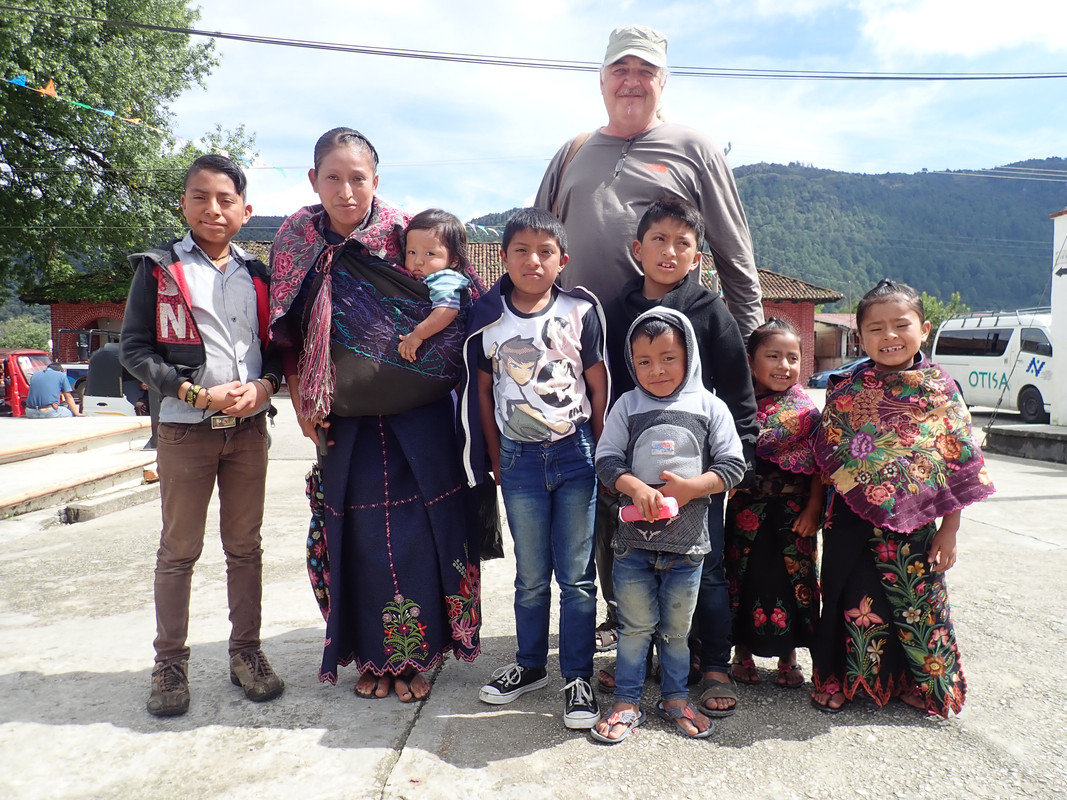 Iglesia de San Lorenzo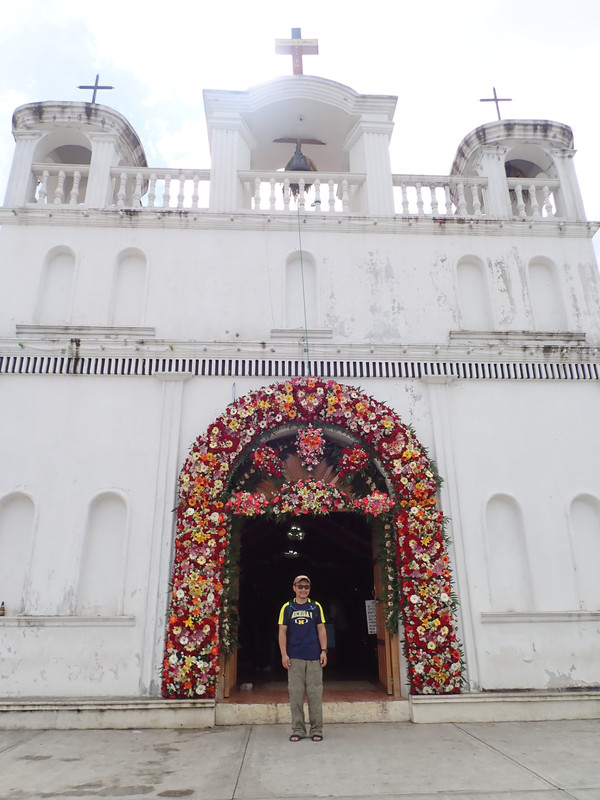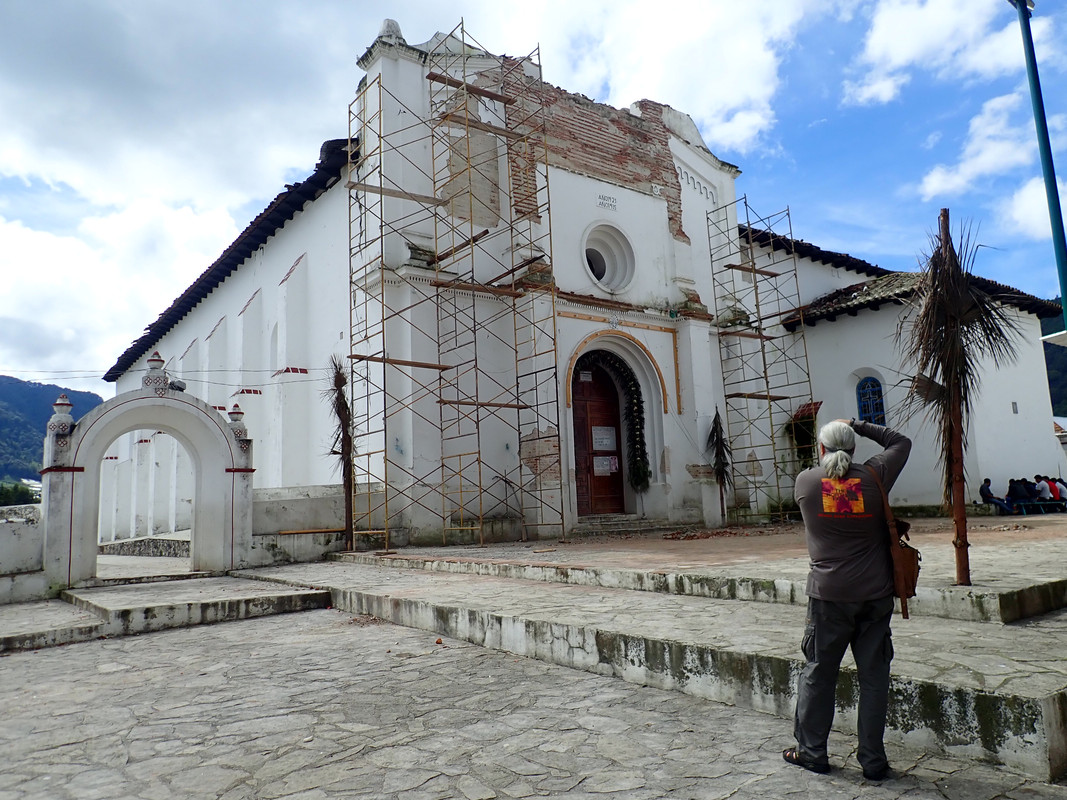 We spent the next hour trying out traditional outfit, learning how they were made and sampled local food and drinks.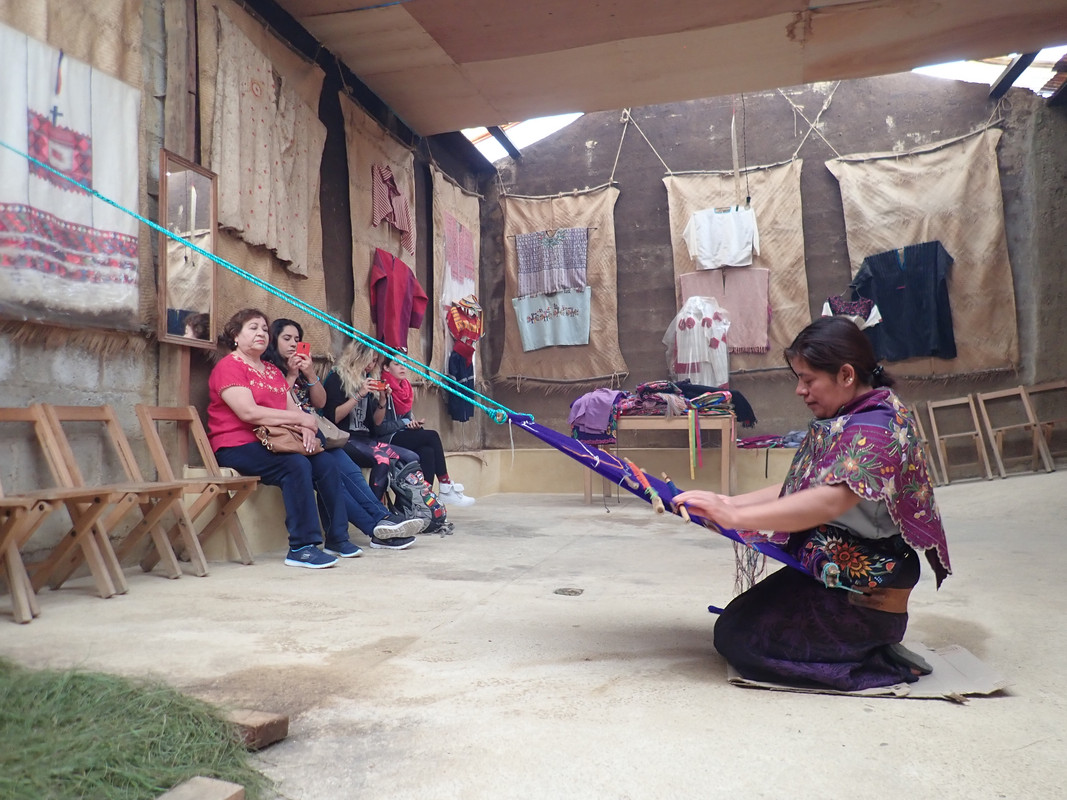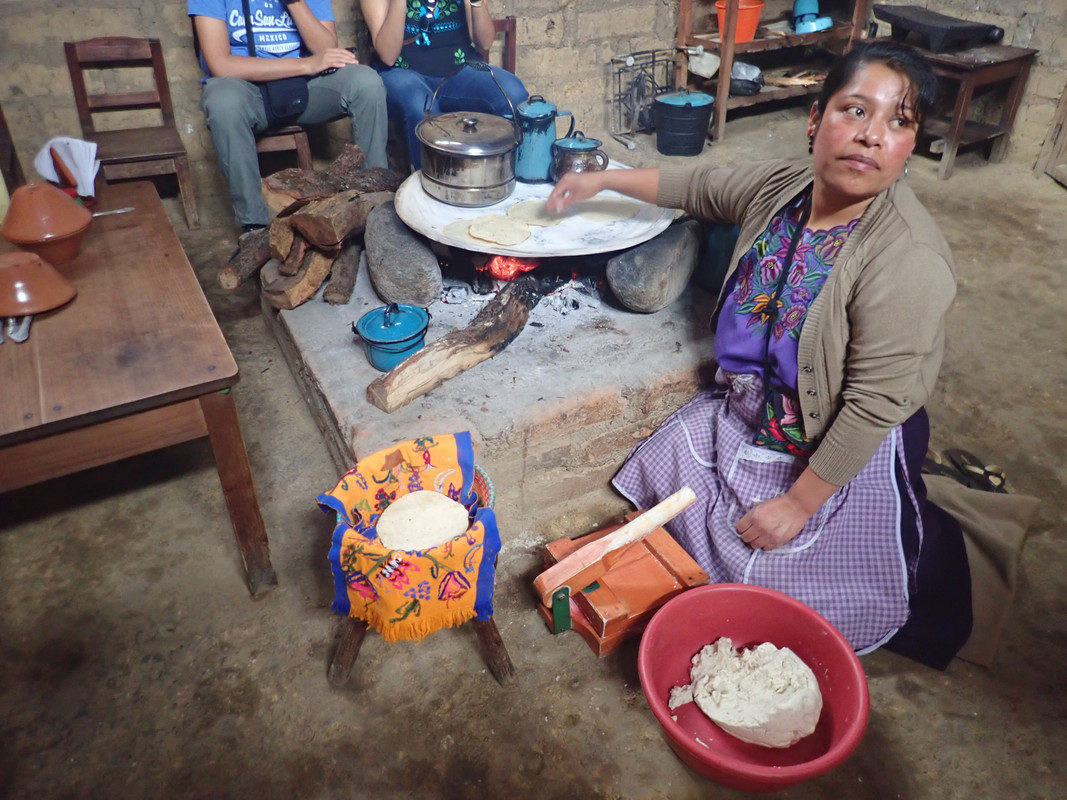 Iglesia de San Sebastián on the way into San Juan Chamula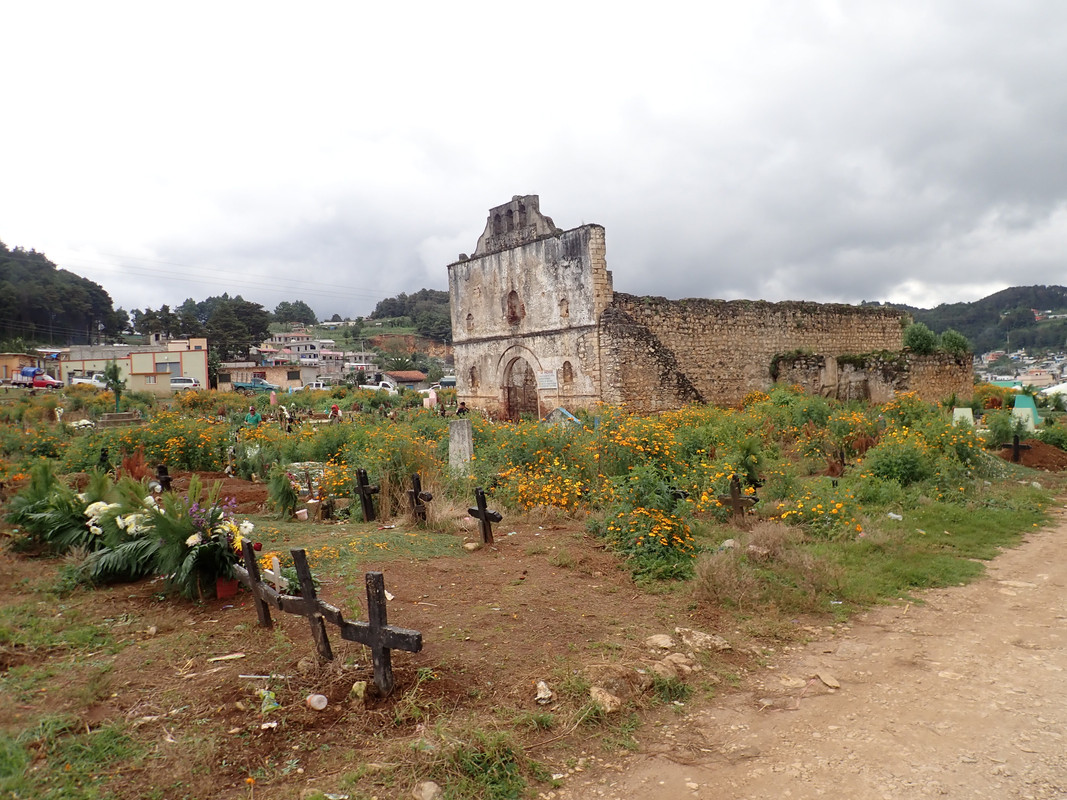 This photo almost got me in BIG trouble! There was some sort of ritual being performed upon entering the village and I quickly whipped out my camera. An indigenous man wearing traditional outfit in a distance spotted me and approached fiercely demanding my camera. I knew I would never see my camera again if I handed it over to him so I apologize profusely while holding tightly onto it. There was a lot of yelling and I had no idea what to do other than avoiding eye contact with the man whose face was covered in scars. Finally another English speaking tourist shouted "Delete the picture!" and I did so after which he left me alone. I was aware of the 'No photo inside the church' and 'No pointing the camera directly at people' rule (supposedly it captures their souls) but this takes it to a whole new level.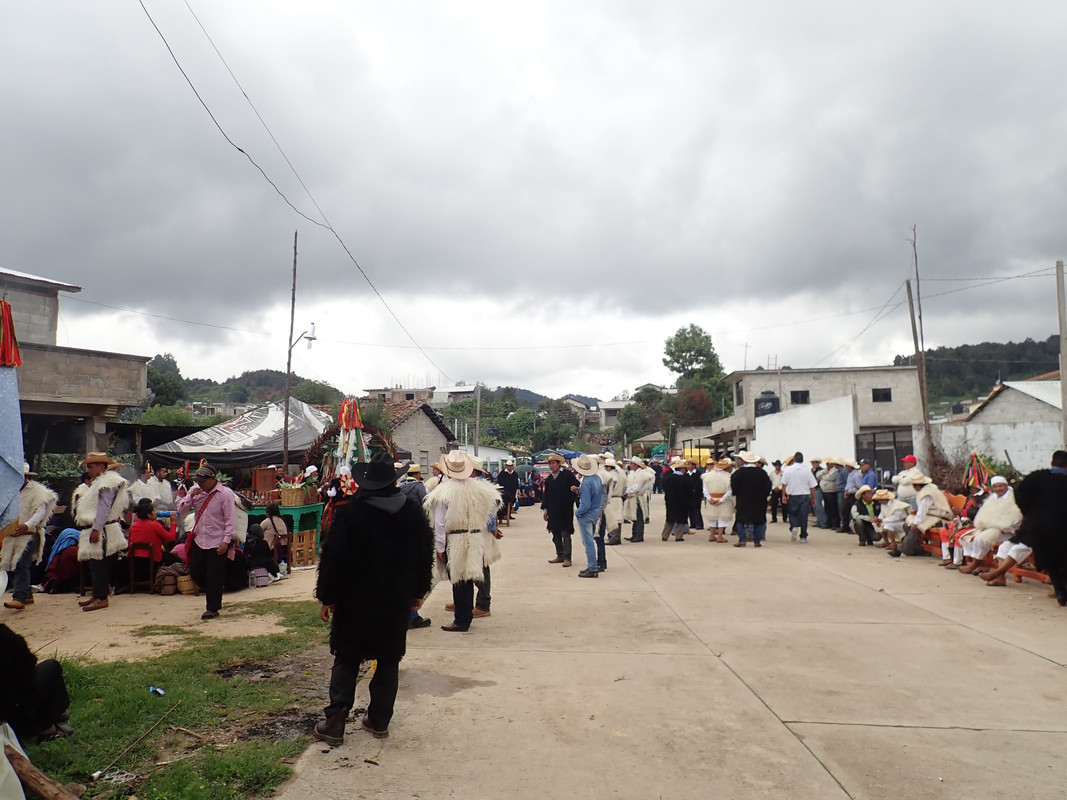 This was the first time I felt threatened on this trip so I kept both of my hands in my pockets after the incident. The indigenous Chamula community is known to be independent and takes the law into their own hands that even the Mexican government stayed out. It is an autonomous region where Mexican police or military are not allowed to enter. The mayor and a few others were shot in the public square last year when a protest turned violent and there were rumors of children being sacrificed when outsiders lectured them about Christianity. Had the one Neanderthal turned into a savage mob, I'd be completely SOL and there's nothing the outside world could do about it.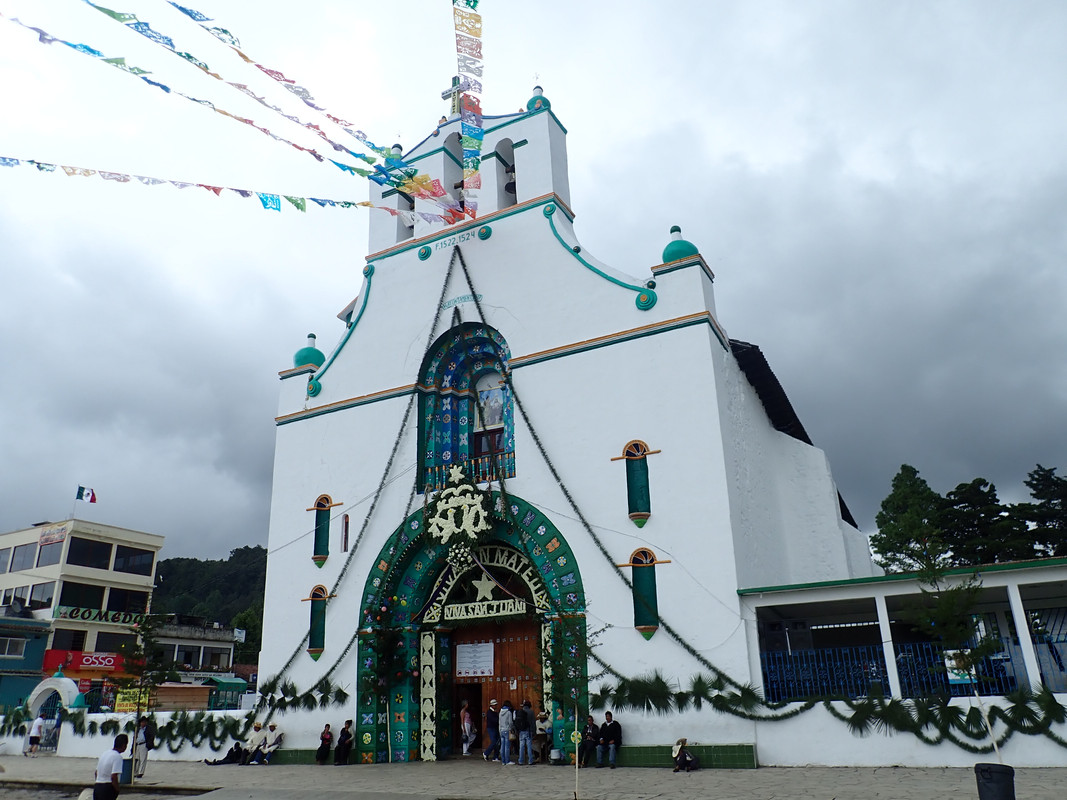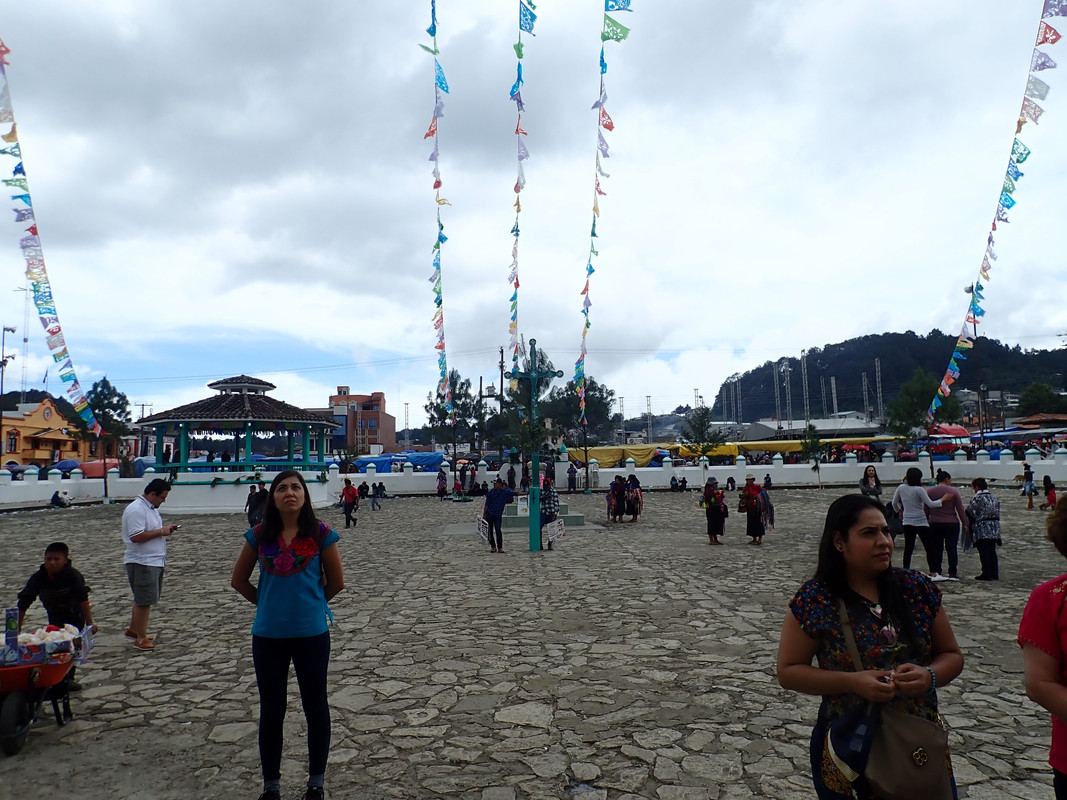 The church of San Juan Chamula looks like any typical church in Latin America but is otherworldly on the inside. There are no pews and the floor is covered with pine needles. Hundreds of flicking candles lined up along the walls and floors and I can feel the intense heat and wax fumes coming off them. The church is filled with people praying on the floor while putting up more candles. We were told chicken sacrifice in the church is a regular occurrence however I did not witness any. Photos are strictly forbidden inside the church so I stole this one off the internet to feed your curiosity. The guide told us an Italian couple was fined $1500 USD for a violation!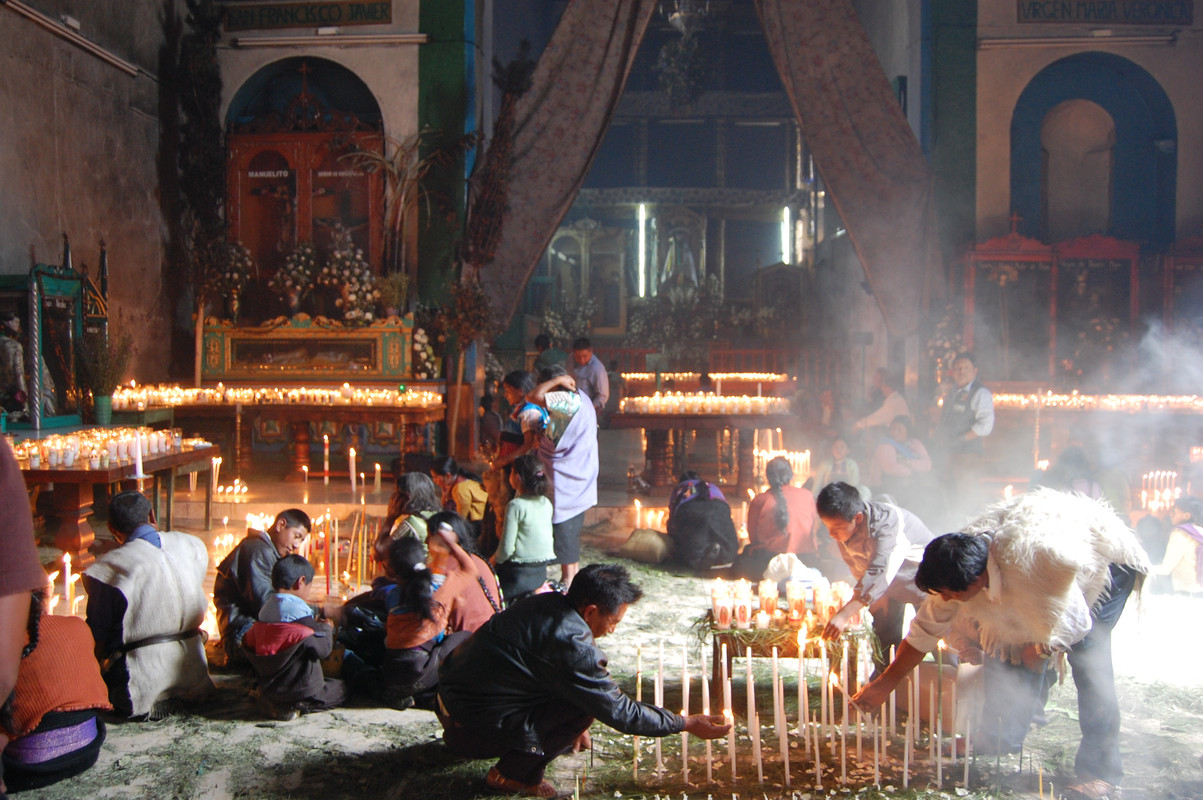 Loud firecrackers were going off constantly in the town square as passerby locals gazed at us with hostility. Two Israeli girls on our tour were harassed by a native while laugh and dancing in front of the church. A few others on the same tour also felt distraught and yearned to return to civilization. While I cannot highly recommend visiting Chamula, it definitely added an unique experience to my trip.